How long do Great Danes live?
Our favorite breed of dog is known by many to have a shorter lifespan, but that doesn't have to be a reality. What is the Great Dane lifespan and how can we extend our favorite dog's life?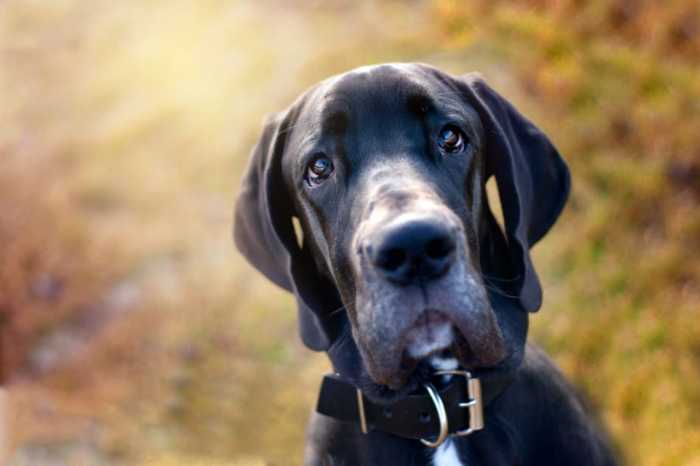 Great Danes live an average of about 8-10 years, but with good breeding practices and a proper diet and exercise regime, they can live up to 12 years old or more!
Many people have experienced the devastating loss of a Great Dane at a young age and this happens most often because of bloat, heart conditions, orthopedic problems, and other genetic issues.
On the flip side, many people have had Great Danes live for 10 years or even longer!
There is a misperception about the lifespan of Great Danes, and we are here to fix that. Great Danes make amazing family pets in the right homes, and can absolutely live long and healthy lives.
HOW LONG DO GREAT DANES LIVE?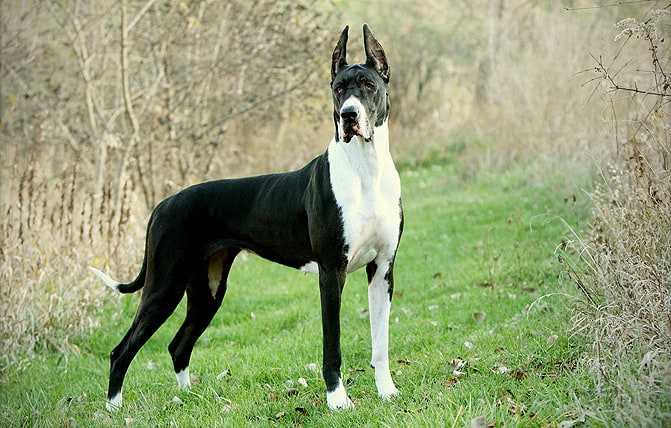 It is well known that Great Danes tend to have shorter lives than other smaller dogs. This is because they are a giant breed and are prone to a number of health problems. (Health Risks in Great Danes)
Great Danes live, on average, 8-10 years.
Many smaller dogs live 10-15 years, for comparison.
The average life expectancy of a gentle giant is low, but it doesn't have to be!
The oldest Great Dane currently known in 2021 is Maggie Mae, at the ripe old age of 16.
Some of the health problems that Great Danes are prone to include canine hip dysplasia and elbow dysplasia, bloat, cancer, and heart disease which can lower the average life span. All of these health issues can be genetic, and lead to a shorter lifespan in the breed as a whole.
Great Danes can live long, robust lives. While 8-10 years is the average, many live to be 12 years of age or more!
Since Great Danes are such big dogs, they frequently suffer from a list of health issues that are often FATAL and nearly always GENETIC. These health issues significantly lower the average expected lifespan. Unethical breeding practices are to blame, not the Great Dane breed itself.
What is OFA Health Testing?
Is Embark a 'Good Enough' Health Test?
Health Risks in Great Danes
It is entirely possible to keep a Great Dane healthy- and it all starts with choosing an ethical breeder for your Dane puppy.
Bad Breeders
Scam Breeders: What to Look For
Breeders: Shady Business
Should I Choose a Breeder or Rescue?
Find a Great Dane Rescue
Choosing a Dog From a Show Breeder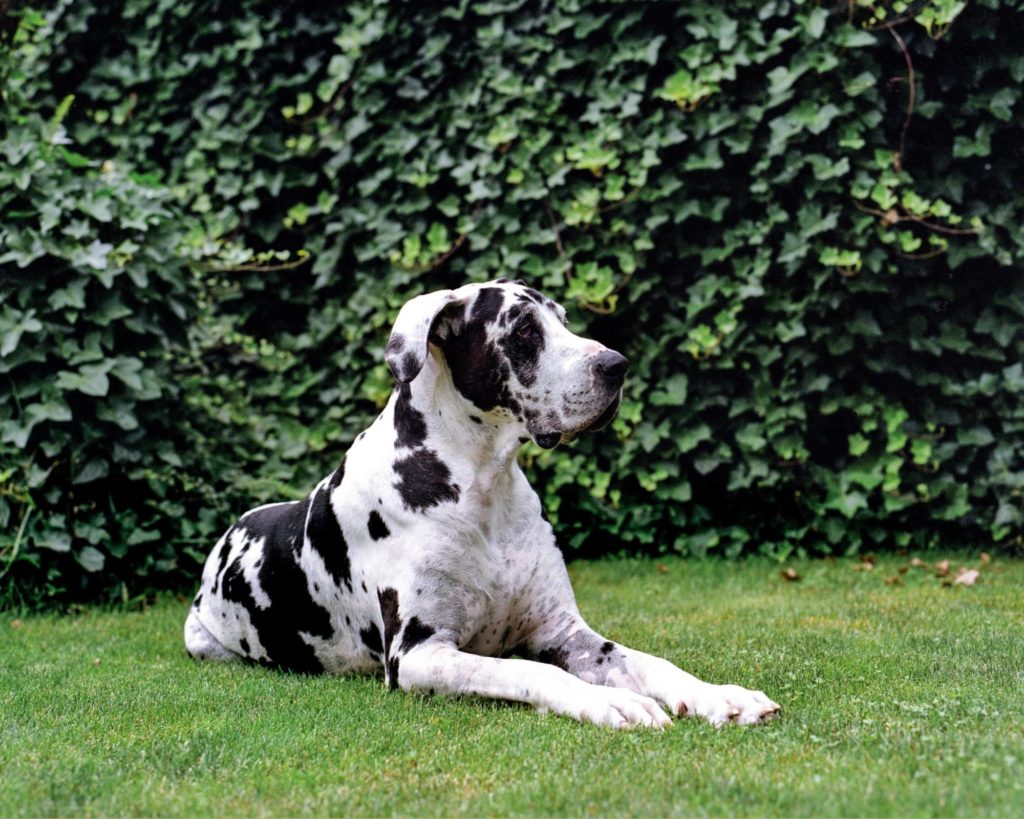 A harlequin Great Dane in the grass. A Great Dane's life expectancy does not need to be short! Big dogs can live a long and healthy, happy life.
The health conditions that can impact a Great Dane and other big dog breeds include:
Wobblers Disease (Genetic link) (Wobblers)
Arthritis (Genetic link, especially when looking at structural problems that contribute) (Arthritis in Great Danes)
Cancer (Genetic link)
Bloat (Genetic link) (What is Bloat?)
Blood Clotting Disorders (Genetic)
Degenerative Disorders (Genetic link)
Heart Disease, including DCM (Genetic link)
HEART DISEASE AND AVERAGE LIFE EXPECTANCY OF A DOG'S LIFE
DCM (Dilated Cardiomyopathy) is a silent killer. Many Danes are lost to this but it's not always diagnosed; they often have very few symptoms and may pass suddenly (as if they had a heart attack).
Heart Disease and Other Health Conditions
Is My Dog 'Filling Out' or Getting Fat?
8 Nutrition Facts to Keep Your Dog at the Right Weight
Obesity in Great Danes: Fat Danes Face Serious Health Risks
BLOAT IN GIANT BREED DOGS
Bloat is an exceptionally dangerous and scary killer; it happens fast and can take a Great Dane's life in a matter of hours.
LEARN ABOUT BLOAT HERE
IS BLOAT PREVENTABLE?
GASTROPEXY SURGERY- STOMACH TACKING
DOES GUT HEALTH RELATE TO BLOAT?
HOW FAST DOES BLOAT HAPPEN?
BLOOD CLOTTING DISORDERS AND HUGE DOGS
Blood clotting disorders are often to blame for Great Danes that don't make it through routine surgical procedures such as spaying and neutering.
WOBBLERS SYNDROME AND LARGE DOGS
Wobblers is a devastating disease that takes mobility away from Great Danes.
Wobblers Syndrome and Pain Relief
BONE DISEASE AND GIANT BREEDS
A Great Dane's life span is highly impacted by the dog's quality of joints and mobility.
Hip Dysplasia is a chronic disease that impacts Great Danes and other large dog breeds.
Arthritis in Great Danes
Laser Therapy for Joint Pain
How to Help a Dog with a Broken Leg
Using CBD for My Dog's Pain
Canine Hip Dysplasia
Your dog's chances of developing Hip and Elbow Dysplasia are higher if you choose a reputable breeder who's dogs have a health history of having Hip Dysplasia or other joint related health problems.
How to Find a Great Dane Breeder Near Me
What is OFA Health Testing?
What Makes a Breeder Good?
JOINT SUPPLEMENTS FOR GENTLE GIANTS
Since Great Danes frequently suffer from joint problems, and it is known that mobility issues can lower the average lifespan, it is important to start your Great Danes on joint supplements. Great Danes should be on a joint supplement from the time they are just a Great Dane puppy until they are adult dogs.
When you are raising Great Dane puppies, keep them on a healthy diet and Buffered Esther Vitamin C, which will support their joints and keep them from knuckling.
Is My Great Dane Puppy Knuckling?
Puppy Food for Great Danes
How to Prevent Knuckling in Great Dane Puppies
Is My Great Dane Puppy Too Small?
Great Dane Puppy Growth Chart
How to Fix Knuckling in Great Danes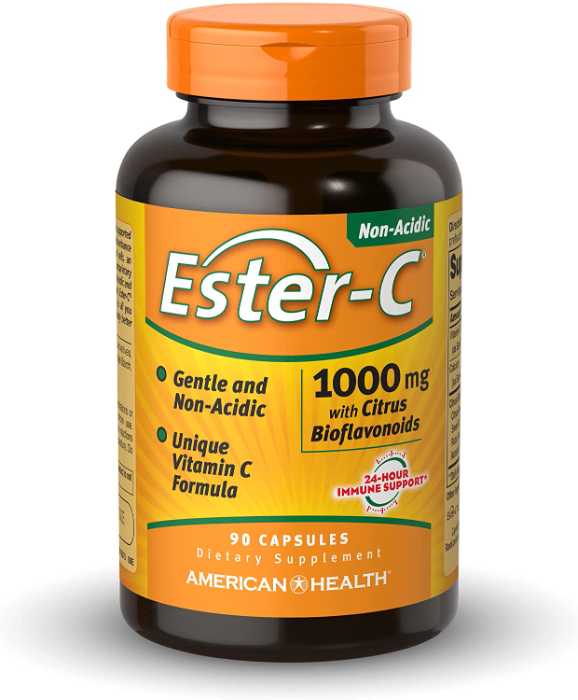 To support your dog's joints during their adult lives, include Glucosamine and/or Dasuquin in their healthy diet to promote good health of their joints.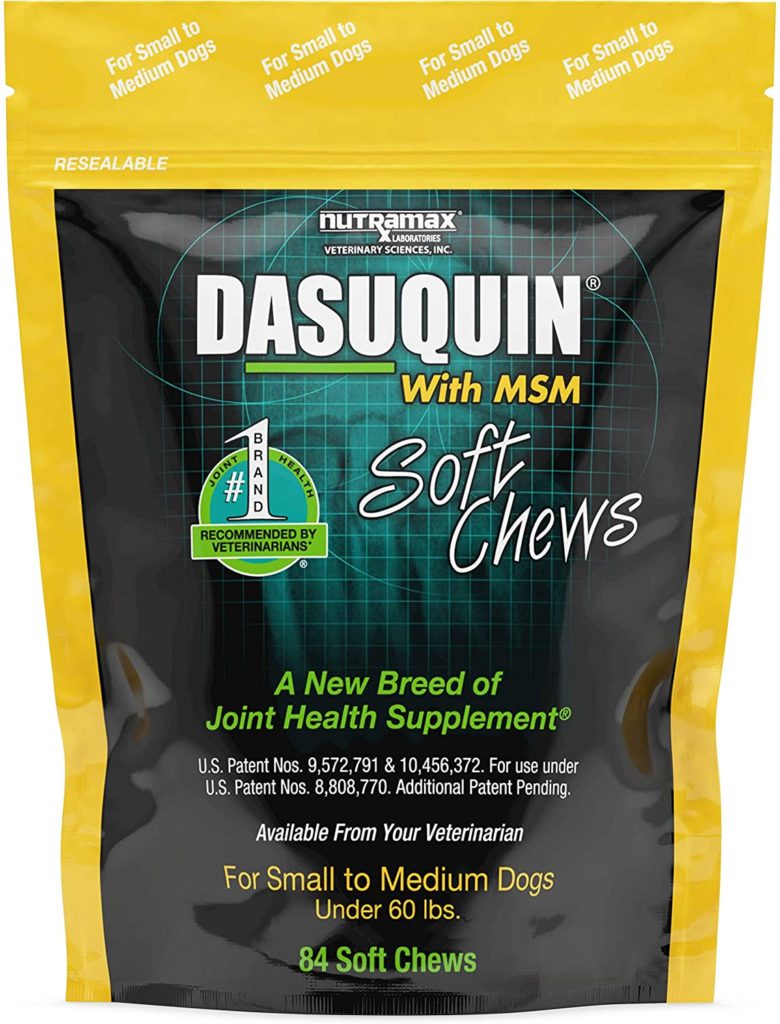 It is very unlikely that a Great Dane with any of these unfortunately common disorders will live long and robust (10+ year) lives.
HOW DO I MAKE MY GREAT DANE LIVE LONGER?
The reality here is that most of us want our Great Danes to live forever. So then, how do we make the Great Dane lifespan as long as possible and minimize the health risks?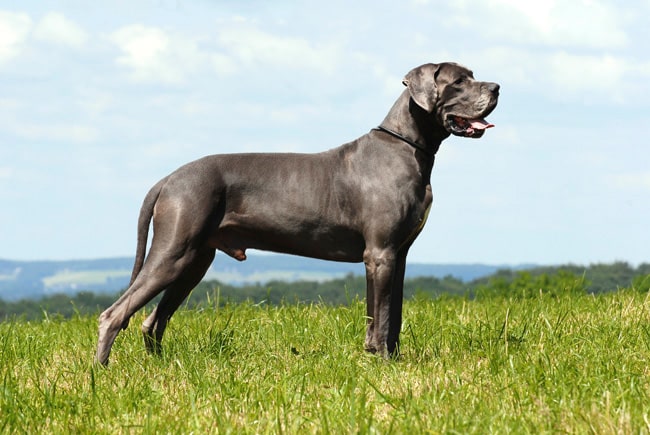 There are things you can do to help them live long, healthy lives and increase the average lifespan. The most important one starts with the breeder you choose.
HOW DOES BACKYARD BREEDING IMPACT THE WAY A GREAT DANE LOOKS?
HOW DOES SPAYING A GREAT DANE TOO YOUNG IMPACT A WAY A GREAT DANE LOOKS?
The Great Dane Breed Standard
CHOOSE A RESPONSIBLE BREEDER
Many of the Great Dane breeders perpetuating these common health problems are friendly, say they 'health test', breed often and have cute puppies and nice websites!
Treat cautiously with 'friendly backyard breeders' who are more interested in profits than the breed itself.
Breeders: Shady Business
Should I Choose a Breeder or Rescue?
Choosing a Dog From a Show Breeder
What Makes a Breeder Good?
What is a backyard breeder? The AKC has 1000's.
Friendly backyard breeders may even be popular, especially on social media. It's easy to fall into this trap, and it's unfortunate because bad genetics is like a game of telephone.
It's very hard to get rid of the bad genetics so long as they continue to be reproduced.
CHOOSE A GENTLE GIANT THAT HAS BEEN HEALTH TESTED
What is OFA Health Testing
Is Embark a 'Good Enough' Health Test?
Wobblers, bloat, heart issues, blood clotting disorders, anxiety, painful structural problems (including flat feet and roached back) and even cancer have genetic links that can be traced back to the lineage and careless breeding.
HOW TO TRIM YOUR PUPPIES NAILS
HOW TO STRENGTHEN YOUR DOG'S FEET
TAKE CARE OF YOUR GREAT DANE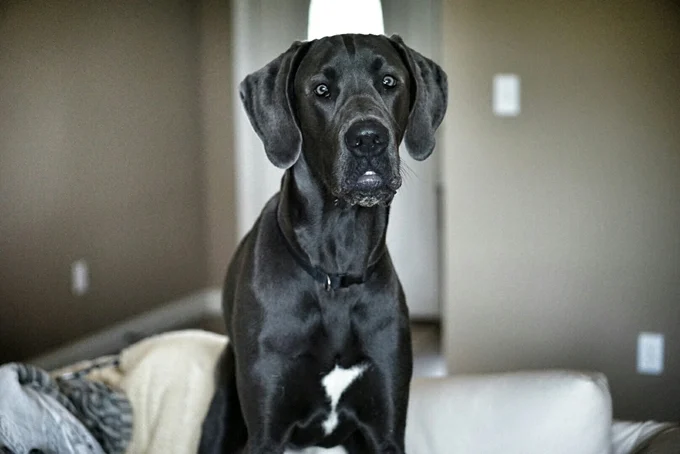 Great Danes require different care than other dogs or other breeds.
Knowing what type of care your Great Danes require can help to increase their life span.
You can help extend the life of your Great Dane, and improve the lives of the breed as a whole by taking the following steps:
KEEPING YOUR GREAT DANES LEAN AND NOT OVERWEIGHT
Since Great Danes are the largest dogs, Great Dane owners are often found 'fighting' over whose dog is bigger.
This is completely backwards and will lead to a shorter life span!
Some Great Danes are bigger naturally and will still lead a healthy life.
However, so many Great Danes are overweight and obese, which in turn, leads to short life spans.
Take your Great Danes swimming, provide them with activity and a healthy diet. Only a handful of Great Danes are ACTUALLY too thin!
Socialization Activities For Great Danes
Can Great Danes Swim?
Is My Puppy Too Skinny?
Their waistline should be visible when looking down at your dog from above, and you should be able to feel their ribs with light pressure but not see them.
An hour a day of moderate activity is what's recommended for most adult Great Danes.
Is My Dog 'Filling Out' or Getting Fat?
8 Nutrition Facts to Keep Your Dog at the Right Weight
Obesity in Great Danes: Fat Danes Face Serious Health Risks
DECREASE RISK OF BLOAT
Bloat is one of the largest killers of Great Danes and leads to a short life span in the breed altogether.
Working to prevent bloat in the first place will help your dog lead a longer life span. (Read more)
What is Bloat?
Can You Prevent Bloat?
Stomach Tacking: Pros and Cons
Bloat and Gut Health
The Scary Bloat Timeline
Bloat has several indicators of causation: gut health, anxiety, and genetics.
There are a few theories that are just completely wrong in regards to bloat, and the myths perpetuate the communities:
MYTH 1: Raised feeders can prevent bloat. WRONG!
MYTH 2: Resting before and after a meal will prevent bloat. WRONG!
MYTH 3: Large meals that are scheduled will prevent bloat. WRONG!
READ MORE BLOAT MYTHS AND WHAT THE TRUTH ACTUALLY IS HERE!
ELIMINATE ANXIETY
Did you know that anxiety can actually shorten a Great Dane's life? (More about lifespan here)
Since ANXIETY, of all things, is a key indicator of bloat, it is absolutely crucial to keep your Great Dane stress free. (BLOAT AND ANXIETY)
Use crate training as a form of keeping your dog stress-free and safe.
How to Crate Train a Great Dane Puppy
Crate Training: The Best Crates for Great Danes
Use e collar training to help your Great Dane know the boundaries and rules of society, which will help your Great Dane lead a stress and anxiety free life.
KEEP THE NAILS TRIMMED AND SHORT ON YOUR GREAT DANE
Since a big Great Dane is prone to developing painful arthritis, Great Danes need their nails kept trimmed and short.
Check them regularly and if they get too long, it is far past due.
THE BEST NAIL CLIPPERS AND FILERS FOR BIG DOGS
GREAT DANE NAIL TOOLS
HOW TO TRIM YOUR PUPPIES NAILS
HOW TO STRENGTHEN YOUR DOG'S FEET
THE 7 BEST NAIL CLIPPERS FOR GREAT DANES
If you have a Great Dane, you should be familiar with the tools required to groom their nails, and become familiar with how to use them.
Your options are to use a Dremel or nail clippers.
Click below to shop our favorites of each.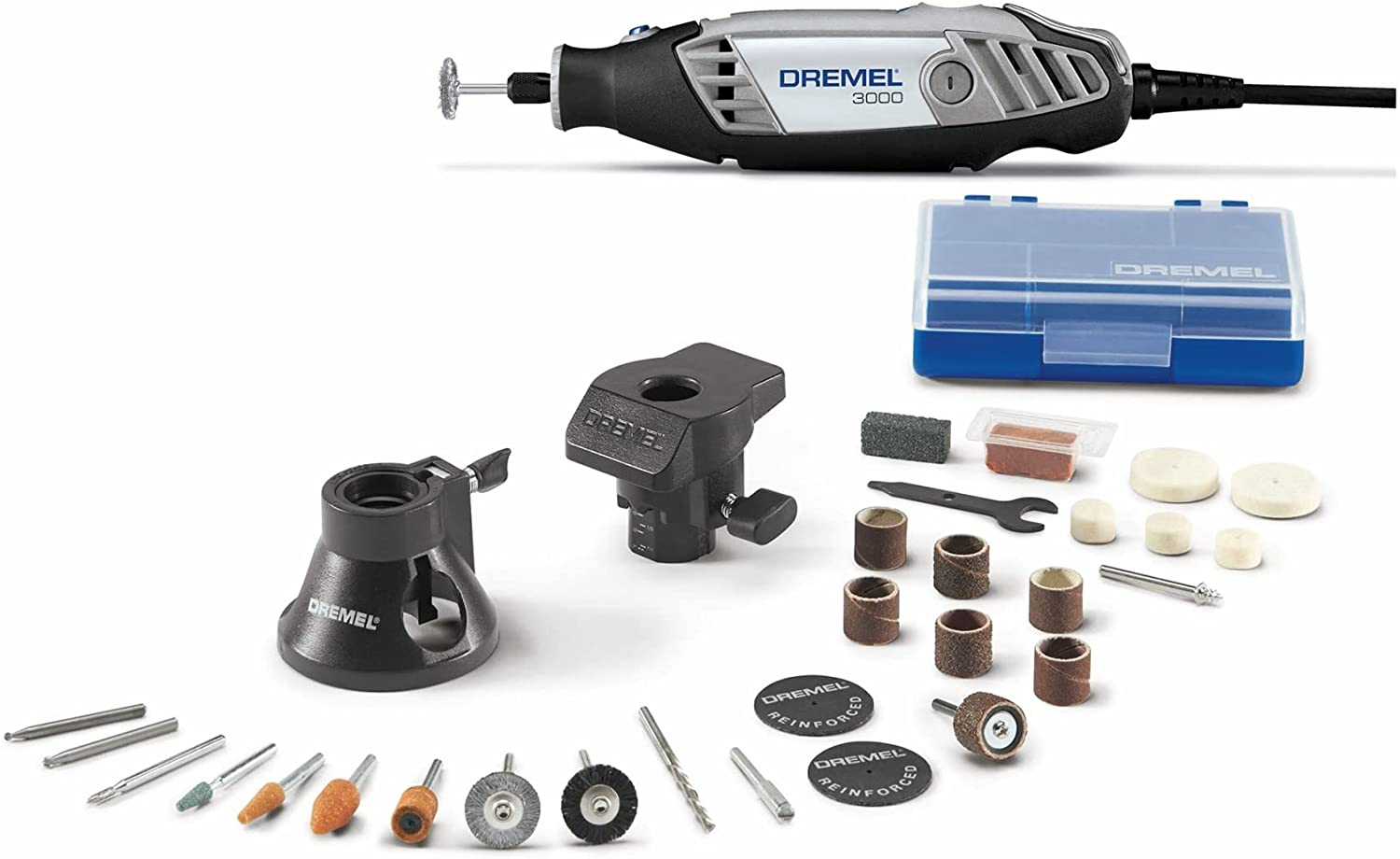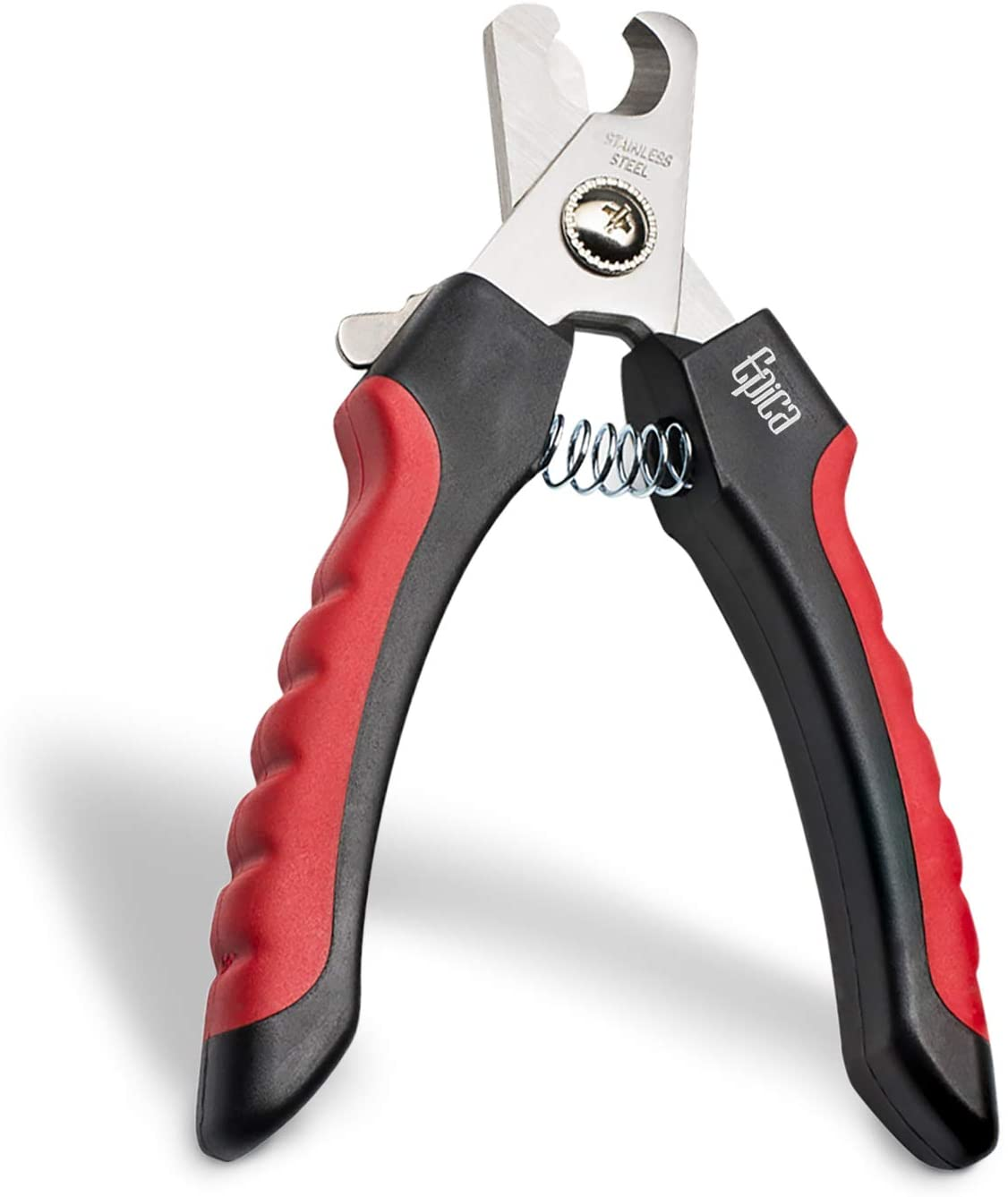 A Great Dane should get their nails trimmed weekly! If you are not comfortable trimming the nails of your Great Dane by yourself, you should schedule regular veterinary visits to get them taken care of.
A Great Dane has big, strong nails, so it can be very painful if they are touching the floor.
More so, it can actually cause joint and structural issues if the nails of a Great Dane are too long.
Check out our favorite grooming tools for the big nails of a Great Dane here.
EXERCISE FOR A GREAT DANE
Great Danes are NOT couch potatoes!
Nothing in life, not a Great Dane and not smaller breeds should be left stagnant!
Most dogs thrive when they get an abundance of free play, exercise, and training, which can help them grow both physically and mentally.
Puppy Culture: A Way to Socialize from the Start
Puppy Socialization Guide
Puppy Training: 5 Mistakes in Training
Canine Good Citizen Training for Great Danes
Your Puppy is Bored
Proper exercise for a Great Dane includes offering plenty of free play and exploration on soft, varied terrain. For this reason, we believe that all Great Danes should be reliably off-leash trained!
Using an e collar to train your Great Dane is one of the best ways to ensure that you can provide your Great Dane with the proper amount of free play and freedom that they need.
E Collar Training Guide
E Collar Myths
What is an E Collar?
SHOULD I USE A BARK COLLAR ON MY GREAT DANE?
What is the Difference Between an E Collar and a Shock Collar?
9 Reasons to E Collar Train Your Great Dane Puppy
Is the Gentle Leader an Abusive Tool?
99 Reasons Why to Use an E Collar and a Shock Ain't One
Things that are More Aversive Than an E Collar in Training
E Collars are NOT Shock Collars
Proper E Collar Placement
E Collar Comfort Pads
THE SINGLE MOST IMPORTANT THING
If we want to increase the lifespan of Great Danes, choosing responsible breeders is the most important, humane and thoughtful thing any of us can do.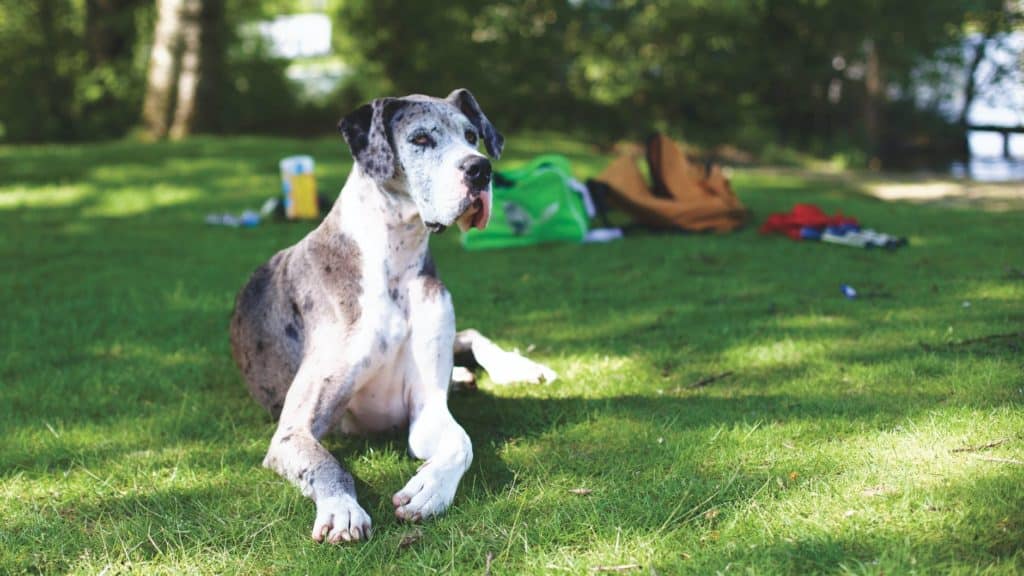 Good breeders are actively looking reduce the incidence of bloat, cardiomyopathy, wobblers and cancer.
People need to understand that poor breeding practices are largely to blame, not the breed itself.
READ MORE:
Great Dane Not Eating – What to Do
Great Dane Farts: The Funniest Collection of Photos and Videos on the Internet
The Best Collars for Great Danes
Blue Great Danes – Facts, Photos, and Care
The Top 5 Adorable Facts About Great Dane Brindle Dogs
Want more information on Great Danes? Read the resources at the Great Dane Club of America. and the Great Dane Club of Canada.