Walking into a dog food store is like walking into a shark tank. You're immediately inundated with nutrition advice and thousands of bags with bright colors and promises of better health for your pet. If you are interested in what we believe are the best foods for Great Danes, this blog post is the place to be (NOT the pet store)!
Back in the day, before Natalie and I started this site and put literal years into educating ourselves about the most current advice for Great Dane care, we were confused. So confused! It's easy to get sucked into marketing and anecdotes from other dog owners. We all love our pets and want what is best.
When we dug around in search of the best foods for our Great Danes, here is what we found:
Outdated advice, including food brands that no longer exist
Nutrition information and ideas that are not based on any actual research and science
Recommendations for food brands that are poorly formulated
Click bait articles that seem to know very little about Great Danes
Promotional articles from dog food companies that don't know how to formulate for Great Danes
Fear mongering, elitism, and pseudoscience in pet food marketing
A whole lot of confused Great Dane owners!
This blog post today is for those who feed Great Dane KIBBLE, and we are bringing you science-backed, UP TO DATE information about what to feed your giant breed dog! Raw and fresh info coming soon, though we share some of that here, too!
Great Danes have very specific nutritional requirements.
The appropriate food will keep them at a healthy weight and will support their gut health, joints, growth, and structure. Read on!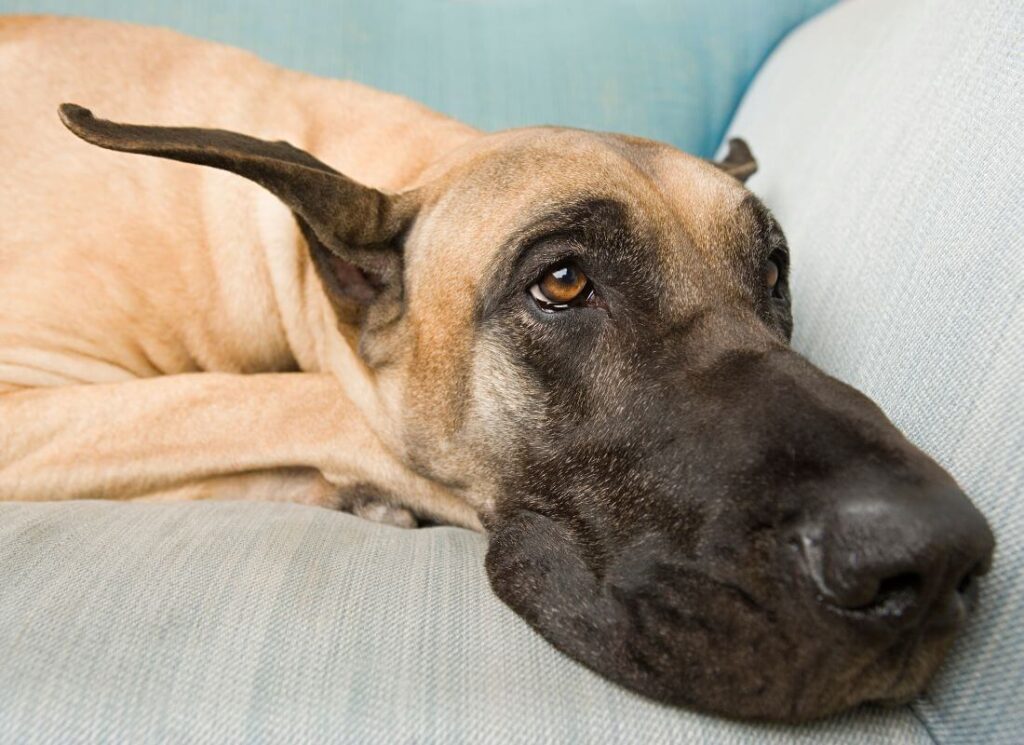 Food Requirements for Great Danes
The best foods for Great Danes may not be what you think.
Remember, on this blog we look at science, research, and evidence; not marketing.
Foods for Great Danes must be formulated specifically for the growth (puppies) and maintenance (adults) of large and giant breed dogs. This means that puppies need a large or giant breed puppy or all life stages food, and adults over the age of 2 need an adult or all life stages food.
For more information on how to feed Great Dane puppies, read here.
Additionally, we like to see foods meet the following guidelines (especially for Danes under the age of 2):
Calcium level at or below 1.2%
3.5g or less calcium per 1000kCal
Calcium to Phosphorus ratio of as close to 1 : 1 as possible
Specifically labeled for large or giant breed dogs
Grain-inclusive
Includes meat meal or meat by-product meal, which may lower the risk of bloat
Board Certified Veterinary Nutritionist or PhD in Animal Nutrition employed by the company
We are going to break down the science of dog food in this blog post below. Our recommendations MAY surprise you, so we're backing up our information with science!
Now before you go crazy and start looking at a million labels, let us help you.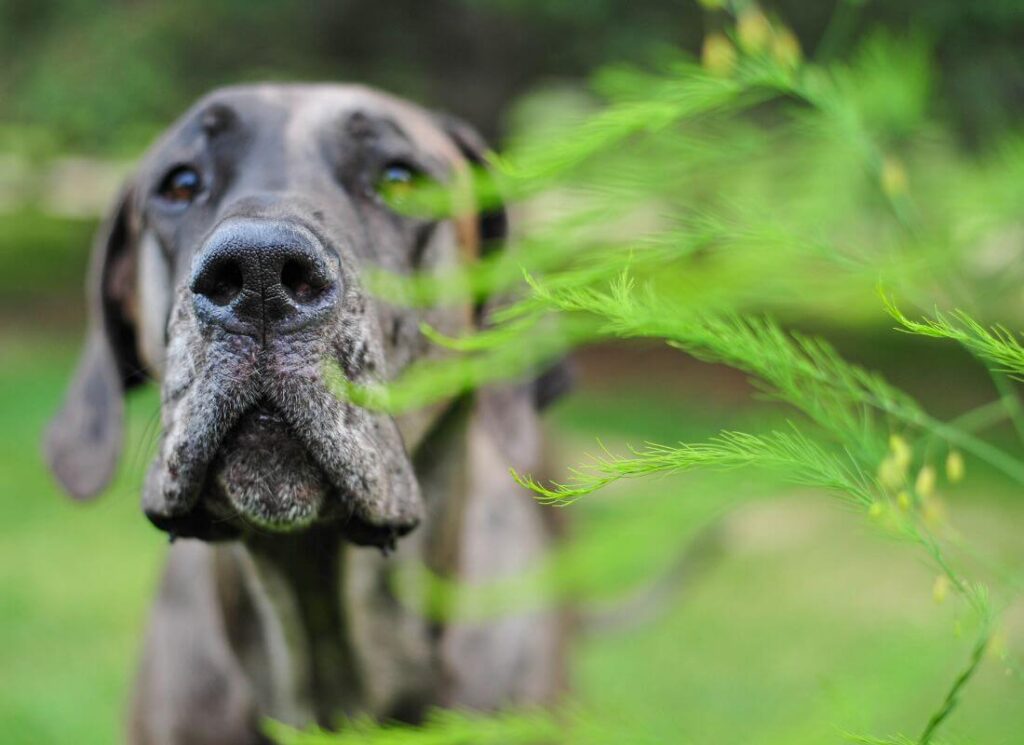 What are the Best Food Brands for Great Danes?
To keep things simple, here is our list of foods that meet the guidelines and recommendations outlined in this post. Click on any to see them on Chewy.
FOODS FOR GREAT DANE ADULTS OVER THE AGE OF 2:
FOODS FOR GREAT DANE PUPPIES UNDER THE AGE OF 2:
Check out THE GIANT DOG FOOD PROJECT where you can compare brands and values head to head.
I like to note that some people have not loved our recommendation to choose well-researched, science-backed foods. We believe that such opinions are often misinformed. To be perfectly honest, I used to be misinformed as well, and actively considered foods such as Purina and Royal Canin to be absolute garbage.
Of course we all want to believe that the 'holistic' option is best, but I've learned that's not always the case; millions of dollars are spent every year on dog food marketing and we are all susceptible to it.
Great Dane puppies have additional needs when it comes to their food. You can see our blog post on Dane puppy food brands here: https://www.hellodanes.com/great-dane-puppy-food/
Find a veterinarian that has a lot of Giant-breed knowledge and experience and talk with them when choosing food for your Great Dane.
We recommend following the advice of your veterinarian, NOT a pet store sales employee or "nutritionist" with no verifiable veterinary credentials.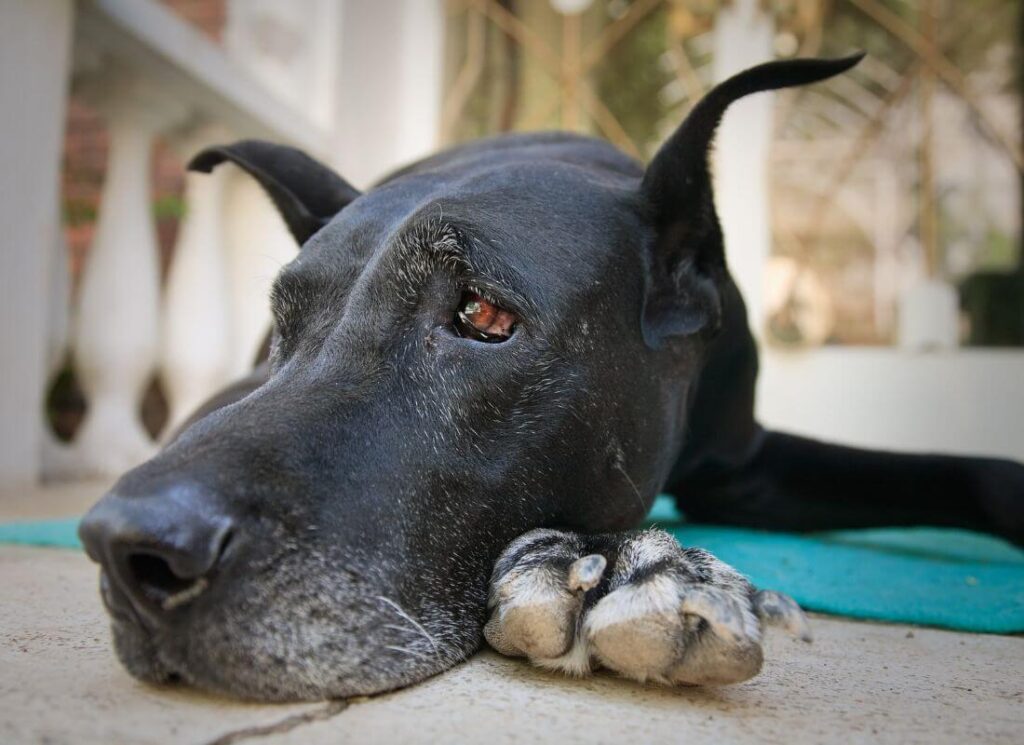 All About Meat Meals and Meat By-Product Meals
When choosing a kibble, we like to see meat meal and meat by-product meals in the first ingredients.
Studies show that rendered meat meals may help lower the risk of bloat!
A dry diet which contains named (chicken, beef, or salmon) meat meal or meat by-product meals will have MORE meat and more meat based nutrition in it, and that's just good science.
Meat meals are nutrient-dense ingredients that include meat, bone, organ, and cartilage. Dogs need these things in their diet. You may notice these ingredients in raw food!

"Fresh meat" and "deboned meat" can be in the food as well. It's important to note, however, that fresh meats are roughly 70% water, and once extruded into kibble won't be a large portion of the final product.

For this reason, we recommend steering clear of foods that only use fresh or deboned meats to appeal to YOUR taste and wallet.
Organ, bone, tissue and cartilage on the other hand (in the form of meat meals and meat by-product meals) are species-appropriate and will contain necessary amino acids, vitamins, proteins, fats, and even glucosamine!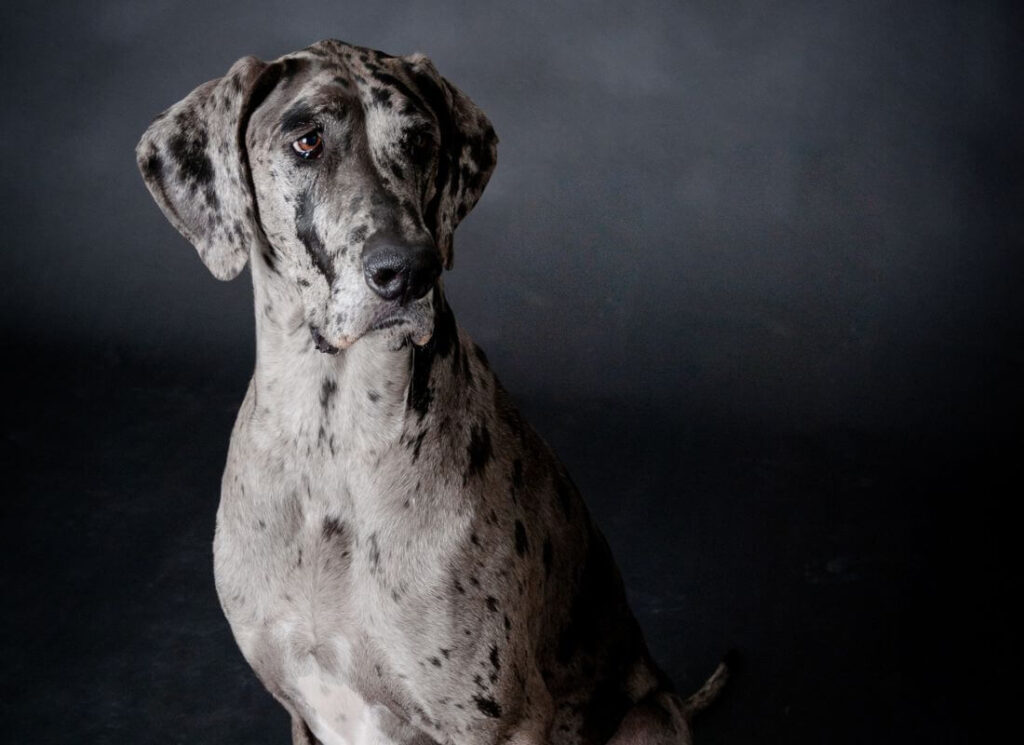 All about Calcium & Phosphorus Levels
Calcium should be 1.0% – 1.2%
Phosphorous should be 1.1%-.8%
The overall calcium level should not exceed 3.5g per 1000kCal
For puppies, it is also very important that the food has the AAFCO Large Breed Growth Statement, indicating that the formulation is appropriate for growing puppies that will be 70+lbs or more as adults.
The ratio of calcium to phosphorus should be as close to 1:1 as possible. (For example, a 1.4 to 1 ratio is not acceptable, but 1.2 to 1 is)
However, these are NOT the only considerations!
A food with the correct 'analysis' and 'healthy sounding ingredients' may still be incorrect.
This is why choosing an appropriate large or giant breed formula from a company with qualified nutritionists on staff matters so much.
Additionally, many foods on the market that are popular in the Great Dane community are actually dangerously high in calcium and way too low in protein.
Compare over 600 brands head to head @thegiantdogfoodproject for more information about this.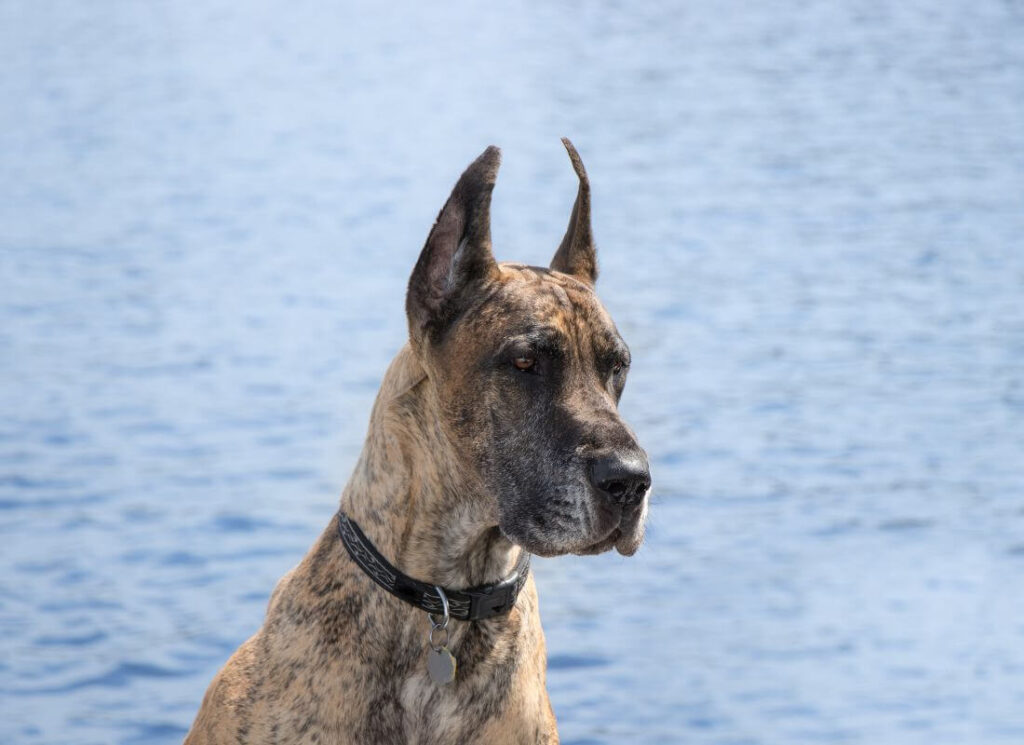 What protein level should Great Dane food have?
There is a lot of outdated misinformation out there about protein levels in Great Dane food. Many people believe (and promote) that Danes should be fed 'low protein' foods to 'prevent knuckling'.

That statement is unfortuantely based on pseudoscience, anecdotes, and misunderstandings about protein in pet food.
Quality protein from meat, meat meal and meat by-products is necessary, and studies show that protein does not actually "cause knuckling".
Too many calories and too much of the wrong kind of nutrition is what causes growth problems in Great Danes, not too much protein.
Foods that use a lot of peas or legumes, especially when paired with "fresh deboned meat" (which as mentioned above is 70% water) may have replaced a significant amount of meat protein with plant-based protein. This is not healthy.
Large Breed foods that are backed by legitimate peer-reviewed science and research will have optimal fat, protein, calcium, and phosphorus levels. Most also offer joint support.
If you are choosing an appropriate food, the protein level on the bag should not be a consideration.
A more extensive list of our favorite foods for Great Danes is below, but until then, here are some of our favorites.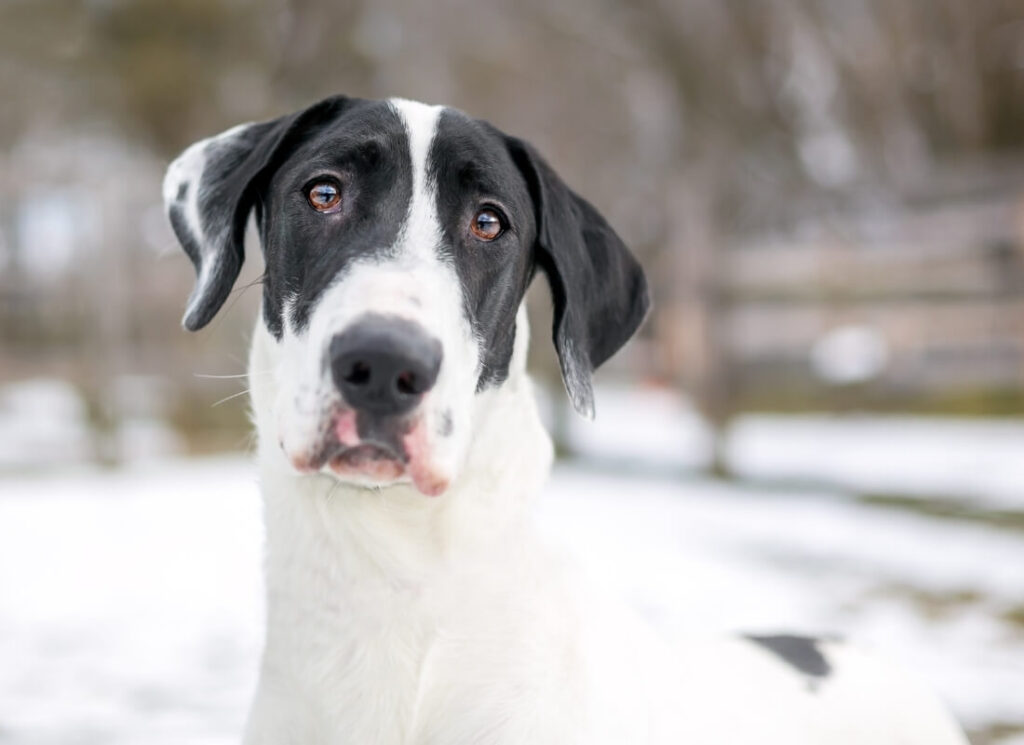 Great Dane Food Dealbreakers
Here are some foods that you definitely want to avoid for your Great Dane.
Grain Free Food for Great Danes
Unbalanced foods from boutique companies are believed to lead to dietary-induced heart problems (Secondary DCM).
Grain-free foods in particular are problematic as most are from boutique food companies that tend to replace a lot of actual meat content with peas, potatoes, chickpeas and legumes.
There is a growing body of evidence that should be addressed, especially because Great Danes are already prone to genetic heart problems (Primary DCM).
For more information on Diet-Induced DCM, Grain-Free and Boutique Dog Foods, READ HERE.
Secondary (nutritional) DCM is often a silent killer. You may not know your dog is sick until it's too late.
Secondary DCM is often reversed completely, however, by choosing science-backed dog food formulated by Veterinary Nutritionists.
Bloat & Nutrition Risk Factors
To date, no food brand has been correlated with an increase in bloat risk.

However, the following factors HAVE been noted and require more study:
Low fiber diets
Poorly formulated diets with fat in the first 4 ingredients, often seen in foods from Victor and Life's Abundance which are not formulated by a veterinary nutritionist or backed by research. There is one exception to this rule; the Royal Canin Giant Breed line. Read more about this HERE.
Dogs that are fed only a dry food diet (we recommend mixing in canned food into at least one of your dog's daily meals
Dogs that eat quickly (we recommend slow-feeder bowls)
Dogs that eat from raised bowls (though more study is needed). This is likely related to gulping and excess intake of air from the unnatural eating position that occurs with raised feeders.
MLM Foods for Great Danes Scam
MLM foods such as Life's Abundance (also NuVet Vitamins) are foods where breeders profit off of the (expensive) food being sold to puppy buyers.

Some breeders also participate in the unethical practice of essentially requiring this purchase or in offering a more robust health guarantee if you feed this food.
These foods are backed by a lot of marketing claims, but no science.

For more information on the problem with Life's Abundance food, READ HERE.
Here are our top choices to feed your Great Dane.
It's 2022, read why Great Dane Puppies should be on PUPPY food —>
Check out THE GIANT DOG FOOD PROJECT where you can compare brands and values head to head.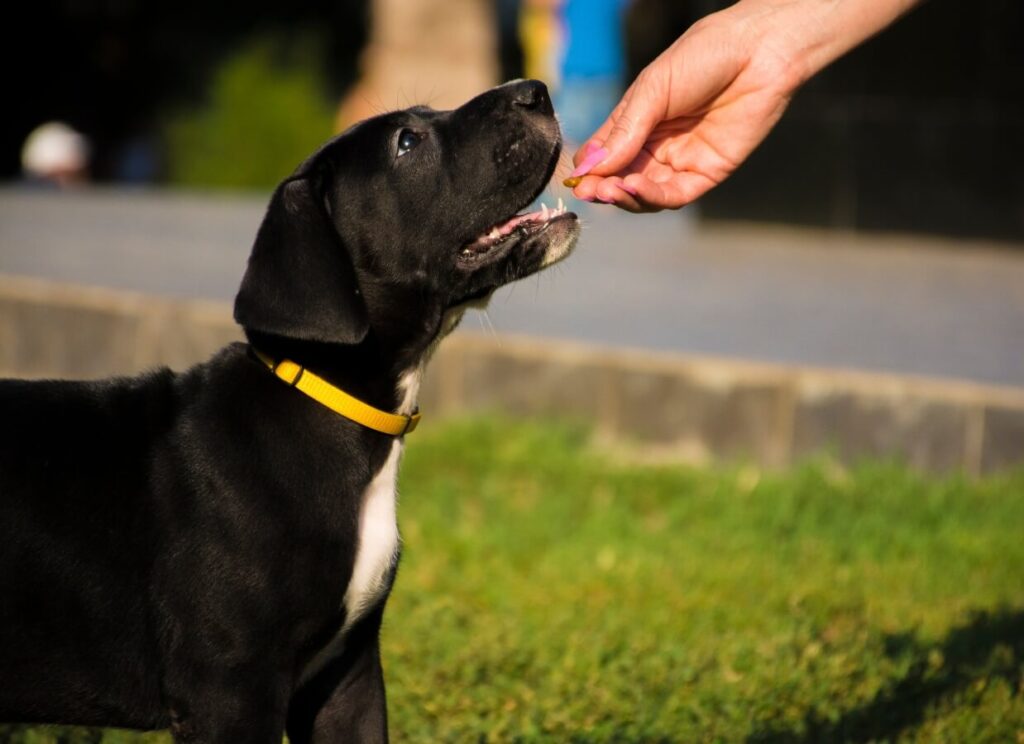 What is WSAVA?
The WSAVA (World Small Animal Veterinary Association) is a worldwide non-profit dedicated to supporting veterinarians and research.
Any and all dog food companies can donate funds to and support the WSAVA. Only a few companies do.
The WSAVA does NOT approve, certify or recommend specific food brands. They make no money on their recommendations.
There is no such thing as 'WSAVA Approved'.
WSAVA has published a helpful guide of things to look for when choosing food for your dog.
You can see the WSAVA nutrition guide HERE.
Some foods meet WSAVA Guidelines but unfortunately, most don't.
Look past the marketing and fancy words on your dog food bag.

Start asking questions.
Food should be formulated by on-site, employed, credentialed Ph.D Veterinary Nutrition professionals with extensive, certified knowledge in veterinary health and nutrition.

If you reach out to a company and they have a list of excuses for why they don't actually staff a full-time board-certified Veterinary Nutritionist (DACVN or ACVN), or why they don't also then test their foods by investing heavily into research and trials, tread cautiously.
Many companies will say they use a "team of nutrition experts, including nutritionists".
What this most often actually means is that they paid a consulting company to sign off on a formula they generated using software or spreadsheets. If it meets nutritional minimums, a box can be checked and the company can claim that a 'Nutritionist' was involved.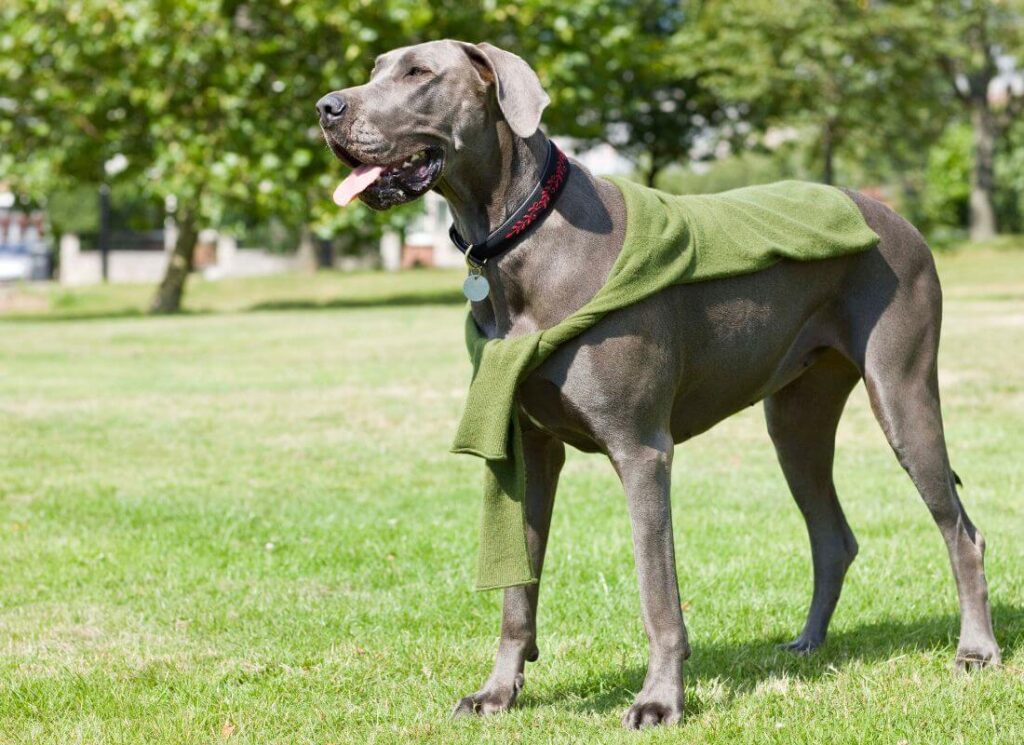 The List of Best Foods for Great Danes
As before, this food list is not exhaustive. Remember to get your nutrition advice from credentialed professionals and those who share the same ethos of choosing science-backed, highly researched nutrition.
This list is for ADULT dogs over the age of 12-18 months.
Puppies should be on the PUPPY version of these formulas.
These are the same foods that are recommended by veterinarians and fed by the top breeders (whose dogs are healthy, lean, robust and long-lived). We recommend putting your favorite on autoship from Chewy.com!
For puppies, choose the Large Breed puppy version.
The addition of fresh whole foods and toppers (up to 10% of the diet) on a professionally formulated food will provide better nutrition than a few dried blueberries in a bag of 'boutique' food ever will.
We recommend feeding same-brand canned food, in addition to dry food.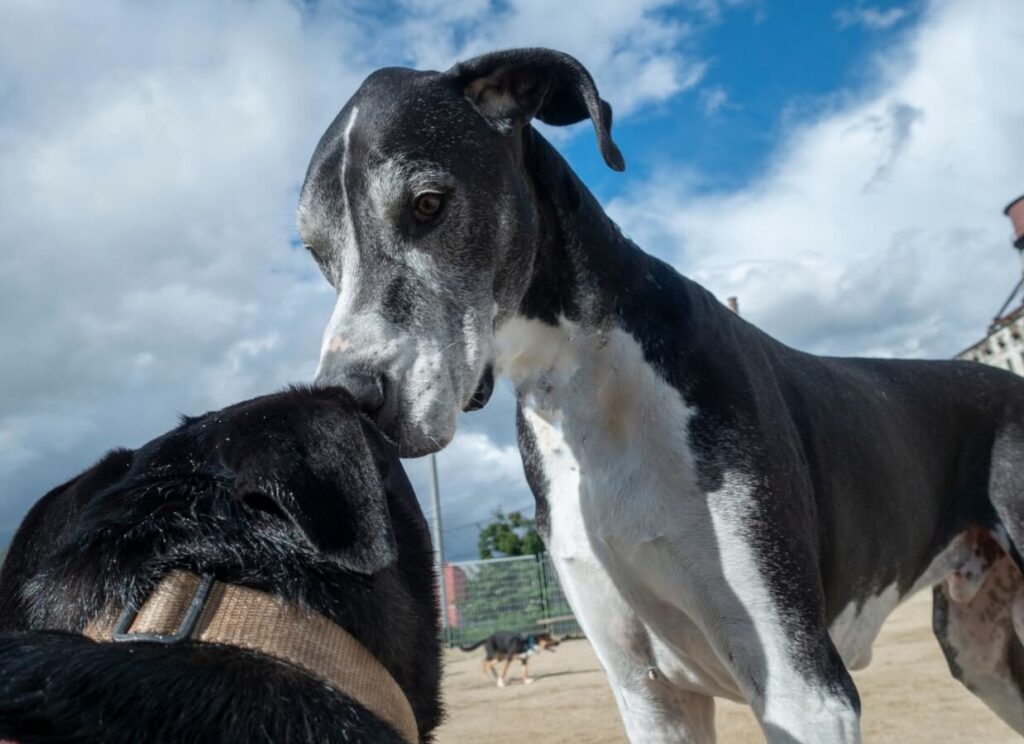 Here is a list of 'popular' Great Dane food brands that we do not recommend.
Why are these foods on the 'not recommended' list?
Simply put, they don't meet basic criteria for ethical, quality formulation and nutrition.
In other words, these foods are not typically formulated, researched and/or then fully tested by people with legitimate credentials to do so.
Most 'boutique' foods only look healthier and feel 'higher quality' because of marketing, not because they actually are.
They do not participate in common canine health research and journals (choosing instead to do their own 'testing'), and they often do not substantiate their formulas in actual food trials (choosing instead to pay somebody to just look it over on paper to see that AAFCO minimums are reached).
Most of these brands below have documented, verified cases of secondary (dietary-induced) DCM.
This is despite having only a tiny market share and minuscule sales compared to 'big dog food' (science-backed brands with a huge market share) that do not have any documented cases of nutrition-related DCM).
It is a myth that 'holistic', 'ancient grains', 'super premium', or 'human grade' boutique dog foods are healthier or better for your pet.

These are marketing terms with no true regulations or standards.
Foods that are not Recommended
Many of these foods are popular in the Great Dane community, but that doesn't make them better. A lot of these foods are made in factories that manufacter many other brands on contract, and none of the brands listed below have qualified nutritionists on staff. Many of them have calcium levels that are in excess of current recommendations, too!
Nutrition is a KEY element in Great Dane health. We believe these brands should be looked at with higher consumer demands of quality and ethical formulation practices:
Earthborn Holistics
Diamond Naturals
4Health
Victor (high calcium levels in all but one formula)
Nutrisource
Fromm (formulated by a chemical engineer)
Costco/Kirkland (made by Diamond)
Nulo
Nutro
Acana – Never! Lots of ingredient splitting
Orijen – Training treats or toppers only, many verfied cases of DCM
Solid Gold
Gentle Giants – Puppy mill/rescue scheme
Life's Abundance – Never! Breeder MLM scheme
Open Farms – co-packed marketing brand
Blue Buffalo
Just Food for Dogs (can be used as a topper, also the safest 'fresh' food option)
Ollie (can be used as a topper)
Spot & Tango (can be used as a topper)
The Honest Kitchen (can be used as a topper)
Ziwi Peak (can be used for training treats)
Zignature
Blackwoods
Nutra Nuggets (made by Diamond)
Want more science-based nutrition research and information?
Here are some of our favorite resources!

WSAVA Nutrition Guidelines
The Tufts University Petfoodology Blog
Why You Shouldn't Judge Pet Food by the Ingredients
All Trades DVM (formerly Doc of All trades) Nutrition Category