Can Great Danes swim?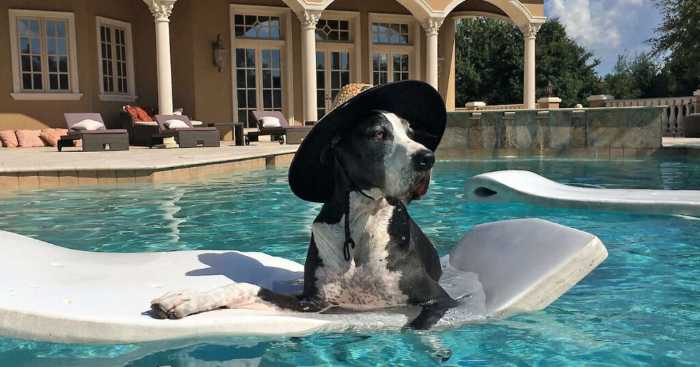 Great Danes are one of the largest breeds of dogs in the whole world. A Great Dane puppy is born at a whomping 1.5-3 lbs and grows rapidly for the first 24 months of its life.
Great Danes are skilled at a lot of things, but are they natural swimmers?
CAN GREAT DANES SWIM?
The truth is- Great Danes can swim! In fact, most dogs can swim to some degree. But that doesn't mean they all enjoy it and are good at it.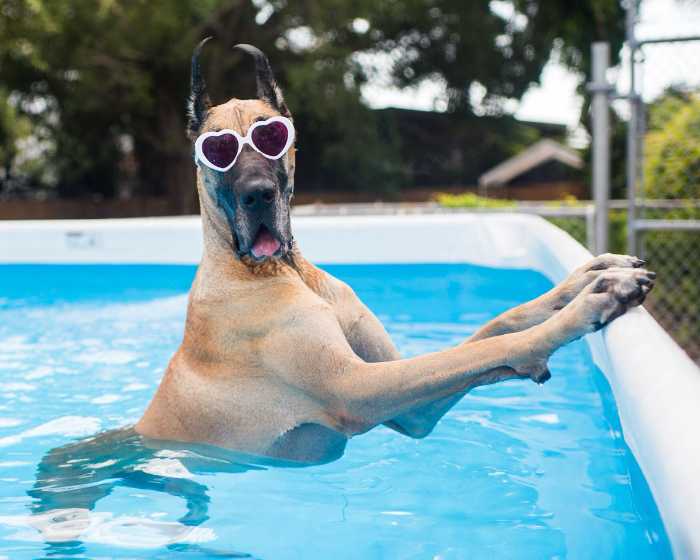 Great Danes have a few characteristics that make them better swimmers than other breeds. For one, they have webbed feet! This gives them more power in the water and helps them move through it more efficiently. Secondly, their long tails act as a rudder, helping them to steer as they paddle.
WHAT SHOULD A GREAT DANE LOOK LIKE?
So, if you're thinking about taking your Great Dane for a dip this summer, rest assured- they can handle it! Just be sure to introduce them to the water gradually and supervise them at all times.
Looking for other fun activities with Great Danes? Try these: Socialization Activities For Great Danes
5 THINGS YOU SHOULD KNOW ABOUT A GREAT DANE AND IF THEY ARE GOOD SWIMMERS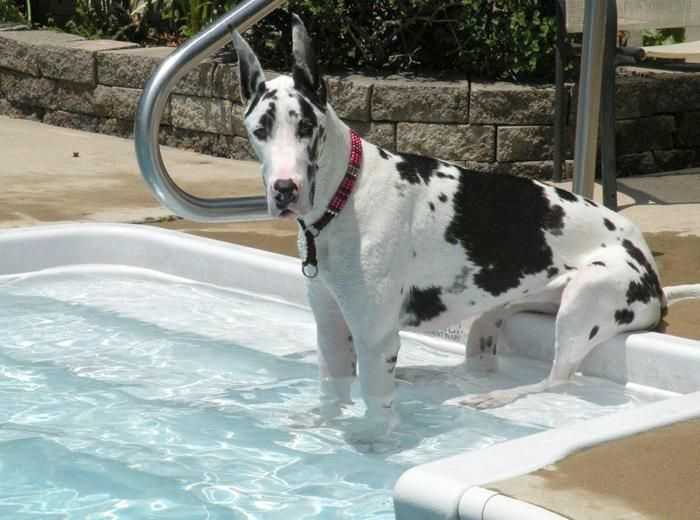 GREAT DANE BODIES ARE HELPFUL TO HELPING THEM BE GREAT SWIMMERS: Great Danes bodies ARE equipped to help them swim! Great Danes have long legs, webbed feet and long tails that can help them tread water.
SWIMMING IS VERY HEALTHY FOR GREAT DANES: Great Danes benefit TREMENDOUSLY from swimming! Large breeds are prone to health issues in their large bodies like Hip Dysplasia and Arthritis. One of the best forms of exercising for these gentle giants is swimming as it is so easy on their joints.
MAKE SURE TO PROMOTE SAFETY WITH YOUR GREAT DANES DURING ANY SWIMMING ACTIVITIES: You should always supervise your Great Dane while they are swimming and provide safety gear like a life jacket / life vest. Water safety is and always should be in the forefront of your mind when taking a Great Dane swimming.
SOME GREAT DANES WOULD RATHER DO ANYTHING ELSE THAN SWIM: Some Great Danes do NOT enjoy swimming. Dog owners report that their Great Dane would rather do just about anything than go swimming, whether it be in large bodies of water to shallow water or even a small baby pool. There are things owners can do from with Great Dane puppies to help their Dane to swim more comfortably when it is older.
SWIMMING LESSONS CAN HELP A GREAT DANE LEARN THE BASICS: Not all dogs are born with the ability to even know HOW to swim. Using a pet-friendly swimming pool and starting a a young age is the best way to provide your Great Dane with proper training in how to become excellent swimmers and teach them to like to swim.
Arthritis in Great Danes
Laser Therapy for Joint Pain
Should You Go Running With Your Great Dane?
How to Help a Dog with a Broken Leg
Using CBD for My Dog's Pain
Canine Hip Dysplasia
A GREAT DANE HAS A BODY THAT LENDS TO THEM BEING GOOD SWIMMERS
Great Danes have bodies that will help them when swimming.
Great Danes Webbed Feet:
The dog breed has webbed paws, which help them to paddle when in the water.
When learning to doggy paddle, these webbed toes on their front paws can help your Great Dane swim more easily, which will make them feel more comfortable and stay afloat.
The Long Tails of a Great Dane:
You may get annoyed when the long and strong tail of a Great Dane wacks you when you get home from work. The powerful wag of a Great Dane tail can be strong and sometimes painful when they wag!
But, the long tail of the dog also helps with steering and helps them when swimming.
Great Dane Hind Legs
Since the upper body of a Great Dane is so big, it's important that their hind legs are able to support them while swimming.
Great Danes have large legs that help them like to swim.
Keeping your dog thin and healthy at the right weight for their body will help them be a more natural swimmer, as they will be able to use their front legs and back legs more easily to doggy paddle, helping their upper body to stay afloat.
SWIMMING IS A VERY HEALTHY EXERCISE FOR A DOG BREEDS AS BIG AS A GREAT DANE
Swimming is one of the best exercises for dogs as big as Great Danes.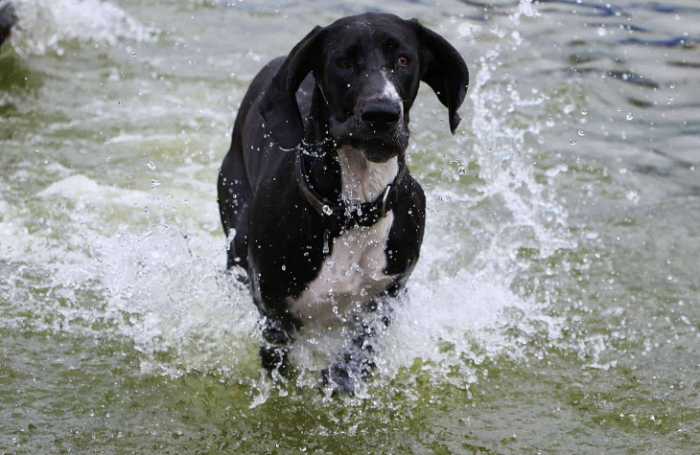 Swimming has many benefits for any dog, but even more so for dogs who carry extra weight on their bodies, like giant breeds.
Swimming has joint benefits
Swimming has cardiovascular benefits
Swimming helps to maintain a healthy weight
Swimming can help your dog get mental stimulation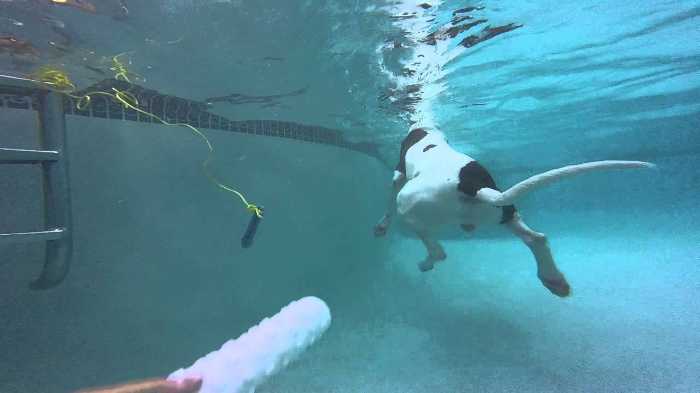 Swimming is a great way to get exercise without putting any extra strain on your dog's body. Great Danes are especially prone to certain health problems, like arthritis and hip dysplasia, so it's important that they get regular exercise that is easy on their joints.
If Great Danes become overweight, taking them to swim is one of the most powerful ways to help them trim down. Swimming is the perfect solution!
SWIMMING WITH GREAT DANES REQUIRES SAFETY ITEMS
Not all dogs are natural swimmers. Danes are not natural swimmers, at least not most of them. It may be a matter of life and death for your dogs, whether you choose to put them in a life-saving vest.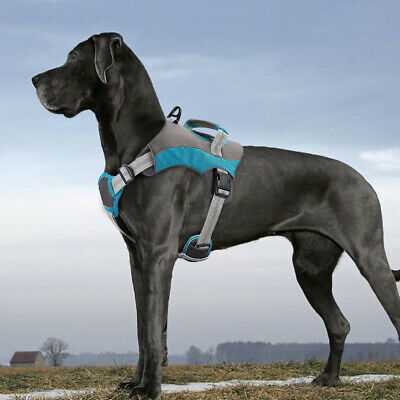 Especially while you are teaching your Dane to swim, you need to provide them with swim gear like a life jacket.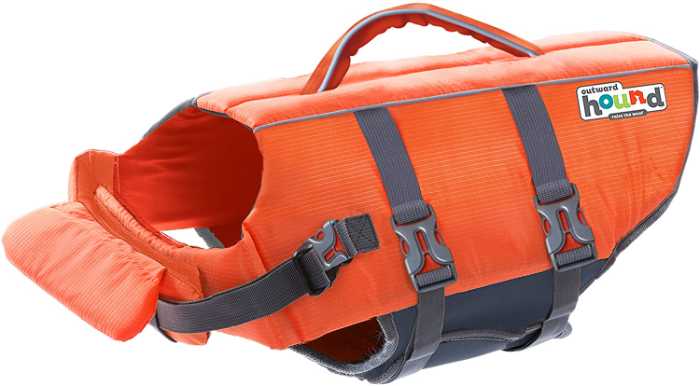 Great Danes like to feel safe and secure, and a life jacket can help them feel secure.
Great Danes are also a dog that loves to be with their owners, so it is a great idea to swim with your dog, especially the first time you take them to swim.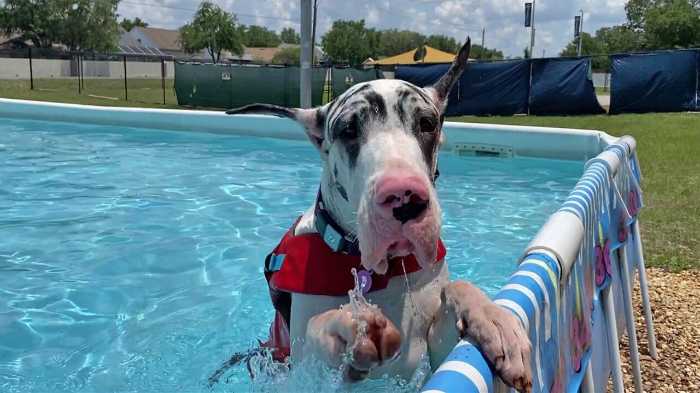 TAKING YOUR DOG TO SWIM ON A HOT DAY
If you are taking your dog to swim on a hot day, a life vest can REALLY trap heat inside. Be aware of heat stroke and only wear the life jacket while you are in the water or nearby the water.
You should also invest in some dog friendly sunscreen for when you take your dog to swim.
Depending on the coat colors of your dog, their skin can get sunburnt very easily.
SOME GREAT DANES HATE SWIMMING MORE THAN ANYTHING
If you've ever had any other dog, you know that most dogs love to swim.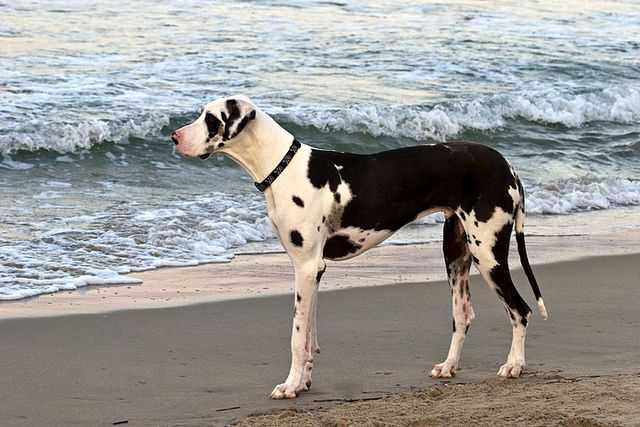 Some dogs would even rather swim after a tennis ball than do anything else in the entire world.
Dogs usually love the water. And most Great Danes do too!
But, some Great Danes really hate to swim more than other dogs.
If you have a Great Dane dog who just absolutely hates to swim- it is not abnormal as they are just not natural born swimmers like other dog breeds.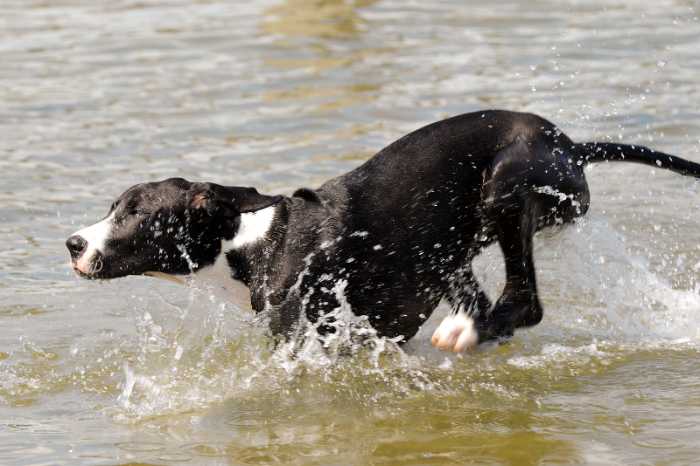 You can do things to help your dog learn to enjoy swimming:
Help your dog understand that swimming is not going to hurt them by providing them with positive experiences.
Use positive reinforcement to teach them that water is a great thing
Use treats or fun toys to help your Great Danes swim
Always use safety equipment like a vest when your Great Dane swims to help them feel safest
Take your dogs to swimming lessons
Teach your dog the concept of water with small steps such as a baby pool, the bath tub, or the garden hose
Investing in a smaller pool for your Great Dane will help swimming not feel as overwhelming as taking them to a lake for their first try. Try something like this: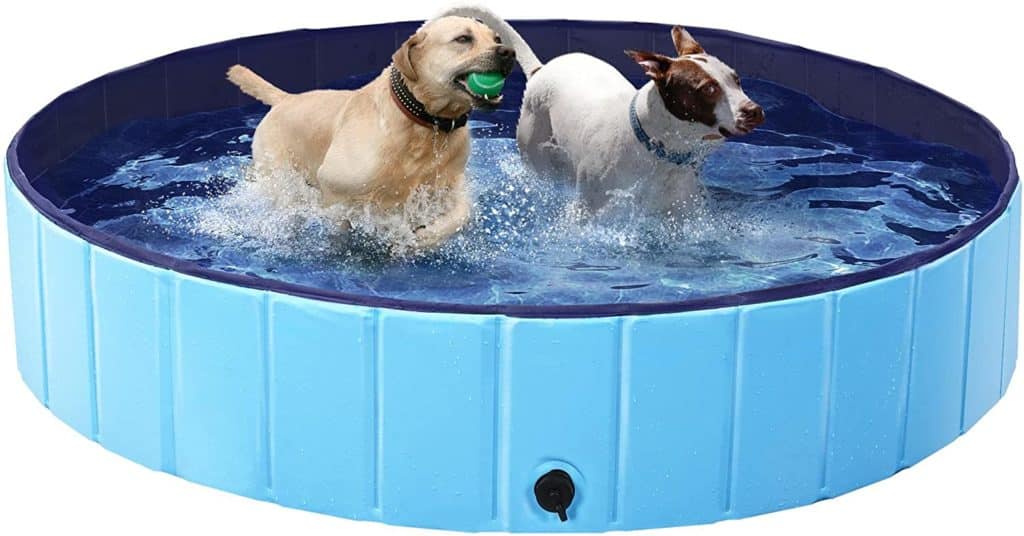 Also, you can work them up to a body of water by getting them interested in a doggy sprinkler toy, like this: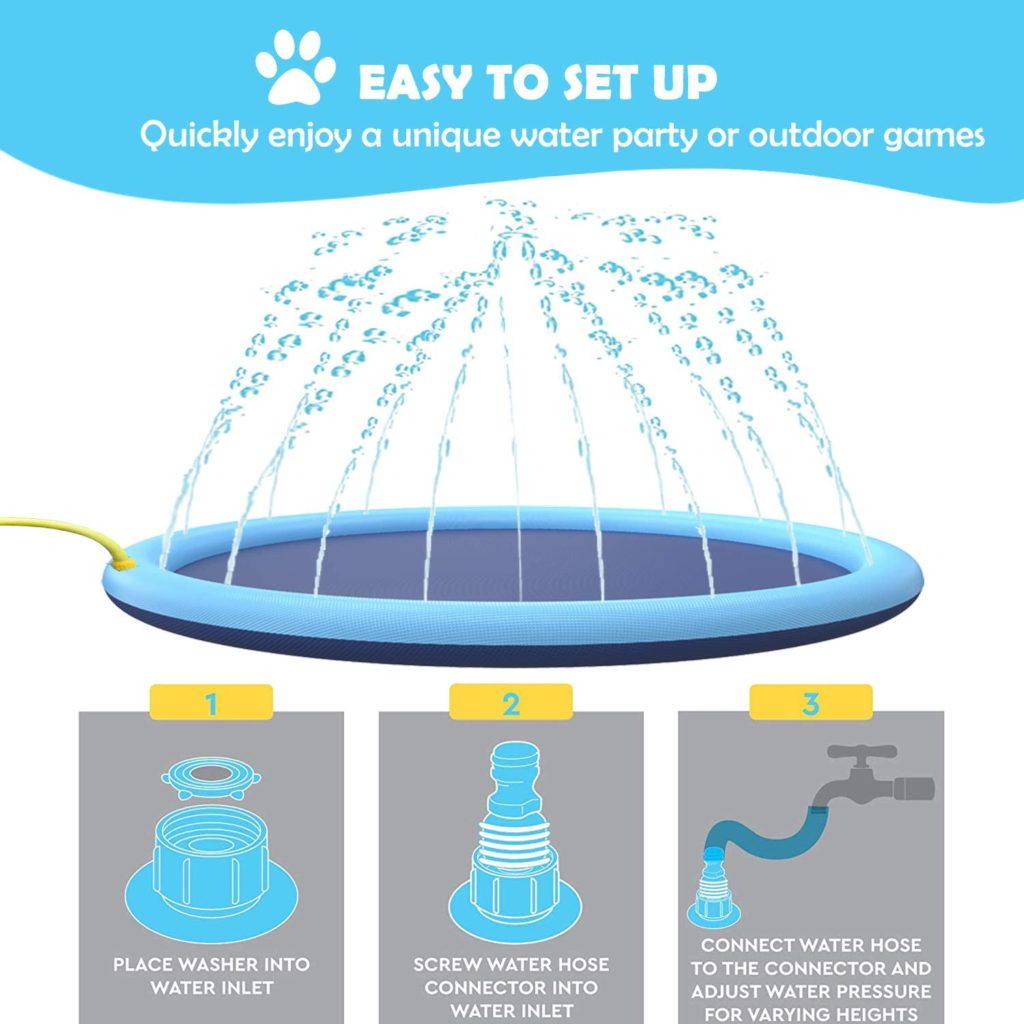 INVEST IN SWIMMING LESSONS FOR DOGS
If you really want to take your pup swimming but can't seem to get them to enjoy it or figure out HOW to swim, there are swimming lessons built just for dogs.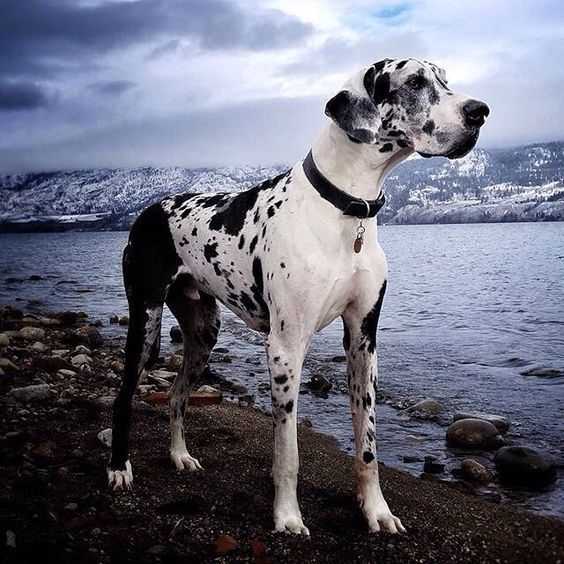 Do some quick research in your area for lessons that are meant for dogs.
Taking your dog to lessons can be a really fun way to help them learn how to swim.
Most importantly, it will give you some time to learn how to properly help your dog swim and what techniques work best for them.
Great Danes are some of the best dogs in the world.
But, before you take your Dane swimming, you need to make sure that they are ready and willing to take the plunge.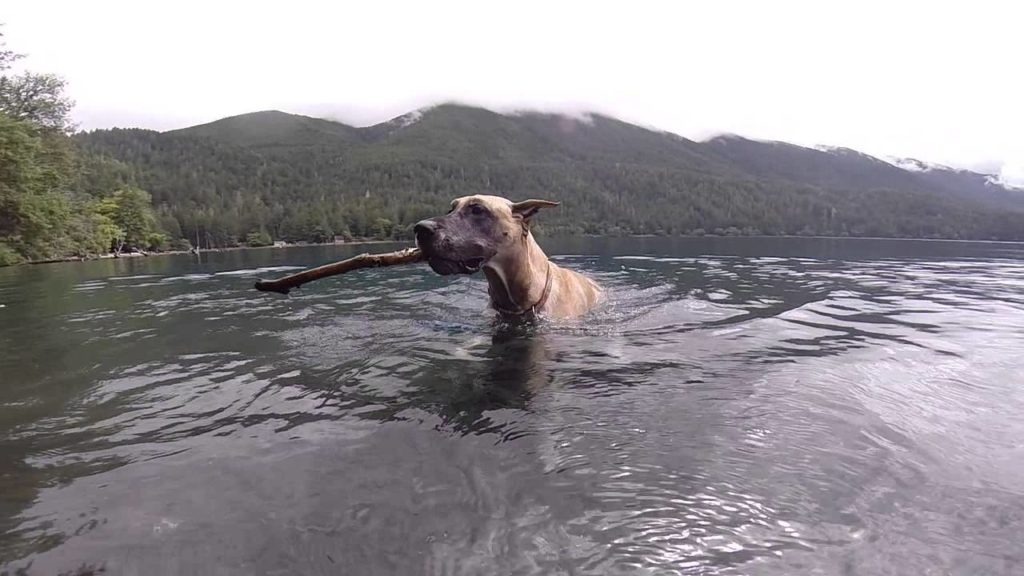 Use these tips to help make sure that your dog is prepared for a fun day of swimming. Remember, safety first! And always consult your veterinarian if you have any questions or concerns about taking your Dane swimming.
Have fun and enjoy the water!