Great Dane Puppies Information
Are you looking for Great Dane Puppies information? You've come to the right place! We're covering everything you need to know for your new Dane pup on this page. Keep scrolling down, there is a lot to share!

On this page below you'll find:
This page is your one-stop resource for all things related to your new Great Dane Puppy. Read on!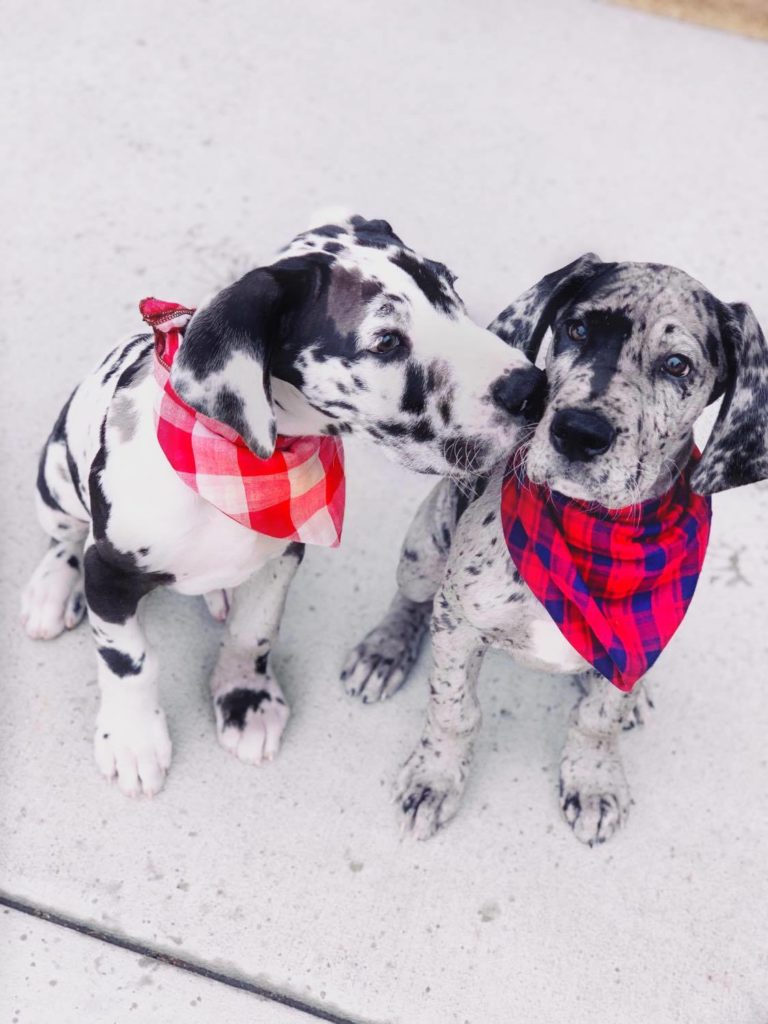 Nutrition for Giant Breed Dogs
GREAT DANE
PUPPY FOOD
⬇
We have an ever-growing collection of resources and information on what to feed a Great Dane Puppy! This is arguably the most important decision you will make once you bring your new dog home.
Incorrect, unbalanced nutrition can lead to painful growth problems including knuckling, HOD, Dysplasia, Panosteitis, heart disease, and more.
Our most popular Great Dane puppy food /topics
Great Dane Puppy Foods (the most up-to-date list)
Puppy Food vs. Adult Food for Great Dane Puppies
It's 2023, Should I feed Puppy Food?
Should I Feed my Great Dane Puppy Grain-Free Food?
What is the Best Food for a Dog with a Sensitive Stomach?
My Great Dane Puppy is Not Eating, Now What?
What is the WSAVA (and why does it matter when choosing dog food)?

The ULTIMATE Great Dane Feeding Chart
Training for Giant Breed Dogs
GREAT DANE
PUPPY TRAINING & SOCIALIZATION
⬇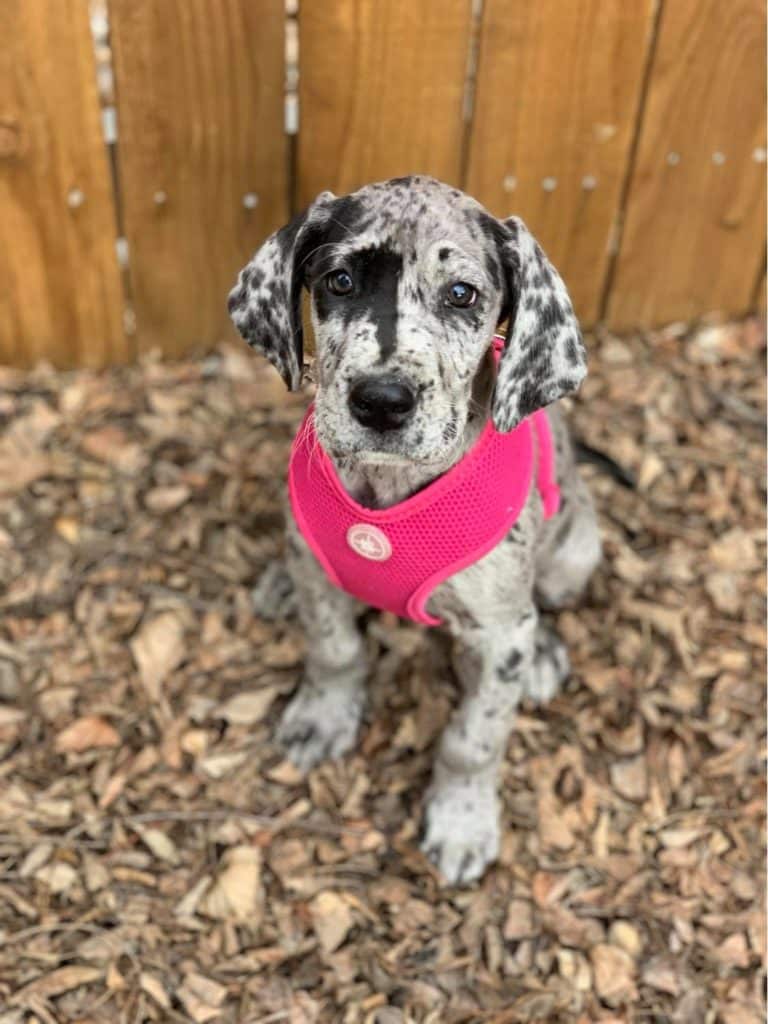 Once your Great Dane puppy is home, you will want to start the training and socialization process immediately! An excellent breeder will have already introduced potty training, crate training, collars and leashes, handling (including nails, teeth and touching all over), and interaction with humans.
Our most popular Great Dane puppy training topics
Best Training Treats for Great Dane Puppies
How to Crate Train a Great Dane Puppy
Practical Tips for Potty Training a Great Dane Puppy
How to STOP Great Dane Puppy Biting!
Puppy Training: 5 Mistakes in Training
How to Train Your Puppy to Like Nail Trims
How to Stop a Great Dane from Jumping Up
How to Teach a Great Dane to Walk on Leash
Why Should Puppies Stay with their Litter Until 8 Weeks?
5 Great Reasons to E-Collar Train your Great Dane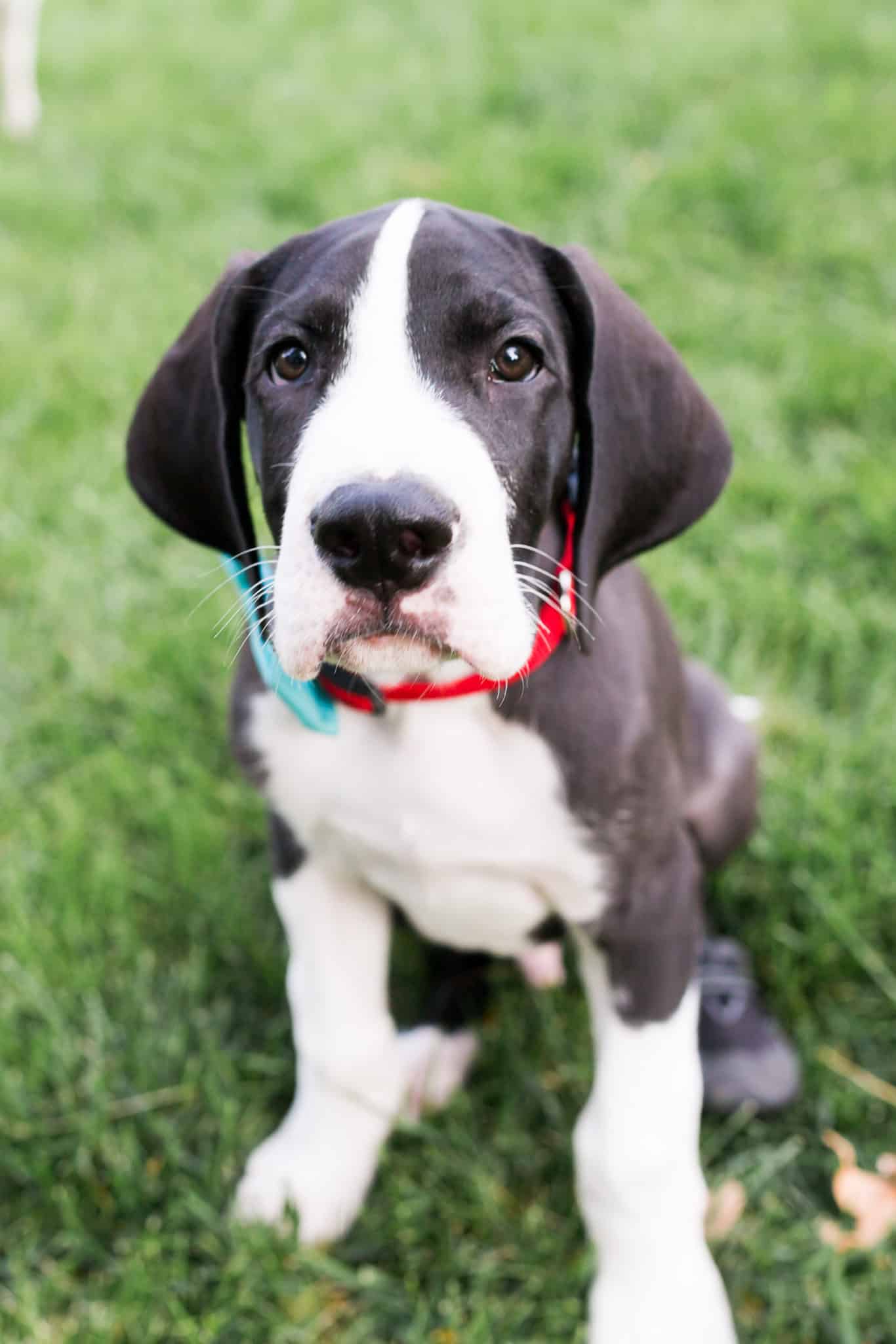 Health for Giant Breed Dogs
GREAT DANE
PUPPY HEALTH
⬇
The health of your Great Dane puppy is important! We have giant-breed dogs and that means they have special needs when it comes to their nutrition, orthopedic, gut, and immune system health.
There are some common growth disorders in Great Dane puppies that you should be informed about. You'll find resources below for everything from knuckling to bloat!
Our most popular Great Dane Puppy Health Topics
Knuckling in Great Danes Resource Page
Is my Great Dane Puppy Knuckling?
What is Panosteitis in Puppies?
When to Spay a Great Dane Puppy

Everything You Need
GREAT DANE
PUPPY CARE
⬇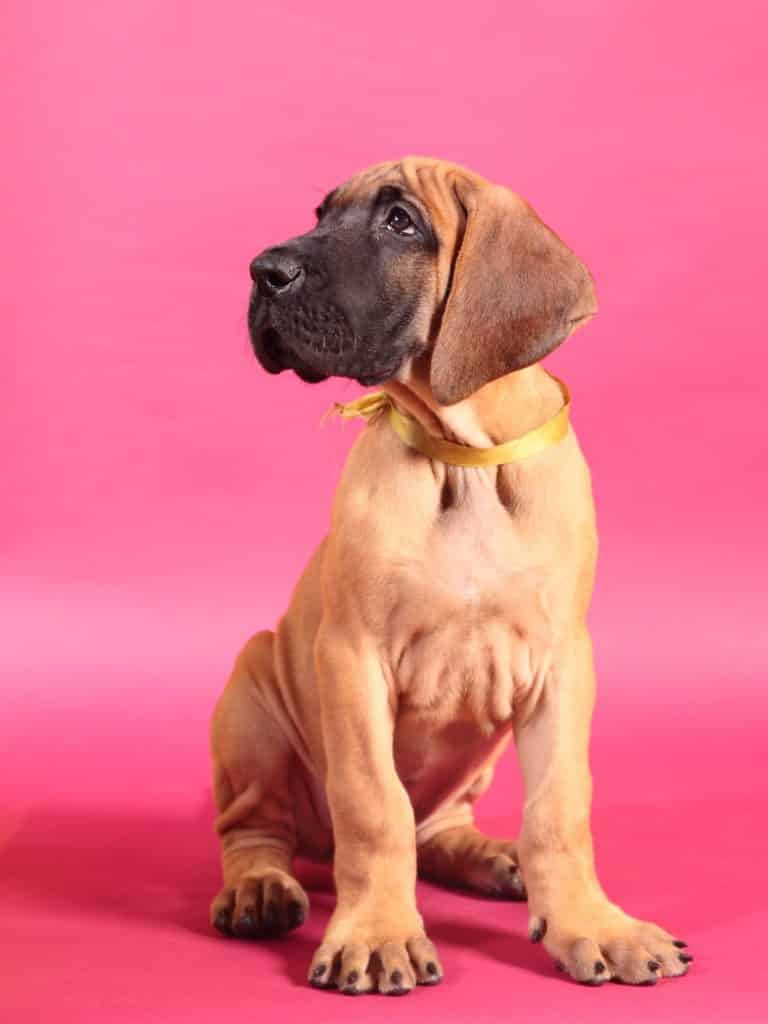 Are you looking for information on what to buy before your Great Dane puppy comes home? Here are all the supplies, supplements, and treats that we recommend!
Our most popular Great Dane Puppy supplies topics
The Best Crates for Great Danes
The Best Foods for Great Dane Puppies
Nail Trimming Supplies for Great Dane Puppies
Recommended Great Dane Puppy Supplements
The Best Leashes for Great Danes
The Best Collars for Great Danes
Humane or Not?
GREAT DANE
EAR CROPPING
⬇
Ear cropping is a controversial procedure that must be done before a Great Dane puppy is 12 weeks of age, by a highly-qualified and experienced licensed veterinarian.
Aftercare includes posting the ears to stand upright, a process that may take up to 2 years to complete.

If you are interested in ear cropping for your Great Dane puppy, we have helpful, unbiased resources and information for you!
Ear Cropping Resources for Great Danes
What is Great Dane Ear Cropping?
How do I Train a Great Dane Puppies Ears to Stand Up?
The Two-Sided Ear Cropping Debate, Explained
Preservation & Ethics
GREAT DANE
BREEDERS INFO
⬇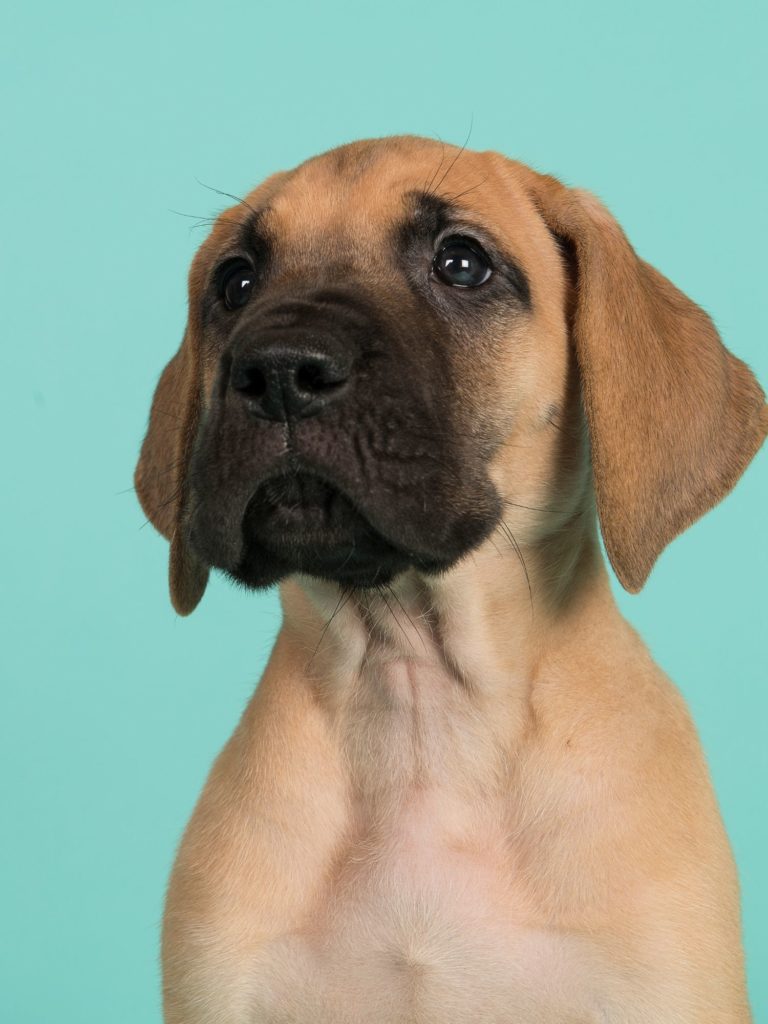 When it comes to choosing a Great Dane breeder, not all are created equal. Diligent attention to health issues, temperament, structure and appropriate health-testing is an important part of ethically breeding Great Danes!
Read here for more information about finding and choosing a Great Dane Breeder for your next puppy.
Popular Great Dane Breeding Topics
What Makes a Great Dane Breeder Good?
Be Careful of the Great Dane Breeder SCAM!
How do I Save a Pet Store Great Dane Puppy?
What Were Great Danes Bred For?
Off-Standard Colors, Good or Bad?
Great Dane Pricing- How Much Does it Cost to Buy a Great Dane?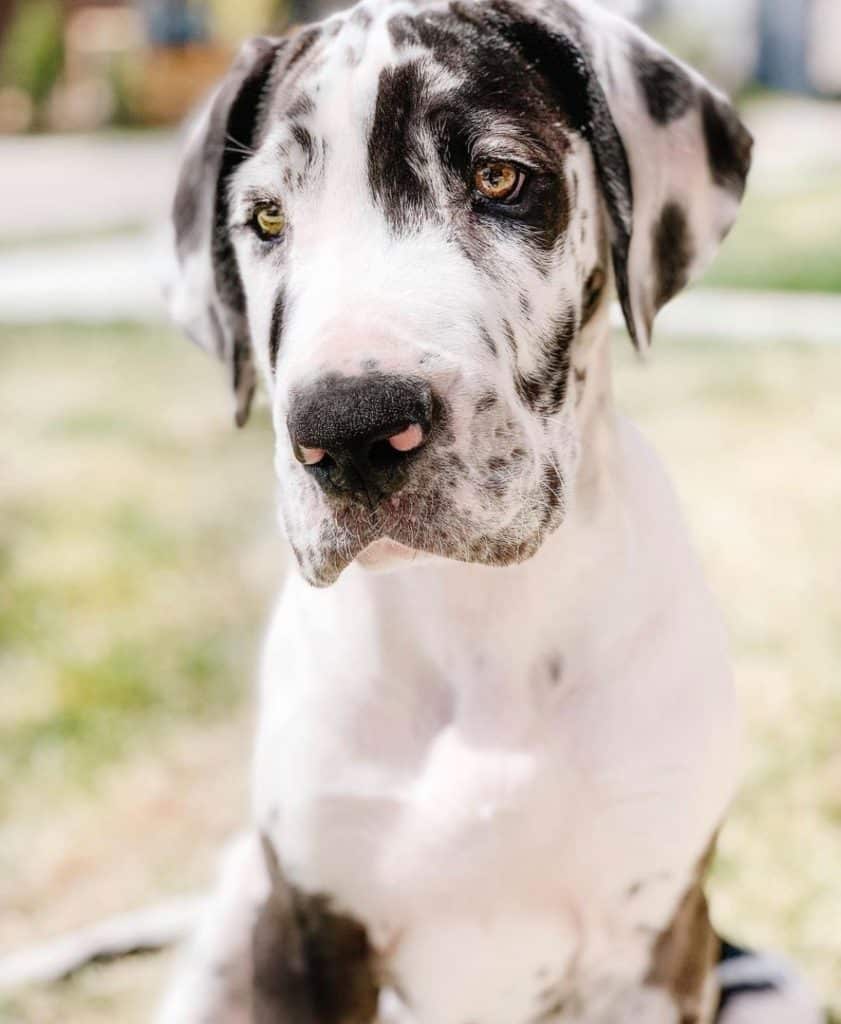 Our Top Picks
GREAT DANE
PRODUCT REVIEWS
⬇
Tired of researching the best food, supplies, and more for your Great Dane puppy? We've put the work in for you!
Our Take on the HALO GPS Dog Training Collar
All About Life's Abundance Breeder Dog Food
Gentle Leader Head Harness – Good or Bad?
Big Barker Dog Beds – Are They Worth the Cost?