Below is our list of bad Great Dane breeders that have made it into our hall of shame.
We do not recommend purchasing dogs from these breeders or breeders like them! Doing so perpetuates the suffering of the Dam and Sire being bred, and funds their continued production of sick and unethically bred dogs.
How Breeders Get on this List
Please note that we require photos or other proof. Many Great Dane breeders should be on this list, but we don't have the evidence.
In other words, we hear from MULTIPLE people and verify multiple reports before putting a breeder on this list. There is no reason at all for us to slam breeders that are operating ethically, transparently and without drama.

If we cannot verify claims that were made, we always will note that 'It has been reported' or 'it has been known'…
Abuse and neglect
Poor breeding conditions, crowding, poor vet care
Sick, timid or unhealthy great dane puppies
Sick, timid or aggressive adults
Breeding underage dogs (Dam or Sire, under the age of 2)
Breeding dogs with extremely poor structure
Racism, Ableism, sexism, hate speech etc.
Hostility & other shady practices towards owners and those with questions
Selling double merle puppies as 'rare' or exotic/desirable
Breeding spot to spot
A habit of surrendering unsold or imperfect dogs to rescue
Puppy mill practices (endless litters, dogs live in kennels, etc.)
Lies or partial truths about health testing and results
Paper hanging / falsifying registrations, health tests and certifications
Shady contracts
Poor buyer support or education
Requiring owners to purchase MLM products (NuVet and Life's Abundance for example) in exchange for a legitimate or more robust health guarantee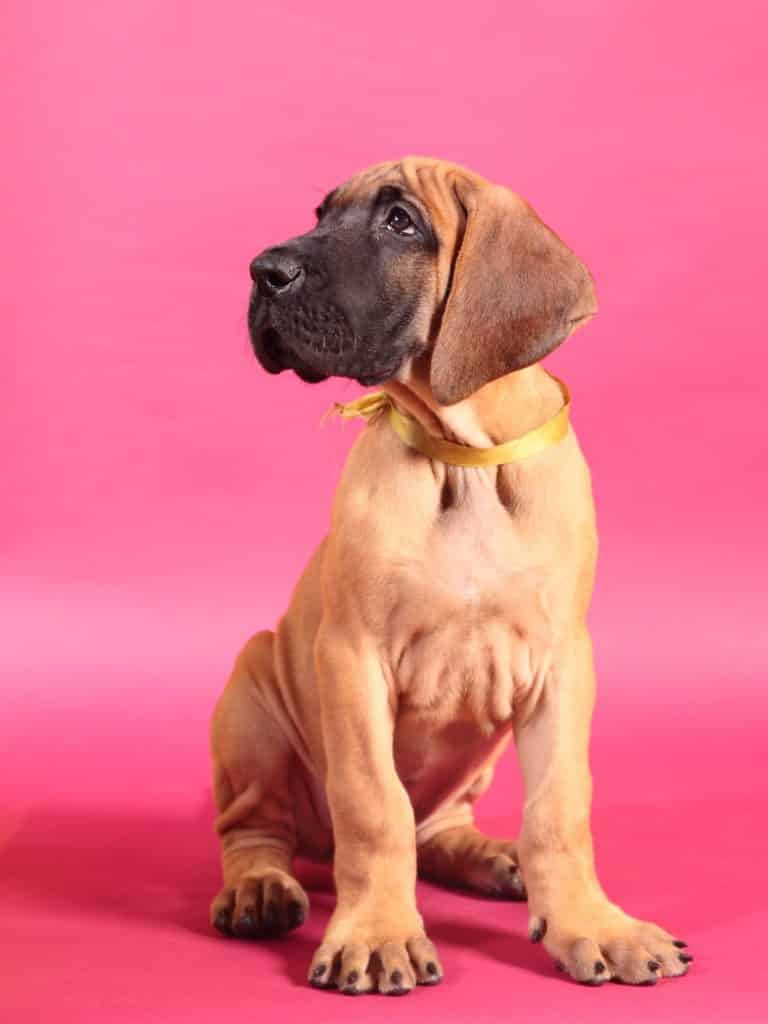 GREAT DANE ETHICAL BREEDER SEARCH
The Short List
You can search our site or scroll below to read more about each breeder, but here is the short list:
3xh Danes – Jennifer Fletcher
Great Danes of the Ozarks – Devin Harris
Grim Reaper German Shepherd's & Great Danes – Brandy Ratcliff & Sam Ketchen
L&K Danes – Lacey Marie Bishop & Kenny Long
Mandy's Gentle Giants – Mandy Gunderson Nelson
Moonshine Danes – Jayla Mckale Rogers
Painted to Perfection Danes – Ashley Marie, Marie Craig, Ashley Craig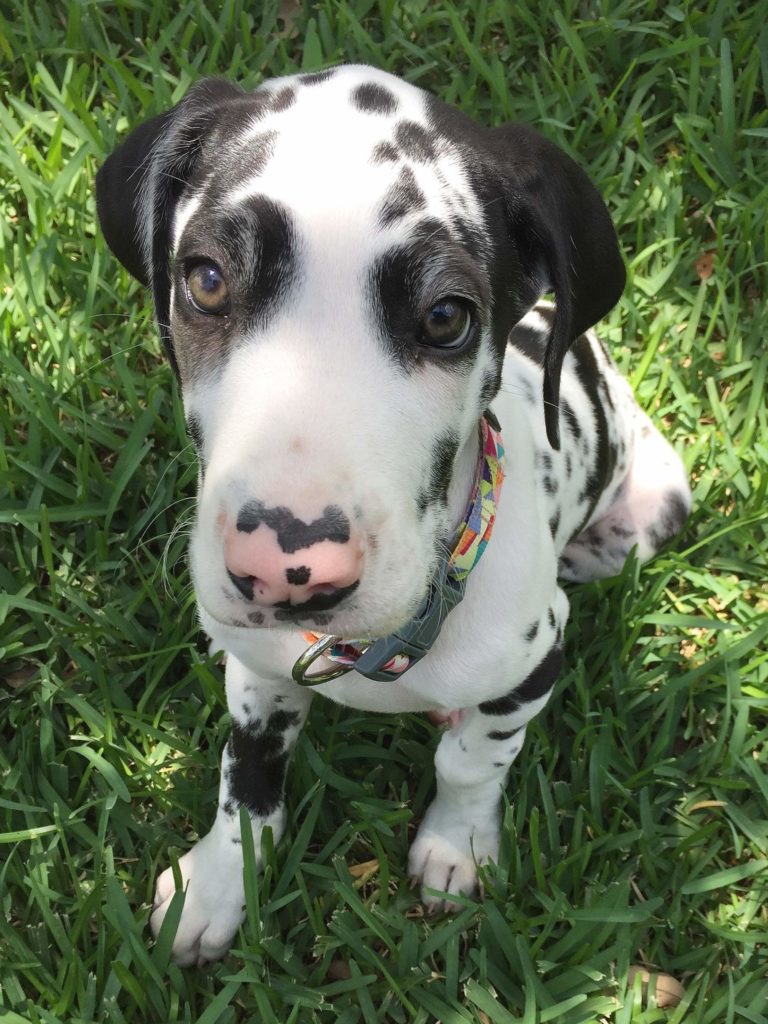 Bad Great Dane Breeder Hall of Shame
3xh Danes – Jennifer Fletcher
This breeder has been known to not vaccinate or deworm great dane puppies. Reports of parvo and roundworm are common.
It has been implied that she has falsified AKC (American Kennel Club) registrations and paperwork.
Poor and filthy living conditions have been documented with photographs that show sickly puppies living among food, poop, and filth.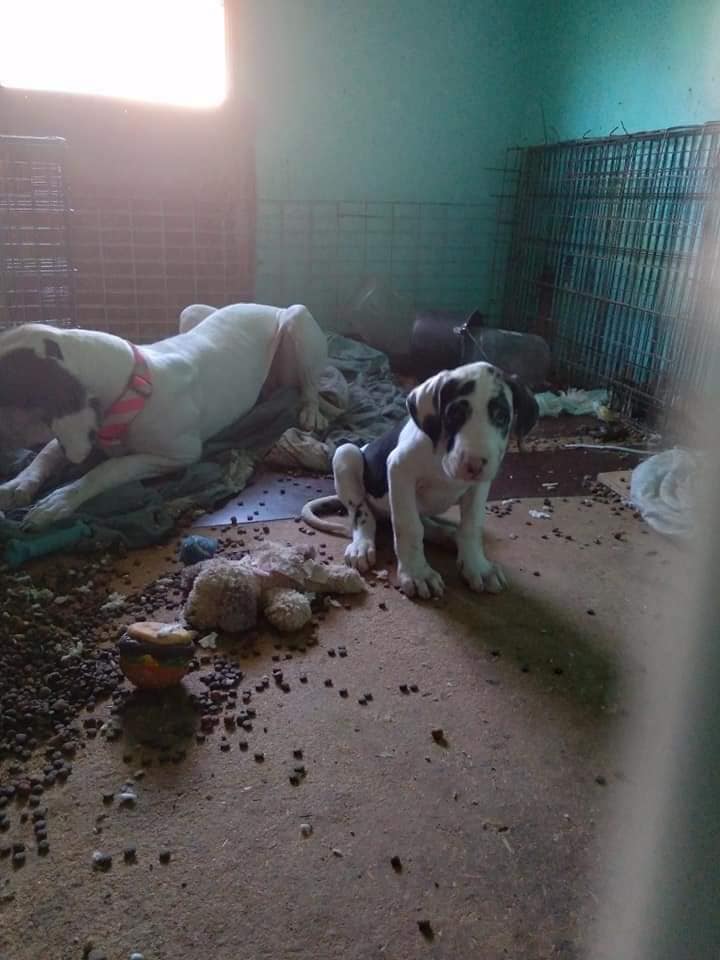 There are reports that she has outright stolen, kept and bred dogs that did not belong to her.
She has bred dogs with known health problems, and multiple buyers cite that their puppies have needed veterinary intervention.
This is the exact kind of operation that leads people to purchase dogs to 'save' them, with a devastating side effect of rewarding this breeder with income and encouraging her to continue making puppies this way.
Learn more about this kind of breeding operation, and how they are able to hide here: https://www.hellodanes.com/bad-breeder-hall-of-shame/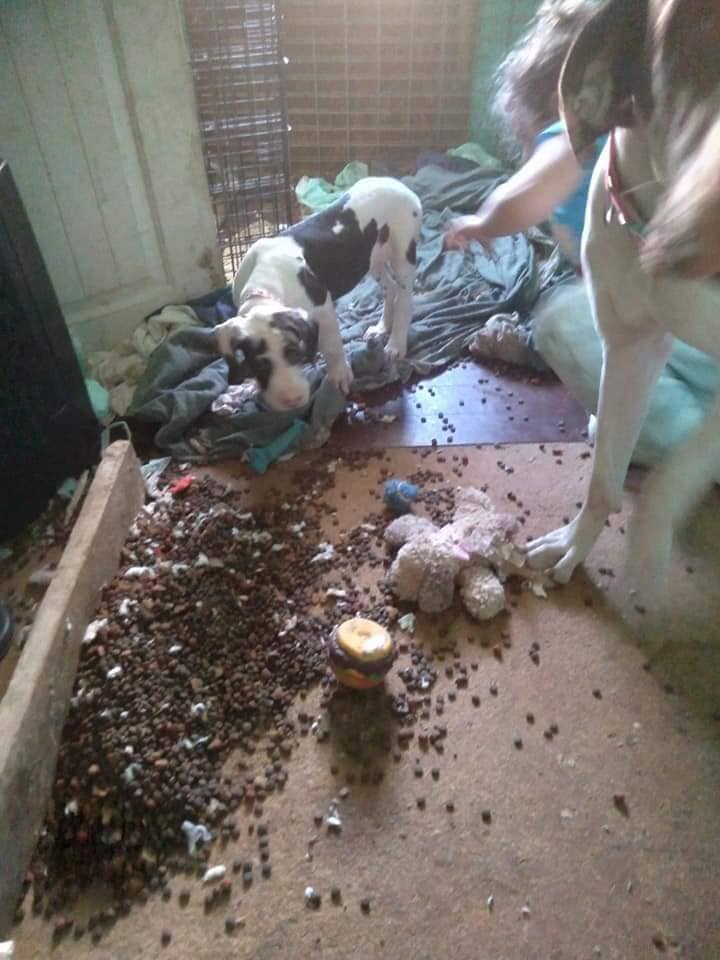 Great Danes of the Ozarks – BEWARE!!!!!
Great Danes of the Ozarks is owned by Devin Harris, and operates under this name and several others that are similar, (including Devin Harris, Great Dane Rescue of the Ozarks, Rescue of the Ozarks, Devin Danes, Matthew Danes, Second Chance Danes, Second Chance Danes 101, Great Danes of Oklahoma and United Pet Service. He has also been the owner/moderator of Facebook groups meant to promote his puppies, such as the 'AKC Great Danes' group, Second Chance Danes and others). Devin Harris is insidious. 
Great Danes of the Ozarks is a glorified puppy mill.
Devin also operates as a rescue, a front he uses to collect dogs that occasionally then become part of his breeding program. We don't know what happens with the other dogs he doesn't then breed, but there are reports that they are hoarded in poor conditions for the rest of their lives.
Do NOT surrender your dog to Devin Harris for ANY REASON, please find a reputable 501c3 Great Dane rescue. You wouldn't buy from puppy mills, don't buy from him either!
We understand he is charismatic and believable.
He nearly always has puppies available and will ship them to anybody, anywhere in the U.S. He is a MASTER marketer and very charismatic; these factors have allowed him to become very popular as a breeder on social media, and to charge premium prices for his dogs.
Devin WILL try and convince you that he cares about you (the buyer) and his dogs. Do not fall for it.
He posts pretty photos of cute puppies and says positive things about his breeding stock 'Our Famous Stud Banjo and our Fabulous Athena', while making claims that his dogs are from 'imported and champion' lines.
People that have visited his facility say that many of the dogs are living in horrific or poor conditions. Many buyers report that the puppy they received was sick, had parasites, failed to thrive, developed congenital problems and even had broken bones. There are report after report of buyers who were told to shut up or face a lawsuit by him; MANY people keep quiet because he is extremely volatile in defending his reputation.
It's been reported that he has dumped at least one of his bred females into a rescue, and she was clearly neglected and had severe, untreated health problems.
Many of the puppies he posts look sick, timid and weak. In a recent video of a current available puppy it's clear that the puppy does not feel well and is not thriving, however it is for sale on his website for over $3000.
We are unclear on what happens to puppies that don't sell. We've seen more than one Great Dane puppy sit well past 12 weeks of age.
His website has 'buy now' buttons which is always a massive red flag. Never, EVER purchase a puppy from a 'buy now' button. He wants $4000 for this puppy because of its 'unique color'. He will sell to ANYBODY.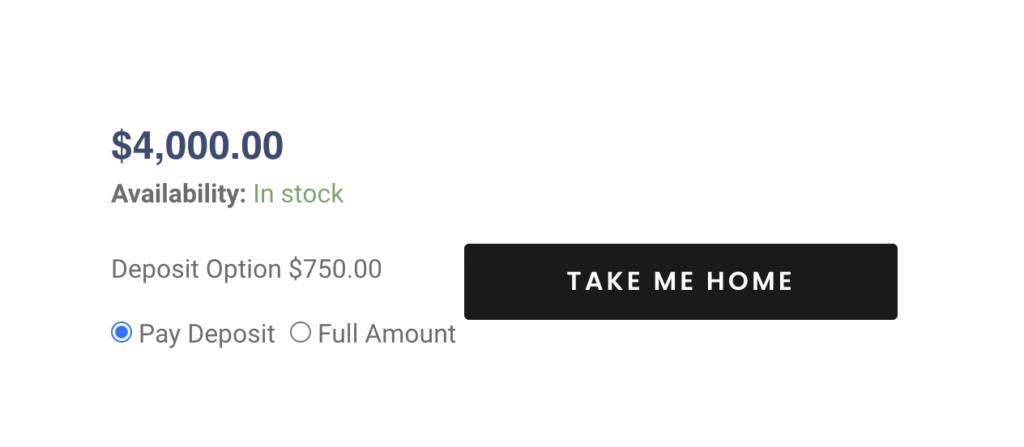 Devin has been known to require buyers to sign a contract that includes language restricting them from leaving bad reviews or telling people where the puppy is from, which is a reason we believe why you only see positive reviews (most of which are generated by his network of backyard breeder friends) and not negative ones. He has been in court many times (FACT). 
He previously co-owned a brick-and-mortar pet store. It's been reported that he abandoned live animals in the store, which were found days later. Devin Harris hides his abuse and neglect behind friendliness, a few 'clean' looking photos and charisma.
Health testing is minimal at best. Many of his dogs lack breed type and correct structure. As of this writing, he likely has at least 14 dogs actively being bred. Once he cannot breed them anymore, we have no clue where they go. Did we mention the 'glorified puppy mill part'?
Devin Harris is ACTIVE on social media and loves to share 'information' about how to choose a breeder, how to avoid 'scams', why you should expect to pay more for a puppy and why you should choose a 'reputable breeder', all information that positions him as an expert and respected authority to dog owners that don't know the whole story.
He shows photos of a cute breeding/whelping/nursery area with subtle references to Christianity hung on the walls, which are meant to make you feel as though they are a clean, reputable and respectable operation.
Devin Harris and Great Danes of the Ozarks will never get off this list. Do NOT buy a puppy from him for any reason. The only way to shut him down and stop the suffering is if people stop supporting his business and his ego. 
Most of his bad press has been BURIED. However, there is a live article on rip-off-report you can read here: https://www.ripoffreport.com/report/devin-harris-dba-great-danes/granby-mo-nv-ca-noahs-ark-pet-1490091

In addition, we've had multiple buyers of his puppies reach out to us to confirm their poor experience purchasing from him. At least one dog arrived so sick that he needed immediate veterinary attention. They cannot speak because of the contract they signed at purchase, but we can speak for them!

On his site he claims to 'show' Great Danes. None of his current dams or sires meet the breed standard, and not a single one is shown in a proper stack (indicating that they aren't actually shown and he likely has no clue how to show a dog). There are no show titles that we can find.

Tread cautiously with marketing, folks.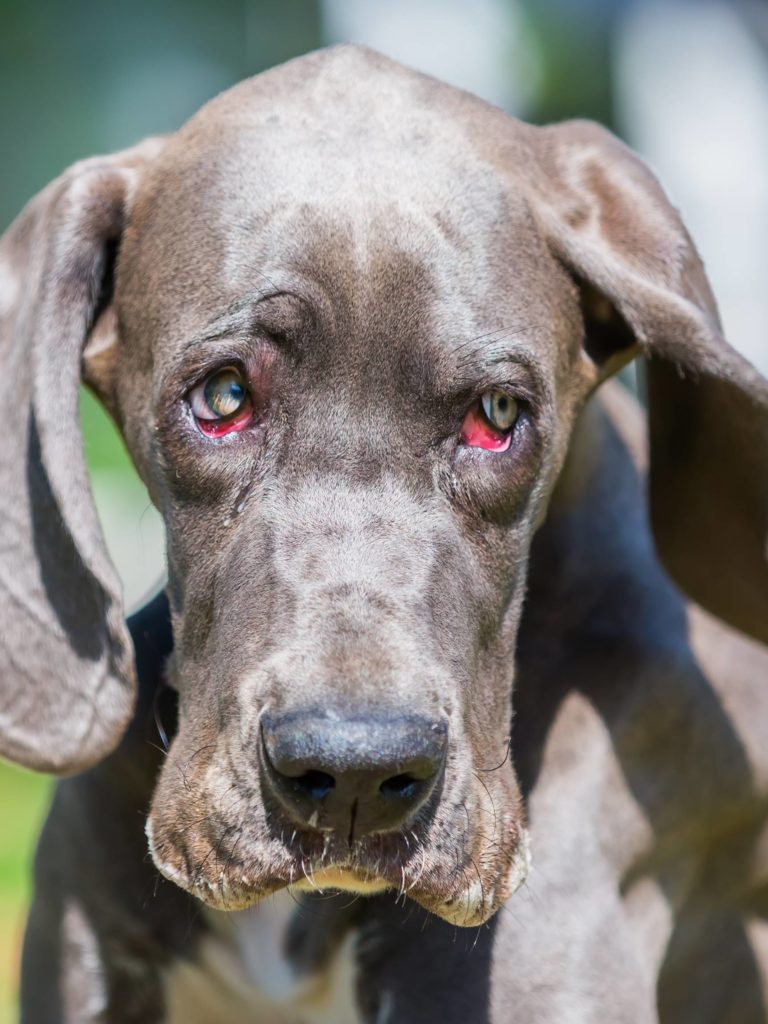 Grim Reaper German Shepherd's and Great Danes – Brandy Ketchen / Ratcliff
This is another breeder apparently hiding filthy conditions and sick puppies. Brandy was with Sam. Sam LEFT Brandy at some point.
It's been reported by multiple people that her puppies are often sick, have Coccidia and parasites. They are often extremely thin (with everything that comes with that, timidness, weakness, bad feet, bad stools). There are reports that she kept a litter of puppies in a car in cold weather (possibly raised there?); again, this is one of many reports.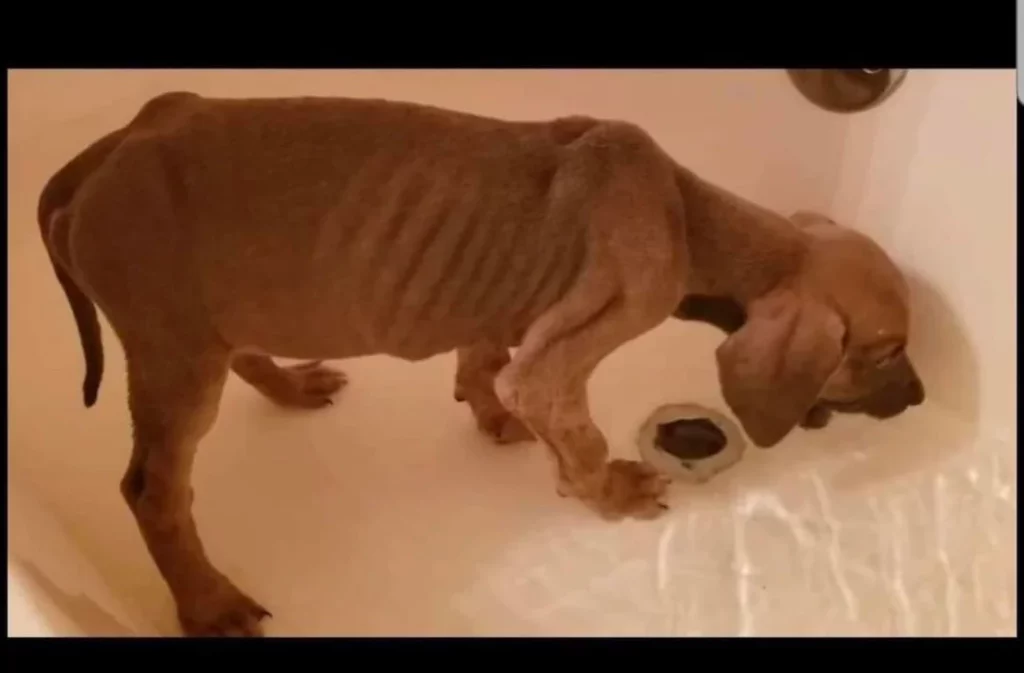 Her puppies and adults are extremely thin in some images. There are photos of her breeding/puppy areas and they are covered in food, mold, poop and filth. This doesn't happen overnight.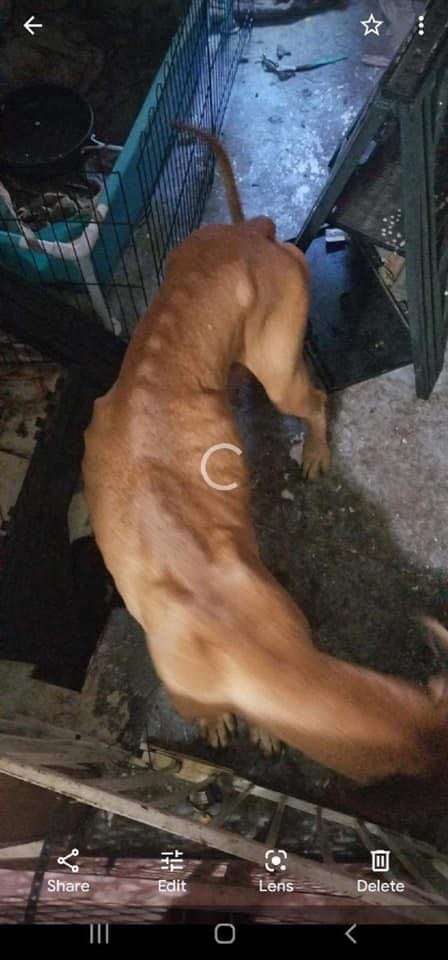 Multiple people have stated that this breeder has falsified AKC registration documents.
It is believed that she has photoshopped/faked the AKC Breeder of H.E.A.R.T. badge (a certification that requires an application, she would no doubt be rejected for this honor from the AKC). We are not experts in this, but be aware of this possibility before being led to believe that such a badge is a sign of ethics.
It's unethical to breed dogs without full health testing (hips, heart, eyes, thyroid) and a thorough study of the pedigree, regardless of other conditions.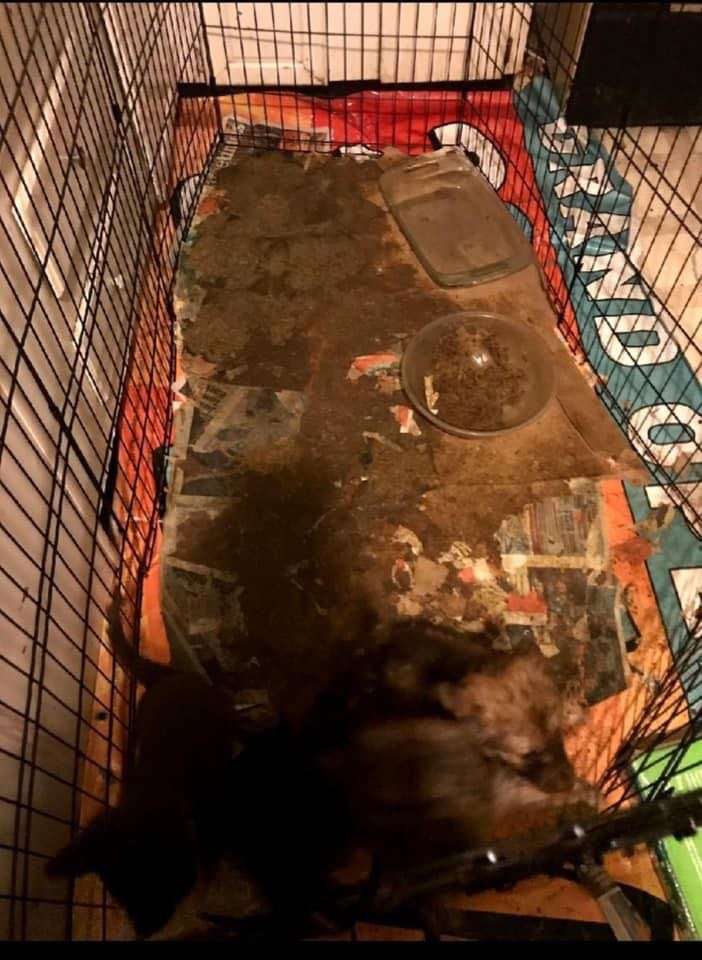 Reports indicate that she breeds dogs over and over again, or at least breeds dogs in poor health (Great Danes should never be bred more than 4 times, and only if they meet exemplary standards for health, structure and temperament). There is a LOT of drama surrounding this breeder in the Dane community, and that is always a red flag.
Honestly, all these reports come from multiple people and we are just passing that information along. But the photos? They speak for themselves. A dog does not get this skinny after a week. That is a lot of neglect to health and nutrition.
Even if this breeder is getting the act together on this stuff, we encourage buyers to tread cautiously with any breeder that cannot prove full health testing of all dogs, and that doesn't have an outstanding name in the Great Dane community.
Do you have something to add to this report? Please email us, [email protected]
One of the Bred with Heart program requirements is that the dogs being bred have been tested for all applicable health tests according to the breeds parent club. For Danes this is Heart, Hips, Eyes, Thyroid.

We were unable to find any record of these tests in the OFA database, which means that it's unlikely this breeder would not have qualified for this program in the first place. However, for some time she displayed this Bred with Heart badge on her social media. It has a spelling error, and is likely fake.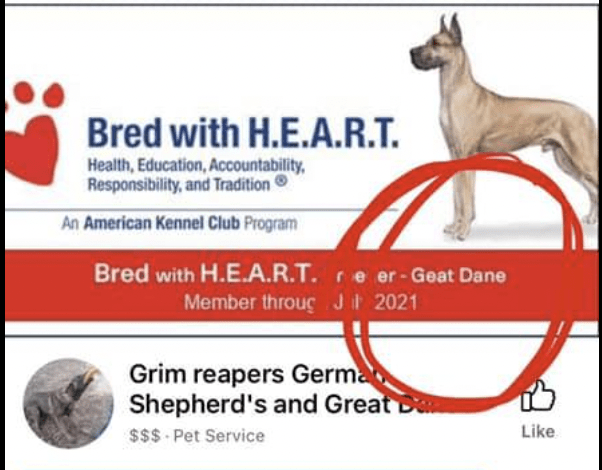 Lacey Marie Bishop/Kenny Long – L&K Danes
Lacey Marie has a bad habit of purchasing dogs and puppies from other backyard breeders (to use for breeding) and then rehoming or selling them again. She has even attempted to rehome a pregnant female in exchange for puppies from the litter.
She has purposefully sought out littermates with full-breeding rights and may be considering breeding a sister/brother pair.
Her focus is on unique colors. She cares very little about the genetic and health history of the dogs she purchases, and is most interested in their color (chocolate, lilac merle, etc.).
Many dogs she has bred were underage. She has no documented OFA health testing for any dog that she has bred.
She has been reported to animal control many times and has a documented history of being threatening and hostile towards those that disagree with her practices. Lies are COMMON.
Read more about Lacie Bishop HERE.
Mandy's Gentle Giants – Mandy Gunderson Nelson
This breeder has produced more than one dog, from multiple different litters with deformities of the feet/paws and severe edema/anasarca.
At least two dogs from different litters have had the foot/paw deformity.
Deformities happen, however it should be an isolated event. An ethical breeder would not have bred that Dam or the Sire again for any reason, however, this breeder has repeated breedings with dogs that have produced puppies with health problems. 
Edema ( Anasarca) is a condition isn't well understood, however it's often related to deformed or immature heart, kidneys or liver. The condition is painful and often fatal or results in a poor quality of life.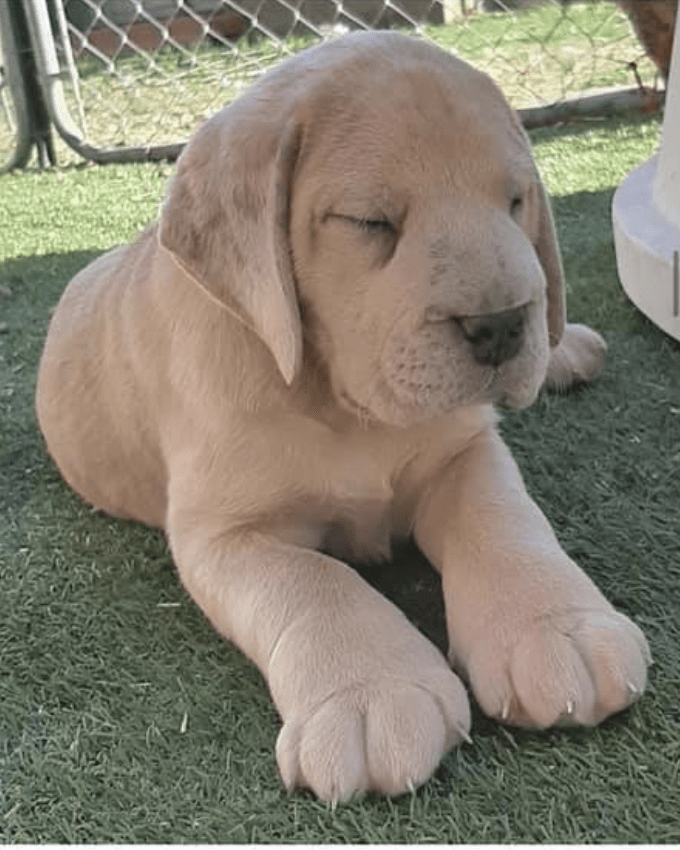 Because she does minimal health testing, she did not detect heart problems in one of her former Dam's until after the dog had been bred multiple times.

This dog would have likely passed heart problems onto several puppies, sold to unsuspecting buyers. Many of those dogs may have been also used for backyard breeding, and the impact of her introduction of heart problems into the local Dane genetics as a result would be unspeakable.
We are concerned about a pattern of repeat health issues and a complete lack of appropriate pre-breeding health screening (including structural evaluation, hip and elbow x-rays, echocardiogram, eye exam, thyroid panel, genetic screening and a thorough study of the pedigree). It appears that she cherry picks testing and only does one or two on each dog, instead of all of it. 

(Note, this is a COMMON practice of unethical backyard breeders! If they do only an OFA Heart or Hip screen, they will claim that they 'OFA Health Test' even though they don't complete the rest of the tests recommended by the GDCA, the AKC and the OFA.. Tread cautiously, this is a scammy and unethical practice). 
She had a huge Parvo outbreak and then continued to breed, which could be a contributing factor to the deformities and 'water babies'. Genetics may also be a factor. It is likely that the other puppies in these litters have internal problems with their organs that may not be outwardly apparent.
There are reports that she's also produced at least one dog with megaesophagus, blind dogs, and dogs that require(d) thousands of dollars in fundraising to support their veterinary care and quality of life needs. Deformities and health problems seem to be a COMMON issue for this breeder, who focuses primarily on 'Daniff's, a mixed breed dog and 'designer' colors).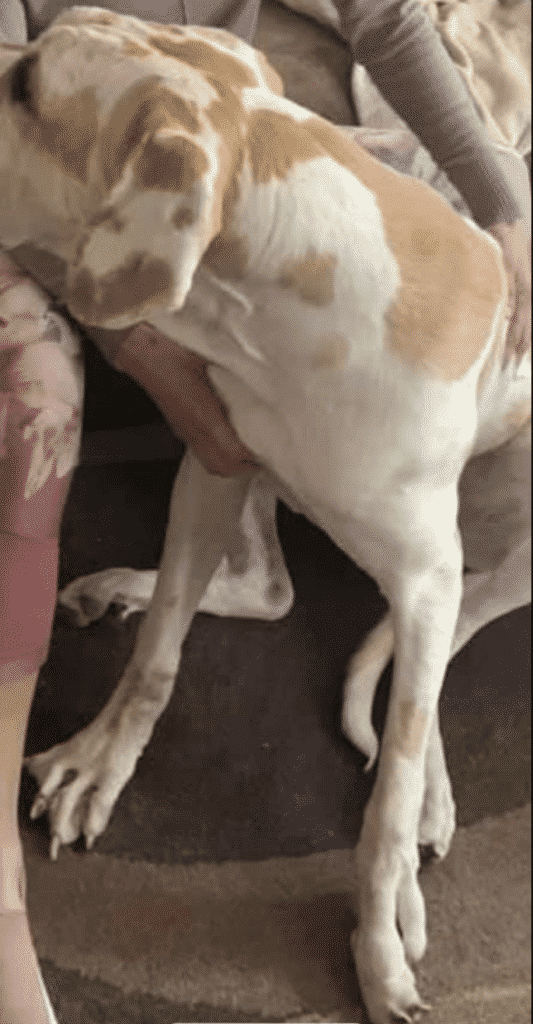 We are concerned that deformities and illness do not seem to be isolated problems in this breeding program. While some unethical breeders would euthanize the puppies and sweep this under the rug (also unethical), Mandy is very public about her 'deformed' and 'disabled' dogs. We do appreciate the transparency!
She does state that the dogs are seen by a veterinarian and she's investigated the causes. She stops short there and keeps breeding anyways (planned litters are in the works), despite having such a high percentage of sick dogs and dogs needing medical help and rescue fundraising.
Health testing at Mandy's Gentle Giants appears to be minimal at best. She does make attempts at OFA and PennHip testing, however it cannot be verified at www.ofa.org (as of this writing). Like many similar breeders, she claims to be ethical, caring and diligent about health screening; however further information is DEFINITELY needed here. Verify ALL health testing claims on each puppy parent for hips, heart, eyes and thyroid at www.ofa.org before choosing a breeder. 
She has co-bred a litter with Rhalvek Great Danes, and has used Miner Great Danes for co-own/guardian home plus likely many others. Tread cautiously there, we aren't familiar (yet) with Rhalvek or Miner Danes. As always these associations could be a red flag as it means the bad genetics are being shared.  It's important to do your research; verify full health testing of both parents (heart, eyes, hips, thyroid) and ask to see information about the pedigree and the incidence of aggression, fear, bloat, blood clotting disorders, average life span, wobblers and other similar genetic problems in Great Danes.
Note: a breeder doesn't have to be outright abusing and neglecting animals to end up on this list. Being friendly and 'loving' or even 'popular' and having a nice breeding facility is great, but good intentions are not what paves the way for truly ethical health focused breeding.
Moonshine Danes – Jayla Mckale Rogers
This breeder bred and sold several litters before animal control took possession of her dogs. She has been charged with multiple counts of animal cruelty.
Several Great Danes were found in cages with no food or water.
Her dogs were largely emaciated, weak and sick. Puppies were also underweight and full of parasites.
The puppies were being raised in absolute filth: poop, food and otherwise.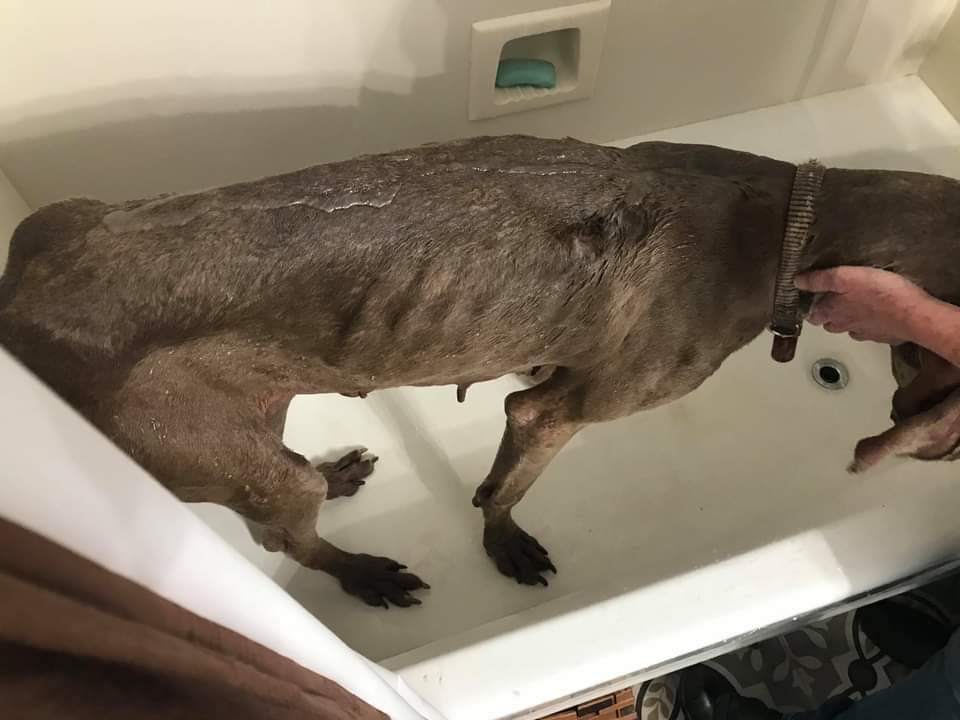 Moonshine Danes is a great example of a 'nice' person who was operating a very sketchy operation! Tread cautiously when buying 'cheap' Danes from breeders that you find on Facebook or Craigslist!
You may want a 'pet, not a show dog', but please make sure that you don't  ignorantly support breeding operations like this one. Ask to see the parents, photos of the facilities, and for health testing information to verify at www.ofa.org
Painted to Perfection Danes – Ashley Marie, Marie Craig, Ashley Craig, Clint
This breeder has been known push buyers, or at least has encouraged or offered that they take their puppies home before 8 weeks of age. (For more information on why this is bad, read our blog post here: https://www.hellodanes.com/why-great-dane-puppies-should-stay-with-the-litter-until-8-weeks/).
Multiple buyers have reported that when they weren't able to pick up their puppy at 6-8 weeks of age, or when the breeder was somehow never available to meet (despite multiple attempts to find a time to do so), Ashley (or Marie) kept the deposit and wouldn't give  the buyer their puppy.
Most communication is verbal or via text. There may be no formal contract or application, at least not as of this writing. (Always a red flag! Application and contract are a must).
This breeder has blocked these buyers. What isn't clear is if Ashley truly believes these buyers are 'no longer a good fit' as she states, or if she's overselling puppies and generating additional revenue by not returning deposits.
Tread cautiously. We may remove this breeder from our list if we learn more about her ethics. At this time she has no functional website, no photos of the parent dogs she's breeding, no application that we can find and no mention or record of appropriate health testing (hips, heart, eyes, thyroid).
There are reports that dogs are kept and bred in deplorable conditions. She sells puppies over multiple states.
Her focus is on color, which itself wouldn't be terrible except that without photos of the parents, it's hard to assess if her dogs are meeting the standard for structure and temperament.
Until that's sorted, we HIGHLY encourage you to look elsewhere.
If you see bad breeding conditions, report the breeder to the AKC, the GDCA, local rescues, your areas breed and facilities registry and animal control where appropriate. Breeders that cannot sell existing puppies will typically give them away or surrender them, so we stress the importance of not purchasing these dogs to 'save' them. If you want to save a dog, please report these bad breeders and then volunteer, foster and adopt with rescues. 
We are very careful about adding breeders to this list. While we don't fully approve of MANY breeding programs, it requires a certain level of shady business and abuse to truly be considered a BAD Great Dane breeder!
Have a breeder you think should be on this list? Send us an email, [email protected]
Researching Great Dane breeders? Check names and MORE bad breeders in the group Great Dane Bad Breeders, Owners and Information here: https://www.facebook.com/groups/1412939092168482
Know a breeder you think we should add to this list? Send us an email, [email protected]
If you are unsure about a breeder you are thinking of purchasing a puppy from, send us an email OR join our NEW group on Facebook, the Hello Danes community! 
Great Dane Breeder Scams are rampant right now! Check our list of known scams and don't let them take your money. Trustworthy Great Dane breeders are so important! It may feel like there are few great dane breeders who are reliable, but we have some posts on how to find one.
Learn how to spot a Great Dane breeder scam before you get sucked in by a cute (fake) puppy and friendly person!