Today we are providing an EZ 900 Educator E-Collar review for Great Dane owners (or for any dog lover!) This is our honest, unsponsored review of the Easy Educator E-Collar model 900, AKA the 'EZ EDUCATOR' series from E-Collar technologies.
EZ Educator ET-900 E-Collar Review
We believe in educated ownership and don't support use of any kind of inexpensive electric shock collar as a corrective 'easy button'. We do stand behind properly used E-Collars though, with the belief that humane, effective, and positive off-leash educator training involves conditioning the dog to the stimulation and teaching the dog to understand that it means GOOD things, not punishment.

The stimulation from a quality remote dog training collar will be blunt and feel like a small tingle or muscle twitch, not a sharp static shock.
We believe in this training method because off-leash freedom = a beautiful life for you and your family pet.
Not only that but momentary stimulation is an incredibly gentle replacement for physical restraint. If your dog could safely be off-leash, and all they have to do is be responsive to mild stimulation levels only when needed, then why wouldn't you consider it?
(If you need more information on the important difference between a SHOCK (sharp static correction meant to scare/startle) collar and an E-Collar (gentle muscle stimulation meant to work as a communication), read our blog post here).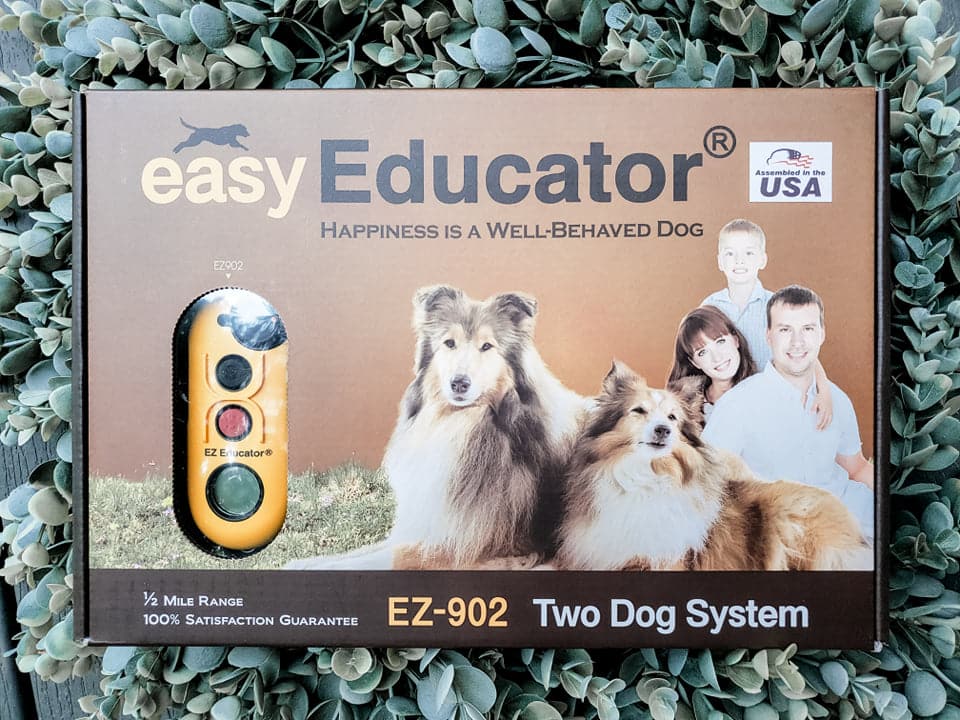 EZ EDUCATOR COLLAR INITIAL IMPRESSIONS
The Easy Educator dog collar ships quickly and is packaged in a beautiful box that has a small footprint (less waste!).
Remote collars can often feel like a 'harsh' or 'utilitarian' type of tool, but this packaging offers a sense of positivity and aesthetics that speak to confident, happy family dogs (not scared dogs that are afraid of the remote or being "shocked into submission"). 
We are looking at the Easy Educator TWO dog system for this review, however the 900 series Educator collars come in a one, two, three or four dog system. 
With multi-dog systems you can control each dog independently from the same remote.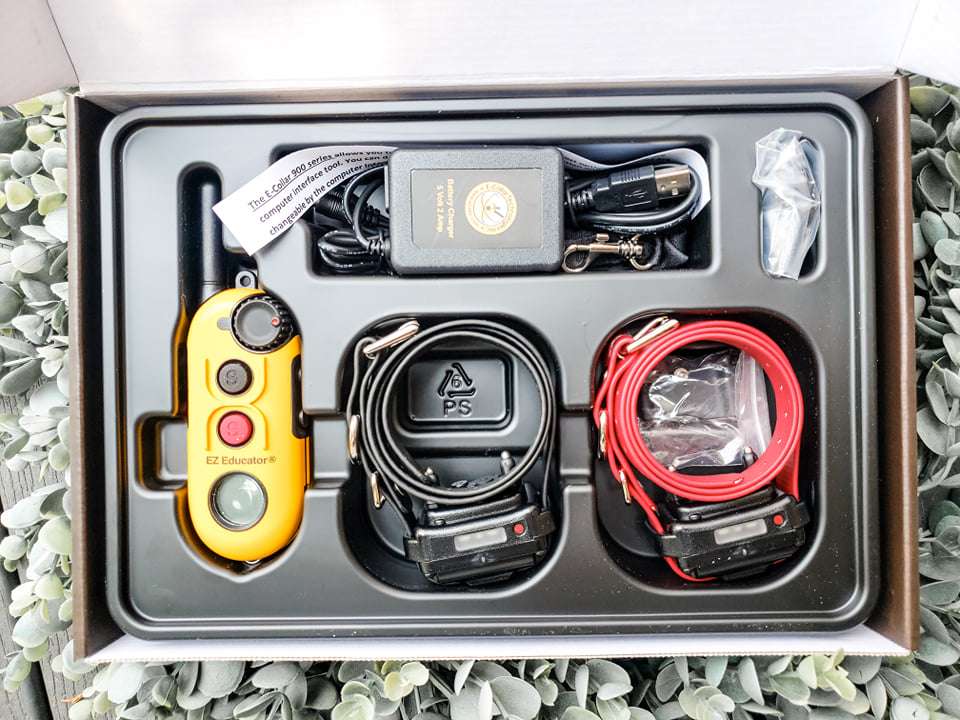 ET-900 Inside the Box
Inside the Educator remote dog trainer box is:
The manual
Receiver (1, 2, 3 or 4 depending on what system you choose)
One waterproof ergonomic transmitter (AKA the remote)
One Biothane collar strap for each receiver, all in a different color so each dog has their own device
A micro USB charger for the remote & a cable with a splitter to charge the receiver(s)
A lanyard
Large and small contact points for each receiver (customize for each dog)
A tool to change the contact points
The included biothane collars are rugged, washable, and waterproof. Biothane is the perfect material for E-Collars, as many E-Collar-trained dogs enjoy adventures outdoors that involve dirt, mud, and water!
The collars are definitely long enough to fit any Great Dane and can be cut down in length if needed. We highly recommend upgrading the straps to bungee straps, which offer more flexibility and a better fit.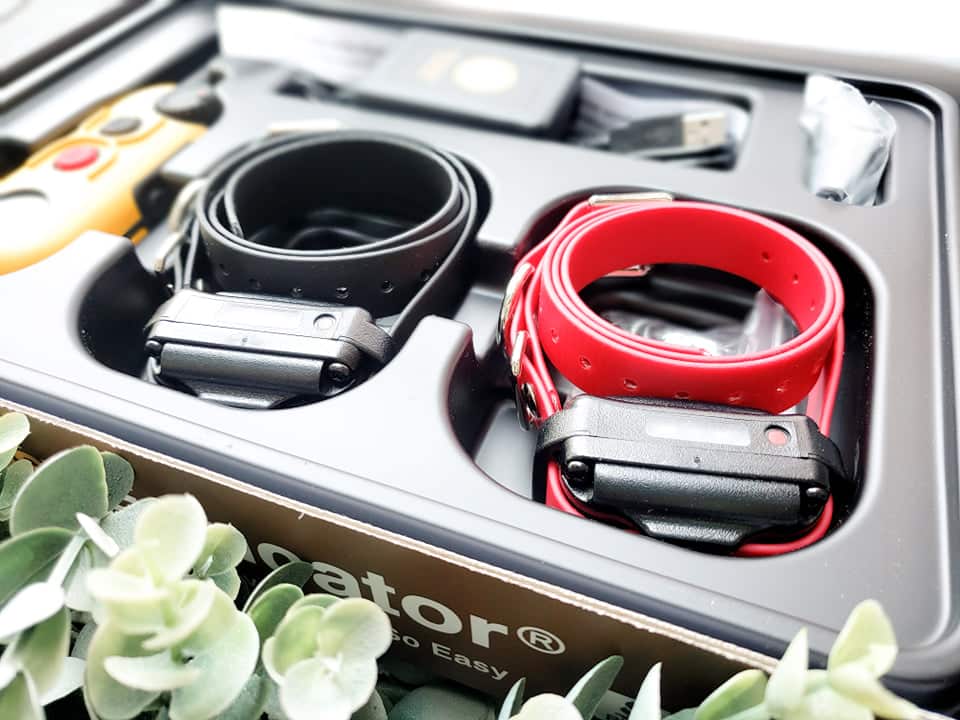 Is the Educator EZ 900 quality?
The receivers that the dog wears feel well-made and are lightweight! Educator brand collars use the most significant technological advancement in remote dog training collars available; we like to compare them to cell phones. Educator collars are the latest iPhone.
In training, this sensation is often referred to as 'pressure' or 'stimulation'.
One thing we love is that EACH collar receiver can be completely customized to the dog that will be wearing it! The advanced remote is a complete system that allows you to program different settings for each dog you are training.
This means you'll be able to apply different stimulation modes including momentary stimulation, continuous stimulation, momentary boosted stimulation, beep or vibrate at sufficient value for each dog.
The EASY 900 is a medium-range trainer with a 1/2 mile range with instant stimulation options so that you can communicate with your dog from afar.


Good remote collar training will require precise control; we like that there are 100 levels to choose from so you can fine-tune the blunt stimulation that your dog will feel (and respond to).

The contact points are made of quality metal and can be replaced with other sizes and metals, depending on your dog. You can easily change contact points with the included tool, and other options are available including wings (for long-haired dogs) and comfort pads (for short-haired dogs).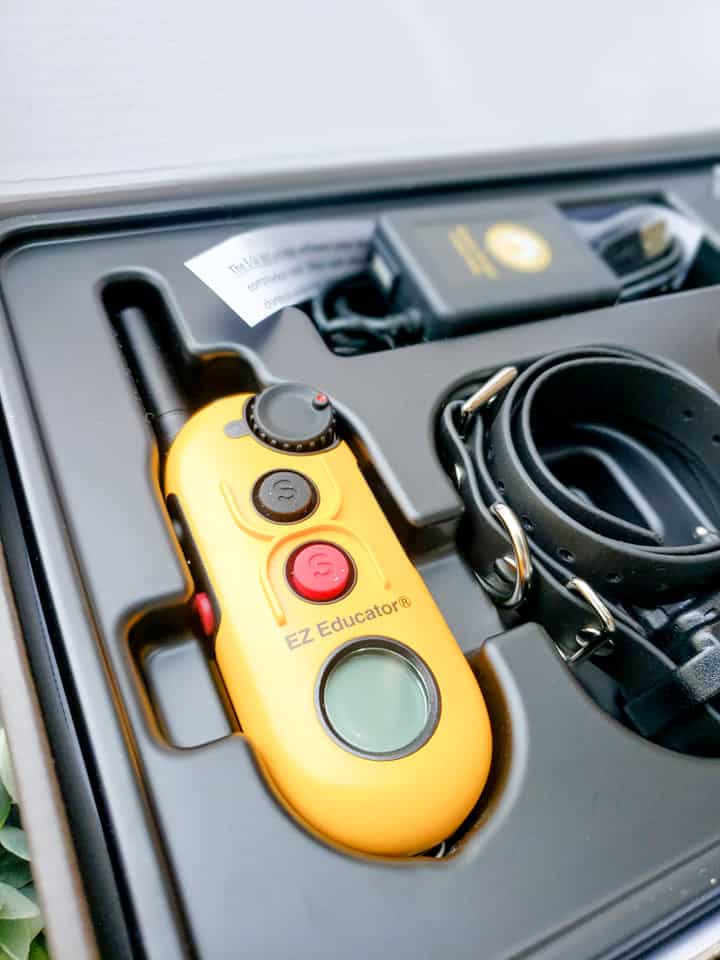 How do I program my Easy Educator EZ 900?
We recommend programming your primary button for each dog to continuous stimulation and then learning how to use that button for a single instant stimulation 'tap', continuous mode or dynamic (continuous with increasing pressure).
Secondary buttons for each dog can be programmed to tone, beep, or vibrate.
We like to use the single tapping sensation (tap tap tap) on a very low level as a reminder to a dog to follow, look or pay attention.

Continuous stimulation at low levels (or higher in distracting environments) can be used for off-leash recall from a distance.
Dynamic continuous pressure (that increases) works well as a warning to a dog that they must stop what they are doing and redirect to something else.
Tone can also be used as a recall cue, similar to a whistle. For most dogs, including deaf ones, the vibration mode is aversive compared to low-level stimulation modes. We recommend saving vibration for when your dog is doing something dangerous such as running into a road or rudely chasing another dog.
Is EZ Educator waterproof?
Both the receivers AND the remote are completely waterproof, and we have heard that the remote will float!

Your dog can safely swim in the Educator remote collar without fear of being 'zapped' by the cheap faulty electronics seen from other brands. E-Collar Technologies stands behind this and will support you with this purchase forever.
The company also states that the Easy Educator is impact-proof. If you drop it, you don't have to worry about it not working, malfunctioning and running too 'hot', and hurting your dog.
This is a BIG reason we stand behind quality E-Collars and NEVER inexpensive 'dog training shock devices' found on Amazon or in pet stores.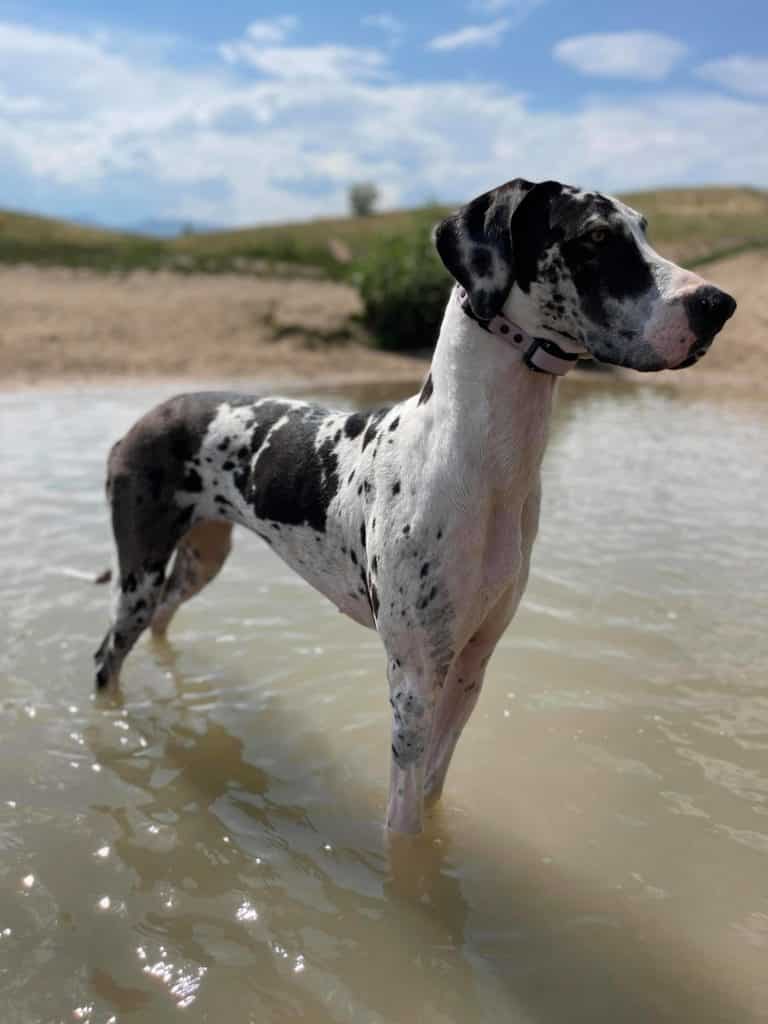 Easy Educator Features
There is a maximum stimulation setting of 100. Compare this to other collars on the market that may have just 5-10 levels!
The top of the receiver has a connection spot (a red dot) that connects the receiver and collar electronically, and LED lights that blink green when a connection has been made between the training collar and the remote.
The light on the receiver can also be turned on as a night tracking light so that you can see your off-leash dog in the dark! 
The waterproof ergonomic transmitter remote included with the EZ Educator dog training collar is yellow and has a large digital display.

Just like the collar receiver, the remote is lightweight, impact-proof (and waterproof).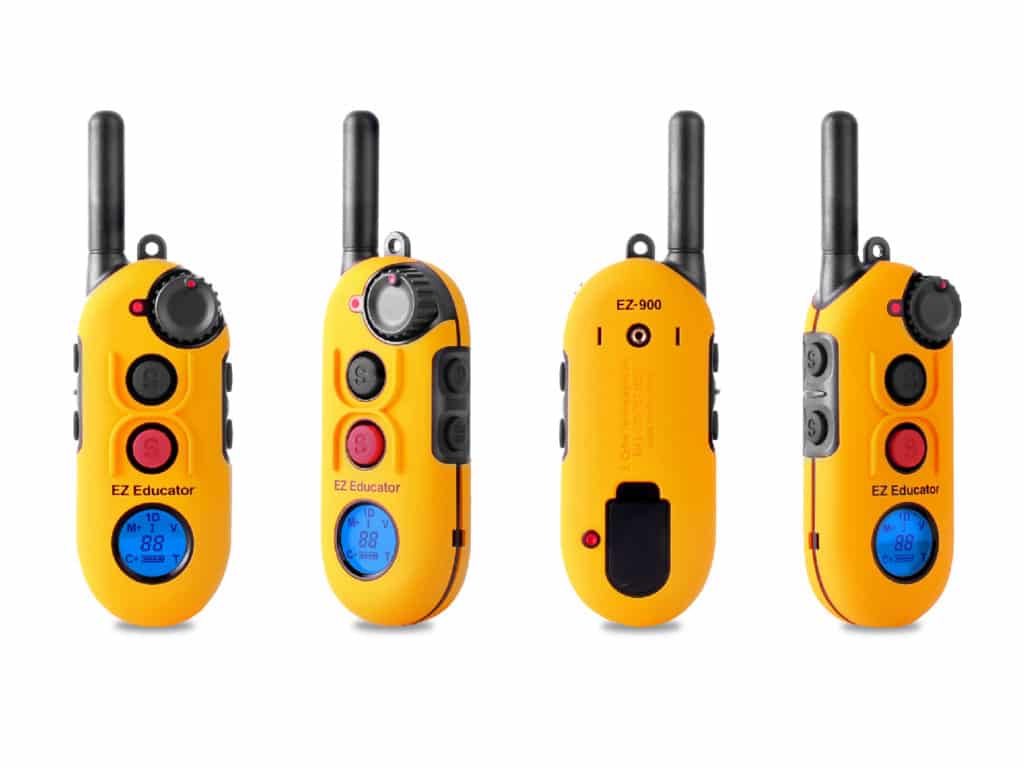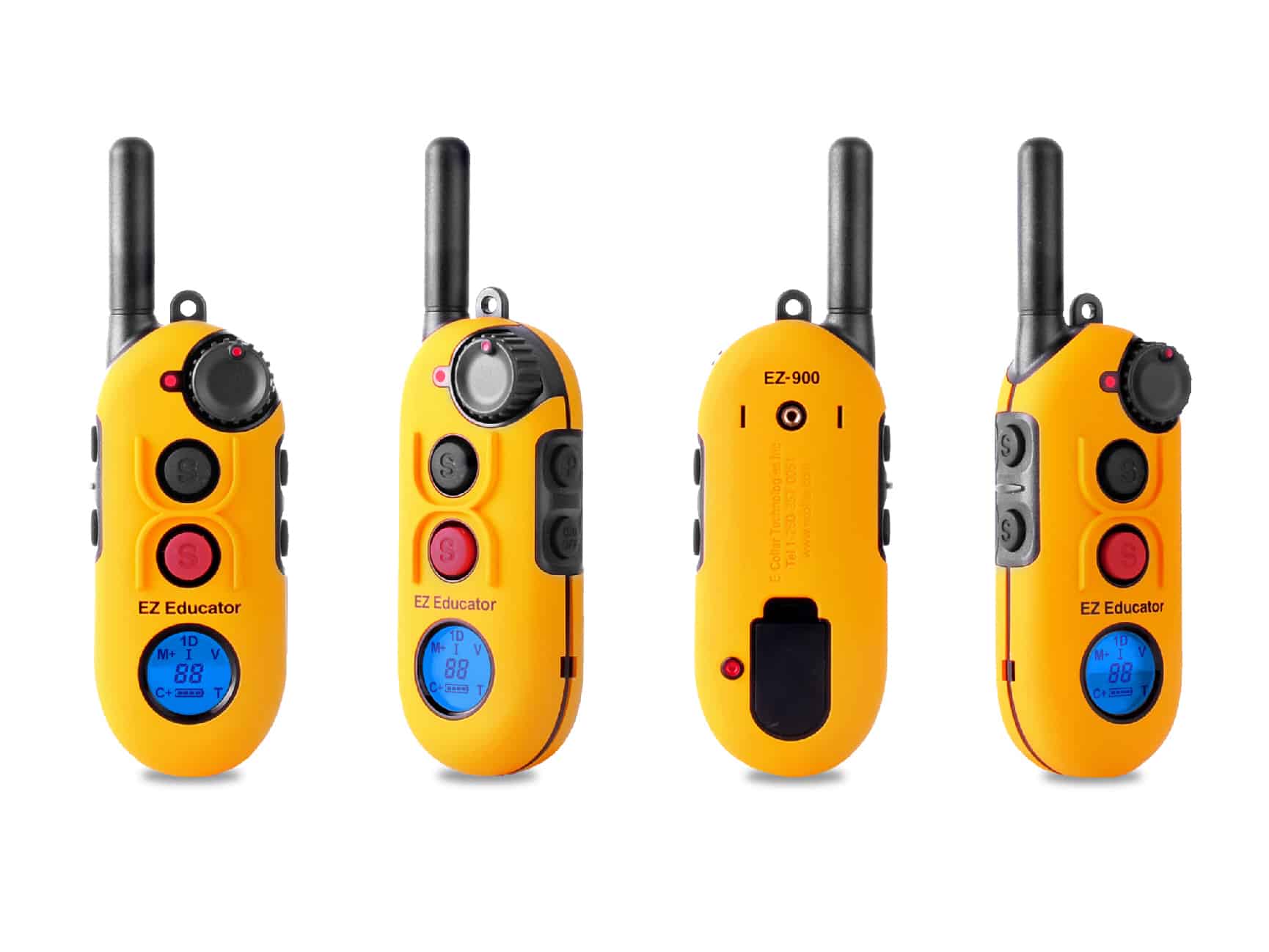 The bar shaped transmitter remote has a 1/2 mile range. Unless you are working with hunting, sport training, and tracking, few dog owners need more off-leash roaming space than that.
(If you are looking for more range, consider the Educator 400 series with 3/4 mile range here).
Although the receiver is small (providing stealth operation, if you are concerned about uneducated naysayers), it provides plenty of stimulation for most dogs, even 150lb Great Danes!
The blunt stimulation is a gentle sensation that doesn't result in yelping or excessive normal head jerking often seen from other training collars. We prefer this brand for the very clean stimulation and tapping sensation employed during use. No sharp static shocks!
Adjustable Mode, Tone, and Stimulation Levels
On the top is the dial which allows you to adjust the stimulation level up and down. The dial requires some effort to move, which will prevent you from accidentally dialing the stim up too high.
Precise control of stimulation levels is incredibly important.

Educator E-Collars have lock and set features that can be programmed to 'lock' at a chosen stimulation level so that you cannot accidentally turn it up too high (and startle your dog).
Each dog is assigned their own buttons and you can control each dog completely independently. The buttons are recessed behind a rubber casing, which makes them waterproof and also safe from accidental 'butt dialing'.
The ET-900 series training collar offers an adjustable tone and adjustable vibrate mode as well. Programming allows you to adjust how these buttons (which are ergonomically placed) will be used for each dog.
There is also a function where the stim can begin at a low level (so as not to scare your dog) and have it automatically increase to a set level.
The included momentary boost feature can also be customized to each dog, so you maintain precise control.
Don't forget the night tracking light, which is fantastic for sport training and dogs that are often off-leash in the dark.
We believe the EZ EASY EDUCATOR 900 series is the most high-tech E-Collar available, and perfect for dog owners who like customizations, options, and geeky tech stuff! 
Shop the Easy Educator 900 HERE (choose your model for # of dogs), and use code ECOLLARMAGIC for $10 off. 
Is the educator collar a shock collar?
The defining differences between stim collars and shock collars can be confusing, especially because there is so much misinformation out there about how remote dog training collars are used.
Stim collars such as the ones offered by E Collar Technologies use a significant technological advancement that changes traditional 'shock' into a much more gentle stimulation sensation. This sensation is so gentle that most humans cannot feel it themselves!
With this new more modern form of dog off-leash training utilizing a complete system from remote trainer to positive reinforcement, the desired response is positive, not negative.

In other words, your dog, with the right training and conditioning, will respond with enthusiasm and excitement!
Other training collars do not offer the same unique features and rely instead on punishing, scaring, and hurting your dog. An Educator is NOT a shock collar!
Even a smart, stubborn dog can learn how to recall reliably in different environments, and will come running back to you ready for more!
How do you use the EZ Educator ez 900?
We've said this before and we'll say it again. E-Collar training is a lifestyle and requires that you change your mindset about how a tool like this will work on your dog.
Easy button shock collar training with cheap devices from Amazon is NOT a method that we support for several reasons.

Dogs trained with shock collars applied as a means to startle and punish can easily become aloof, nervous, anxious, over-excited, frustrated, or even aggressive.
Cheap shock collars are unreliable and more likely to malfunction and hurt your dog. They provide a sharp static shock that causes many dogs to (understandably) show signs of stress and begin to act on it.
Correct stimulation collar training requires a change in how you communicate but it will PAY OFF!
Not only will you want to learn the ins and outs of your E-Collar remote and how it works, but it's also important to put some time into actually working with your dog so that your dog knows that stimulation is a good thing and knows how to respond to it. 
We recommend upgrading the included biothane collar strap to one with a bungee for a better and more comfortable fit for your dog.
E-Collars are an easy operation communication tool, like giving a cell phone to your dog. If you want off-leash freedom and confident, curious, and happy family dogs, this method is for you.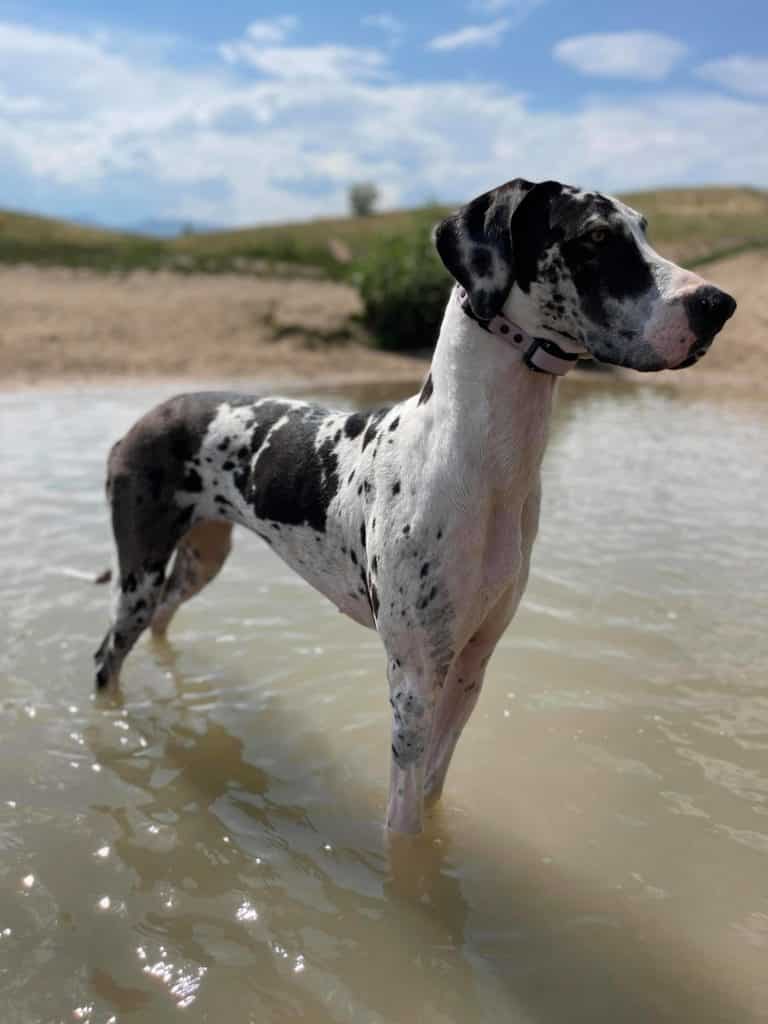 Why should I use a remote training collar?
We always like to mention that we use a lot of positive reinforcement while training our own dogs. Proper remote collar training uses a lot of positive reinforcement.

Off-leash recall, boundary training, and redirection are just some of the reasons we recommend remote collar training for all Great Danes. Unlike a harness, collar or leash, this is one tool that doesn't rely on physical restraint and cannot harm your dog!
Are dog correction collars cruel?
Absolutely not! There are many things people do to dogs that are actually cruel. This is not one of them.
Training collars from high-quality companies such as Educator Technologies use different technology and blunt stimulation modes that work in a different way compared to inexpensive and painful shock collars.

Well-trained dogs that can be safely off-leash are free of physical restraint, which can cause frustration and even anxiety. Not only that, but nothing compares to the enrichment a dog receives off-leash! Advanced remote collar training is life-changing for dogs and owners.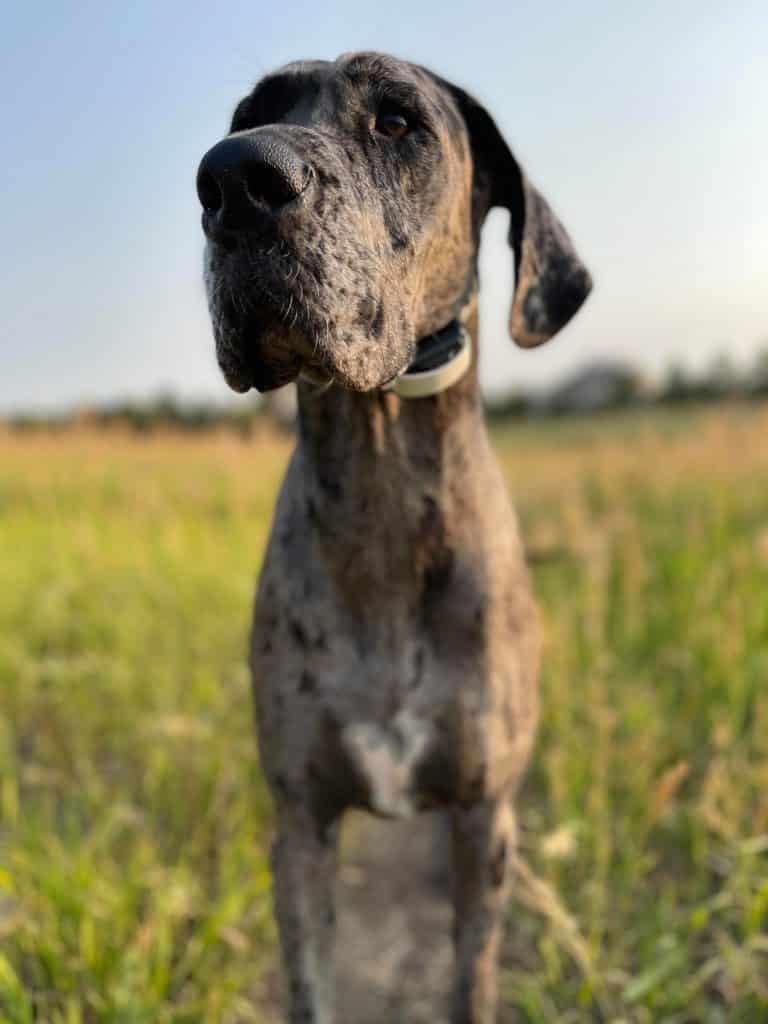 Aggressive Dog Aversion Training
Some people purchase a remote dog training collar because they are at the end of their rope with a dog that is aggressive or reactive.

There is a huge difference between aggressive dog aversion training (which involves a lot of unfair punishment), and correct training with a modern remote collar.
The last thing you want to do is turn up the dial to maximum stimulation and hope it grabs the attention of your aggressive dog! This kind of training can make things much worse.
Instead, it is important to give your dog skills to build on: basic obedience such as touch, sit, heel, down, leave it, and come make a great foundation. After that, you can start building confidence and indifference to the world with positive counter-conditioning and desensitization.

From there, you can use your remote dog training collar at low levels to communicate and redirect your dog back to you as needed. These unique features, paired with positive reinforcement, set the Educator ez 900 apart from traditional shock collars.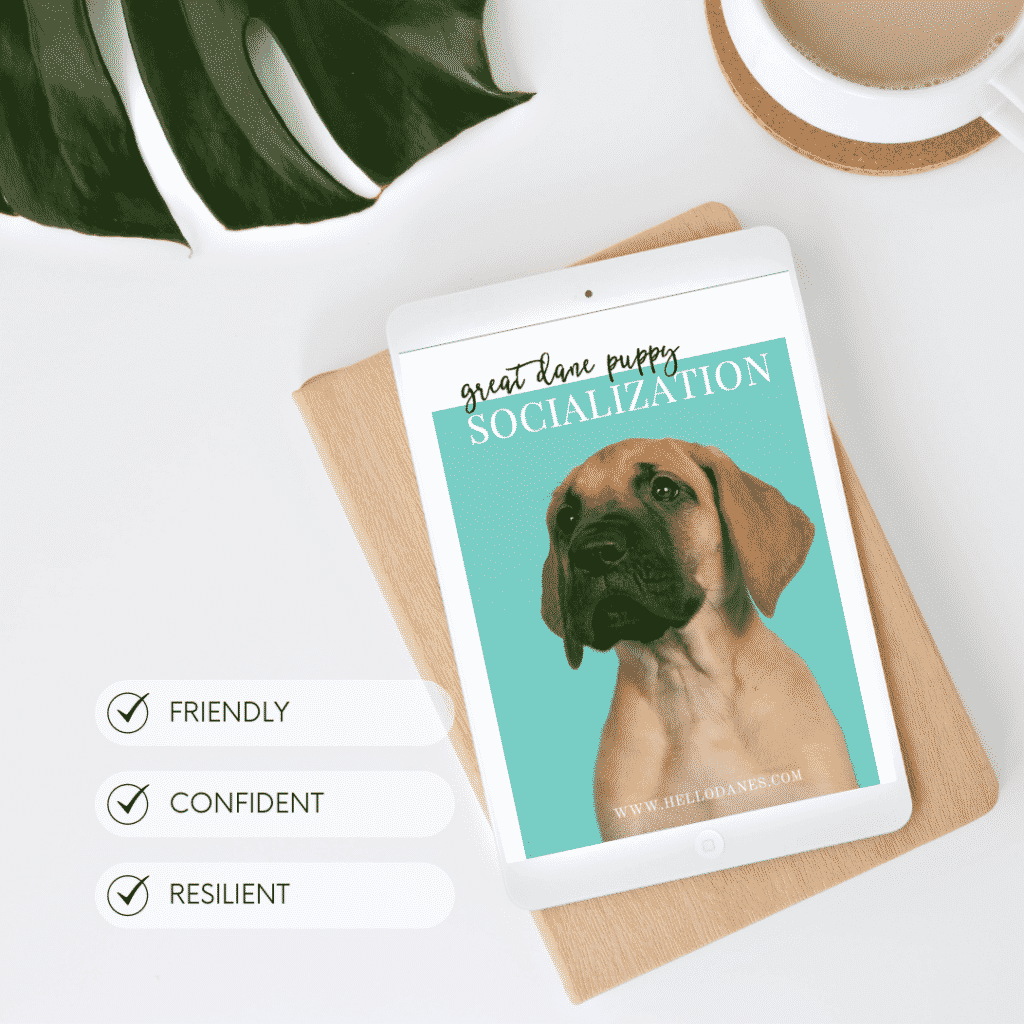 SOCIALIZATION 101
Have a Great Dane Puppy?
Check out our positive socialization guide, and learn how to socialize your pup the right way!
Friendly – Confident – Resilient
Are there e-collars that don't shock?
Shock and muscle stimulation are two very different things.

One is a sharp static zap, the other feels like a tap, tickle, or tiny ants crawling around. We prefer the Educator training collar models over traditional inexpensive shock because they offer a gentle tapping sensation.
The stimulation sensation from a high-quality remote dog training collar is non-aversive and can be used for communication. It is an effective trainer that replaces the pressure from a leash, harness, or collar!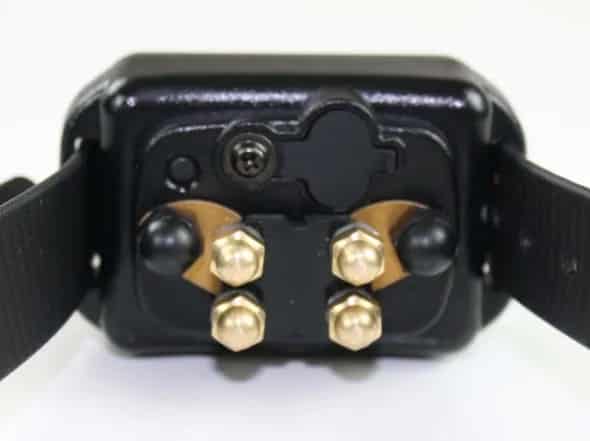 How do you train a dog with an E-Collar?
We recommend starting out by finding the lowest level where your dog has the desired response. Most dogs are enthusiastic and responsive between levels 3 and 10, and this is a sufficient value for getting started. The tapping sensation employed by this collar is incredibly gentle and feels more like a brief pulse than a shock.
Keep in mind that you will not likely feel the sensation if you try it yourself until you dial it up to higher stimulation levels well beyond what you need for training your dog.
Boosted stimulation mode can be used when your dog is distracted, and maximum stimulation is available in case of an emergency (for example, your dog is trying to run into traffic, yikes!).

We have training resources available, and we also highly recommend watching Larry Krohn on Youtube for the best and most positive remote training advice!

Your dog training collar offers precision control and has a boost feature for when you and your dog are in higher distraction areas (kind of like turning up the volume on your cell phone), momentary stimulation, and continuous stimulation.
What is the difference between the Mini Educator and the Educator E Collar?
The Mini-Educator dog training collar uses the same advanced technology as the Easy 900, in a more compact and elegant package.

The Mini-Educator remote is round instead of bar-shaped, and it offers only slightly fewer features.

We think the Mini-Educator (or the Micro Mini-Educator with the waterproof miniature collar receiver for small dogs) is a solid choice for dog owners who are new to off-leash remote training.
The Mini-Educator still offers a tracking light, quick emergency stimulation options, transmitter beeper mode, and the brief pulse sensation that educator 1/2 mile collars are known for, in a smaller package.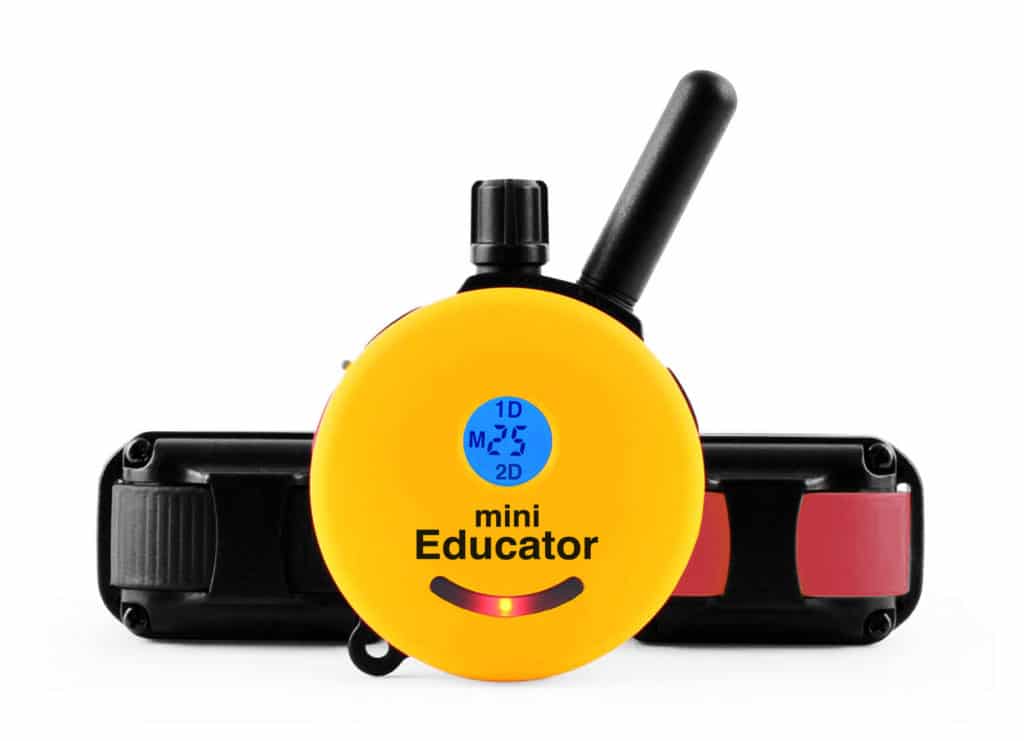 Which educator collar is best for my dog?
If you value simplicity, elegance, and easy operation, choose the Mini-Educator (one dog training collar) or the Educator (just like the Mini-Educator, but for two dogs). If you have a dog under 15lbs, choose the Micro Mini-Educator.

If you like features, extra customization options, or have more than 2 dogs, the Easy 900 Educator is the way to go.