Finding the best crates for a Great Dane is no easy feat when your pup is over 100 pounds.
Crate training a Great Dane is one of the best ways to make sure that your dog is safe, less able to make mistakes (such as peeing on your favorite rug), and less likely to chew up dangerous things such as cords and socks.
How to Crate Train a Great Dane Puppy
Crate Training for Great Dane Sized Dogs
kennel for great dane
Great Danes are giant breed dogs and most dog crates are NOT big enough! If you are looking for information on the best crates for a Great Dane, including the best custom crates for Great Danes, we're sharing our favorite below.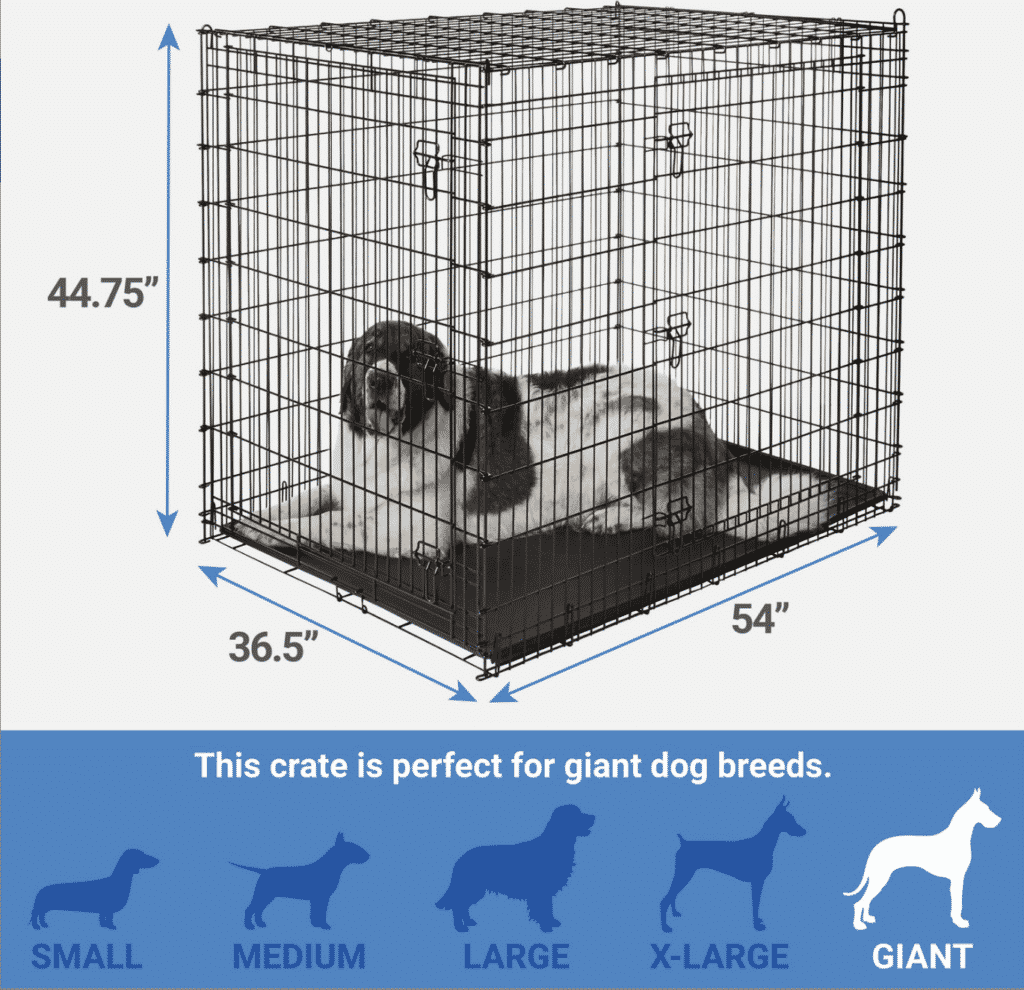 THE BEST CRATES FOR A GREAT DANE
It is unlikely that you will be able to find appropriately sized Great Dane cages at your local pet store.
Most of the 'largest' dog crates sold are 48″, which most Great Danes will outgrow by 7-8 months of age! Great Dane kennel size is SO important because Great Danes need to be able to stretch their joints even inside of a crate.
Look for a giant breed 54″ crate. XXL crates typically come with a divider panel that can be used to make the interior smaller while your puppy is growing.
There are two main players for Great Dane Crates in the market: Frisco and Midwest Homes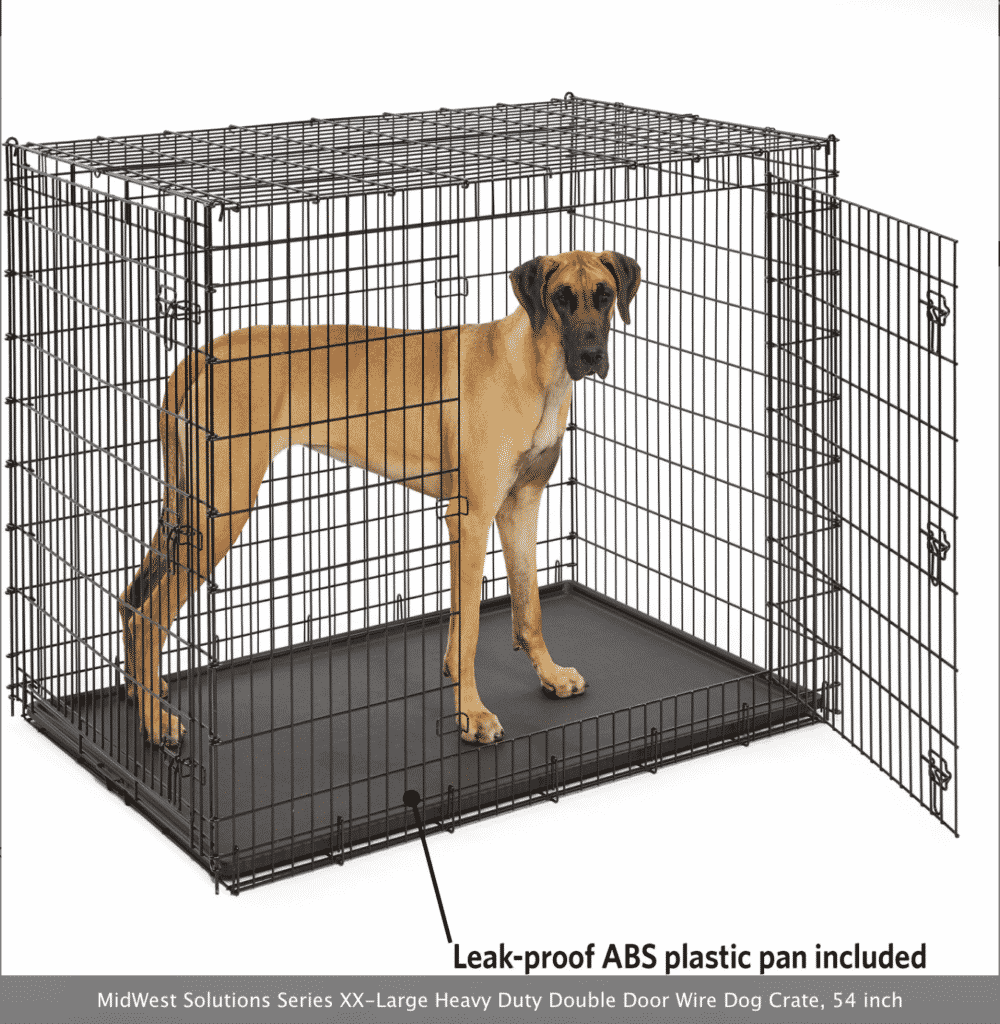 DOUBLE DOOR VS. SINGLE DOOR CRATES FOR GREAT DANES
We recommend double-door crates, as they offer more options for placement in your home.
SHOP ON CHEWY
MidWest Solutions Double Door 54″ Crate + Crate Pad
SHOP ON AMAZON
MidWest Solutions 54″ Double Door Crate
MidWest Solutions 54″ Single Door Crate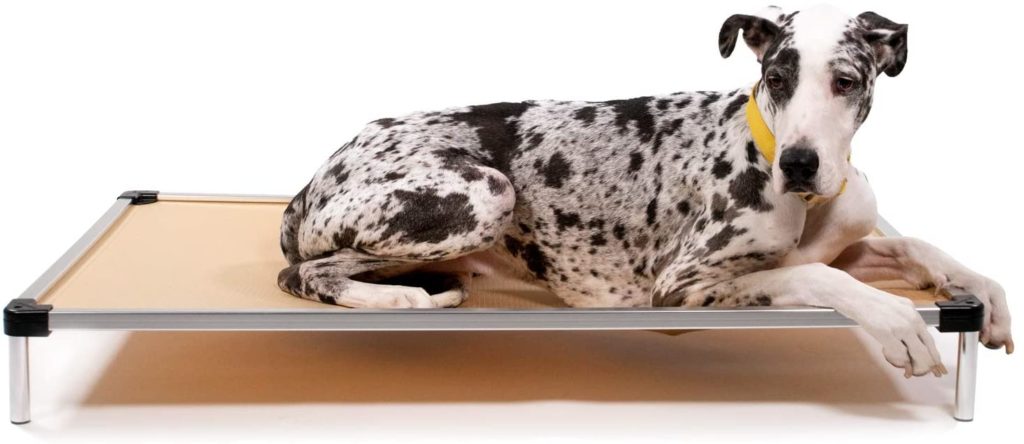 CRATE PADS AND CHEW-PROOF COTS FOR GREAT DANES
For orthopedic health, Great Danes should always have a soft and supportive surface to lay on.
If your Great Dane is destructive, we recommend the K-9 Ballistics Elevated Cot. It's spendy but much cheaper than having to purchase a new bed every month! The K-9 Ballistics cot is nearly indestructible.
For a basic, simple made-to-fit crate pad, try the 54″ MidWest Dog Bolster Bed.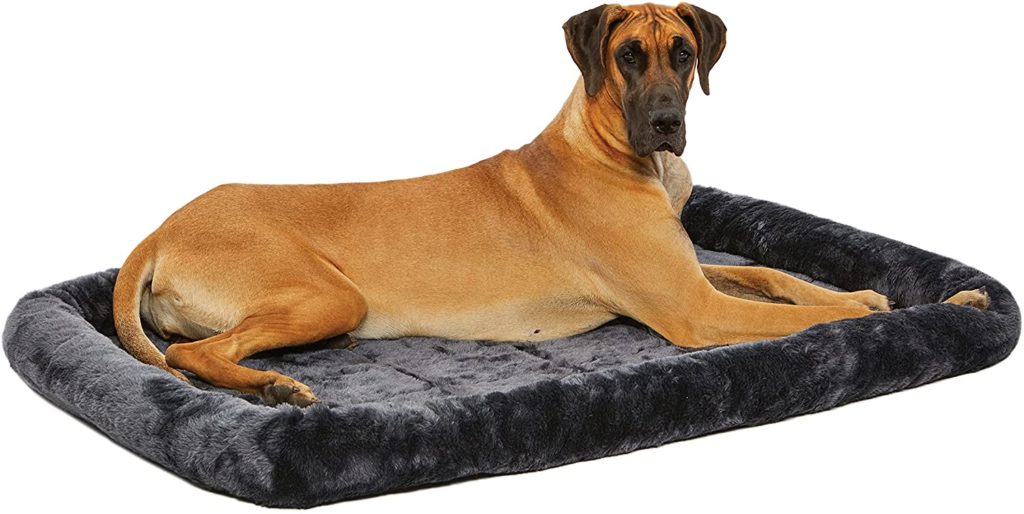 CUSTOM CRATES FOR GREAT DANES
If you are wanting a crate that fits your home decor, consider a custom crate for your Great Dane! These are typically made out of wood and can have different stains, doors and exteriors.
Many Great Dane owners use custom dog crates as their TV stand!
Learn more about ordering a custom dog crate, starting at $1699 from BB KUSTOM KENNELS.
CRATE TRAINING RESOURCES FOR GREAT DANES
READ MORE:
How to Crate Train a Great Dane Puppy
HOW TO TRIM YOUR PUPPIES NAILS
HOW TO STRENGTHEN YOUR DOG'S FEET
Miniature Great Danes: The Pocket Size Version
Is My Puppy Too Skinny?
Supplements for Great Danes
How Much Do Great Danes Eat?