Coming in hot with my non-biased Embark DNA Review!
A few months ago I decided to do an Embark DNA Test for my Great Danes, even though I assumed they are purebred dogs.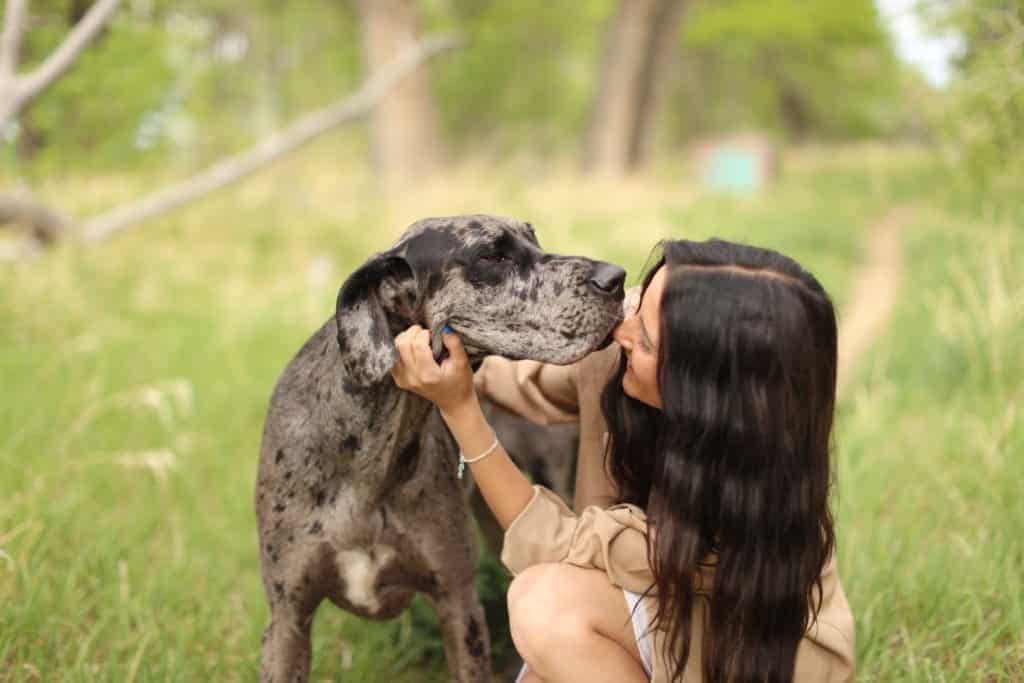 Although I figured my dog's results in the breed identification portion of the breed health kit would be Great Dane, I still wanted to get the test results and thought it would be fun to see both their breed results and their health report.
Here's how my process went, what it was like to complete the DNA test and get my dog's tested, and what pet owners should expect when taking an Embark DNA test.
ONE: EMBARK DNA REVIEW: THE DIFFERENT DNA TESTS AND WHY I CHOSE TO DO AN EMBARK TEST
There are a few different types of DNA tests for dogs. The most popular ones are the Embark and the Wisdom Panel.
The Wisdom Panel is a test that tells you the breeds in your dog's ancestry going back three generations. It also screens for more than 250 different diseases. The Embark dog dna tests for over 160 different breeds and screens for more than 175 different genetic health conditions.
In 2019, Embark said its breed results were 95% to 99% accurate. At the time, Embark analyzed 110 times more genetic markers than Wisdom Panel, so its results were more granular (200,000 versus 1,800, respectively).
After debating between an Embark and Wisdom Panel, I chose to do an Embark test because of the sheer amount of dogs tested compared to Wisdom.
With the amount of dog's dna that Embark has tested compared to Wisdom- I felt more assured with their dog dna test.
TWO: EMBARK DNA TEST: THE DIFFERENT TESTS
The process of completing a dna test on your fur baby is pretty simple.
First, you need to decide which test you want to take.
Embark offers three different forms of genetic testing for dog owners:
BREED + HEALTH KIT
The Breed + Health Kit is the most comprehensive dna test of your dog's sample.
This test costs $159, and tests your dog's breed, potential health risks that your dog will face based upon genetics, and provides a family tree.
This test gives a thorough breed composition as well as can go as far back as great grandparents on your pup's family tree.

PUREBRED KIT
The Purebred Kit tests your dog's dna for potential health risks as well as contains a breed identification kit. This health test kit is also $159.
This sample, however, is more targeted to the dog's genetic makeup in regards to comparing it with another dog dna test that is related.
This sample kit could be used for canine research, breeders, or scientific research. Breeders often look at this kit for obtaining health results of the dog's parents- however you should NOT rely on health results from a breeder who relies on a dog's dna or breed ancestry from Embark. Refer to our blog post on OFA Health Testing.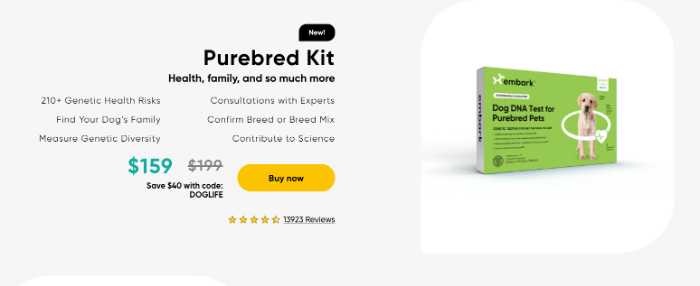 BREED ID
The Breed ID kit is a simplified version of the breed health kit in the sense that it DOES NOT include any potential health issues that your dog's DNA implies.
The breed identification kit ONLY checks for what dog breed your pup is- and can provide family trees on your rescue dog, any mixed breed of up to 350 dog breeds. So, instead of BOTH a health DNA report AND a breed identification report, the breed identification kit is ONLY providing you with breed identification.
The Breed ID Kit will look at the genetic makeup of your dog's traits in the breed identification process in order to inform you what dog breed you have.
If you are looking to just simply provide a dna sample and learn about the breed ancestry of your dog, the Breed ID kit features just that for $109.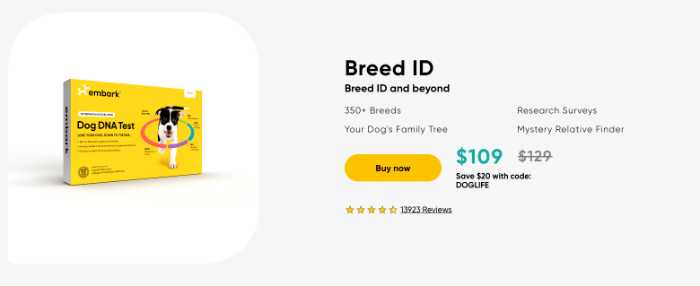 THREE: GIVING A DNA TEST TO YOUR DOG: WHAT'S IN IT FOR DOG OWNERS?
One of the primary reasons I wanted to do a dog dna test review was because of the fun and easy process of getting my dog's results: from start to finish.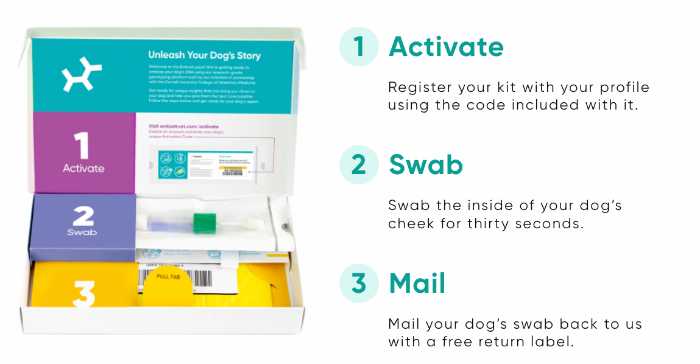 It was SO much easier to complete the dna test than I thought it would be. Here is how it went:
CHOOSING THE BREED HEALTH KIT
First, I made the decision to purchase the Breed Health Kit.
Remember, the Breed Health Kit is the dog DNA test that checks for BOTH health markers as well as breed identification. The cost of my sample kit was $159.
RECEIVE THE KIT IN THE MAIL
When you get the DNA test in the mail- you need to activate it.
Go online and register your kit. Inside of your kit you will find a code that is individual to your dog.
Click on the 'Activate Kit' button as shown below. This will prompt you to create an account for your doggo and register your dog's sample.

Trick: I opted NOT to fill out the physical traits of my dog OR add any photos prior to getting my results. I wanted to see if the dog DNA test was accurate enough to REALLY know that she was a Great Dane before I shared all of her physical traits with the portal.
SWAB YOUR PUP
Next, you want to swab your pup.
The DNA sample is collected with a swab that is provided in the kit.
You want to make sure you get a good sample- so I recommend following the directions clearly- I have seen some Embark reviews stating that their dog DNA test came back a few weeks later requesting an additional swab (owners did not swab thoroughly enough).
I swabbed my pup's gums and inside of her cheek for 30 seconds. Then, I stuck the swab back into the swab vial and put it into the prepaid envelope.
MAIL YOUR RESULTS
It really is as easy as that! After you have swabbed- stick the prepaid envelope with your dog dna test into the mail.
Then comes the hard part- the waiting! The test can take WEEKS to come back- even months.
My test results came back within about 6 weeks- but luckily Embark sent a few emails along the way to let me know that the dog dna test had made its way to the facility and give updates that they were working on finding the results, etc.
FOUR: WHAT DID I LEARN WHEN I GOT MY DOG'S DNA TEST BACK?
As soon as your dna test results are back- you will get an email with the results.
If you got the Breed ID Kit- your results will be JUST breed identification related. If you got the Breed/Health kit, like I did, your results will be indicative of both breed/genetic diversity/dog's background as well as indicators of any health markers you should be aware of within your dog's genetic diversity.
Your 'portal' looks like this, and is broken up into multiple sections: Health, Breed and Relatives.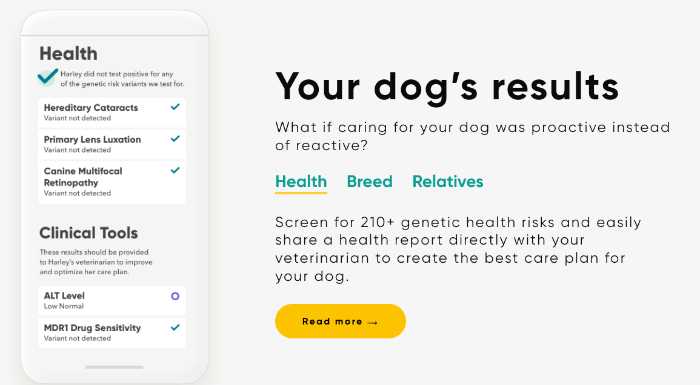 HEALTH
The Embark Dog DNA Test checks for 210+ genetic health risks. That is more genetic health risks than any other dog dna test on the market.
The Embark Dog DNA Test also screens for the MDR-01 gene that predisposes dogs to adverse reactions to certain drugs. Basically, this means that if your pup has this gene- they may have a harder time metabolizing certain types of drugs and may need a lower dosage or different drug altogether.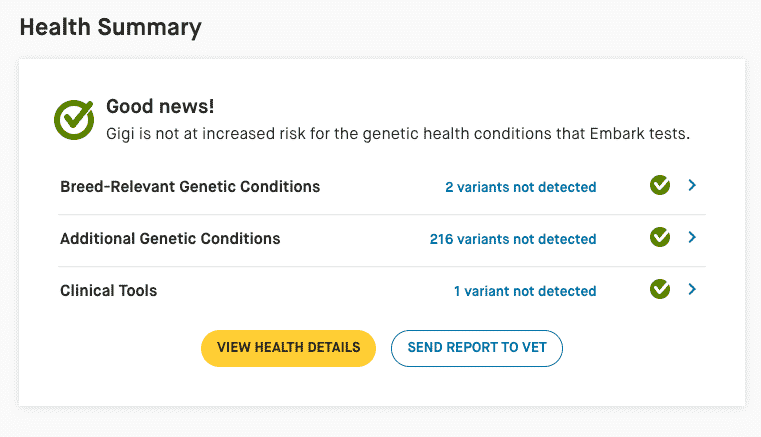 The test will also let you know if your pup is a carrier of any genetic diseases, even if they don't have the disease themselves. This is important information to have because it means you can be extra vigilant about health screenings for those diseases and make sure you are not breeding carriers with other carriers (which can produce puppies with the disease).
Because it checks for common adult onset diseases, the test can be used preventatively to help you stay on top of any diseases that are common in your dog's breed.
BREEDS
The Embark Dog DNA Test can identify more than 350 breeds, including some wolf and coyote content. This is the most breed diversity of any dog dna test on the market.
My pup's results said she was 100% Great Dane- which I knew. But, it was SUPER fun to dive into the colors that she carried for, as it also checks your dog's coat and colors.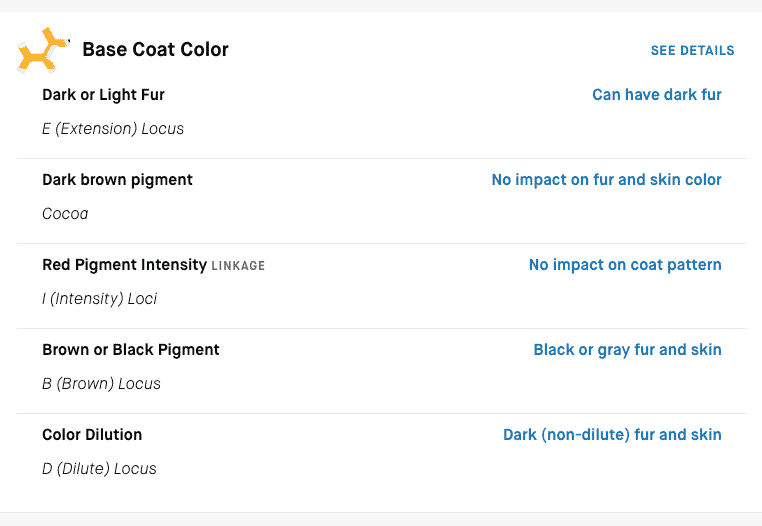 The test will give you a 'breed family tree' that shows what percentage of each breed is in your pup as well as the history/origin of each breed.
RELATIVES
This was my favorite part of the results .
The Embark Dog DNA Test will tell you how closely related your pup is to other dogs in their database.
My pup is distantly related to another dog in the database that is also 100% Great Dane. I also found several other relatives including a possible match for great grandparents.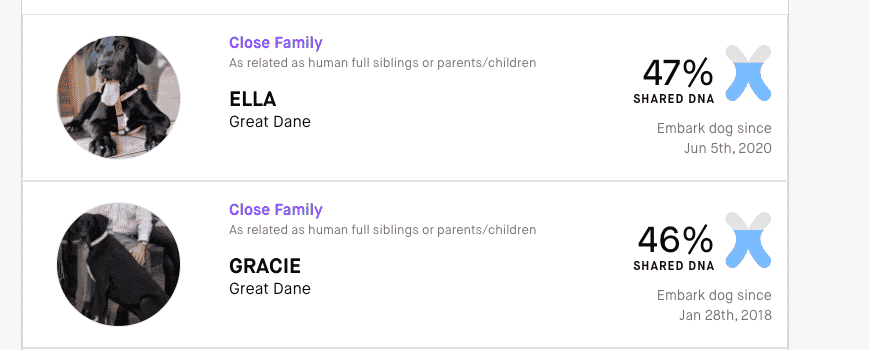 I was able to reach out to one pet parent who shared a TON of physical traits (and DNA!) with Gigi and we talked for a few messages about how fun it would be if Gigi and Layla ever got to meet.
FIVE: ARE DOG DNA TESTS WORTH IT?
I do believe that the Embark dog dna test is worth it.
Although it is a bit pricy, I was glad that I went with the Health AND Breed identification kit.
If you already know your dog's breed, but want to check for health markers only, there is no other option BUT to purchase the kit with both breed identification and health.
If you do not know your dog's breed, they are a mixed breed or rescue, and you ONLY want to find out their breed- you can opt for the $109 breed identification kit- but in my opinion it is worth the extra $50 to get the health information as well.
I think the Embark Dog DNA Test is especially worth it if you have a pup with unknown parentage.
The test can give you a lot of information about genetic diversity as well as any markers you should be aware of.
SIX: SHOULD THE EMBARK DOG DNA TEST BE USED BY BREEDERS TO HEALTH TEST?
In my opinion, breeders should NOT use the Embark Dog DNA Test to health test their adult dogs in order to prove that they are fit to breed.
It is just NOT sufficient enough to provide enough information.
There are other, much more comprehensive health tests that provide far more information about the health of a dog and their suitability to breed.
The Embark Dog DNA Test is a great tool for learning about your own pet- but it should not be used as the sole source of information when making breeding decisions.
OPT FOR OFA HEALTH TESTING
When looking into dog breeds who are healthy and health tested, find a breeder who uses OFA Health Testing on their dogs.
OFA health testing tests things that Embark cannot test, like hips, heart, and eyes.
To further read, feel free to view my blog post about OFA testing.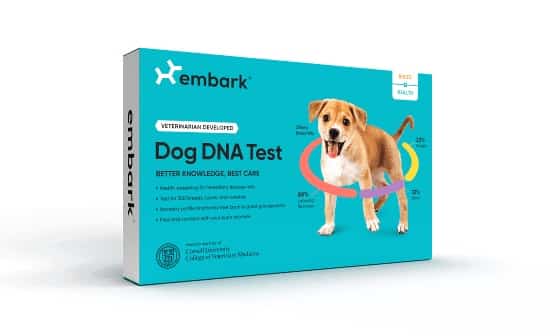 HAPPY TESTING
I hope you enjoyed my Embark Dog DNA review! If you have any questions, feel free to leave them in the comments below and I'll do my best to answer them!
Happy testing!