The West Paw Toppl Dog Toy is used for engagement and enrichment for dogs- but is it worth it?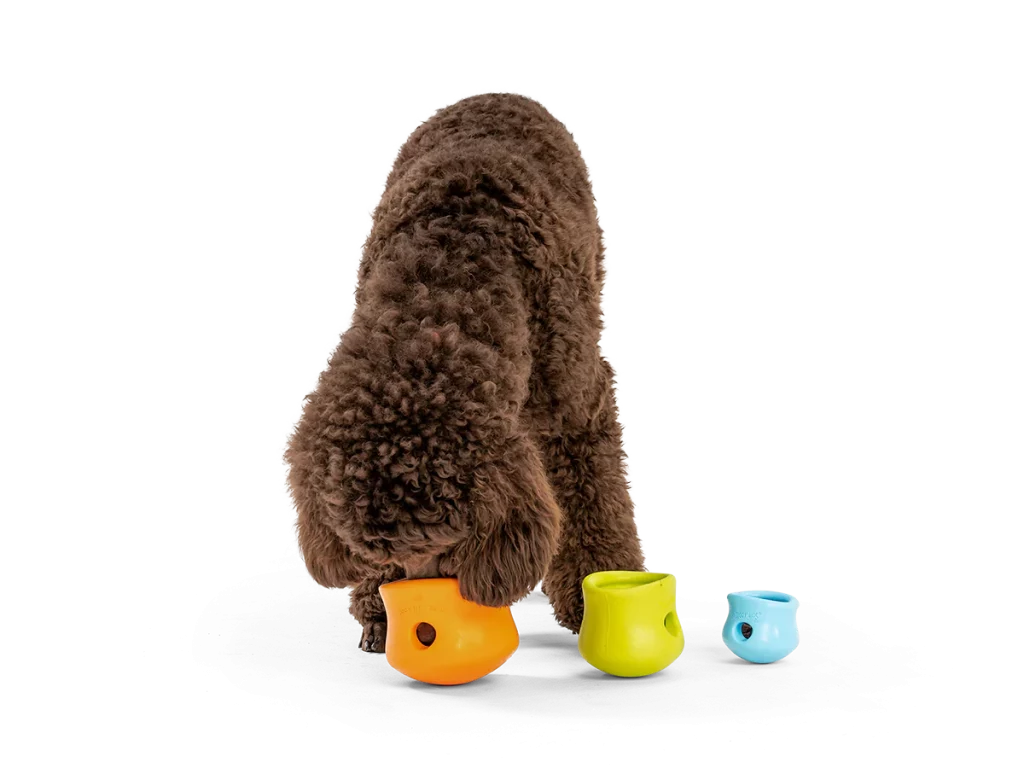 DO WEST PAW TOPPL INTERACTIVE TOYS KEEP DOGS ENTERTAINED?
Do West Paw Toppl interactive toys keep dogs entertained? That's a puzzle. But we chew on the question and come up with this: it depends on the dog. Some dogs will go for anything that's new, and others need to be coaxed with a treat. But all pups will eventually get bored with the same old toy, which is why it's important to have a variety of puzzle, chew and treat toys on hand.
For my dogs, the answer is yes. Let's dive into why and how.
Your Great Dane is Bored: Here's 11 Fun Ways to Entertain Them.
5 Dog Boredom Busters: Keep Your Pup Cool!
WHAT STRUGGLES DID MY DOGS HAVE WITH DOG TOYS RELATED TO FOOD / ENGAGEMENT?
My dogs were either bored with previous toys like the Kong and left it alone, or they weren't smart enough to get the food out quickly and left it all in there to melt.
I started to feel like I was spending all of this time making them Kong's for my OWN ENGAGEMENT! The engagement activity was digging it all out in the sink just to get the Kong clean. It REALLY stinks to spend time, money and effort to fill up food puzzles for your dogs, just to spend 20 minutes then rinsing it all out– I felt like groundhogs day.
There were times when the food got stuck in the hole of the toy, and they were unable to get it out, leaving the Kong at risk of mold and mildew.
My dogs are bright! But they are NOT prey drive/driven by food/working dog breeds.
Food puzzles had become a big source of frustration for us. They were just maybe too lazy to use a Kong. I decided that the Kong was not for us anymore. It was just TOO MUCH WORK for me and NOT ENOUGH FULFILLMENT for them.
That is when I decided to try the West Paw Toppl, even though I was hesitant.
WHAT SIZES DO THE WEST PAW TOPPL COME IN?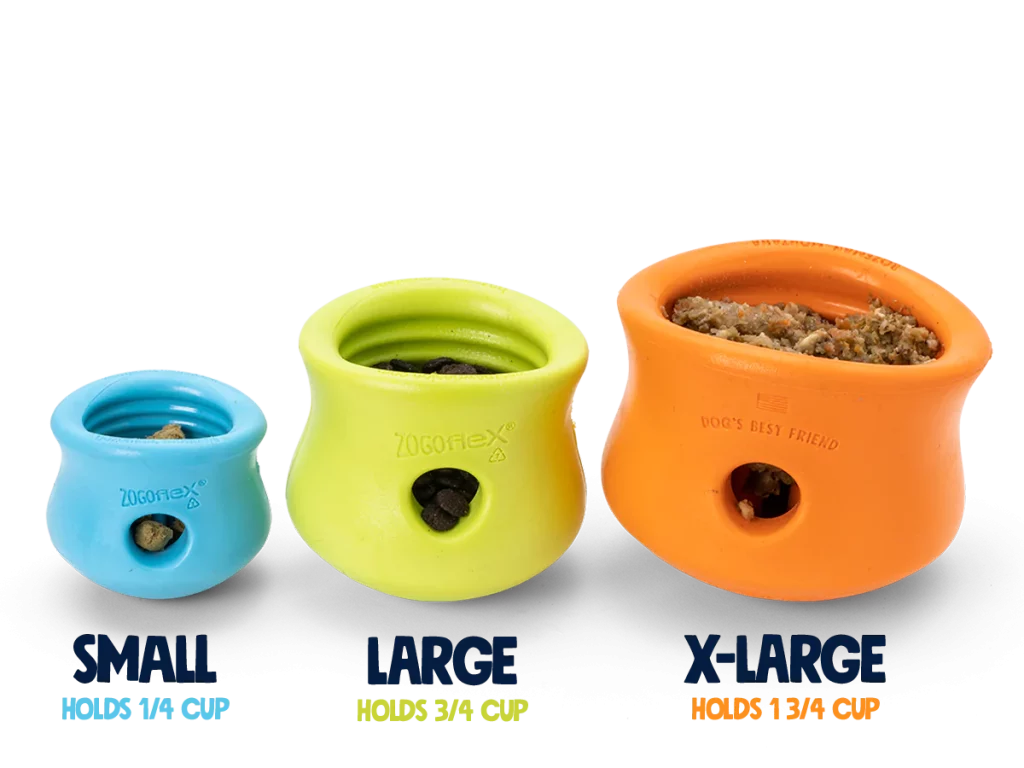 The two sizes of the West Paw Toppl come in small, large and extra large. The three sizes are sold separately.
But, honestly no matter what size dog you have, the price for the two sizes are about the same (give or take a few bucks) and the large can be used for a small dog. Just simply put the Toppl back in the freezer after a few minutes and reuse later.
Or, buy the small / medium / large based on the size of your dog or puppy!
I personally have the size large West Paw dog toy and use it for both my 125 lb Great Dane and my 5 lb puppy.
WEST PAW TOPPL FOR BIGGER DOGS
If you have bigger dogs, definitely go for the Large size. The large toppl toy is not necessarily a 'big' dog toy, but its big enough for them to eat out of, which is my FAVORITE part about it
The biggest complaint I have with the Kong is that the hole at the top was too small for my giant breeds to eat from. They'd get bored, the stuff got stuck, they'd stop eating, it would get gross.. You get the point.
Getting the large sizes in the toppl treat allowed my pet to enjoy the toy almost immediately. It did take them some time to understand the toppl treat, but DEFINITELY not as long as it took them with any other food toy (which was nearly never- ha).
WEST PAW TOPPL FOR SMALLER DOGS
If you have a smaller dog, you can get the smaller toy.
The toppl comes in the small and large size. However, I do believe you can use the large toppl for small dogs.
HOW DO YOU USE THE WEST PAW TOPPL DOG TOY?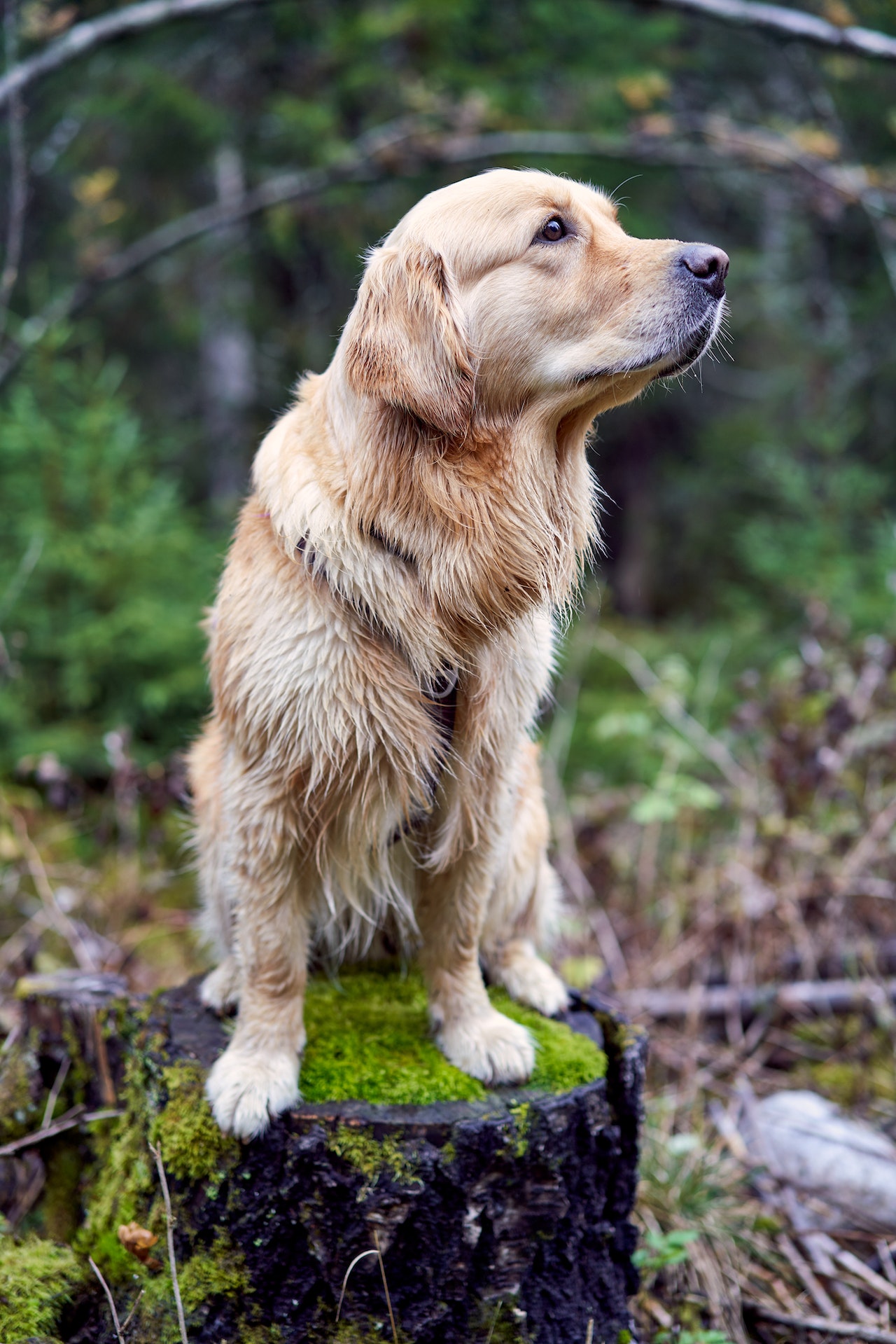 This treat toy is meant to fill with food and keep your dog busy.
Reasons you can use the topple treat:
Hold treats for your dog to make them last longer
Provide a healthy snack
Fill with keep your dog's brain busy and enriched
Lessen anxiety
Slow down your dog while eating
FILLING THE TOPPL PUZZLE TOY
The topple treat toy has a more appropriate shape than other chew toys meant for filling up, in my opinion which allows their tongue to get in easier and allows for zero waste.
Just take the treat toy and fill it with either your dog's favorite food, snack, some wet kibble, or canned food and then freeze.
You can use it as a dog toy / more for treats or you can also use it as a meal replacement.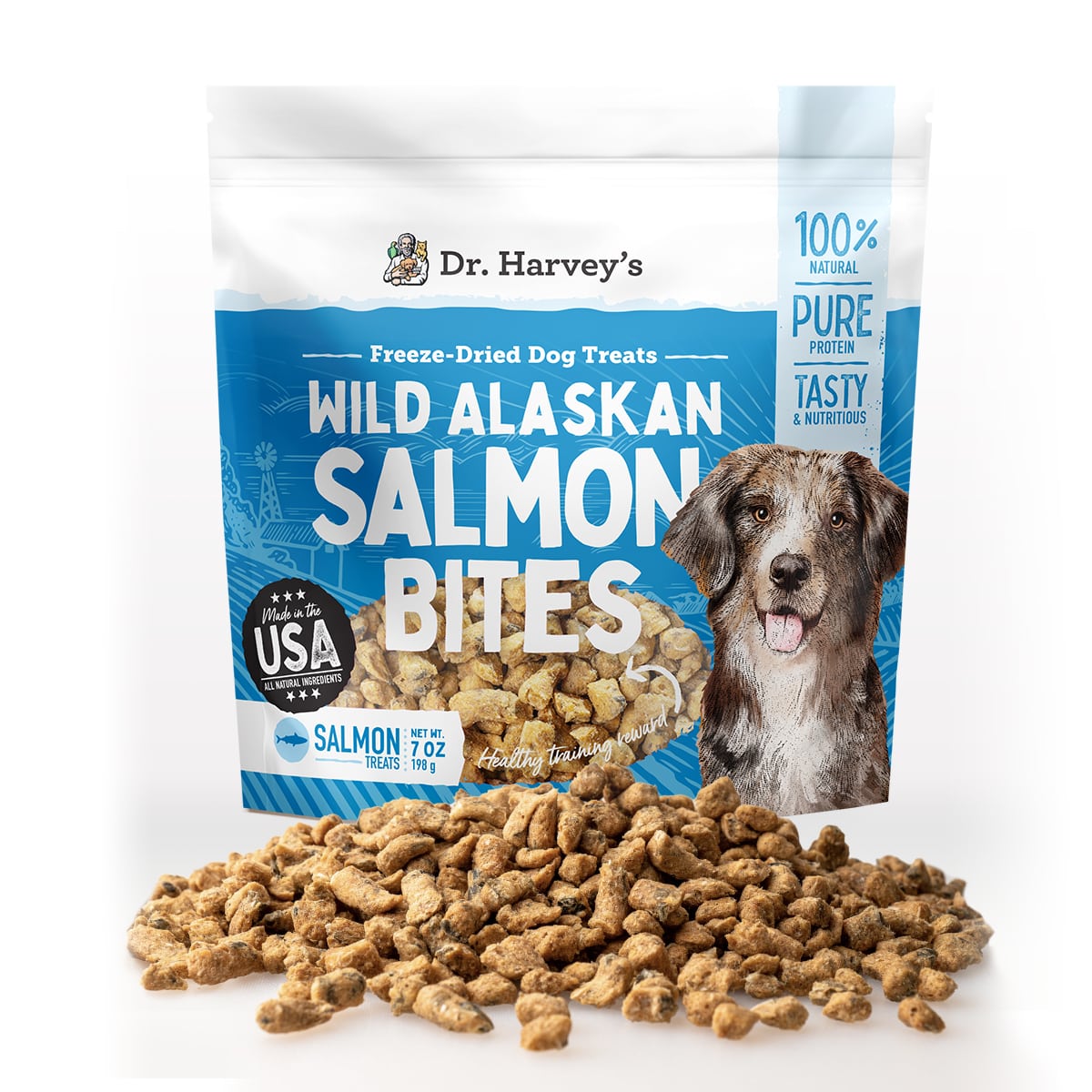 COMPARING THE WEST PAW TOPPL TO A KONG TOY
A Kong treat toy never worked out for my Great Danes.
They like other treat dispensing toys and similar items, but with the Kong they seemed to get bored and not be able to get the items out. The hole seemed too small and ultimately just created more work for me.
Because of the way the toppl treat toy is made with the wide opening, they are able to more easily interact with both the small and large toppls. It seems more species appropriate than having them stick their tongue in such a small spot.
As an added bonus, the small and large toppls seem MUCH easier to clean. With others, I always worried that mold and grossness was going to start growing on the inside. But with these ones the hole is wide enough that I can clearly make sure that they are thoroughly cleaned aftewards.
CAN YOU USE THE WEST PAW TOPPL FOR FEEDING MEALS?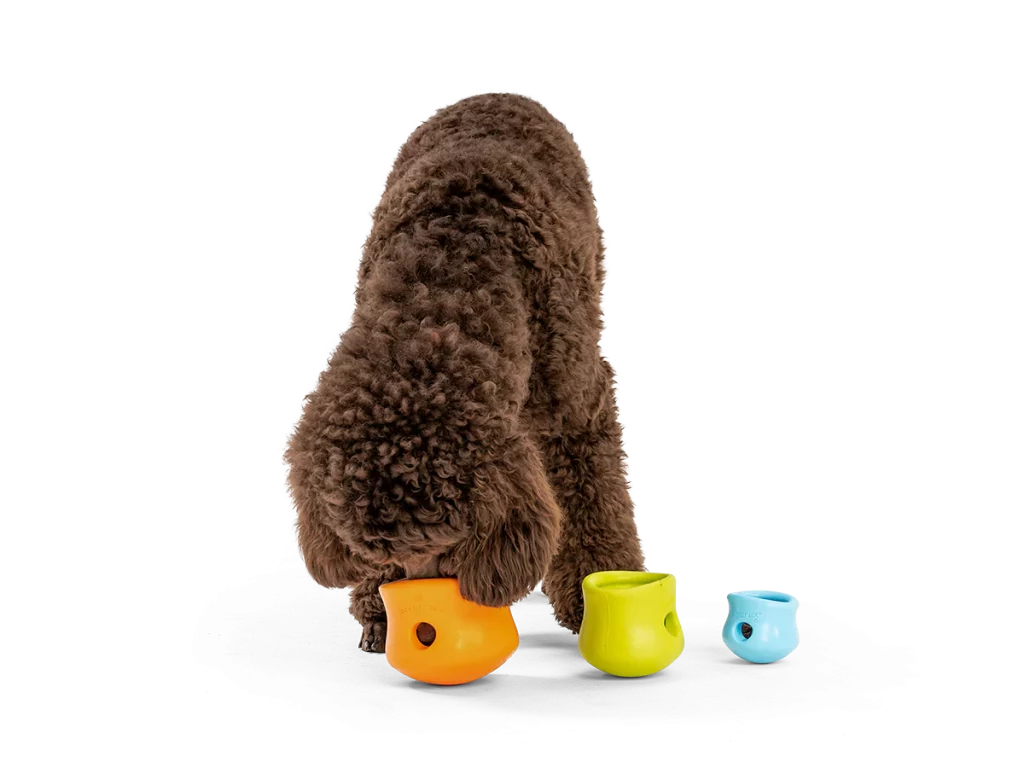 Absolutely! These are the only toys I use to regularly give my pups their meals.
I use wet food and mix it with water, stick it in the freezer and later let them enjoy!
You may not have a beautiful meal like you see on the internet, but who cares! Mine are never pretty- but they are delicious and healthy.
Something cool that is sold separately than the toppl treat are these adorable little additions for the clever dogs. If your dog is able to figure out how to use the toy immediately, you can make the job harder by adding this to the inner ridges and challenging them.
West Paw Zogoflex Toppl Treat Dispensing Dog Toy Bundle – Interactive Chew Toys for Dogs – Dog Toy for Moderate Chewers, Fetch, Catch – Holds Kibble, Treats, Small 3″ Tangerine, Large 4″ Aqua Blue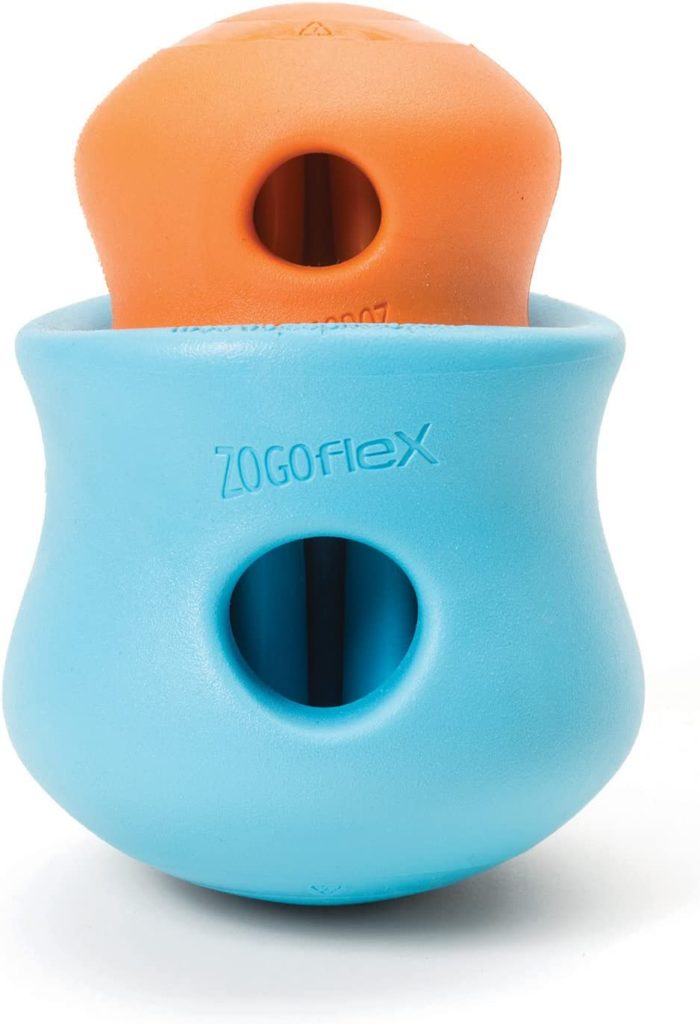 USING A WEST PAW TOPPL FOR ENGAGEMENT AND TREATS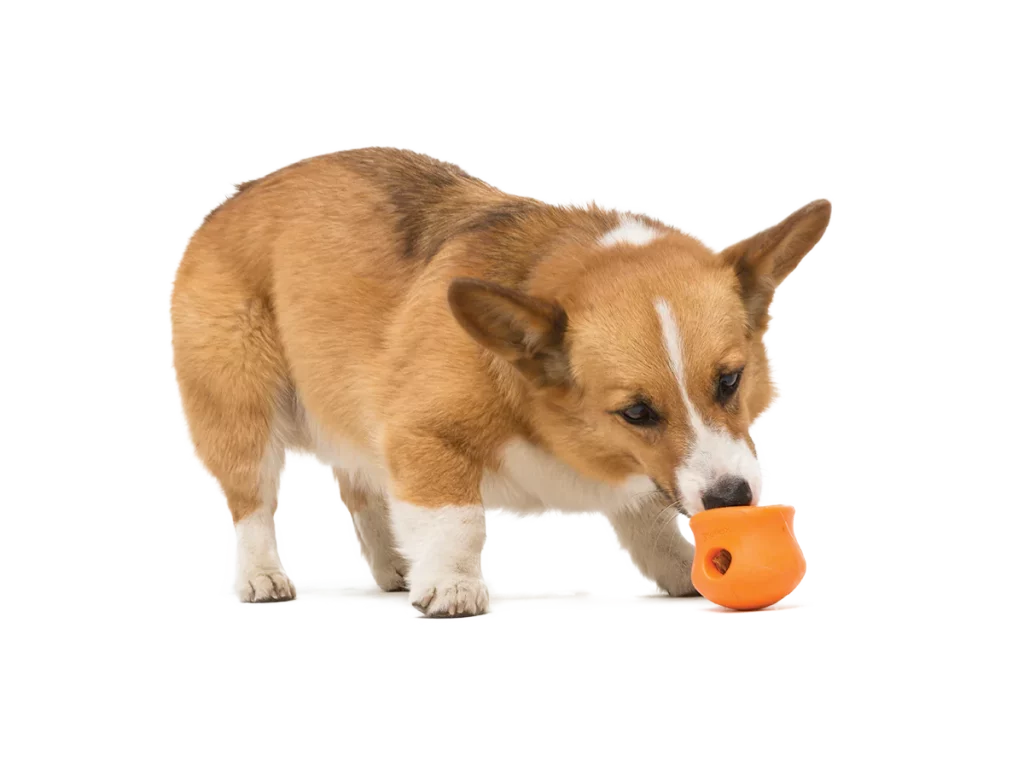 Typically, I just use the West Paw toppl for mealtimes, but you can also use it for healthy treats.
Just fill up the toy with anything you'd like! Then, add bone broth or water to be able to freeze it all together before you feed (freezing will make it last much longer when you feed it!)
Ideas for things to add in:
Cottage Cheese
Apple Sauce
Slices of Granny smith apple (My dogs LOVE Granny Smith apples for some reason!)
Yogurt
Peanut Butter
Fish oil
Cheese
Mashed up fruit or vegetables
Your own homemade dog food recipes
Store-bought dog food
Mashed banana
Whatever you can think of! Be creative- your pup will love it. ?
I have also found that using the wet food along with some kibble or dry treats works great too! The toppl treat dispensing toy is great for mental engagement and enrichment, especially if you dog is prone to anxiety or boredom. You can use it as a puzzle toy by filling it with their favorite treats
IS THE WEST PAW TOPPL DISHWASHER SAFE?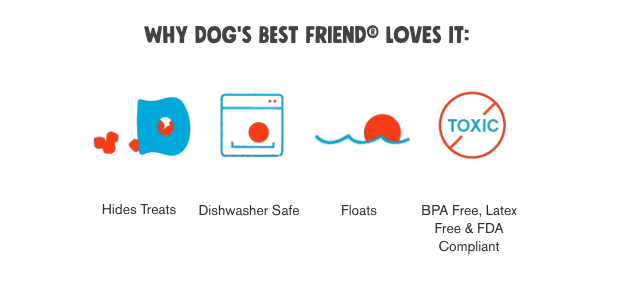 I have washed my West Paw toppl nearly 10 times and it is completely dishwasher safe!
The company states that you should use only the top rack dishwasher shelf in order to make sure it does not melt.
After dinner, I typically rinse it out to get any leftover gunk out, then stick it in the dishwasher. So yes, it is definitely dishwasher safe.
The only negative I have with the West Paw toppl treat dispensing toy is that it does not come in many different colors.
I wish there were more color options to choose from because right now it is only available in three colors- tangerine, neon green and aqua blue. I have one of each of these colors, but the primary color that I love is the aqua blue. But- keep in mind our dogs see colors in different ways than we do anyways- so the colors don't bug them!
ARE THE WEST PAW TOPPL DOG TREAT TOYS CHEW PROOF?
I do not believe that the West Paw Toppl is chew proof.
However, you should consider that this is not a chew toy.
If your dog loves to chew things, you should monitor them while they eat their meal for your dog's safety.
Moderate chewers could probably get away with it if they are just chewing it while they're eating but direct chewing on the toy would likely damage it and could even cause an obstruction should they swallow it.
ARE THE WEST PAW TOPPL DOG CHEW TOYS SAFE?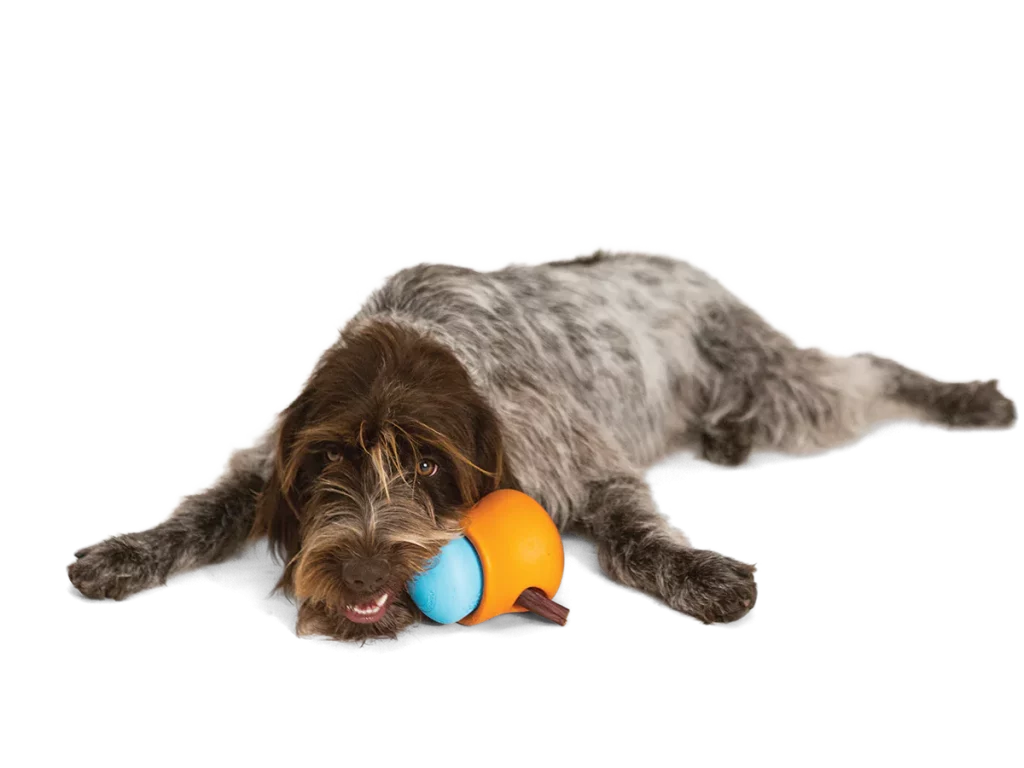 Most animals love to eat but dog owners should monitor their dogs while they do so!
I do believe that the West Paw toppl is a more appropriate shape for animals not to get their tongues stuck inside while they are eating.
The material is also non toxic.
I have had zero concerns with my Great Dane's safety while they use the items. My two suggestions would be:
Always monitor your animals while they are eating for your dog's safety
Always read the labels of any items you include in their meals
WEST PAW TOPPL RECIPES FOR LAZY AND BUSY DOG OWNERS
If you have pets you know that finding a good way to keep them from getting bored is hard.
You dont always have time to play with them all day long.
Well, the Toppl Treat could be a great solution for you.
PLUG UP THE HOLE WITH PEANUT BUTTER
My first step is always to plug up the side hole with peanut butter. I'm talking about this hole: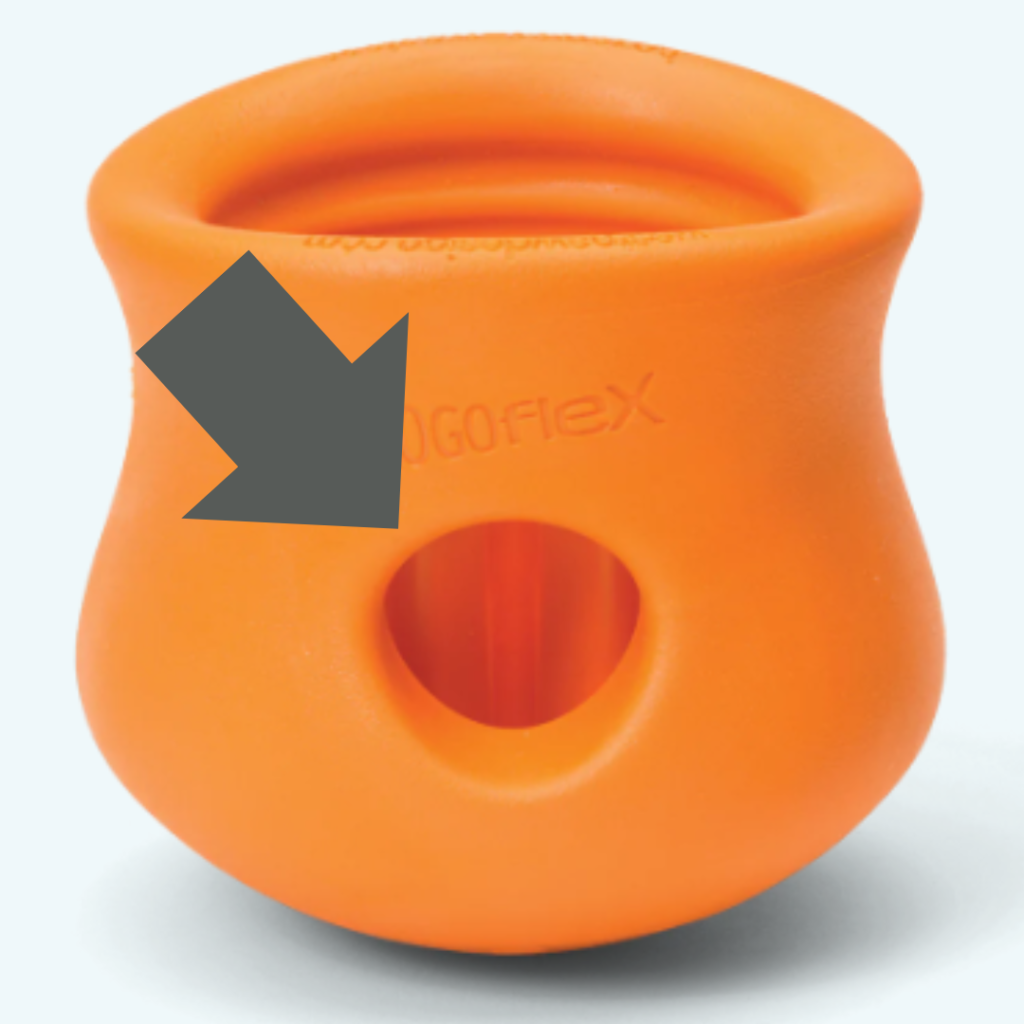 I fill this up so that the rest of the items don't come falling out once I start pouring them in. Mistake I've made the hard way many times.
CANNED DOG FOOD AND WATER WITH TREATS
Remember- your pet does not care if it looks like a masterpiece.
Just take canned food, stuff it in there, fill the rest with water, mix it together, and then add a few treats on top!
Done…..
Easy right?
Don't forget to freeze.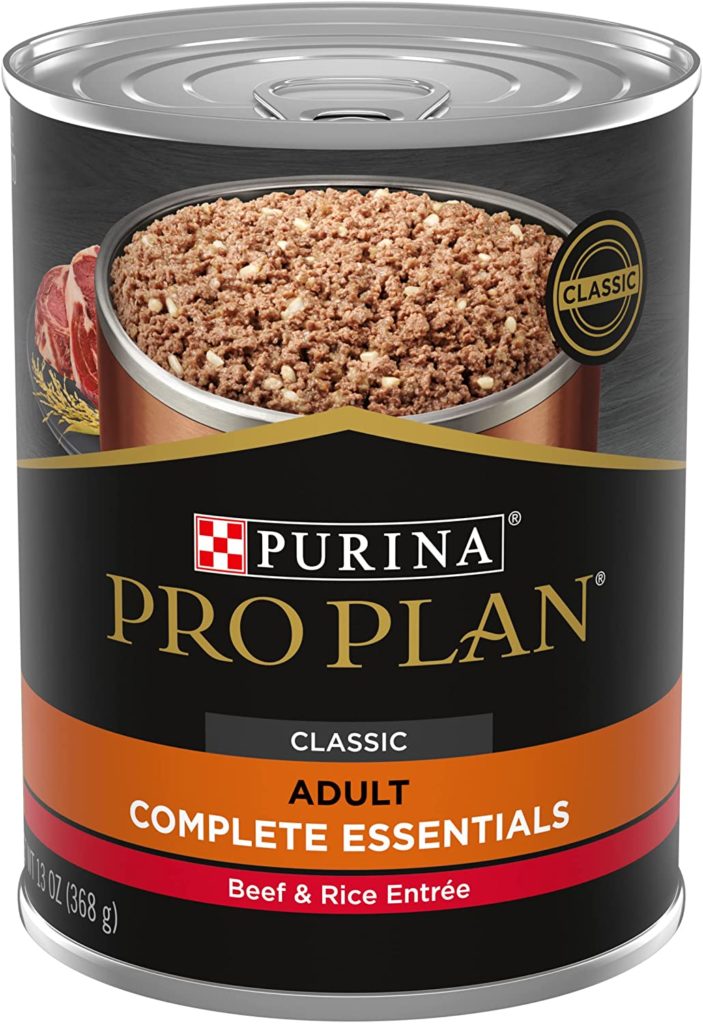 DEHYDRATED RAW OR REGULAR RAW WITH TREATS
You get the point… Do the same exact thing as above but with dehydrated raw or standard raw food!
I like to crumple up some dehydrated raw or balanced wet raw (We love Raws Paws) and then pour water over top of it. Sometimes I'll add some veggies on top, then freeze.
They go crazy!
Here is a link to the Raws Paws: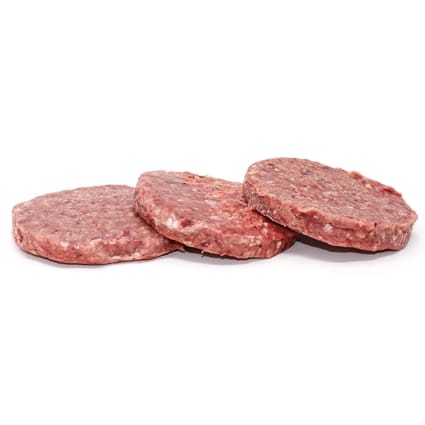 WET KIBBLE
If you feed kibble- do the same exact thing but with kibble!
It really does not get easier than that!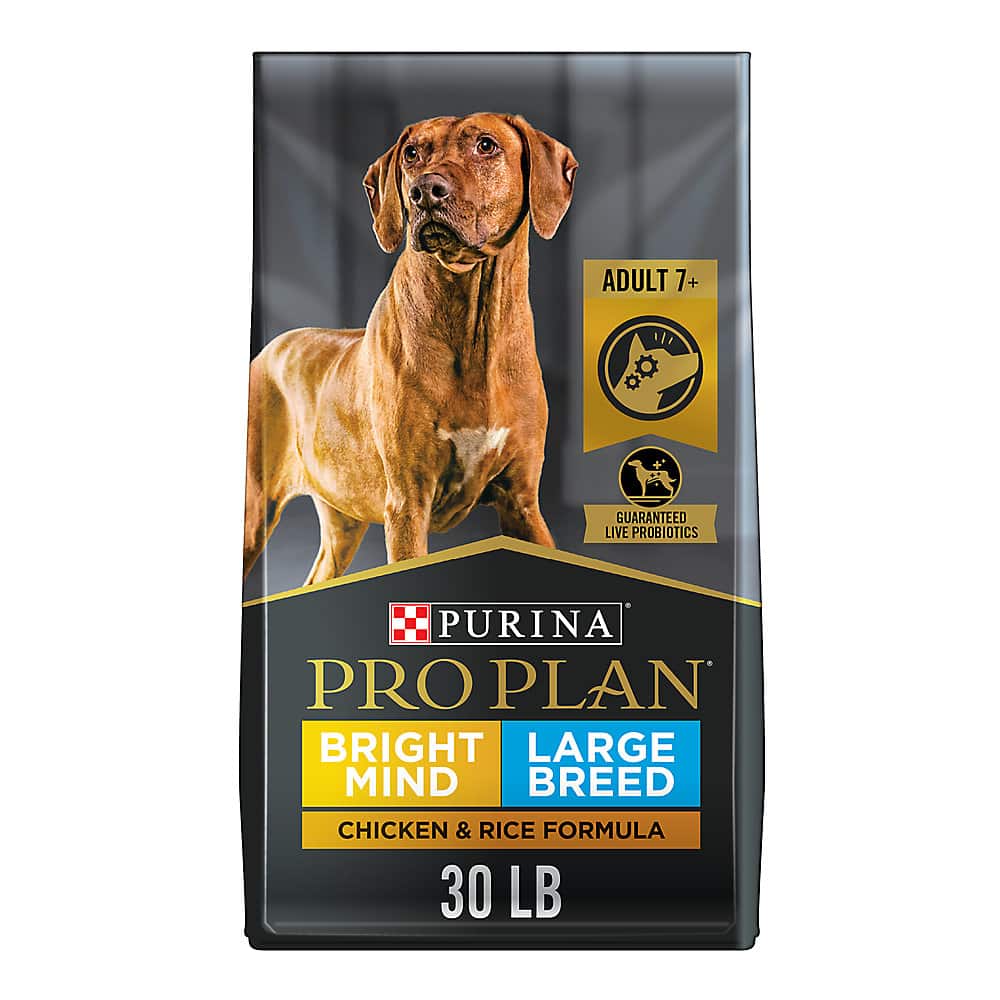 WEST PAW'S PUZZLE TOY IS A GAME CHANGER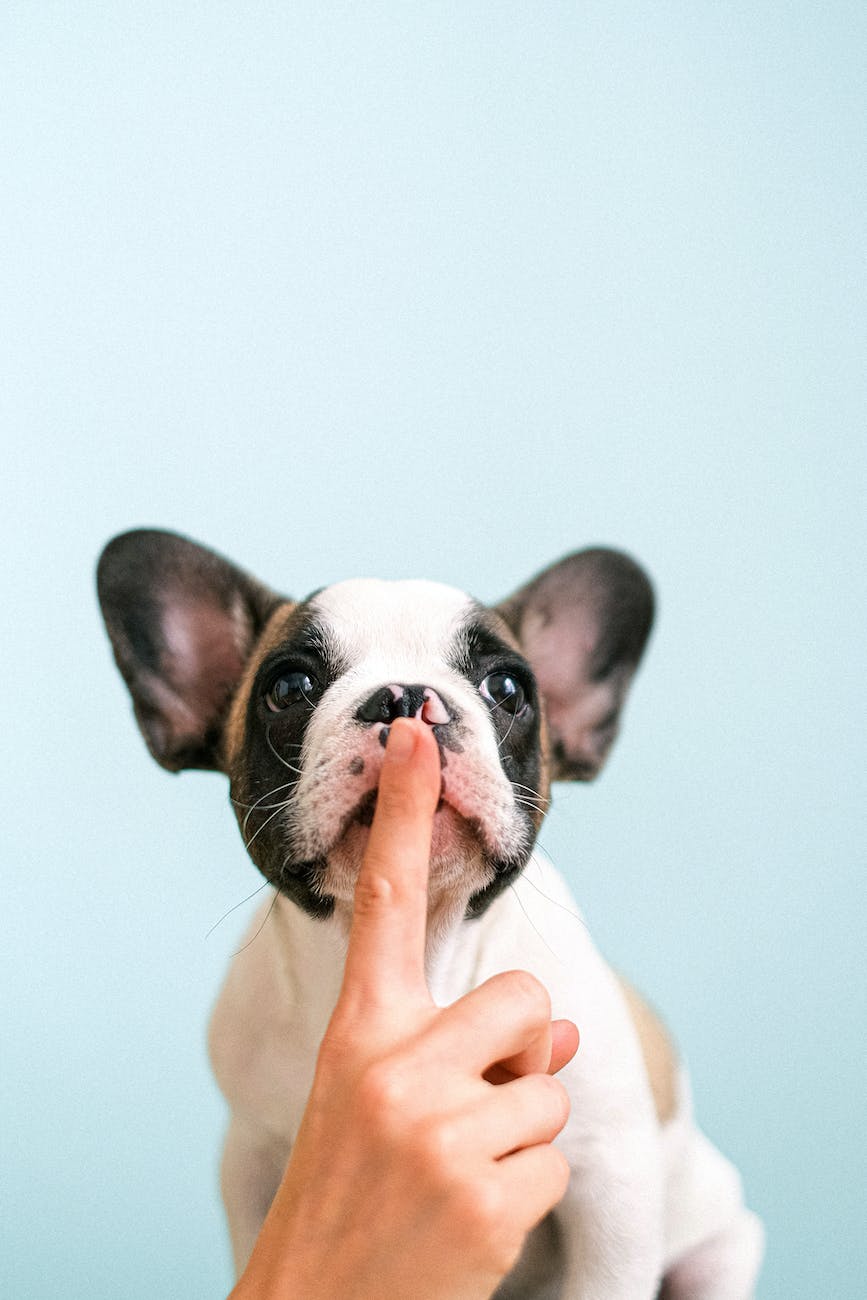 The West Paw Topple is one of the only toys that my dogs will successfully be able to eat their meal from.
If you're looking for dog toys for them to play with, this probably isnt the right one for you.
But if you're looking for a top rack dishwasher safe treat toy that you can use to keep your pup entertained, they'll take to the toy immediately, it'll bust their boredom, and can be used with both a senior dog or puppy, then you should definitely purchase.
Purchase here: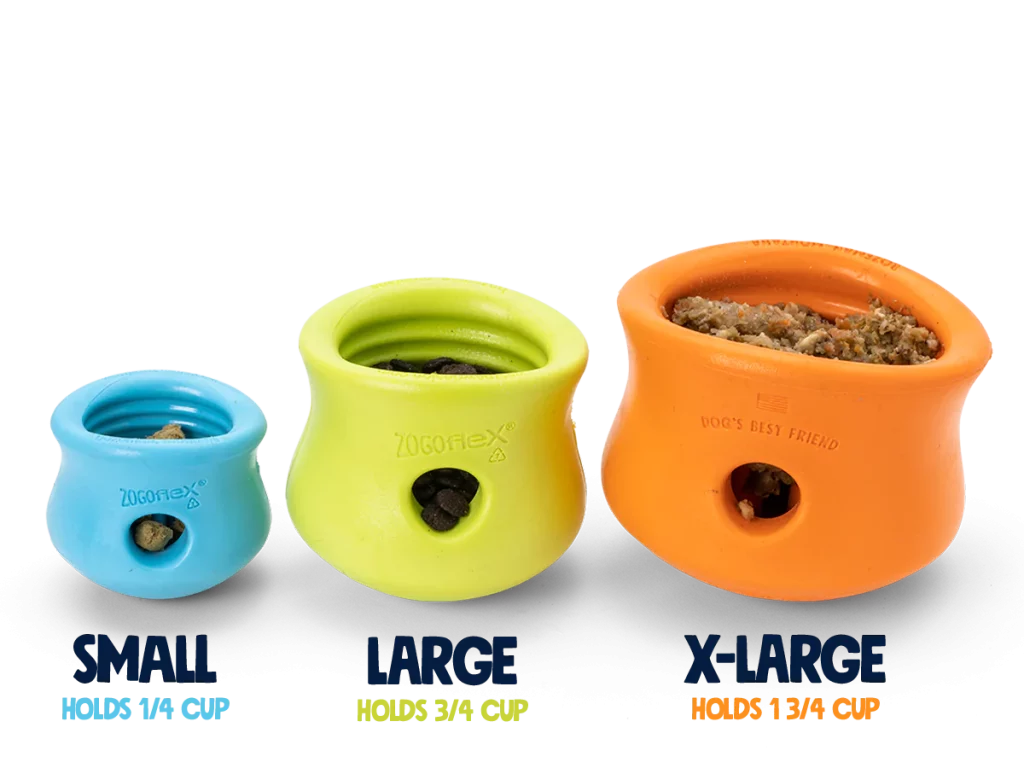 I give the West Paw topple treat toy 5 stars because it's safe, my dogs love it, and it has made my life easier- not harder.
READ MORE OF MY REVIEWS: