Can dogs see in color? Dogs are known for their keen sense of smell, but what about their vision? Do dogs see in color? The answer to that question may surprise you! In this blog post, we will take a look at the science behind canine vision and find out if dogs can see in color or not.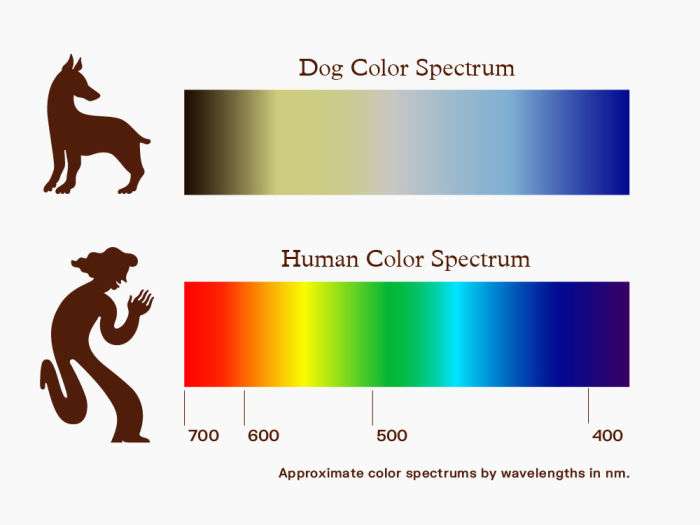 CAN DOGS SEE IN COLOR?
Are dogs color blind? Dog's vision is different from ours, but that doesn't mean they can't see color. In fact, dogs can see some colors, just not as many as we can. Dogs are what is known as dichromats. This means that they have two types of cones in their eyes (humans have three).

WHAT ARE CONES?
Cones are the cells in our retina that allow us to see the world in color. The two cones that dogs have allow them to see blue and yellow light. This means that they can see some colors, just not as many as we can.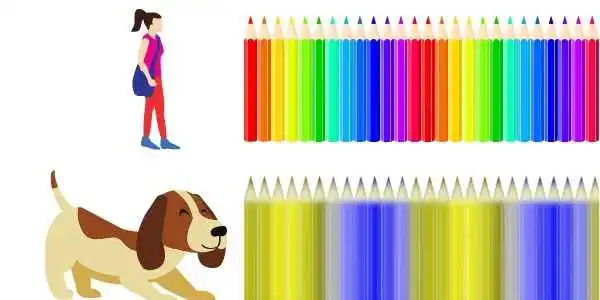 SO, DOES DOGS VISION ALLOW THEM TO SEE IN VARYING SHADES OF COLOR?
So, if dogs can see colors, does that mean they can see in color? The answer to that question is a bit more complicated. Dogs do see colors, but they don't see them the same way we do.
For example, a dog's brain is not able to process all the different shades of color that we can see. This means that dogs see the world in a more limited palette of colors than we do. Dogs can see yellow and blue (light blue and dark blue), but they cannot see shades of green, red, pink, orange, brown, blue or any other colors of the rainbow.
WHY CAN DOG'S EYES NOT SEE THE SAME COLORS AS HUMAN EYES?
Dog's optic nerve is not as complex as ours, which limits the amount of information their brain can process about what they are seeing. Additionally, the part of a dog's brain that processes color is smaller than the part of our brain that does the same thing.
All this means that dogs see colors differently than we do, but that doesn't mean that dogs don't see color at all.
Humans just see a broader range of color, whereas dogs can only see color perception in certain colors.
WHAT DOES GREEN LOOK LIKE TO DOGS?
While humans eyes contain three types of cones that can detect different colors, dogs only have two types of cones. This means that they can see some colors, just not as many as we can. Dogs cannot see the color green, so green grass or a green ball may appear to be a duller shade of gray or brown.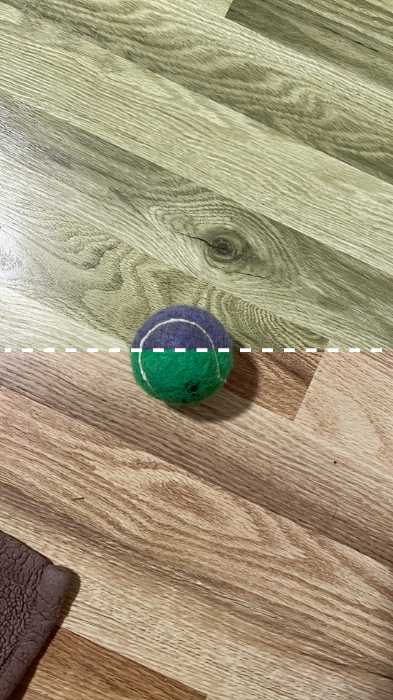 While a dog may think grass looks the same as many other things, it really has no impact on a dog in regards to their ability to navigate the item itself. The colors dogs see just don't look as vibrant to them as they do to us.
A DOG AND THEIR SENSE OF SMELL
To us this may seem like a disadvantage, it actually isn't. Dogs have other ways of seeing the world that more than make up for their lack of color vision.
For example, dogs have a much better sense of smell than we do. They can also see in the dark better than we can. Additionally, dogs can see movement much better than we can. So, while they may
WHAT DOES A RED BALL LOOK LIKE TO DOGS?
Humans can view bright red dog toys and generally see the same color, no matter what human is viewing it. Below is a photo of what your dog would see if viewing a red ball: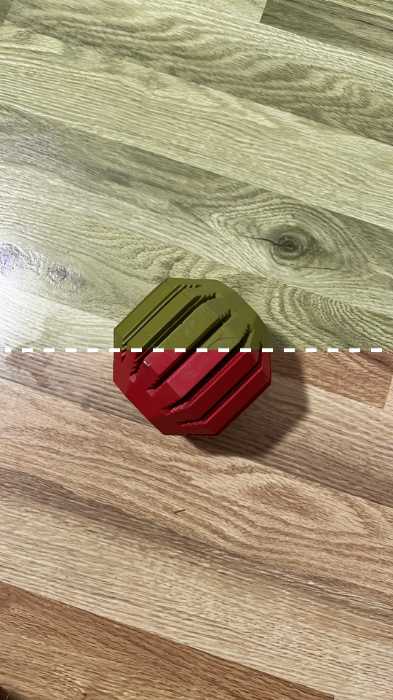 However, because dogs are generally red / green colorblind, they will not be able to see the same vibrant red that we see. Instead, they will likely see the ball as a duller shade, such as gray, brown, or yellow.
Despite this limitation in color perception, dogs are still able to enjoy playing with their toys. So don't worry if your pup can't appreciate the full red / green color.
THE BEST TOYS- WE'VE GOT THEM REVIEWED FOR YOU!
WHY ARE DOG TOYS IN A BUNCH OF DIFFERENT COLORS IF DOG EYES CANNOT SEE THEM?
Dogs are not the only ones who see a limited range of colors. In fact, many animals have similar limitations in color vision.
It's believed that the multiple colors found on dog toys (Read more) helps them to stand out against their surroundings, making them easier for dogs to spot. So even though your pup may not be able to see all the colors on their favorite toy, the toy's color can still help them find it in a pile of other toys.
For example, have a look at what a dog toy might look like if it is solid in color. Take notice of the yellow tennis ball, which color remains the same for your dog, regardless of the human / dog side of the vision perspective.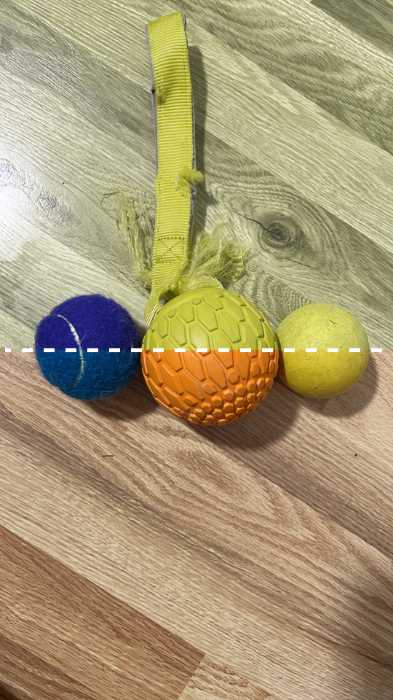 Whereas, a dog toy that has several colors and contrast might be easier for your dog to see and enjoy: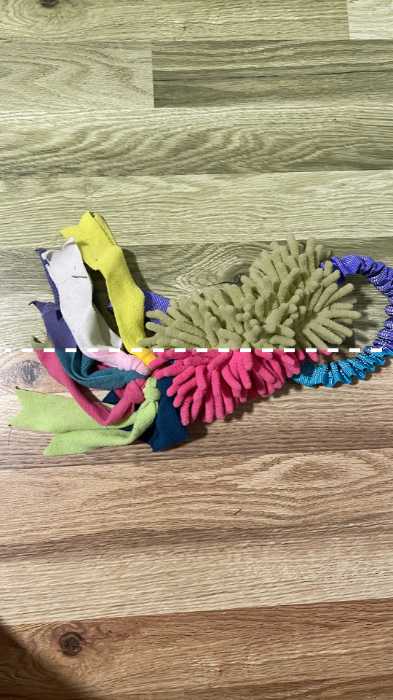 Additionally, some research has shown that different colors may stimulate different parts of a dog's brain. So even if your pup can't see all the colors on their toy, they may still be able to enjoy the different
RED GREEN COLOR BLINDNESS IN DOGS
Since a dog sees with only two cones, they have a general color blindness in their eyes. Canine companions cannot perceive shades containing red or green, including purple / pink / orange.
As you can see, if your dog was looking at a red t-shirt, it would really not look red at all: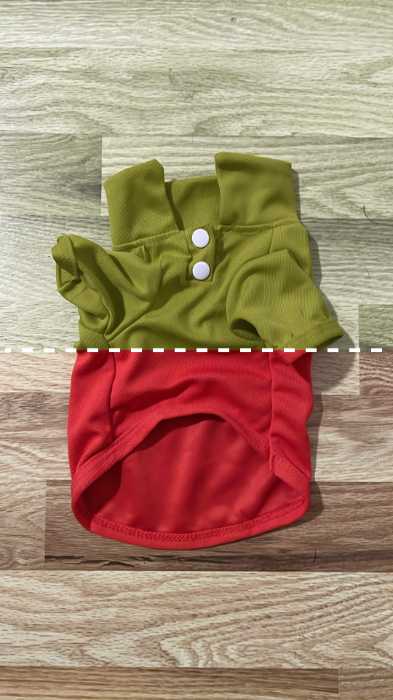 Dogs are also unable to tell the difference between dark and light variants of different colors, so a blue toy will appear the same to your pup whether it is light or dark. However, the color is truly not relevant to your dog! Dogs see color in small amounts, and have adapted to not relying on their color vision as much. Over time, the dog's eyes have evolved to be much better at other things!
This inability for dogs eyes to have the same color receptors as humans is called dichromatic vision, and it is due to humans eyes containing more cones.
DO DOGS HAVE NIGHT VISION?
Yes, dogs can see in the dark! This is because their eyes contain more rods, which are sensitive to low light levels.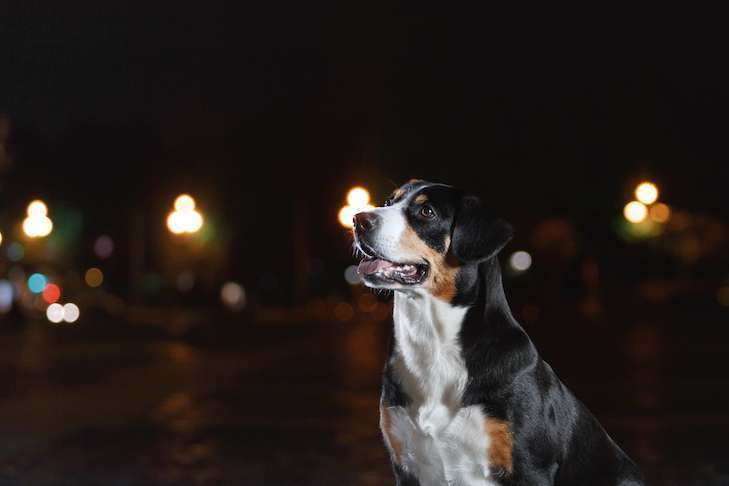 Dogs also have a reflective layer behind their retina called the Tapetum Lucidum. This helps to reflect light back into the eye, giving dogs better night vision.
So next time you're out on a walk with your pup at night, don't be surprised if they seem to have no trouble finding their way!
DO DOGS HAVE PERIPHERAL VISION?
Yes, dogs do have peripheral vision! In fact, in this sense, dog vision is much better than ours.
Dogs eyes are shaped differently than ours, which gives them a wider field of view. This allows them to see more of their surroundings without having to turn their head.
DOG EYES ARE FASCINATING
While dogs eyes may not see color the same way we do, there's no doubt that they are still able to enjoy all the beauty that the world has to offer with their impeccable light sensitive rods and nighttime vision, most dogs can see a significant amount better than we think. So go ahead and take your pup for a walk in the park – they'll be sure to love it!
Do you have any questions about your dog's vision? Leave a comment below and we'll do our best to answer them!
READ MORE:
EYELID ECTROPION
LEASH WALKS
EAR CROPPING
NEW PUPPY CHECKLIST
THE BEST TOYS- WE'VE GOT THEM REVIEWED FOR YOU!
HOW OFTEN SHOULD YOU CUT YOUR DOGS NAILS?