I hope you are geared up for an ultimate Big Barker dog bed review.
If you are looking for a new dog bed then you came to the right place for a completely non-biased, comprehensive and detailed Big Barker orthopedic dog bed review.
Do you have a big dog? You may have heard of an orthopedic dog bed company called Big Barker dog beds. Keep reading our orthopedic dog bed reviews to find out.
As pet parents, you know that finding a good bed for your big dog can be tough. Maybe you're interested in trying out a Big Barker, but aren't sure if you should spend the money.
Not all beds are created equal – some are too small, and others just don't offer the support your furry friend needs. That's where Big Barker comes in. We're here to provide you with a non-biased and comprehensive review of their dog beds which are made for giant breed dogs.
Keep reading to learn more about why these beds are so popular, and find out if one is right for your big dogs! Let's jump into the Big Barker dog bed review.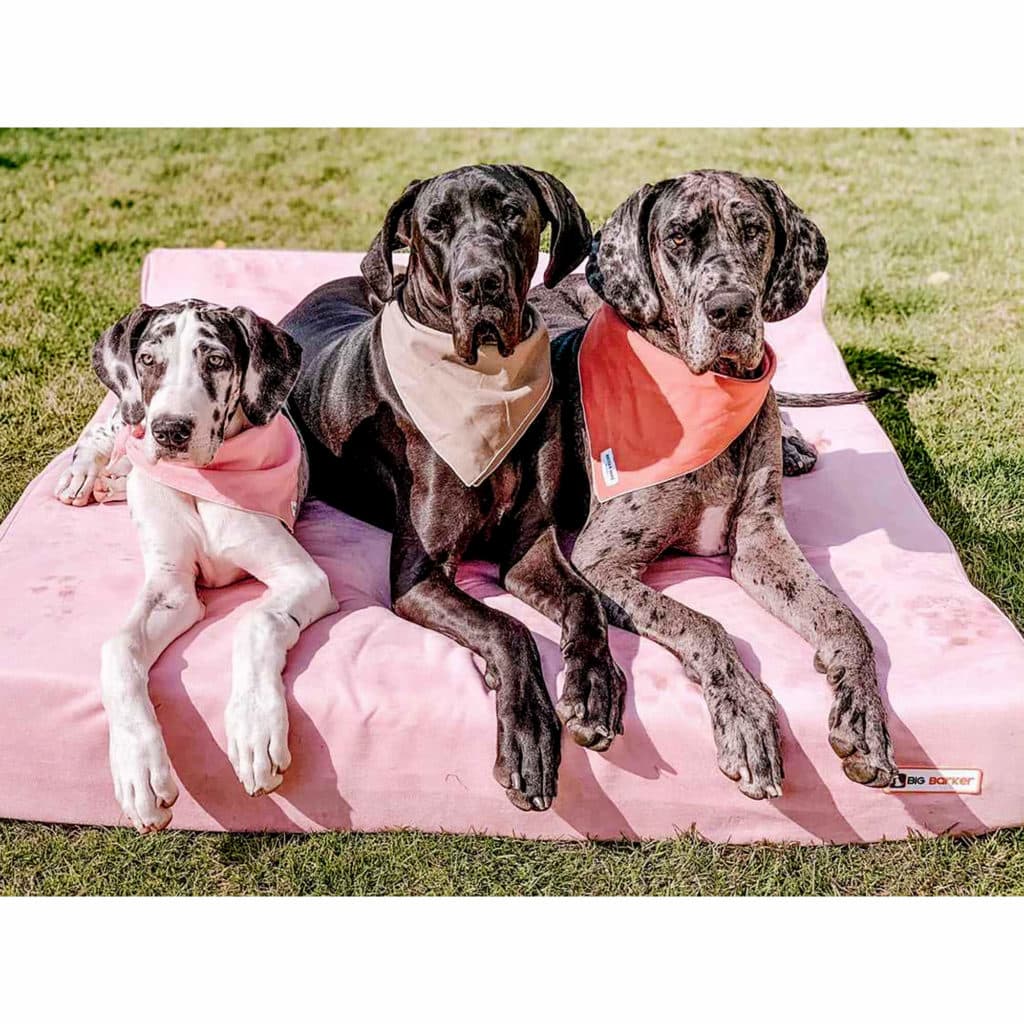 Our Big Barker Dog Bed Review Is Specific to Giant Breed Dogs
For large dog owners, you will be especially interested to keep reading this dog bed review as you know that dogs sleep is essential for their overall health. Additionally, finding quality dog beds to support their weight and joints is very difficult.
Smaller Dogs and The Big Barker Dog Bed
A quick note about small dogs:
If you have a smaller dog, especially one with joint problems, this review can still apply to you, as the Big Barker Dog Bed does come in a smaller size called the Junior Barker dog bed. Your teeny dog could benefit from you reading this Big Barker review all the same. The Big Barker Junior dog bed could be a great fit for you.
However, for small dog owners, it can be easier to find a normal dog bed that is suitable for their weight and size and does not flatten under their smaller weight. However, the big barker junior is still one of our favorite beds.
That is why we have targeted this Big Barker review more so to the dog owners of large and giant breed dogs like Great Danes.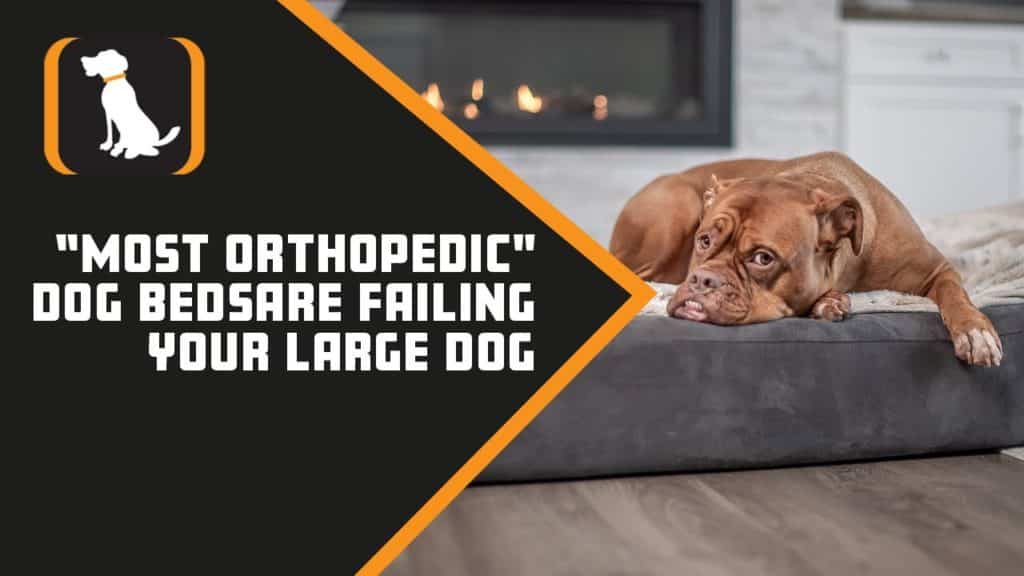 Big Barker Foam vs. Memory Foam
When looking to make a purchase like an expensive dog bed, you have to examine if the company offers high quality foam. This is important because your dog's joints should never hit the ground while they are sleeping as it can cause joint pain and other issues down the line like hip dysplasia.
First up: the Foam Fight:
We took a look at the Big Barker American foam and cross reviewed it to some other versions of foam inside of dog beds being sold online.
Let's jump in!
Is Polyfil Good For Large Dogs?
Every dog owner has probably seen or felt a brand new bed that they thought was a quality bed, only to realize that their large dogs instantly crush it to the floor, their feet / elbows / joints sink right to the bottom when laying on it, or it seems to 'crumble' or 'ball' after just a few months.
This is typically because the bed is made from a material called Polyfil, which sort of resembles a cotton ball pillow.
Should Giant Breed Dogs Sleep on a Crib Mattress?
Well, according to a Tactilus study (Tactilus is a machine that checks how much pressure is on something when you step on it or lay on it), the answer is no. Although not typically used to measure a dog on a bed, in this study, it was used for multiple different beds, including a Big Barker.
During a Tactilus Pressure Mapping study, red spots appear the highest when there are extreme pressure spots. Orange means there are less pressure spots, and yellow is even less. You get the point.
In order for our large dogs to have less joint pain and a good night's rest, we should desire for them to have little to no pressure when laying on the best dog bed.
As you can see, a crib mattress, polyfill bed, and memory foam bed all signaled extreme joint pressure for large dog's joints.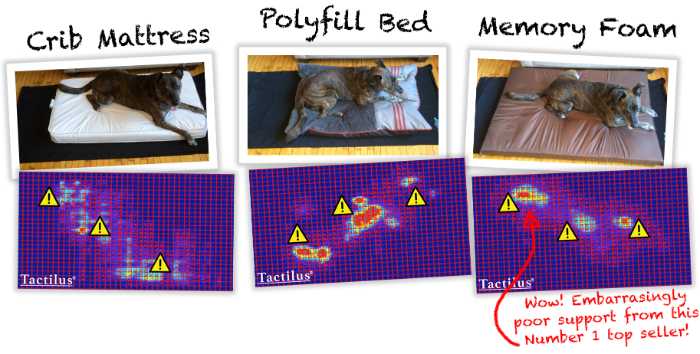 What really got my interest is when the dog laid on a Big Barker on the pressure mapper, there was NO red- indicating that the Big Barker did not allow ANY pressure from the dog to touch the pressure sensor. The dog's weight was held up entirely by the bed.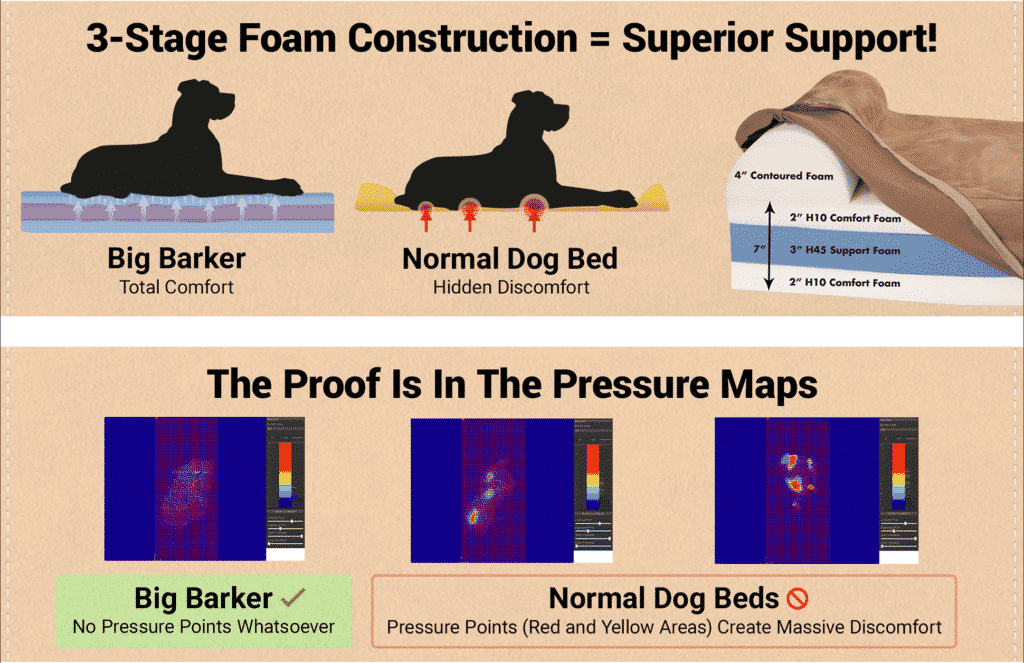 Chinese Foam and the 'Orthopedic Bed' Scam
Pet parents need to be more vigilant now than ever. Unfortunately, the word 'orthopedic' bed is being tossed around in marketing scams.
The word 'orthopedic beds' is not a protected word, which means that companies can use it to describe their dog beds, even if their beds are made of memory foam, polyfil, or other materials that provide absolutely no support to keep their dogs youthful.
Did you know that most 'orthopedic beds' are actually sourced with Chinese foam because it's easier and cheaper for companies to make the bed?
Check out this video- and be vigilant in protecting your dogs from a bed from pet stores or Amazon that claim to be an 'orthopedic bed' but can actually HARM them with toxins and lack of support foam.
What's Inside of the Big Barker Dog Bed?
One of the first things you will notice when trying out a Big Barker compared to other dog beds is the foam used inside the bed.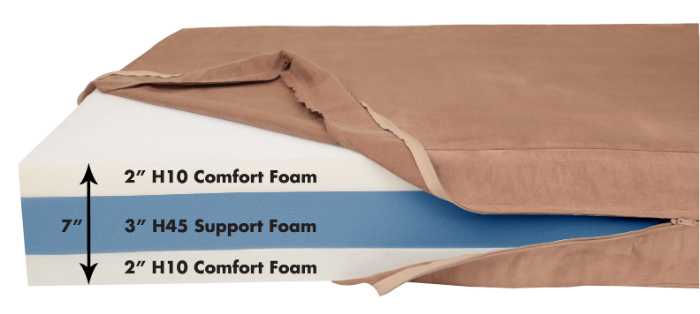 Big Barker uses American made foam that is 7″ thick.
2″ of comfort foam on the top and 2″ of comfort foam on the bottom of the orthopedic bed helps your dog feel comfortable and sink into the bed in a 'softer' and more relaxing way.
But, the middle layer between the comfort foam is a 3″ layer of support foam inside beakers beds. This support foam keeps your giant dog's heavy body off of the ground, because it supports the weight of up to 300 lbs.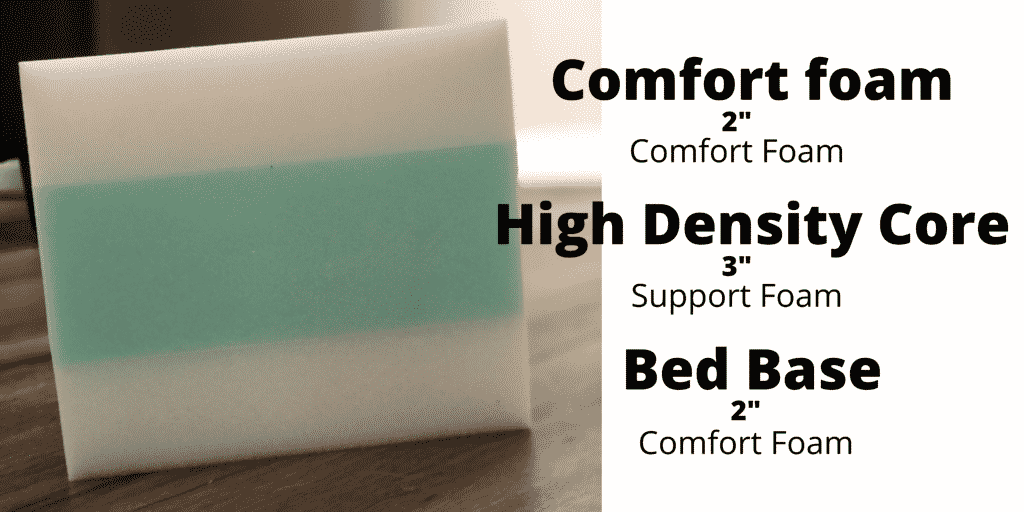 Note in this video, this large dog is not sinking to the ground- elbows are off the floor and the bed stood nearly straight up as he lays down:
That means that the weight of not one Great Dane, but two can lay on the Big Barker before the dog bed flattens at all.
How Do We Know if a Bed Is an Orthopedic Bed?
Well, after trying several normal dog beds that claimed to be 'high quality memory foam' or have a 'supportive mattress' for large dogs like a Great Dane, we realized that the only way to write a dog bed review was based in science.
We started to look around for Orthopedic dog beds that had conducted actual studies for big dogs, older dogs / senior dogs, dogs with hip dysplasia / arthritis, or other general joint issues.
I mean, that IS what 'orthopedic' implies, right?
That is when we came across the clinical study that was conducted by Big Barker dog beds.
The Big Barker Orthopedic Dog Bed Clinical Study
The clinical study of the Big Barker bed showed (with evidence) that their orthopedic dog bed improved the quality of life, decreased stiffness in big dogs, reduced pain in big dogs, reduced stiffness in big dogs, improved the gait of big dogs and older dogs, and overall improved the quality of life.
Did You know Your Dog's Bed Can Impact Them?
Up until this point, many people had no idea that their dog's bed could actually help their giant dog live a longer life, walk around better, run and play with their big dog buddies and overall have better mobility and less vet bills.
Even veterinarians quickly became attached to this study. Check out some Veterinarians talking about the Big Barker dog beds here:
What Size Bed Should I Get My Big Dog?
Well, when it comes to the size of your dog's bed, it obviously matters how big your dog is.
Also, it matters if your dog loves to stretch out or if they are okay snuggling with other dogs (if you have any other dogs).
How Big Is Your Dog?
The Big Barker beds are suitable for any big dog in size, but the size you choose depends on the size of your dog.
To give you an idea of just how big the Big Barker actually is, here is a video of the Giant size Big Barker laid out on top of a human mattress:
Sizes of Big Barker Dog Beds
The Big Barker dog beds come in 3 sizes for large dogs.
Size Large: more suitable for dogs like Golden Retrievers, Pit bull, Husky, etc. but still much bigger than other beds out there.
Size XL: Suitable for larger dogs like a Rottweiler or Doberman.
Giant Size: Specifically designed for dogs like Great Danes (and in my opinion, Mastiffs etc)
You can find all three of these sizes on the Big Barker website.
Here is an image of two Great Dane dogs laying on one of the Giant Big Barker beds. These two dogs are about 100 lb. so although they are not huge dogs, but they seem to still have room to lounge.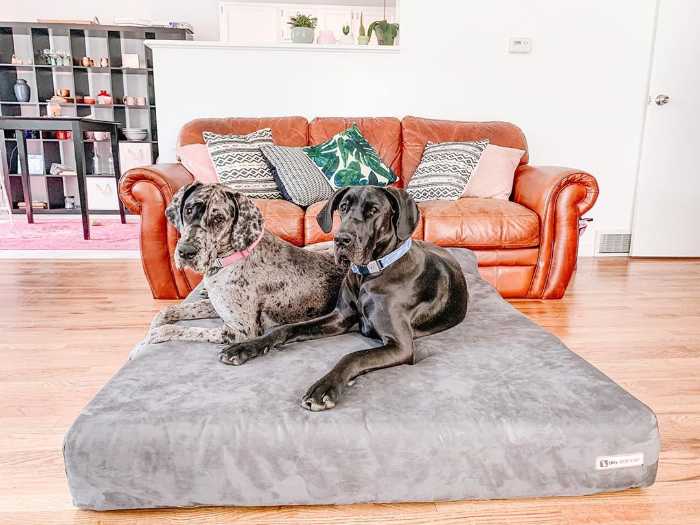 The Different Styles of Big Barker Dog Beds
The Big Barker Beds come in three specific styles: sleek, sofa, and headrest. That does not include the SUV Edition of the Big Barker, which is used for vehicle travel.
The Sleek Big Barker Beds
The sleek Big Barker bed is exactly what the name implies. The sleek dog bed is just one straight piece of Big Barker foam, with no specific 'pillow' or place for your dog to rest its head.
I find the Sleek bed to be a great choice for a living space, family room, or if your dog likes to really stretch out.
Here are a few photos of the Sleek orthopedic dog bed: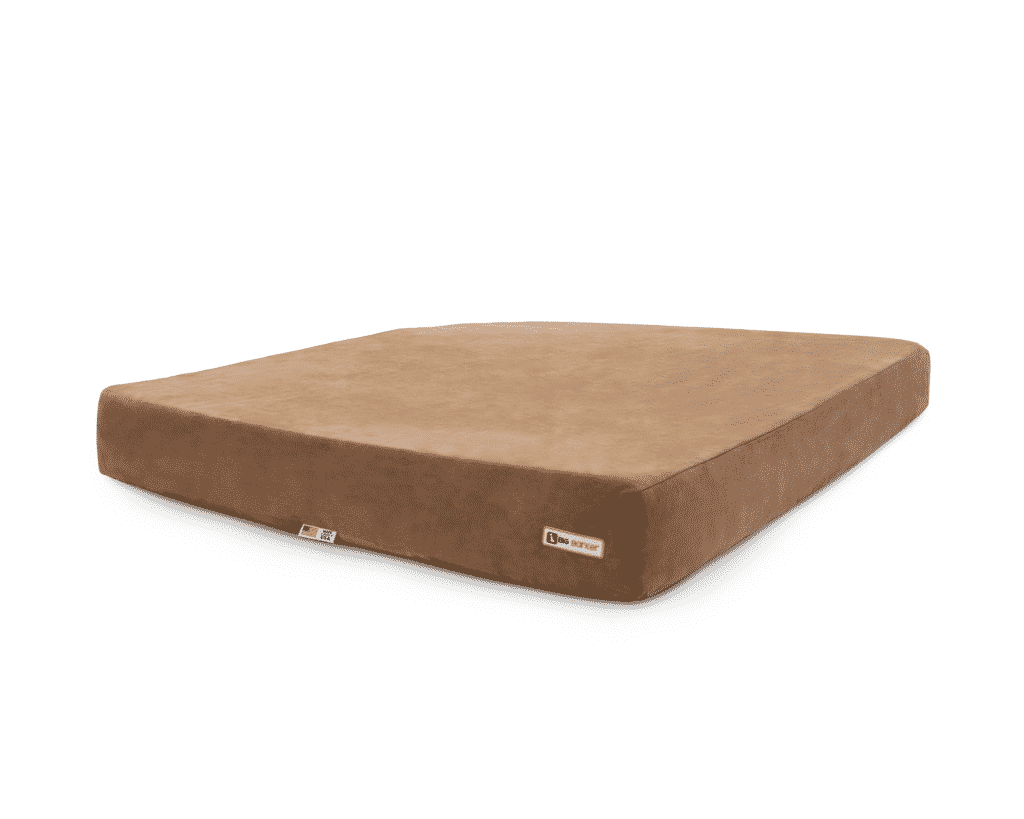 The Sofa Big Barker Beds
The Sofa orthopedic dog bed definitely seems like a fan favorite by pet parents and dogs.
The Sofa Big Barker bed is the same 7″ American foam as the Sleek, but this time with a piece of therapeutic mattress foam lining three sides of the bed, making it a 'sofa' instead of a 'bed'. They also now offer the big barker crate pad.
Is Your Giant Dog a Snuggle Pup? They Will Probably Love the Sofa Bed
Since most dogs love to be 'snuggled up', it makes sense that alot of dogs love the Sofa Big Barker dog bed as the sofa bolsters sort of snuggle them.
Cons to the Sofa Big Barker:
Ease of Washing: The Sofa Big Barker has bolsters that surround 3 sides of the bed- however the bolsters are NOT attached to the actual dog beds. Therefore, whenever you want to change out the washable cover, you need to remove the foam bolsters, and put them back in.
Waterproof Liner Non-Compatible: The waterproof liner made for Big Barker dog beds does NOT cover the sofa bolsters. Instead, you will just be getting a sleek waterproof liner and putting it UNDER your sofa bolsters, leaving the actual sofa bolsters at risk for water / liquid stains or spills.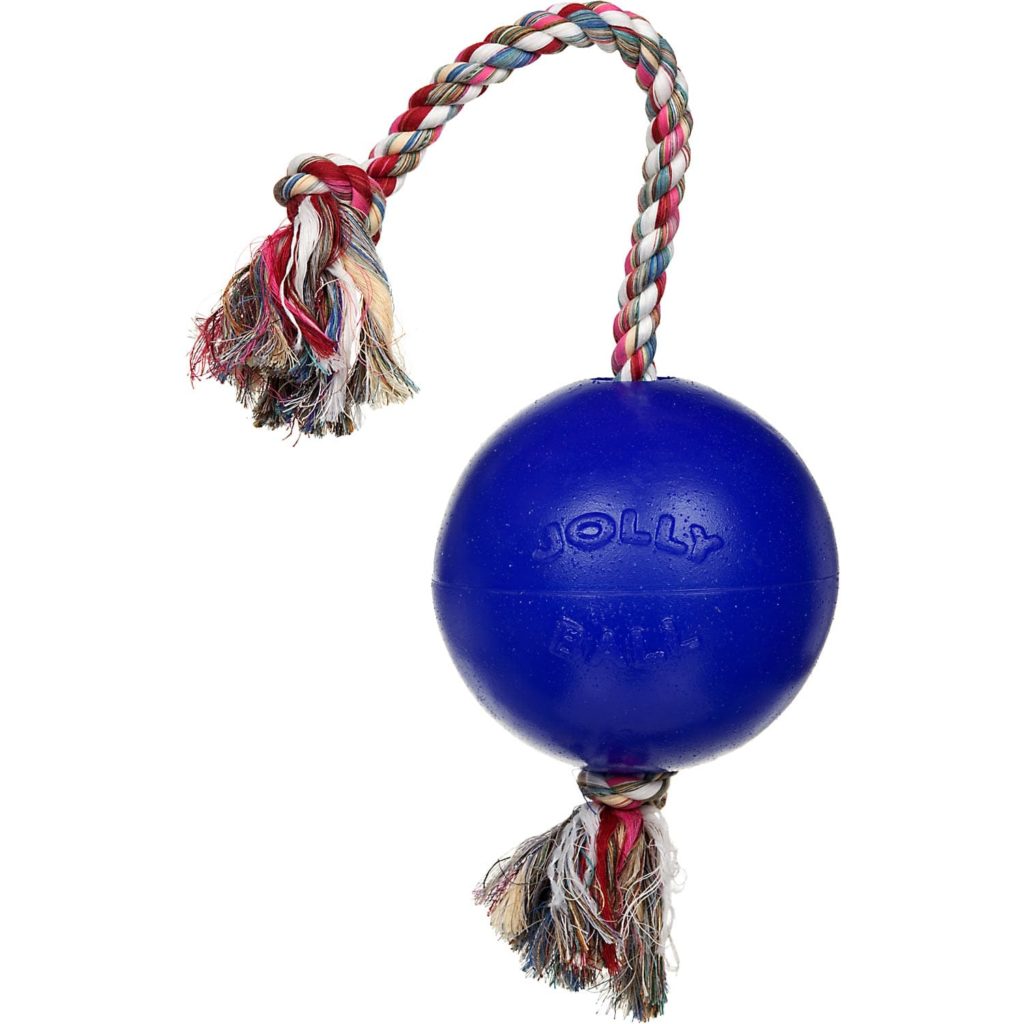 The Headrest Big Barker Beds
The Headrest Big Barker dog beds are by far my favorite of all the Big Barker dog beds.
The Headrest Big Barker bed offers the benefit of it having a bolster / headrest, with the ease of being able to clean and wash it very easily, unlike other bolster beds I have seen in other pet beds.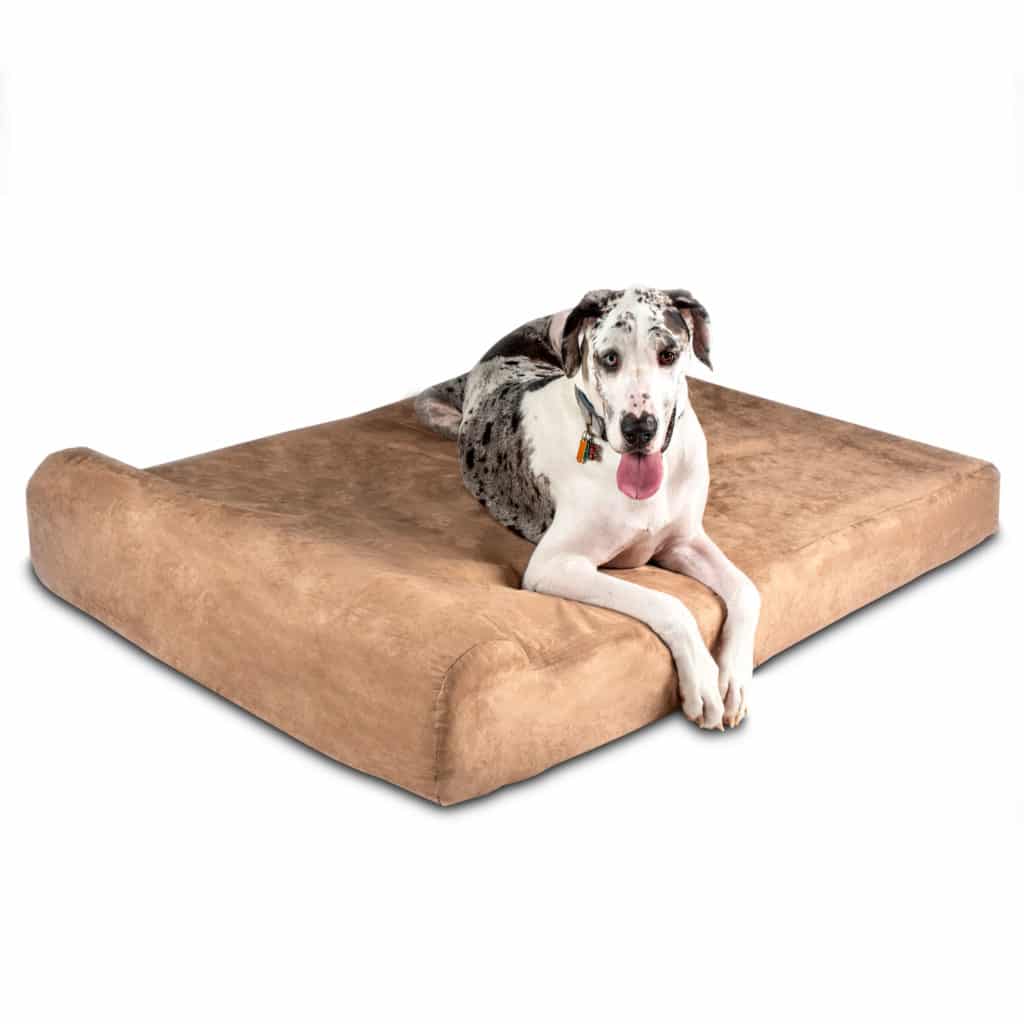 The SUV Big Barker
The SUV Big Barker is really a great investment for anybody who takes their dog in their car often. The SUV Big Barker comes in 3 sizes, Medium, Large and XL, and it is best to measure before you purchase.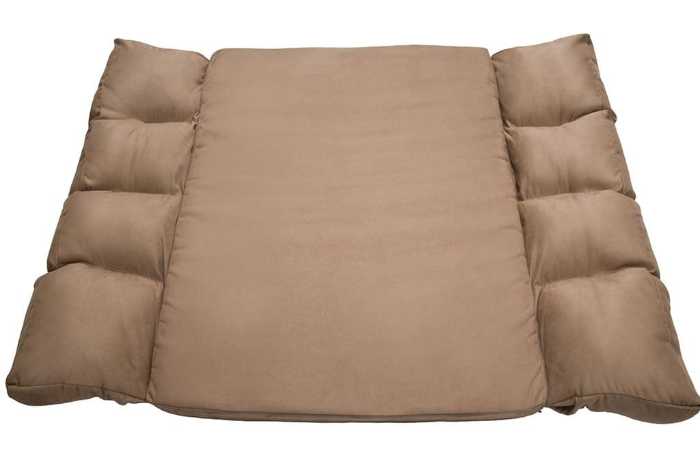 Instead of being 7″, the SUV Big Barker is 3″ with 'wings' that protect your dog from hitting the sides of your vehicle.
The SUV Bed is NOT a Safety Replacement
By no means is the SUV Big Barker a replacement for a seatbelt, and Big Barker does NOT state so. However it is a great travel bed option.
The Foam of the SUV Big Barker Bed
As shown below, the SUV Big Barker comes with two layers of foam, making it good competition for their other standard orthopedic dog beds, especially since your dog will only be using this bed while they are in the car.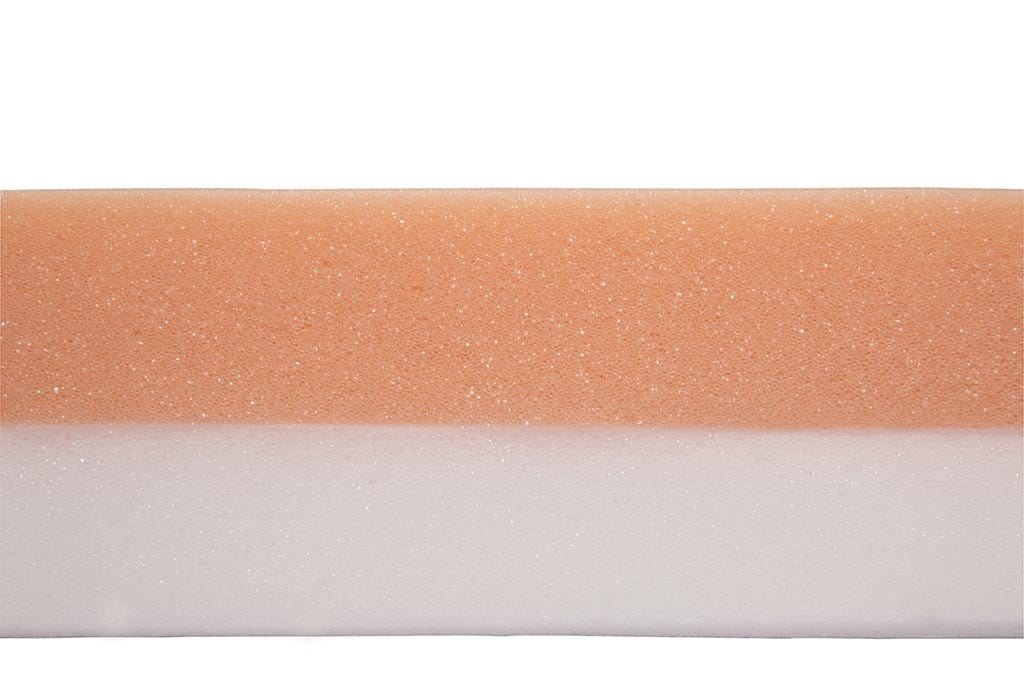 For a great and full review of the SUV Big Barker, you may be interested in reading this SUV Dog Bed Review:
What Color Options Does Big Barker Offer?
Big Barker offers their orthopedic dog beds in khaki, charcoal, burgundy and cordura.
Occasionally, they run promos where they will have a 'special' color, but you have to snag them quickly when they do.
Examples of Big Barker Dog Bed Colors
Here is a cute video with the colors of beds for you to see the colors in action:
Big Barker Dog Beds Fit Into Your Home / Lifestyle
The nice part about the Big Barker dog bed color options is that no matter what color your dog is, you can most likely choose a bed to match them.
Also, if you want the bed to match your house, the neutral and lifestyle friendly colors will easily fit into most designs so that your dog bed doesn't have to stick out like a sore thumb.
Is the Big Barker Orthopedic Dog Bed Washable?
It is absolutely crucial that dog beds are washable.
Dogs are not the cleanest creatures, and no matter how often you bathe them, they will still track in dirt, leaves, grass, and yes- sometimes even mud.
The good news is that all Big Barker dog beds are compatible with a machine washable cover AND a waterproof liner.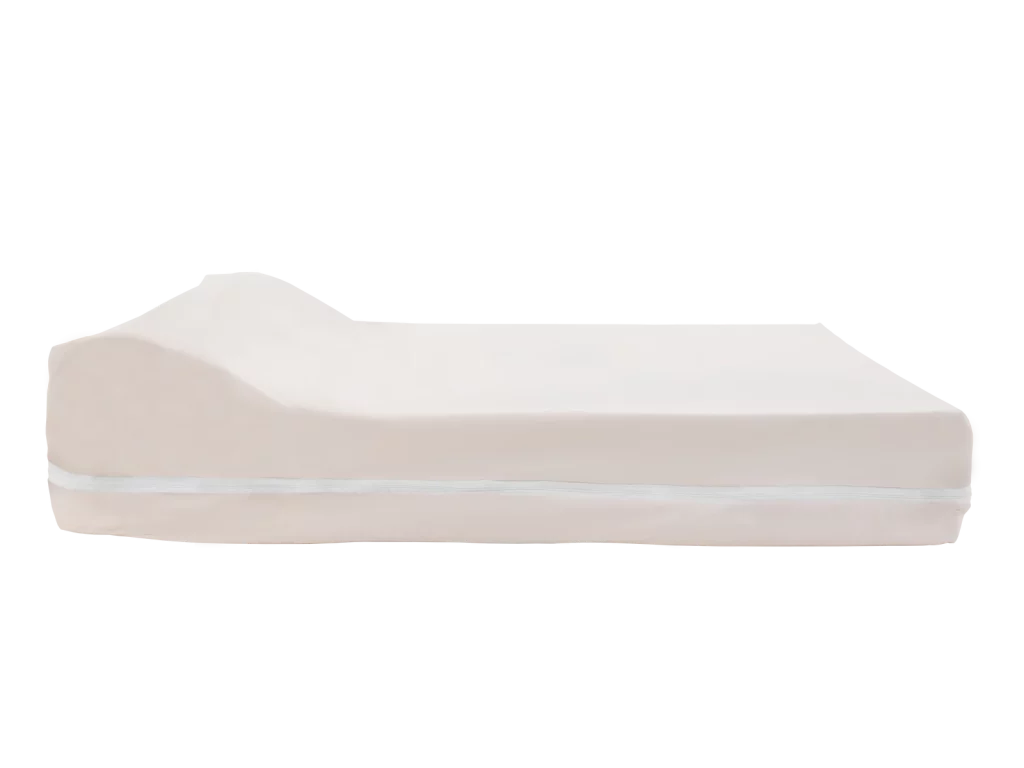 How to Wash Big Barker Dog Beds
You can simply take off the outer cover (it has a zipper that you zip up to get the bed into the cover) and throw it in the wash in warm water. Even the zippers are very easy to use.
The washable cover IS safe to go into the drier, but it does say to tumble dry on low.
Do Big Barker Beds Have Waterproof Liners?
The Big Barker bed does not come with a waterproof cover, but it is available for additional purchase for each bed.
If your dog is older and prone to incontinence, if you have a young dog / puppy who is very active and messy, or if your dog eats any form of pet food or treats on its bed, it is pretty recommended that you get a waterproof cover for your bed.
Heres a quick video demonstration of the liner being used:
Is a Big Barker Bed Worth It?
If you have a big, large or giant breed dog, in our opinion- yes, the Big Barker orthopedic dog bed is worth the price.
For dog breeds anywhere in size from Golden Retrievers to Great Danes, Big Barker offers numerous beds that are suitable for your dog.
Clinically Proven is Always Worth It
Not only that, being clinically proven as a bed that will help your dog with mobility, joint issues, stiffness and pain, it is something that you cannot look past.
My only regret is not trying the Big Barker for my dog sooner, as it is a bed that I know she will use for many years to come.
Do you have a Big Barker bed? Join our Facebook community and let us know which bed is your favorite.
Free Jolly Ball with Purchase
READ MORE: