Gentle Giants Nutrition
Today we are doing a Gentle Giants dog food review so you can make an informed decision about nutrition for your Great Dane or giant breed dog! With the right canine nutrition, healthy proteins, science, and professional formulation, your dog's bowl will be empty and your Great Dane will be thrilled!

Is Gentle Giants Dog food right for you? Should you feed Gentle Giants dog food to your Great Dane?
This is the second installment in our dry dog food reviews series. Read on, friends.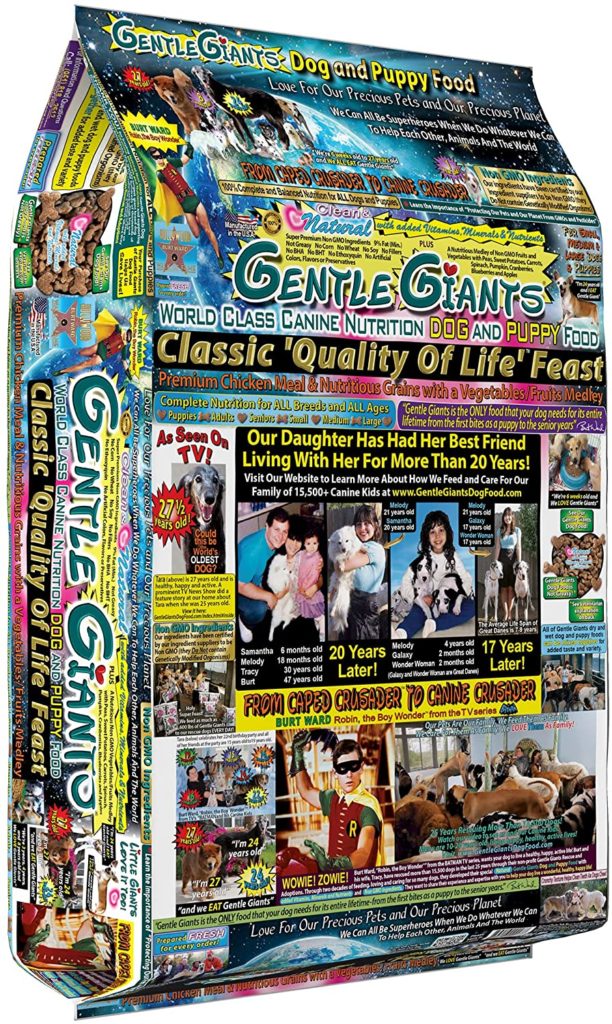 Gentle Giant Dog Food Ingredient Analysis
Below is a list of dog food ingredients in Gentle Giants formula. We are NOT veterinary nutritionists so outside of a cursory look, we cannot make a sound judgment regarding commercial dog food recipes or the ingredients here.
Gentle Giants considers this food to be a "natural formula" with balanced nutrition for dogs of all ages and sizes. It is free of artificial ingredients and includes things such as green-lipped mussels.
There are no artificial flavors, and some whole fruits are included to make the ingredients list appear "Holistic".
It does appear to be fairly high in starchy ingredients such as barley, rice, oatmeal, and peas, especially compared to many other dog foods and dry food recipes.

Brown rice is an excellent example of a healthy grain in Gentle Giant Dog food. However, whole peas in the first 5 ingredients is a red flag, as it may correlate with an increased risk of the dog developing heart disease.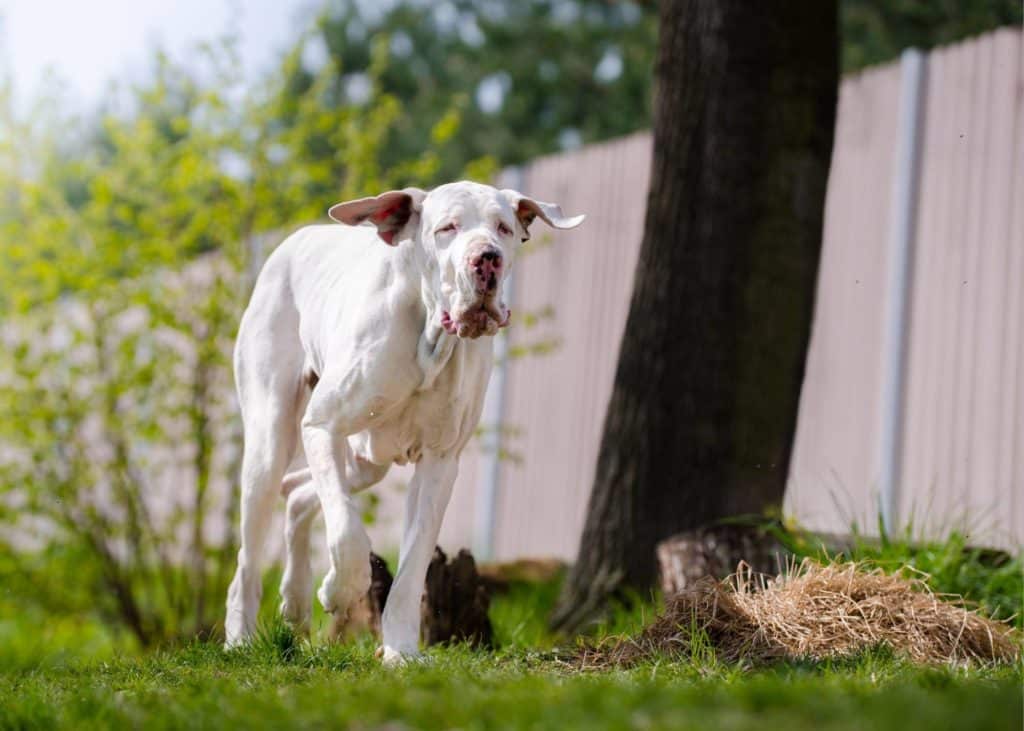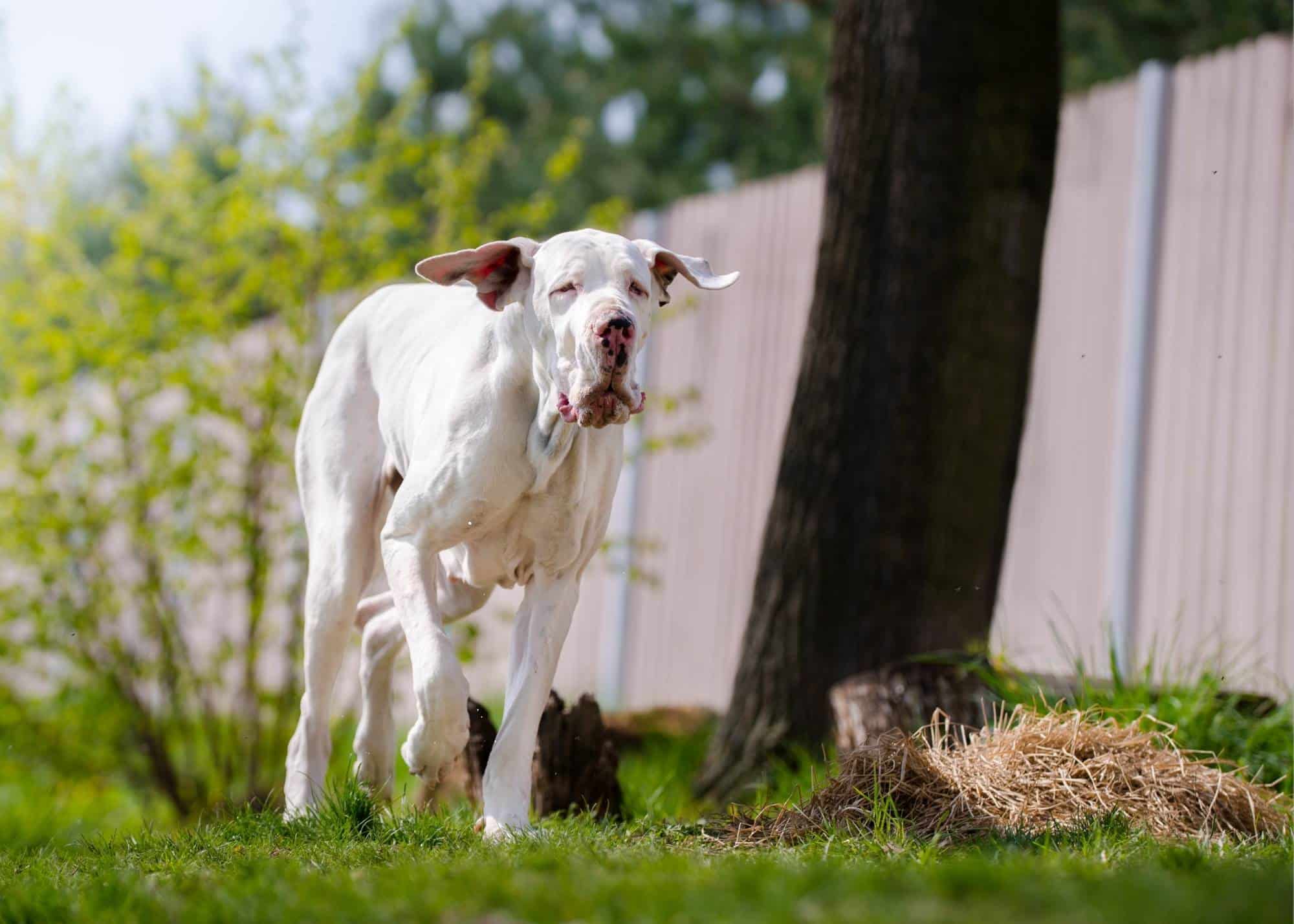 Gentle Giants dog food ingredients

Chicken meal, pearled barley, brown rice, oatmeal, peas, chicken fat (preserved with mixed tocopherols), natural poultry flavor, whole flaxseeds, menhaden fish meal, dried yeast, dried kelp meal, dried egg product, salt, potassium chloride, choline chloride, sweet potatoes, carrots, spinach, New Zealand green mussel, pumpkin, cranberries, blueberries, apples, chicory, ascorbic acid (source of vitamin C), vitamin E supplement, taurine, ferrous sulfate, zinc sulfate, zinc methionine complex, copper sulfate, copper lysine complex, manganese sulfate, manganese methionine complex, beta carotene, Yucca schidigera extract, niacin supplement, vitamin A supplement, calcium pantothenate, dried Enterococcus faecium fermentation product, dried Lactobacillus acidophilus fermentation product, dried Lactobacillus casei fermentation product, dried Lactobacillus plantarum fermentation product, biotin, thiamine mononitrate, riboflavin supplement, pyridoxine hydrochloride, vitamin B12 supplement, vitamin D3 supplement, folic acid, sodium selenite, calcium iodate, cobalt carbonate, cobalt glucoheptonate, mixed tocopherols and rosemary extract
You'll notice New Zealand Green Mussel is listed as a hip and joint support supplement. Green Lipped mussels are the sustainable, up-and-coming natural supplement for joint support, however, it is so low on this ingredients list that it is unlikely to offer many benefits.
Chicken meal is listed as the first ingredient: chicken meal is essentially flesh and skin that has been rendered so that the water and fat are gone. Meat meal is an incredibly nutritious ingredient that may even reduce the risk of bloat! A meat meal like this is basically a meat concentrate, of sorts.
You'll notice that all dry dog food will contain some kind of animal protein in the form of named meat meals such as chicken meal, salmon meal, or fresh wild-caught salmon. Chicken fat or some kind of fat is added to nearly every dry food recipe.

They also offer gentle giant wet dog food, which we don't talk much about specifically in this blog. However, our thoughts remain similar for gentle giants wet food.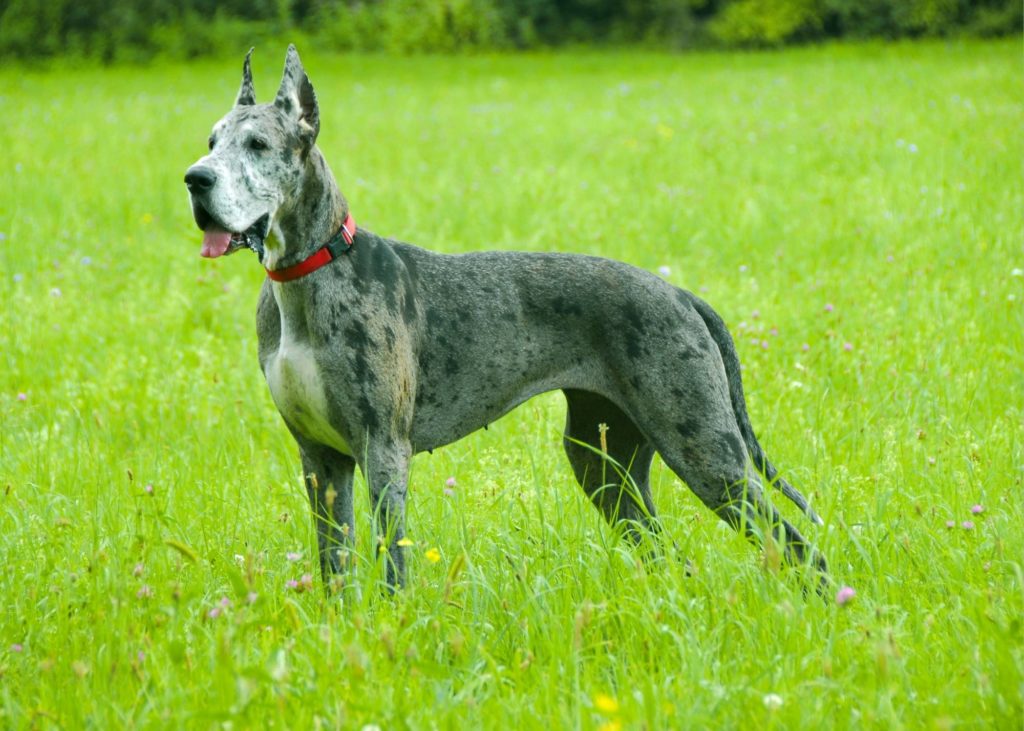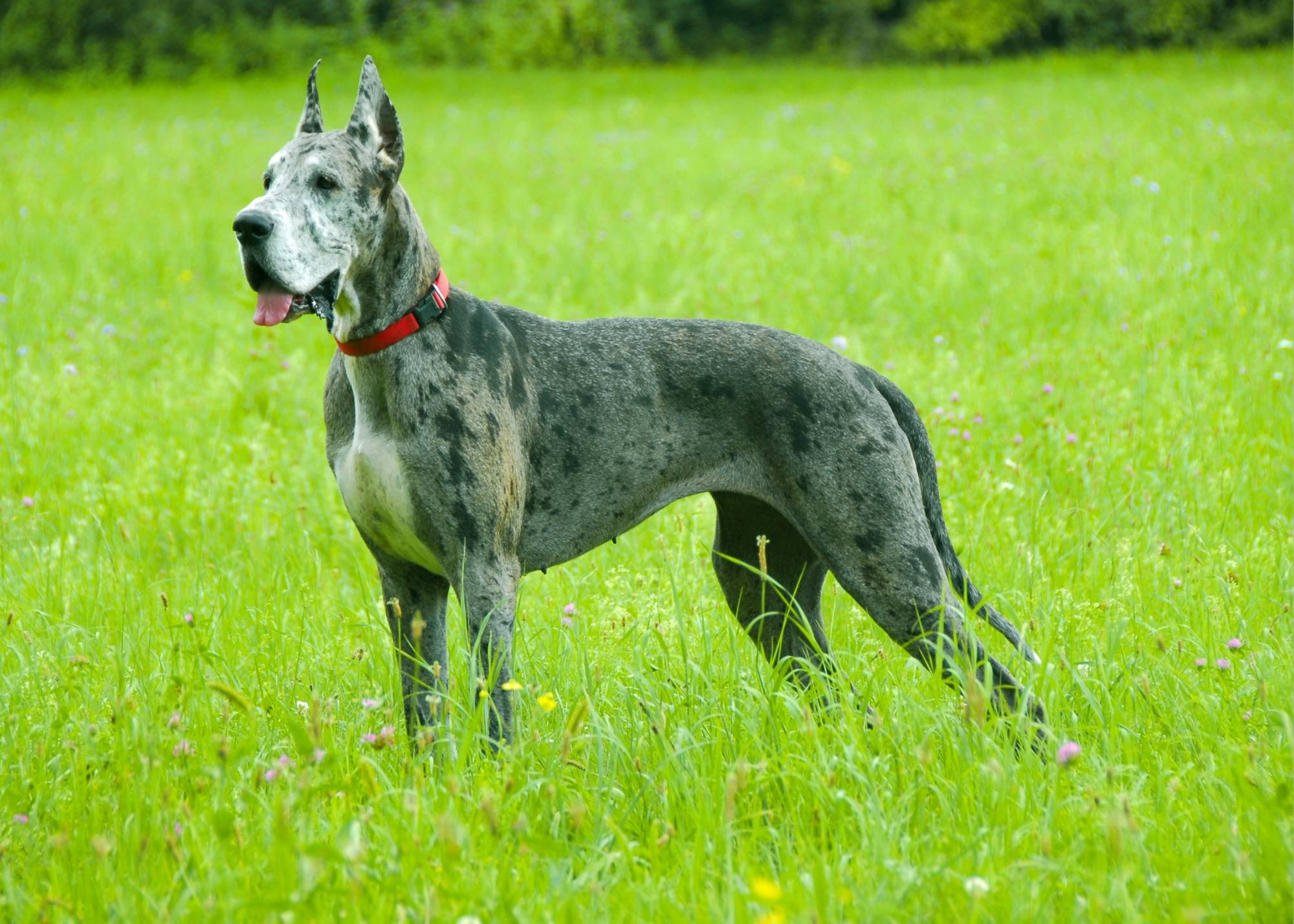 Are there grains in Gentle Giants dog food?
Yes, Gentle Giants dog food contains grains (barley, brown rice, oatmeal as of this writing). If you want more information about grains vs. grain-free, read our blog post here.
Is Gentle Giants dog food holistic?
The term 'holistic' is a marketing term that is not regulated in any way.

Anybody can claim that the food they make and sell is "holistic". It's a catchy term that encourages well-meaning pet parents to make a purchase.
Holistic should imply that a food is formulated to treat the "whole body".

Any good science-backed food would thus, actually be holistic. Comprehensive veterinary care including prevention is thus, holistic.

Gentle Giants dog food does claim to be "holistic". Take that with a grain of salt. It doesn't actually mean anything.

Here is a great article that outlines common food marketing terms: https://www.purina.com/articles/dog/nutrition/natural-vs-holistic-dog-food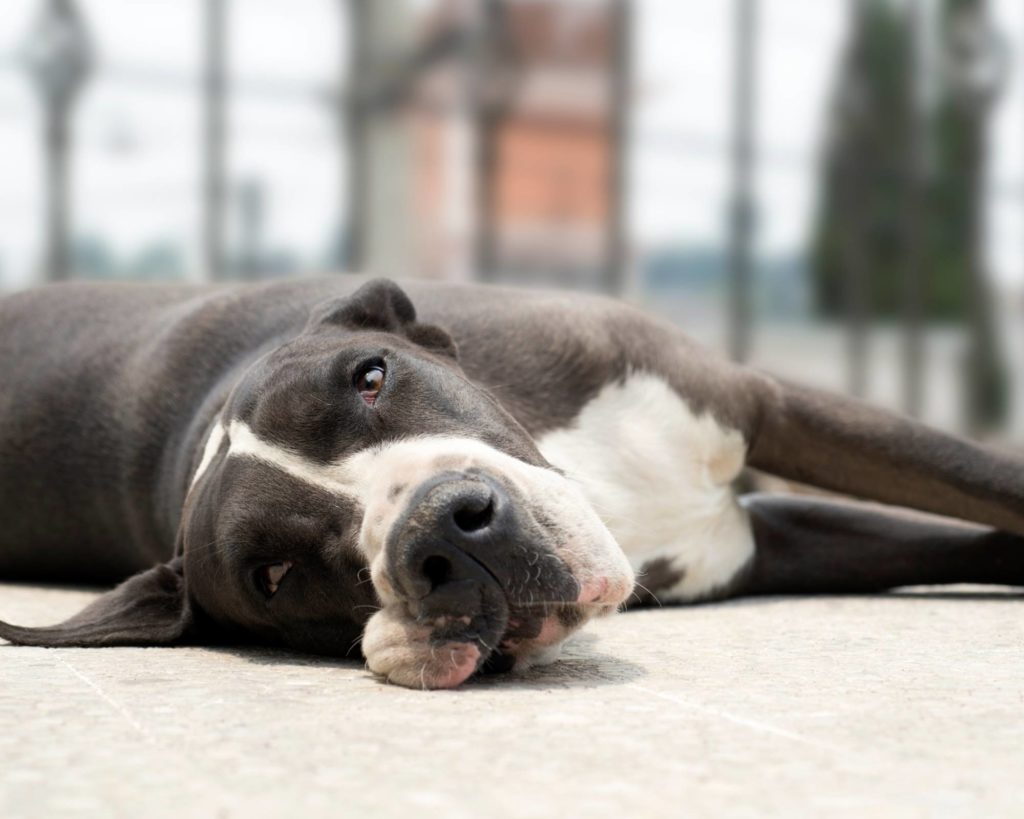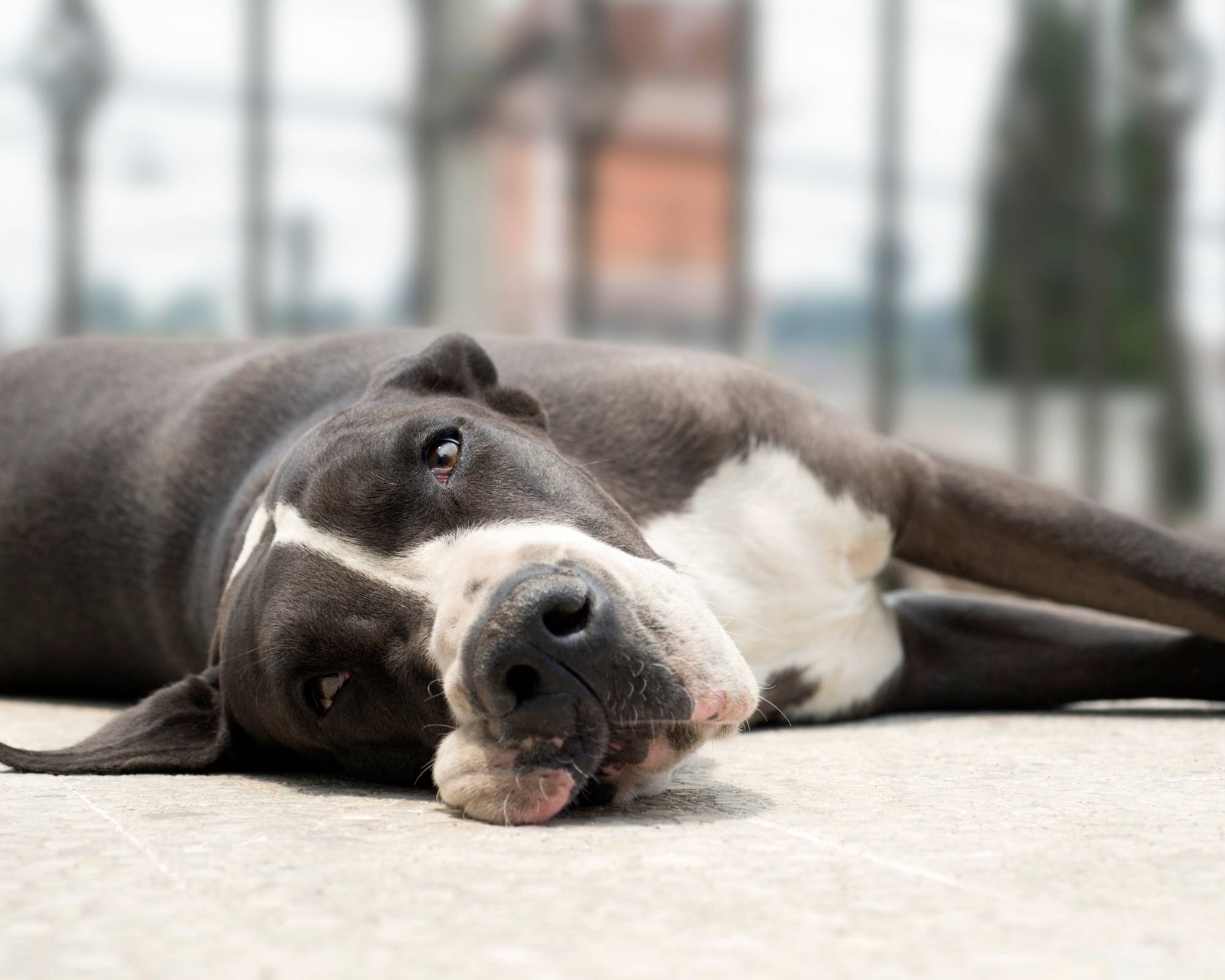 Behind the Gentle Giants Food Brand
Our Gentle Giants dog food review would be incomplete without some information about what goes on behind the brand.

Not only does this food come with bold, in-your-face marketing geared toward pet owners with gentle giants, but it also has some interesting stories behind it, too. Read on, friends.

The Gentle Giants Rescue
Burt Ward (the owner of this brand) has been rescuing dogs with his wife in California for decades.

This unusual rescue makes wild claims about the longevity of the dogs (20+ years in some cases) living on their "all-natural dog food", and says they have rescued over 14,000 pets.

Meanwhile, as of this writing, they have no animals available for adoption.

Many of the 'available' breeds they offer via this rescue are unusual and rare, including Staghounds, Xolo, "woodles", and Saluki. They have had many, many litters of puppies, too.
Many people, including us, believe that this 'rescue' operation is nothing more than a glorified puppy mill.
They claim that 30-40 dogs live with them in "peace and harmony" on their property and that all are seniors exceeding their normal lifespan because of their "world-class food and training program".
For more information on the controversy surrounding Burt Ward's dog rescue, read here: http://dogaddicts.com/smf/index.php?topic=4124.0;imode
Burt Ward, Robin from Batman
People seem to associate 'celebrity' with 'trustworthy'.

Burt Ward played Robin in the 1960s Batman TV series.

That doesn't make him an expert in nutrition, last we checked…
Who makes gentle giant dog food?
Gentle Giants is manufactured in the U.S.. They use catchy marketing and claims of 'robust longevity' to sell this food.
Is Gentle Giants dog food made in China?
No, it is made in the U.S. however, most, if not all dog food companies (even 'natural' ones) source vitamins and minerals from other countries (including China).
Is Gentle Giants dog food good?
We don't stand behind any dry dog food that doesn't stand with science. It's that simple. The people behind Gentle Giants dog food do not participate in research, studies, or food trials.

The only "proof" they have of the efficacy and safety of their food is the claims made that their pack of "rescue" dogs are all over the age of 10.

A cursory glance at dog food reviews of this product indicates that some people have had no trouble feeding this food and swear by it while others experienced blood in the urine, inflammation, loose stools, and itching.
Has Gentle Giants food been recalled?
As of this writing, it appears that Gentle Giants food has never been recalled.

We see this as a red flag. Why?

A company that will recall its food is a company that wants to control the quality and the consistency, even if the problem that led to the recall is minor in nature.
Boutique Dog Foods vs. Science
Boutique 'feel good' dog foods, including Gentle Giants, rely on careful marketing to sell the brand.

They tend to use buzzwords such as "human grade", "all-natural", "no recalls", "super-premium", or "holistic". This can lead consumers to feel that they are purchasing something healthier for their pet (even if no actual health benefits have been proven by any legitimate science).
Common 'boutique' companies that you may have heard of or seen include Fromm, Orijen, 4Health, Halo, Solid Gold, Nulo, Nutro, Zignature, The Farmer's Dog, Muenster, and Life's Abundance.
What's interesting about boutique dog food is that, despite the health claims they make, there is actually very little science going into the food itself.
For example, Fromm (who relies on the 'family owned' mantra to sell food) is formulated by a chemical engineer.
Victor Foods are formulated by somebody with a master in science and an online certificate in dairy cattle nutrition.
Diamond brand foods (including Taste of the Wild, Costco/Kirkland, Diamond, and Nutra Nuggests) are formulated by a computer and packaged in different bags to appeal to different markets.
Boutique brands also don't participate in nutrition research and science. In many cases, the pet foods they make are only "formulated to meet the nutritional levels established by AAFCO", on paper.

This sounds great, but all that means is that on paper they've added enough nutrients to satisfy a minimum legal guideline. It doesn't mean that they've actually tested and proven the formulation itself.
So when a brand is telling you they are "super-premium" and "holistic", ask yourself if you are being sold to, or if that food actually has legitimate science backing its claims of being "healthier".
Each food company was asked to provide information about just a few key things, including who formulates their food.

You'll notice that many boutique dog food brands refused to share the requested information because it is damning to their brand.
We smell something fishy here, folks, and it's not the fish meal in your bag of kibble.
The Great Grain Free Debate
So what is inherently wrong with a "super-premium", "natural" dog food from a boutique company, anyways? Let's talk for a moment about the great grain-free pet food debate.

Secondary DCM (Dilated Cardiomyopathy) is a devastating condition of the heart that often presents with no symptoms and can result in sudden death.

Many otherwise 'healthy' shiny dogs 'with good poop' who randomly die while playing or after going for a walk have been diagnosed with, or even passed from DCM, and the owners never knew something was wrong.

No official pre-death diagnosis means that very little data is collected on the dogs who die this way. The devastated owners move on with their lives, assuming that their dog had a genetic problem. Veterinarians around the country are seeing it happen over and over again.
Current studies indicate that this is not just a 'grain-free' problem but likely a poorly formulated 'boutique foods' and marketing problem. ?

This brings us back to the fact that a sound majority of boutique dog food brands do not employ a board-certified veterinary nutritionist to formulate their food. This includes Gentle Giants.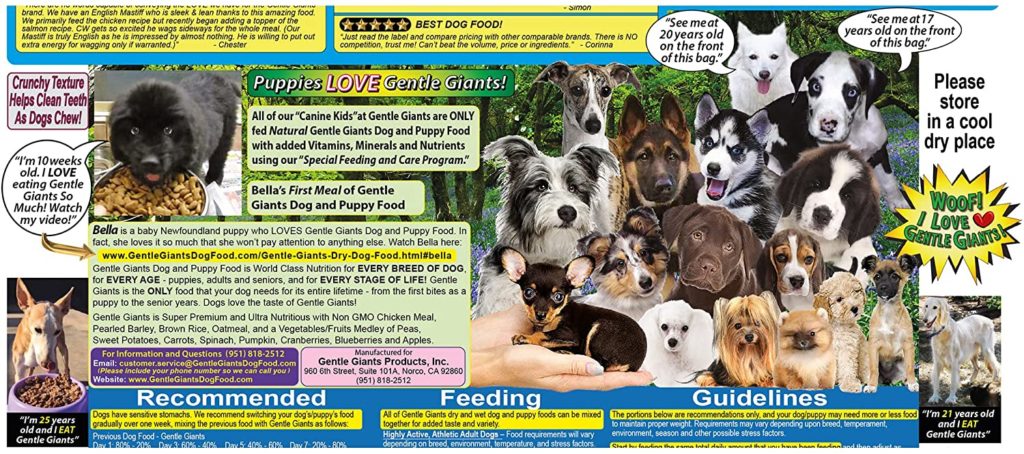 All life stages Great Dane Food
One thing that Gentle Giants dog food says is that they are an "All Breed and All Life Stages" dog food.

Meaning they believe their food is formulated correction for puppies, adults, seniors, athlete dogs, calm dogs, small dogs, and giant breed dogs that are growing.
It's like one-size-fits-all pants. Just because they 'fit' doesn't mean they look good.

Great Dane puppies have different nutritional needs than adults. Small breed dogs have different calorie requirements than large breed dogs.
Dogs benefit the most from a diet tailored for them.
Nutritional levels established by AAFCO
AAFCO is a non-profit agency that works in tandem with government regulatory agencies. Regulatory agencies moderate and enforce nutrition and food safety, and AAFCO was established to help with definitions and requirements.

The AAFCO label on every dog food bag is there to help you establish if the formula is correct for your dog.
https://www.aafco.org/

You can read their post on pet food ingredients here: https://www.aafco.org/Consumers/What-is-in-Pet-Food
Here is some information on what AAFCO does: https://www.petmd.com/dog/nutrition/What-Is-AAFCO-and-What-Does-It-Do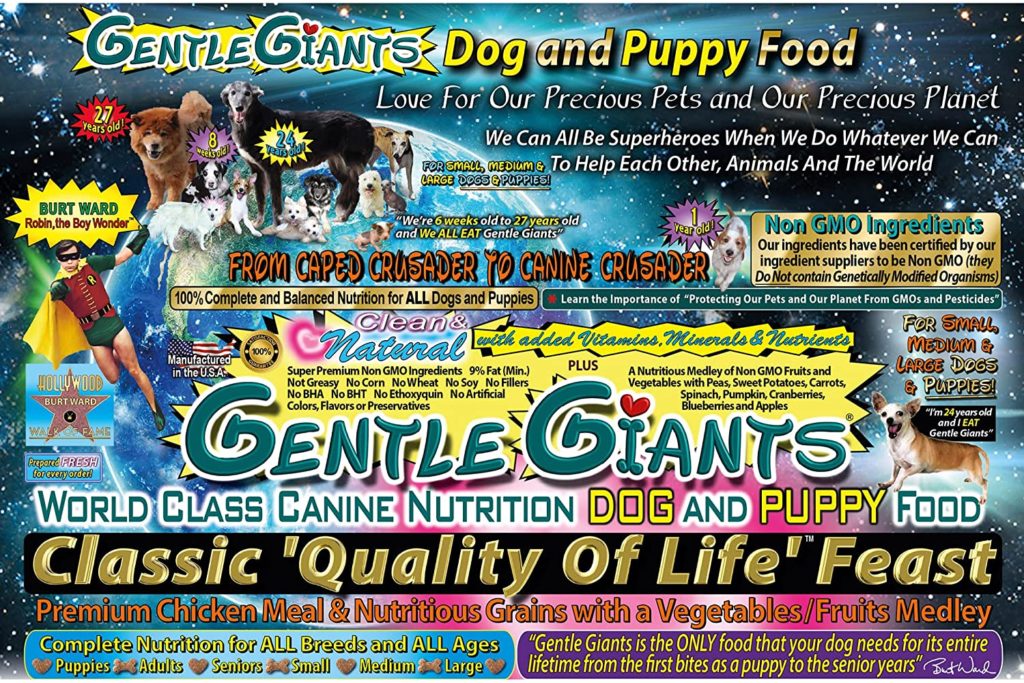 How to choose food for Great Danes
All of this canine nutrition information can be frustrating and alarming to Great Dane owners who want to choose the best foods for their giant dogs!
We recommend picking a highly-researched, truly science-backed brand that employs highly qualified professionals (Veterinary Nutritionists) to formulate their food.

Find out if the formulations from those brands are substantiated in actual food tests, or if they just look correct on paper.
Ask if the brand has made any contributions to widely accepted canine nutrition science (the very science that has also now made it possible to feed Great Danes puppy food instead of adult food, YAY!).
Contrary to what small boutique brands want you to believe, the blueberries and spinach they have added in minuscule amounts to make you 'feel good' are doing nothing but lining their pockets.

If you want your dog to have blueberries, toss a few whole ones into their food, instead! Serving a balanced meal is important, however, so no matter what, make sure that toppers make up less than 10% of your dog's overall dry dog food diet.

We recommend Large Breed Purina Pro Plan (puppy or adult, salmon recipe) or Royal Canin Giant Breed foods as the gold standard in healthy, highly researched dog foods for your gentle giant. However, Eukanuba and Iams have solid choices for you as well, at all price points!

The Sensitive Skin and Stomach line from Pro Plan is perfect for dogs with sensitive stomachs or allergies. Allergies may indicate problems with the immune system and overall health, which can increase bloat risk, too.
Picky dogs hate their food after a short time. If you have a picky gentle giant, we recommend sticking with the same food, avoiding bribery, and making food FUN by offering it in puzzles or for training.
Senior dogs may eat less, too. Don't mistake this natural behavior for 'pickiness'.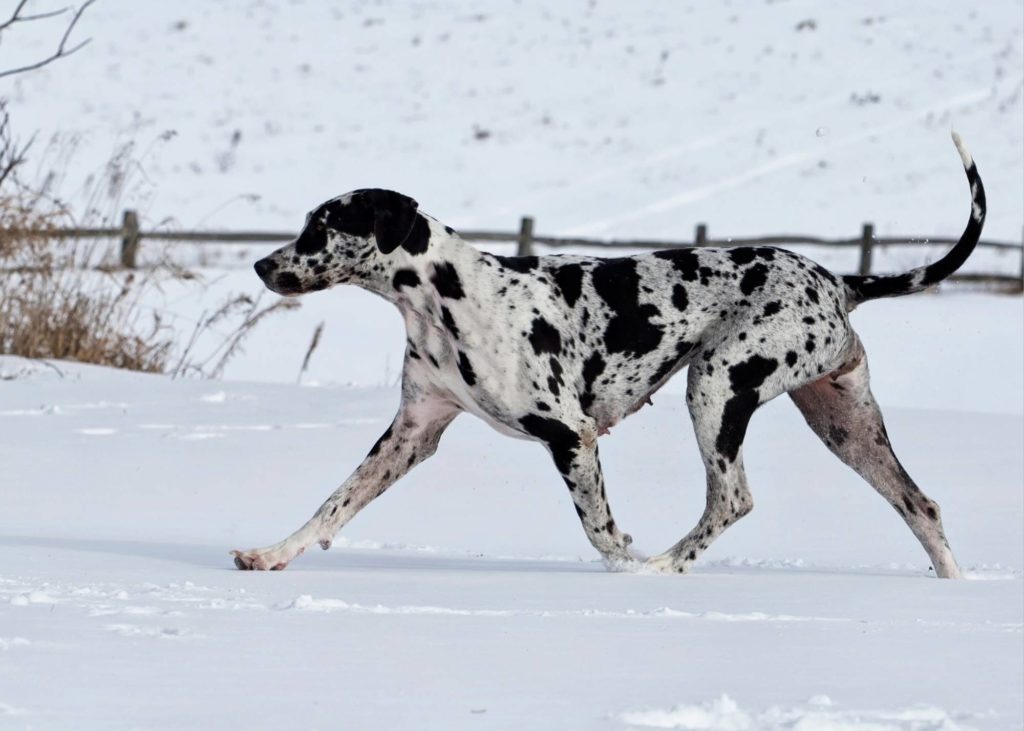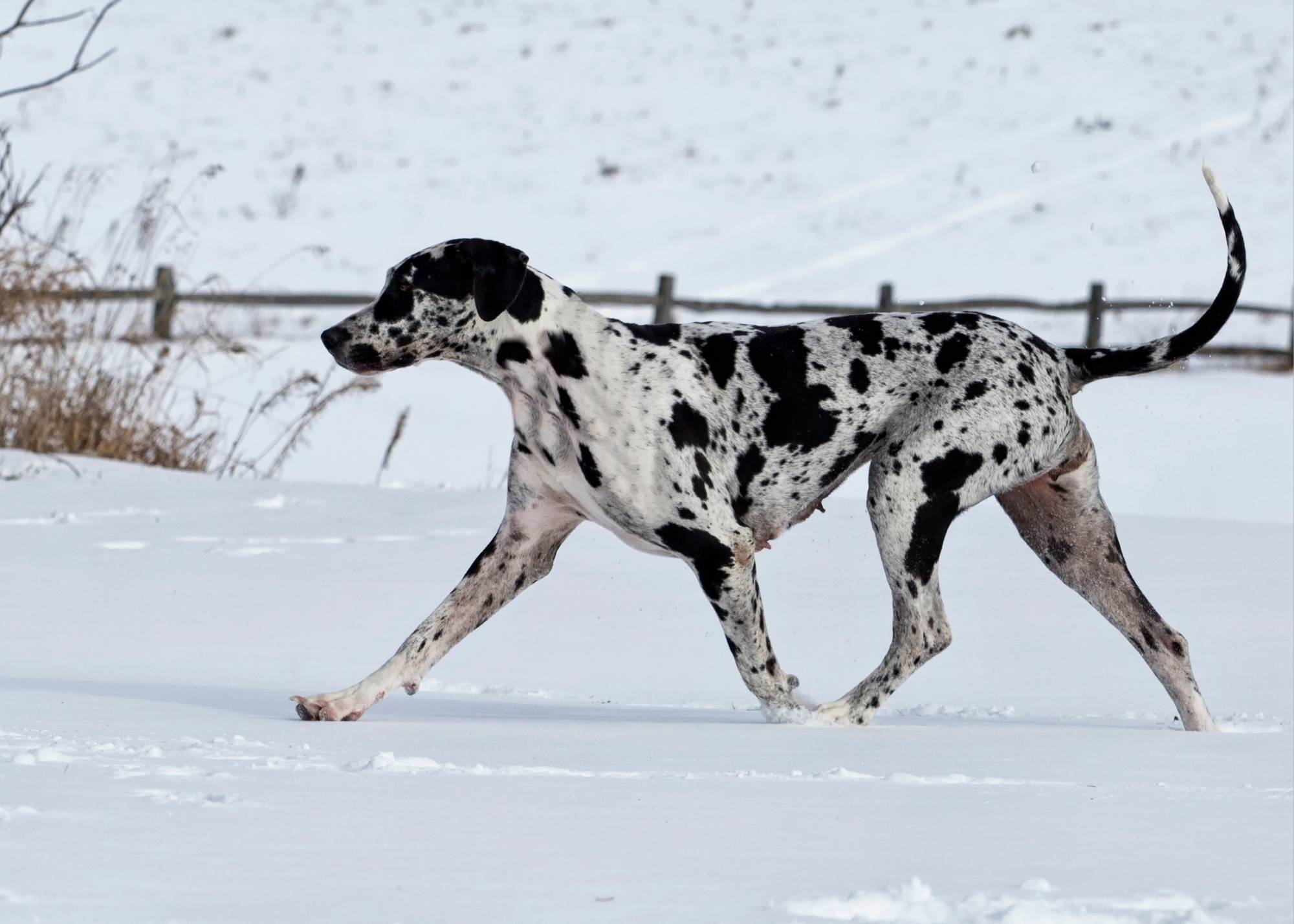 The Dog Food Advisor blog
Many people turn to the Dog Food Advisor blog for information about choosing pet food. It's one of the top blogs to show up on a Google search when looking for dog food reviews!
The Dog Food Advisor rates the Gentle Giants brand as 4/5 stars and considers it to be an 'above average dry product' with a 'moderate amount of meat'.

Here is the thing about the Dog Food Advisor. That blog was created by a human dentist with absolutely no credentials at all in veterinary nutrition. The rating system is made up. Ratings are changed on foods at will by the author, who is likely adjusting them to promote click to purchase actions on the affiliate links, which is how the blog makes money. Take what you read there with a grain of salt.

That said, the Dog Food Advisor does rate Pro Plan as a top pick on its 'recommended foods list', and states that it is one of the only brands highly tested and formulated by a team of veterinary nutritionists. They are correct about that.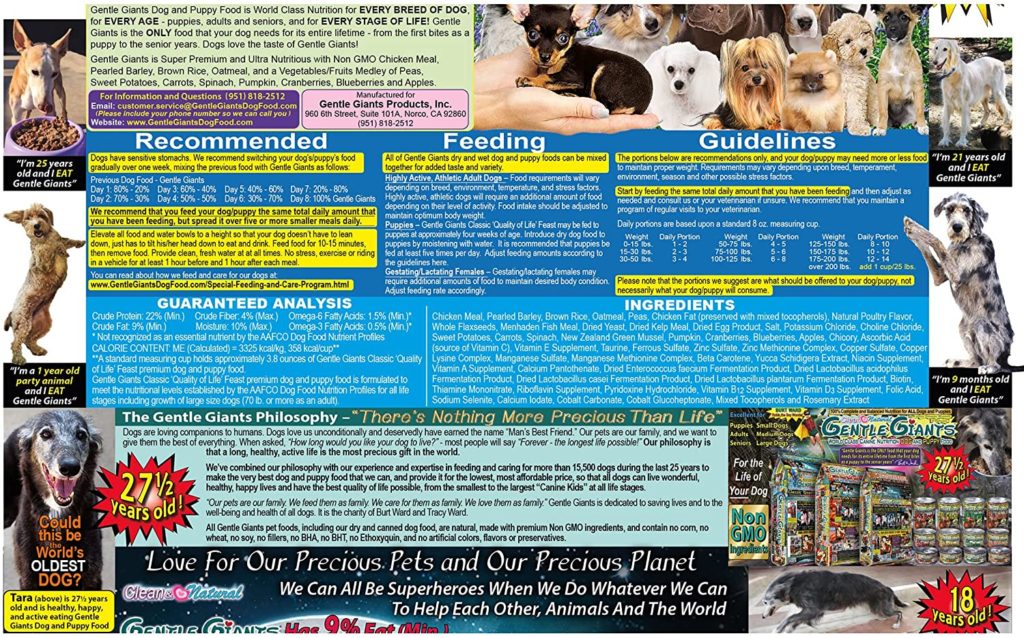 Our rating of Gentle Giants Dog Food
This is one food we definitely think you should skip.

No science.
Wild and questionable marketing claims about longevity ("Your dog can live longer!")
Affiliated with a sketchy 'giant breed rescue' (very likely a puppy mill, but at the least nothing more than a wild pack of dogs that are fed out of trash cans and left to their own devices)
Did we mention no science? Oh, yeah.
Read more:
Life's Abundance Dog Food Review for Great Danes