Great Dane dog food sometimes feels like rocket science!
How much dog food does a Great Dane need?
What is the best food for Great Danes?
Grain free or grain inclusive?
Should pet owners be feeding large breed puppies puppy food or adult food?
What does a senior dog need to be eating?
The questions can be overwhelming and stressful. But, Great Danes and giant breeds do not need to be that complex.
Let's dive in to the best dog food as well as getting answers to other commonly asked questions.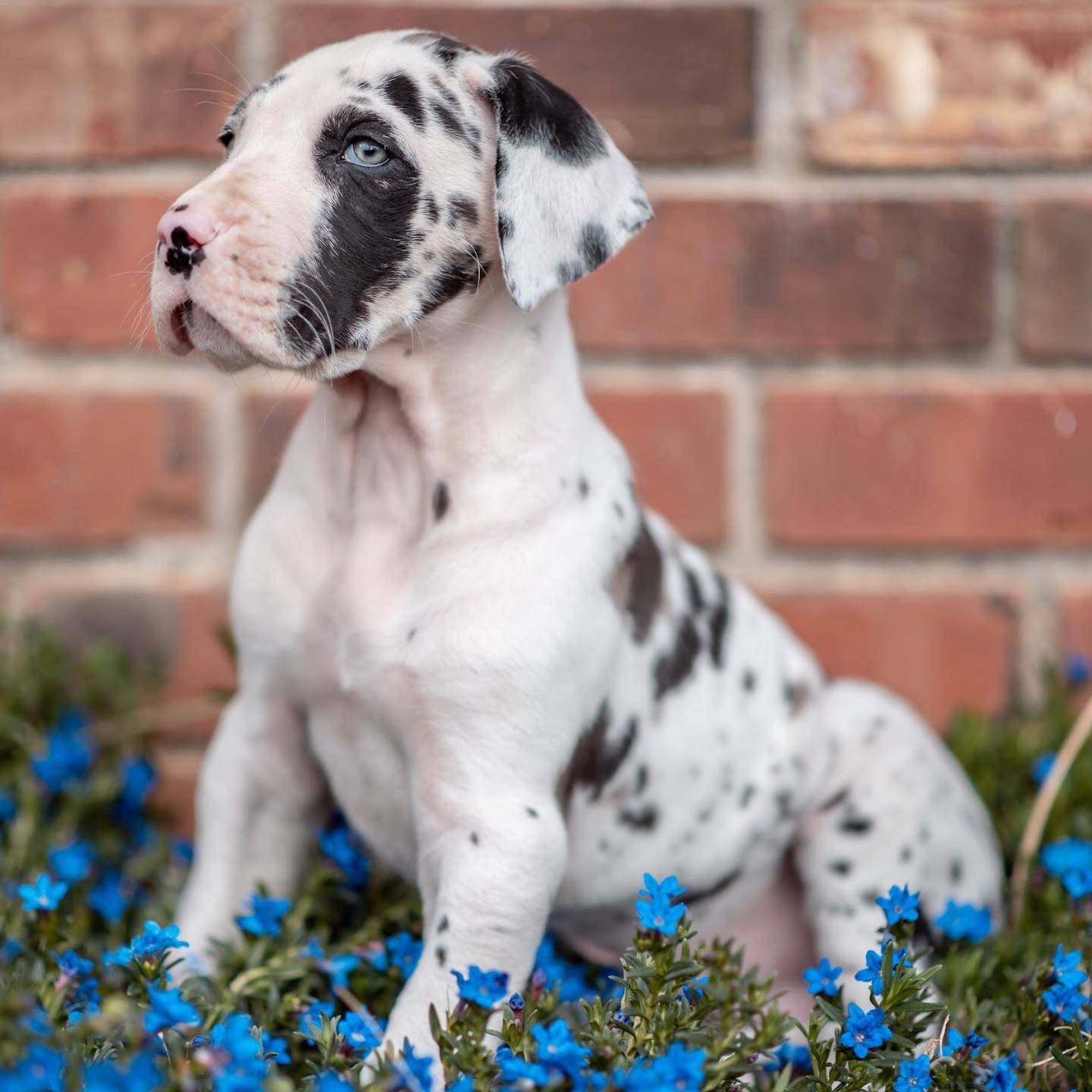 GREAT DANE DOG FOOD: THE BASICS
As a new great dane owner, it is important to learn about the nutritional needs of your giant breed dog. This guide will teach you the basics of great dane food, including what to look for in a food and how to transition your dog to an adult diet.
GIANT BREEDS HAVE DIFFERENT NUTRITIONAL NEEDS
Great Danes are giant breed dogs, and as such, their nutritional needs are different than those of small breed dogs. Giant breed dogs need more calories and protein to maintain their energy levels and build muscle mass. They also need more calcium and phosphorus to support their large bones. When choosing a food for your great dane, make sure that it meets their specific nutritional needs. 
ADULT DOGS NEED DIFFERENT FOODS THAN YOUNG DOGS
Puppies and adults have different nutritional needs. Puppies need more calories and fat to support their growth, while adults need fewer calories and fat to maintain their weight. Additionally, puppies need more calcium and phosphorus for proper bone development, while adult dogs need less calcium and phosphorus. Be sure to choose a food that is appropriate for your great dane's life stage. 
DOG OWNERS NEED TO KNOW THEIR DOG'S 'NORMAL'
Each dog is unique and has different dietary needs based on factors like age, activity level, and health conditions. It is important for dog owners to know what their dog's "normal" looks like in terms of weight, energy levels, stools, etc. This will help you determine if your dog is getting the right amount of food and nutrients. 
DOG OWNERS SHOULD NOT TAKE DOG FOOD BRANDS AT FIRST GLANCE
There are many factors to consider when choosing a dog food brand, including ingredients, price, and reviews. Don't just choose the first brand you see; do your research to find the best food for your great dane. Consider all of the options before making a decision.  
HOW MUCH DOG FOOD DO GENTLE GIANTS NEED TO EAT?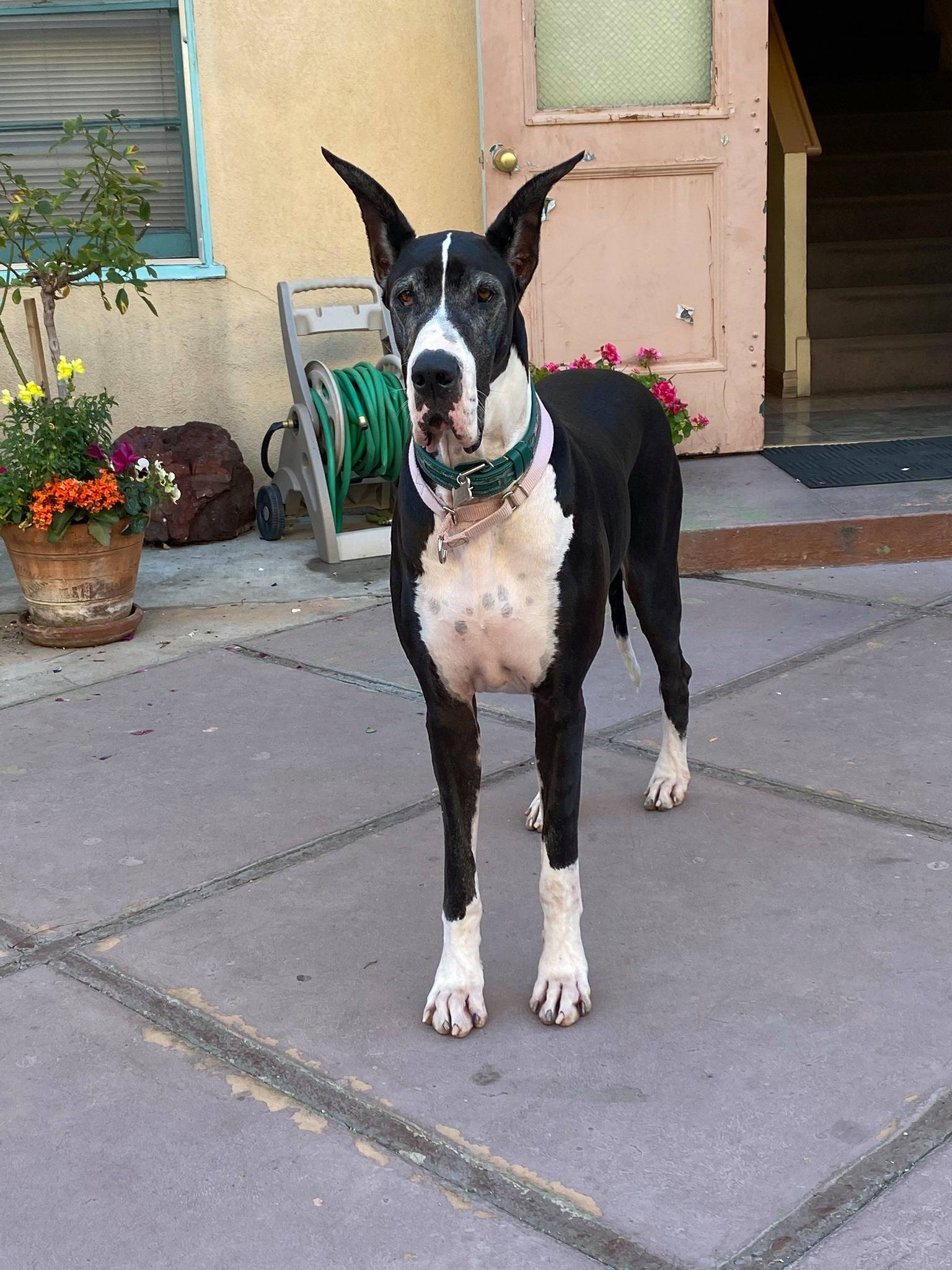 Great Danes are one of the most popular giant breeds. They are gentle, loving dogs that make great family pets. But how much dog food do they need to eat? And what kind of dog food is best for them? Let's take a look.
ADULT DOGS
The amount of dog food that adult Great Danes need to eat depends on the type of dog food you are feeding them. Some of the best dog foods for Great Danes are very rich and can be high in calories. This is why it's important to read the label carefully and to talk to your veterinarian about how much to feed your dog.
PUPPIES
Puppies need more calories than adult dogs, but they should not be given free access to food. Feed them small meals several times a day instead. As they grow, you can start feeding them twice a day. The amount of food puppies need will depend on their age, activity level, and the type of food you are feeding them. Always consult with your veterinarian before making any changes to your puppy's diet.
DEPENDS ON THE DOG FOOD FOR GREAT DANES
Every large breed dog food is different. Some dry dog food contains only 250 calories per cup, whereas some dry dog food for large breeds can contain up to 600 calories per cup.
How much food you feed your adult Great Danes and how much dog food for Great Dane pups highly depends on the kibble formulation itself.
Check the dog's food to see what is inside!
Keep watch on your dog's body and keep them lean and healthy to support healthy joints and good digestive health.
SOME OF THE BEST DOG FOODS FOR GREAT DANES ARE VERY RICH
Some of the best foods for Great Danes are very rich and high in calories. It is not unusual to see a dry dog food with up to 400-550 calories per cup.
If you'd like to use this dog food for Great Danes but feel as though you can only use a few cups before you hit the essential nutrients needed that day, try getting the food wet and soaking it in water. Large breeds love to eat their wet food and it can also help their digestive health and make them feel like their dry dog food is actually something more long lasting and special.
MORE IS NOT ALWAYS BETTER- SUPPORT HEALTHY DIGESTION BY FEEDING LARGE DOGS LESS
More is not always better when it comes to feeding your dog. In fact, overfeeding can lead to health problems like obesity and digestive issues. So, when in doubt, always err on the side of feeding your dog less rather than more. Giant breed dogs like Great Danes have a tendency to eat a lot, but their intake will vary based on factors like exercise, height, weight, and more. 
GIANT DOG BREEDS INTAKE WILL VARY BY EXERCISE, HEIGHT, WEIGHT AND MORE
Does your large breed dog get a lot of exercise? Are they tall? Are they at an ideal weight?
These are all important questions to ask when buying dog food for large breeds. If you have a giant breed dog, their food intake will vary based on how active they are. If your dog is more on the lazy side, you'll want to look for a food that has fewer calories. If your dog is very active, you might need to look for a food with more calories.
When it comes to height, the taller the dog, the more food they'll need. And when it comes to weight, dogs that are overweight will need less food than those that are at a healthy weight.
Always consult your veterinarian before making any changes to your dog's diet. They will be able to give you specific recommendations based on your dog's individual needs.
INCLUDING GRAIN OR FEEDING GRAIN FREE FOOD FOR LARGE OR GIANT BREEDS?
As a Great Dane owner, you want to do everything you can to make sure your furry friend is healthy and happy. Part of that is providing them with the best possible food. But with all of the options out there, it can be hard to know what's best. Should you go with grain free food? Let's take a look at the pros and cons.
THE PROS OF GRAIN EXCLUSIVE DRY DOG FOOD FOR GREAT DANES
One of the main advantages of dry dog food with no grain is that it can be easier on your dog's digestive system. Some dogs have a hard time digesting grain, which can lead to gastrointestinal problems like bloating, diarrhea, and vomiting. If your dog is having digestive issues, switching to a grain free food may help clear things up.
Another benefit of grain free food is that it often contains higher levels of protein than food that contains grain. Protein is essential for maintaining muscle mass, repairing tissues, and supporting the immune system. If your dog is very active or has a lot of muscle mass, they may need more protein than a sedentary dog. A grain free food with a high protein content can help them get the nutrients they need.
THE CONS OF DOG FOODS FOR GREAT DANES WITH NO GRAINS
One downside of grain free food is that it's often more expensive than traditional kibble or canned food. If you're on a budget, you may not be able to afford to feed your dog a premium grain free diet. However, it's important to remember that you get what you pay for when it comes to pet food.
Cheap kibble is likely to be made with lower quality ingredients, while premium brands use higher quality ingredients that are more easily digestible and nutritious. So, if you can swing it, spending a little extra on grain free food may be worth it in the long run. 
Another potential drawback of dry dog food with no grains is that some brands stuff their products with other "cheap" fillers like legumes (peas, lentils, etc.), which have been linked to canine dilated cardiomyopathy (DCM). DCM is a serious heart condition that can be fatal if left untreated. If you're concerned about this issue, talk to your veterinarian about brands of grain free food that don't use legumes as filler. They can recommend a few options that will meet your dog's needs without putting their health at risk. 
Ultimately, the decision whether or not to feed your Great Dane grain free dog food comes down to what's best for your individual dog.
FEEDING FISH OIL
Great Danes are prone to many health conditions. Some include food allergies, skin issues, joint conditions and digestion problems.
Fish oil is a great way to support large breeds regardless of the dog's age. Fish oil can be given at any life stage.
Fish oil promotes healthy digestion
Omega fatty acids support healthy skin
Omega fatty acids are great for large breeds who may need extra joint support like Great Danes
Omega fatty acids are an excellent choice for Great Danes with an opposition to dry dog food and who prefer wet food
Omega fatty acids are a way to give your dog the best possible chance to stay healthy and have a long life. Adding fish oil to their diet is an easy way to make sure they're getting the nutrients they need.
KEEPING HEALTHY JOINTS
Great Danes are known for joint issues such as arthritis, hip dysplasia and Wobblers.
Since Great Dane owners know this about their pets, they want to be intentional about providing balanced nutrition throughout every life stage.
Tips for supporting a Great Danes joints through all life stages:
DURING PUPPYHOOD
Do not let your puppy jump off of high surfaces, run up and down stairs, or engage in any other activities that could put stress on their joints.
Make sure your puppy is getting enough exercise to maintain good muscle tone, but not so much that they're overdoing it and putting unnecessary strain on their joints.
Feed your puppy a high quality diet that's rich in nutrients like glucosamine and chondroitin, which support healthy joints.
Put runners around the house to avoid slipping.
DURING ADULTHOOD
As your Dane ages, they may start to slow down and become less active. It's important to continue feeding them a high quality diet and giving them joint supplements to maintain their health. You may also want to consider adding a little bit of fish oil to their diet.
Provide a ramp or stairs to get in and out of the car.
Start your Great Danes on a higher dose of joint supplement, meant specifically for their life stage.
Provide your Great Danes with a soft bed to sleep on.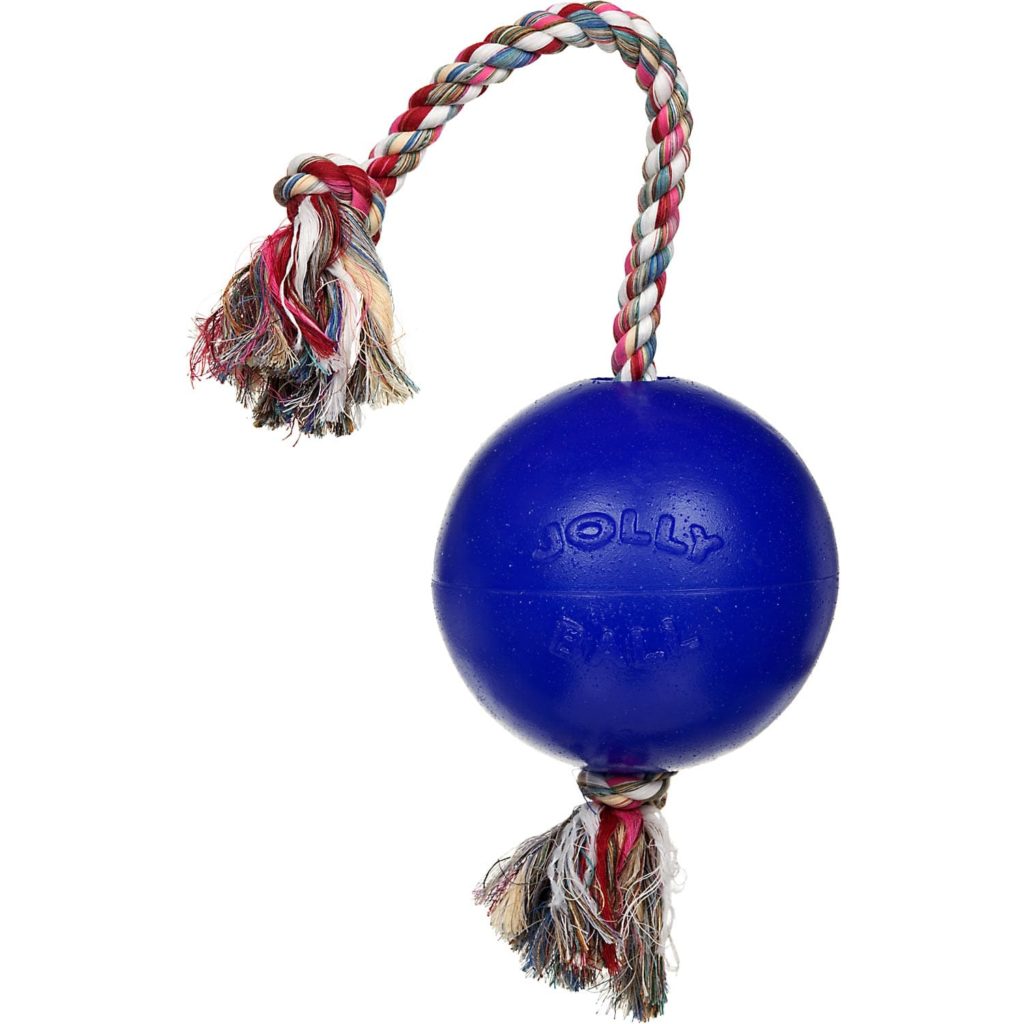 GREAT DANE FEEDING CHART
The numbers on the chart below can be varied depending on the level of activity your dog puts out in a day as well as the level of hunger your dog exhibits.
It is a common myth that puppies NEED to be fed 3 times a day. Great Dane puppies can be fed 3 times a day, but do not need to be. Great Dane puppies can be free fed, but do not need to be. If you are free feeding your puppy or adult dog, please make sure to be cognizant and aware of their eating times so that you can allow them to rest and not play/roll after eating to prevent their stomach from turning and twisting.
Allowing 2 meals per day can provide you with the ability to watch your dogs intake, stay on top of their weight and be aware of the calories they are (or are not) intaking. The chart below can serve as a guideline and correlates with Adult Giant Breed formula.  
| | | |
| --- | --- | --- |
| Age | Timing | Amount |
| Puppies under 12 weeks | Free-feed | 2-4 cups/day |
| Puppies 12-24 weeks old | 3x/day | 3-6 cups/day |
| Puppies 24 + weeks (6 months) or older | 2x/day | 5-10 cups/day |
| Puppies 12-18 months | 2x/day | 6-12 cups/day |
BODY TYPE AND GREAT DANES
Your dane should be kept lean but not to the point where you can see their spine. You do want to be able to see their ribs, but not extensively. The last rib should be clearly visible. the puppy lean, but not skinny.
If you are concerned your Dane is getting too thin, you can always add in 1 extra cup per day. Remember that your Dane will continue growing and building muscle until they are over 2 years old.
Also remember that having a Dane is not being part in a competition for the largest dog. Danes have a massive amount of body to support as it is. Be patient and loving on their giant bones!
DIFFERENCES IN TIME OF YEAR CAN IMPACT GREAT DANES DIET
Depending on the time of year, your dog might intake more calories than other times of year. During summer while you are out and about all day, your dane might act hungrier and you might need to increase food intake. Alternatively, during the Winter months while your Dane might not be burning off as much energy, they might need less to sustain their ideal body weight.
HOW DO GREAT DANES TOLERATE HEAT OR COLD?
HOD IN GREAT DANE PUPPIES
Hypertrophic Osteodystrophy (HOD) is a bone growth disease that largely affects Giant Breed dogs. The disorder can cause major disabilities and even bone deformities, and in the worst cases death.
Although the cause and cure are both technically unknown, there are massive links between HOD and nutrition.  HOD will first begin/appear as your puppies feet knuckling, (appearing to buckle over), fever/lack of appetite in your puppy, general lethargy, or your puppy losing ability to stand or walk on its own. 
It usually begins to creep its way into symptomatic sight around the age of 5-7 months. Because Great Danes bones/growth plates do not close until nearly 24 months, this disease has massive impact on the development of your Dane puppy and should be treated as an emergency.
Without treatment and with symptoms still present at 6 months your puppy could need bone/structural surgery to repair deformities. Please see our blog posts regarding Nutrition for Puppies with HOD/Bone Diseases for further information about the importance of proper nutrition.
PANOSTEITIS IN GREAT DANES
Panosteitis (Pano) is a more common orthopedic issue seen often in Giant Breed, fast growing dogs such as Great Danes. Panosteitis creates an issue where the periosteum layer of the dogs bones become covered in inflammation.
While the Dane is working so extremely hard to grow rapidly fast, the inflammation begins to interfere, causing extreme pain. Although Panosteitis is sometimes referred to as "growing pains", it should also be considered more for several reasons.
First off, pano can create lameness in one limb or another, or both at times. Secondly, although the cause is indefinite, there are strong links tying Pano to genetic factors, stress, autoimmune and nutrition.
Panosteitis in Great Dane Puppies
WHAT IS CHICKEN MEAL?
If you notice the ingredient called Chicken Meal in your dog food, you shouldn't automatically be concerned.
According to Purina Dog Food, Chicken Meal is  "rendered chicken meat that has been dried and ground up, and includes clean flesh, skin, and/or accompanying bone. But if you see a bag of dog food that proudly states it's made with "Real Chicken," it's referring to a clean combination of chicken flesh and skin."
Chicken meal is included in an abundance of dog food companies formulas.
Whether or not the dog food for Great Danes includes safe chicken by product meal that is safe or not depends on the company that is making the dog food in the first place.
INGREDIENT SPLITTING
GRAIN FREE

Some of the very best dog food will have chicken meal ethically sourced, while others may have chicken meal which is using 'leftovers' of chicken that aren't able to be served elsewhere.
Research into which are the best dog foods for your Great Dane are key.
IS GRAIN BROWN RICE 'BAD' FOR GREAT DANES?
Brown rice is included in some of the best dog foods. Some veterinary advice even suggests that dogs should get whole grain brown rice included in their diet to support healthy digestion at all life stages.
Additionally, although it was previously believed that large and giant breeds were getting heart disease from grain free diets, that myth has been debunked.
However, grain free dog food for large and giant breeds is cluttered with other fillers like peas, lentils and corn, which actually ARE linked to heart disease.
So, if you are choosing a grain free recipe for your Great Dane puppy or adult, make sure you look for a different replacement for the brown rice rather than legumes.
IS CANNED FOOD GOOD OR BAD FOR LARGE BREEDS?
Canned food is not ALWAYS bad for Great Danes. As a matter of fact, it has been shown that adding some wet food on top of dog foods for Great Danes decreases the risk of bloat in large breed dogs.
Choose a wet food wisely, like a balanced nutrition raw food or a canned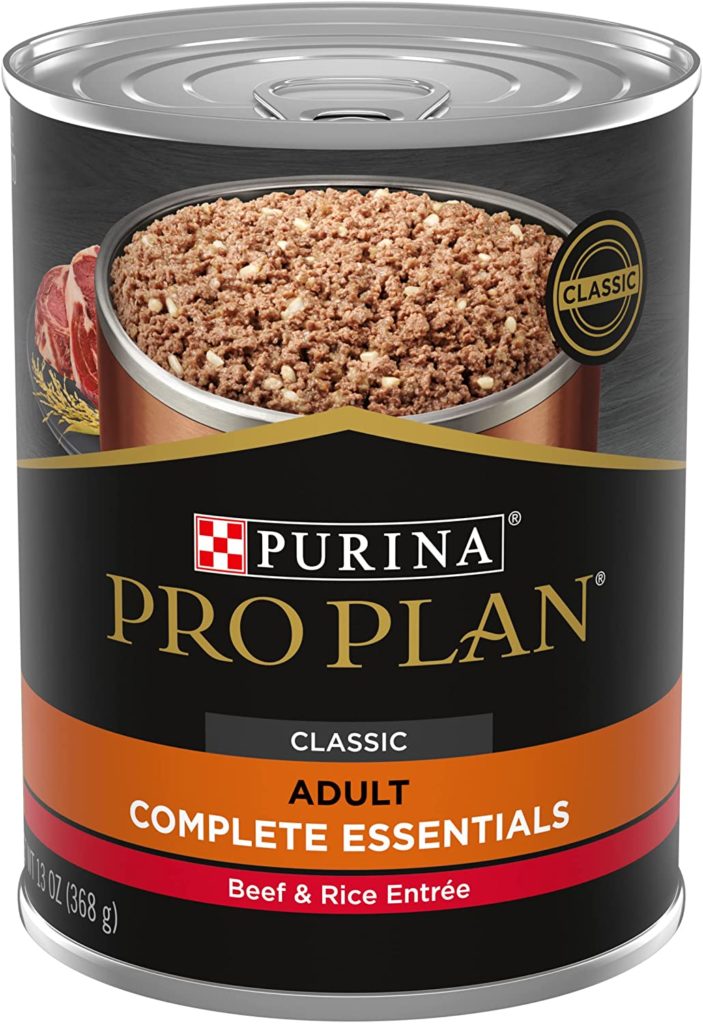 IS DRY DOG FOOD GOOD OR BAD FOR GIANT BREEDS?
Dog food for Great Danes comes in many different options.
Unfortunately the best dog food is 'subjective' and many people have opinions about food for Great Danes.
Dog food is something that has become very personal, where it truly should be a bit more scientific.
There are scientists studying dog food that we need to listen to a bit more than we do in determining the best dog food for our Great Dane in regards to digestive health, joint health, immune system, longevity, healthy skin, etc.
Your Great Dane can live a long and healthy life on a dry dog food, but that does depend on which brand and choice you make in what you are feeding them.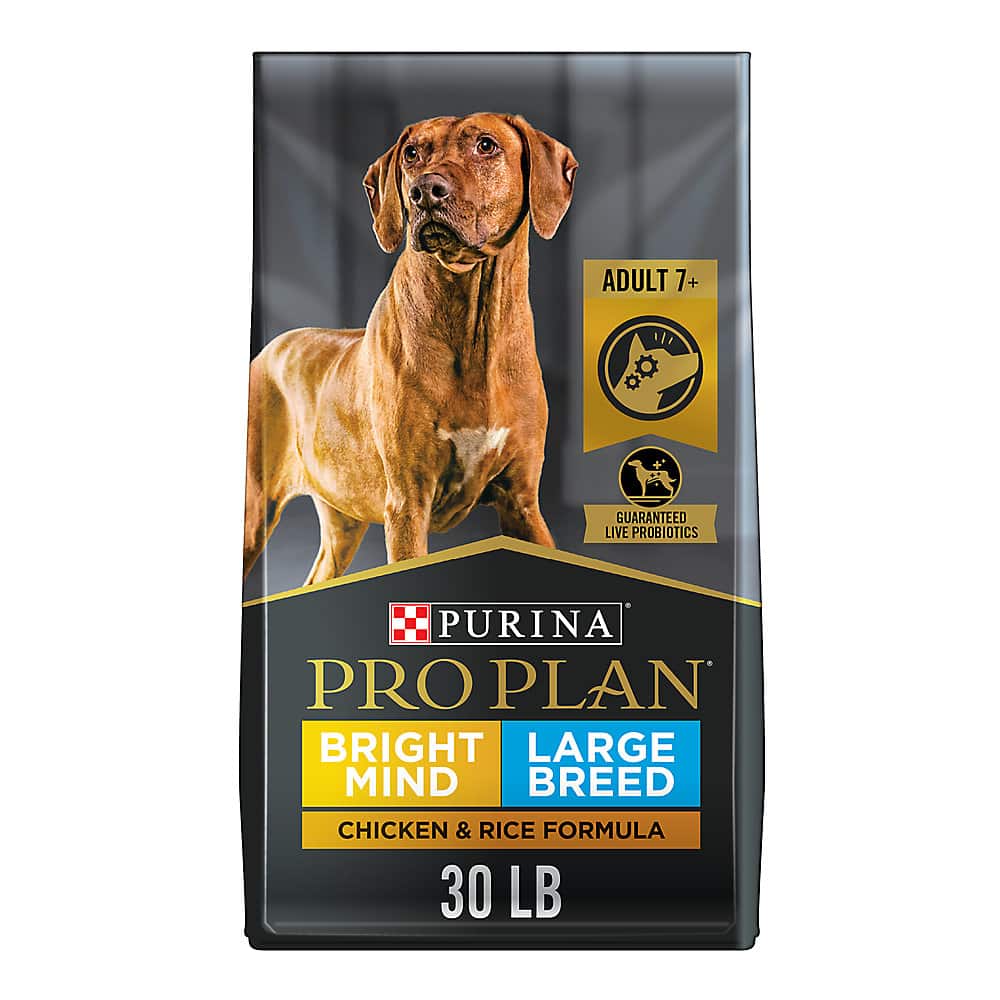 FEEDING A GREAT DANE
Feeding a Great Dane has a lot of factors that play in to it, but once you begin to understand what goes into your dog food and how important diet is to a Great Dane's health, it becomes easier to make choices.
There are a few different types of food you can feed your Great Dane: Wet food, dry food, and raw food, or a combination of the three.
There are also many brands that make quality dog food for Great Dane. Let us know if you have questions!