Large breed dogs such as Great Danes need specific nutrition that is designed for their explosive growth, size, and needs. Today's question is this: Should Great Dane puppies have puppy food or adult food?
Dog food puppy Large Breed vs. Adult for Great Danes is a hot debate, and we're taking a scientific approach to answering it!
In the world of Great Danes, there is a lot of misinformation about nutrition. Everybody has an opinion.
It used to be said that you should always feed a Great Dane puppy an 'adult' kibble.

The truth? A dog's diet should change depending on its life stage!
Spoiler alert: Science has allowed dog food manufacturers to make changes and updates to their formulations. This means that finally, Large Breed Puppy formulas are now ideal for Great Dane puppies!
So today we are talking about the importance of large breed puppy food for Great Dane puppies.
We are going to discuss the difference between puppy formula and an adult dog food. We will also talk about what type of diet is best for large breed adult dogs and for Great Dane puppies!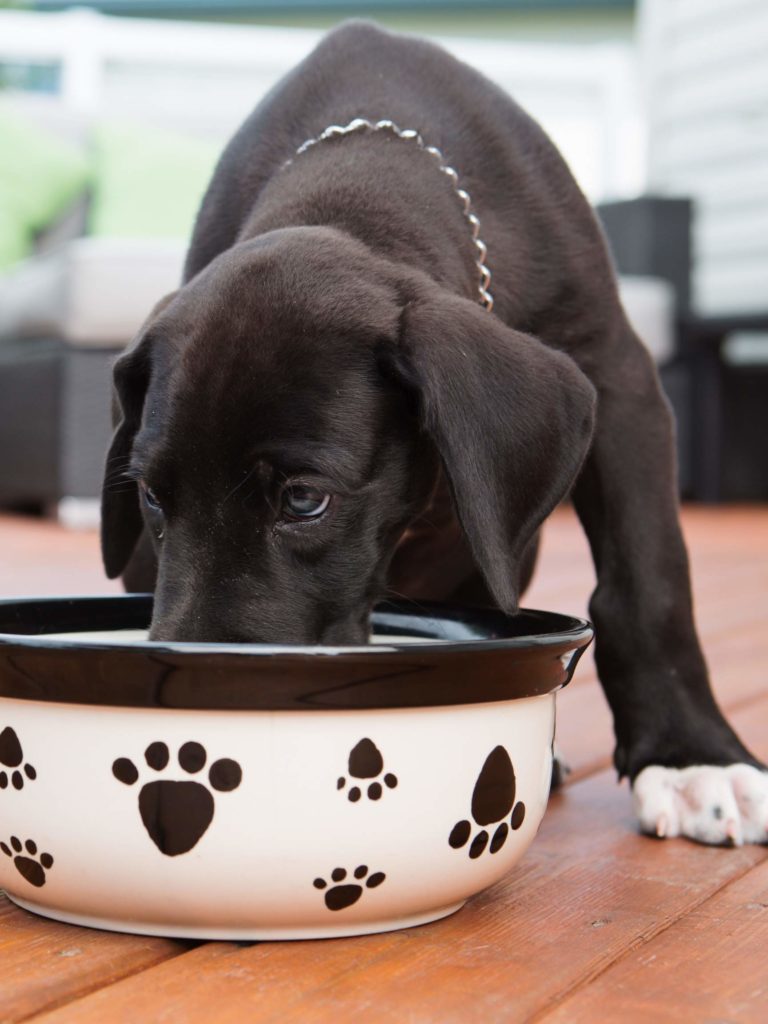 BEST DOG FOOD PUPPY LARGE BREED FOR GREAT DANES
Large breed puppies such as Great Danes are prone to a number of growth disorders that can be caused or worsened by an incorrect diet.
Knuckling is a common developmental orthopedic disease that causes the puppy's legs to 'bow out. Other growth disorders include panosteitis, HOD, and hip or elbow dysplasia.
Choosing the right large breed dog food for a Great Dane puppy is extremely important. Smaller breeds don't have the same requirements, so if you are new to Great Danes it's time to research!
We believe that puppy foods are ideal for growing Great Dane puppies! Many large breed puppy foods are formulated with the growth of large dogs in mind and are appropriate for their brain, eye, joint, bone, and muscle development.
The most important factor to consider when choosing pet food for a large breed (such as a Great Dane) is the calcium and phosphorus ratios.
Calcium should be at or below 1.4%
Phosphorus should be slightly below calcium.
An example of an ideal calcium-phosphorus ratio to see on a bag of large breed dog foods is:
Calcium (Ca) (Min) 1.1%
Phosphorus (P) (Min) 0.9%
A properly balanced diet for large breed dogs will have a high-quality protein source (including meat and meat meals), omega fatty acids, probiotics, and balanced fat and carbohydrates to keep your puppy at a healthy weight.
NOTE:

Food with perfect calcium/phosphorus ratios can still cause growth problems!
The correct balance of amino acids, protein, carbs, fat, and vitamins is extremely important, too.
In other words, the advice of 'no puppy food ever' for Great Dane puppies is now considered dated and inaccurate, especially when you are considering science-backed kibbles such as Purina Pro Plan that are heavily researched and tested.
Pet owners are not necessarily experts in nutrition, so it's helpful to know that the dog food company you choose is extremely thoughtful, thorough, researched, up-to-date and diligent with your dog's health.
We recommend choosing a large breed puppy dog food that is formulated by a board-certified Veterinary Nutritionist, from a company that has invested heavily in canine nutrition and health research.
Ideally, the kibble you choose is also clean with quality ingredients from known sources.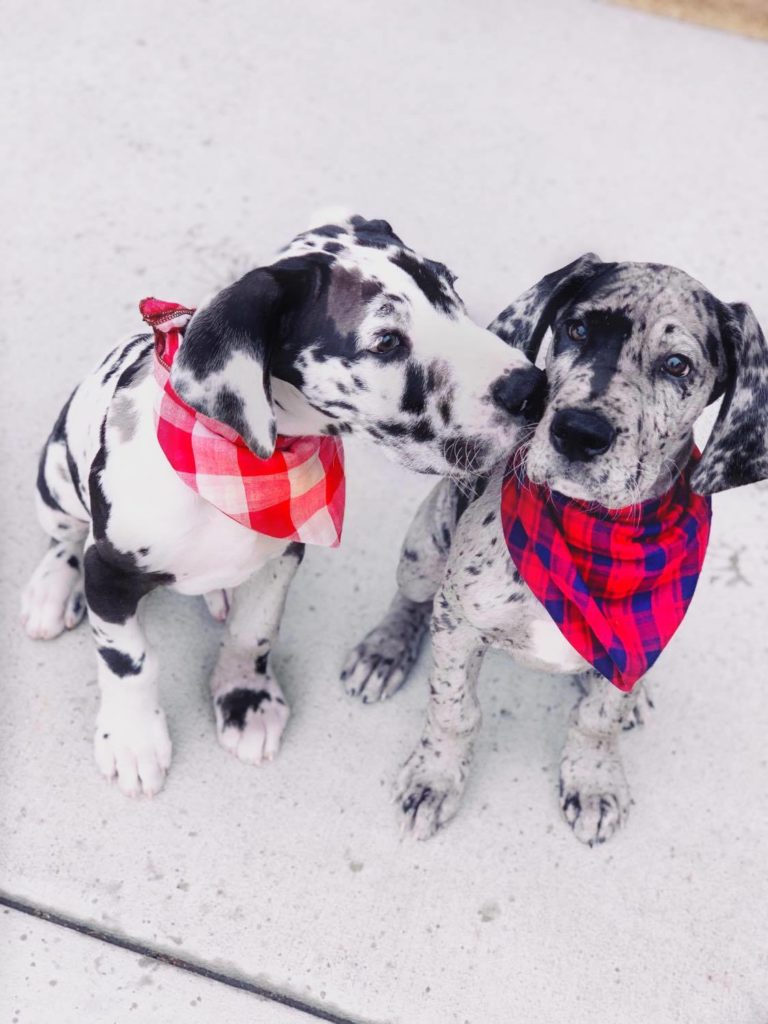 AAFCO GUIDELINES FOR DOG FOODS
The dog food you choose for your Great Dane puppy should have one of the following AAFCO nutritional adequacy statements on the label.
Some minor variations in these statements are normal. Click any button on the left to see the AAFCO statement associated with each option for your Great Dane puppy.
IDEAL: Animal feeding tests using AAFCO procedures substantiate that [THIS FORMULA] provides complete and balanced nutrition for all life stages, including growth of large sized dogs (70 lb. or more as an adult).
MODERATELY ACCEPTABLE: [THIS FORMULA] is formulated to meet the nutritional levels established by the AAFCO Dog Food Nutrient Profiles for growth of puppies and maintenance of adult dogs, including growth of large sized dogs (70 lb or more as an adult).
NOT ACCEPTABLE: [THIS FORMULA] is formulated to meet the nutritional levels established by the AAFCO Dog Food Nutrient Profiles for maintenance of adult dogs.
QUESTIONABLE: [THIS FORMULA] is formulated to meet the nutritional levels established by the AAFCO Dog Food Nutrient Profiles for all life stages.
The following foods meet our guidelines for growing Great Dane puppies: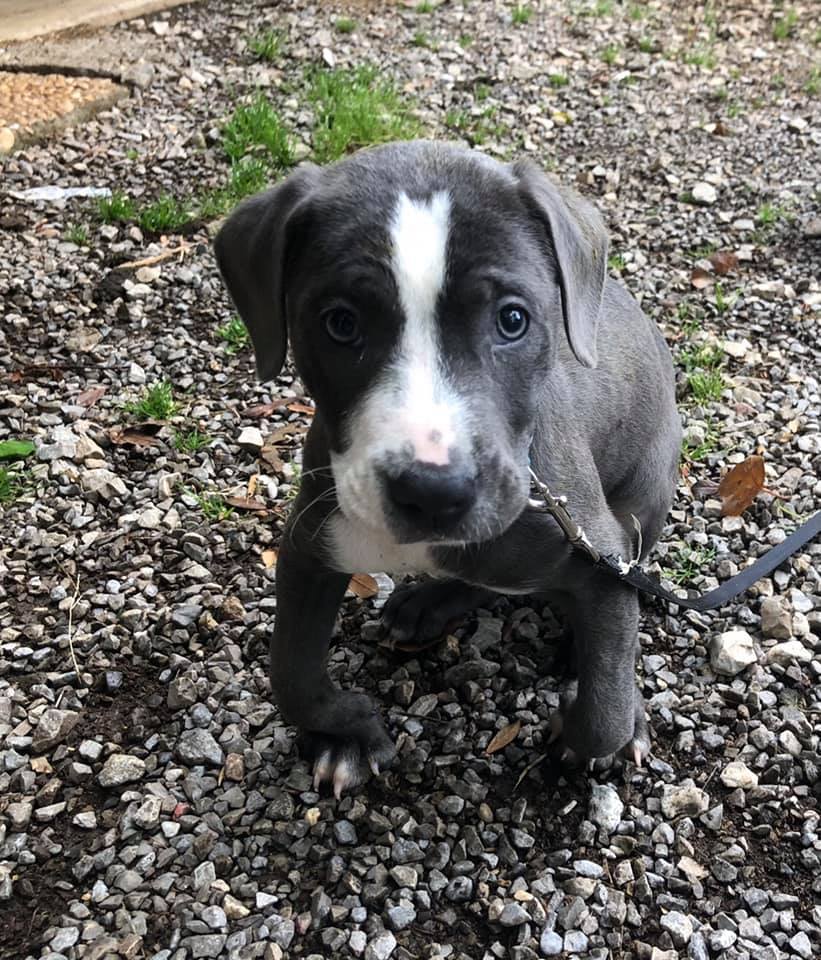 IS YOUR GREAT DANE PUPPY KNUCKLING?
Check out our science-based and constantly growing knuckling resource page.
BENEFITS OF LARGE BREED PUPPY DOG FOOD FOR GREAT DANE PUPPIES
Large breed dogs require specific nutrition that they will not get from small breed dog food.
A good quality diet for a Great Dane puppy will have been specifically formulated with large breeds in mind.
Healthy bones, healthy joints, healthy skin, and reducing the risk of growth disorders such as hip dysplasia and knuckling are just some of the considerations put into puppy kibble formulation.
Nutrition + research for large breed dog food
Puppy formulas from companies that are actively researching big dog nutrition and growth are most likely to have the correct balance of nutrients, proteins, fats, carbs, calcium, phosphorus, and amino acids for Great Dane puppies.
What do veterinarians say about large breeds + nutrition?
The veterinary community agrees! Large breed puppy dog foods are the best choice for growing giant breeds.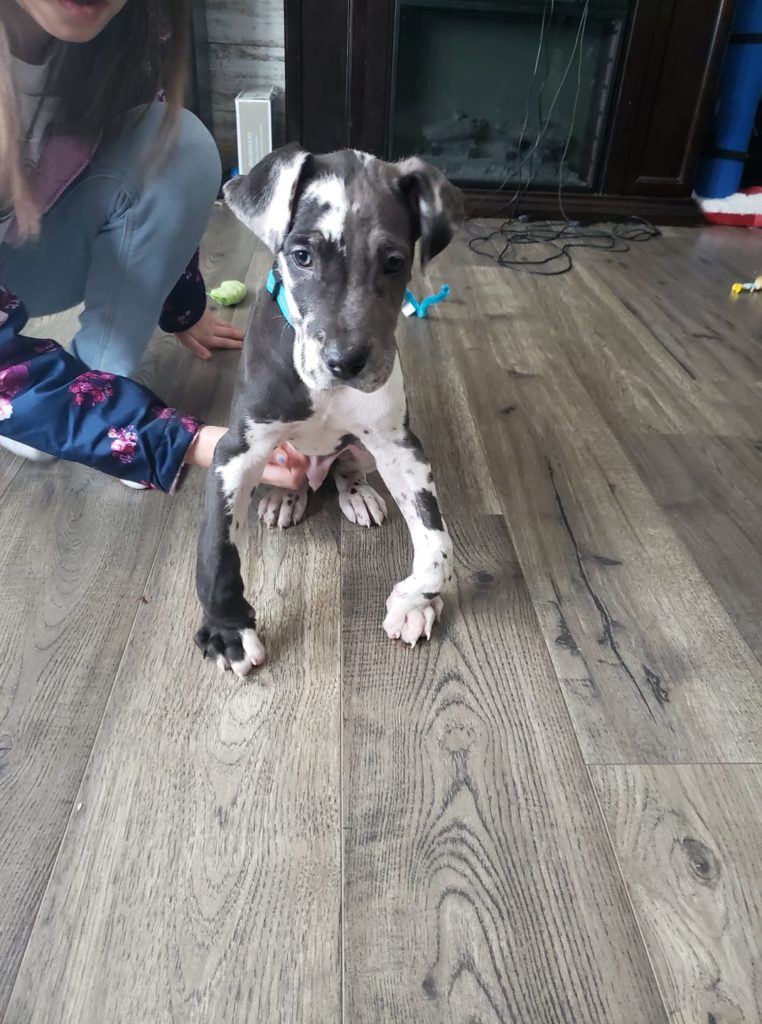 WHEN SHOULD A PUPPY TRANSITION TO AN ADULT FORMULA?
When deciding what age to transition your big dogs' diet from a puppy to adult formula, keep in mind that large breeds don't reach maturity until they are around 18-24 months of age.
While small breed dogs become adults much faster, large breeds are slow to mature and require a lot of time, excellent nutrition, and slow growth to reach peak health as an adult.
Large breed dog food for puppies is formulated to promote slow and healthy growth in big dogs.
Age ranges + food formulas
A scientifically formulated canine diet will actually indicate the recommended age range for their foods. If the food company you have chosen understands their product, they can also tell you (through customer service).
For example, Purina Pro Plan Large Breed food for puppies is food formulated to be fed to large breeds for the first 2 years of life! Other formulas are different and the nutrition is based on breed size and age.
Fish oils, probiotics and the correct balance of nutrition slow down the growth rate and contribute to energy levels, bone development and healthy skin.
These things matter a lot to a big dog, especially before large breeds fully mature! If you are surprised by all of this, keep in mind that small breed dogs mature so much faster, and that's ok!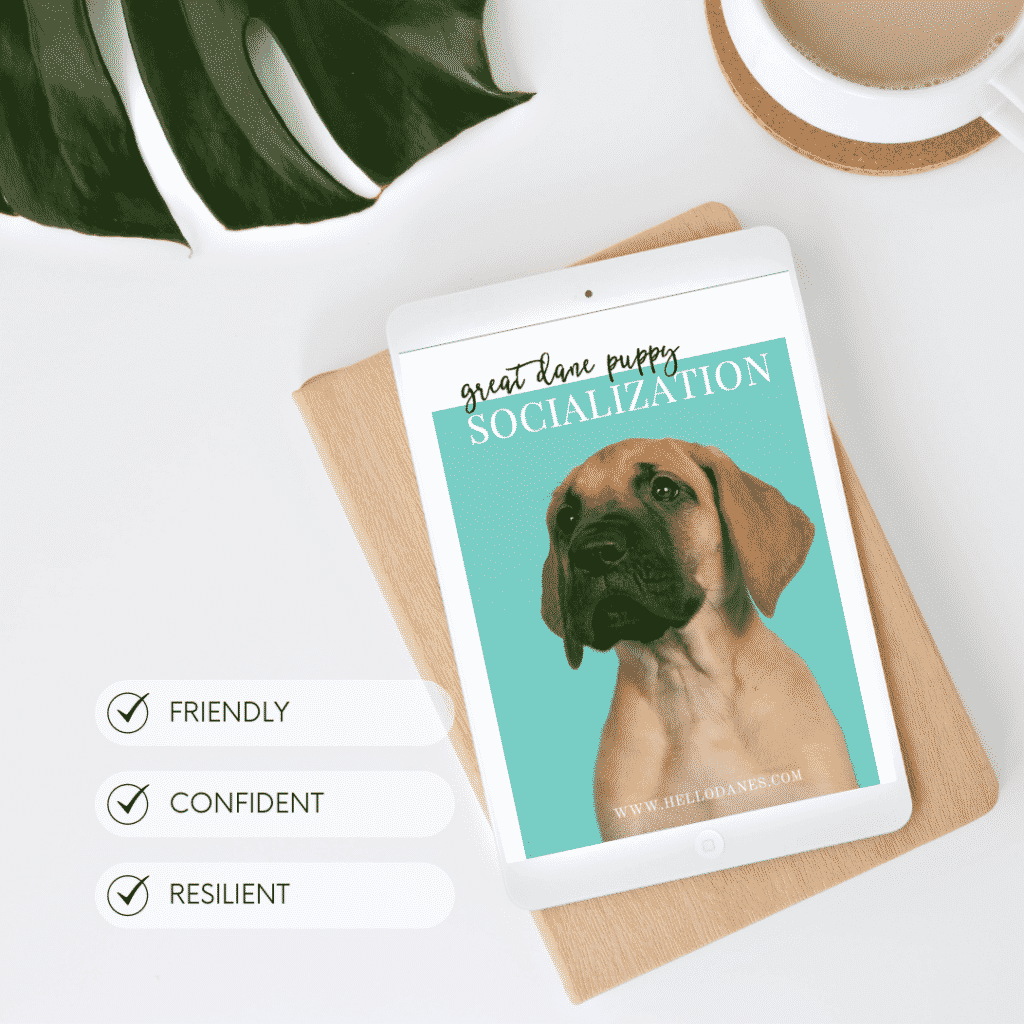 SOCIALIZATION 101
Have a Great Dane Puppy?
Check out our positive socialization guide, and learn how to socialize your pup the right way!
Friendly – Confident – Resilient
WHAT IS THE BEST FOOD FOR GIANT BREED DOGS?
When looking for a large breed food, make sure that meat or meat meals are listed in the first ingredients. Probiotics and omega fatty acids are also important.
You may notice 'vitamin d', riboflavin, biotin, and other important nutrients added as well. These necessary vitamins and minerals contribute to a balanced diet, although they may make the ingredient list look long!
A dog food (puppy large breed) that is ideal for your growing Great Dane will typically say 'Large Breed Puppy Food' on the label.
A senior dog may benefit from a transition to senior dog foods, which will be labeled accordingly and may offer additional support for the kidneys, heart, joints, energy levels, and weight.
If you have a small breed dog in your house, we recommend feeding a comparable small breed dog food if possible.
Small breeds, like giants, have unique nutritional needs, and taking advantage of modern advances in science and nutrition is better for everybody!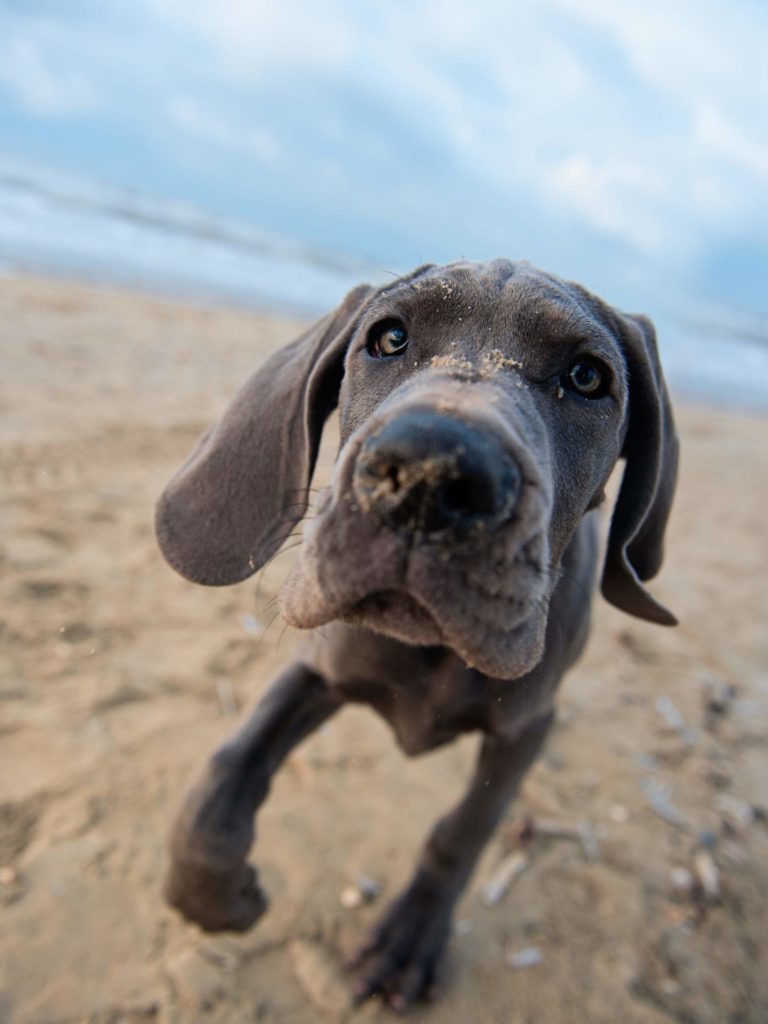 DO LARGE BREED DOGS HAVE TO EAT LARGE BREED FOOD?
Large breed adult dogs can technically be fed any 'all-life stages' food however they greatly benefit from large breed food that is formulated specifically for them.
A pet's health is often tied to their nutrition, so choosing the right pet food formula matters. A large breed dog needs more joint support than a small breed dog, and large breed dog food offers the correct balance of nutrients and supplements for their orthopedic needs.
Adult Great Dane health problems
These are just some of the reasons why choosing a large breed dog formula for the correct life stage (puppy vs. adult) is so important: the correct formulation for each life stage will help maintain appropriate growth, overall weight and joint health.
Unfortunately, not all dog food brands are created equal, and it can be difficult to know which one is best for your pet.
The nutritional needs of a Great Dane puppy are different than the needs of an adult. It is so important to choose an appropriate, large breed, science-backed food formulated by credentialed professionals!
Here are some great adult options for your Great Dane, once maturity is reached: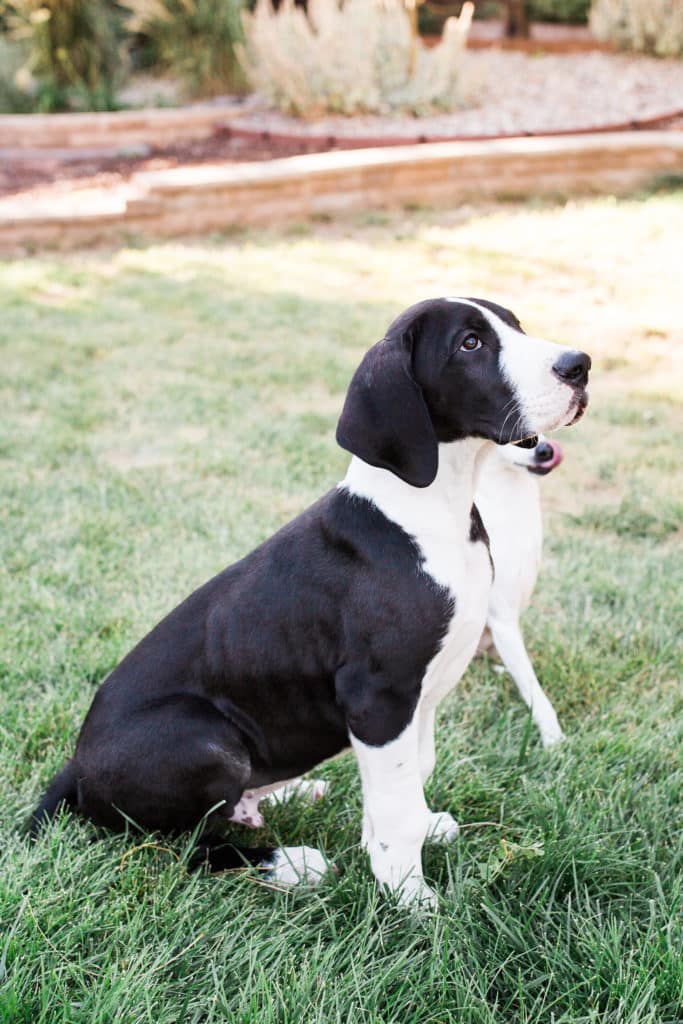 WHAT FOOD DO GREAT DANE BREEDERS USE?
The American Kennel Club supports breeders and recommends that dog owners speak with their veterinarian when choosing a food for their large and giant breed dogs.
Some breeders will recommend 'Life's Abundance'. You can read our blog post here on why we don't consider this an appropriate, safe, ethical, or quality food.
The majority of breeders with the top show dogs in the world feed and recommend Purina Pro Plan formulas. Contrary to popular belief, Purina is not a low-quality food. It's highly tested, extensively researched, and formulated by veterinary nutritionists.
While 'sweet potatoes' and 'whole grain brown rice' may sound healthy, the truth is that they are both carbs which may throw the nutrition and balance off!
We believe that this is why it is so important to not make purchase decisions just on the ingredients list of the food.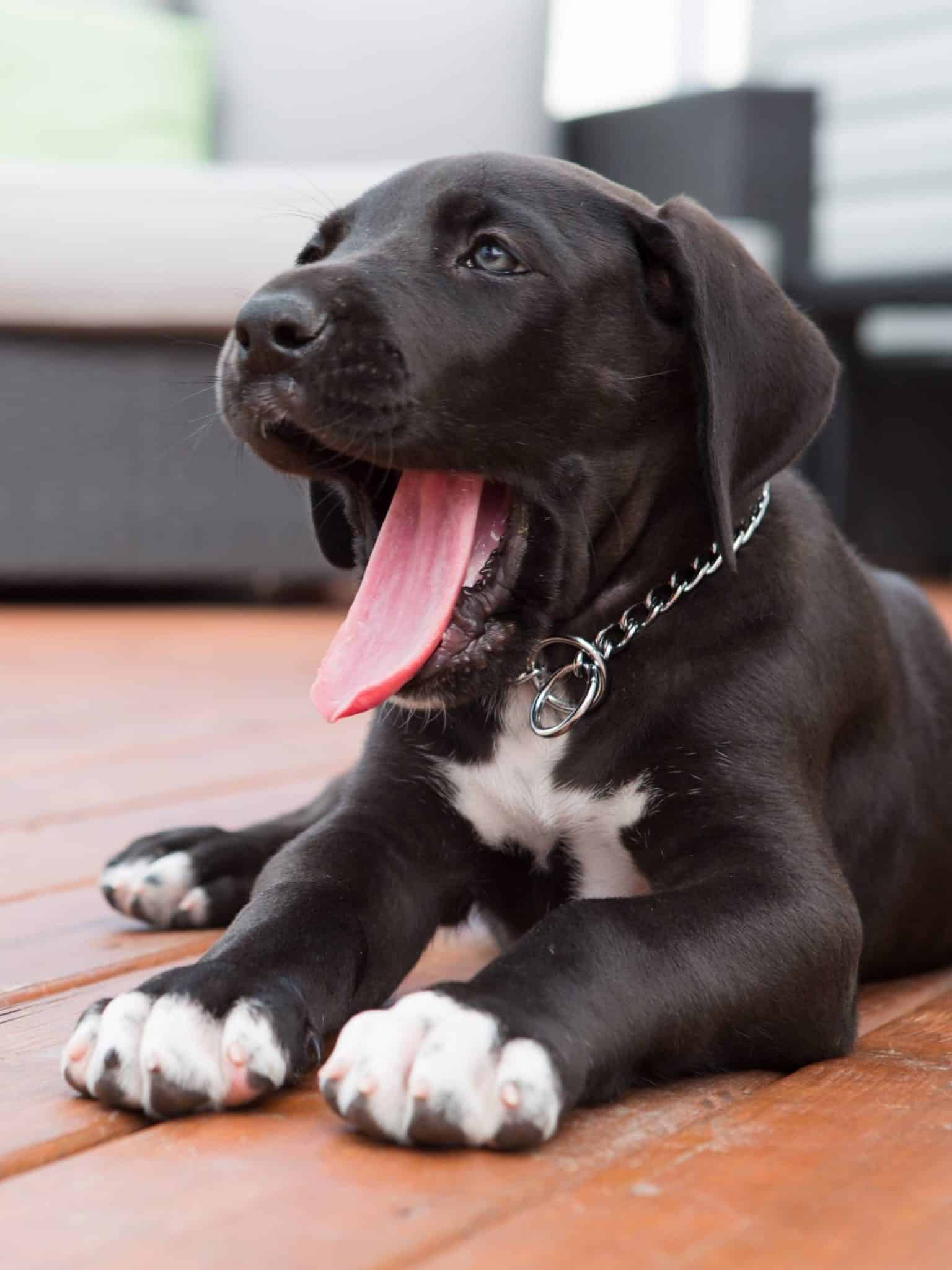 WHAT IS THE TRUTH ABOUT DOG FOOD LABELS?
Dog food labels can be exceptionally confusing to dog owners. When you are in the pet stores searching for adult food or a puppy formula for your Great Dane, it's helpful to have a basic understanding of dog food ingredients and analysis.
Reading the ingredients and analysis label can only give you a tiny picture of the information needed to make a decision about which large breed food to choose for your Great Dane!
Look at science, then look at marketing
Look beyond the marketing of the brand. The claims of 'robust health', 'human grade ingredients', 'no recalls' and 'all natural' are all there to make you buy the food.
This list below from the WSAVA is a helpful guideline for choosing dog food!
You'd be surprised how many pet food brands do NOT meet these guidelines, despite being marketed as 'high quality', 'natural', and 'family owned'.
(This information is helpful for owners of small breeds, too!)
Treat training pouches for training your Great Dane!
THE BEST LARGE BREED DOG FOOD FOR ADULT GREAT DANES
Unlike large breed puppies, an adult large breed dog is not growing and has different nutritional and support needs.
Adult formulas in general tend to be a lower calorie food with different vitamins, minerals and slightly different protein-fat-carb-fatty acids balance.
We recommend choosing large breed kibbles that, as above, are scientifically formulated and backed.
Your dog's diet should be complete and fully balanced for their life stage. Keep toppers to a minimum (10% of less of the overall intake) to avoid creating picky dogs or causing your dog foods to become unbalanced.
Natural dog food for Great Danes
If you are looking for a more 'natural' option for your large breed puppies or adult dogs, Just Food For Dogs makes an excellent topper. Fiber and fresh foods can also help reduce the risk that your large breed dog will develop bloat!
A well balanced raw meat diet may also be appropriate for large breed dogs.
This option is worth looking into for dog owners that are willing to do diligent research and have the time and freezer space for it.
Large breed dogs that suffer from allergies and intolerances may thrive on a balanced raw diet; talk to your veterinarian!
IMPORTANT FDA ALERT ABOUT GRAIN-FREE KIBBLE AND HEART DISEASE IN GREAT DANES
FDA officials are investigating possible links to diets for dog heart diseases. DCM is a devastating and often silent disease that many large breed dogs, including Great Danes are prone too.
Suspect dog food ingredients
Some suspect ingredients in lower quality, untested large and giant breed kibbles include peas, lentils, potatoes, sweet potatoes, and garbanzo beans. When choosing your dog's food, these ingredients are worth noting and asking a veterinarian about.
Dog nutrition can be complicated, especially when manufacturers must put as much nutrition as possible into a user-friendly baked and extruded kibble product!
DACVN & The Credentialed Veterinary Nutritionist
For information about veterinary nutritionists and the advanced degrees and certifications available to veterinarians to advance their knowledge of food and formulations, check out these links below:
Please visit this link if you want more information and to find out if your pet's food is putting them at risk.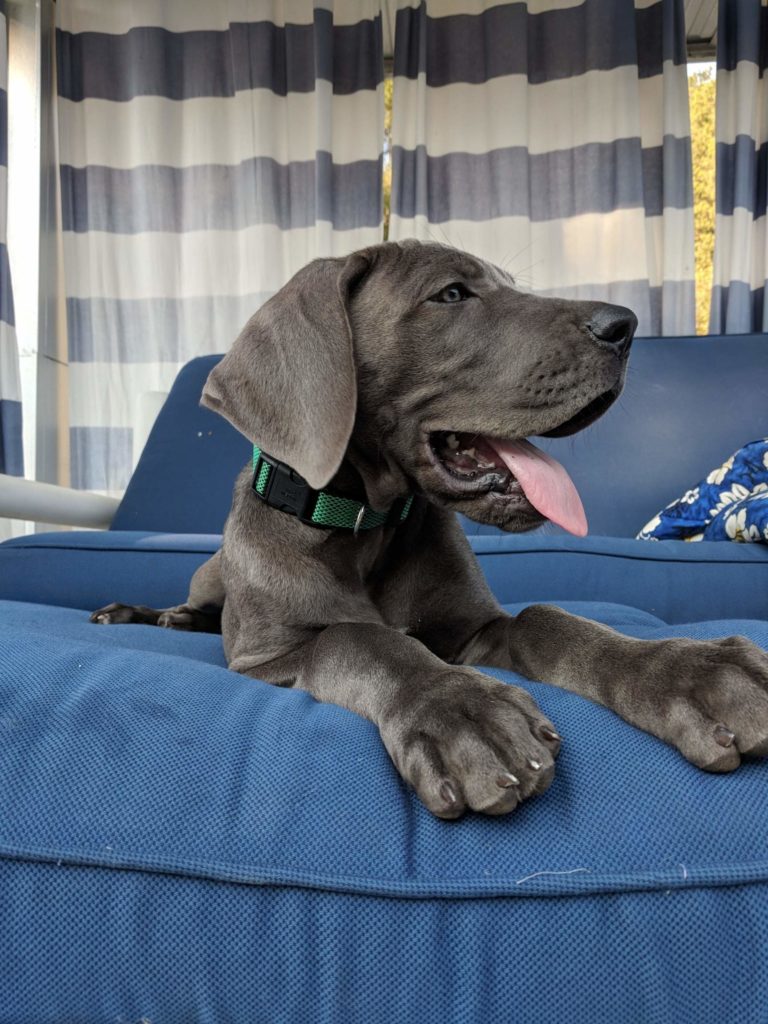 GREAT DANE FEEDING CHART
Looking for more information on how much to feed a Great Dane puppy? Is free feeding or scheduled feeding a better choice?
Read our famous 'Ultimate Great Dane Feeding Chart' post and learn more about choosing a kibble, how much to feed, raw meat diets, home-cooked diets, and more.
| | | |
| --- | --- | --- |
| Age | Timing | Amount |
| Puppies under 12 weeks | Free-feed | 2-4 cups/day |
| Puppies 12-24 weeks old | 3x/day | 3-6 cups/day |
| Puppies 24 + weeks (6 months) or older | 2x/day | 5-10 cups/day |
| Puppies 12-18 months | 2x/day | 6-12 cups/day |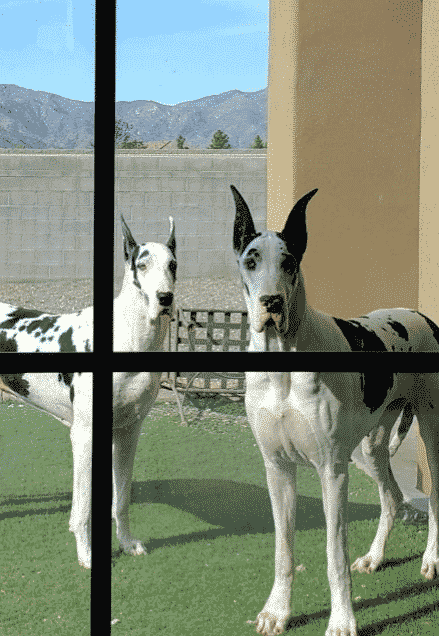 JOIN OUR COMMUNITY
Do you like modern positive+balanced off-leash dog training, science-based information, life with Danes, educated ownership and chatting with other like-minded people?
Join our growing Facebook group!