When it comes to choosing the best dry dog food for a Great Dane, there are a few things you need to keep in mind.
Not all dog foods are created equal, and some will be better for your pet than others! In this post we will discuss:
How to read a dog food ingredients label
Deceptive marketing tricks to watch out for
What to look for in a Great Dane food
How to choose a dog food that is healthy for your pet
The best dog foods by brand, handpicked for Great Danes!
This post does not cover raw, freeze-dried, or air-dried diets. We support balanced raw or fresh feeding, however, that's not the purpose of the post today.

Here we will be covering kibble + wet dog food diets, which are the most popular ways to feed a Great Dane!
The best food for any dog will be the one that they do best on.
That said, there are some important things to consider when you are on the search to find the best canine nutrition among the thousands of dog food options on the market today. Let's dig in!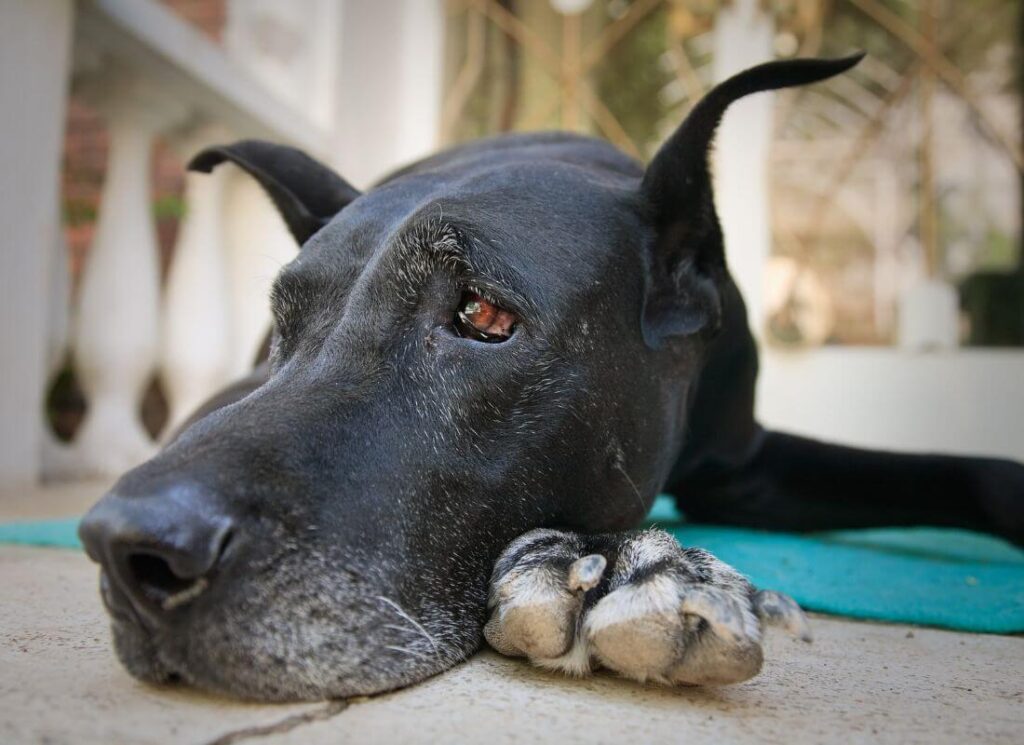 What to Look for in a Great Dane Dog Food
Great Danes are not like other dogs. They are a giant breed with specific nutritional needs. Choosing dog food is even more overwhelming when we throw that aspect into the mix!
In order to grow and develop properly, Great Danes need a diet that has the correct balance of calcium, phosphorus, and amino acids.
When it comes to choosing the best dry dog food for a Great Dane, look for a food that meets the following criteria:
Professionally Formulated Dog Food
This key factor will help eliminate literally thousands of options, making it much easier to choose good dog food!
Did you know that Fromm, a popular brand, is formulated by a chemical engineer? Victor, another popular brand, is formulated by somebody who has an online certificate in dairy cattle nutrition.
These people are, unfortunately, not qualified to formulate dry dog food.
While on paper these foods (and thousands of others like them) meet AAFCO bare minimums, they may be deficient in important amino acids and nutrients over the long term.
We would never dream of buying baby formula that was created by people who were less than qualified to do so, especially if that food wasn't also heavily tested and researched before being sold.
This is an unfortunate reality, though, of many expensive pet foods.
Your pet's health is closely related to the quality and formulation of the ingredients in their food!
This is not an area where you want to cut corners. Keep in mind, however, that a higher price does not necessarily mean higher quality.
For an adult dog or definitely for a puppy, I recommend choosing dry kibble diets that were formulated by Board Certified Veterinary Nutritionists (DACVN), who are also directly employed by the actual brand itself for that purpose.
Visit the Pet Nutrition Alliance HERE. ➡️
Look up your brand and see! If they didn't answer, refused to answer, or the food brand doesn't directly employ a DACVN / ACVN or Veterinarian with a Master's Degree in Nutrition, keep looking.
Pro Tip: Having a 'team' does not count. Many times, what a statement like that actually means is that the brand pays an outside firm (consultants) to check boxes. Ask more questions.
The Pet Nutrition Alliance has asked this question of hundreds of pet food manufacturers.
Make sure that you verify that the name brand itself (Merrick, GO, or Earthborn, for example) has a qualified person formulating the brand of food, dedicated specifically to that brand, not the parent company.

For example, Mars employs Veterinary Nutritionists that are dedicated to the Royal Canin brand, but not ones dedicated to the Nutro brand (also owned by Mars Pet care).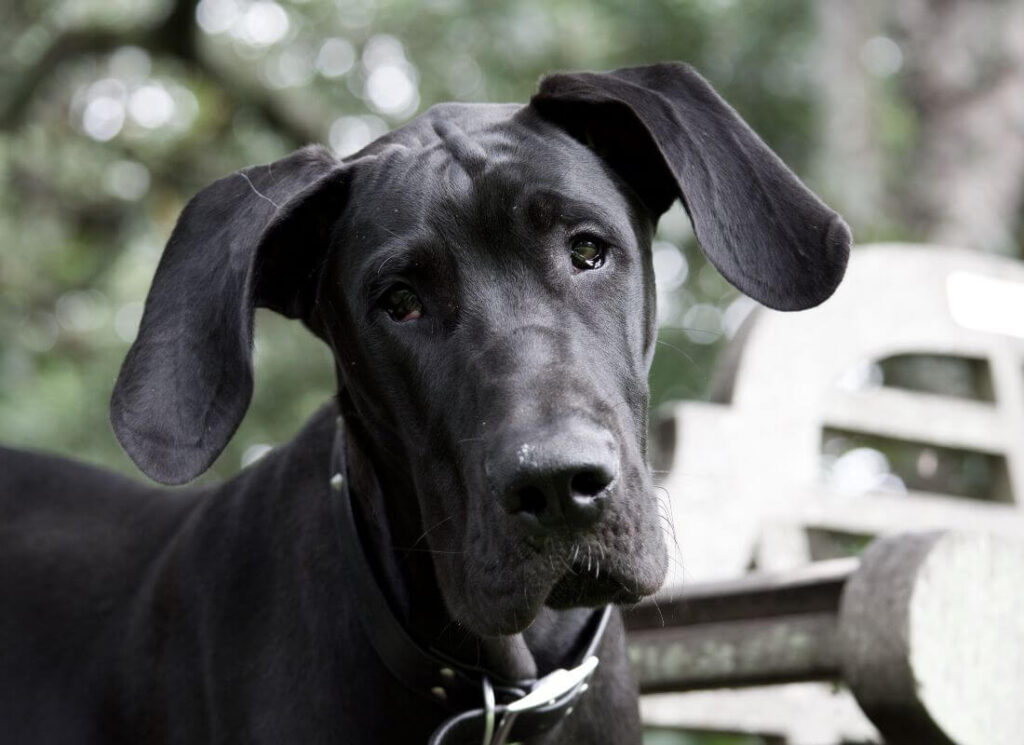 Meat Meal + Meat By-Product Meal to Reduce Bloat
Meat meals are a nutrient-dense, high-protein, dehydrated form of organ meats and muscle, skin, and cartilage tissue that has been shown in studies to reduce the risk of bloat.
Bloat is a deadly condition in Great Danes and other large and giant breed dogs.
Because meat meals are more likely to contain valuable nutrition such as liver, bone, skin, and cartilage, it makes sense that this ingredient can help keep your Great Dane healthy!
Animal byproducts are exactly what your dog needs in its diet. Not to mention, using the whole slaughtered animal is the ethical, economical, ecological, and responsible thing to do.
Fresh 'human grade' meat, on the other hand, is roughly 70% water, so after it's turned into kibble there may not be much meat or nutrition left. The nutritional value of muscle meat is much less than what is found in organ meats!
Many pet owners have been misled by 'fresh meat in kibble' marketing, and we think it's time to change the narrative!
It's important to always choose dry food where meat meal (such as poultry meal) or meat by-product meal makes up the bulk of the nutrition.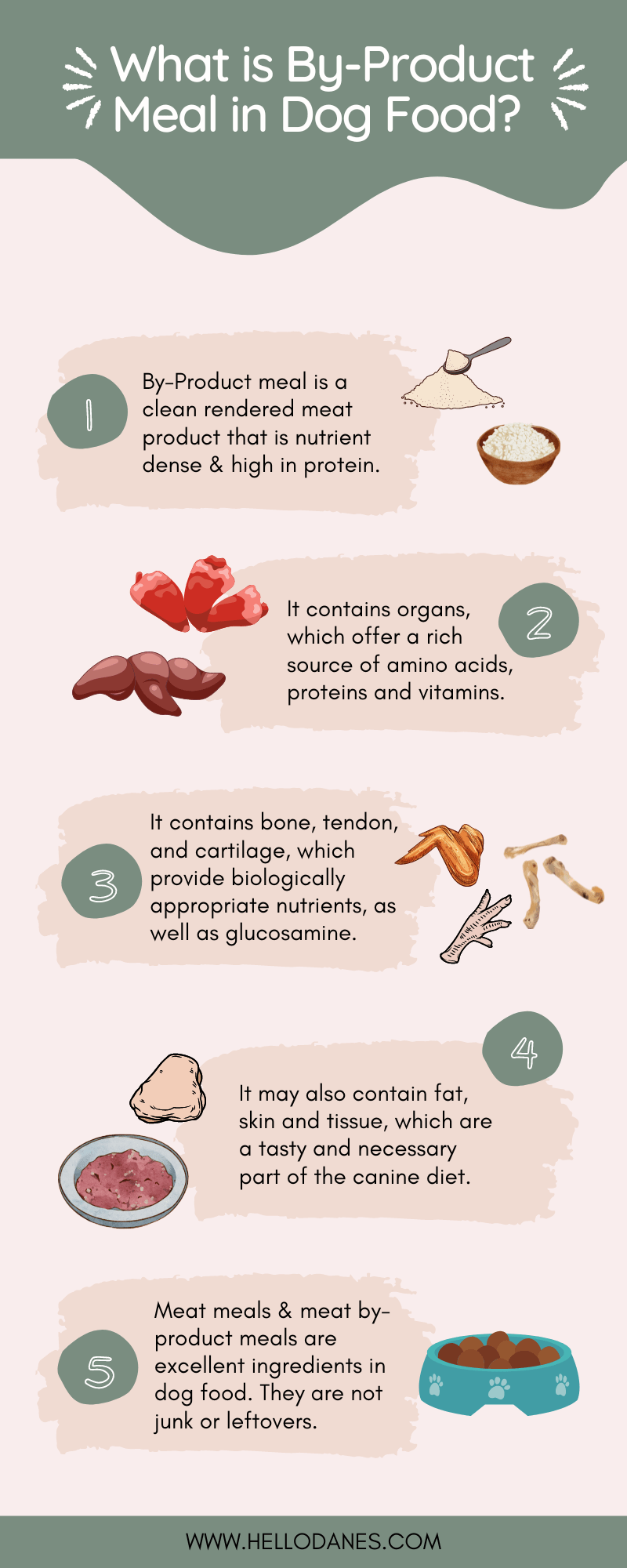 Grain-Inclusive vs. Grain-Free Diet
Grain-free diets (kibble) replace grains and often some of the meat protein as well with ingredients such as lentils, peas, garbanzo beans, and potatoes.

A grain-free kibble is NOT free of carbohydrates!
READ HERE for more information on how grain-free food and poorly formulated diets might cause sudden congestive heart failure in dogs.
When choosing kibble, Great Danes should only be fed a professionally formulated grain-inclusive meat-based diet. Do not feed a grain-free diet to your dog without professional help from a board-certified veterinary canine nutritionist.
You can find one HERE: https://acvn.org/directory/
It's important to note that many common grains used in premium dog food are good for a dog's digestive system. They provide fiber which is great for reducing bloat risk and firming up stools!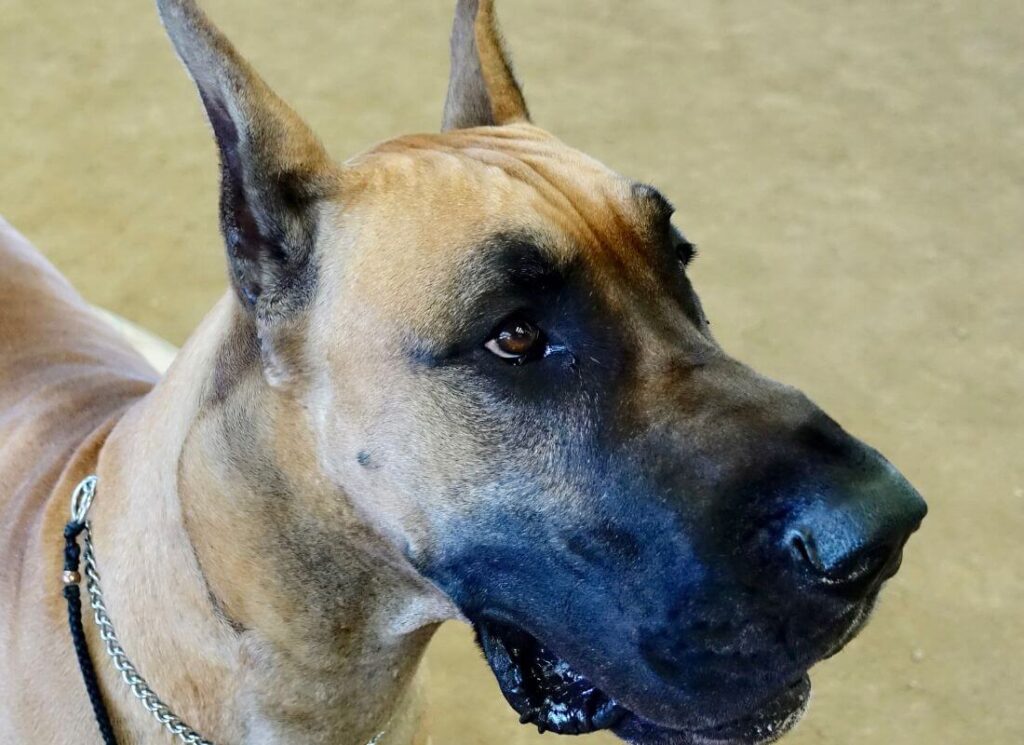 Balanced Calcium + Phosphorus Ratios
This is one of the most important factors to look for on a pet food label for Great Dane adult dogs and puppies, and one that is often overlooked!
We recommend finding foods where the calcium and phosphorus are as close to a 1:1 or 1.3:1 ratio as possible.
Here is a common and acceptable dry matter analysis:
1.1% calcium
0.8% phosphorus
You can also learn more about giant breed nutrition at The Giant Dog Food Project
https://vcahospitals.com/know-your-pet/nutritional-requirements-of-large-and-giant-breed-puppies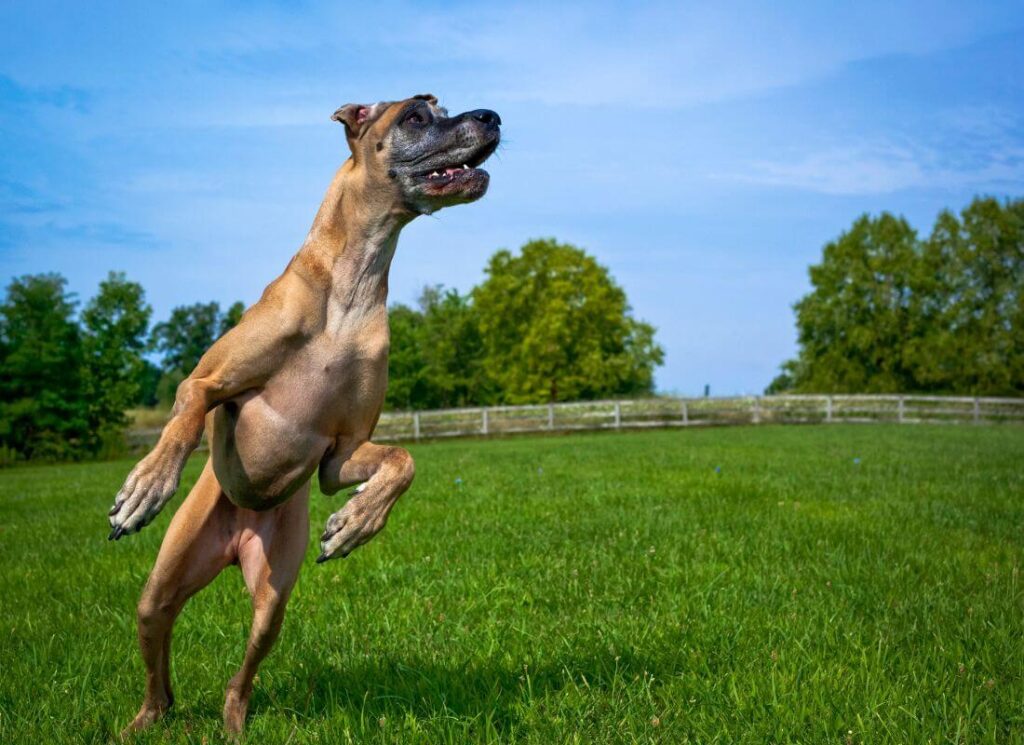 Puppy Food vs. Adult Food
Many people believe that Great Dane Puppies should never be fed puppy food, as it may cause them to grow too quickly.
This is ironic, given the fact that giant breed dogs experience explosive growth and don't mature until 2-3 years of age. If any dog should have puppy food, it's a Great Dane!
"Adult only" is dated advice based on old, outdated, and poorly researched dog foods. Unfortunately, many teenage Danes are suffering from nutritional deficiencies that result from 'adult' foods, making them incredibly lanky.
They often also have chronic loose stools (from overeating to compensate for the missed nutrition) and low muscle mass.
Large or giant breed puppy foods are the way to go. Our dogs deserve to have the status quo changed on this one.
Here are our favorite brands and formulas of food for Great Dane puppies. These have been well researched, properly formulated, and proven in feeding trials for slow, even growth:
This list will be updated soon to include a few Pro Plan SPORT formulas and a very small handful of other brands that qualify. In the meanwhile, everything on that list above is exactly what you need.
Check out THE GIANT DOG FOOD PROJECT where you can compare brands and values head to head.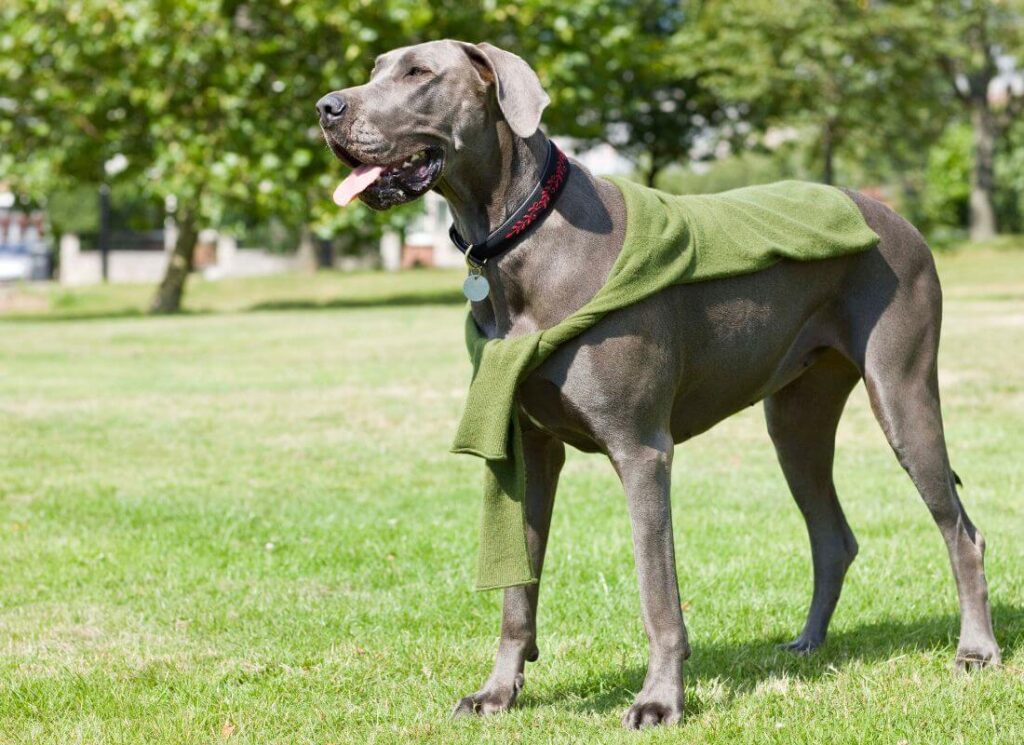 How to Read a Dog Food Ingredients Label
It may be tempting to choose your dog's food based on the packaging or on appealing marketing claims, but it's important to understand how to read the label and the ingredients.
Below we're sharing information about what you should be looking for on a dog food label!
AAFCO Statement
This statement simply indicates that the food meets the nutritional minimums required to be sold as balanced dog food.
Being 'AAFCO Approved' is not a badge of honor, nor is it an indication of quality and health. It's pretty easy to make a dog food meet minimums for certain nutrients.
That said, the AAFCO (Association of American Feed Control Officials) statement is important, as it will give you valuable insight on the dog food label into what the food is formulated for.
For example, some dog foods are formulated for growth, puppies, adults, large breeds, small breeds, or seniors. Life stages are important to consider when choosing dog food!
We like to see statements similar to the one below:
"Animal feeding tests using AAFCO procedures substantiate that (name of food) proves complete and balanced nutrition for (life stage)."
https://www.petmd.com/dog/nutrition/What-Is-AAFCO-and-What-Does-It-Do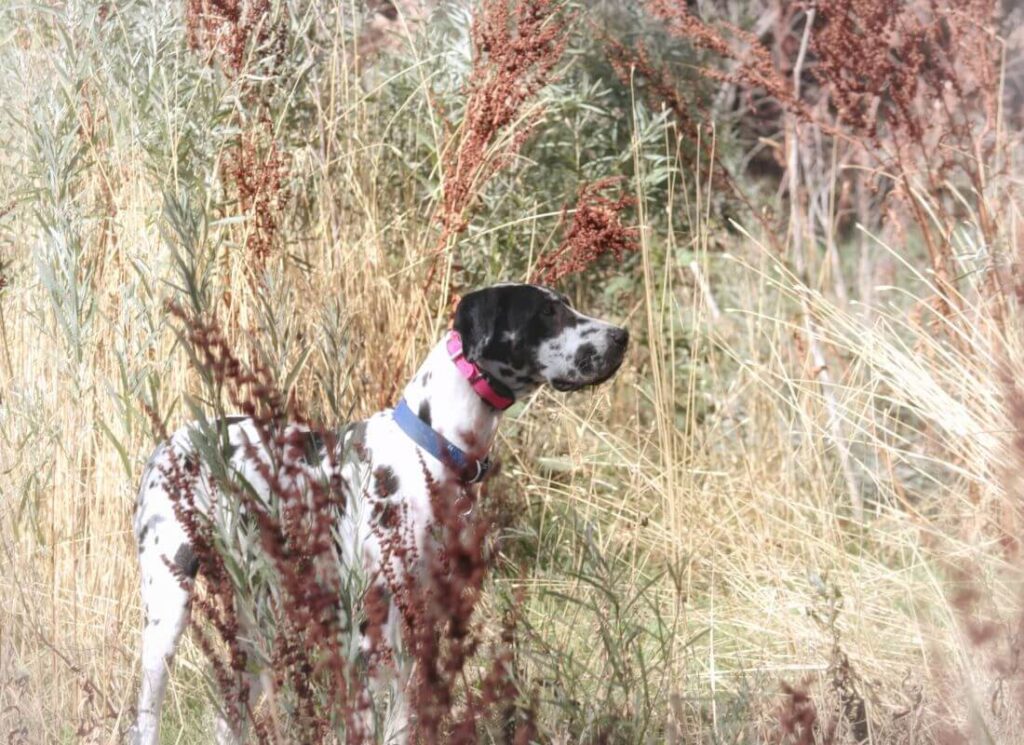 Guaranteed Analysis
The guaranteed analysis is where you'll find the minimum percentage of crude protein and fat, and the maximum percentages of fiber and moisture.
You'll notice that it's slightly different with every single food.
The low-protein myth was debunked in studies, so you don't have to worry anymore!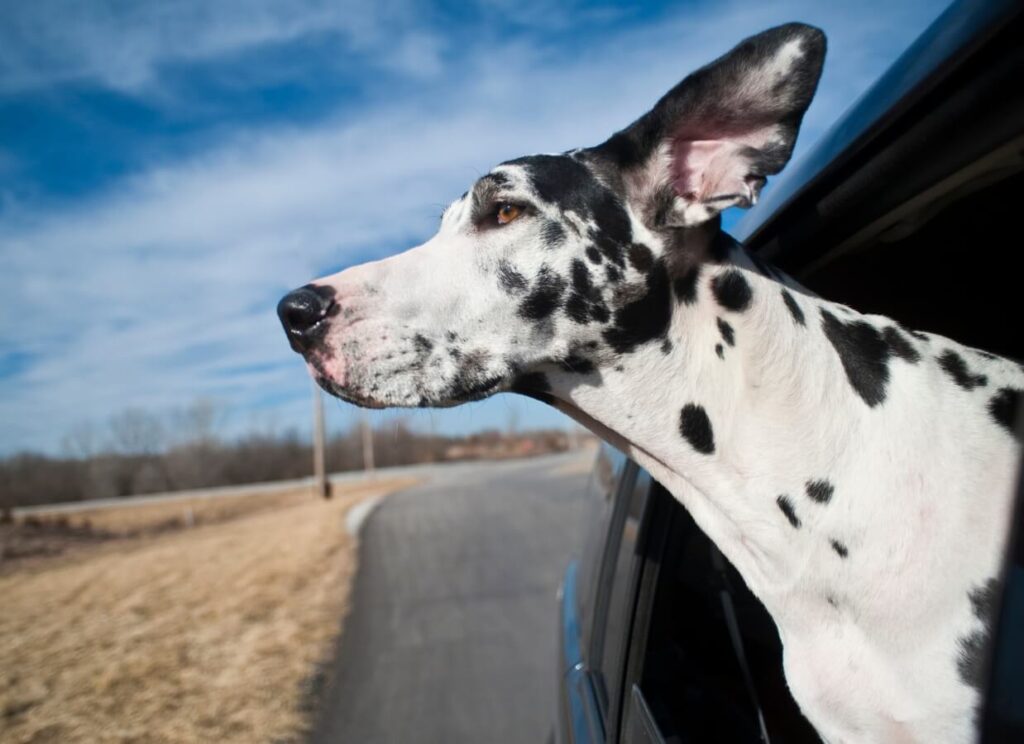 The Ingredients List
Of course, you'll want to look over the ingredients list too, but it's not as important as some may have led you to believe. There are a lot of tricks companies use to make the ingredients list appealing and marketable, however, that doesn't mean that the formulation is correct.
Here are some things you want to look for:
A food that contains a meat meal or meat by-product meal will almost always be the more nutritious choice.
Fancy additions such as spinach, blueberries, apples, or collard greens (for example) are there for marketing purposes and provide very little nutrition. If anything, they may be displacing meat.
Fresh meat, deboned meat, and 'raw' meat in an ingredients list indicate ingredients that are roughly 70% water. Not only that, but once they are extruded (dried) into kibble they are no longer fresh and there isn't much left, either. Think about this one for a moment.
There is no such thing as fillers in dry dog food. (READ HERE)
Logically, a company isn't going to waste money on such things as it would increase shipping, manufacturing, sourcing, and formulation costs, not to mention kill dogs from malnutrition.
Corn, for example, has a better nutrient profile than beef. Once it's ground (for inclusion in kibble), it is 98% digestible and a fantastic source of linoleic acid (Omega 6).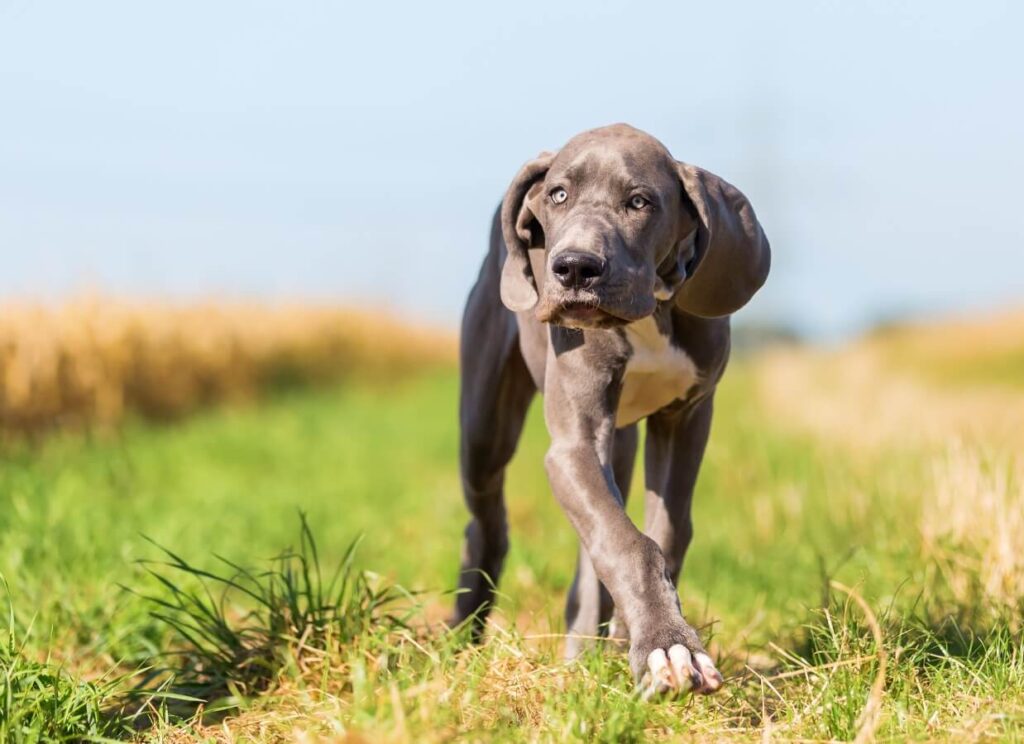 We recommend choosing a well-established dog food brand with solid and reliable quality control and sourcing practices.
Recalls
Recalls are actually a positive thing, indicating that a dog food company is willing to stand by their product and take it off the market if they find something wrong with it.
Recently, Darwin's pet food has been urged by the FDA to take some of its products off the shelves because of salmonella that was making pets sick. They refused.

After all, issuing a recall is bad news for the marketing department…
So in other words, just because dog food manufacturers claim "no recalls" doesn't mean that they have a clean record. Ask more questions.
https://www.fda.gov/animal-veterinary/outbreaks-and-advisories/fda-cautions-pet-owners-not-feed-certain-lots-darwins-natural-pet-products-due-salmonella
Not only was Darwin's caught avoiding recalls, Champion foods (the makers of Acana and Orijen) knowingly left food on the shelves that had been produced with contaminated beef tallow. The tallow tested positive for phenobarbitol (the euthanasia drug), and Champion chose not to recall the foods from that lot.
"No recalls" is a shady marketing tactic. Don't fall for it.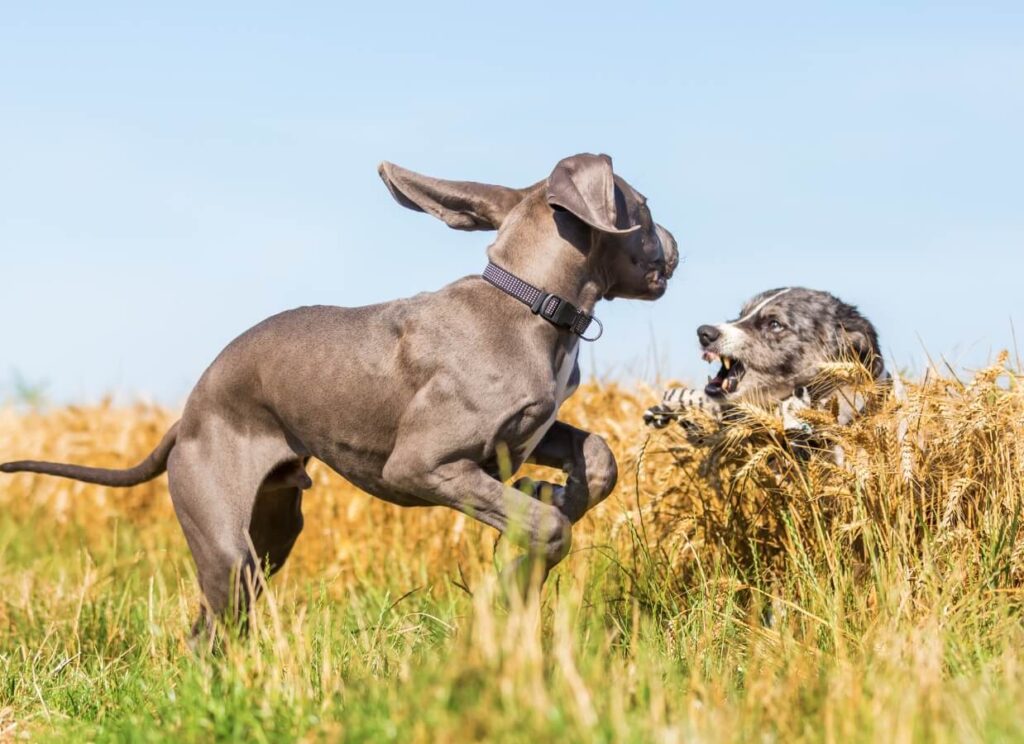 Deceptive Dog Food Marketing Tricks
I'm going to outline some common deceptive marketing tricks that many dog food brands use to encourage you to make a purchase.
I remember being very surprised by these the first time I'd heard them! After all, isn't a fresh, holistic diet the better choice?
Maybe not.
The best dog food is not what you think. Read on…
Ingredient Splitting
With ingredient splitting, brands are able to effectively reorganize the ingredients list to be more appealing to you.
Yikes!
I wrote a whole comprehensive blog post on ingredient splitting if you really want to dig in!
Here are common ingredients that some dog food brands use, and how they might split them up.
Pea Fiber, for example, on its own is ok. Where you want to be cautious is when you see 2 or more forms of the same ingredient:
PEAS: Peas, Pea Fiber, Pea Protein, Pea Flour
LENTILS: Green Lentils, Red Lentils, Yellow Lentils, Whole Lentils, Ground Lentils, Lentil Flour, Lentil Fiber
POTATOES: Potatoes, Potato Flour, Potato Protein, Potato Fiber
OATS: Oat, Oatmeal, Whole Oats, Oat Groats, Oat Fiber, Oat Flour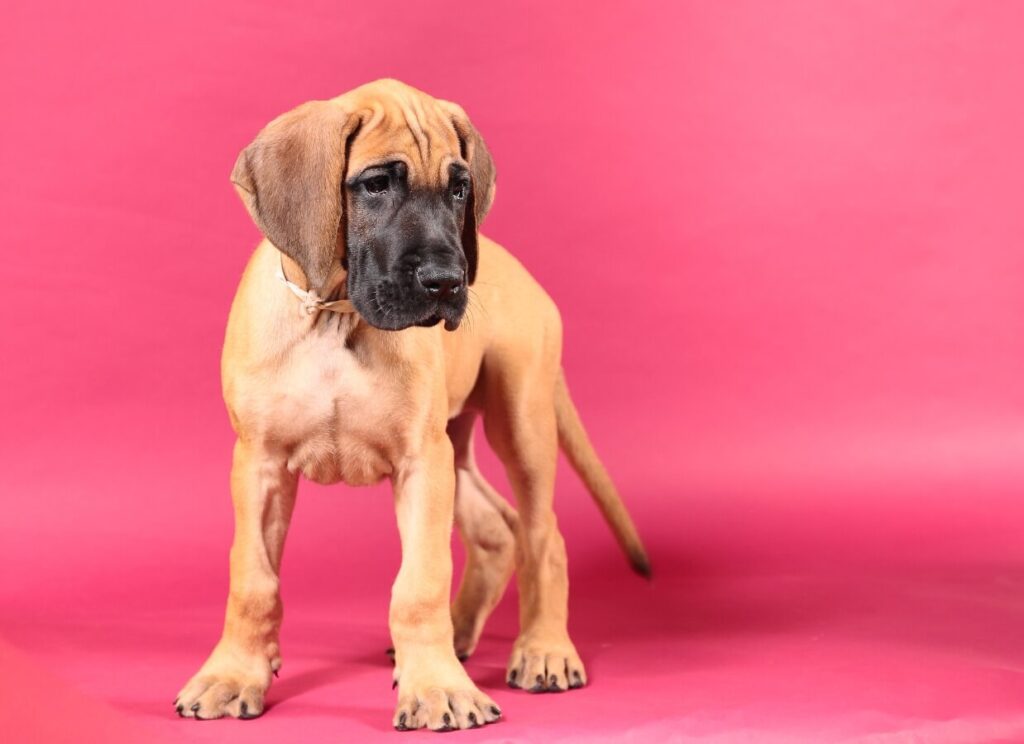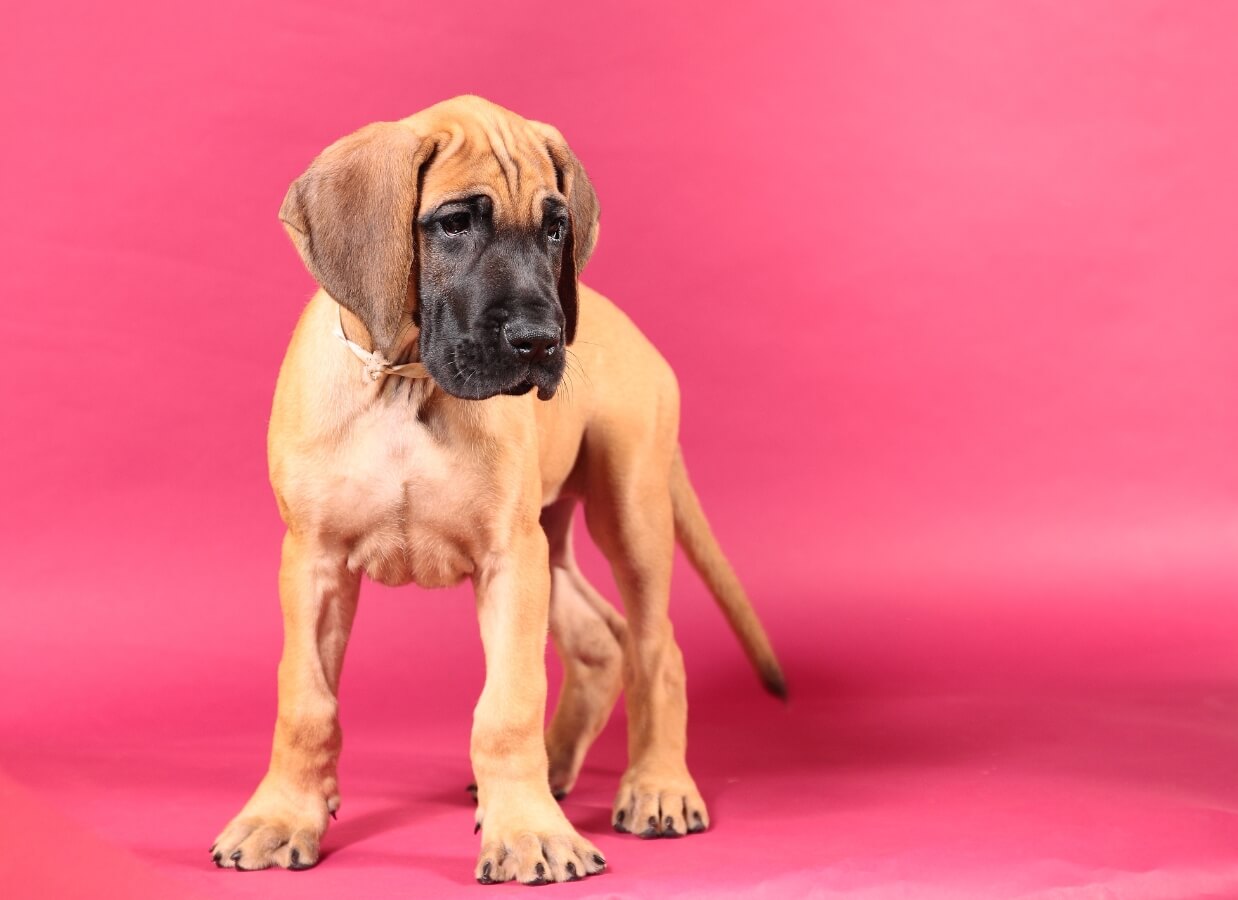 Unregulated Marketing Terms
Many dog food companies are exceptional at marketing but don't have qualified professionals or research to back up their claims.
Not only that, it's important to keep in mind that many common pet food marketing terms are unregulated and have no legal definition.
This means that anybody can start a dog food company, have a company manufacture it for them, and then promote the food with any of the following terms:
Holistic
Super-Premium
Family-Owned & Operated
Biologically Appropriate
Species Appropriate
Healthy & Nutritious
Perfectly Balanced
Scientifically Formulated
Vet Approved
Just because a food is labeled as "holistic and super premium" does not mean, in any way, that it's actually better for your pet.
As a matter of fact, the opposite may be true! Of course, we want to feed our dogs a high-quality diet. However, educated pet owners know how to sort out facts from marketing.
Royal Canin Giant Breed Dog Food Review
Trash or treasure?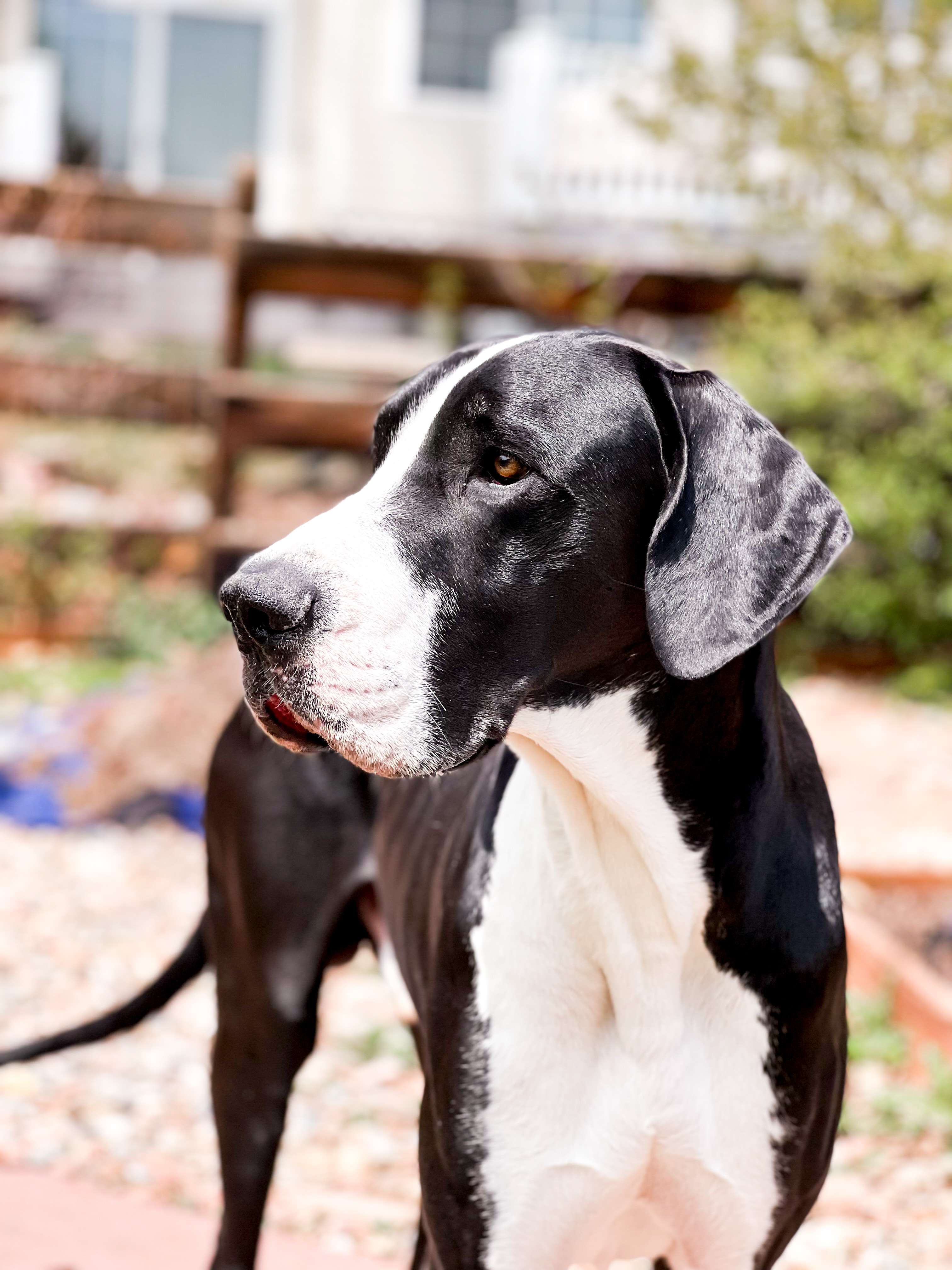 False Claims
Some dog food brands and influencers will use dubious and often false, unverifiable, or inaccurate claims that are designed to be misleading and confusing.
Here are some common examples:
"Your pet will live longer on this food"
"This food prevents cancer"
"This food will eliminate allergies"
"Dry dog food has no nutrients"
"Kibble causes cancer"
"Corn is bad for dogs"
"Most dogs are allergic to chicken"
"Contains 'fresh' or 'raw' meat" (not possible after extrusion)
"Grains are bad for dogs and cause allergies and cancer"
"Purina, Royal Canin, Hill's, Eukanuba, and Iam's are junk foods full of fillers and diseased animals. They are not high-quality food"
"Recalls are BAD!"
"Kibble is full of fillers"
"Feeding kibble is like feeding your dog french fries or cereal for every meal"
No food company should be making claims that their food will increase lifespan or reduce the risk of cancer, however, such statements are common.
It's time for the dog community to stand up and learn to separate fact (science) from marketing buzzwords.
Unfortunately, the veterinary community is weary. They want to help our pets, not harm them.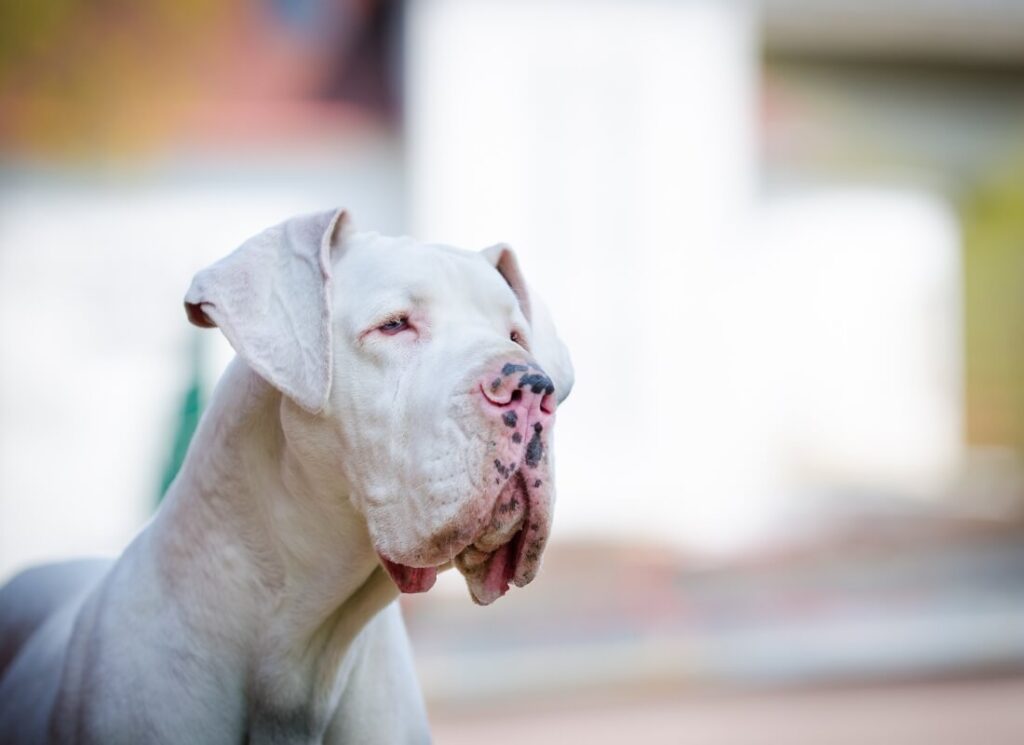 The Best Dog Foods by Brand
When choosing food for your dog, I believe the following options are among the best nutrition you can get when choosing a kibble dry food diet.
This list will be updated soon to include a few Pro Plan SPORT formulas and a very small handful of other brands that qualify. In the meanwhile, everything on that list above is exactly what you need.
Check out THE GIANT DOG FOOD PROJECT where you can compare brands and values head to head.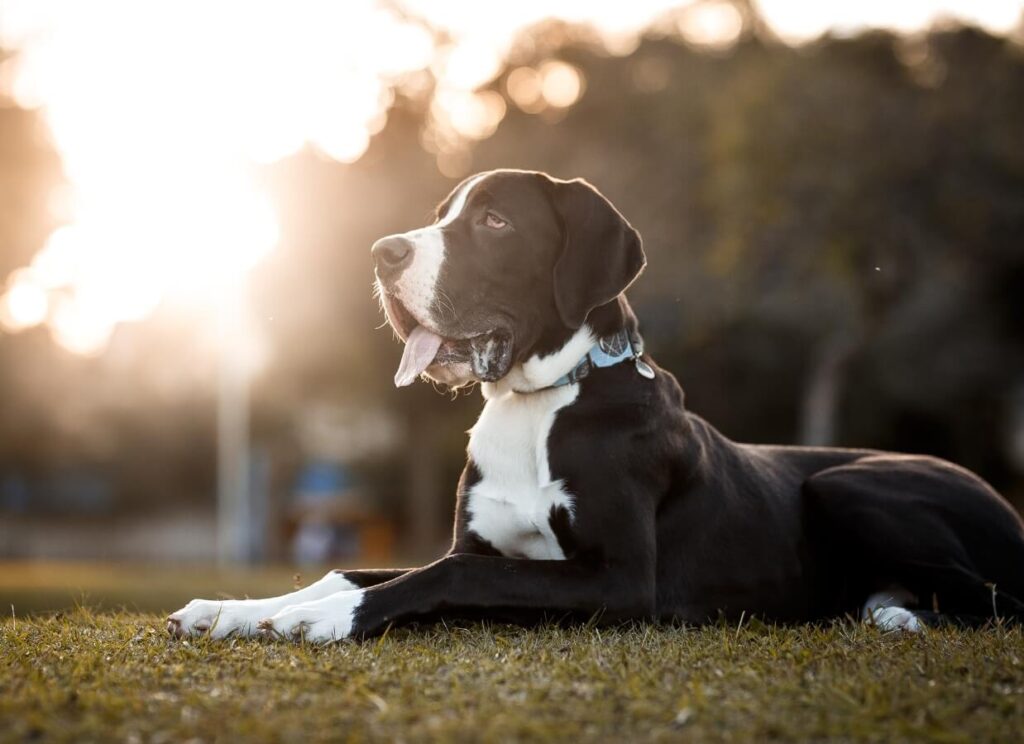 How to Feed a Great Dane
When feeding your dog, we recommend the use of stainless or ceramic bowls which, unlike plastic bowls, will not harbor bacteria that can cause irritation and zits.
For reference on how much to feed your dog, check out our Ultimate Great Dane Feeding Chart post!
Small, Frequent Meals
Studies have shown that feeding your dog smaller, more frequent meals may help reduce the risk of bloat (GDV).
Large, single meals are not safe for large and giant breed dogs.
We recommend feeding your dog at least 2, if not 3 meals each day. Encourage slow, stress-free eating!
Wet Food or Fresh Food Toppers
I always add canned food to my dog's diet! Not only do they absolutely love it, but I feel good knowing that they are getting some variety in their diet. Wet dog food tends to be lower in carbohydrates, as well.
Extruded dry food is not bad, but there is some logic to giving dogs wet food containing moisture.
I also love adding balanced raw food for the same purpose. Balanced raw will contain meat, organ, and bone (yes, by-products).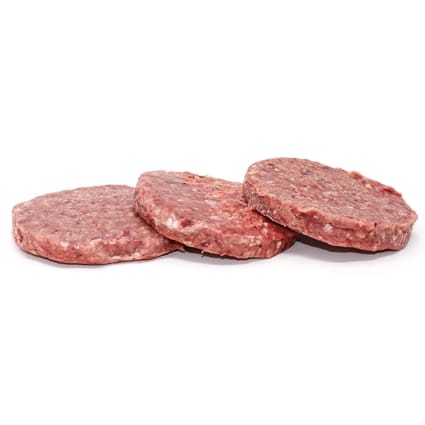 Check out Raws Paws using the link above and enter code HELLODANES10 for 10% off your raw dog food order.
Make sure you feed your dog quality canned food that matches your dog's dry food. It should be a complete and balanced formula, not one created only for supplemental feeding.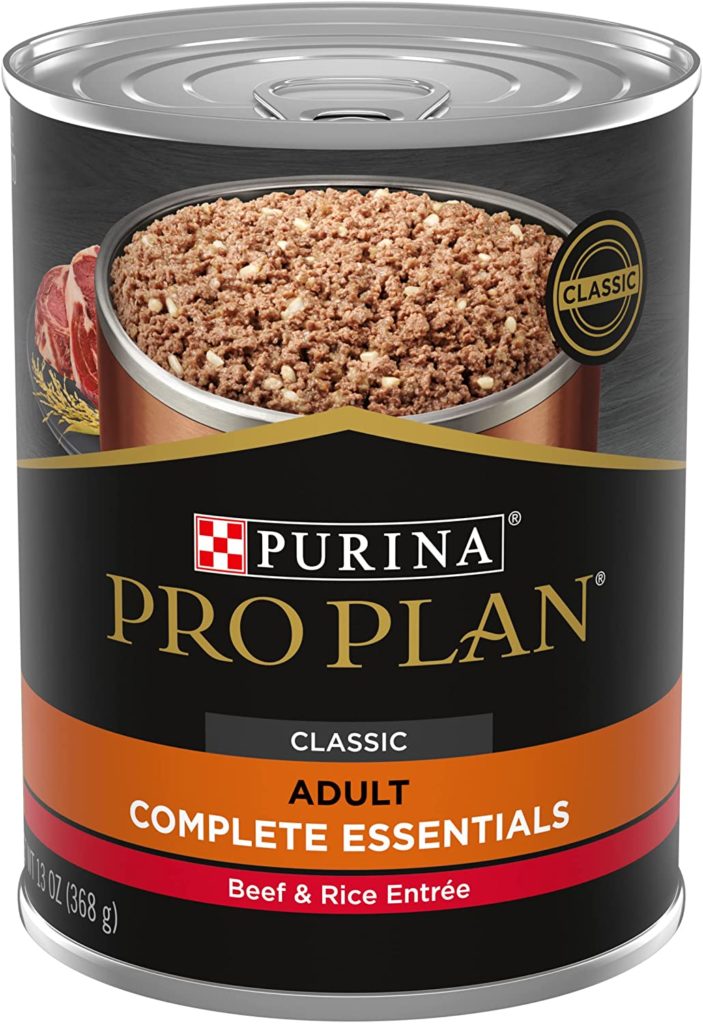 Supplements for Great Danes
Don't over-supplement your Great Dane!
If you have chosen well-formulated dry food + canned wet food, you don't need to go nuts with the expensive supplements.
Here are some that you may need or want, depending on your dog's needs!
Esther C is commonly used for Great Dane puppies to help support their growth and reduce the chance of knuckling, HOD, or Panosteitis. While this is not well-researched, many people swear by it. Get Esther C HERE.
Joint Support is ideal for dogs who are older (age 3+) or that are struggling with orthopedic issues, including poor structure, flat feet, arthritis, missing limbs, or dysplasia. I recommend GLYCOFLEX Stage III, get it HERE.
Fish Oil can be helpful for dogs that struggle with dry or itchy skin and a dull coat.
Raw Eggs can be a treat for a dog and will be loaded with vitamins, minerals, and fatty acids, however, don't overdo it. Too much egg can cause a biotin deficiency.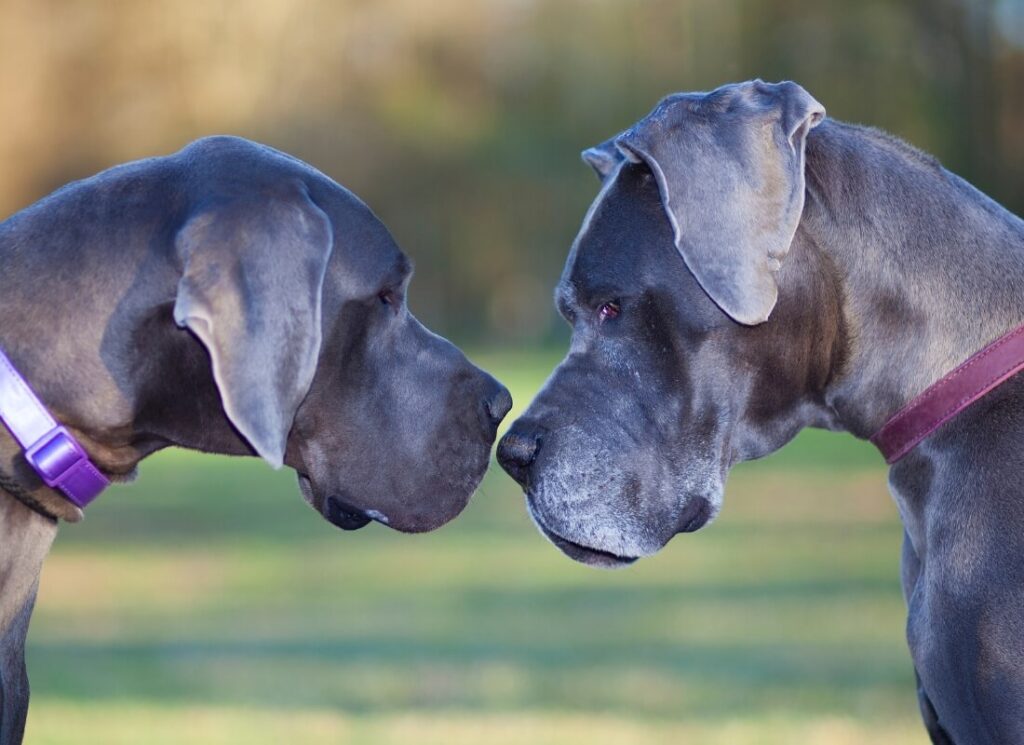 Tips for Dogs with Allergies
Some dogs have allergies. Most are environmental, but some are caused by a food allergy.
The signs and symptoms of allergies and intolerances of any kind include:
Itching
Redness
Sore spots
Hair loss
Swollen paws
Hives
These things can also be indications of other things, too. Not just allergies. Don't immediately jump to food being the cause.
Chances are, however, that your dog is not actually allergic to those things! Whole grains are very nutritious in dry dog food and don't need to be avoided.
Read HERE about how your Dane is not actually allergic to chicken.
Blood and saliva allergy tests are NOT accurate and many times are nothing more than a money-grabbing scam. This is especially true of tests you can purchase and complete yourself.
A food trial elimination diet and careful monitoring of symptoms to identify triggers will be key. If blood or saliva tests are taken, repeat them with a different company for secondary results and use them as part of your treatment plan, not as the sole source of information.
Many dogs with allergies actually have environmental intolerances. Constant food switching to 'find something that works' and bribery to encourage eating (which can unbalance the diet) will make these things worse.
Instead, try this:
Talk to your veterinarian, have an open discussion
Choose a well-formulated food and stick with it for 4-6 months, minimum
Wipe dirt and dander from the fur and paws nightly using a damp towel
Ask about medicated wipes or shampoo
Talk about medications
We recommend seeking veterinary advice for food allergies or anything related to your pet's health for all dogs and pet owners.