It's no secret that leash training dogs can be a huge pain.
In fact, according to yours truly: me, it has been proven as one of the most challenging things about owning a dog.
Why is it so difficult?
I really will admit when I got my first puppies (yes- that's right, I got two 8 week old dogs at once), I thought that daily walks would be fun, and we could start walking right away.
Peaceful, nice, enjoyable.
NOT.
My dogs were terrible. It's one thing to have your dog pulling on the leash and killing your back (you can just pretend it doesn't hurt, wave kindly to people passing by, and act like you have everything put together), but when your puppy is rapidly gaining weight (Great Danes) and becoming stronger than you- the pull becomes a problem: physically, mentally AND emotionally.
I was really stressed. Matter of fact, I was doomed.
LEASH TRAINING DOGS STINKS
I said it. Leash training dogs is NOT FUN!!!
It is SO much work.
Why are all these people walking all of their perfectly behaved dogs around the neighborhood?
Meanwhile, me: My dog's leash is tangled around my entire body like a trap, my dog starts pulling and I do everything I can to pretend it isn't about to trip me to the concrete. I'm trying to walk nicely- wait, aren't the dogs supposed to be the ones who are walking nicely? Don't even BEGIN to think about carrying a COFFEE on this walk. I need BOTH hands.
Dog walks are no freaking joke.
LOOSE LEASH: MORE LIKE A FOREIGN LANGUAGE
One day, I took one puppy on a walk (que the pulling) with a friend.
She said, 'you should really teach loose leash walking with her'.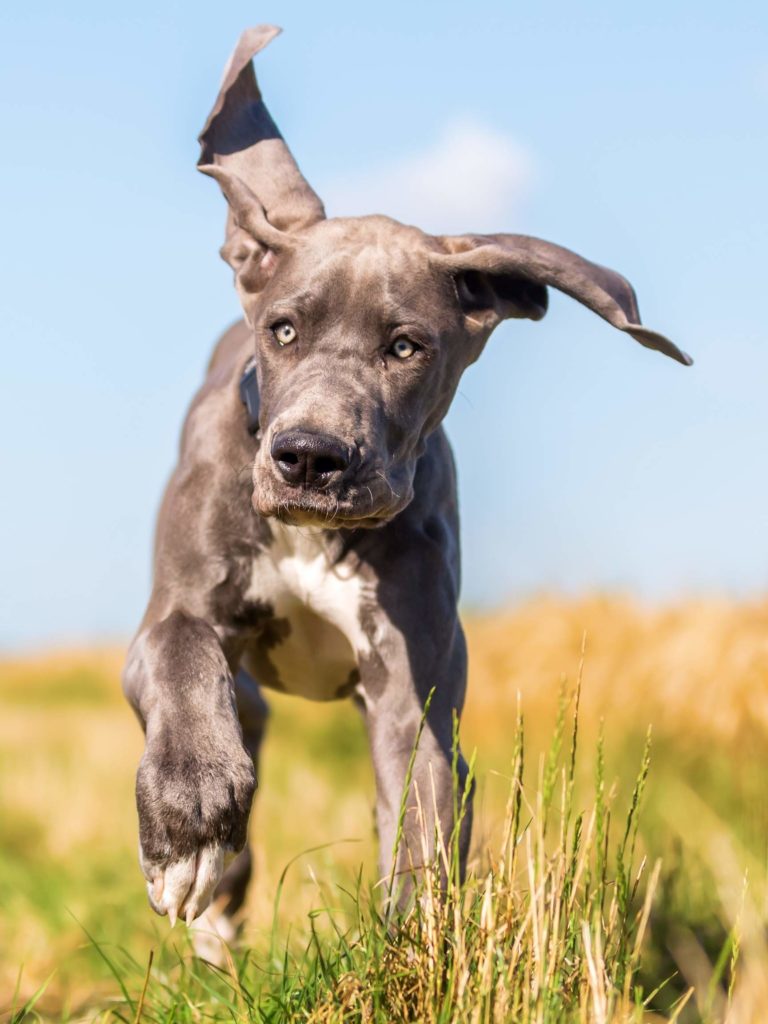 Gulp. I am pretty sure you could see the sweat beads on my forehead. WHAT THE HECK IS LOOSE LEASH WALKING? I think my friend could probably HEAR my panic.
'Of course I am practicing loose leash skills with her… We practice loose leash walking ALL the time'…. I could barely muster the words.
We walk forward a few steps- my puppy pulling on both her collar and leash as I pretend to know what I've gotten myself into.
GOOGLE QUERY: LOOSE LEASH WALKING TIPS
Panic sets in and I set to the googling.
Loose leash walking. Dog training. Dog walks that don't create anxiety attacks.
Google dings back with 1 billion results.
"Loose leash walking in dog training: it means that the dog walks on a loose leash, without pulling ahead of or behind the person holding the end of the leash. In order to train your dog to walk on a loose leash, you'll need patience and consistency."
Well that's just great.
I'm going to need more than just patience and consistency- I'm going to need a MIRACLE.
Wish me luck. Slam computer shut.
LEARNING TO LOVE LEASH TRAINING
Well, my dogs new how to grow fast, but they did not know how to walk nicely even though we continued to practice walking.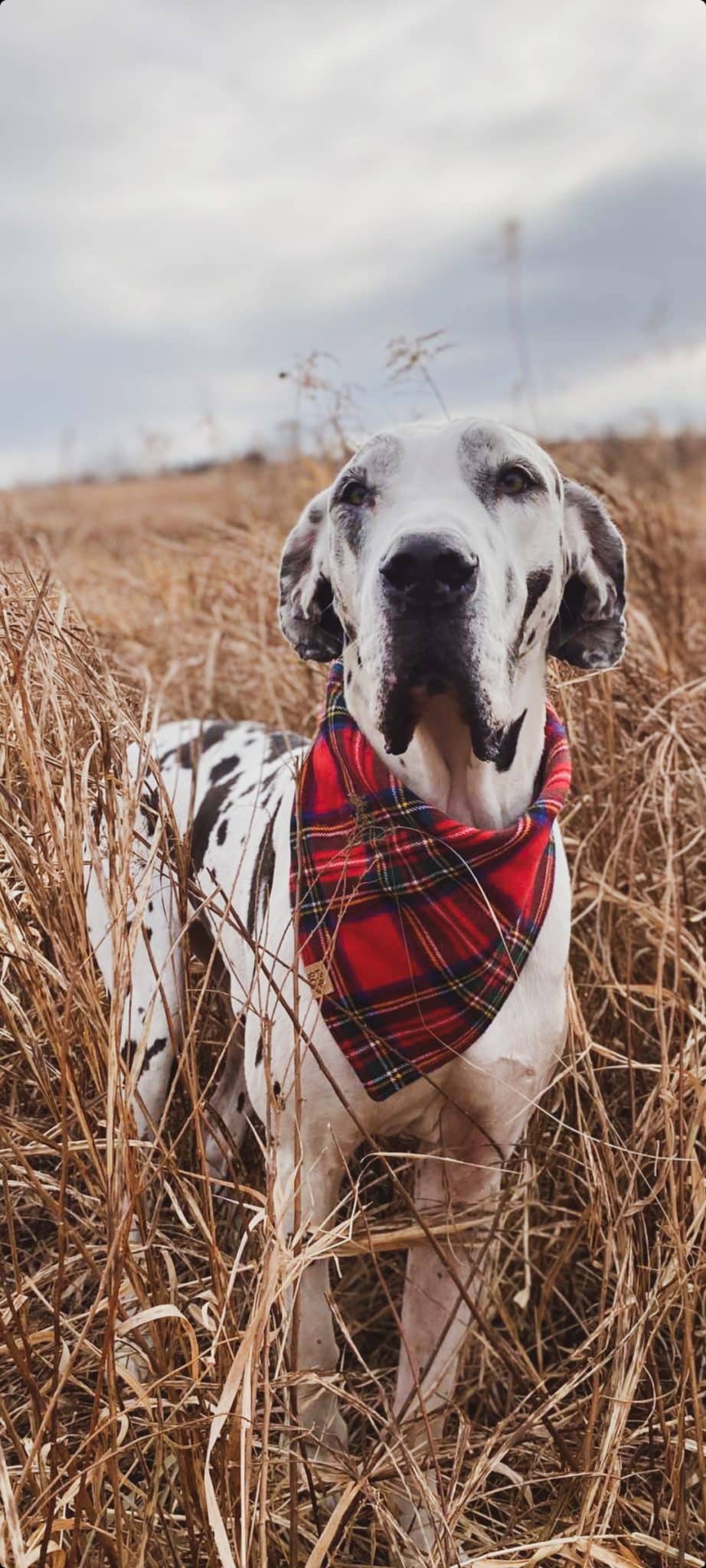 But, I knew I needed to keep practicing leash training or else we would literally never be able to leave the house.
I started my quest for teaching loose leash walking.
THE RIGHT EQUIPMENT TO LEASH TRAIN
I quickly learned that in order to get these two demons, I mean puppies, leash trained- we were going to need the right stuff.
All I had was a flat collar, and it felt like every time we went to practice leash training it was more like a 'choke your puppy' training session.
No, really. Both dogs would end up coughing from the amount of pulling and strain on their throats.
I'm no professional- but I knew that was not healthy. So, I investigated which items are healthiest for dogs to walk on a leash.
Here is what I found:
FLAT COLLAR OTHERWISE KNOWN AS A 'REGULAR' COLLAR FOR NOOBS LIKE ME
Your dog's collar might be adorable but if it is hurting your dog, what's the point?
I found that a flat collar was actually really uncomfortable for my puppy and it constricted her breathing. (Yes- every dog DOES need a regular collar for multiple reasons, including tags/identification, but is it best for training? Not really.)
Heres a cute one… because it's cute…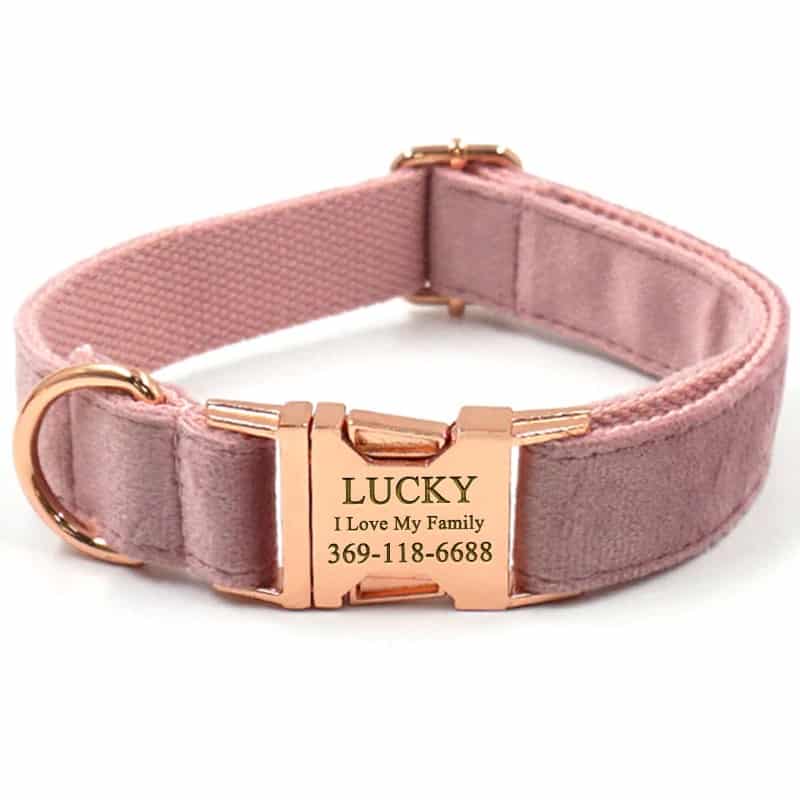 Anyways, I knew I needed to find something different if we were going to make any progress with leash training.
Using a regular collar can put strain on your dogs throat and neck, ESPECIALLY when they pull or if they are regularly pulling on the leash.
MARTINGALE COLLAR
A martingale collar is a type of dog collar that provides more control over the animal without the choking effect of a slip collar.
A martingale collar is often used on dogs who pull on their leash.
The martingale collar was specifically designed for sighthounds, which have necks that are larger than their heads and can easily slip out of standard collars.
Martingale collars have become popular with dog owners.
SLIP COLLAR OR CHOKE COLLAR
A slip collar (also called a choke chain or check chain) is a type of dog collar that consists of a loop of material that tightens when pulled, and is loosened when the lead is slackened.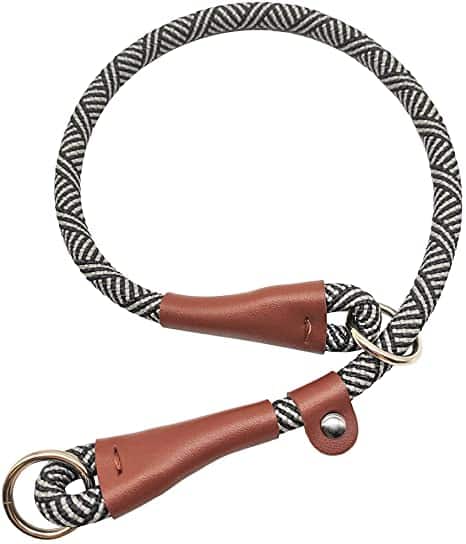 Slip collars are used to train dogs to not pull on their leash, as the tightening of the collar around the neck punishes the dog for pulling.
At first, I thought that training your dog to walk on a choke collar or slip collar seemed cruel. But, as I looked into it, I learned that it is actually WAY better for the dog and their entire body to use a slip/choke collar rather than constantly yanking their neck around on a regular collar and leash.
GENTLE LEADER
The Gentle Leader is one that really got me angry.
The marketing of the 'gentle' leader is brilliant- and EVERYONE falls for it- it's gentle of course, right?
WRONG.
The gentle leader is actually a head halter that puts pressure on your dog's muzzle- not their neck like a regular collar.
This type of leash is used by putting the loop around your dog's muzzle and clipping the leash to the ring on the back of the head.
I'm sure you can imagine how this would feel, being yanked or even pulled by the muzzle.
I can't imagine anything less gentle.
LEASH
Since my puppy was pulling incessantly on the leash, I opted for a short, tight one that was within my control. I didn't want them to pull me over or hurt themselves, so I went with a sturdy, comfortable leash.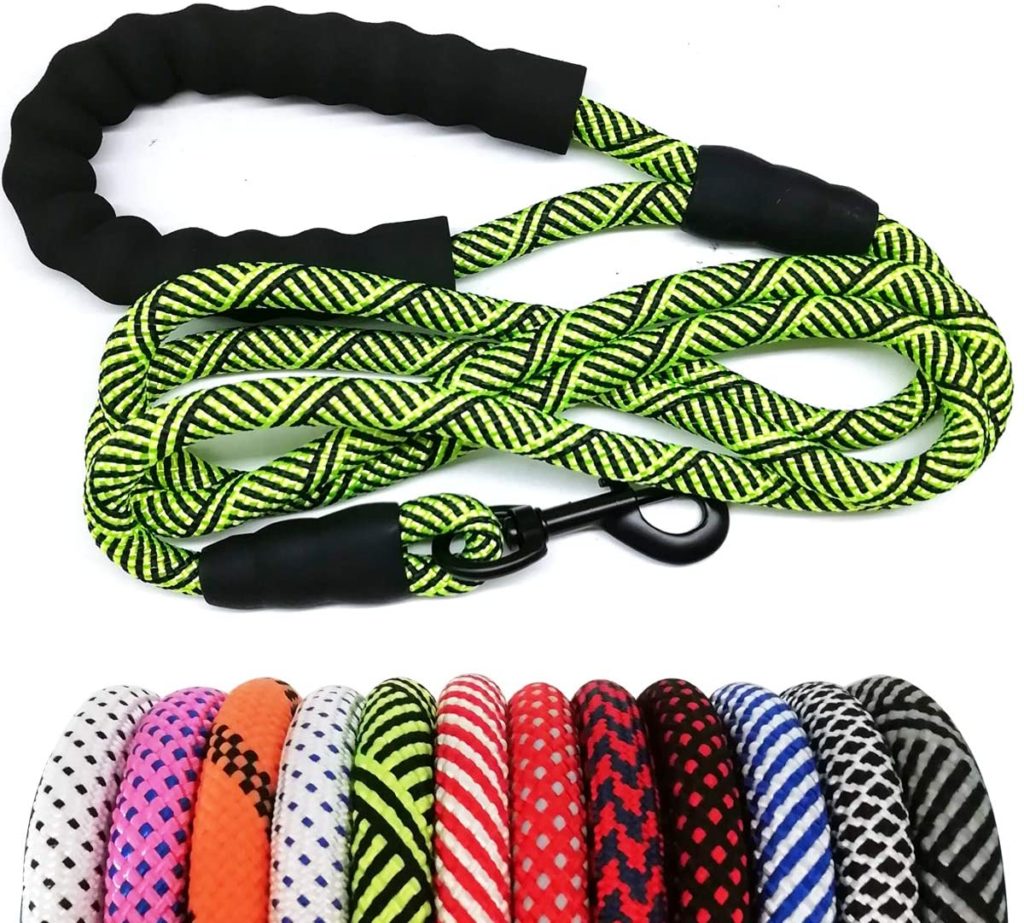 I also got a long leash, which is very helpful in the training process.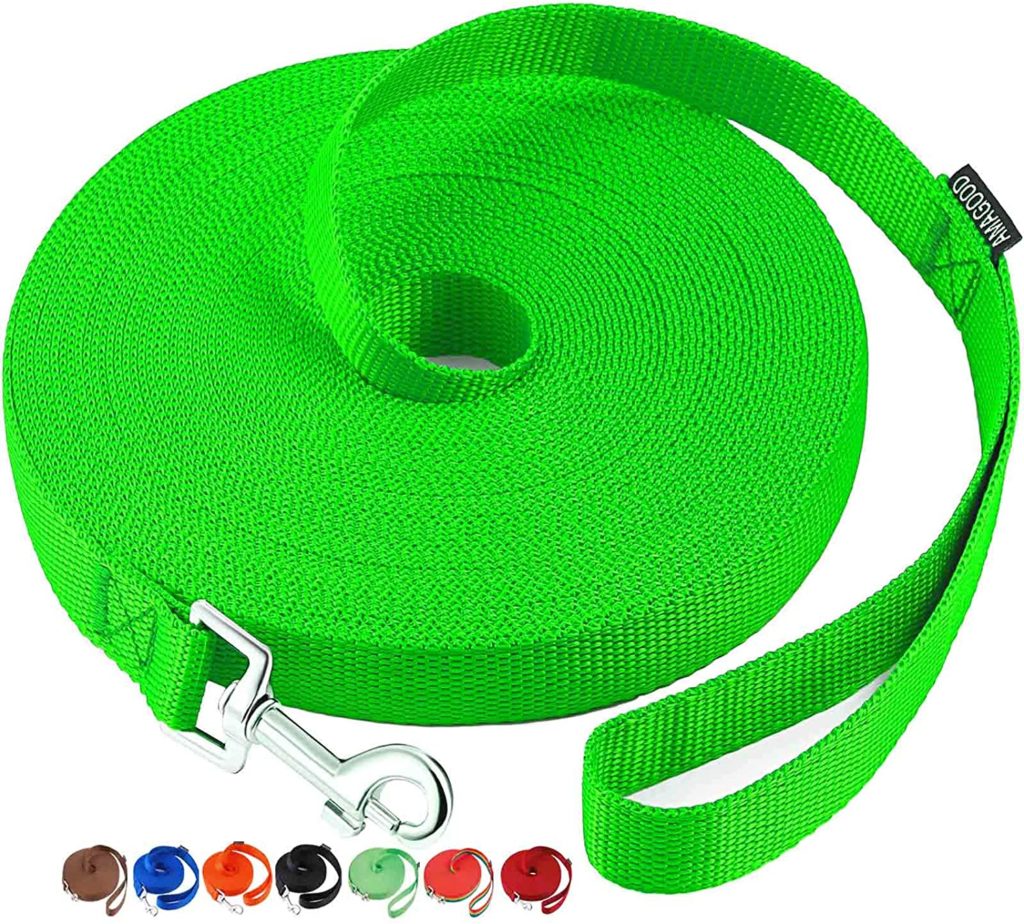 PRONG COLLARS
Prong collars are another one of those items that are scrutinized by pet owners but used nicely by a good professional trainer.
A prong collar is a type of dog collar that has metal "prongs" that point inwards, towards the dog's neck. Prong collars are NOT cruel.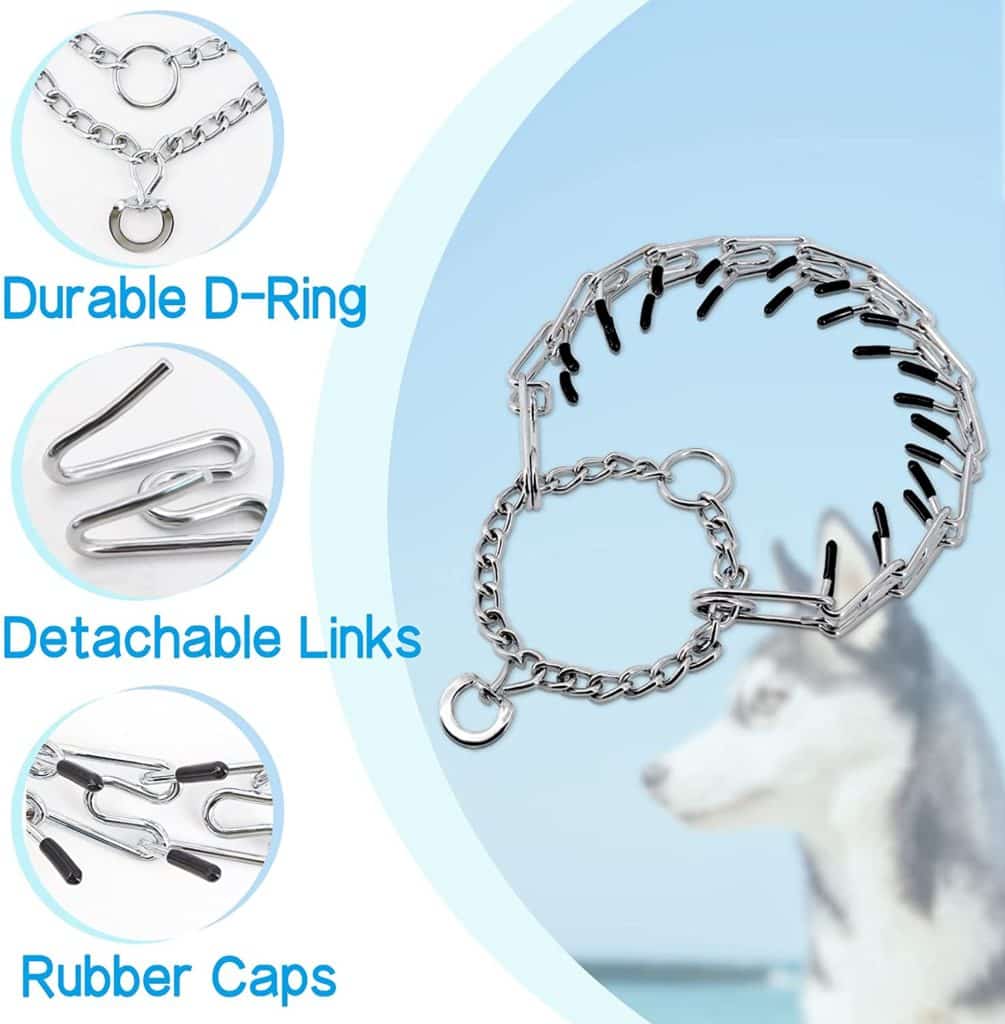 Prong collars are used to train dogs not to pull on their leash, as the prongs will pinch the skin if the dog tries to pull away from the owner.
RETRACTABLE LEASH
I quickly learned that most dogs will be extremely dangerous on a retractable leash.
They can get tangled up in it, or worse- run out into the street without you knowing and get hit by a car.
I decided against using one for my own safety and the safety of my dogs during training.
E COLLAR
E collars were intriguing to me! An e collar is NOT a shock collar. An e collar is a collar that helps you COMMUNICATE with your dog.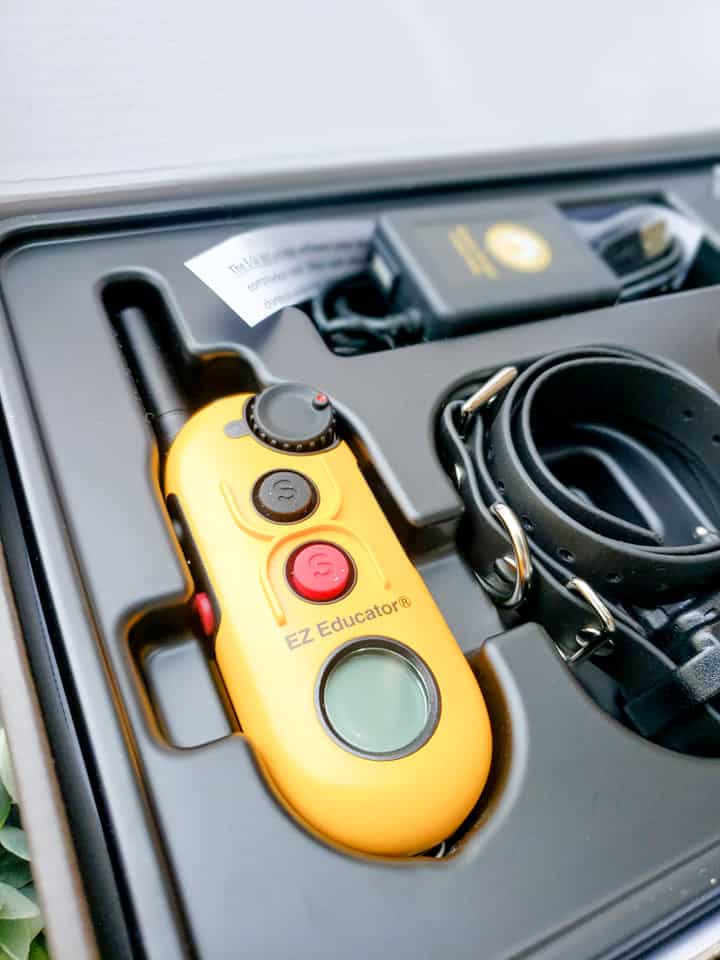 Inside of the e collar is a receiver and a transmitter. The receiver goes on the dog's collar and the transmitter stays with you, usually around your neck.
The e collar is used to leash train, and teach your dog what is right from wrong.
MY CHOICES FOR TRAINING SESSIONS AND EQUIPMENT
I REALLY loved the fundamentals behind the e collar methods to training your dog with both positive reinforcement as well as correcting when the dog is wrong- so I opted for using an e collar, a regular collar, and a standard leash. I also got a long leash for using inside the house or backyard to begin to start leash training.
Now that I had all the right equipment, it was time to start training!
TIPS FOR SUCCESSFUL LOOSE LEASH WALKING
Start in a distraction free area- like your backyard.
Put the long leash on your dog, and let them walk around without you doing anything.
This is called "getting used to the feel of the leash."
Offer treats when your dog is walking nicely, keep your sessions short, and
Once you regularly see good behavior you can gradually increase to spending more time on the lead and add in some distractions.
ADD IN DISTRACTIONS
Have a family member or friend stand about 20 feet away from you, holding your dog's favorite treat.
If your dog pulls ahead and creates leash tension, ask them to stop pulling by saying "stop" and "sit".
Keep practicing this until your dog is really good at it, then move on to other distractions like another person or animal walking by.
Remember- baby steps! Rome wasn't built in a day.
INCORPORATING TREATS
In my opinion, treats are an essential part of training your dog.
I made sure to include a treat every few minutes or even seconds during short periods of training. I got a treat pouch and kept the treats close by at all times!
Here are the treats that my puppy absolutely LOVES!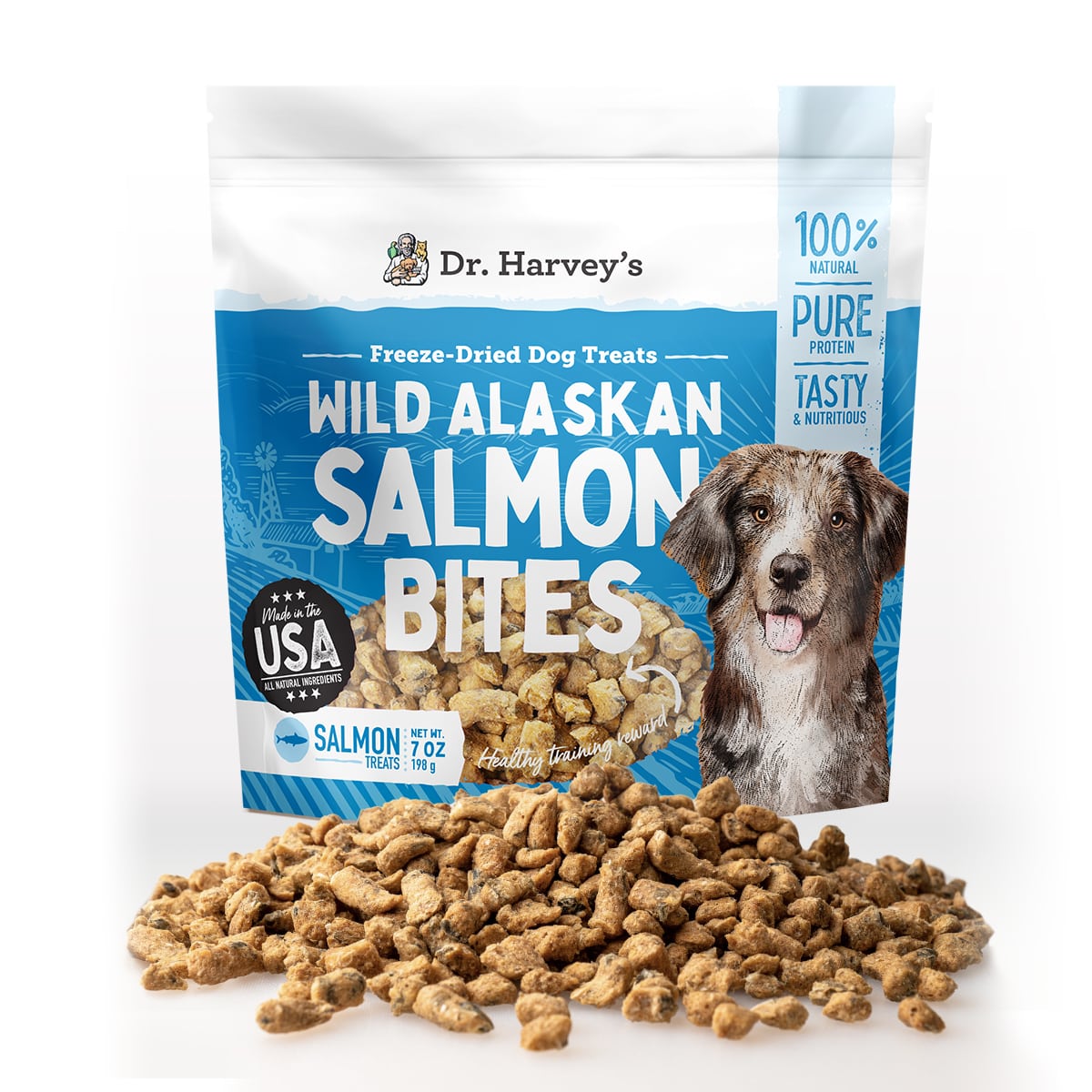 Now it's time to start walking!
As you walk, keep the slack in the leash- don't let your dog get ahead of you or lag behind.
If they start to pull, stop walking and make them sit until the slack is back in the leash.
PRACTICING PATIENCE (WHILE YOUR DOG PULLS ON THE LEASH)
One of the most important things to remember while leash training is to be patient!
Your dog has probably been pulling on the leash their whole life, so it's going to take some time for them to adjust.
Be consistent with your commands and using treats as rewards, and eventually you'll see results!
WALKING YOUR DOG: ENJOYMENT VS. SURVIVAL MODE
If you are as desperate as I am to teach your dog to walk on a leash, you probably understand that there are times that your dog really might not listen, might pull constantly and walking might not be fun.
SPOILER ALERT: sometimes your dog just needs to go for a quick walk to potty and it might not be the right time to train your dog.
Set aside collar and leash time daily if you can, be intentional about correcting behavioral issues, but do not be a perfectionist.
Walking with your dog is a process that sometimes comes in waves of ups and downs. Be sure to really recognize when your dog is 'off duty' and can have some 'free time' to stop and smell the roses.
DOG WALKS: THEY CAN BE FUN! (I PROMISE)
I started off thinking that getting a dog to walk appropriately was absolutely miserable.
But as I continue walking my dog every single day, I have learned that every walk is different.
Sometimes, I will have my dog's attention completely, and sometimes I won't.
But, EVERY single walk does teach me something new about them, and I have learned that in order to train your dog you have to dig inside of yourself as well.
Some of my most cherished memories and moments are just me and my dog out for a walk. I promise, it does get better!
LEASH TRAINING: THE FINAL VERDICT? WORTH IT. YES. A MILLION TIMES OVER.
Although training a puppy or older dog is NEVER easy- when you get a dog you have to start leash training.
Over time, with a million of hours of practice, blood, sweat and tears, my dog has become reliable both on leash and off leash.
I trust my dog with my life- something I NEVER would have guessed I would have been able to say about the floppy/clumsy/terribly behaved puppy I brought home.
Teaching your dog to walk nicely is a civic duty of pet parents- and I promise, it is so worth it.