Do you love big, lovable dogs? If so, a black great dane puppy may be the perfect addition to your family! These gentle giants are known for their sweet personalities and calm demeanor. They make great pets for families with children and other animals.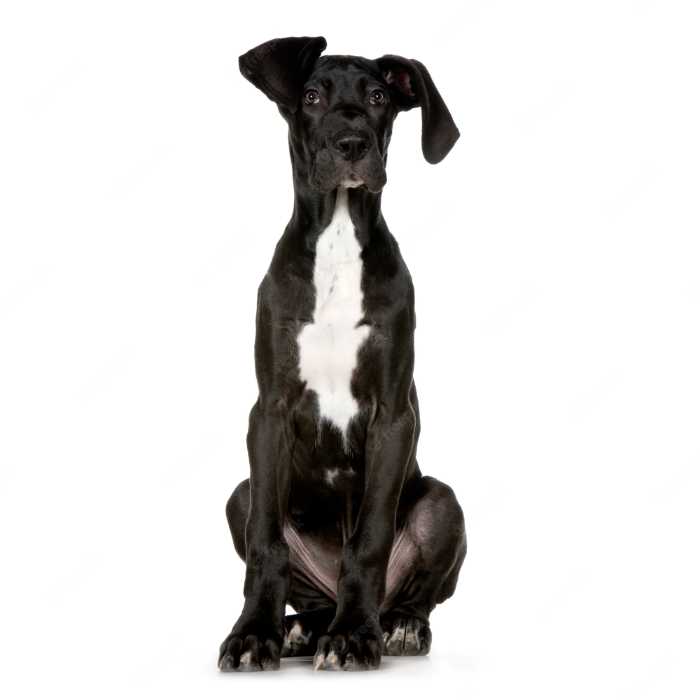 IS A BLACK GREAT DANE PUPPY RIGHT FOR YOU?
Great Danes are different from most other dogs. Great Danes are large breeds who can reach up to 180+ lb when they are full grown. (Great Dane Lifespan)
The colors of Great Danes are:
Black (Black Great Danes)
Mantle (Mantle Great Danes)
Harlequin (Harlequin Great Danes)
Merle
Fawn (FAWN GREAT DANES)
Brindle (BRINDLE GREAT DANES)
Blue (Blue Great Danes)
OFF STANDARD GREAT DANE COLORS
Off standard colors include Double Merle Great Danes, which are White Great Danes with predisposed health conditions. Off standard colors that are not approved to be in the show ring are typically bred without health testing. (OFF STANDARD GREAT DANES)Read more about the colors of Great Danes here. Did you know you can also get a miniature Great Dane? Read more here.
Great Danes are a tremendously gentle breed and generally friendly with all dogs, humans and kids. They start off as clumsy puppies but your playful pup will not stay small for long. A Great Dane will grow quickly and continue growing until they are over 24 months of age.
OBEDIENCE TRAINING AND BLACK GREAT DANE PUPPIES
If you signed up for a gentle giant and are surprised when your puppy is counter surfing and knocking over trash cans, you are not alone. Great Dane puppies are often expected to grow up faster than other breeds of puppies simply because they begin to look more like a dog at a younger age.
How to Stop Jumping Puppies
How to Leash Train Your Great Dane
Potty Training Puppies
How to Pick the Right Puppy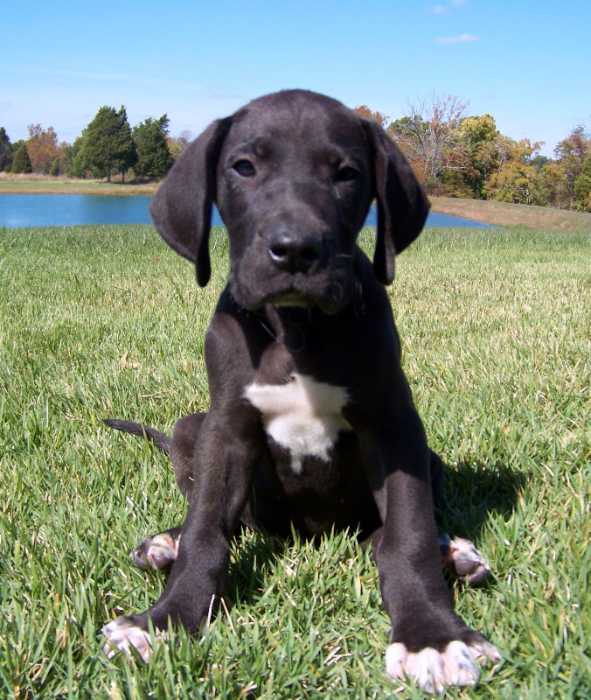 It is so important for owners to begin to train their dog early, practice socialization skills from a young age and make sure that their dog is getting around new noises, children, people and other dogs.
Early socialization and training does not mean that you have to take your dog to a dog park. Some ideas for healthy dog socialization could be:
Introducing your puppy to children, but not allowing the children to be overbearing or encroaching.
Walking your dog in different neighborhoods so they can get use to new sounds, smells and people.
Finding a local group or organization that wants to do group dog walks for daily exercise and that will allow your dog to get used to walking nearby other dogs
Mental stimulation like food puzzles, training classes or learning new tricks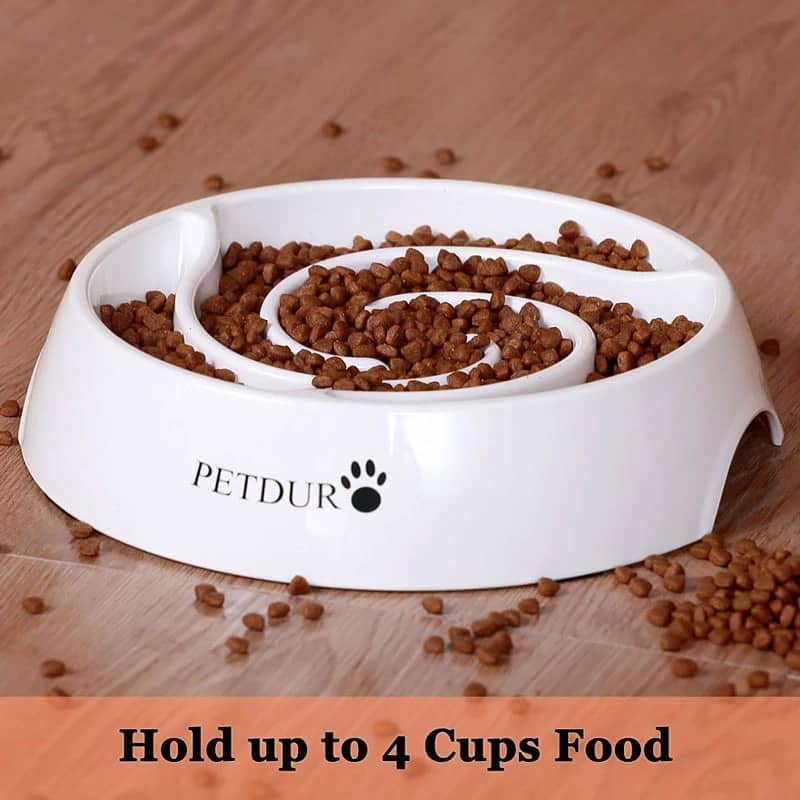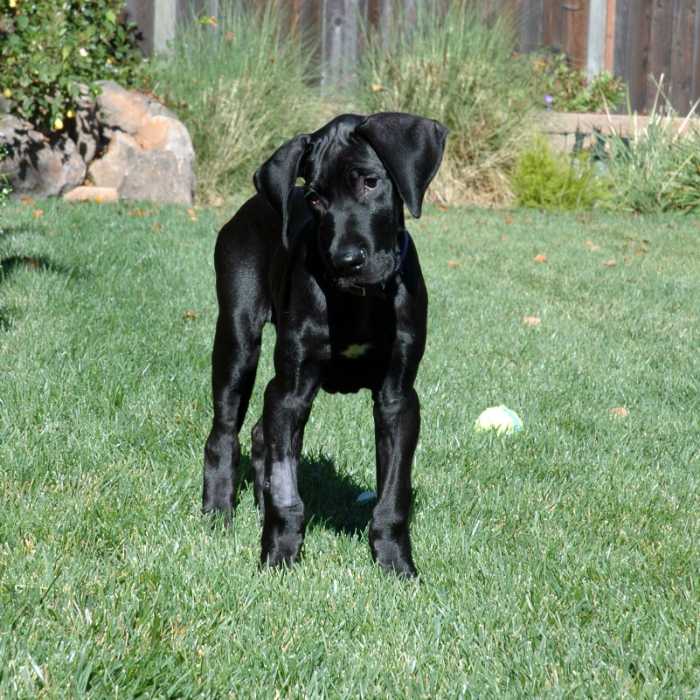 Black Great Dane puppies are a lot of work but if you are prepared for the challenge, they can quickly turn into family and will be an owners best friend in no time.
BLACK GREAT DANE BREEDING
When buying a Great Dane, choosing ethical breeders is one of the most important things you can do for your dog and the breed.
Bad Breeders
Scam Breeders: What to Look For
Find a Breeder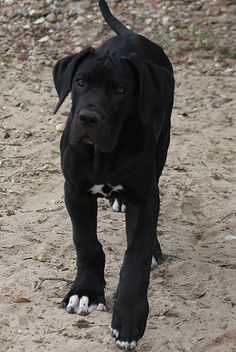 NATIONAL BREED CLUB
The National Great Dane Club of America (GDCA) has a list of ethical people breeding Black Great Danes by state. You can find that list here. In order to become apart of the GDCA list of breeders, the breeders must prove that their puppies are healthy with vigorous health tests, free of hip dysplasia with x rays, and check for other health issues like healthy eyes / heart / and temperament.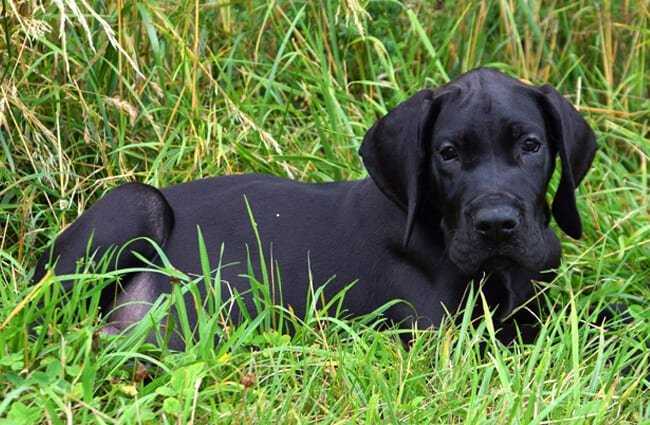 If you are looking to bring home a new Gentle Giant you should investigate the Great Dane Club to find a breeder who is apart of the National Breed Club as it will ensure the health of your dog.
THE AMERICAN KENNEL CLUB (AKC)
Finding a Great Dane that is 'AKC' Certified, is not enough to prove that your dog will be healthy.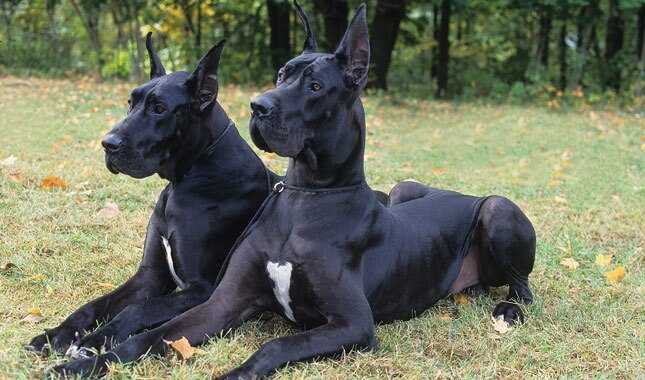 Unfortunately, the American Kennel Club (AKC) does not require that breeders health test their puppies prior to breeding.
Therefore, even if your dog is 'AKC' certified, it can be rattled with health issues like hip dysplasia, hip / joint issues, temperament problems, or more.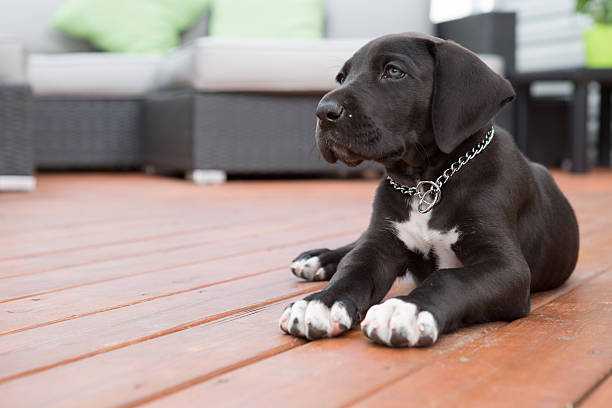 Do not rely on the AKC paperwork that some breeders offer for their puppies. As a new owner, do your research to ensure that your puppy is OFA Health Tested before you bring it home.
GREAT DANES AND EAR CROPPING
Is it ethical to crop a puppies ears?
Ear Cropping
Great Danes with Cropped Ears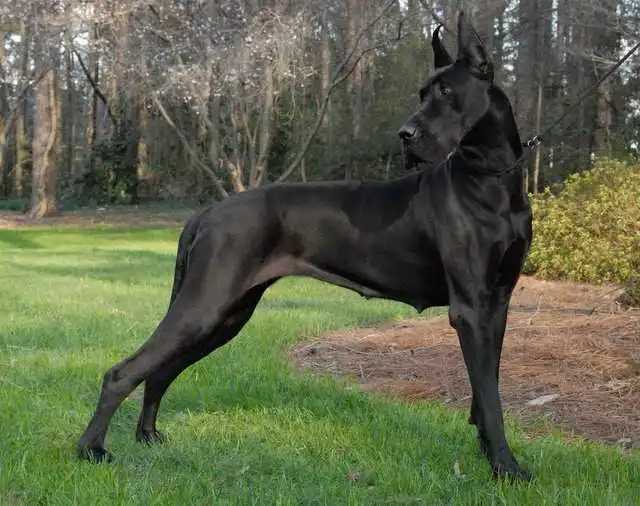 HISTORY OF CROPPED EARS
Some breeds get their ears cropped when they are puppies. Great Dane dogs were originally bred as boar hound. Boar hounds were used to hunt wild boar. When Great Dane dogs were doing the hunting, their ears were often ripped off by the wild boar.
Danes that had their ears cropped were more likely to survive in the hunting field.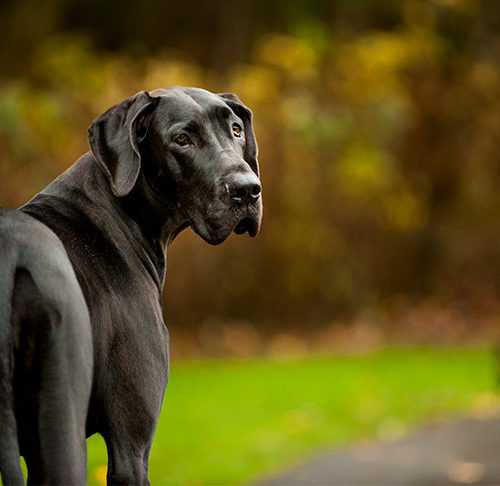 CROPPED EARS TODAY
Today, an owner might choose to crop their dogs ears as an aesthetic preference.
Some people believe that cropped ears give the dog a regal look or make them appear more intimidating.
The process of puppy ear cropping should not be painful for the puppy but must be done by an ethical and experienced surgeon.
Ear Cropping in Great Danes
Ear Cropping: The Two Sided Debate
How to Tape a Cropped Dane's Ears
WHAT FOOD DO BLACK GREAT DANES REQUIRE?
Larger breed dogs require different food than small dogs.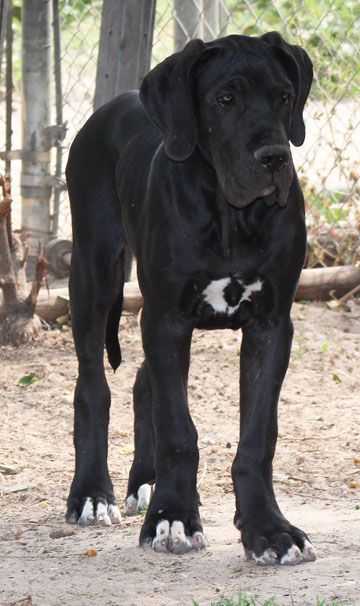 Large breeds need kibble that is formulated specifically for them.
Danes require a specific amount of protein as well as calcium and phosphorus in their diet.
BONUS POST: Is my Great Dane too Skinny!?
LARGE BREED DANE PUPPIES AND DIET
Danes who are growing need to be fed large breed puppy kibble. (Puppy Food for Great Danes)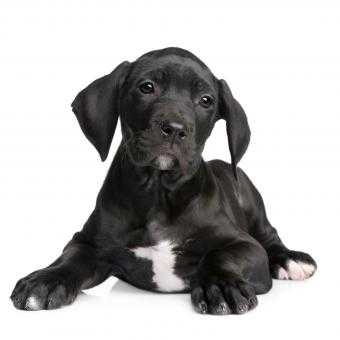 If you have a growing Great Dane you should do your research on their diet before bringing them home, as switching up their food too many times can cause issues.
You can find large breed puppy kibble at your local pet store.
We have linked resources below for larger breeds and diet:
Puppy Food for Great Danes
Puppy Food or Adult Food?
Should I Feed Grain Free?
Beware of this Dog Food
ADULT GREAT DANES DIET
As your Great Dane grows, it will fully mature into a Gentle Giant adult dog at around the age of 2.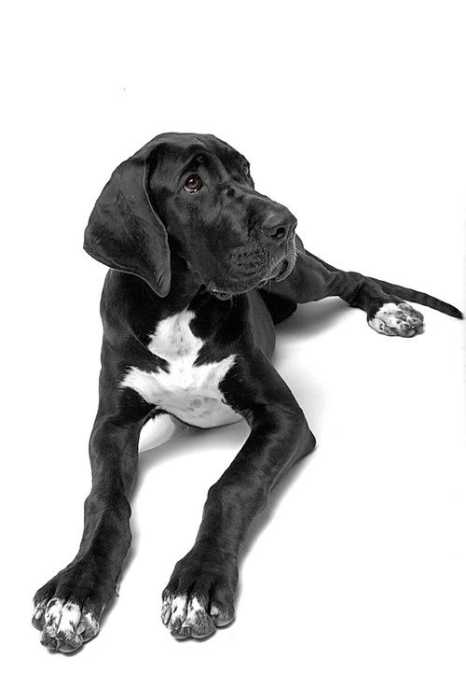 At 24 months you can transition your dog to an adult formula.
Your dog's age matters in regards to the type of kibble you feed them, as each kibble is formulated differently and made unique for different breeds.
Some of our favorite Great Dane foods and resources are linked here:
GREAT DANES AND BLOAT
Any Great Dane owner should be aware of Bloat.
Bloat is a condition where the stomach fills with gas and twists, which is called Torsion.
It is a medical emergency and can be fatal if not treated immediately.
Bloat itself cannot be prevented, but you can help to prevent Torsion (the twisting of the stomach in Great Danes) with a surgery called the Gastropexy surgery.
This surgery can be conducted on your Great Dane at the same time that they get spayed or neutered, at around the age of 24 months.
What is Bloat?
Can Bloat be Prevented
The Scary Bloat Timeline
Bloat Myths : Mythbusting Bloat 'Facts'
GROOMING GREAT DANES
Great Danes do not require a ton of grooming.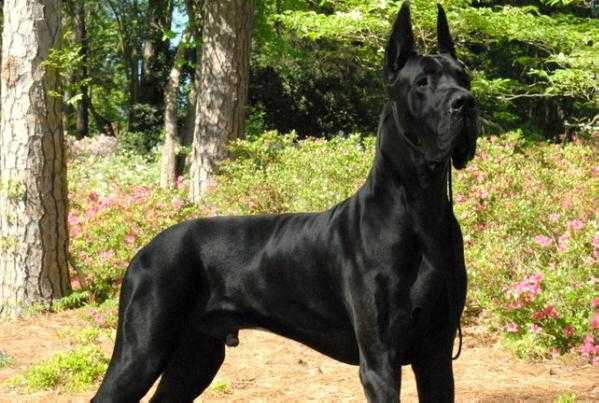 However, any Great Dane owner will tell you that these dogs DO shed quite a lot.
Despite their short hair, they do seem to shed just as much as other dogs.
BRUSHING YOUR GREAT DANE
Regular brushing will help keep your life in order.
Do not brush too much as it sometimes can seem to cause excessive shedding.
We have a list of our favorite tools for the breed and their hair.
Favorite Great Dane Grooming Tools
At the top of the list is the Sleek Ez- a great tool for keeping dogs hair under control.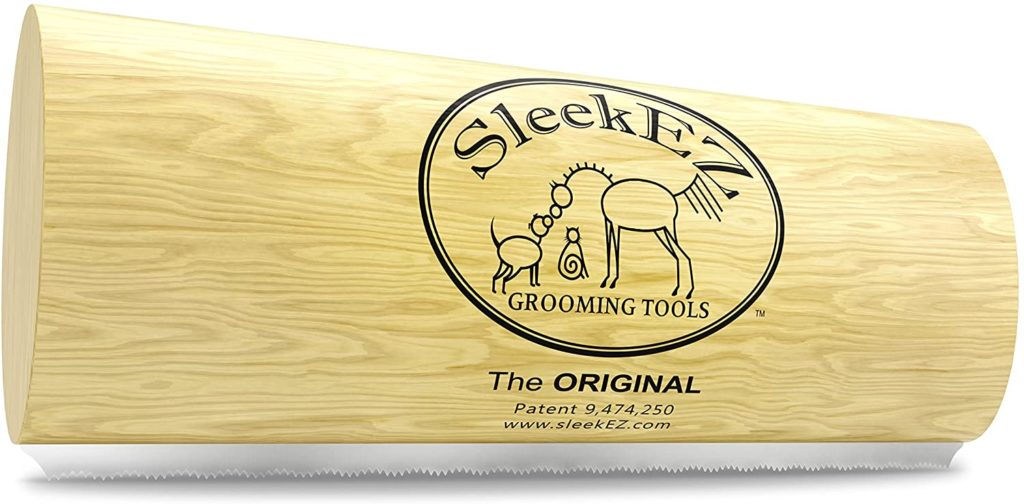 NAIL TRIMMING AND DOGS
Great Danes are prone to joint disease.
Long nails can make arthritis, joint disease, etc significantly worse.
Dogs with untrimmed and long nails are also more likely to slip and fall on hardwood or tile floors, which can cause serious injury.
We recommend that you trim your Great Danes nails frequently. By keeping their nails trimmed regularly, you are helping your dog with not only their comfort, but also their health.
THE BEST NAIL CLIPPERS AND FILERS FOR BIG DOGS
GREAT DANE NAIL TOOLS
HOW TO TRIM YOUR PUPPIES NAILS
HOW TO STRENGTHEN YOUR DOG'S FEET
THE 7 BEST NAIL CLIPPERS FOR GREAT DANES
USING CLIPPERS
You and your dog might feel more comfortable using clippers to trim nails. That is completely fine.
Some dogs prefer clippers as they are quieter and help the dog feel safer during nail trimming.
USING A DREMEL
A dremel is a power tool that can be used to trim nails. It is a very quick process and does not hurt the dog.
When using the dremel, you want to be sure to keep your dog calm and work your way around the 'quick'.
You will need to train your dog to sit still from a young age.
Your Great Dane will quickly become a large dog, and you want to get these routines into place while they are still young.
HOW MUCH EXERCISE DOES MY GREAT DANE NEED?
Many people choose the Great Dane breed because they think they are getting a lazy, 'couch potato' dog.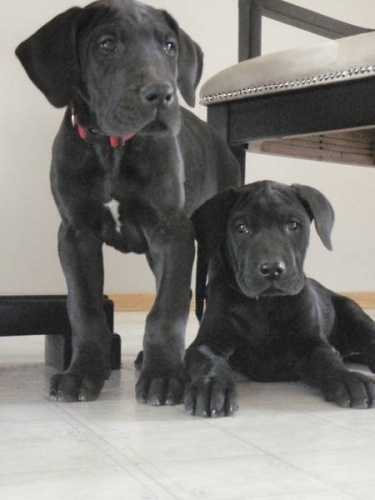 This is just not the case in so many situations.
The breed is sweet, affectionate and an amazing member of any family, but they are not always lazy dogs.
DAILY EXERCISE
Usually, the average Great Dane will need about 1 hour or more of daily walking, playing outside, running around independently, etc.
That is a low estimate.
Dogs are meant to play and run in order to stay healthy, not lounge around all day long.
Getting your Great Dane active is beneficial for both them and your family.
GIVING YOUR GREAT DANE TOO MUCH EXERCISE
Great Dane dogs should not be required to participate in vigorous exercise, dog sports, or forced running before they turn the age of 2, (or after).
Should I Take My Great Dane Running?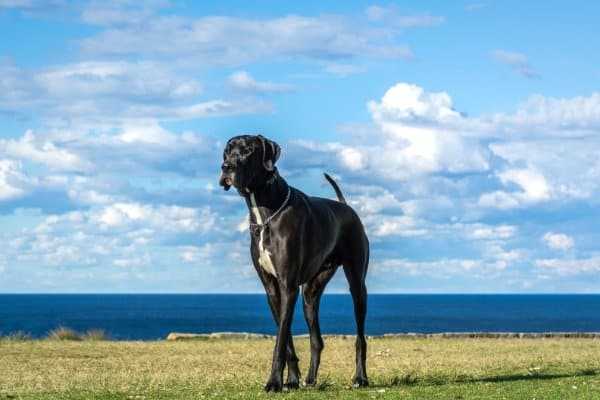 The breed grows until they are 24 months and up until that point your dog will have open growth plates.
Forcing them to run or train excessively can cause damage to their growth plates, which can be irreversible.
Many pet parents are afraid to give too much exercise that they do not give enough exercise to the breed.
IS MY GREAT DANE PUPPY ALLOWED TO RUN AND PLAY?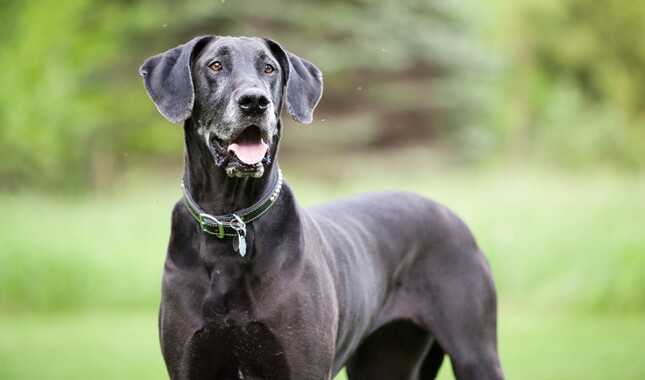 Your Great Dane can play and run as much as THEY want to.
Never force your dog to run, for example: by tying them onto a leash and making them run beside your bike.
As long as the run and play is in the control of your dog, they will not damage their joints.
MY GREAT DANE IS SCARED OF STRANGERS
Socializing dogs is a lot of work, but so important.
Great Dane Fear Stages
How to Stop Dog's from Fighting
Puppy Socializing
My Great Dane Puppy is Afraid of Nail Trims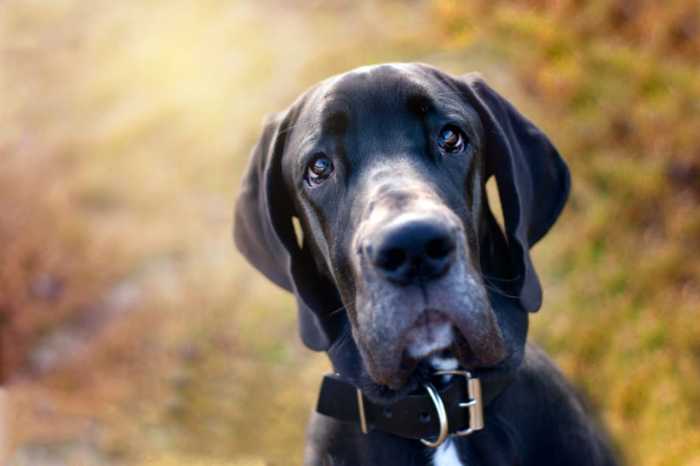 Starting socializing young helps keep your Great Dane away from fears.
If your Great Dane is afraid of strangers, do not force them to interact.
Instead, when you see strangers and notice signs of fear, make sure that your Great Dane feels that they have a safe 'opt out'.
For example: use a crate to help them feel comfortable when strangers visit the house.
Signs of fear:
Dogs tucking their tails
Dogs cowering
Dogs trying to hide behind you
Dogs licking their lips
Dogs yawning
Dogs blinking their eyes excessively
Ears back
Hair standing on end
Allow your Great Dane to become more familiar with people, sounds, children and other dogs within their own comfort zone.
Utilize a crate as it can help to make your Great Dane feel secure and safe
When approaching other people on a walk with your Great Dane, keep your distance and do not allow them to pet him
Do not let kids interact or encroach on your Great Danes personal space
Accept that your Great Dane might not enjoy high-intense situations like dog parks, etc.
Take your Great Dane 'people watching' and allow them to sit and watch people rather than have to interact or get pets constantly
Be sure to check out our socialization guide which will help guide you through the fears of the breed.
TREATS AND BONES FOR GREAT DANES
Great Dane owners love to spoil their pets, but we want to make sure we do it correctly.
TREATS
Choose healthy treats that will keep the weight down on your Great Dane.
Is My Great Dane Overweight?
Don't Mistake 'Filling Out' For Getting Fat
7 Deadly Health Risks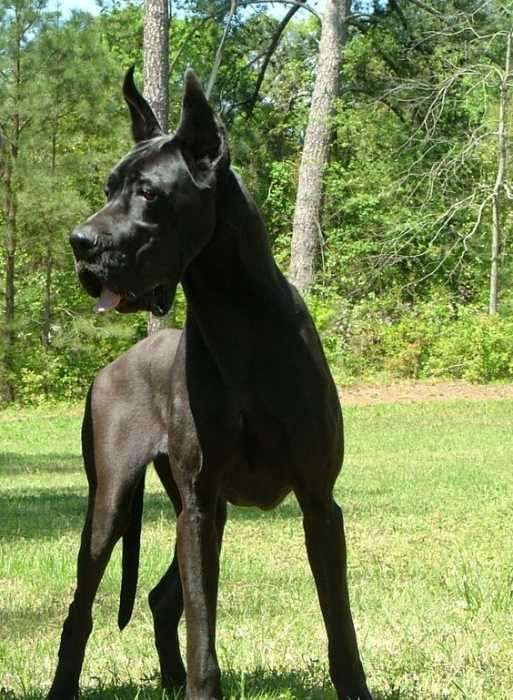 Obesity is a huge issue in the breed, as many want to argue for 'the biggest' in the breed.
Bigger is not better in the breed as overweight dogs lead to joint disease, cancers, and heart disease.
Choose a low calorie and healthy treat to help keep your Great Dane healthy throughout life.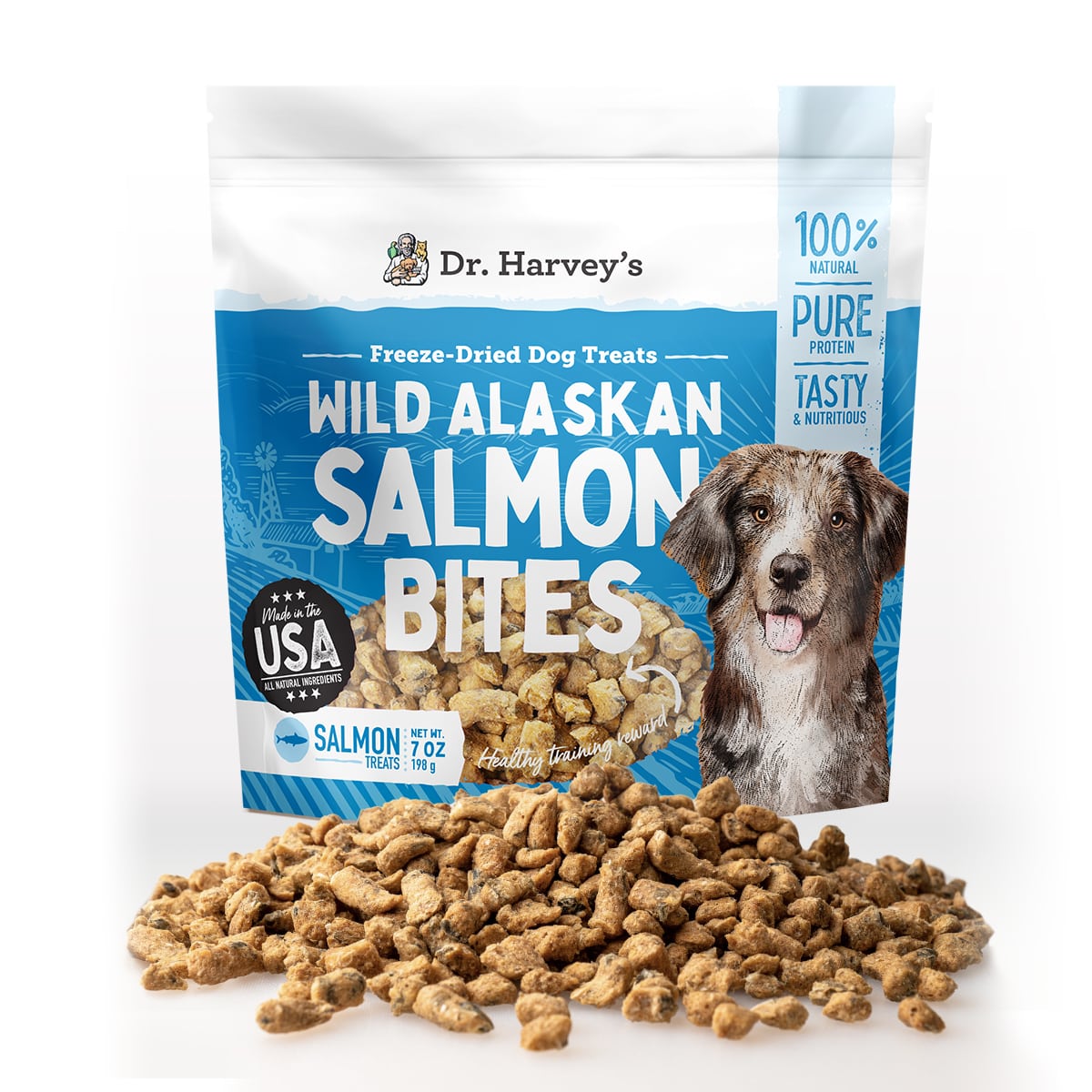 BONES
Do not ever feed chemical filled rawhide to your Great Dane.
Rawhide can get stuck in the digestive system and cause serious health problems for your dog.
We recommend finding something that lasts a long time.
This sun dried hide from Farmhounds is our favorite as it is chemical free and lasts as much as a month of chewing for the breeds heavy teeth.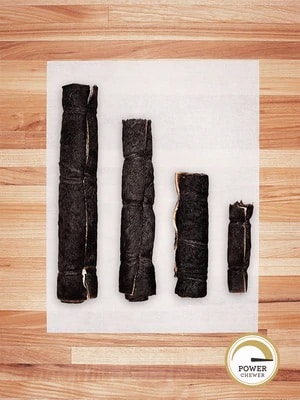 CONCLUSION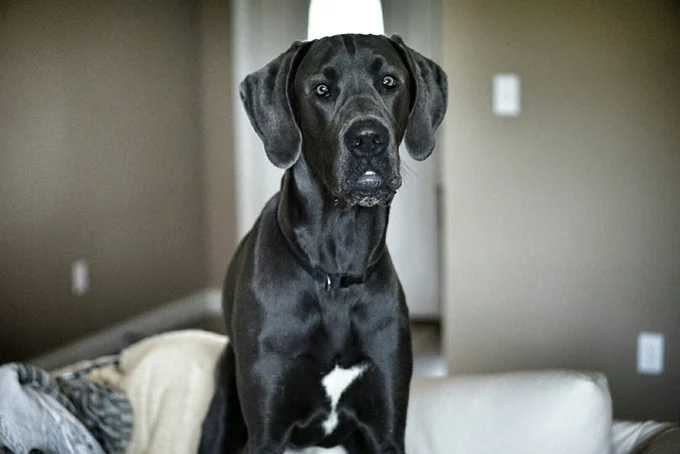 Great Danes are an affectionate breed that are known for their large size. But did you know that they are also one of the most popular family pets?
Great Danes are gentle, loving and protective of their families for life. But because of their size, it's important to socialize them early and make sure they get plenty of exercise. And when it comes to treats and bones, choose wisely! A healthy diet is essential for any dog, but especially for Great Danes.
READ MORE:
Is My Great Dane Puppy Knuckling?
Great Dane Not Eating – What to Do
Great Dane Farts: The Funniest Collection of Photos and Videos on the Internet
The Best Collars for Great Danes
Blue Great Danes – Facts, Photos, and Care
How to Crate Train a Great Dane Puppy