Why is my puppy being aggressive? If you feel like you've stumbled upon something more than puppy play, you should trust your gut.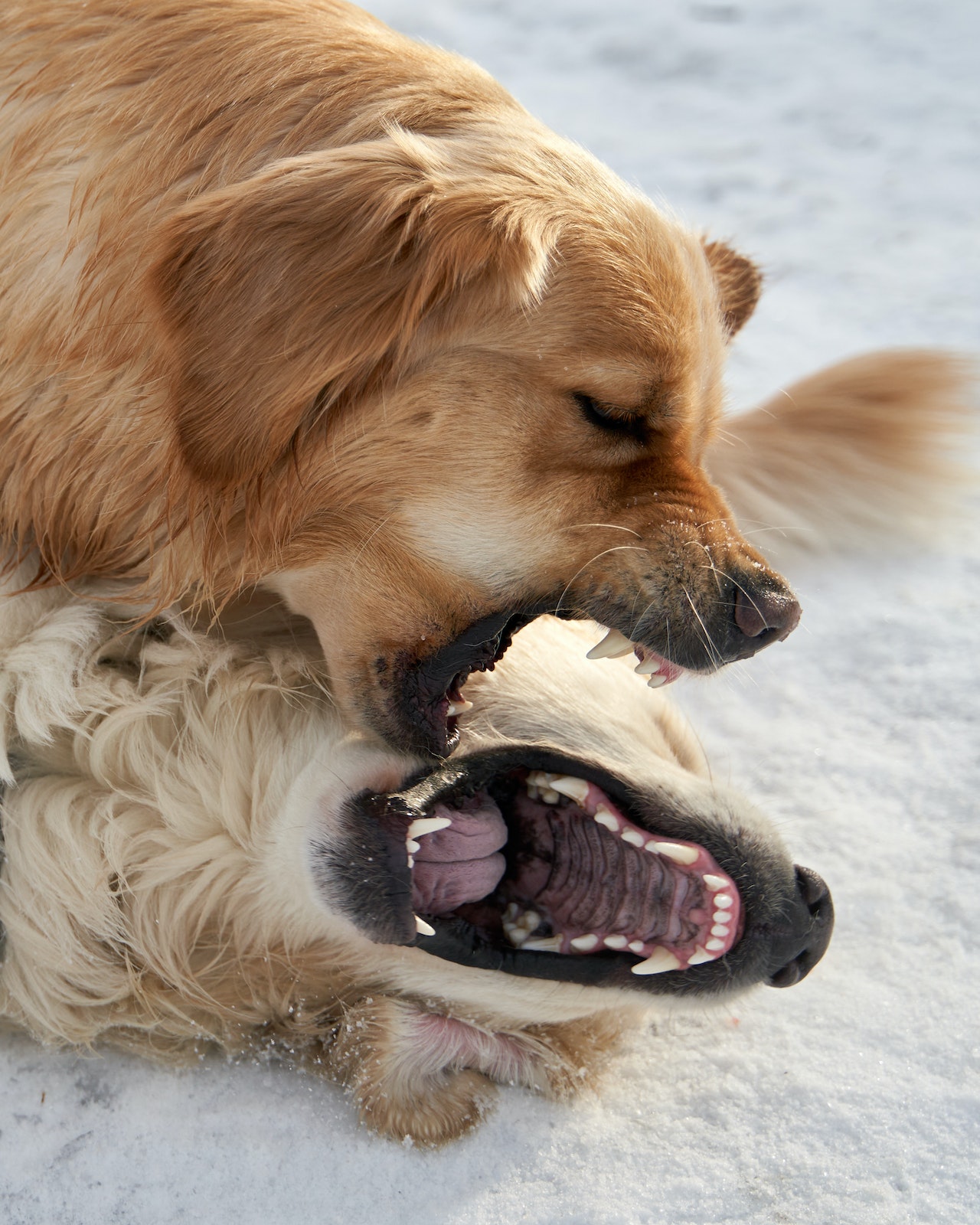 Helping a puppy overcome dog aggression is much easier with young puppies, so the quicker you address the behavior, the sooner you can prevent and stop puppy aggression!
First, it is important to identify if the puppy growling and puppy nipping you are seeing is, in fact, normal puppy play or dog aggression.
WHY IS MY PUPPY BEING AGGRESSIVE?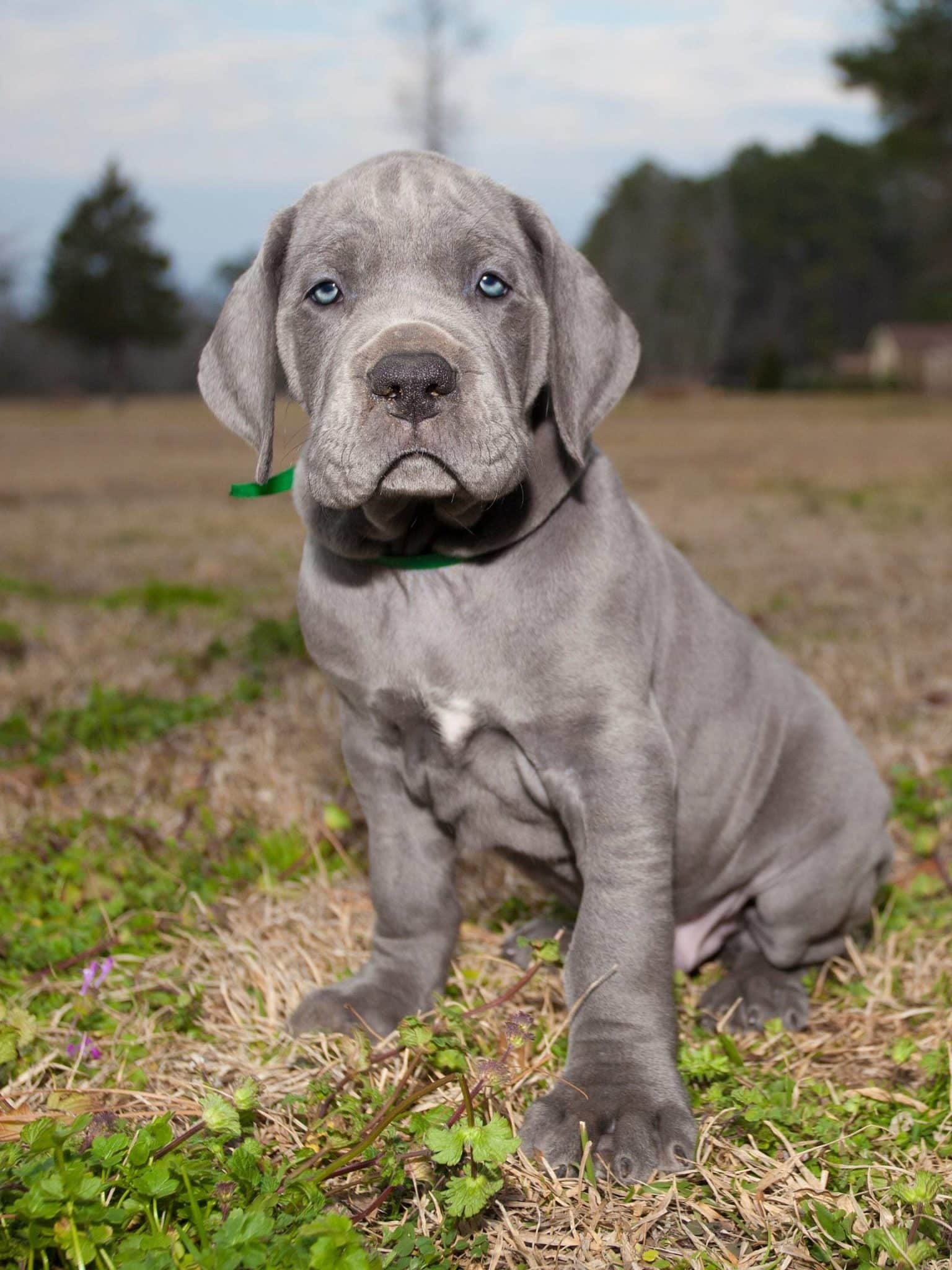 Well, ARE YOU SURE your puppy is ACTUALLY showing signs of aggression? Dog owners usually know their dogs very well, but take a step back for just a moment and evaluate if your puppy is being an aggressive dog or just demonstrating what could be normal behavior for very young puppies.
WHAT DOES A NORMAL PUPPY'S BEHAVIOR LOOK LIKE
Puppy play is ROUGH! Puppy nipping, puppy bites, and puppy growling is all apart of growing up.
Normal puppy behavior sometimes LOOKS like aggressive behavior, so it is crucial to know the difference between what aggressive puppies do vs. what rough play may look like.
HOW TO STOP MY DOGS FROM FIGHTING
Is My Great Dane Being Aggressive or Playing?
MY NEW PUPPY IS BARKING
Barking does NOT equal puppy aggression!
Puppies are experiencing the world in an entire new lens. A puppy's behavior might be due to excitement, fear, boredom, or a warning sign that something isn't right.
5 Dog Boredom Busters: Keep Your Pup Cool!
Your Great Dane is Bored: Here's 11 Fun Ways to Entertain Them.
Puppy aggression is characterized by more than just puppy barking. Aggressive barking is an issue and should be treated seriously, especially in a young family dog.
MY NEW PUPPY IS GROWLING
Many puppy parents do not realize that growling, in and of itself, is actually a VERY healthy way for a puppy to act.
There should be a difference in your dog's behavior from a playful growl during rough play vs. aggressive puppy growling which may come across as more threatening.
Signs of an aggressive puppy growl may be if the growling is paired with a stiff body, hackles raised, ears flattened against the head, and/or a direct stare.
MY PUPPY REACTS WHEN I TAKE ITS FOOD OR TREATS AWAY
You finally brought home your cute puppy anticipating a well behaved dog, brought out their brand new food bowl and dinner, only to have your puppy lunge because they were upset that you were touching it!
It can be defeating to pet owners to see their puppy's body language stiffen up when they get out the dog treats, fun toy, or food bowl.
Food aggression is a very common issue. Do NOT take away the dog food or punish your dog when they show signs of aggression nearby food or resources!
Canine aggression only gets worse when the owner threatens to remove the item that was causing the bad behavior in the first place. This habit can make the dog feel like they need to protect their resources from you, the family, or other dogs.
Puppy aggression can be a normal part of development OR it can be a sign of something more serious.
Identifying dog aggression is essential for helping your puppy overcome this behavior.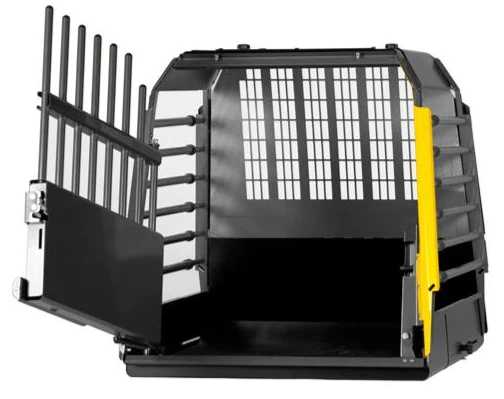 MY PUPPY BITES EVERYTHING IN ITS SIGHT
Puppy biting is NORMAL! Puppy teeth are very sharp and if you are a puppy owner you will have to help your pup learn to use those new puppy teeth for productive things.
Puppy biting does not equate to puppy aggression. However, if your puppy was not raised with a litter/mom to teach them bite inhibition, their puppy biting habit will likely be much worse.
Bite inhibition is when a puppy, or dog, learns that their teeth should not be used with the same force on humans as they would on other dogs during play.
Remember that puppy teething can be a painful process. Chew toys and bones can help the puppy teething process go a lot smoother as well as help your puppy act within the boundaries of a well behaved dog.
If you are having troubles with your puppy biting, there are many ways to help them overcome this undesirable behavior.
WHAT ARE AGGRESSIVE PUPPY SIGNS?
An aggressive dog will show signs of aggression that their owners should not take lightly as if they are not dealt with when they are young they will continue into them being aggressive adult dogs.
SIGNS OF AN AGGRESSIVE PUPPY:
Growling when someone approaches their food bowl, toys, or bone
Snapping at people or other animals
Biting people or other animals
Chasing people or other animals
Showing teeth
Hackles raised
Ears flattened against their head
Aggressive barking
Aggressive puppy biting
Signs of Stress in Dogs: How to Help An Anxious Dog

Remember, not all of these signs lead to aggressive puppy behavior, which is why it is so important to examine your specific dog as an individual. For example, many puppies will go through a biting phase during teething and this does not necessarily mean they are an aggressive puppy.
It is only when you see multiple signs of aggression in your puppy that you should start to worry and take steps to correct the behavior.
HOW DO YOU STOP A PUPPY BEING AGGRESSIVE?
If you think that your puppy is demonstrating aggressive puppy signs, you should have your puppy examined by a dog behaviorist.
A professional dog trainer can identify a puppy's inappropriate behavior and determine what behavior modification might be necessary.
Should your puppy exhibit aggressive behavior around other puppies, other dogs, or children, you should work on strong obedience training and socialization skills that will both protect them AND the other dogs/kids.
CAN YOU FIX AN AGGRESSIVE PUPPY?
Correcting a puppy's inappropriate behavior is absolutely possible.
If you notice your puppy aggressively behave, begin by using positive reinforcement to build confidence in their obedience training.
Many times, aggressive behavior (especially in an aggressive puppy) is linked to a lack of obedience training and confidence which can lead to fear aggression.
Puppy Fear Periods: What They Are, When to Expect Them, and How to Help Your Puppy
Fear Aggression in Dogs: The Scary Reality That 1 Bite Can Cause
WHAT IS FEAR AGGRESSION?
Fear aggression is when a dog is rooted in fear of people, loud noises, other dogs or something else that causes them to show aggressive behaviors.
Dog owners might view their dog's aggression as mean or vicious, but the dog is simply trying to protect themselves from what they perceive as a threat.
Identifying and correcting fear aggression in puppies is essential for helping your puppy feel safe and secure. If you are concerned about your puppy's safety or the safety of others, seek professional help from a certified dog behaviorist or professional trainer.
Using positive reinforcement is crucial with any dog that is showing aggressive behavior. Take immediate and appropriate action if you think your pup is afraid of something to the point of demonstrating aggressive behavior. Most dogs will respond hugely to positive reinforcement training. When needed, seek the help of a dog trainer to help with your dog's aggressive behavior.
WHAT DOES IT MEAN WHEN A PUPPY GROWLS AT ITS OWNER?
Dogs growl for a variety of reasons and it does not always mean they are aggressive dogs.
A dog may growl when other dogs other puppies steal their food or toys. They may also growl when people or other animals come too close to their personal space.
Growling can also be a sign of fear or anxiety in dogs. If your puppy is growling at you, it is important to take note of the circumstances and what may have led up to the growling.
A dog can also growl when they are in pain. Maybe someone touches them in the wrong spot and it hurts them. Dogs have no other way of communicating but using their voice, so a growl could be a sign that your dog is in discomfort.
If you are concerned about your puppy's growling, it is best to seek professional help from a certified dog behaviorist or professional dog trainer. They can help you identify the root cause of the growling and work on a training plan to correct the behavior.
Dog Bite Prevention: How to Avoid a Dog Attack
DOGS NORMALLY ESCALATE IN BEHAVIOR
Normally, a dog does not just wake up one day and growl/snap/bite the other dog or child/human.
What typically happens is that there are progressive signs that they show to other dogs or humans. These are somewhat like warning signs.
Aggressive dogs do not just 'turn aggressive' one morning.
Instead, there are certain behaviors that they show that indicate that they are uncomfortable with the current situation.
Some of these warning signs may include:
Drooling
Panting
Cowering over
Hiding
Licking lips
Baring their teeth
Growling
Snapping
Lunging
Barking aggressively
These are all warning signs that a dog is feeling uncomfortable and if the situation is not corrected, they may escalate to biting.
If you see any of these warning signs in your dog, it is important to take note and correct the behavior immediately.
Allowing your dog to continue showing these behaviors can lead to more serious aggression problems down the road.
AGGRESSIVE PUPPY BITING AND DOG BITES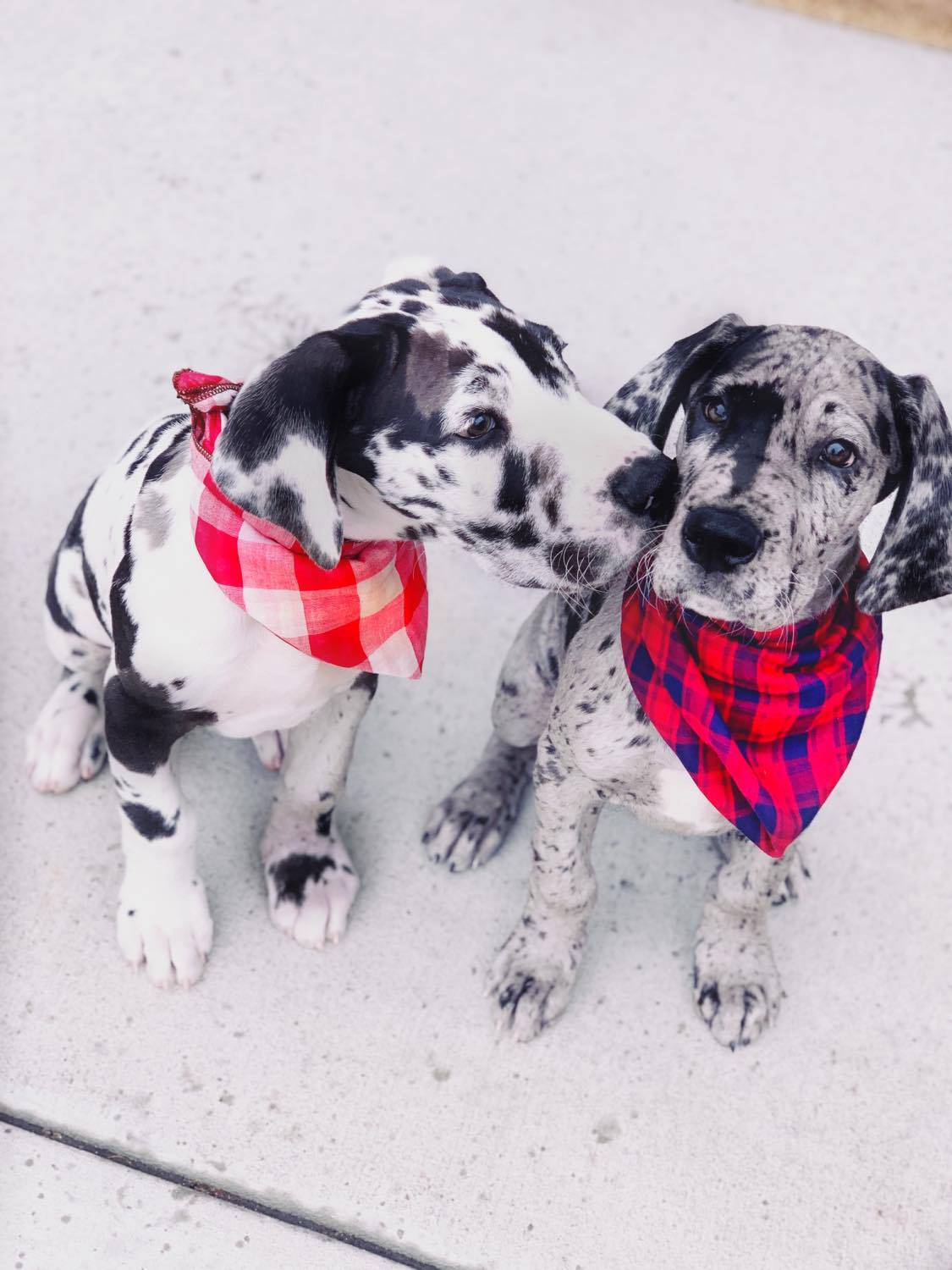 Dog bites are a very serious issue.
Typically, by the time a dog bites other dogs or humans, their anxiety, discomfort, or aggression has escalated quite high.
Dog bites are also extremely dangerous to both the dog itself as well as others involved.
Seeking professional help and dog training is the best way to go about navigating dog bites.
GREAT DANE TEMPERAMENT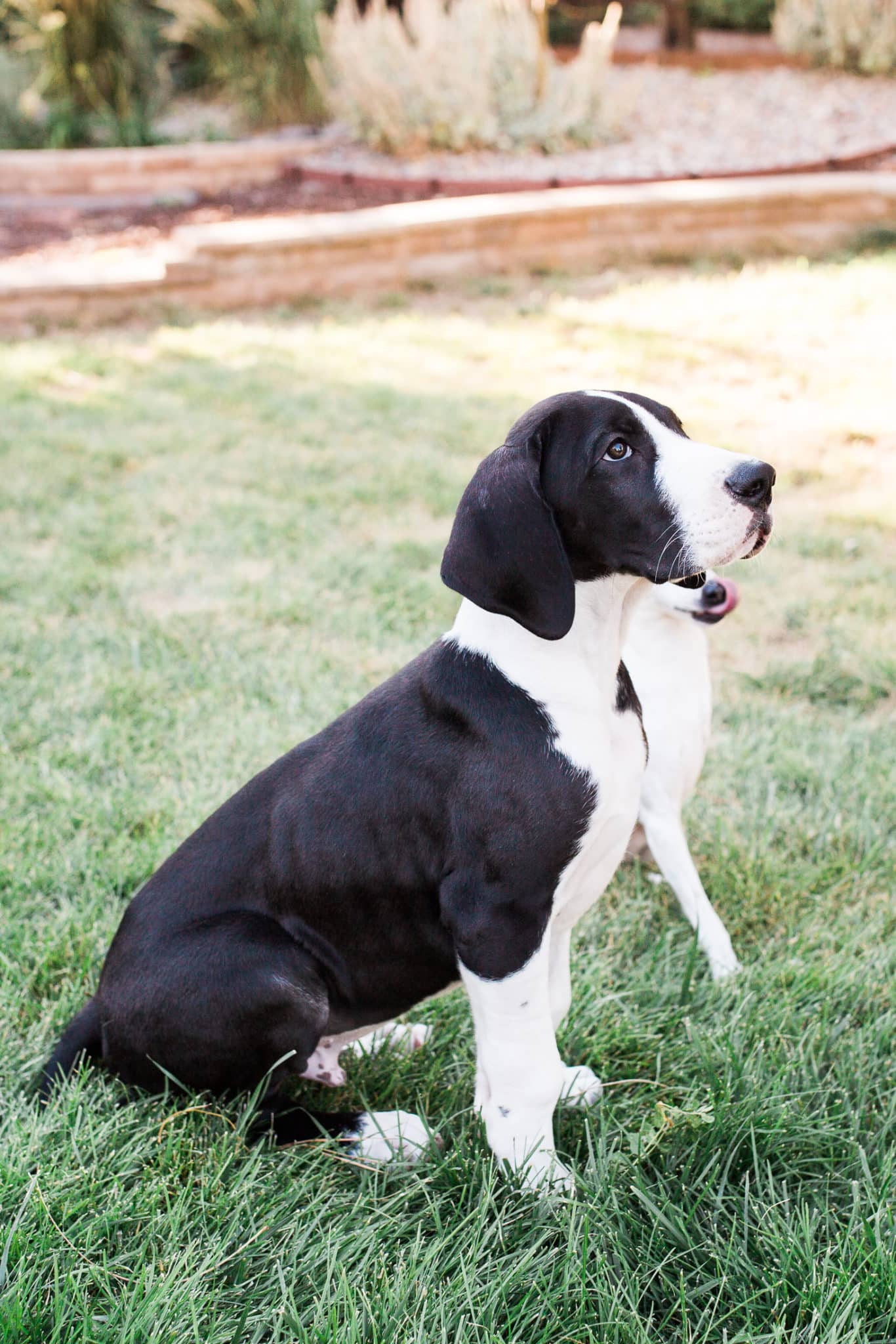 Great Dane aggression happens when there is a severe lack of dog training, backyard breeding and socialization.
WHAT TO LOOK FOR IN A GREAT DANE BREEDER
Great Danes are huge dogs and grow very fast. Therefore, puppies turn quickly into adult dogs. An untrained Great Dane can quickly uproot the dynamics of the family/household.
Dog training and socialization are crucial for even the most temperamental dog or Great Dane.
NEXT STEPS
If you have a puppy who is struggling behaviorally, know that you are not alone. Puppies are a lot of work and a lifetime commitment.
Starting the work while your puppy is young will make all the difference in the world.
Get professional help from a certified dog behaviorist or trainer if you are struggling to correct your puppy's behavior on your own.
Remember, puppies grow up fast and it is important to nip any bad behaviors in the bud as soon as possible!