Great Dane temperature and weather requirements are not that much different than those of other breeds.
What is the ideal temperature for a Great Dane? This is a question that many people have, as this breed of dog is known to be susceptible to extreme temperatures.

Let's discuss what factors you need to consider when determining the ideal temperature for your Great Dane and provide some tips on how to keep them comfortable.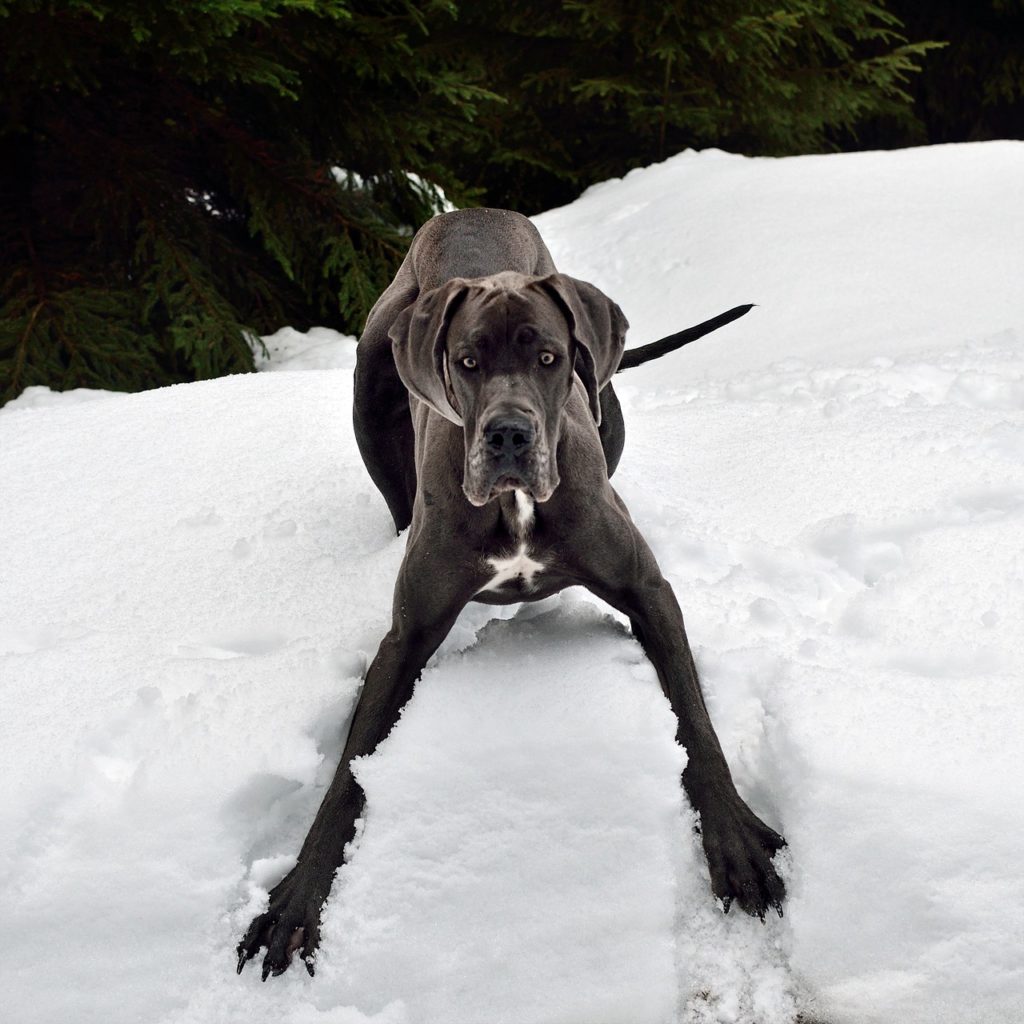 GREAT DANE TEMPERATURE AND WEATHER REQUIREMENTS
Great Danes are large dog breeds that do NOT do wonderful in hot weather and they also do not do wonderful in cold weather.
BUT… DON'T WORRY!
That doesn't mean that if you are a dog owner of a Great Dane that you have to panic!
Large dogs can adjust to a hot summer day or a cold climate with just a few tweaks.
HOW DO LARGE DOGS HANDLE COLD WEATHER?
There are different types of cold weather and each type can have an effect on your large dog.
Dogs that are short haired like Great Danes will feel the cold much quicker than dogs with a longer coat. Since they have short coats and a single coat with no layer of thick fur, they might need a more insulating layer of warm clothes while playing outdoors in order to regulate body temperature.

Great Dane temperature tolerance can even vary from dog to dog!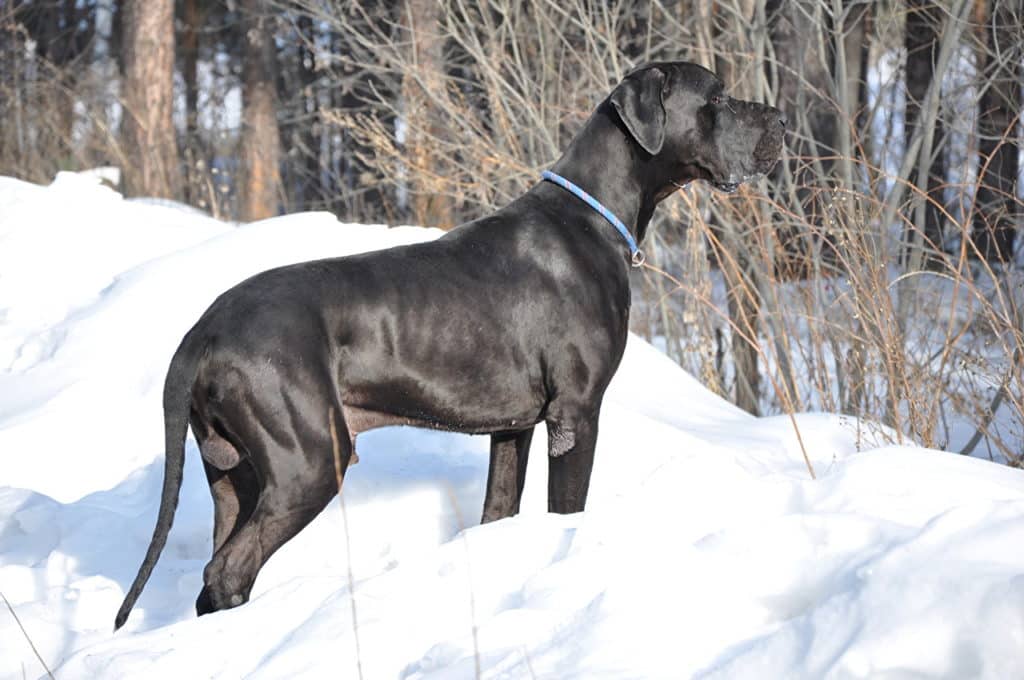 DOG COATS FOR COLD WEATHER
The first thing you need to do is make sure that your Great Dane has a good quality Dog Coat or Dog Jacket that will protect itself from the elements.
There are many different types of coats and jackets on the market, but you'll want to make sure that you choose one that is specifically designed for Great Danes or large dogs.
You'll also want to make sure that the coat or jacket is waterproof and has a warm lining. This will help to keep the cold air out and body temperature up.
We love this Carharrt Jacket (can be purchased on Amazon) which suits both small dogs and giant breeds since it comes in many sizes.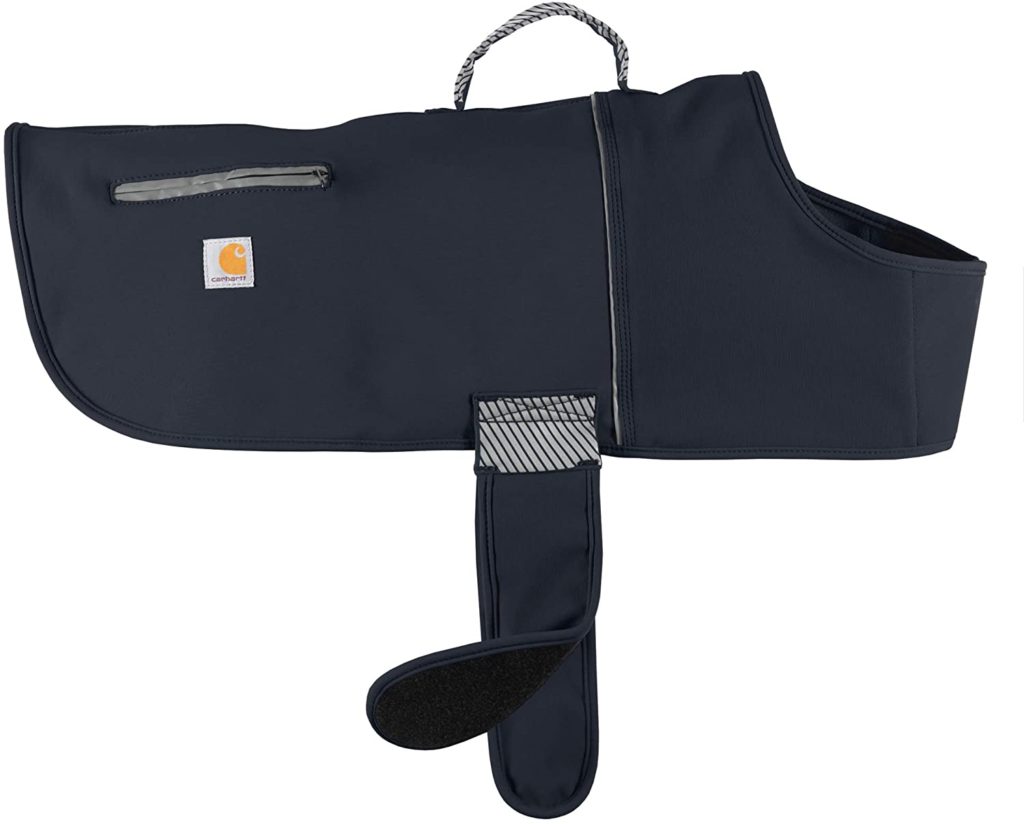 KEEPING PAW PADS SAFE FROM ICE AND NEGATIVE TEMPERATURES
Great Danes do not always need to wear 'dog shoes' while they are outside in the snow.
If you have an active dog, they most likely have developed calluses on their paw pads from a young age.
However, the bottoms of dogs feet can get cold quickly when playing in cold weather, ice, snow etc. So, dog owners want to monitor their dog closely and watch to make sure that their feet are not getting too cold.
There are a few things you can do to help protect your dog's feet from the cold:
Use paw balm or Vaseline on their paw pads before going outside. This will create a barrier between their skin and the elements.
Put dog shoes on their feet. This is especially helpful for senior dogs or dogs that don't have calluses on their paw pads.
Wipe their feet off with a towel when they come back inside to remove any salt, snow, or ice that might be stuck to their little fur.
Invest in Pawz Dog booties. These booties resemble 'balloons' that are slip-proof and actually stay on your dogs feet. Best of all, they actually fit onto Great Danes paws.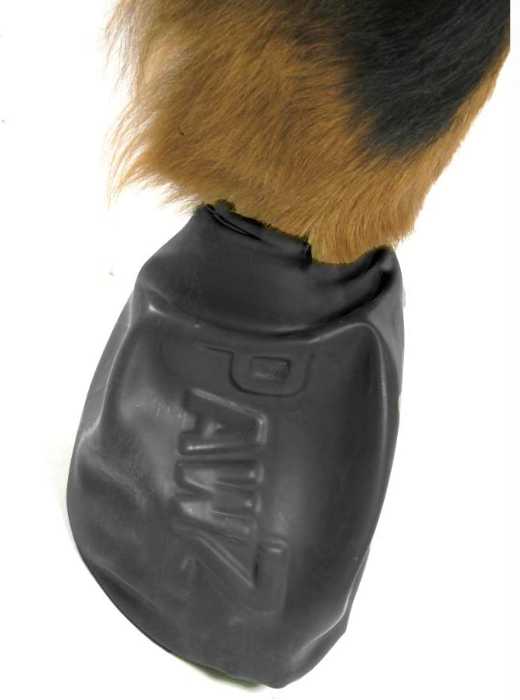 Lastly, we love to see dog owners using Mushers Secret for their Gentle Giant. Mushers Secret is a petroleum jelly type of paw protection agent for both cold weather and hot weather. Many dog owners swear by this product and we can state that it really does help with health problems associated with cold contact.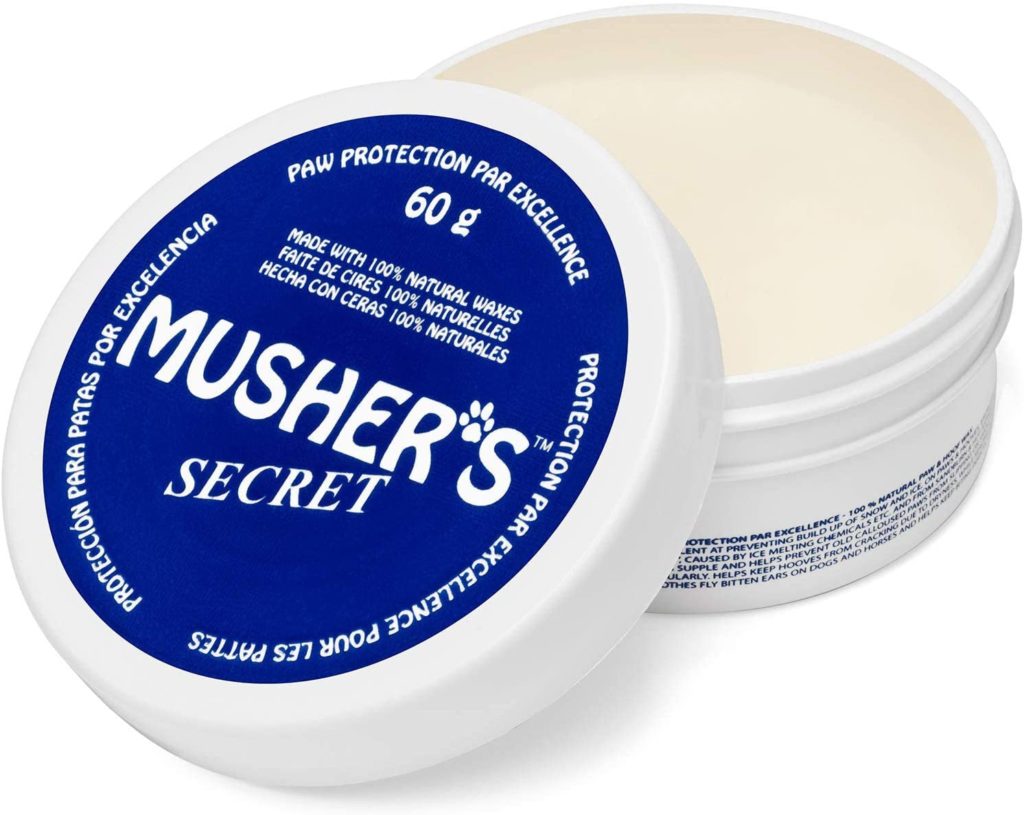 USING SCARVES OR 'SNOODS' ON GREAT DANES NECKS IN COLD WEATHER
Not all dogs will tolerate a scarf or 'snood', but most dogs do love them.
A 'snood' is a type of scarf made for a dog.
KEEPING A GREAT DANE WARM IN THE RAIN
Some dogs like the rain and some dogs do not like the rain. But, most Great Dane owners report that their Great Dane will play in the rain with proper rain gear.
Make sure your dog has the right equipment and protection to keep safe and warm and they might really love to take a quick dip in a rain shower.
RAIN JACKETS FOR LARGER BREEDS
One rain jacket that we know works at keeping cool water off of your Great Dane is the Derby Original.
This jacket will keep your dog warm and dry and also comes in all sizes suitable for Great Danes.
It is affordable as well!
Best of all, we use this rain jacket in the Spring but also in the winter months on a brisk and even snowy day.
Lastly, this can be used as an outer coat with something lighter underneath for dogs at an increased risk of colder temperature.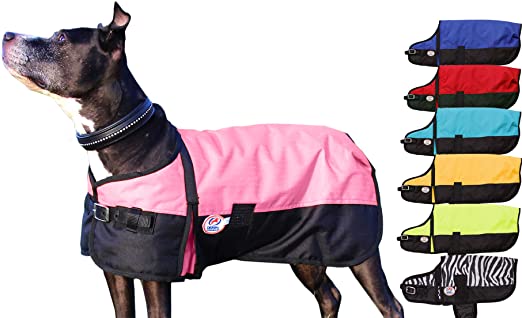 MY GREAT DANE HATES TO BE COLD
If your Great Dane despises the cold weather, that is okay.
In extreme cases some dogs will spend several hours outside playing in the snow!
However, on the other hand, you might have a dog owner report that their dog shows signs of freezing after just a minute or two.
You know your dog best. Always monitor for your dog's normal temperature.
HEATED PAD FOR A DOG WHO HATES TO BE COLD
If you have a dog who despises the cold weather, consider getting them a heated pad to relax on.
Dogs love to snuggle up on something warm. Beware though- they might argue with your other dogs for this spot!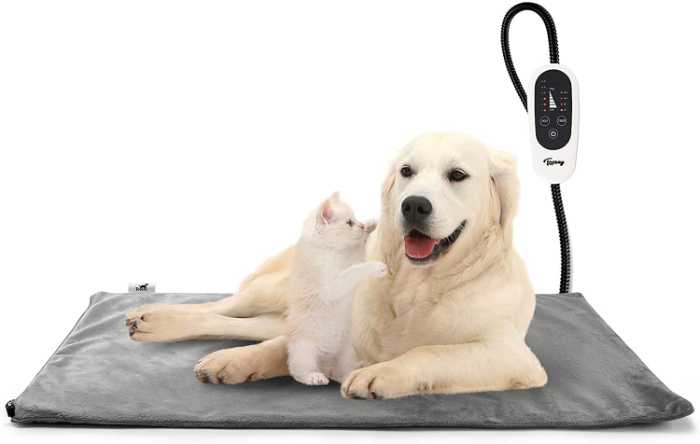 HOW DO GREAT DANES HANDLE HOT WEATHER?
Great Danes are large dogs who get hot very quickly in the summer heat.
You should never keep your Great Dane outside in direct sun exposure or any hot environment for any extended period of time as it can create health conditions and heat stroke.
MY GREAT DANE DOES NOT TOLERATE HOT WEATHER
Most Great Danes struggle to tolerate warm weather for an extended period of time.
It is important to provide regular exercise for your dog, but should be given at appropriate times of days when the weather is not extreme.
COOLING MAT FOR A DOG WHO GETS VERY HOT
If you notice your dog or Great Dane constantly panting or overheating, you can invest in a cooling mat.
We have noticed that Great Danes typically love to relax on these and a dog's temperatures will quickly lower when relaxing on the mat after playing outside in warm weather.
Your dog will be grateful for the break from the summer weather.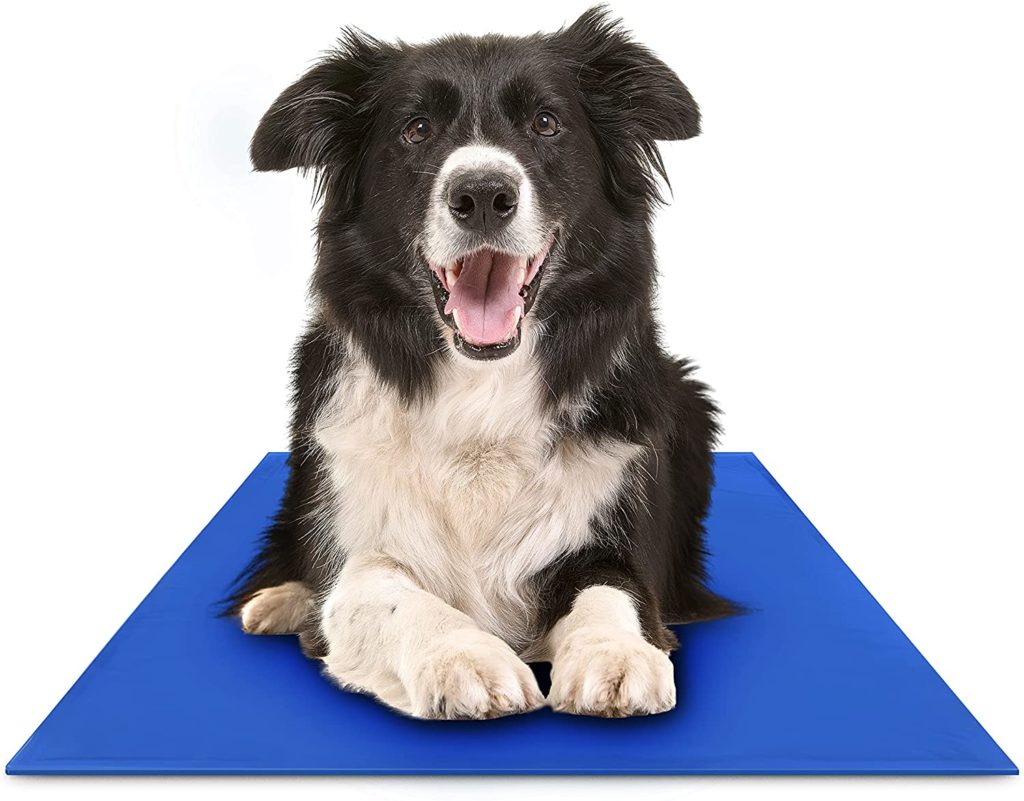 DOG SWIMMING POOL THAT FITS GREAT DANES
Even if your dog does not love to actually swim, it might like to dip its feet in the cool water of a swimming pool.
If your dog's temperature is too high, it is also nice to have a little pool like this one filled up to splash them off and keep them cool.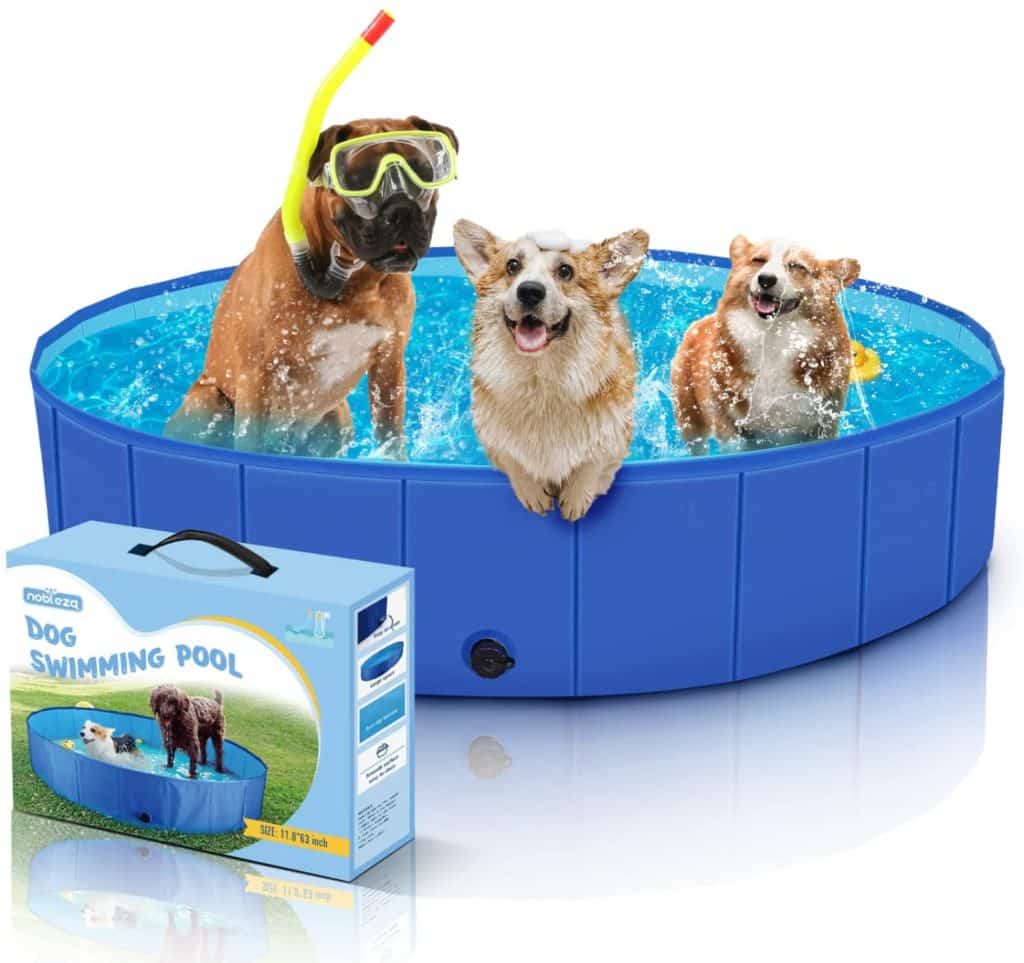 IS IT OKAY TO LEAVE MY DOG IN THE CAR?
It is absolutely never okay to leave your dog in a hot car.
Your dog's temperature can increase very fast in a hot vehicle, causing major health issues.
Even if you are just running inside for a moment in the hot summer months, do not leave your dog in the car.
Ask a family member to stay in the car with your dog instead.
HOW CAN I KNOW IF MY GREAT DANE HAS A TEMPERATURE?
If you have a Great Dane, you should be familiar with taking their temperature.
Knowing your Great Dane's temperature could save you a medical emergency in the future.
RECTAL THERMOMETER
Using a rectal thermometer is one of the easiest ways (for you!) to take the temperature of your dog.
Just remember to lube up the thermometer with some Jelly before you insert it- this will make it much more comfortable for your dog.
The rectal thermometer will give you an accurate reading of your dog and it's temperature.
USING DIGITAL THERMOMETERS
If your Great Dane does not tolerate a rectal thermometer, you can use a digital thermometer on it.
To use a digital thermometer, you can scan your Great Dane's outer ear.
EAR THERMOMETER FOR A GREAT DANE
If you prefer to check the temperature of your dog with their ear canal, you will need an ear thermometer.
Using the thermometer, take your dog's ears and place the thermometer inside the horizontal ear canal.
Keep the thermometer inside your dog's ears until you get a reading of temperature.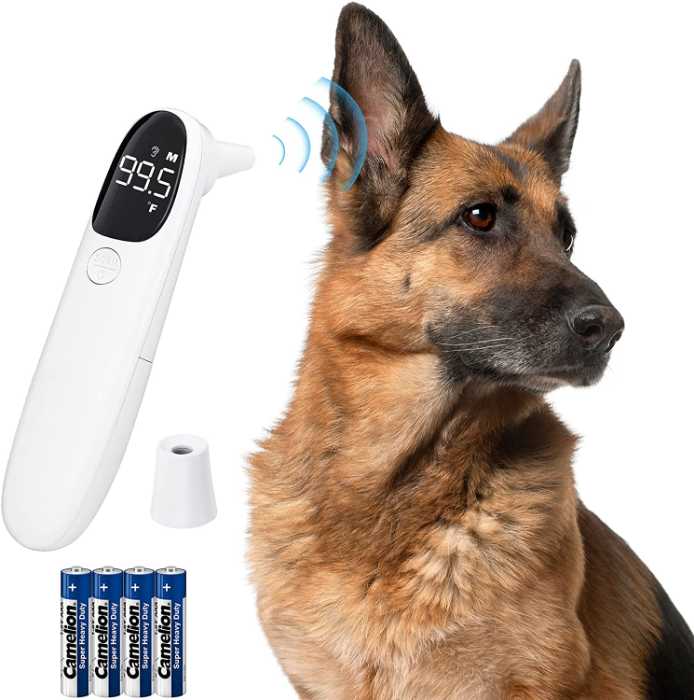 GLASS THERMOMETER FOR A DOG
Some Great Dane parents opt to use a glass thermometer as it is mercury free.
You can use this thermometer multiple ways. Just gently insert in your Great Dane's ear or rectum.

NORMAL TEMPERATURE FOR A GREAT DANE
A normal temperature for a Great Dane is between 101 and 102.
However, keep in mind that each dog is different and you should always consult a licensed veterinarian if you have any questions or concerns about your dog.
FINAL THOUGHTS
Yes, Great Danes need accommodations during extreme temperature days, but really it is not much different than most dogs. Be mindful of Great Dane heating and cooling.
Yes, you have some dogs that are built for the snow or built for the desert, but on average most dogs need to be cared for during a long hour at the dog park or playing in sub zero weather.
If you have a Great Dane, take care in extreme weather and your pup will thank you.
Read more: