Why do dogs yawn? A dog yawn usually has a very different meaning than a person yawning.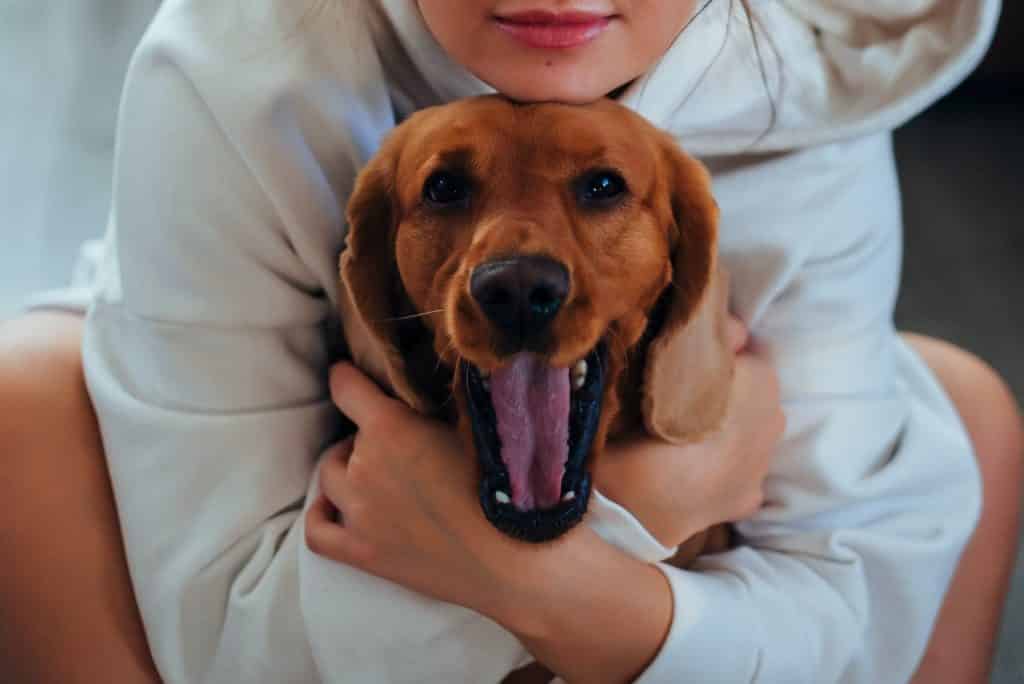 Humans yawning usually implies that they are sleepy. Dogs yawning however is a sign of many different emotions such as: stress, anxiety, boredom, fear or even when they are trying to calm themselves down.
11 Ways to Help a Dog with Anxiety in the Car
Dogs Scared of Vet? Here's How to Help Them Overcome Their Fear
Signs of Stress in Dogs: How to Help An Anxious Dog
Puppy Fear Stages
How Long Can a Dog Stay Home Alone?
Separation Anxiety at Home
How to Help a Dog with Anxiety
Here's How to Help a Dog Overcome Their Fear
So next time your dog yawns think about what emotion he may be feeling, depending on what situation you and your pup are in in that current moment.
WHY DO DOGS YAWN?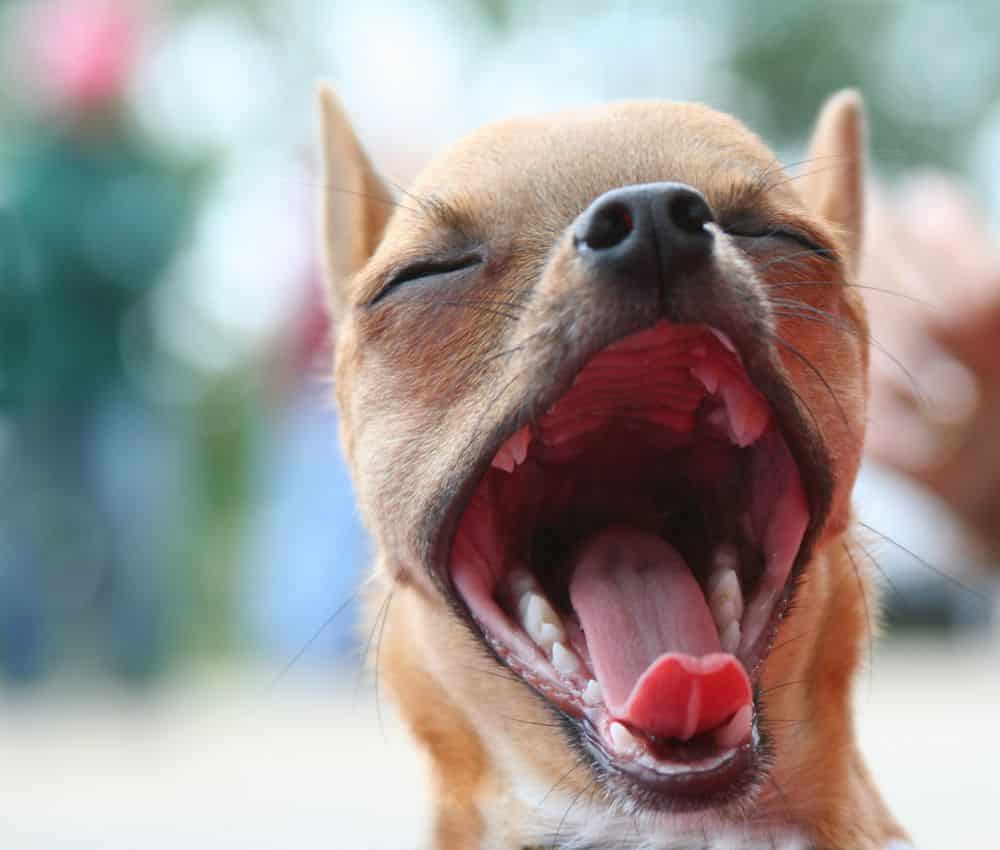 A dog yawn can happen for several reasons, including when they are sleepy, but also when they are stressed, anxious, bored or even when they are trying to calm themselves down.
WHAT DOES A STRESSED OUT PET LOOK LIKE?
A dog who is experiencing anxiety or stress may demonstrate the following:
Ears back
Tail tucked
Yawning repeatedly
An occasional yawn at an uncomfortable time
Lip smacking
Wide eyes (whale eyes)
If you have noticed these signs in your pet repeatedly, your pet may be feeling anxious and need your help working through their confidence in certain situations. Working with your dog on balanced and respectful training can help them become confident in many situations.
Puppy Training: 5 Mistakes in Training
What is Balanced Training?
Respect Training Tips: How to Train Your Puppy Great Dane
Is My Great Dane Being Aggressive?
Canine Good Citizen Training for Great Danes
DOG YAWNS FROM BEING TIRED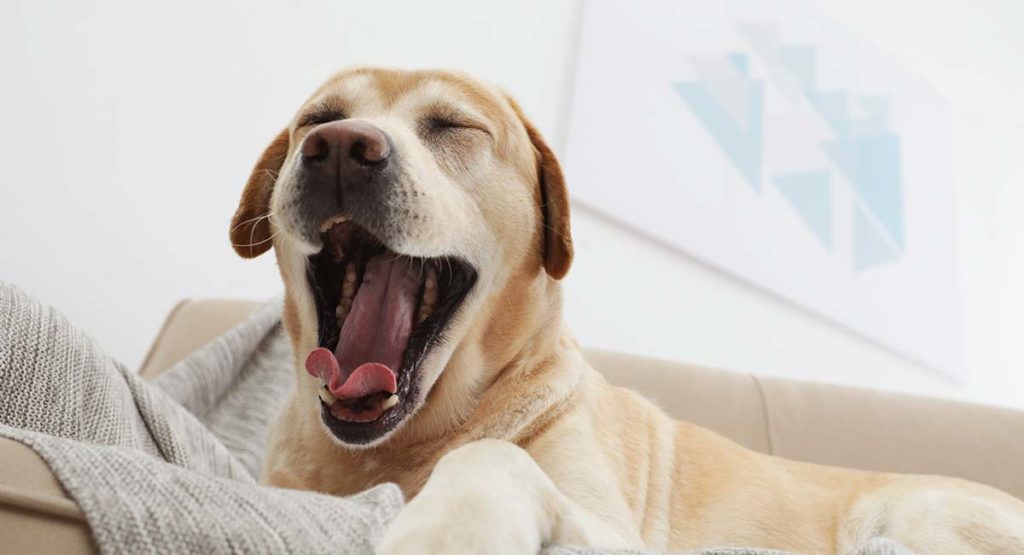 Just like humans, a dog can yawn when they are tired.
Dogs require much more rest than humans.
Normally, a dog will nap two to three times a day for short periods and sleep 12 to 14 hours out of every 24.
However, some breeds require more sleep than others. For example, herding dogs like Australian shepherds or border collies may need up to 18 hours of sleep each day.
If your dog is not getting adequate rest, or sleeping on a bed that supports them and provides proper rest, their brain will eventually begin to feel exhausted.
WHAT BED DO WE RECOMMEND FOR THE BEST SLEEP?
BIG BARKER DOG BED REVIEW
Click the photo below to view and purchase a Big Barker bed and get a FREE Jolly Ball with your purchase.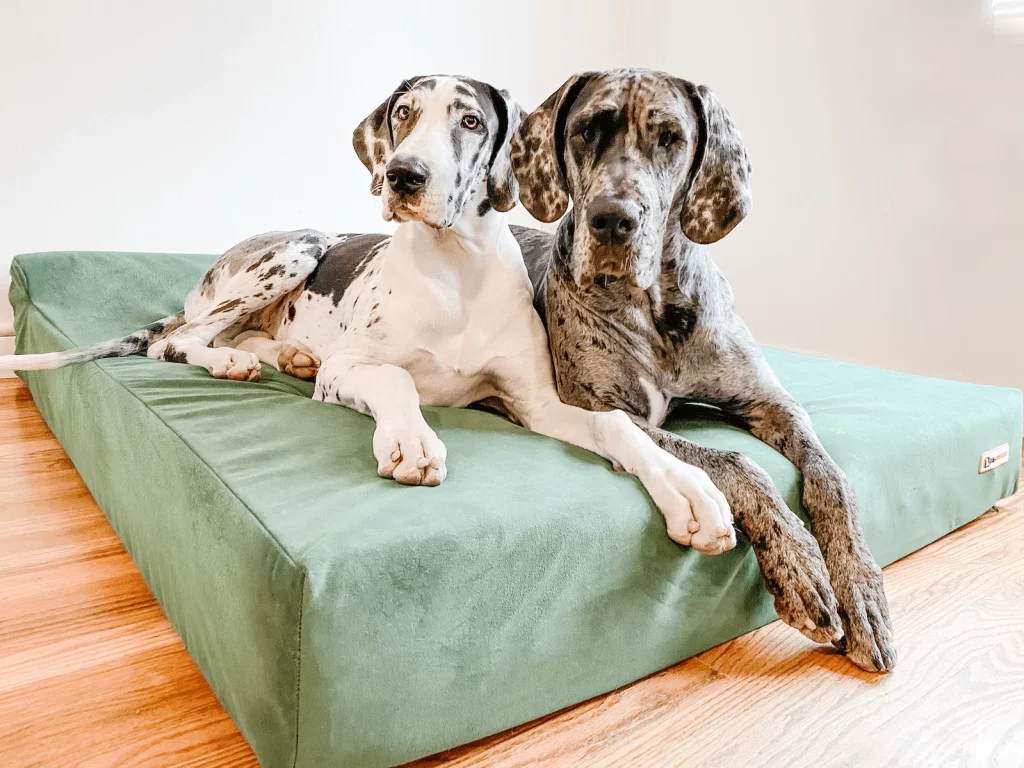 Over time, they may begin to show this exhaustion from yawning throughout the day.
If you notice them yawning, try to tuck them into bed and see if they show any calming signals such as relaxing their body or closing their eyes.
A DOG MIGHT YAWN WHEN THEY ARE STRESSED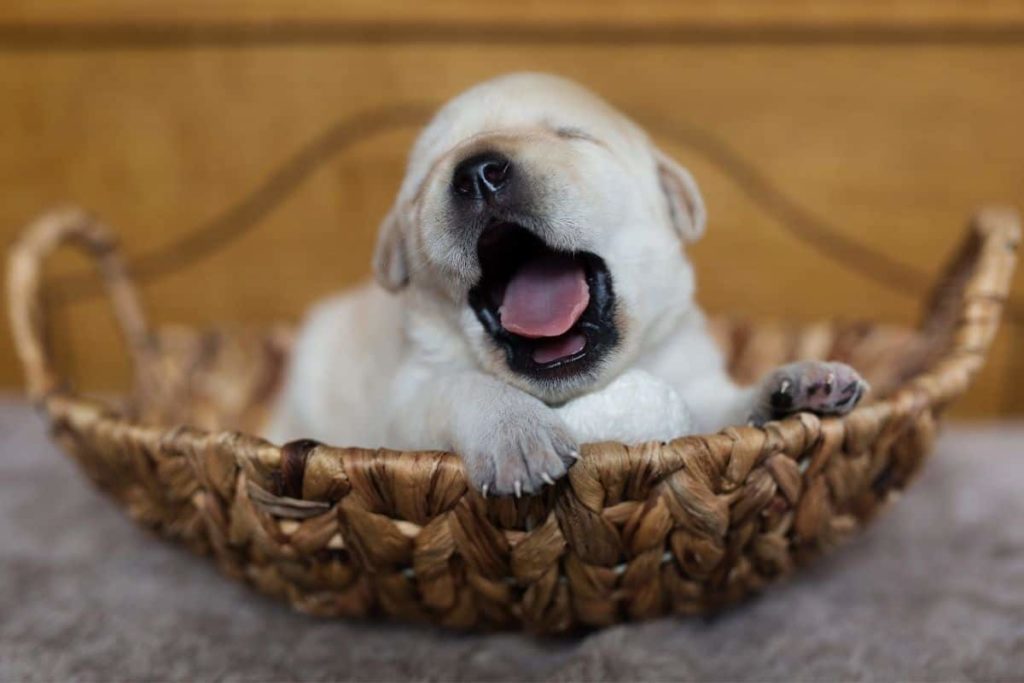 Humans do not yawn when they are stressed, like a dog does.
Dogs show stress by yawning because it is a way to relieve tension that has built up in their bodies.
When your dog yawns, it is his way of trying to calm himself down.
If you see your dog yawning and he seems stressed, try to provide him with a safe space where he can relax. This could be his bed or crate.
How to Crate Train a Great Dane Puppy
Crate Training: The Best Crates for Great Danes
Crate Training a Puppy: It Doesn't Have to be 'BAD'
Which Crates are Best for Large Dogs and Kennel Training?
You might notice your dog's yawn as you enter a place that has other dogs that he is not familiar with. This yawn may be a key clue that your dog is yawning because he is uncertain about those other dogs.
ARE DOG PARKS A GOOD PLACE FOR DOGS?
7 DOGS THAT DO NOT BELONG AT THE DOG PARK
Or, your dog may start to yawn as he begins to recognize the parking lot of the vet as you pull in for his vaccines. This example shows that your dog is uncomfortable with the veterinarian office and doesn't want to see the vet that day.
MY DOG IS AFRAID OF THE VET! HELP!
All of these yawns in your dog serve as signs to help you navigate their feelings.
A DOG MAY YAWN BECAUSE THEY ARE BORED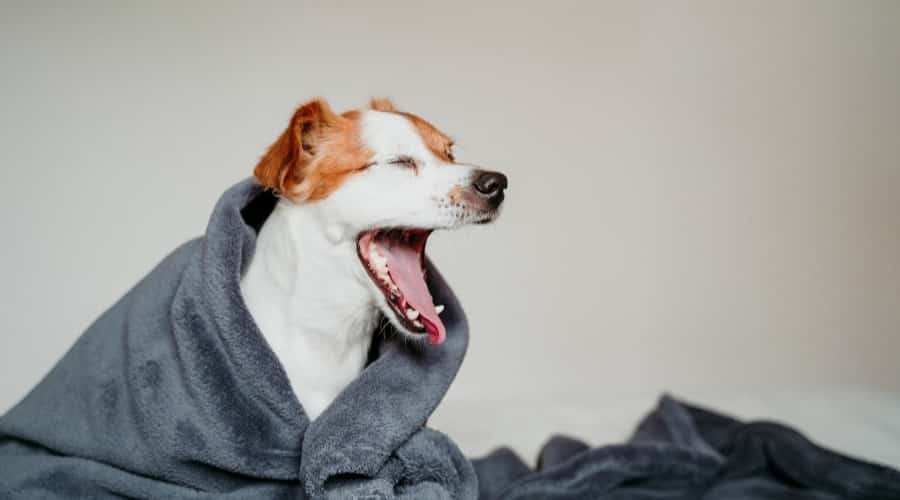 Sometimes, a dog will yawn because they are bored.
Imagine after a long day of doing nothing and you start to notice your dog yawning.
One yawn, two yawns, three yawns! Your dog just keeps on yawning.
Sometimes, when a dog yawns because they are bored, they let out a loud noise with their yawn. This noise sort of serves as a 'lets go do something, I'm so bored', type of communication.
THINGS YOU CAN DO TO ENTERTAIN YOUR PUP:
Socialization Activities For Dogs
Taking Your Dog Swimming
Best Toys for Dogs
A complete guide to socializing your dog and helping them beat the boredom, click here!
If your dog's body language shows boredom, or eagerness to play a game, go for a walk, or get some food, then it is likely that they are yawning because they are bored.
A DOG MIGHT YAWN WHEN THEY ARE AFRAID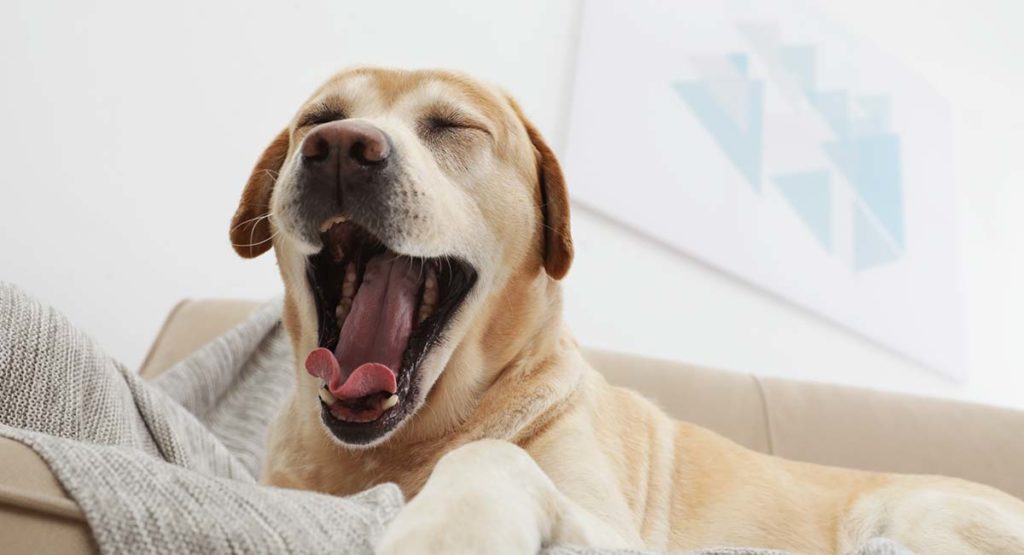 Have you ever seen a dog at the shelter who is trying to make themselves small in their kennel and they keep yawning?
This dog may be yawning out of fear.
When a dog is afraid, their body releases adrenaline and cortisol- also known as the fight or flight response.
Yawning is one way that dogs try to release some of this built up energy when they are feeling scared.
Socializing your dog often in healthy situations is important that they are not afraid of new situations and people.
DOG YAWNS TO COMMUNICATE WITH OTHER DOGS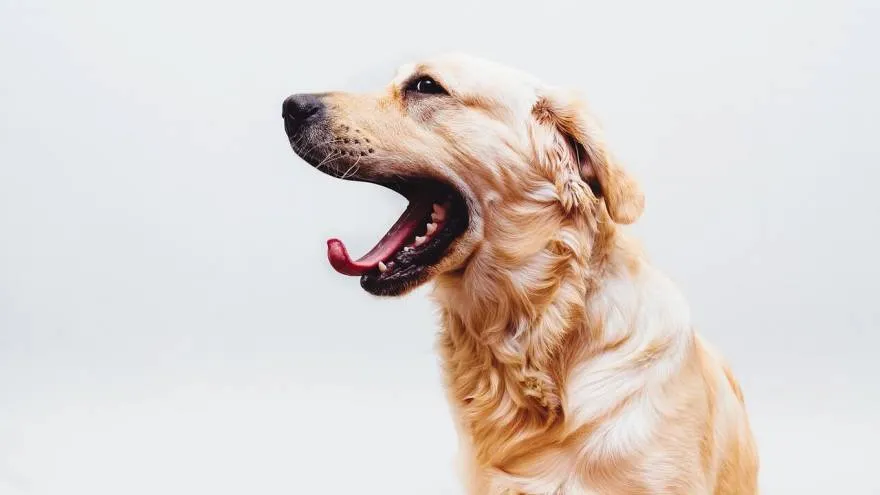 When a dog yawns, it is often considered a sign of dog communication.
Dogs yawn to show that they are not a threat and to communicate that they do not want any trouble.
In some cases, a dog may yawn when they meet another dog to show that they are friendly and non-threatening.
If you see your dog yawning around other dogs, it is likely that he is trying to communicate with other animals or a new dog. This is a completely normal way for your pup to show body language, and unless it is a 'fear yawn', it is perfectly normal behavior.
SIGNS OF STRESS: HOW TO READ BODY LANGUAGE
WHAT DOES A DOG'S MOVEMENT SAY ABOUT THEIR MOOD?
A DOG YAWN MAY BE A SIGN THEY ARE TRYING TO SOOTHE THEMSELVES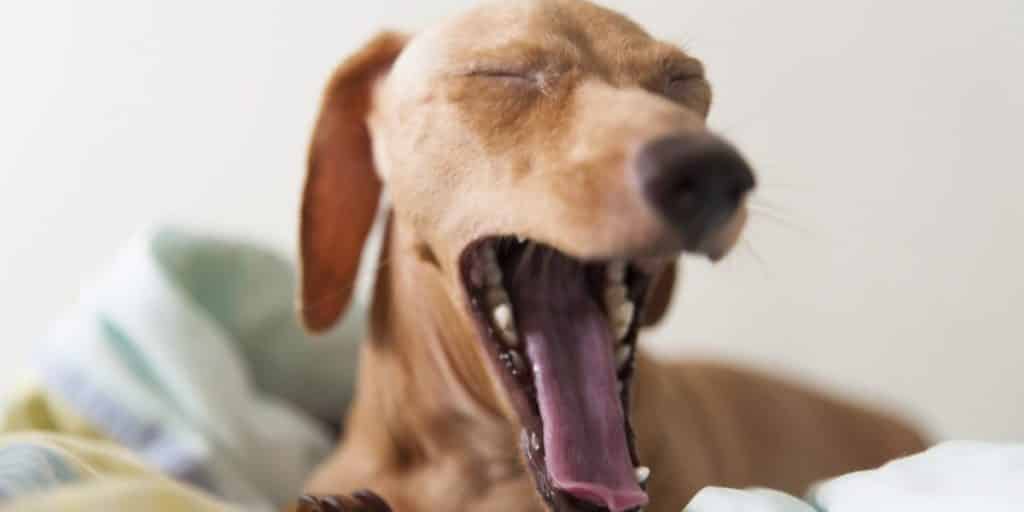 Dogs attempt to soothe themselves by yawning.
For example, if your dog is very uncomfortable when they are around kids, you may notice excessive yawning.
SHOULD KIDS SIT ON DOGS AND VICE VERSA?
Great Danes and Kids: Are They Good Together?
THE LADDER OF AGGRESSION AND A DOG'S YAWN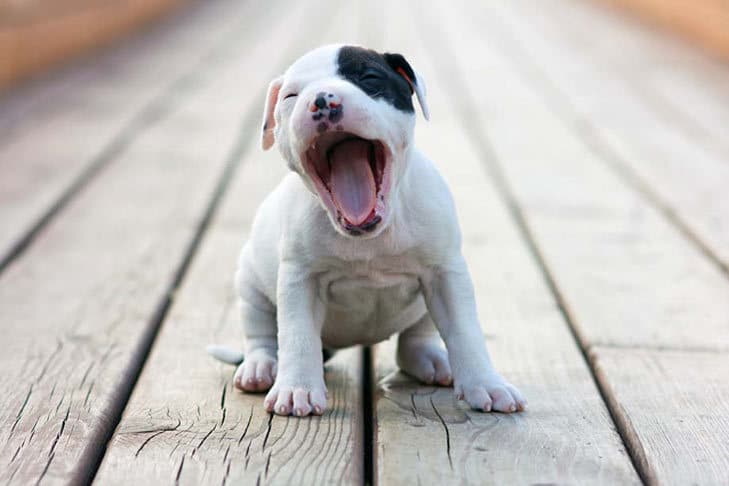 As a matter of fact, there is an 'aggression ladder', and yawning is the VERY first step of that ladder.
That does NOT mean that if a dog is yawning that dog is aggressive. (Aggression in Dogs)
It simply means that a dog yawning COULD mean that this specific pup is anxious with that situation.
In turn, that owner should be responsible for helping their dogs through that situation, training them in confidence or helping them abort the situation altogether.
When a person neglects to help a dog through the first step of the ladder, the dog will resort to the second step of the ladder, and so on, and so forth.
A dog will almost never jump directly to the fourth step, or fifth, or top of the ladder. There are ALWAYS warning signs in a dogs body language of anxiety, stress, and fear in which a dog is trying to communicate.
Puppy Fear Stages
Are Dog Parks a 'Bad' Place?
These Types of Dogs Do Not Belong in Dog Parks
Is My Dog Being Aggressive?
Humans should be aware of a dog body language and what each step of the ladder implies and be willing to help their dog cope with their stress and anxiety, as it is a normal part of of a human and dogs life.
DOES A DOG YAWNING IMPLY A MEDICAL CONDITION?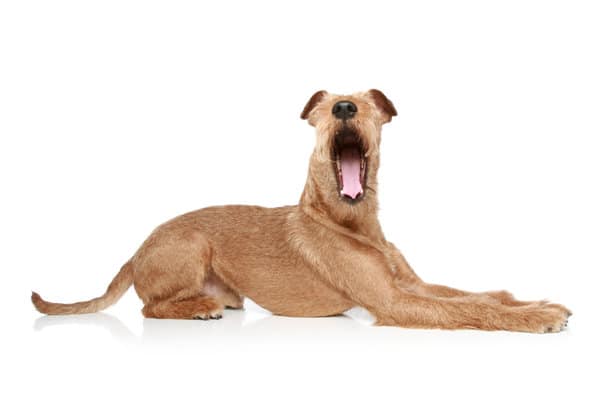 On very rare occasions, a dog yawning can imply an underlying medical condition.
For example, if your dog is displaying other strange behaviors like pacing, circling, whining, or barking for no reason and yawning excessively, he may be experiencing pain.
Common pain causing illnesses in dogs may be:
Arthritis (Arthritis in Great Danes)
Hip dysplasia (Canine Hip Dysplasia)
Intervertebral disc disease
Allergies (DRY SKIN)
Stomach/Digestion Issues (What Foods Help a Dog's Upset Stomach?)
Acid Reflux
Ear Infections (Ear Infections)
Mouth sore or infection
Acid reflux can ocassionally cause excessive yawning or lip licking because of the pressure it puts on the esophagus.
If your dog is experiencing any of these symptoms, it is important to take him to see a veterinarian and seek the appropriate steps.
EAR INFECTIONS AND YAWNING IN DOGS
A yawning dog may also have an ear infection because of the pain and itchiness in their ears that comes along with the condition. Typically this form of your dog's yawns will be associated with head shaking and/or scratching.
Xymox is the best at home remedy for treating ear infections. See below to purchase.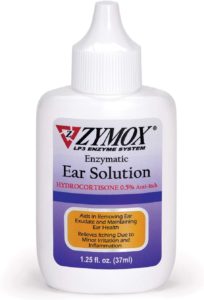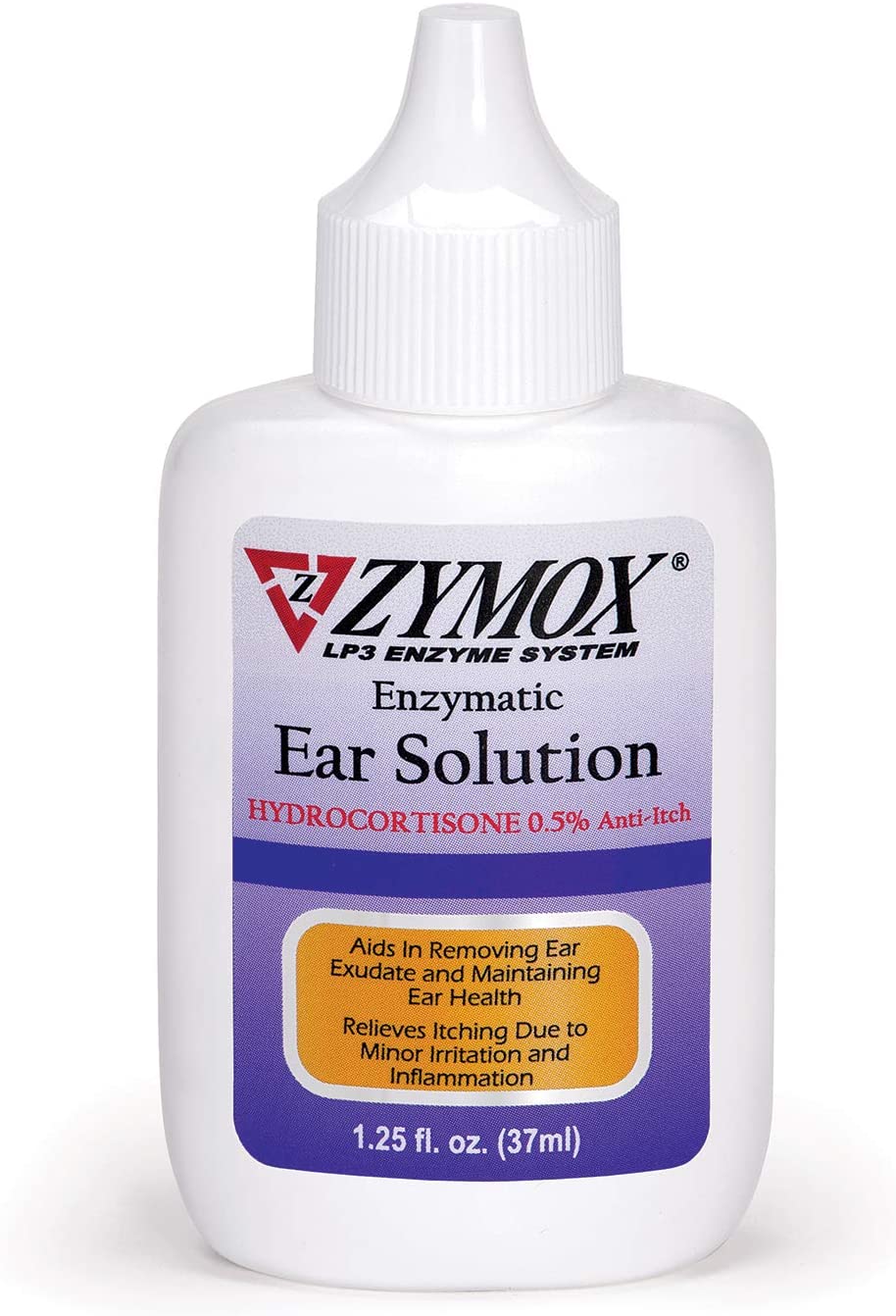 Xymox is our absolute FAVORITE cleanser if your Great Dane has yeast or inflammation in its ears.
If your dog is displaying any of these behaviors, it is best to take him to the vet for a check-up.
SHOULD I BE CONCERNED WHEN MY DOG IS YAWNING?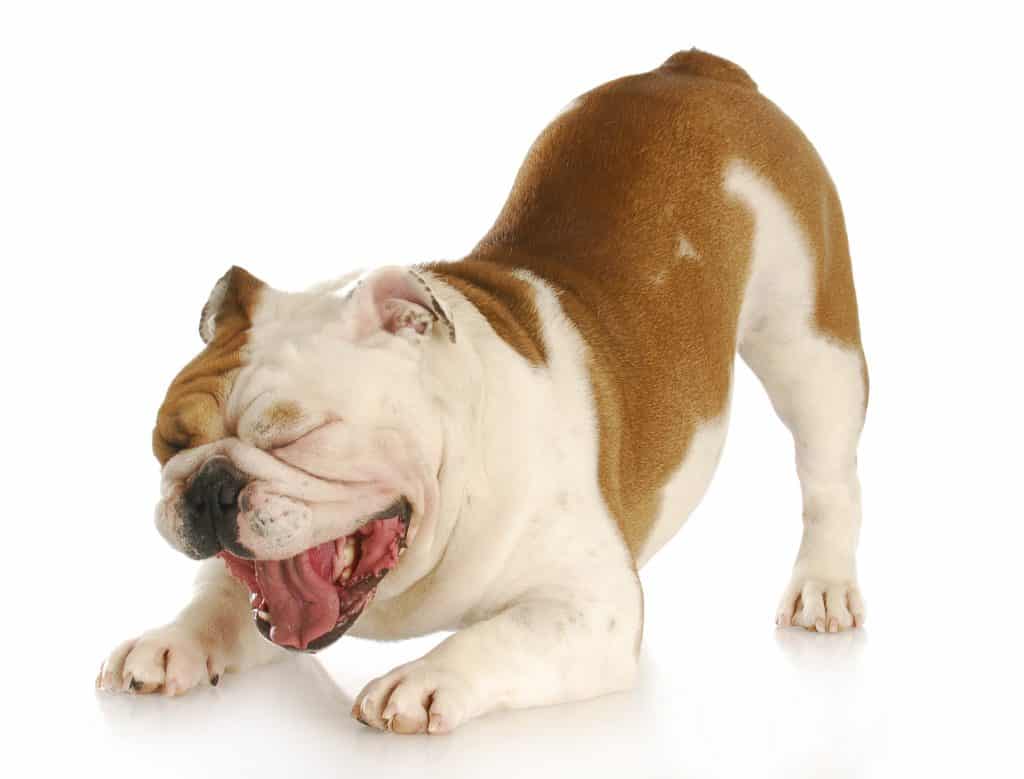 Overall, when a dog is yawning, it is usually just because they are tired, stressed, bored , or trying to communicate with other dogs.
The calming signals that a dog may use when experiencing stress are different than that of a person. Yawning behavior can be indicative of anxiety and stress, whereas when humans yawn it is mostly just because they are tired.
However, if your dog is yawning excessively and displaying other abnormal behaviors, it may be time for a vet visit to rule out any possible medical conditions.
The great thing is that if you notice your dog demonstrating a consistent yawn as a calming signal during a stressful situation, you can seek help from a professional trainer to get the training that your pet needs to feel comfortable and confident in all of the life situations thrown their way.