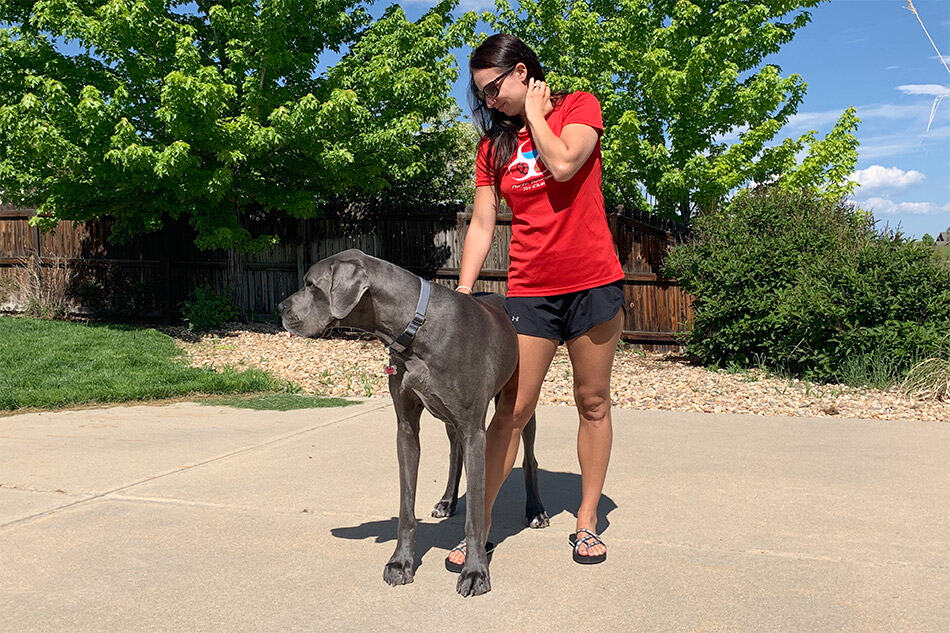 Why do Great Danes lean?
Have you ever been around a big dog and suddenly they are leaning on you? If you have, chances are it was a Great Dane. And if you're like most people, your first reaction is probably to think 'Aww, how sweet!' But have you ever stopped to wonder why they do it?
Researchers have found that there are a few reasons that giant breeds tend to lean on their owners or even strangers.
A few reasons that a Great Dane dog leans might be:
Most dogs feel safe when they are touching humans
The leaning behavior might be a dogs way of showing affection
The Great Dane may be feeling afraid and finding comfort in their person or family
Some dogs may try to show protective behavior with a lean
If a dog feels threatened it may lean in fear
GREAT DANES LEAN BECAUSE THEY FEEL SECURE WHEN THEY ARE TOUCHING FAMILY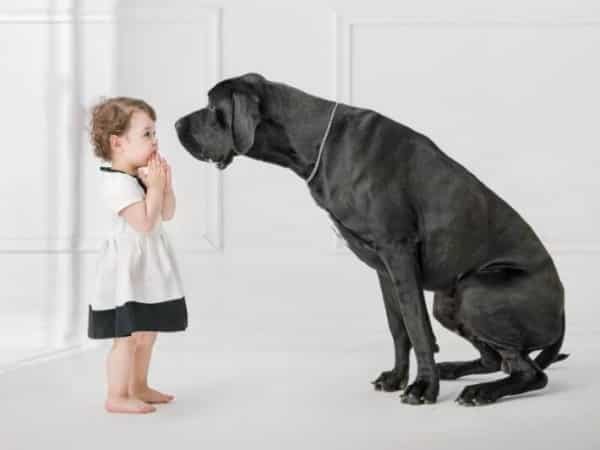 Great Danes are a dog who simply love being with people.
Great Danes are known for being a 'gentle giant' and they are absolutely people dogs.
The most common reason that your Great Dane might start leaning on you or your family members, kids, or even friends is just because they are gentle souls who love to show affection.
Think of every lean as a 'Gentle Giant hug'.
GENTLE GIANTS AND EVERYTHING YOU NEED TO KNOW
A Great Dane leaning is typically NOT anything more than a Great Dane hug! Danes lean because they have a soft spot for affection and your Great Dane likes to make you aware (and I mean REALLY aware) that they consider you a friend in life.
GREAT DANES ARE A GIANT DOG WITH A TON OF LOVE, AND SOMETIMES THAT MEANS A GIANT DOG WITH LOTS OF DOG LEANING
Great Dane owners know that Great Danes are a lot of dog.
Their massive size can be quite overwhelming, but they make up for it in personality and heart.
While it might become a bit annoying when Great Danes try to lean while you are cooking dinner or working at your desk, it's important to remember that they are just trying to show you how much they love you.
If your Great Danes lean on your children- consider it a compliment!
That leaning typically implies that the dog leaning trusts the child enough to lean and show affection.
Great Danes love any form of physical touch, attention and will even lay their big heads on you to show they care.
GREAT DANES LEANING COULD BE IMPLICATIVE OF WHEN THEY FEEL THREATENED OR FEELING ANXIOUS

If your Great Dane leans in uncomfortable situations, they might be leaning because they are trying to show you they are scared.
Typically, this will happen if strangers come in to the house, or if they bring pets in to the house that your Great Dane doesn't know.
You might notice your Great Dane try to lean extra hard if they see a dog that they are afraid of, or feel uncomfortable with the presence of.
This is a dog's way of asking you to protect them, and they feel more comfortable when you are close by.
Try not to over complicate the situation by showing your Great Dane an abundance of 'attention' in that moment. That will show your Great Dane that the lean behavior will get them attention and then they will continue to do it more and more.
DOGS CAN SHOW LEANING BEHAVIOR TO 'PROTECT' THEIR OWNERS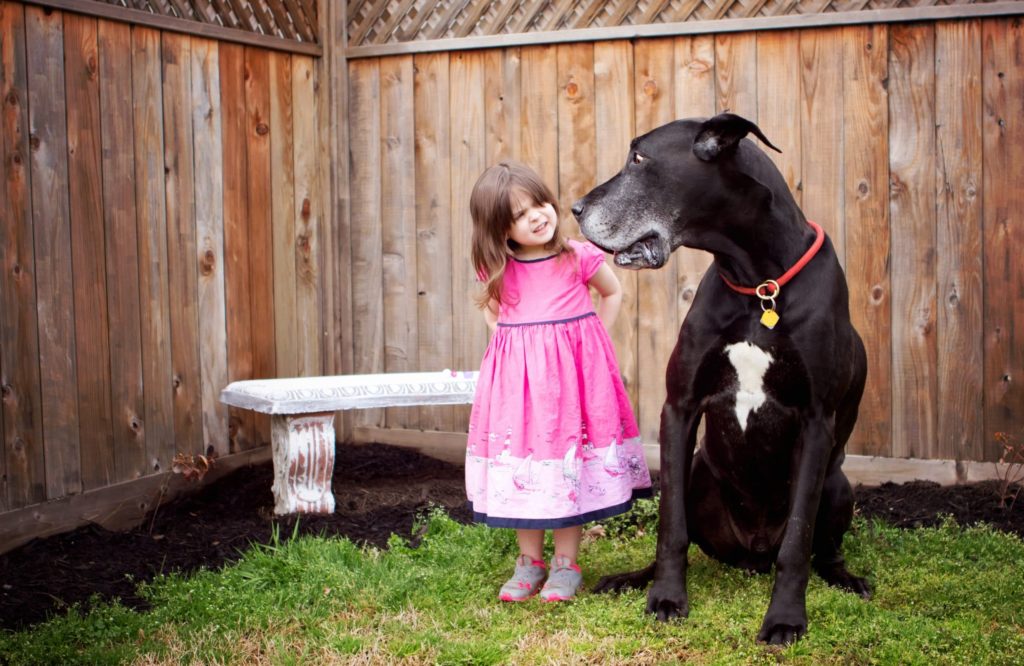 Leaning can be a sign of a dog trying to protect their owners.
Typically, Great Danes are NOT leaning to try and protect their owners.
Great Dane owners know firsthand, that Great Danes are usually more afraid for themselves than even thinking about protecting their owners.
8 Reasons You Should Not Get a Great Dane as a Guard Dog
GETTING SOME HELP INVOLVED WITH YOUR PUPS WHO ARE SHOWING ISSUES
However, if you are thinking that the leaning in your dog is a dominance issue, you should consult with a trainer as soon as possible.
A trainer can help you correct the Great Dane leaning before it becomes a bigger issue or lead to any surprise outburst.
FINDING THE RIGHT TRAINING METHODS FOR YOUR PUPS
Do not just find the first trainer that pops up on google!
Training Mistakes
Best Training Treats for Great Dane Puppies
Why is Leash Training so Hard?
5 Leash Training Tips
Puppy Training: 5 Mistakes in Training
What is Balanced Training?
It is crucial for such a sensitive breed that you investigate which training tactics work best for not only the breed, but your Great Dane!
The breed is very sensitive and using any form of dominance training can impact their temperament for the rest of their lives.
Is My Great Dane Being Aggressive?
Canine Good Citizen Training for Great Danes
Deplorable Dog Training: Sit Happens
What is Great Dane Dominance Training?
You want to find a trainer that uses gentle, reward based training methods for the best results with your Dane.
We believe in the ethical use of E collars for the breed, as they combine a powerful use of positive reinforcement with a necessary dose of correction- both of which the breed needs to succeed.
Read more here:
99 Reasons Why to Use an E Collar and a Shock Ain't One
Things that are More Aversive Than an E Collar in Training
E Collars are NOT Shock Collars
Proper E Collar Placement
E Collar Comfort Pads
E Collar 900 Review
Using an E Collar to Teach Recall
Dog Halo Collar Review
Teaching Recall with an E Collar
From Running Away to Off Leash Freedom
Shock Collar for Great Dane Training
Prongs are Just Plain Positive
IF YOUR GREAT DANE FEELS THREATENED THEY MIGHT RESORT TO LEANING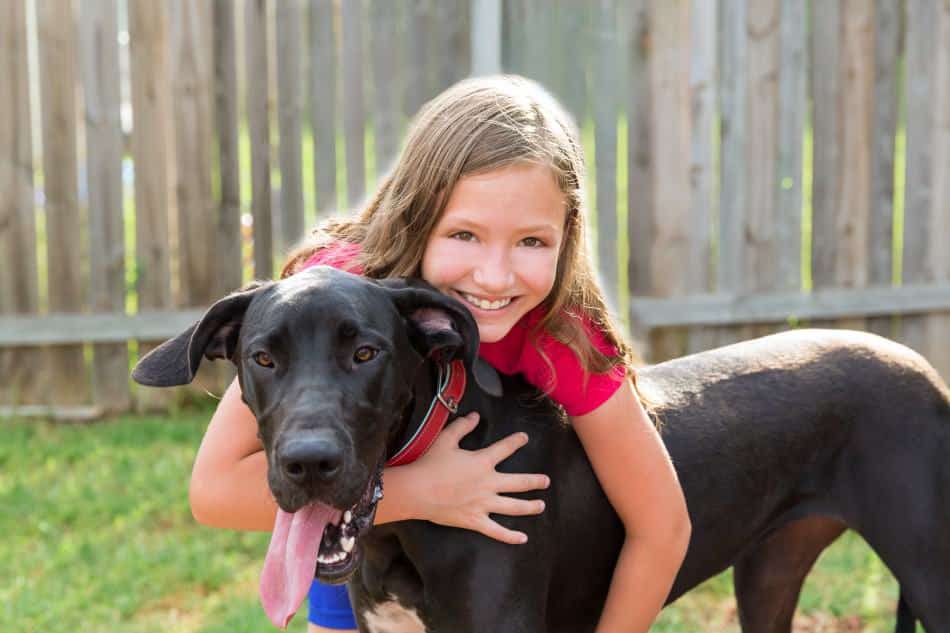 Do you remember as a child if you felt threatened or insecure, you usually wished you were sitting in your mother's lap?
Likewise, Great Danes tend to resort to the one person who they know best, their mom or dad.
When your Great Dane tries sitting on your lap or leans up against you, they might be feeling threatened or scared and are looking for reassurance from you.
This is a normal behavior in dogs, however if the leaning starts to become too much, you might want to consider some training to help your dog feel more secure.
Find resources here:
Puppy Socialization Guide
Puppy Training: 5 Mistakes in Training
Canine Good Citizen Training for Great Danes
Your Puppy is Bored
GREAT DANES MIGHT START LEANING BECAUSE THEY ARE SICK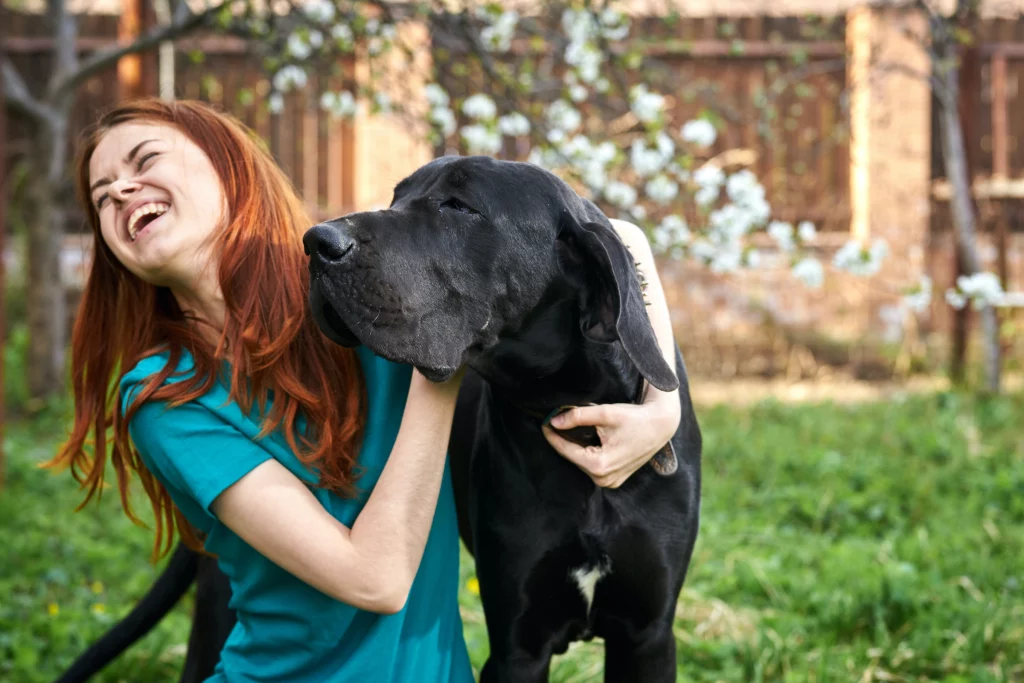 If your Great Dane is typically NOT a dog that leans, but begins to show signs of leaning one direction or the other, they might be having health issues.
HEALTH ISSUES ASSOCIATED WITH DOGS THAT LEAN
Ear Infections: ear infections can cause a Great Dane to lean one way or the other because they are trying to relieve the pressure or pain that they are feeling. If you notice your dog leaning and tilting their head to one side, make an appointment with the vet as soon as possible.
Anxiety: Great Danes can suffer from anxiety just like humans. If your dog is leaning against you or trying to get on your lap and they don't typically do this behavior, they might be feeling anxious.
Hip Dysplasia: Hip dysplasia can cause somewhat of a 'lean' in your pup from one side to another. This could be described as an unsteady walking. The best way to treat Hip Dysplasia is prevention, which starts with Great Danes when they are just a pup.
Ear Infections in Great Danes
Canine Hip Dysplasia
MY GREAT DANE PUPPY IS LEANING ALREADY! WHAT SHOULD I DO?
If you have a Great Dane leaning as just a pup- there is just one thing to do-
Welcome to the world of Great Dane owners!
If you're new around here, check out this post: Tips for Successfully Caring for Great Danes
One of the first things you'll notice about your Great Dane is their leaning. You might think to yourself- 'is my dog going to be okay?', 'should I be worried about this?' or even 'is my dog trying to tell me something?'.
The answer is- all of the above. Let's explore each one.
WHAT TO DO WITH NOTORIOUS LEANERS
First, don't worry- this is a completely normal behavior in Great Danes. You might notice your Great Dane try to lean on you when they are tired, want attention or even when they are just happy to see you.
One thing to be aware of is that if your Great Dane starts to lean on you when they are feeling threatened or scared, this could be a sign of anxiety or even aggression. If you notice this behavior, it's best to stay on top of it!
Cbd is a great resource for helping anxiety, but be careful which one you choose!
Using CBD for My Dog's Pain
7 Uses of CBD
Another thing to keep in mind is that if your Great Dane begins leaning more than usual, this could be a sign of an ear infection or even hip dysplasia. If you notice your dog leaning to one side or walking unsteadily, make an appointment with the vet right away.
IN CONCLUSION
As you can see, there are a few different reasons why your Great Dane might be leaning. However, the most important thing to remember is that this is a completely normal behavior and there is no need to worry. Just enjoy the snuggles! :). Thanks for reading!