Big dog names can be hard to choose. You want a dog name that is strong enough to match their big personality, but docile enough that fits in to the 'gentle giant' persona that many large dog breeds have.
If you have a new big dog, you've come to the right place for big dog names.
READ MORE BIG DOG TOPICS HERE:
POPULAR BIG DOG NAMES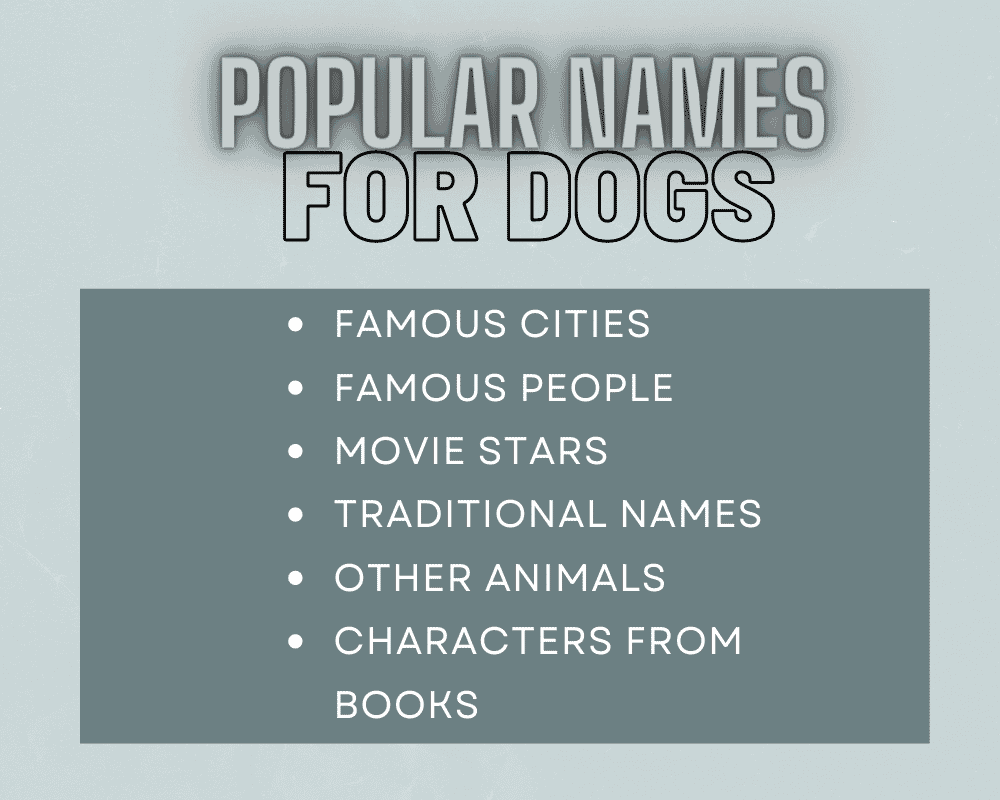 Your pup should have a big name for a big dogs!
If you have a big pup, you might be wondering what some popular big dog names are. Luckily, we have a few ideas to get you started.
CONSIDER NAMING YOUR BIG DOG AFTER A FAMOUS LANDMARK OR CITY
First, consider naming your dog after a big city or famous landmark. New York, London, and Paris are all great options.
TRADITIONAL BIG DOG NAMES ARE POPULAR
Alternatively, you could go for a more traditional name like Duke or Duchess. Other traditional and popular names for a dog could include Max, Molly, or Zeus.
CHOOSING BIG DOG NAMES THAT ARE NAMES OF OTHER ANIMALS
For something unique, you could also try naming your dog after a big animal, like an elephant or grizzly bear. These big dog names can reflect our dog well especially if our big dog looks like a bear with lots of fur!
Whichever route you choose, make sure to pick a name that reflects your big dog's personality and individuality. After all, they're the ones who will be wearing it for life!
FICTIONAL CHARACTERS AND THE PERFECT NAME
Sometimes, using names from popular movies or books make the perfect dog name.
Some popular names could be King Kong, Clifford (the Big Red Dog), Chuck Norris, or even Godzilla.
NAME YOUR DOG AFTER YOUR FAVORITE MOVIE
Some people like to name their dog after their favorite movies. Here are some ideas:
The Hunger Games: Katniss, Primrose, Gale, Haymitch Harry Potter: Sirius, Lupin, Tonks, Harry
The Lord of the Rings: Aragorn, Gimli, Frodo, Legolas
Harry Potter: Sirius, Lupin, Tonks, Harry
BONUS: NAMES FOR BIG BLACK DOGS
Here are some ideas if you have a big black dog: Midnight, Onyx, Raven, Ebony.
These are just a few ideas to get you started on finding the perfect big dog name for your new pup and want to take the celebrity or movie theme.
READ MORE BIG DOG TOPICS HERE:
A PERFECT GREEK NAME FOR YOUR BIG DOG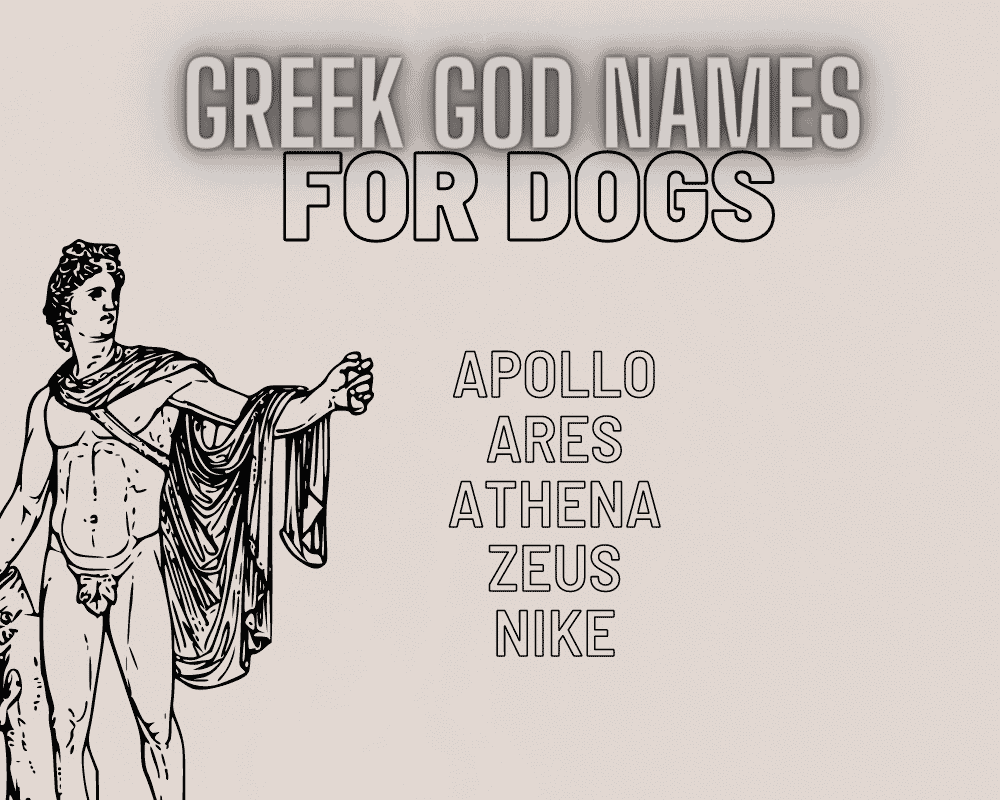 A big dog can rock big, strong dog names. What better names for big dogs than those of Greek Gods or Goddesses?
Consider naming your big dog after one of these deities:
Apollo
Ares
Athena
Zeus
Nike
Picking a name for your big dog doesn't have to be difficult. Just think about what some of your favorite things are and go from there. With so many great options out there, you're sure to find the perfect big dog name.
UNIQUE BIG DOG NAMES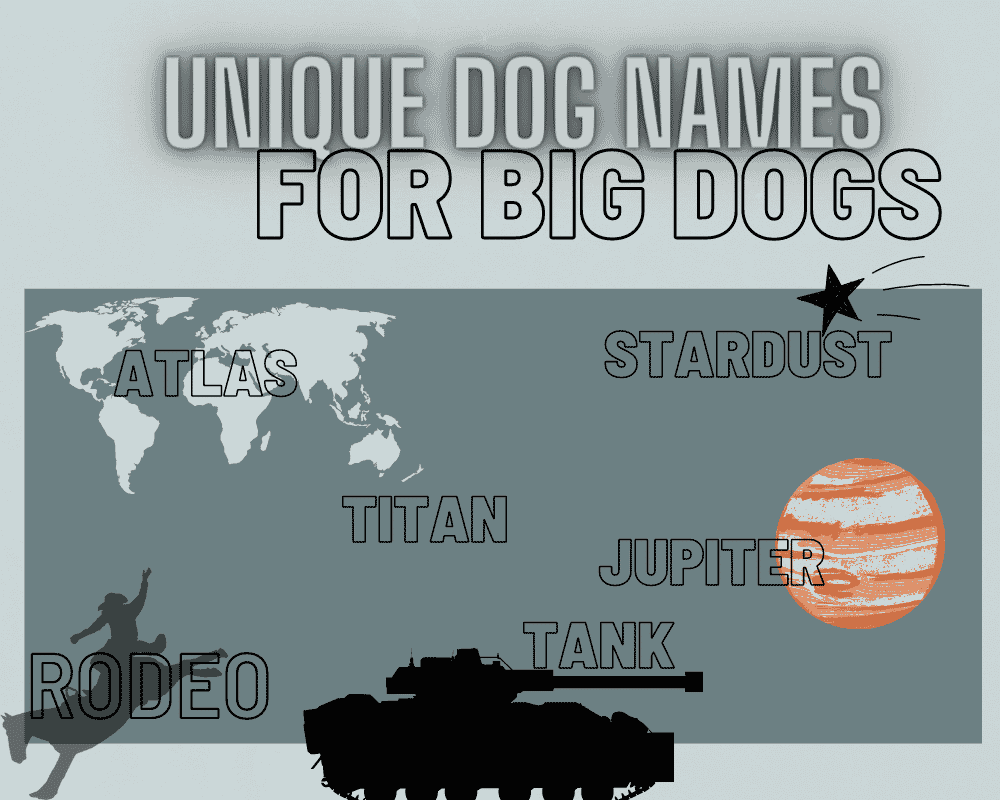 Maybe you are looking for unique names for big dogs. Dog names sometimes start to all sound the same when you are at the dog park and every single dog is named similarly.
However, names for big dogs can be very fun and unique! Here are some fun, different and unique ideas for giant breed dogs:
Tiny
Biscuit
Goliath
Beefcake
Butterbean
Thumbelina
Turbo
T-Rex
Atlas
Tank
Jupiter
Ziggy
Stardust
Bam-Bam
Whatever you choose, make sure it is a name that you are comfortable yelling in the dog park!
There are so many great options for big dog names. The most important thing is to choose a name that you and your pup will love.
MALE BIG DOG NAMES
Did you just bring home a male puppy? If so, you're in the market for male big dog names.
Here are some manly dog names for a puppy or for adult dogs if you recently adopted!
Hercules
Tyson
Bruno
Champ
Thor
Rocky
Rambo
Logan
Bruce Wayne
These are all great ideas for tough dog names. Choose the one that best fits your pup's personality!
READ MORE BIG DOG TOPICS HERE:
FEMALE BIG DOG NAMES
Female dog names can be tough to find but dog owners have come up with some amazing ideas.
If you are looking for a feminine name for your female dog, maybe consider the following ideas:
Persy
Ginger
Princess
Bambi
Buttercup
Ducky
Belle
This is just a small sampling of some great ideas for female big dog names. Consider your pup's personality when choosing the perfect name.
Maybe your female dog is not so much of a 'feminine' or 'girlie' type, and you want a more traditional female name for her. Here are some of our favorite big dog names for our tomboy oversized pups:
Blaze
Sammy
Ryann
George
Billy
Harley
These are all great ideas for big dog names, regardless of your pup's personality type. Choose the name that you love best. If you love dogs- you will have an abundance of ideas.
GENTLE GIANTS: GENTLE DOG NAMES FOR BIG DOGS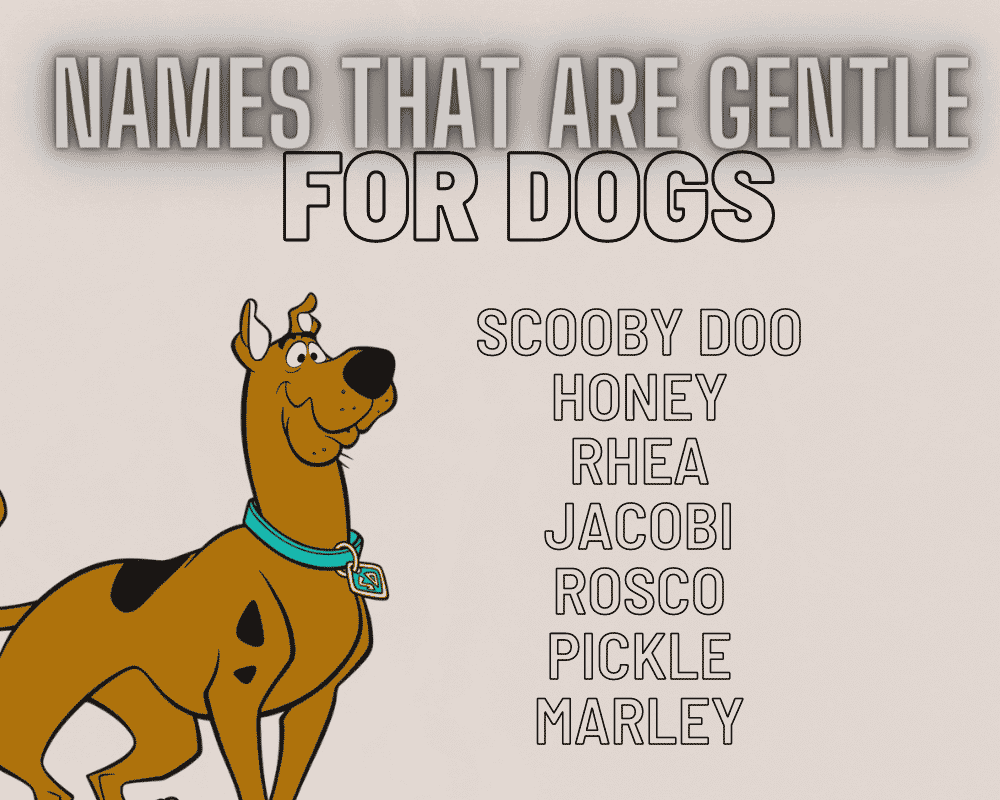 If you've been around a big dog, you will know that your dog's temperament will make any name a perfect fit. Finding a good name for dogs is hard, but knowing that whatever name you choose is going to match is really important.
Since big dogs have such a silly and sweet personality, it leaves you with excellent options and inspiration for names. Here are some great names for your sweet pup:
Honey
Scooby Doo
Axle
Jacobi
Rhea
Rosco
Marley
Pickle
FUNNY DOG NAMES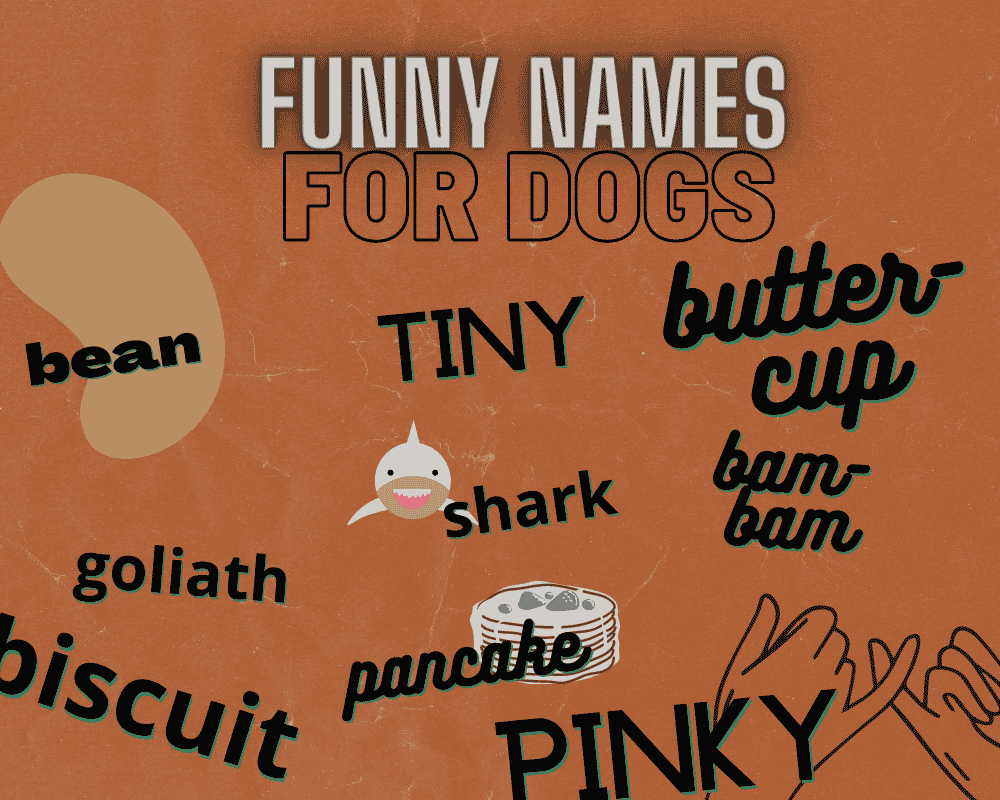 Bringing a giant dog or Great Dane into the family DEFINITELY requires a sense of humor! So, maybe you are looking for some funny names! Well, the world does not lack in the amount of funny big dog names out there. Here are some of the best funny names for Great Danes or other big dogs:
Biscuit
Butterbean
Goliath
Tiny
Thumbelina
Shark
Ziggy
Stardust
Bam-Bam
Butter-Ball
Pancake
If you are looking for a good chuckle, these are some of the best funny names for big dogs. Feel free to use any of them!
CUTE DOG NAME IDEAS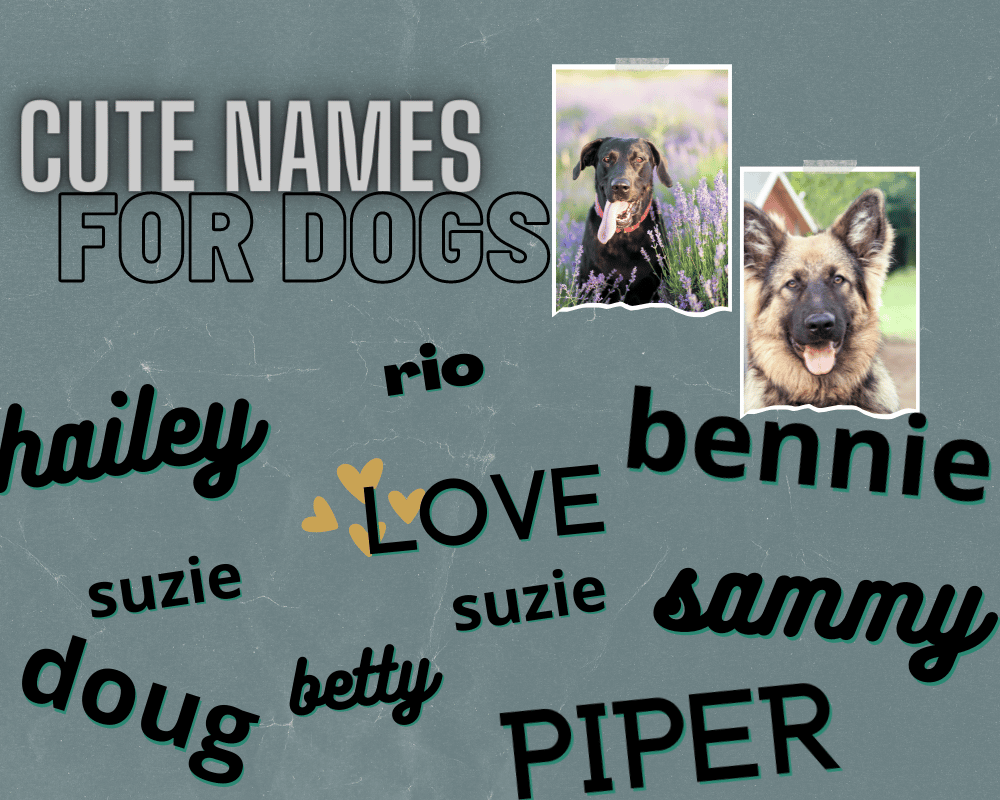 You just added a new family member into your life! It is one of the best feelings, and you are feeling extra sappy and 'cutesy'.
If you brought home a new breed get ready for your world to be extra fun and covered in dog hair! There may not be a whole ton of rest in your future, but there are definitely lots of adorable dog names in your future!
Here's some ideas:
Hailey
Sammy
Betty
Suzie
Benny
Rio
Doug
Piper
Sugar
Moose
LARGE DOG NAMES IN PERSONALITY AND SOUND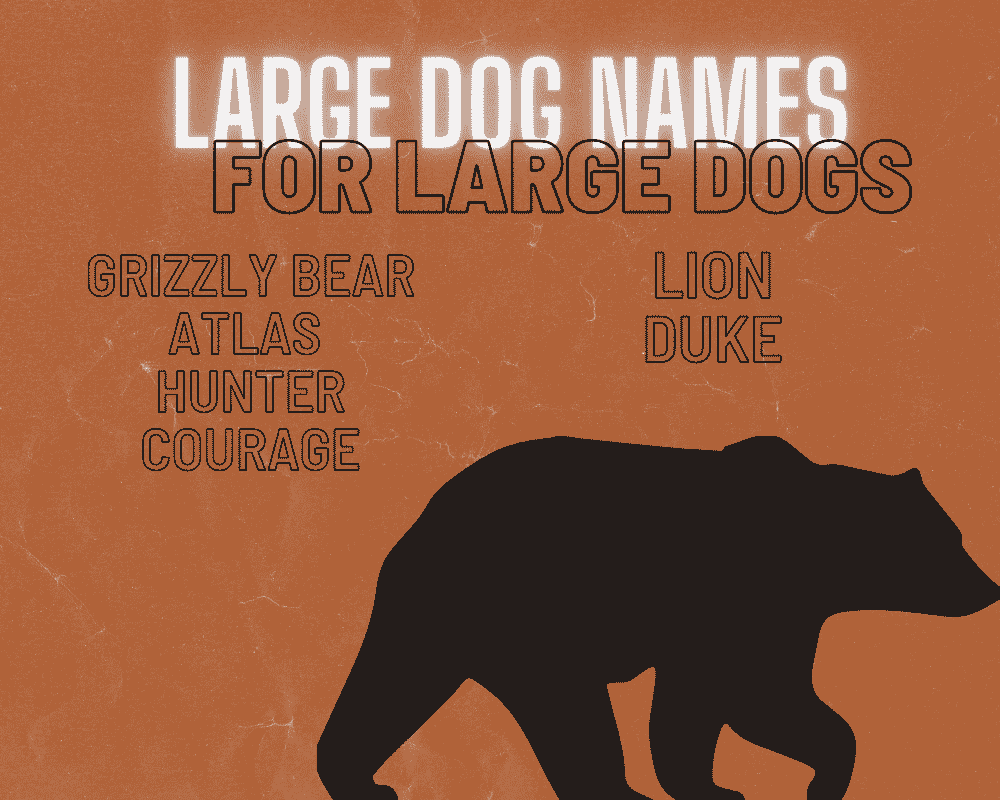 For a big dog, you need big dog names. Dogs like a Great Dane need a pup name that matches it in big dog size.
So, what are some big dog names that are also super cute?
Hunter
Courage
Boomer
Titan
King
Maximus
Prince
Grizzly
Lion
Duke
These are all great ideas for big dog names that also sound super tough. If you are looking for a name to make your pup feel extra special- choose one of these!
READ MORE BIG DOG TOPICS HERE:
FINDING DOG NAMES FOR A LARGE BREED IN DIFFERENT LANGUAGES
Different languages offer an entire new selection of dog names! If you speak Spanish natively, look for names in French. If your native language is Italian, look for some fun ideas or inspiration in Spanish.
SPANISH NAMES FOR DOGS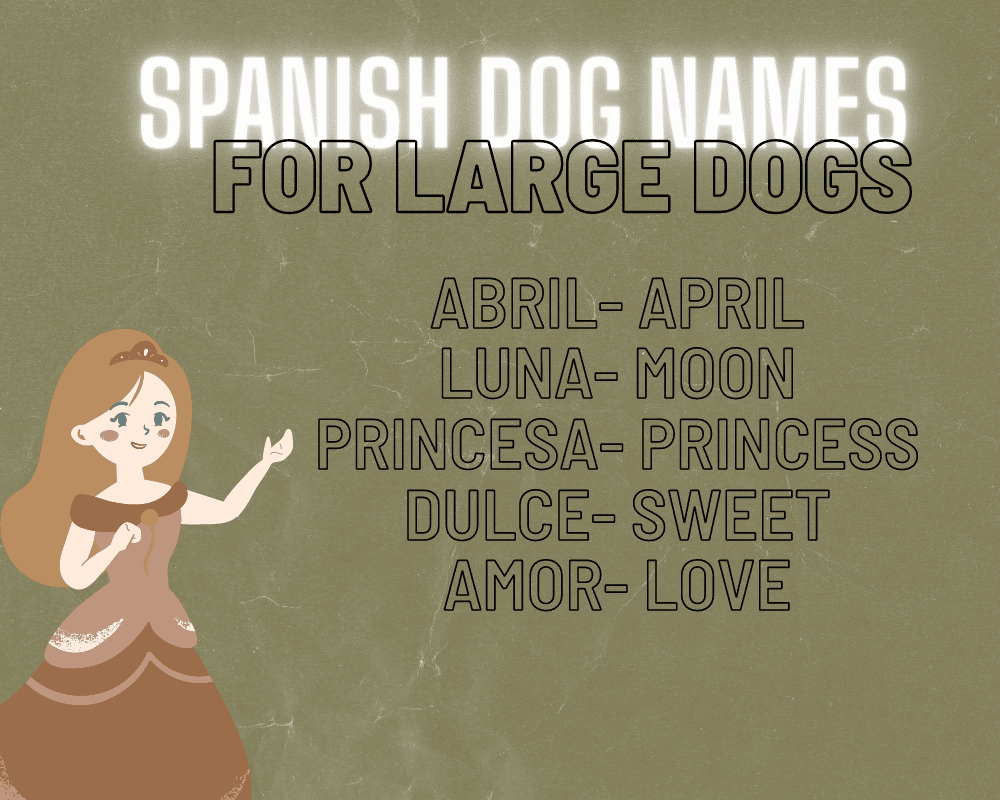 Here are some great ideas for Spanish names for dogs:
Abril- April
Luna- Moon
Princesa- Princess
Dulce- Sweet
Amor- Love
USE A LATIN NAME IN ORIGIN FOR YOUR DOG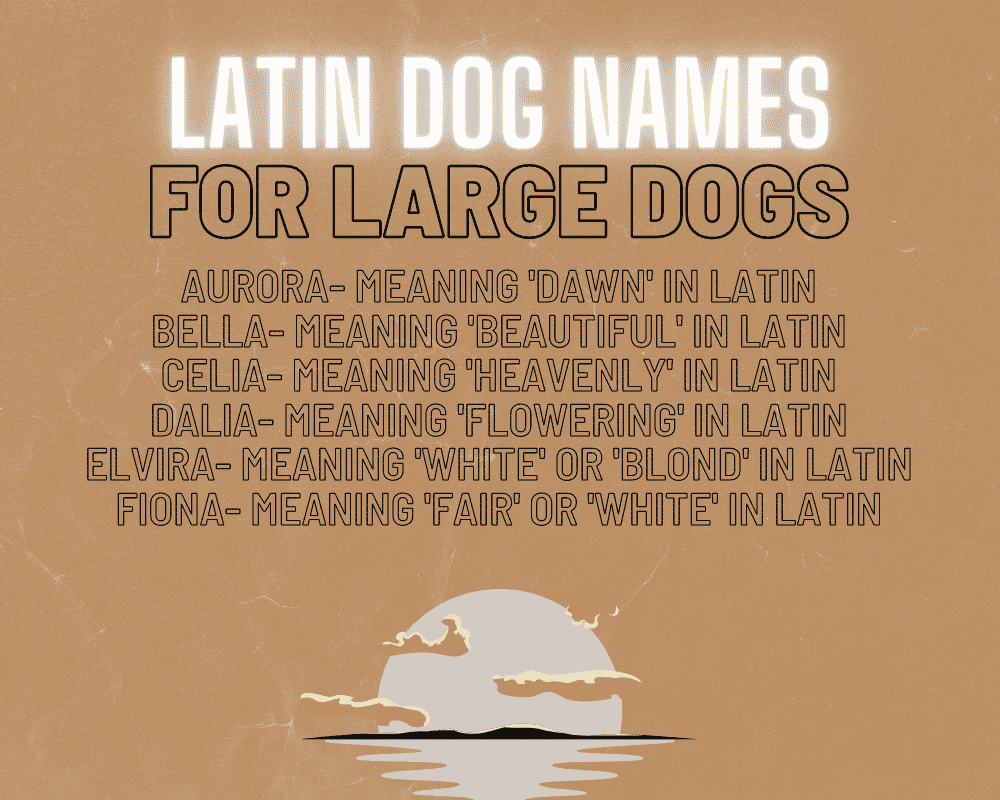 If you are looking for a name with some Latin flare, consider using a Latin origin name. This can be a great way to give your new pup a name that is unique and different.
Here are some ideas for female dog names with a Latin origin:
Aurora- meaning 'dawn' in Latin
Bella- meaning 'beautiful' in Latin
Celia- meaning 'heavenly' in Latin
Dalia- meaning 'flowering' in Latin
Elvira- meaning 'white' or 'blond' in Latin
Fiona- meaning 'fair' or 'white' in Latin
Going through different languages to find more ideas and inspiration for your dog's name can be a fun activity or game for your family. Enjoy the process!
PICKING THE PERFECT NAME FOR YOUR PET
When you've finally decided on the perfect puppy, it's time to start thinking about what to name them. It's a big responsibility, after all, this is the name they will have for their entire life!
Here are a few things to keep in mind when choosing a name for your new pet:
Avoid names that sound like commands – This can be confusing for your pet and make training more difficult. For example, the name "Boo" might make them think you're telling them to go away.
Make sure the name is short – Long names can be difficult for a pet to learn.
Picking a name that ends in a hard consonant sound may help your pet respond better to their name.
Avoid names that are too similar to other members of your family or common words around the house. This can again, be confusing for your puppy.
Have fun with it! Don't take the process too seriously. After all, your pet is a fun addition to your family.
Have you decided on a name yet? Share it with us in the comments!
READ MORE: