Housebreaking Great Dane puppies means a giant size amount of pee and usually stress. But Great Dane puppies are quick learners (sometimes) and owners can pull some fast ones on them to get them house trained in no time.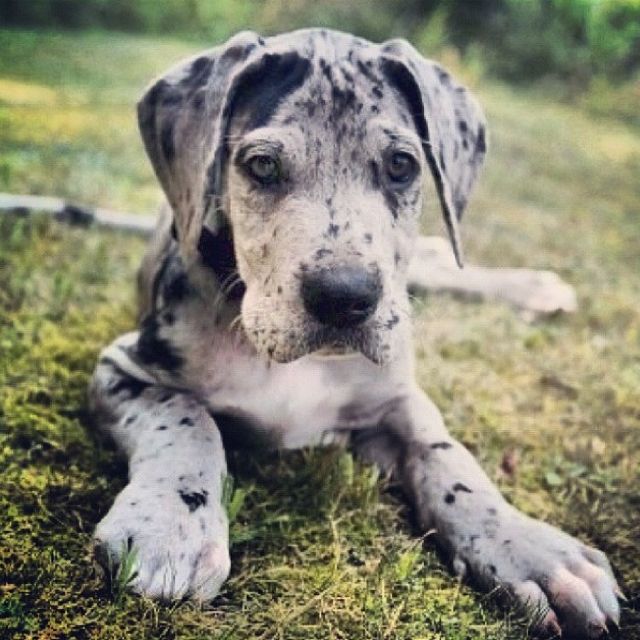 If you're the proud owner of a Great Dane puppy, then you know just how adorable and sweet they can be. But like all puppies, they need to be housebroken in order to learn proper bathroom etiquette. In this blog post, we will provide you with the ultimate guide on how to housebreak your Great Dane puppy quickly and effectively!
HOUSEBREAKING GREAT DANE PUPPIES: THE GREAT DANE POTTY TRAINING PROCESS
Potty training is never easy , but it can be especially challenging depending on your Great Dane. They are one of the largest dog breeds and can be quite stubborn, so it's important to be patient and consistent when teaching them where to relieve themselves. The process will take some time and patience, but we promise it'll be worth it in the end!
CRATE TRAINING YOUR GREAT DANE PUPPY
The first thing we recommend with your new puppy is crate training them.
Training your Great Dane puppy with a crate allows them to have their own space that is just for them. It's important to make sure that the crate is not too big or too small – you want them to be able to stand up, turn around, and lie down comfortably, but you don't want it to be so spacious that they can use one end as a bathroom.
How to Crate Train a Great Dane Puppy
Crate Training: The Best Crates for Great Danes
You'll begin to train your pup with a crate the day they come home. You never want your puppy to be anxious or fearful in the crate. It might take time for them to enjoy being in the crate by themselves, but training them to enjoy it will significantly help the potty training process.
USING AN XPEN TO CRATE TRAIN
Use an Xpen to create an area where your Great Dane can play, walk around and have some room.
Put the crate in the room and let your Dane play for a little while. Sit with them and make sure that this area is a positive space.
Keep the crate door open so that they can go in and out. You can make them want to walk inside by putting fun things in the crate, like toys or treats.
You will be surprised that eventually your pup will venture inside the crate on its own and consider it their own designated area for rest.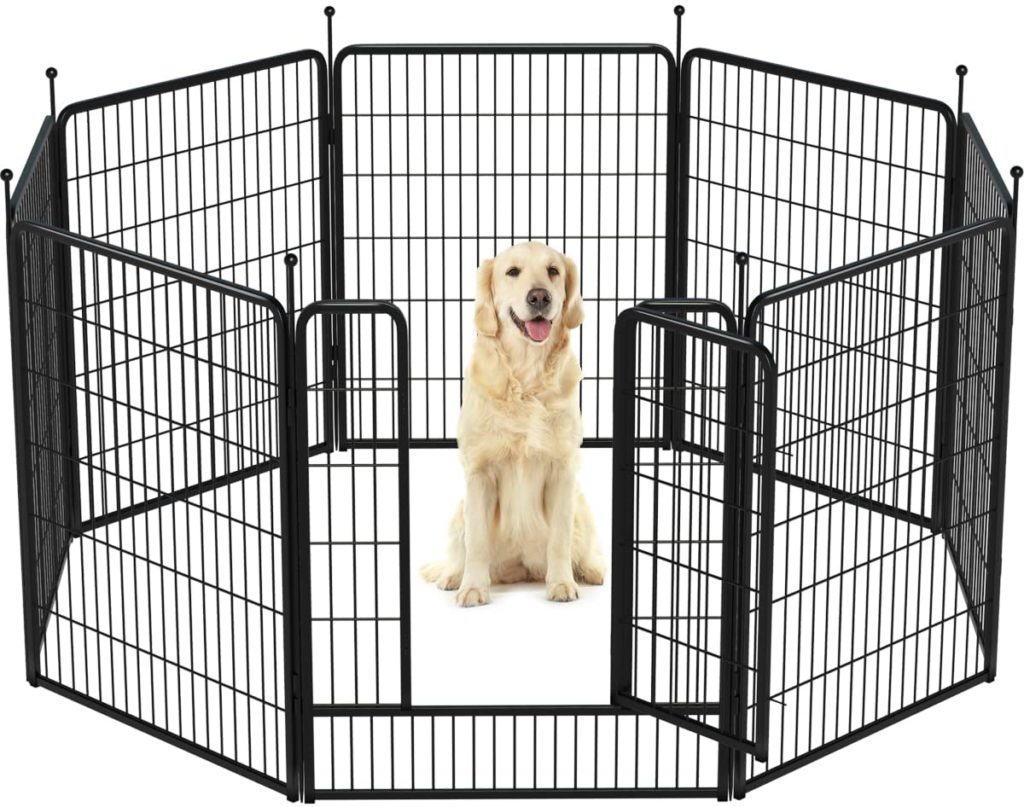 THE BEST CRATE FOR A GREAT DANE PUPPY
If you are looking to get your pup potty trained, you want to make sure you get the right crate.
Great Danes grow very quickly so you want to get a crate that will be big enough for them as they grow.
However, giving any dog a space that feels overwhelming will create anxiety. Additionally, puppies usually do not potty where they sleep, so you want to make their crate as small as possible without making them feel cramped.
A great way to do this is to buy a crate that has a divider. This way, you can make the space smaller when they are younger and gradually make it bigger as they age. Otherwise, your puppy might use the front of the crate to sleep and the back of the crate as a bathroom area.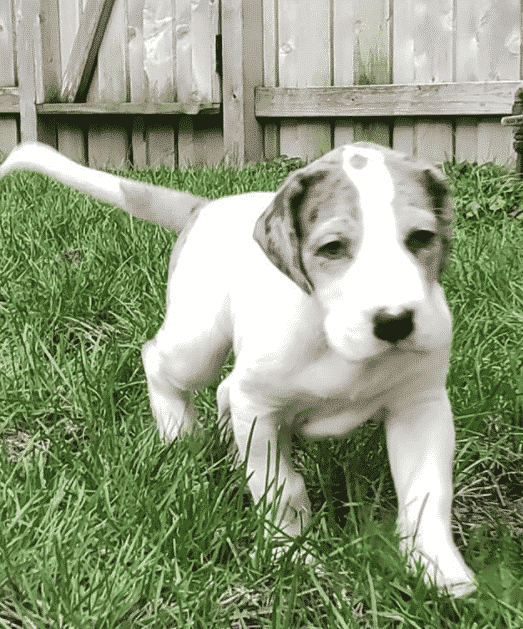 SHOULD I USE POTTY PADS TO POTTY TRAIN MY GREAT DANE?
It is not recommended to potty train your Great Dane with potty pads. The reason potty pads are looked down against is that although accidents happen, pee pads can encourage your Great Dane to have accidents inside.
Your pup might start to associate the pee pad with peeing inside and begin to have accidents in the house without even knowing it is the wrong place.
Stay away from pee pads as much as you can while working on Great Dane potty training.
SHOULD YOU PUNISH A GREAT DANE PUPPY WHEN THEY HAVE AN ACCIDENT INSIDE?
No puppy should be 'punished' when they have accidents.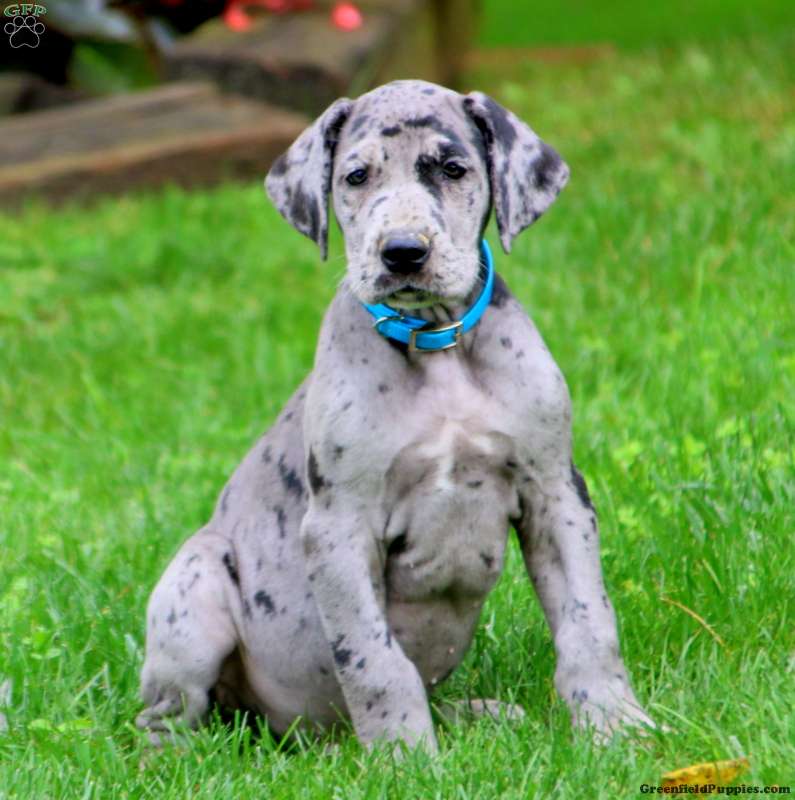 Your pup is experiencing so many new things all at once and pet owners should be patient.
Accidents happen all the time with puppies.
Never push your puppy's nose into the pee. Your puppy will just be confused and have no idea what they did wrong.
TIME OUTS FOR A PUPPY HAVING AN ACCIDENT INSIDE
Some pet parents give 'timeouts' for puppies having accidents in the house while potty training.
It is crucial to know that at such a young age, your puppy did not know that they went pee in the wrong spot.
Giving them a timeout after they pee will likely just confuse them and begin to cause them to associate their crate with something negative.
WHAT SHOULD I DO WHEN MY GREAT DANE HAS AN ACCIDENT?
If you are working hard to potty train and your puppy goes to the bathroom in the house, the first thing you should do is immediately take them outside to go potty.
Find a designated bathroom area outside and wait until your puppy goes potty.
Most puppies will begin to associate these moments with quickly being taken outside after each accident and house training will begin to 'click'.
USING A BELL TO POTTY TRAIN MY GREAT DANE PUPPY
Using a bell for dogs who are potty training can be a great strategy.
If your puppy is ready to go to the bathroom, take them to the door of the house that leads to the potty space you want them to use.
Hang a bell on the door and before leaving the house, hit the bell with your hand or the hand of your Great Dane.
Then, go outside and take your puppy to go potty in the same spot each time. You are training your puppy to go potty outside just by continuing to practice this routine.
Soon, your puppy will start to realize that whenever they hit the bell the door will open and they can go outside to go to the bathroom.
You can purchase a potty training bell here, on Amazon.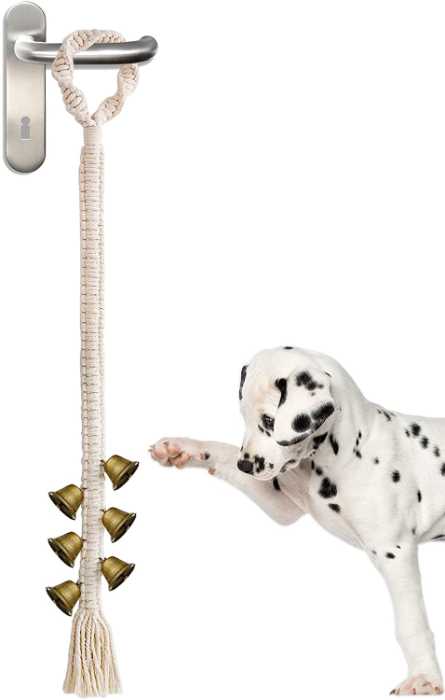 USING POSITIVE REINFORCEMENT WHEN POTTY TRAINING A GREAT DANE
Using positive reinforcement is crucial when potty training Great Danes.
This form of training means that you praise your Dane when they go to the bathroom in the right spot.
Some dogs are highly motivated by food and some are more motivated by praise.
Training Mistakes
Best Training Treats for Great Dane Puppies
Why is Leash Training so Hard?
5 Leash Training Tips
Whether you are using food for your puppy or praise for your puppy, make it a very big deal when they potty outside!
USING TREATS WHEN POTTY TRAINING A GREAT DANE
We recommend keeping treats on you while Great Dane potty training.
You don't want to miss out on an opportunity to reward and praise your puppy for going potty in the right spot.
We recommend using this treat bag, which you can read our full review here.
Most Great Danes will do just about anything for treats, so stock up while potty training.
Our favorites are here: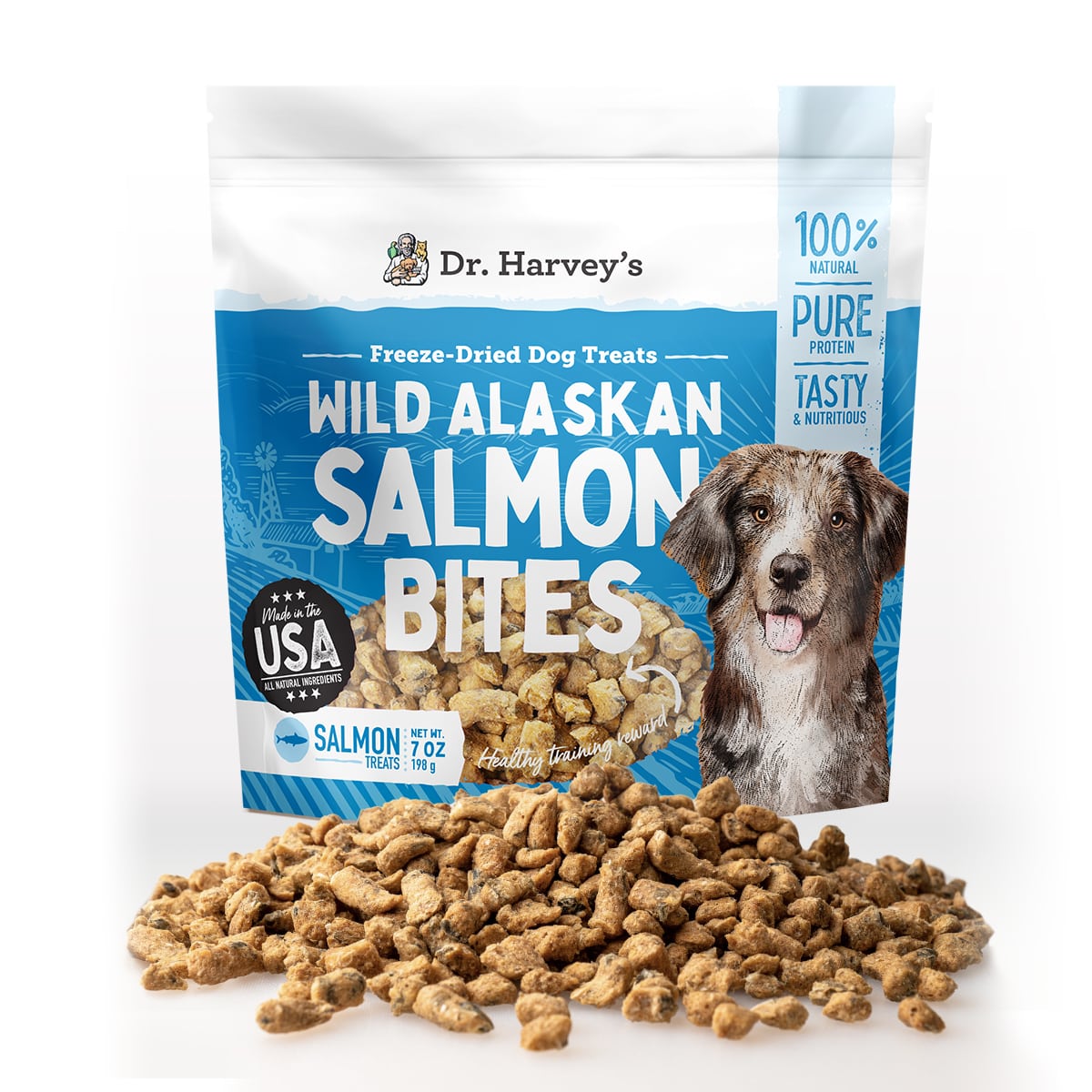 USING BABY GATES WHILE POTTY TRAINING A GREAT DANE
Your house is going to have some puppy damage while you are getting your puppy potty trained.
It is smart in the early days of potty training your Great Dane to keep baby gates up in your house.
This not only keeps your puppy safe from anything you don't want them to get into, but also helps to contain the mess to one area.
You can find baby gates here, on Amazon.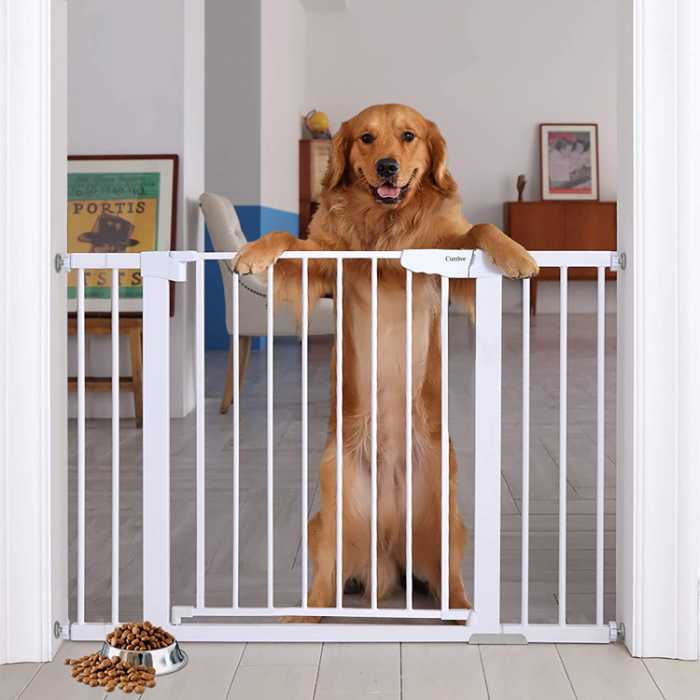 KEEPING A SCHEDULE WHILE GREAT DANE POTTY TRAINING
As much as possible, put your puppy on a regular schedule.
This will help them learn when it is time to go and make potty training easier for both of you.
A good rule of thumb is taking your puppy out first thing in the morning, after every meal, before bedtime, and anytime they have been playing or napping.
Schedule for Bringing Home a Great Dane Puppy
If you notice that you are seeing more pee accidents, increase the potty breaks.
POTTY TRAINING A GREAT DANE PUPPY WHEN YOU WORK
If you work full time, there are a few things to keep in mind for potty training your Great Dane.
The first consideration is that you are most likely going to need to hire a dog walker or dog sitter to come let your puppy out at regular intervals throughout the day.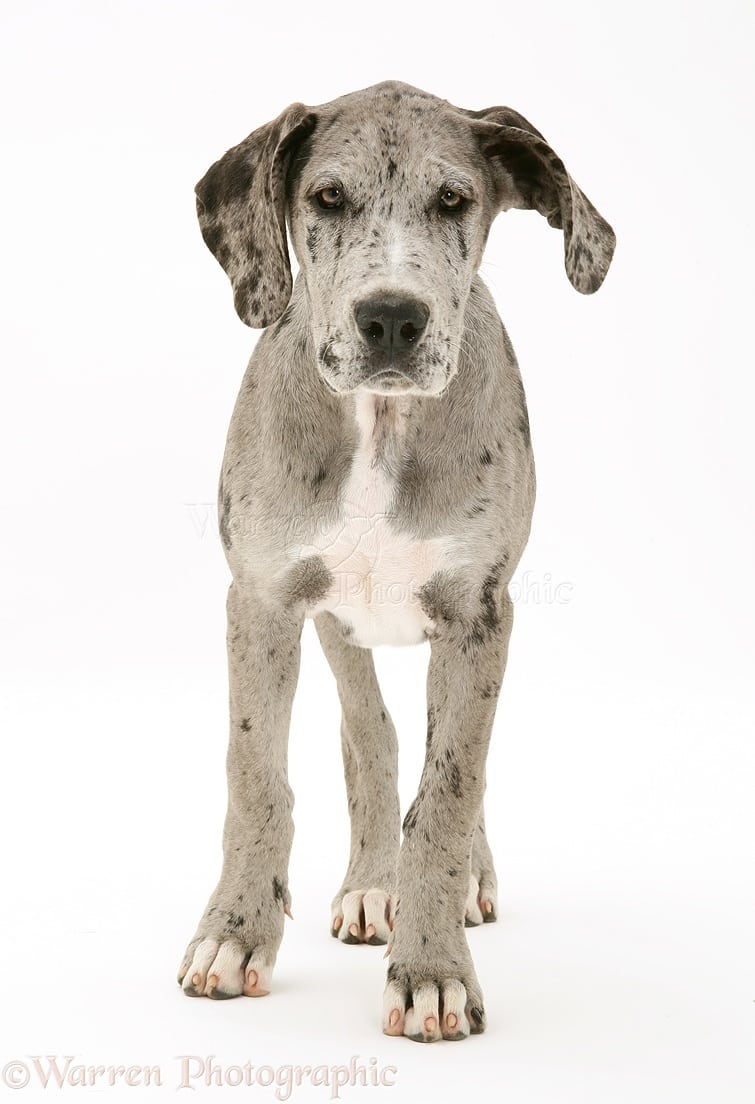 Great Danes are going to need to use the bathroom throughout the day while house training.
A Great Dane puppy will not be able to wait all day while you are at work for a potty break.
PROVIDING PLAY TIME AND ENRICHMENT FOR A GREAT DANE PUPPY
Allowing play time and interaction with other dogs is crucial for your Great Dane pup.
Your puppy can watch how other dogs socialize and interact and pick up on cues. This is why it is super important that you pick closely who you want your dog to play with while they are still impressionable and young.
Puppy Socialization Guide
Puppy Training: 5 Mistakes in Training
Your Puppy is Bored
Keeping your puppy socialized doesn't always mean putting them in a dog park and allowing them to play with every dog in the neighborhood.
You can also provide socialization opportunities by taking your puppy to parks and letting them watch other dogs, going on walks in the neighborhood, and set up play dates with dog friends.
POTTY TRAINING A GREAT DANE PUPPY CAN BE EASY
With a little bit of patience and consistency, potty training a dog does not have to ruin your house or cause stress on you and your family.
Start potty training right away and be consistent with your pup.
It will take time and patience but soon will be a blurb in the road.