If you have a droopy eyed dog, your dog might have something called Eyelid Ectropion.
Eyelid Ectropion causes droopy eyelids and they can be pretty uncomfortable too.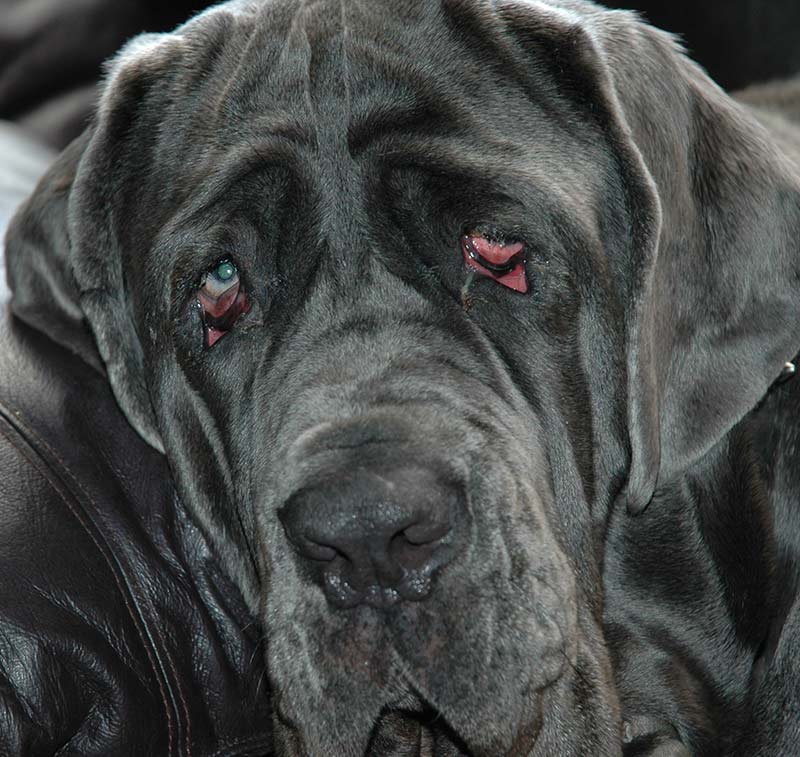 DROOPY EYED DOG: WHY DOES MY DOG HAVE A DROOPY EYE?
If you notice your dog has droopy eyes, they might have something called an Ectropion.
Mild ectropion will cause an idiopathic droopy eye in your dog.
With severe Ectropion, your dog's eye might need surgical correction.
If you have a Great Dane that was sold as a 'European' Great Dane with droopy eyes, it might have Ectropion eyes. (The Problem with European Great Danes)
Ectropion in dogs happens in many dog breeds, but is most common in the Bloodhound, Basset Hound, St. Bernard, Golden Retrievers, and Cocker Spaniel. It can impact young dogs and old dogs.
There are many different causes of Ectropion, but the most common cause is genetics.
Are Backyard Breeders Breeding Ectropion Eyes Under the Guise of 'Euro'?
Other causes can include: trauma, neoplasia, facial paralysis, and inflammatory conditions.
WHAT CAUSES THE DROOPY EYE?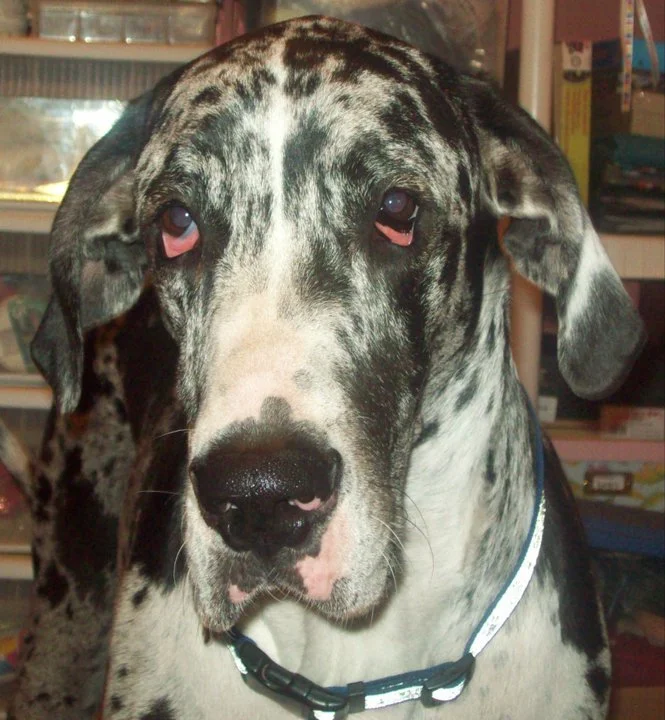 The most common cause of a droopy eye is genetics. Although ectropion is noted to have an underlying cause of genetics in some situations, there are other underlying causes as well.
Other causes of a dog's ectropion can include: trauma, neoplasia, facial paralysis, and inflammatory conditions.
Bad Breeders | Euro Great Danes | Droopy Eyes
Bad Breeders
Scam Breeders: What to Look For
Breeders: Shady Business
Should I Choose a Breeder or Rescue?
Congenital Ectropion: If your dog has had a droopy eye since they were born, they likely inherited it.
Acquired Ectropion: However, if you notice an acquired ectropion, it can be more serious. Acquired ectropion means that your dog did not have a droopy eye, but now it does.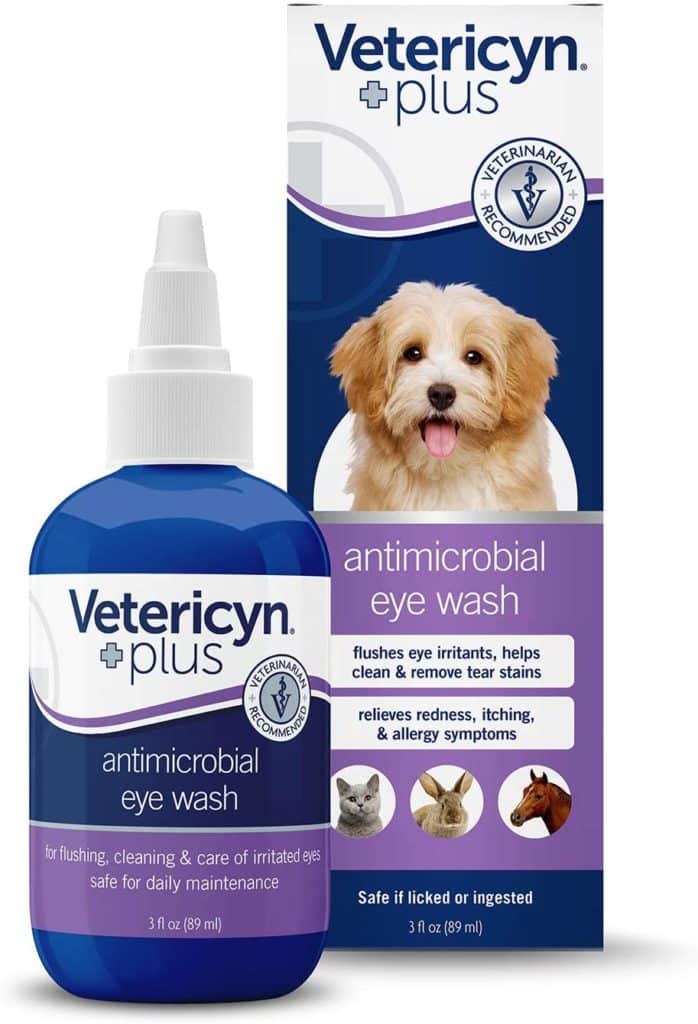 If your dog suddenly has a lower eyelid that is drooping outward, they are keeping their eyelid partially closed or their eye is protruding slightly, it was most likely acquired.
Trauma: If your dog fell and had trauma to their face or experienced brain trauma it could have caused their eyelid to droop.
Neoplasia: Tumors or cancer can also cause a dog's eyelid to droop.
Facial Paralysis: If your dog has a tumor or growth on their facial nerve, it can cause paralysis of the lower eyelid.
Some mild cases of a droopy lower eyelid can turn into severe cases over time.
Ectropion in dogs can be a pretty serious condition depending on the underlying cause.
WHY DOES IT MATTER IF MY DOG HAS A DROOPY EYE?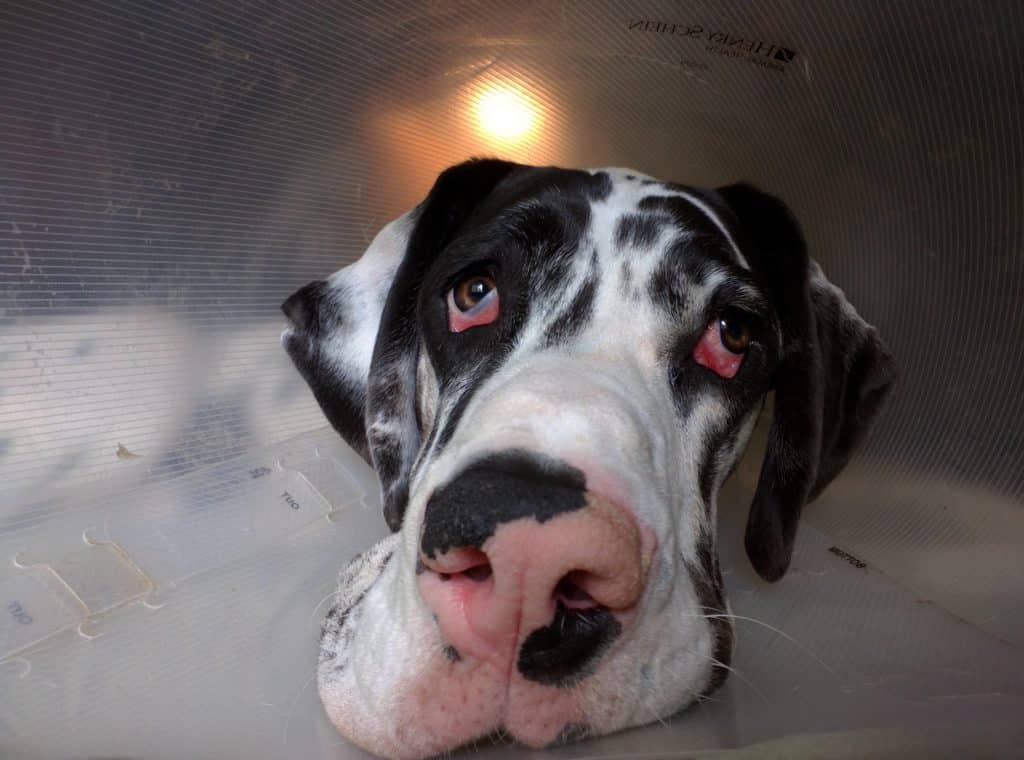 The dog's upper eyelid is designed to protect itself from debris, dust, and other particles that might harm the eye.
The lower eyelid is what helps keep the tear film (third eyelid) in place.
The tear film is important because it helps keep the eye lubricated and healthy.
If your dog has a droopy lower eyelid, they are at risk for drying of the cornea and conjunctiva.
This can lead to ulceration and perforation of the eyeball. (cornea ulceration).
A droopy eyelid can also lead to entropion.
Entropion is when the eyelashes rub against the eye and cause corneal scarring. Entropion requires medical treatment to reduce scar tissue and corneal inflammation.
GETTING ECTROPION IN DOGS DIAGNOSED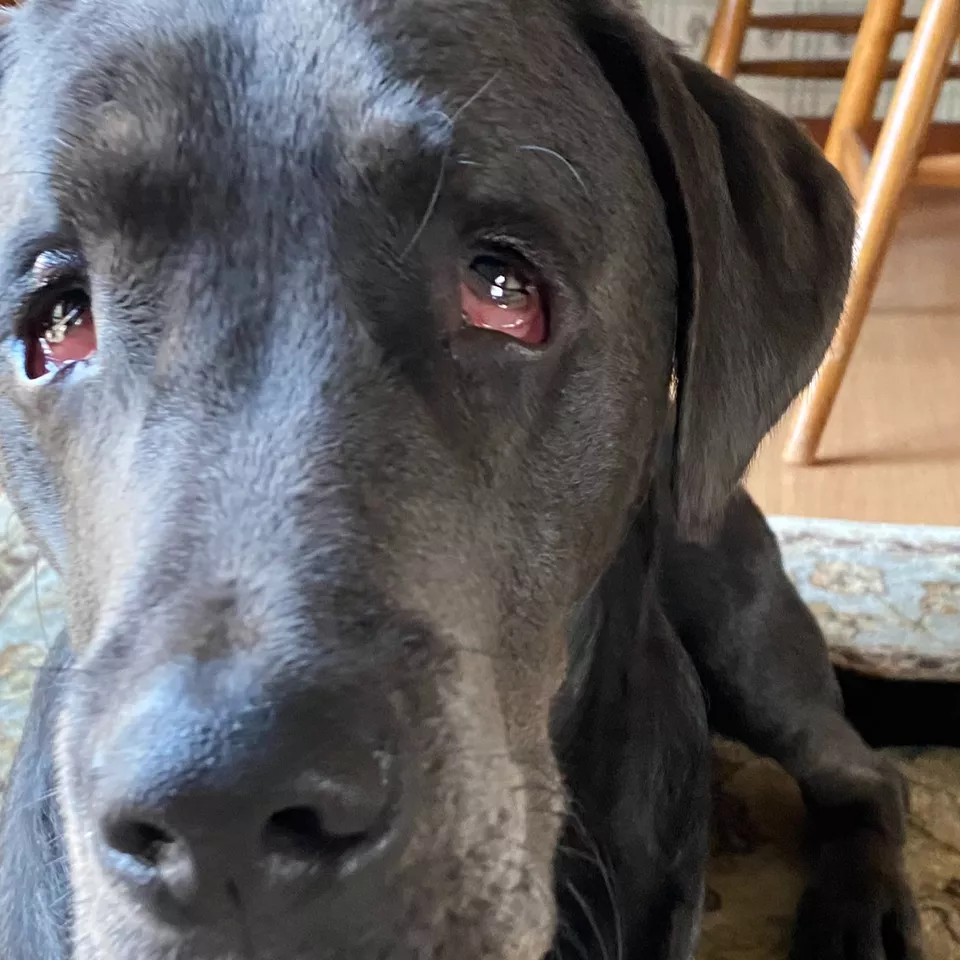 To get your dogs idiopathic droopy eye diagnosed, you just need to schedule them to see an eye doctor.
The eye doctor will examine the pet's eye exhibiting the droop and measure the eyelid margin.
The eye doctor will also determine if there is a corneal ulceration by doing a corneal staining, if necessary.
GETTING ECTROPION TREATED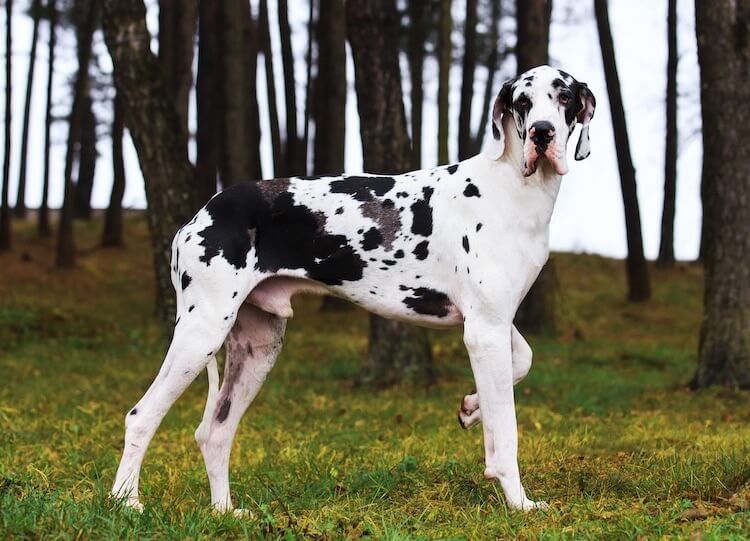 In some cases, you do not need to treat ectropion.
Some dogs can live long, healthy lives with no serious risk of injury chronic inflammation or pain from the disease.
If the droopy eye portion is severe, surgical intervention might be required.
SURGICAL CORRECTION: GETTING ECTROPION SURGERY
In some cases, and depending on the underlying cause and issues at hand, surgery might be required to help a dog with ectropion.
During surgery, the veterinarian will tighten the lower eyelid and reposition it correctly.
In more intense cases, a skin graft might be necessary to help support the third eyelid.
Surgery will prevent corneal ulcers. Additionally, the Veterinary Ophthalmologist will be able to free pinched nerves during the surgical procedures.
The surgery can possibly be done at the primary vet, but might need to be done at an animal hospital.
Post surgery, ophthalmic antibiotics will be prescribed to prevent dogs infection of the eyes.
MEDICAL MANAGEMENT OF ECTROPION AT HOME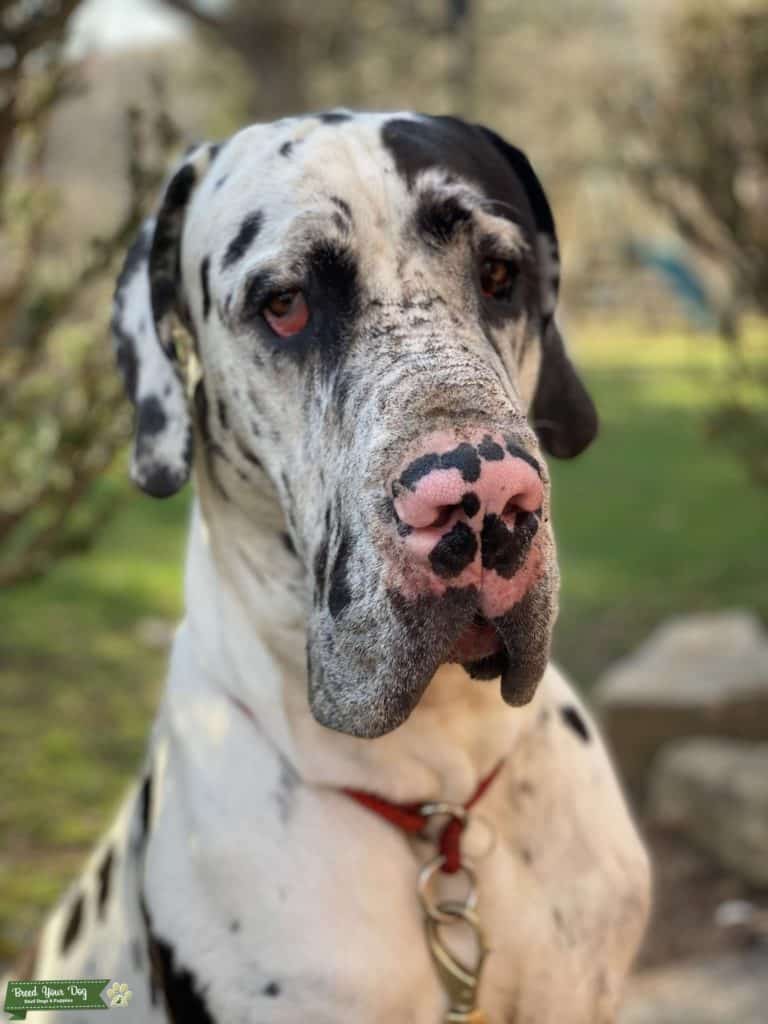 If your dog has been diagnosed with Ectropion, it is probably likely that they have been demonstrating abnormal behavior like pawing at their eye.
This is due to very dry eyes. Imagine never having an eyelid that fully covers your eye.
Pet parents can purchase eye drops to use to assist their dog. Lubricating eye drops or gel can be a huge relief for the reddened tissue that is more exposed to air.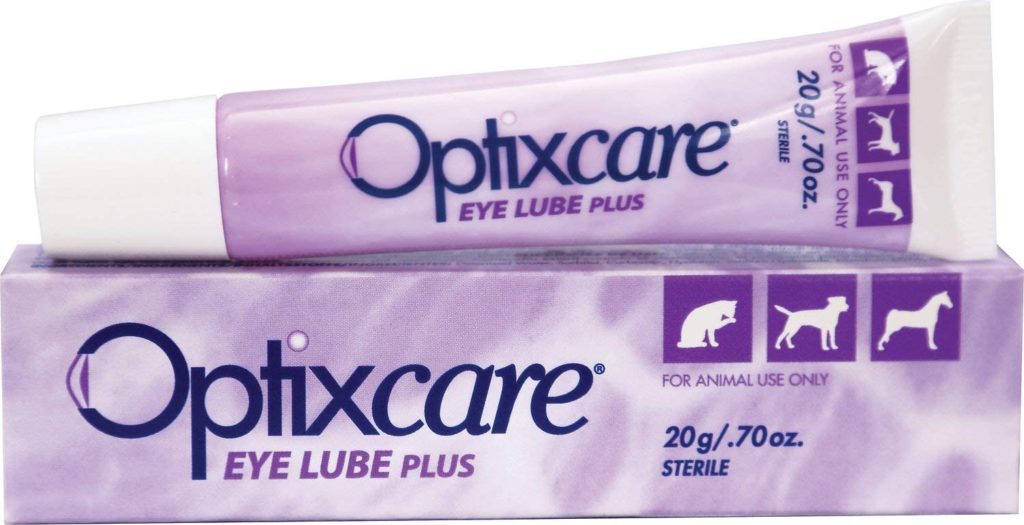 PROGNOSIS FOR A DOG WITH ECTROPION
The prognosis for a dog with ectropion is good if the cornea has not been damaged.
Corneal damage can lead to perforation and vision loss.
If your dog has a mild case of ectropion, they might not experience any pain or irritation.
If the ectropion is more severe, they might require surgery to fix the problem.
After surgery, your dog should have a good prognosis and live a long, happy life with no issues.