The Dexas Petware Mudbuster Portable Dog Paw Cleaner was built for your dog's muddy paws that you just can't get clean fast enough as they barge back into your house from a (wet) afternoon adventure. But, does it actually work?
I put the dexas mudbuster to the test with my large dogs as well as with my tiny dog to see if this paw washer was really worth the hype.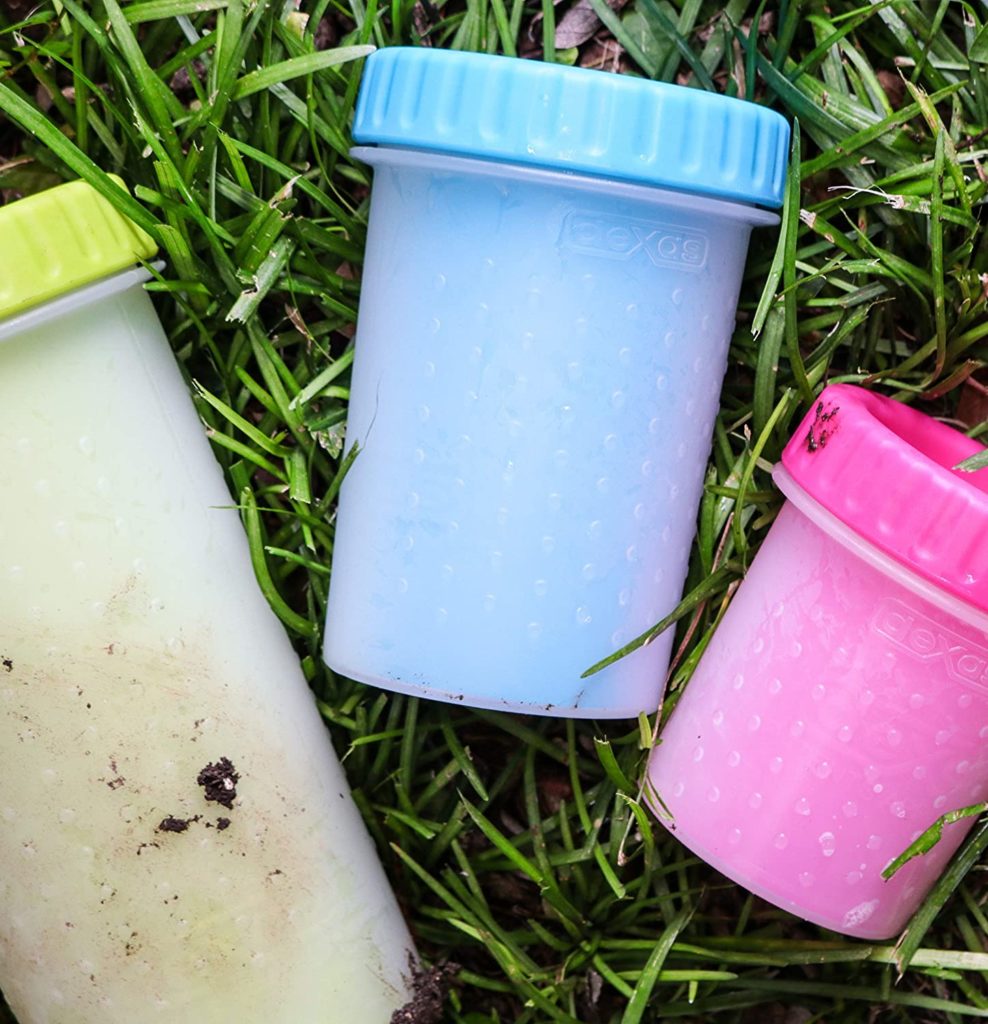 WHAT IS A DEXAS PETWARE MUDBUSTER PORTABLE DOG PAW CLEANER?
Have you ever taken your dog for a walk, only to come home and realize your pup's paws were absolutely disgusting?
Well, I have!
Nasty but Fascinating Truth: Dirt is Good for Dogs in More Ways than 1
And it always seems to be directly after I have vacuumed or mopped.
I don't know about you- but I have 3 Great Danes (and one little who seems to like tagging along). Incase you're as bad at math as I am- that is 16 dog paws. It's nearly impossible to keep my dog's paws clean.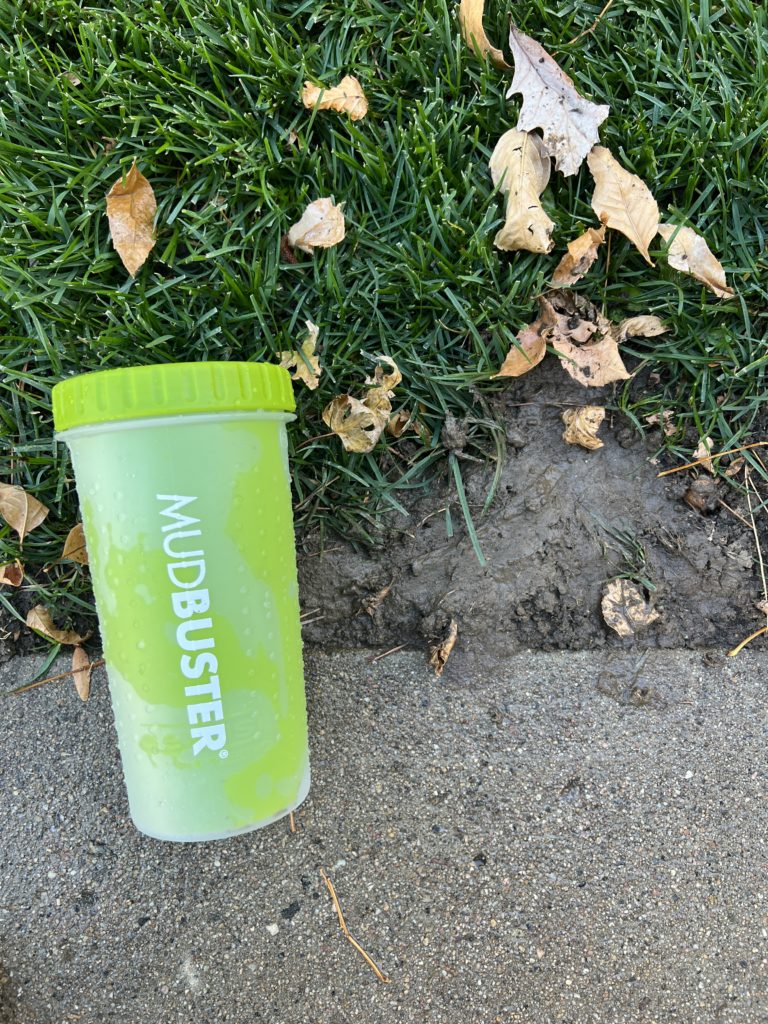 So, as we entered into the wet, winter season, I wanted to find a muddy paw cleaner that actually works, and that is when I saw the mud buster and decided to give it a try.
MUDBUSTER PAW CLEANER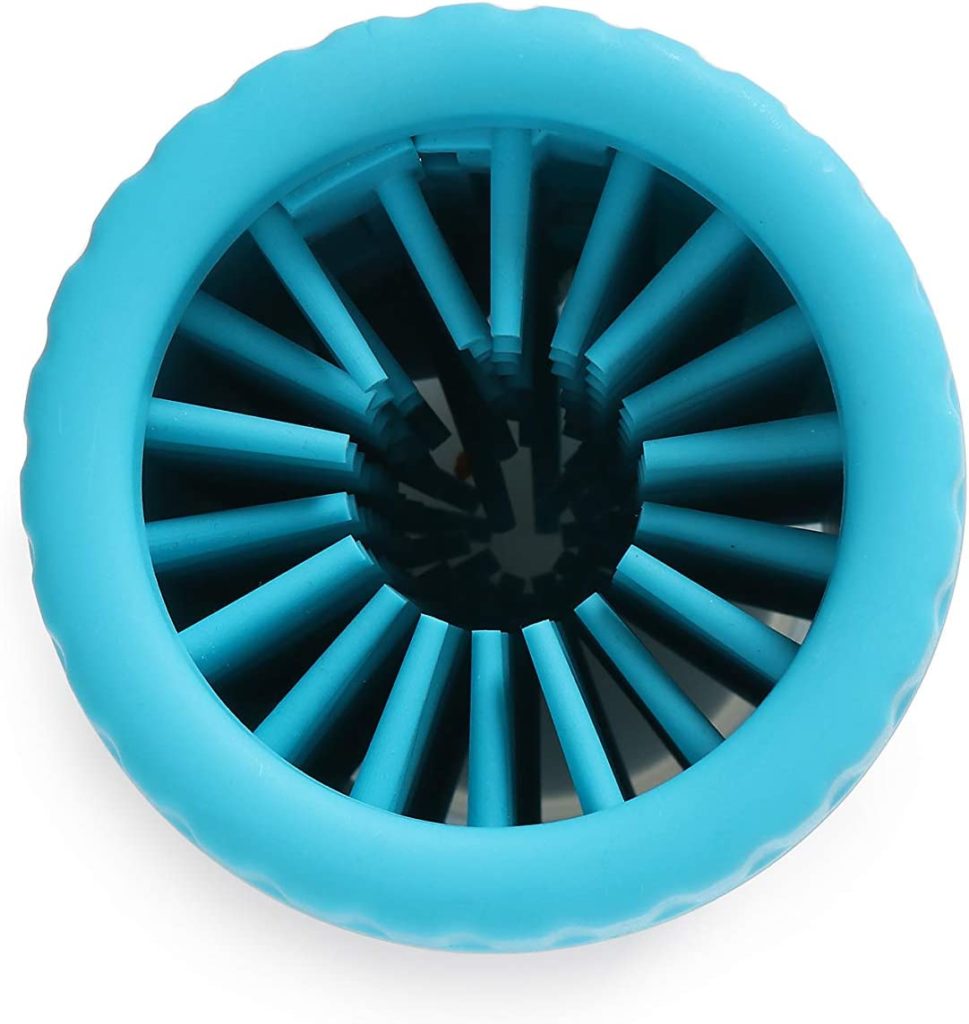 The Dexas Mudbuster Portable Dog Paw Grooming Tool is a 'paw plunger' with thick silicone bristles inside meant to gently loosen mud for easy gleaning of dogs paws.
Convinced? I wasn't either. But heres a video incase you still don't understand how it's supposed to fix your dog's paw.
SIZES
I have larger dogs than most, so I purchased the Large Dexas Mudbuster Portable Paw Washer- but it also comes in a medium mudbuster and a small for smaller dogs.
However, I think that medium sized dogs would be able to use both the medium size paw washer as well as the large, but it would depend on your dog's paw size on whether they would work better with the medium or large mudbuster.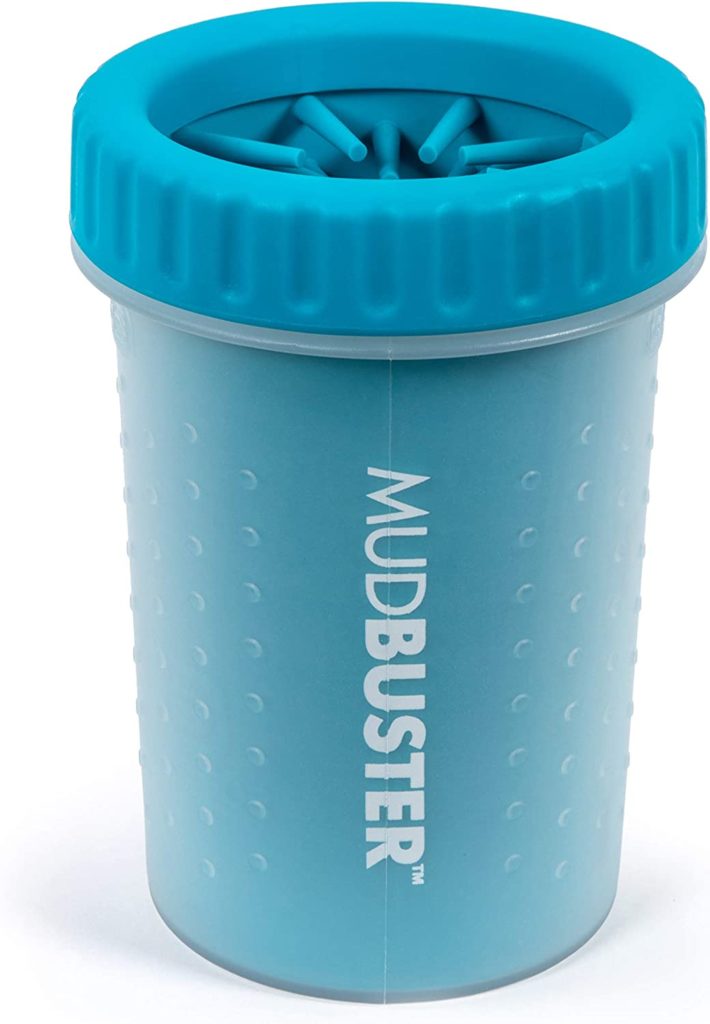 So ANYWAYS- I closed my computer, gathered all 16 dogs- I mean 16 dog paws, and we went out in search of some dirty water, dirt, mud, or messes.
(Side note: why is it that whenever you're looking for mud or dirt, it seems nonexistent?)
EXPERIMENT STEP PART 1: FIND MUD AND LATHER THOSE CLEAN FEET
Well, the Dexas Mudbuster portable dog is making some large claims here- so I had to bust back with some even larger dirt.
We headed out to put the mud buster to the test.
A DIRTY PAW (OR 16)
Once we found some dirt, I let my dogs do what they do best. They played, they ran, they dug and they got those paws dirty.
MMMM…. Nothing better than muddy paws. Photo evidence of my Great Danes living their BEST DAY EVER below…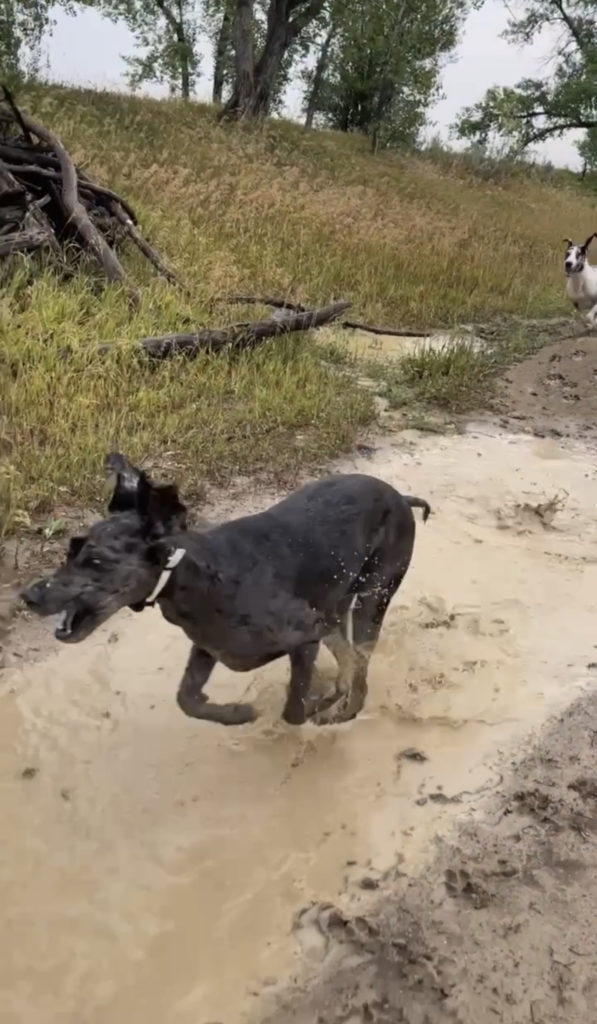 Then, we set off to show those paws who was boss.
GETTING THE DOG PAW CLEANER READY TO CLEAN THE DOG'S PAWS
The paw cleaner is pretty simple. All you need is to the following:
A Dexas Mudbuster Paw Washer
Some warm water
Possibly a few drops of doggie shampoo or soap (depending on how dirty your dog is)
Something to towel dry your dog after (depending on where you buy your paw cleaner- some of them come with a little towel to wipe dry your dog after you clean their paw)
A dirty dog (that one comes separately) but if you need one- feel free to come take mine.
FILLING THE PAW WASHER WITH WARM WATER TO CLEAN MY DOG'S DIRTY FEET
When you are ready to clean your dog, go ahead and fill the Dexas Mudbuster Portable dog paw washer with some warm water.
I would say that the largest size Dexas mudbuster holds about 1-2 cups of water inside.
Fill her up and get your dog ready to stick their muddy paw inside.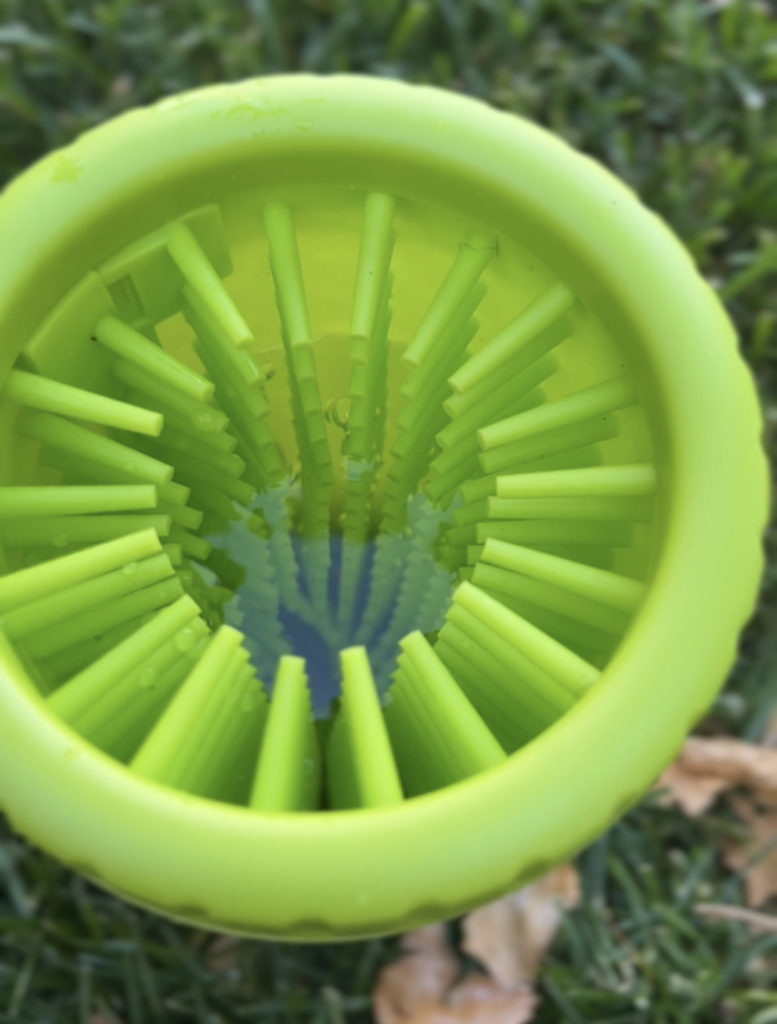 WASHING THE MUD OFF MY DOG'S PAWS
Once the Dexas Mudbuster is ready to go- it's time to clean those muddy paws.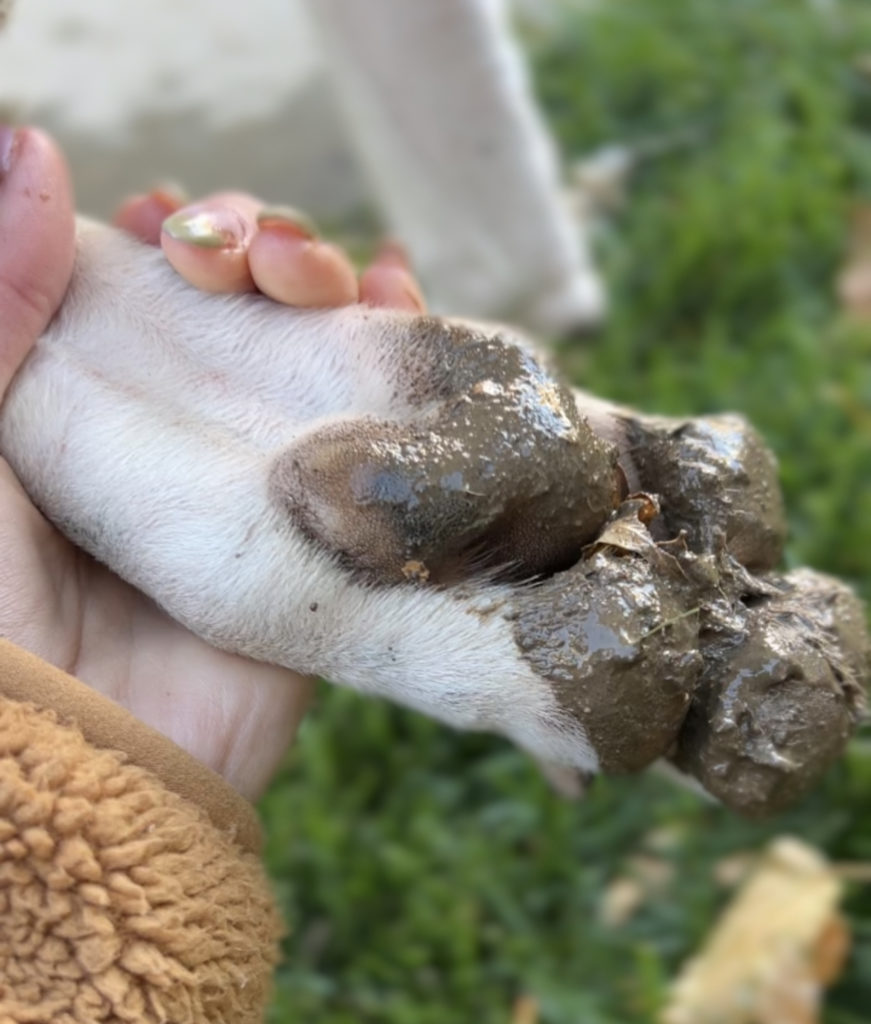 Taking one paw at a time, put your dog's paw inside. Remember that the Mud buster features thick silicone bristles inside, so you don't really have to do much scrubbing.
Just simply move the dog paw around in a slight motion so that the soft bristles begin to remove dirt and other debris from the dog paw.
Once you are sure that the paws touched the external silicone brush enough to result in some clean paws, remove the dog paw and have a look at your results.
WHAT I NOTICED RIGHT OFF THE BAT
When I took the first dog paw to the Dexas Mudbuster Portable dog paw cleaner, I was actually way more impressed than I thought I was going to be.
Watch the video here:
The silicone brushes on the inside of the Dexas Mudbuster Portable dog paw washer actually DID make a dent on the cleanliness of my dog and it's paw.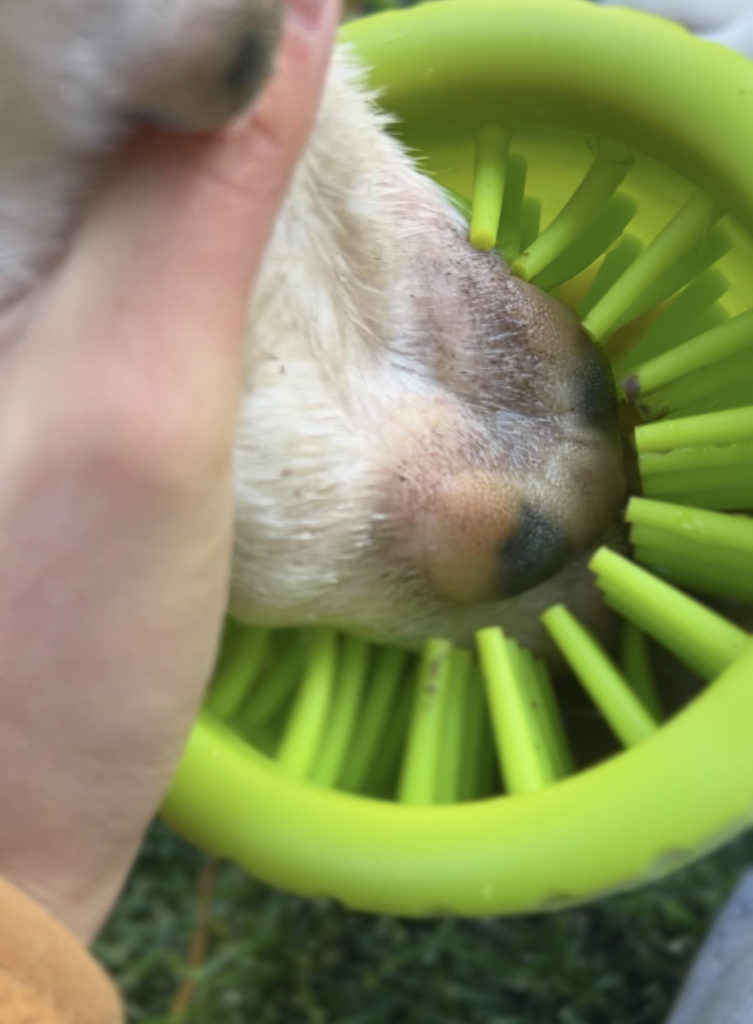 Her muddy paw, although not 'sanitized' per say, was cleansed of all visible dirt/grime/mud and after a quick paw dry with a cloth, I felt comfortable with her walking into the house and knew she wouldn't be tracking in paw prints. (After I did the same with the other paws)
But, I then faced a bit of an obstacle. Read on…
THE WATER EXPERIMENT:GETTING CLEAN AND DIRTY WATER CHANGED OVER
I wanted to really understand just how much the dog paw washer was helping, so I decided to check out the mudbuster to see how dirty the water was after cleansing just one paw.
As you can see it was PRETTY GROSS.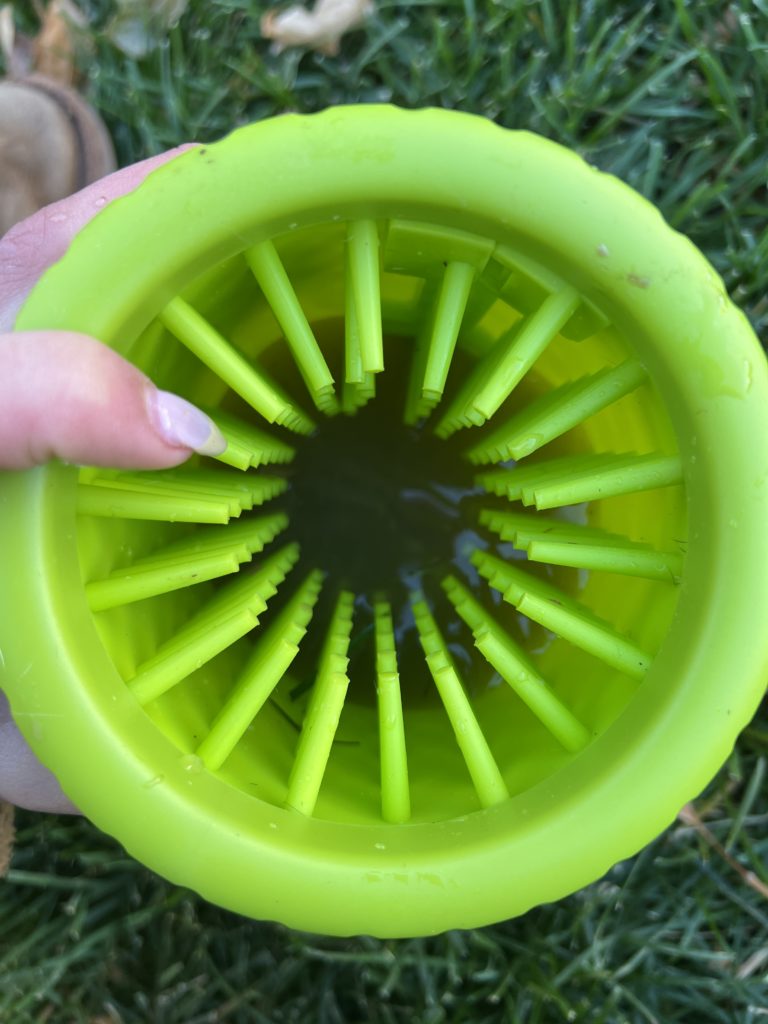 So, I am unsure of if I am supposed to continue using the gross dirty water on every single one of my dogs paws (I'm aware I have more than the average amount of paws living in my home) or if I am/should empty it out between every single dog paw.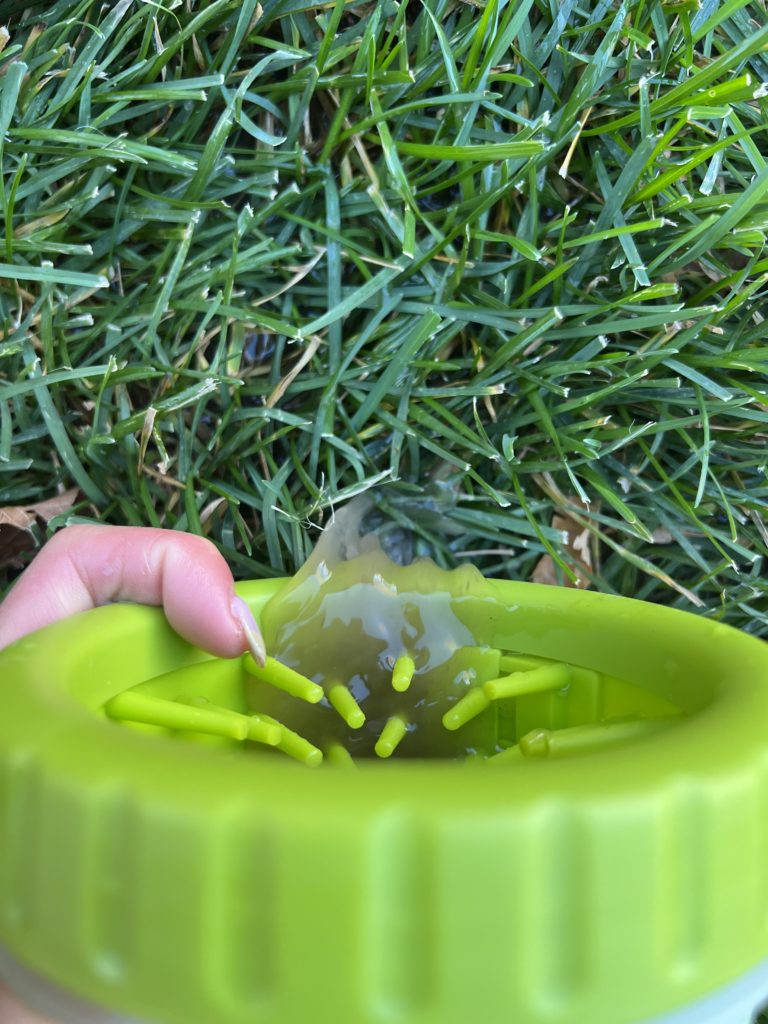 I guess the determining factor would be whether or whether not a dog paw caused the water to be too dirty to the point that it might affect the further easy cleaning of the future paws.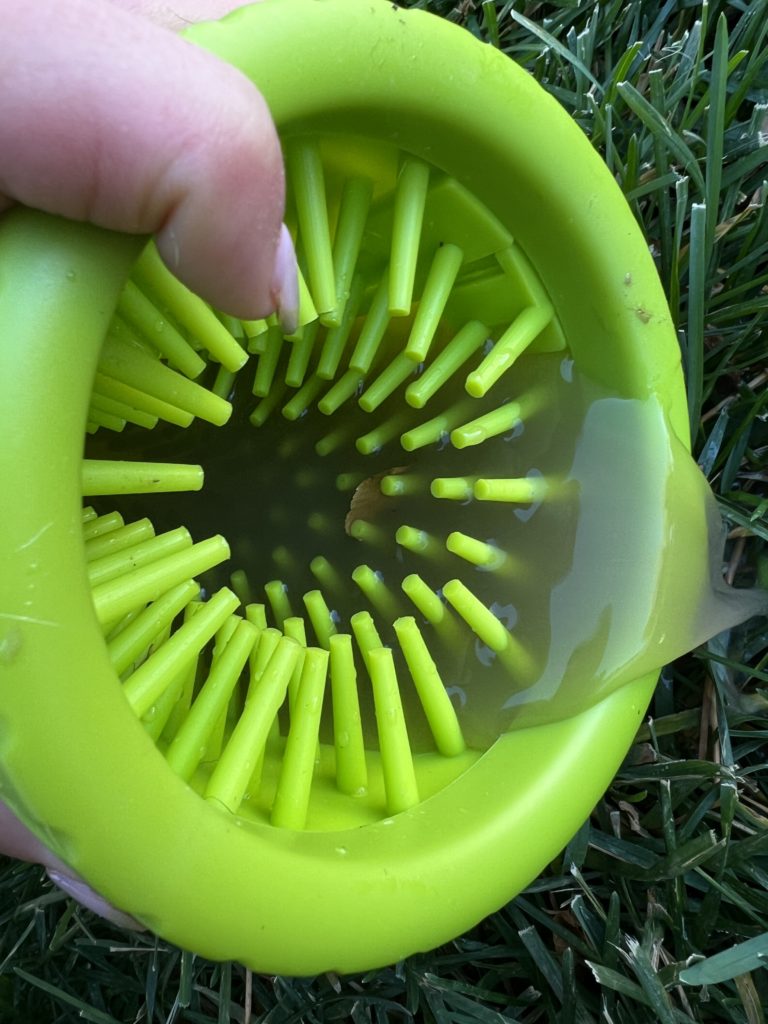 5 Big Reasons to Have Your Dog's Teeth Cleaned by a Veterinarian
What are the Best Floors for Dogs? Slipping, Tripping, and Sliding and Ruining—A Dog's Potential Dangers and Perils
HOW LONG DOES THE MUDBUSTER DOG PAW CLEANER TAKE TO CLEAN PAWS
Well, I can guarantee you are not more lazy than me!
Well, just kidding. But, I do NOT like spending time on unnecessary things.
I've used paw wipes before- and by the time we're through, the entire bag of wipes is in the trash, the paws are still dirty and it's an hour later.
So, it was really important to me to find a paw cleaner that myself and other pet parents can use not only effectively but also quickly.
I think this has to be one of (if not the single) quickest of all dog paw washers I have ever used.
I had all 16 paws cleaned within just 10 minutes, which may not seem fast to you- but to me: ten minutes = fast and easy cleaning for 4 dirty dogs and their paws.
NEXT STEP: CLEANING THE MUDBUSTER DOG PAW CLEANER
I was NOT able to find any information on whether the dog paw cleaner itself was dishwasher safe. I did find some Amazon reviews stating that they stuck the cup portion of their dog paw cleaner into the top rack of the dishwasher- but not confirmed whether or not that would be safe for the silicone bristles.
I simply just took some soap and rinsed it out in the sink. Seemed to work just fine and I did not want to take the risk of having the bristles unroll or melt.
DO I LIKE THE MUDBUSTER DOG PAW CLEANER?
In the end, I did not expect to say this, but I really did like the Mudbuster dog paw cleaner.
With 4 dogs, 4 messes everywhere we go, and a really small house- I sometimes feel like I'm going to spend my entire day and life cleaning.
However, the large was perfectly sized to clean my dogs paws and it was easy to use.
It's an easy to grip tumbler that would be easy to throw in a backpack or in your car to keep your car free of mud or dirt stains as well.
The silicone bristles are stronger than I felt they would be but still soft on their feet and left no scratches.
Overall, I felt that this product was significantly better and easier than even the best wipes I have found in the past.
PRO TIP: DOG ALLERGIES
I read once that if your dog is struggling with environmental contact allergies, one of the most simple things you can do is to rinse their feet every time you come inside from a walk.
How to Know if Great Dane Skin Bumps are a Problem
Great Dane Dry Skin: 4 Causes and 4 Treatments
Are Great Danes Allergic to Chicken?
Well, when my Great Dane, Birdie, was having a few issues with her paws irritating her last summer I set out on the mission to do so.
Seems easy enough right? Wrong, because nothing is as easy as it sounds.
It actually was pretty challenging to get her feet rinsed every single time we came inside because I didn't want to just toss the concoction I was making for her little foot rinse/soak every time we used it, but the tub of water I was using was getting pretty gross after the repeat uses.
This is when the Mudbuster dog paw cleaner came in clutch because it allowed me to quickly rinse her feet without any water spilling everywhere or her getting her feet gross.
With the mudbuster, I think it would make it easier for dog owners to add things like aloe vera or a hypoallergenic soap to the mixture and quickly rinse allergens off of their dogs feet after a walk outside. Most dogs should have their feet cleaned regularly, but dogs with allergies it really does help to do it after every single time they come in contact with seasonal allergies like grass.
IN THE END
To conclude, I really liked the Mudbuster dog paw cleaner and I would definitely recommend it to other pet parents who are looking for an easy and effective way to clean their dogs feet.
I think it's a great size, easy to use, and doesn't take up a lot of space which is important in my small house.
If you have a lot of dogs or big dogs, I think this would be an especially great tool to have because it's big enough to accommodate multiple feet at once. (I think works great for medium dogs or small as well)
It's also affordable which is important for pet parents on a budget.
I hope you found this review helpful and that it gave you some insight into whether or not to purchase this item.
READ MORE REVIEWS: (Some good some ugly)
Royal Canin Giant Breed Dog Food Review
My Review of the Gentle Lead Head Harness: 1 GIANT and Terrible Elephant In The Room
OllyDog Backcountry Day Pack Treat Pouch Review
Embark DNA Review: Worthwhile or Waste of Time? 6 Things I Learned!
Big Barker Dog Bed Review- A Comprehensive and Non-Biased Review
Gentle Giants Dog Food Review
Life's Abundance Dog Food Review for Great Danes
Halo Dog Collar Review (Our Honest take)