I got to go to a Great Dane dog show. Not only that, I got to step into the show ring for the first time with a beautiful Harlequin Dane puppy by my side.
If you'd asked me 2 weeks ago, I would have told you that I was completely intimidated by dog shows. They have a reputation for being elitist, snobby, and comprised of cliques who talk behind each other's backs.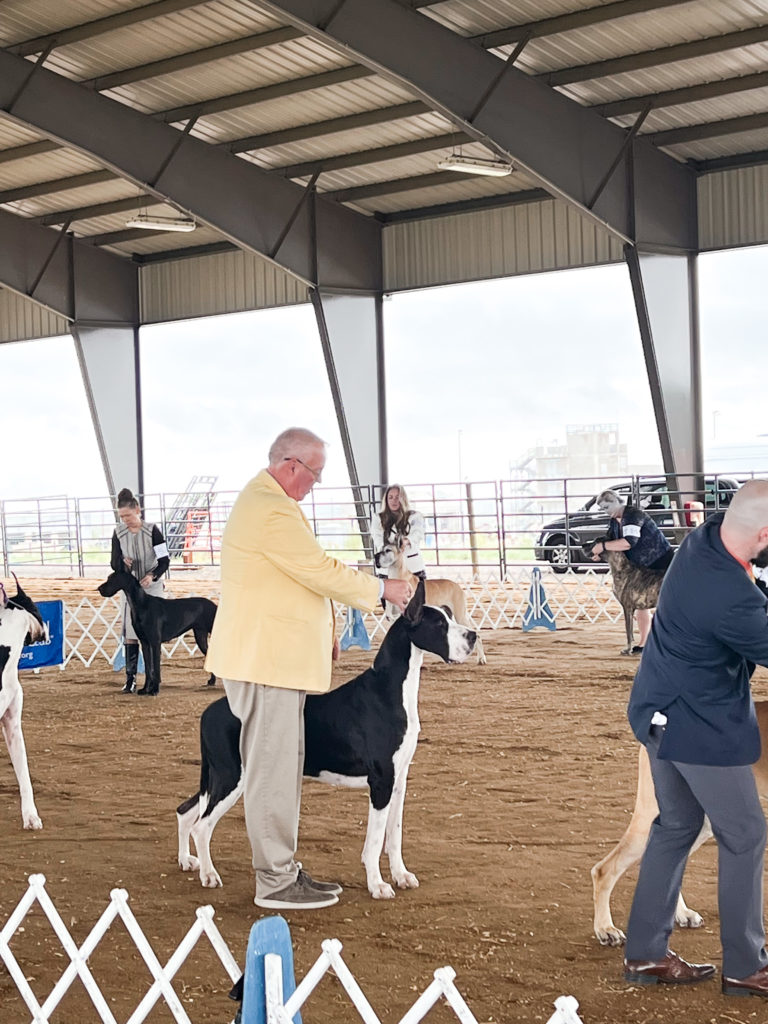 I'm New to the Show Ring
I had never shown a dog before, let alone attended a dog show.

The breeder of one of my Danes wanted to show two of her puppies. She asked me if I'd be interested in learning the ropes. I jumped on the opportunity!

After just two lessons with an experienced Great Dane show handler (Carol from Rocwind K-9), I was tasked with taking a very wiggly and inexperienced puppy into the ring.
I didn't know what to wear, didn't know what to expect, and knew that I'd be rubbing elbows with some BIG names in the Great Dane community.

Talk about NERVE WRACKING!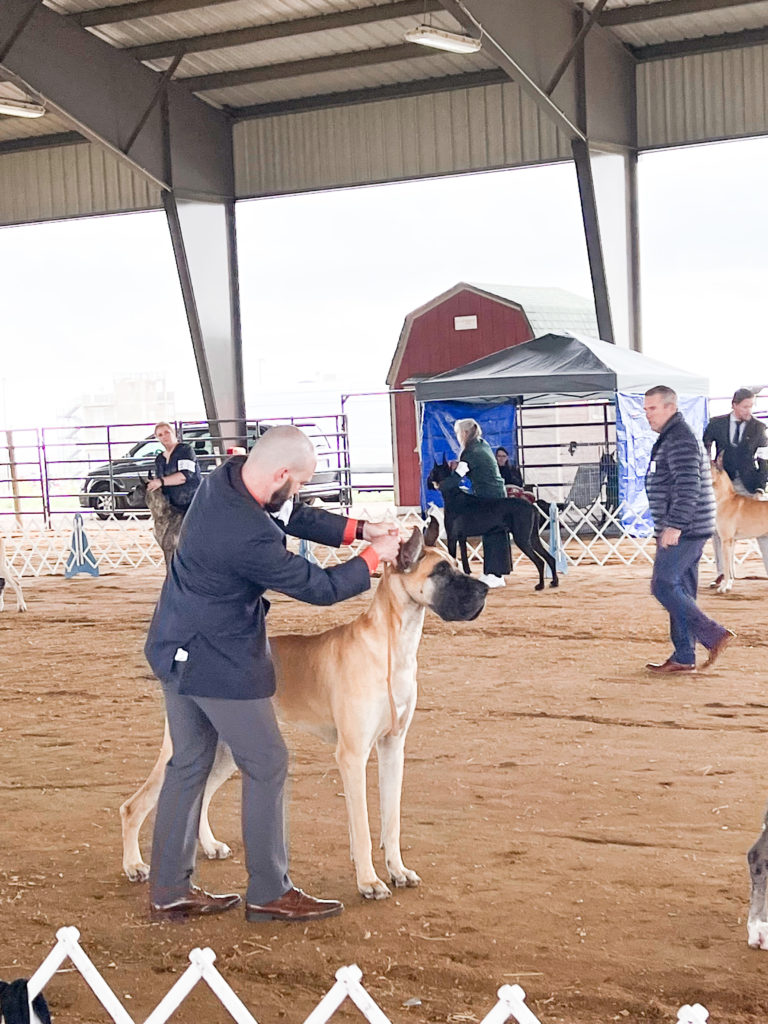 What Happens at a Dog Show?
What we attended was a Great Dane specialty. That means that the show was exclusively for Great Danes.
People who want to show their dogs and obtain titles will travel to these events, even if it means crossing multiple States to do so.
The show area was an outdoor covered pavilion. Our local Great Dane club set up a raffle table and even bought everybody lunch on the first day of the show!
(I got something from the raffle, read to the end to see what!)
The people who came with their dogs had all kinds of gear, including crates and fences to help them contain their dogs. It was clear that the dogs comfort was of utmost importance: the dogs all had food, water, nice bedding, and opportunities to relax or play.
One by one, numbers are called and Great Danes enter the show ring based on their class.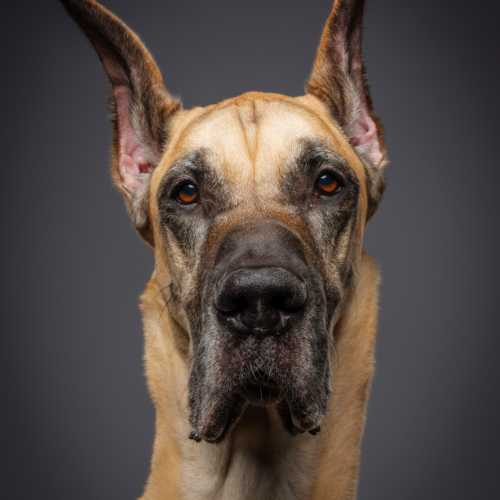 What Happens in a Dog Show Ring?
The judge directs each dog and handler to a place in the ring and then begins their assessment. This assessment is all about conformation, which in Great Danes means that they adhere to this standard.

The dogs want to be there! They prance, perk their ears, wag their tails, and engage happily with their handlers.
One at a time, the judge gives the handler a moment to stack their dog. Good handlers are ready and waiting before the judge walks up.
A stack is a stance that a show dog takes to show off their structure. For Great Danes, this means that their rear hocks are perpendicular to the ground, and the front legs are stacked directly under the shoulders.
Here is an image from the Great Dane Standard (U.S.) showing the male and female dogs in a stacked position.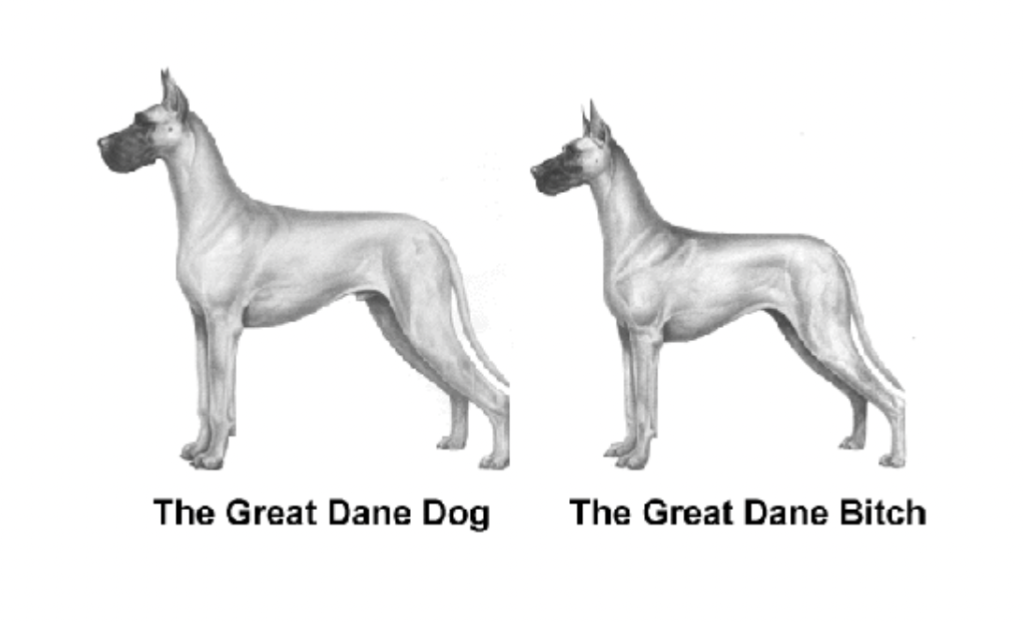 Once stacked, the judge will evaluate adherence to breed type and the way that the dog is built. They may also ask to look at the teeth.
This is a big reason that we like to see breeders seeking 3rd party evaluation of their breeding stock at dog shows.
Why Do Dogs Run in the Show Ring?
After the judge has evaluated the dog, they will ask the handler to run "out and back", which means to take the dog out to the corner of the ring and then turn and come back. After that, the dog is once again stacked for evaluation before the judge asks the handler to run around the ring and go to the end of the line.
Doing this requires a bit of skill. If you go too fast, the dog will enter a run. If you go too slow, the dog will become bored and start wandering. If you are sloppy with your own leash skills and steps, the dog will be sloppy, too.
When the dog is moving, the judge is evaluating reach, drive, and overall movement.
The extension of the front limbs and placement of the feet in the gait pattern are just some of the things the judge is looking for.

Sometimes the judge will single out a few dogs and ask them to run or stack again.
Eventually, the judge will be satisfied and will calmly and quietly indicate the winners with a hand signal that can be easy to miss. Watch for it!
The winners will line up for their ribbons and the rest of the dogs' exit the ring, ready to try again another time.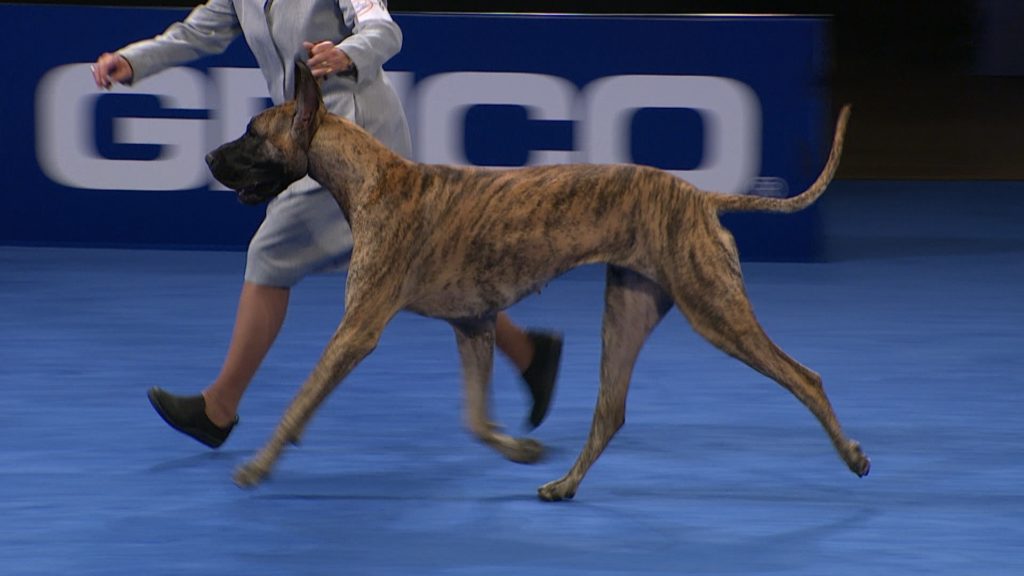 How Dog Show Judging Works
This is an age-old question that is best answered by attending dog shows.
There are actually several awards that a single dog might earn during a dog show. Here are a just a few:
Best of Breed 
Best of Winners

 

Best of Opposite
Select Dog 
Select Bitch 
https://www.akc.org/sports/conformation/resources/road-to-best-in-show/
These awards count for points and over time, some dogs are able to earn their CH (Champion) and GCH (Grand Champion) titles. This is a major badge of honor for a breeder!
The point system is, however, very complicated. You can dig into this a little bit HERE.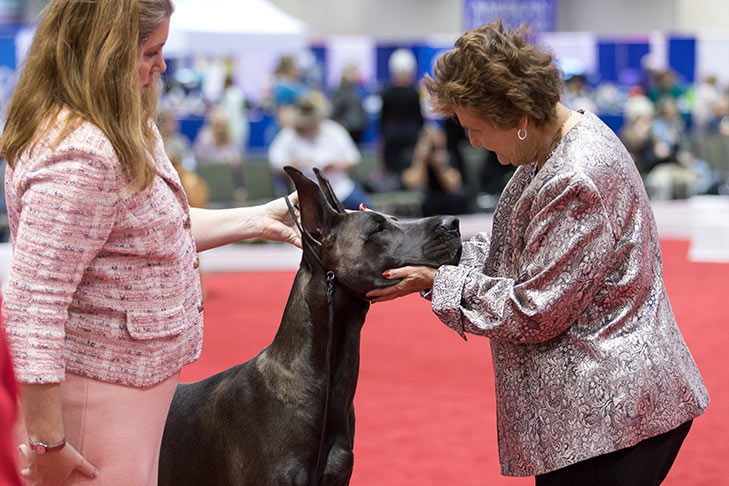 Showing a Great Dane Puppy
I stepped into the ring with a beautiful little Harlequin puppy named Clementine. At 4 months of age she was just excited for life and pretty clueless about the process! Both of us were, actually. Remember, neither of us had done this before.

The great news is that the beginner puppy class gives breeders a chance to practice in their ring with young dogs, without the stress of actual competition.
Read more about the 4-6 months beginner puppy class.

I did my best to stack her (a process that she'd not yet spent enough time practicing) and she did a beautiful gait out and back in the show ring. She had FUN and that was the most important thing.
Dog Show Myths, Busted
Many people think dog shows are snobby beauty contests. My experience was anything but that, and I cannot wait to go back!
The people were friendly, welcoming and complimentary.
The dogs are all so well kept. Not only did they have excellent body condition (healthy weight covered in muscle), but their nails were short, their teeth were clean, and they were robust and shiny. Show dogs are very well cared for.
Dog shows were created to help breeders and breed clubs sort out the best candidates for breeding.
Do not be afraid to approach a show breeder for your next Great Dane puppy! You can meet them at dog shows, and most of them love to answer questions. The dogs they breed will likely be excellent examples of the breed and will have stability in structure, temperament and health.
After our win in the beginner puppy class, we got to take a photo. Clementine has a lot to learn, and so do I! When we took this photo she was bouncing off the walls, as puppies do, and uninterested in stacking or standing still. The photographer was amazing and grabbed her in a split second when she was at least "sort of" in a decent position.
All we can do is laugh.
Our goal in the next 2 months is to make stacking the most valuable thing she can do. Treats for days. Praise, love, and attention.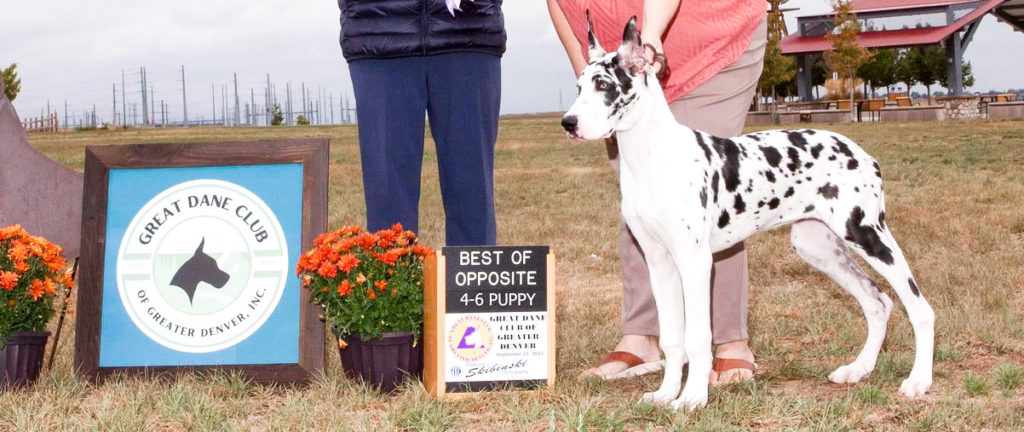 I'm officially hooked and cannot wait to someday have my own stud to show in the ring.
Remember how I said there was a raffle? I fell in love with a piece of handmade art that looked just like my Mantle Great Dane.
Winning this became the cherry on top of an already amazing experience.