Great Dane surgery can be expensive and scary. Many people are concerned about the risks of anesthesia for their Great Dane, and understandably so!
A quick glance around any of the Great Dane social groups on Facebook and it's easy to spot yet another devastating story of a Great Dane that didn't survive a routine surgical procedure.
In response to this problem, the Great Dane Club of America has released some helpful guidelines and information to consider when your dog has to be put under anesthesia for any reason.
We will share this information below, and show you how to keep your Great Dane safe during surgery.

(This post contains images of healthy Great Danes under anesthesia.)
Why is Surgery Risky for Great Danes
Large and giant breed dogs can be prone to surgical complications including:
DIC (Disseminated Intravascular Coagulopathy), which causes blood clotting issues
Heart failure
Shock
Hypothermia (becoming too cold)
Anesthesia drug overdose, which can lead to seizures & vomiting

It is important to note that every dog has a different risk factor. Many Great Danes successfully undergo surgery all the time, however, and it's important to not be fearful of quality veterinary care .
As a general rule, dogs with existing health problems (including Dilated Cardiomyopathy/DCM or Von Willebrand) or obesity are at a much higher risk of developing complications than others.
In addition to those factors, Great Danes are giant breed dogs who take up a lot of space in the veterinary office and surgical suite. In some places, they may actually be too large for the surgical equipment available, or may be too bulky for the staff to handle as carefully as possible.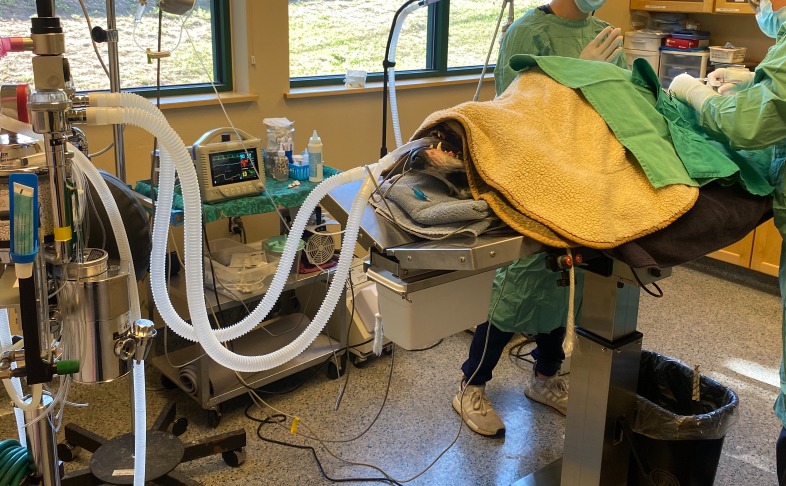 What Surgeries do Great Danes Get? Great Dane Surgery types:
Before we get into how to prevent surgical complications in your Great Dane, let's talk about a few reasons why you may need to elect surgery for your dog.
Here are just a few common reasons why your Great Dane may have surgery:
Gastropexy (Stomach Tacking)
Teeth cleaning (Dental Prophylaxis)
Removal of a mass or tumor
C-Sections
Orthopedic surgery to repair damaged hips or bones
Emergencies, such as bloat
In many cases, the benefits of surgery far outweigh the risks, especially when taking individual risk factors into account.
We cannot emphasize this enough: overweight Great Danes and those who suffer from preventable health conditions such as nutritional DCM, abuse and neglect, or certain genetic disorders are at a much higher risk of complications during surgery.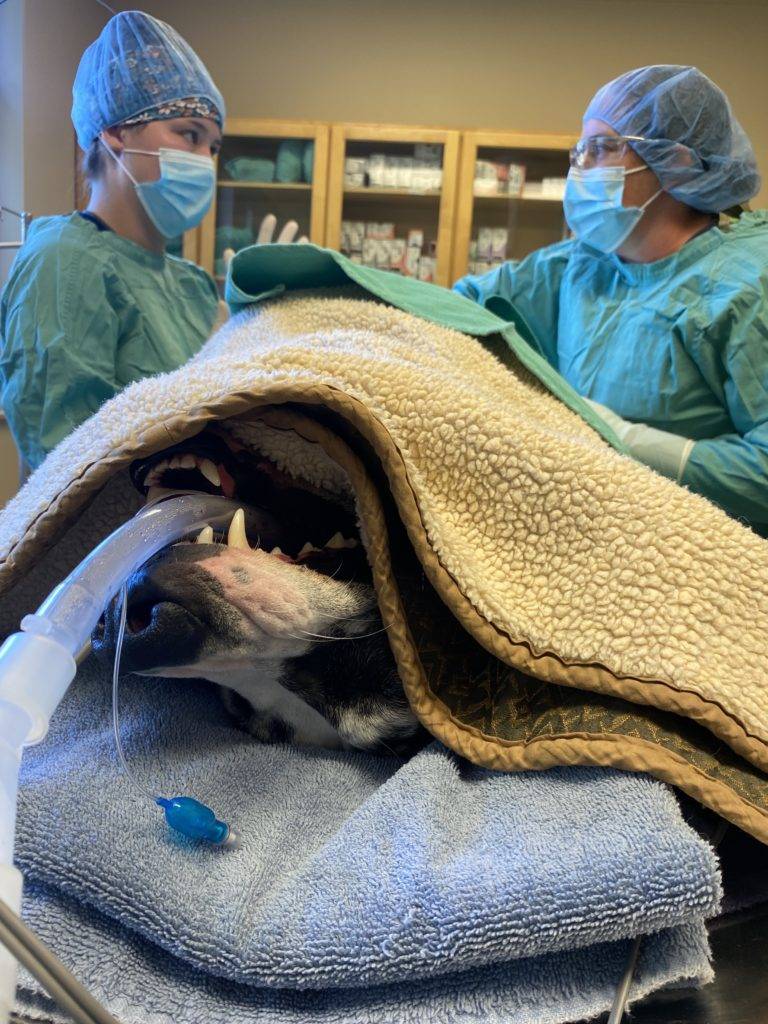 Great Dane Club of America Surgical Guidelines
The GDCA has outlined some evidence-based surgical guidelines for Great Dane owners. This information should be used in tandem with an honest discussion with your veterinarian prior to your dog undergoing surgery.
It is so important to work with a veterinarian that you trust!
The GDCA states (summary) that owners should consider the following:
Work with a veterinarian who is experienced in large & giant breed surgeries
Perform surgery only on healthy animals (barring emergencies, of course)
If elected, spay should be done about 3 months after the last season
The veterinarian should do a complete examination of the dog
An EKG should be performed to assess the health of the dog's heart
Pre-surgical blood work is a must, and should include a CBC, Serum Chemistry Panel, and Blood Clotting Profile
If all of those factors are met, and the choice to proceed with surgery is made, there are additional things to keep in mind:
The dog should fast overnight prior to surgery
During surgery, fluid IV therapy should be administered
Pulse oximetry, cardiac monitoring, and blood pressure monitoring
Propofol and Sevoflurane are considered the safest anesthetic agents
Ketamine, Valium, and isoflurane are more available, less expensive, and acceptable
Rompun, Acepromazine, and Thiopentals are not recommended
Adequate pain control and comfort measures to reduce stress are necessary
During surgery, dogs are prone to becoming too cold and suffering from hypothermia. This can cause problems for the dogs heart and cardiovascular system, blood clotting/coagulation, recovery time, and may increase the risk of infection.
Temperature monitoring, warmed IV fluids, blankets, heating pads, and even bubble wrap are recommended and necessary.
We do not recommend that Great Danes undergo surgery at low cost clinics, if they can be avoided. Low cost clinics are an incredible resource especially for those on a budget; however, they may not have the time, staff, or tools needed to keep a Great Dane safe according to the GDCA recommendations.
You can read (and print) the GDCA Surgical Recommendations HERE (click on "Surgical Guidelines for the Great Dane"). Share this information with your veterinarian.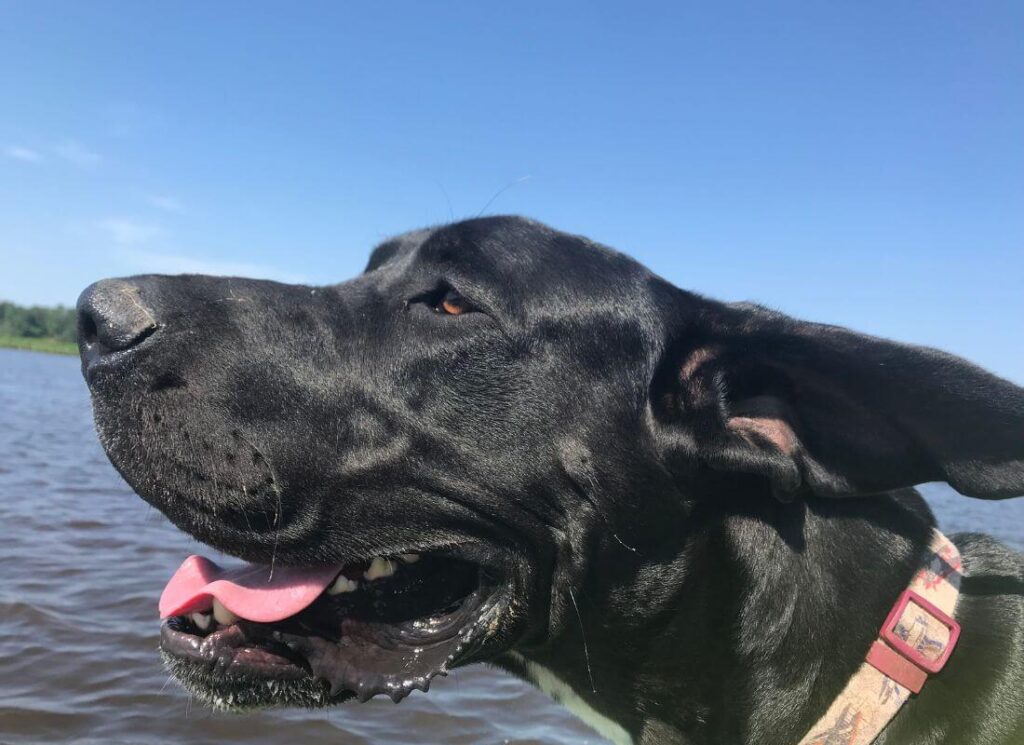 When is a Great Dane too Old for Surgery?
While age can slightly increase complications, it's important to remember that "age is not a disease." Many mature-aged Great Danes (age 5 and up) undergo surgery with no complications at all.
As a matter of fact, in some cases, choosing surgery is the choice with less risk!
A Prophylactic Dental Cleaning is a great example of a place where, for most dogs, the benefits of elective surgery far outweigh the risks.
Many people are hesitant to have their veterinarian clean their dogs teeth under anesthesia, however, bad dental health can lead to a slew of health problems that can shorten lifespan. Not only that, but bad teeth can be exceptionally painful for your dog!
Read here for why sedation-free dentistry is bad
No matter what your dog's age, talk to your veterinarian. Experienced professionals who understand how to safely perform anesthesia on large and giant breed dogs can put your mind at ease.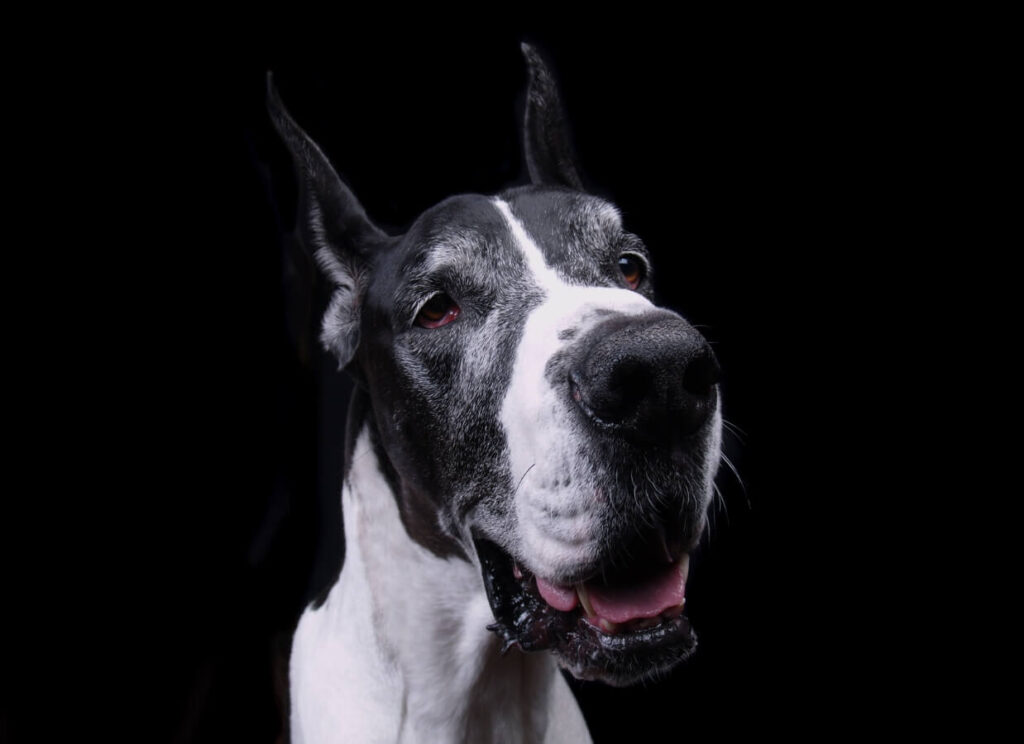 Great Dane Surgical Death Statistics
Check out this quote from Mary Anne Zanetos, chairwoman of the GDCA Health Survey Committee:
Most of the post-surgical deaths were seen in young, healthy dogs undergoing elective procedures.
No wonder so many Great Dane owners struggle with the decision to put their dog through elective surgery! Many underlying conditions, including nutritional DCM and blood clotting disorders can be a factor for dogs who appear otherwise to be very healthy.
Reducing complications in surgery for Great Danes requires a three-factor approach:
Ensure through ethical breeding that genetic disorders such as heart disease and blood clotting problems are not passed on to future generations
Use science-backed health, nutrition, and care practices so that the dog is as healthy as possible
Working with an experienced veterinarian who is using evidence-based protocols in the care of giant breed dogs that are put under anesthesia
Read HERE for why Grain-Free Dog Food Should NOT be Fed to Great Danes
Purina Great Dane Update Surgical Guidelines for Great Danes