Great Danes are known for having short lifespans, 4-8 years on average. I don't know about you, but that's just not enough time with our gentle giants! We've got a few tips today for how to make a Great Dane live longer, including information about breeding, nutrition, bloat, and joint health.
All of these things can be done not only to support a longer life span for your Great Dane, but to encourage general wellness and comfort for them, too!
How to Make a Great Dane Live Longer
We're covering everything from genetics to disease, nutrition and exercise. Let's dig in!
Why Do Great Danes Have Short Life Spans?
Before we can understand how to help our Great Dane dogs live longer, healthier lives we have to understand why Great Danes have short life spans in the first place.
There are 6 main reasons that Danes lives tend to be cut short:
Orthopedic issues, including hip dysplasia
Being overweight
Bloat
Heart Disease (DCM)
Cancer
Genetics
The good news here is that there are many things you can do to extend your Great Danes lifespan!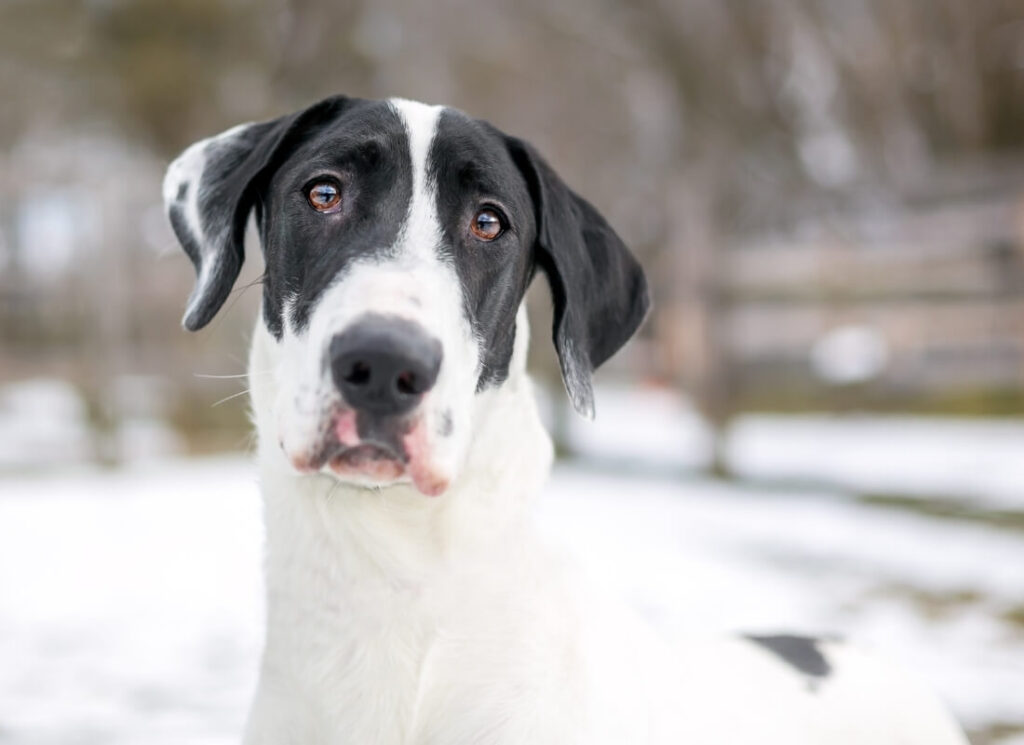 Observations about Great Danes that Live a Long Time
A quick glance around social media and at dog shows, there are a few key things seen among Great Danes who live long, healthy lives.
When we see an older (8 years +) Great Dane that is still going strong, we most often see some combination of the following:
A dog with good genetics, from proven pedigrees
Excellent body condition score; not overweight
Sound, stable temperament, free of fear, stress, and aggression
Excellent structure, feet, and angulation (which is genetic but also can be related to early puppy nutrition)
Trimmed nails & clean teeth
Well tempered dogs that received training and enrichment throughout life
Pet parents who trust their veterinarian, keep their dog active, and feed an appropriate diet
Genetics play a huge role in temperament, overall structure, cancer risk, bloat risk, and heart disease. Of course, not all Great Danes are given exceptional genetics. Knowing that, there are still things that can be done to help your Great Dane live longer!
What Health Tests do Great Danes Need Before Breeding?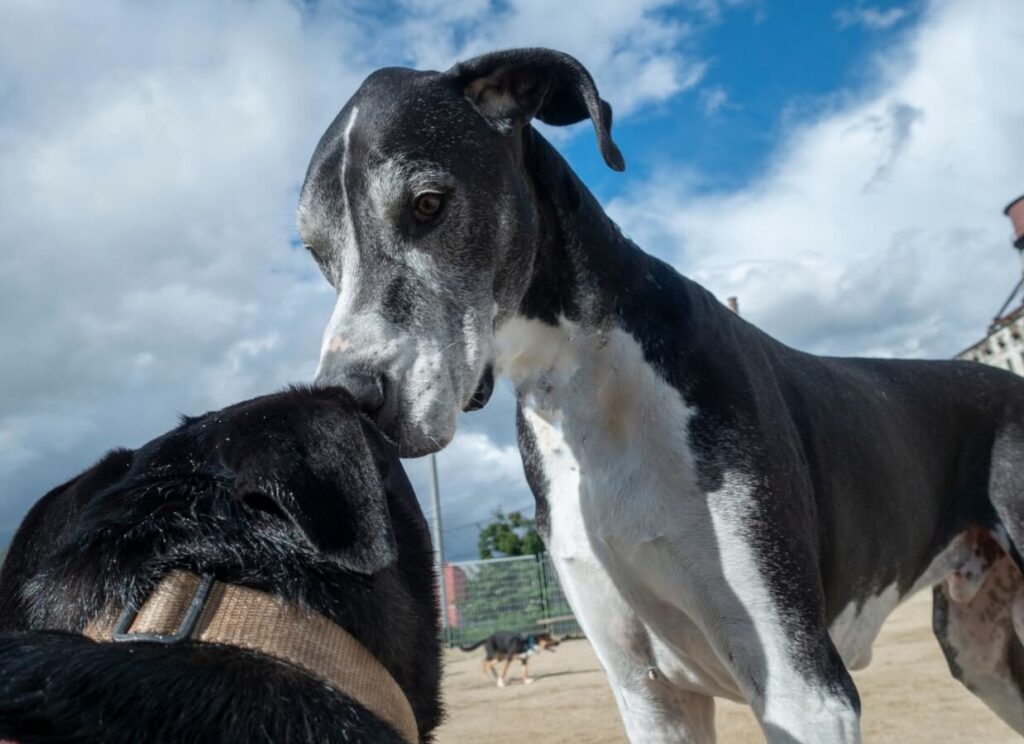 Nutrition for Great Danes
One of the easiest ways you can help extend your Great Danes life is to make sure they are getting the correct nutrition from day one.
Feeding the wrong food to a puppy can result in a lifetime of orthopedic problems including hip dysplasia. Not only that, but certain foods have been proven in research to increase the risk of heart disease!
Great Dane puppies should be fed a well-researched large or giant breed puppy food from a company who employs veterinary nutritionists, until age 2. This is the most current, science-backed recommendation available, which promotes proper bone growth, joint development, and structure.
If you aren't sure what brands or formulas to choose, our popular Great Dane Puppy Food post will get you started.
Here is our list of Great Dane foods that promote health, wellness, and longevity. These brands are commonly fed by veterinarians and to the top show and sport dogs, for a reason:
For Adults:
For Puppies:
This list will be updated soon to include a few Pro Plan SPORT formulas and a very small handful of other brands that qualify. In the meanwhile, everything on that list above is exactly what you need.
Check out THE GIANT DOG FOOD PROJECT where you can compare brands and values head to head.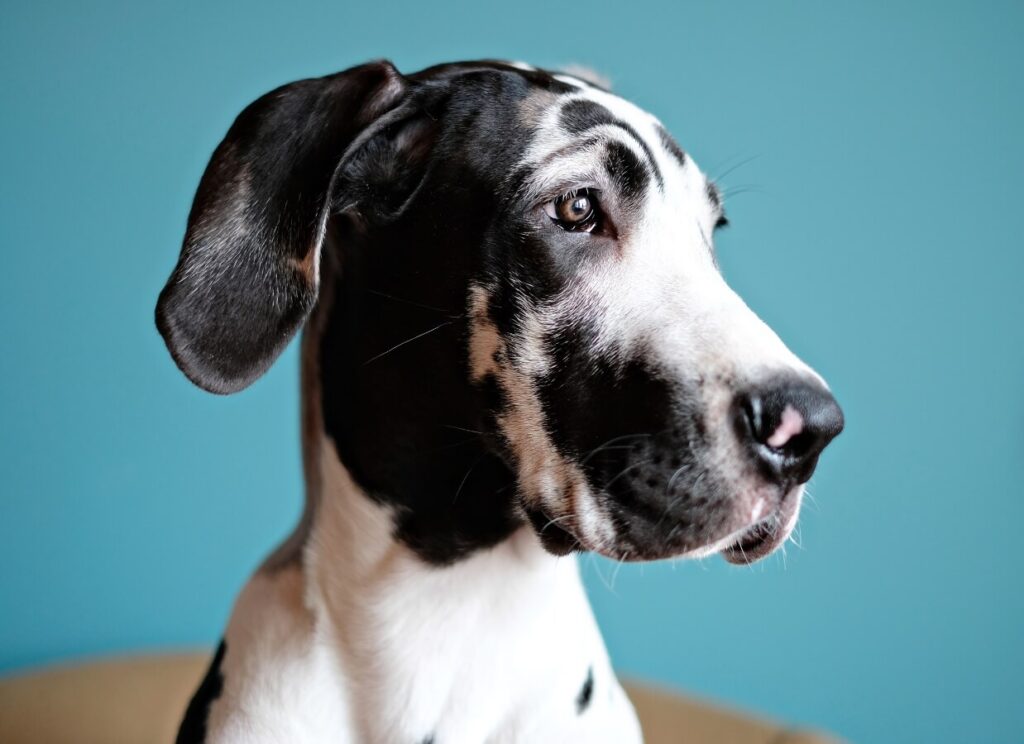 How to Socialize a Great Dane Puppy
Socializing a Great Dane puppy is a critical aspect of their upbringing that sets the stage for a well-adjusted and confident adult dog.
Begin early, exposing your puppy to various people, animals, and environments. Ensure that each of these interactions is a positive experience! The last thing you want is for your puppy to associate the environment with being overwhelmed or scared.
Start with gentle and positive interactions in safe settings, gradually increasing the complexity of social experiences.
Enroll in puppy training classes or playgroups to facilitate controlled interactions with other dogs and to instill good behavior. Expose your Great Dane puppy to different sounds, sights, and situations to prevent fearfulness in adulthood.
Always use positive reinforcement, rewarding calm and confident behavior with treats and praise.
By providing a wide range of positive experiences and ensuring your puppy associates socialization with positive outcomes, you'll be on the right track to raising a well-socialized and well-adjusted Great Dane.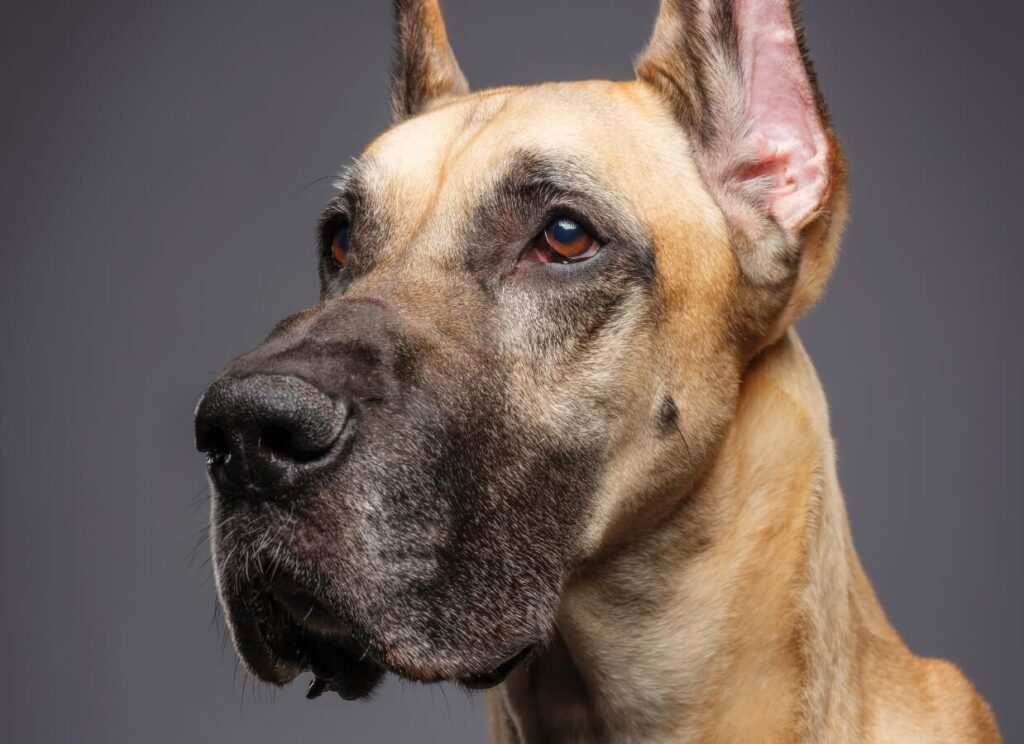 Heart Disease in Great Danes
DCM (Dilated Cardiomyopathy), AKA Heart Disease or congestive heart failure is one of the top reasons why Great Danes don't live long. Many Danes with DCM will show very little signs and may suddenly collapse one day, or die while undergoing surgery.
This horrible disease is primarily genetic. It is passed down through the pedigree.
DCM can also be caused by dog food that is unbalanced. This is commonly a problem with kibbles that contain a lot of peas, lentils, potatoes, chickpeas, and garbanzo beans, as well as any diet that is not correctly formulated in some way.
Because Great Danes are already genetically prone to DCM, feeding a low-quality (commonly grain-free) diet effectively increases their risk of dying suddenly from heart disease.
Read more about the DCM – Nutrition Link HERE
Learn about DCM in Great Danes HERE
Was the DCM and Grain-Free Foods Link Debunked? Read more HERE.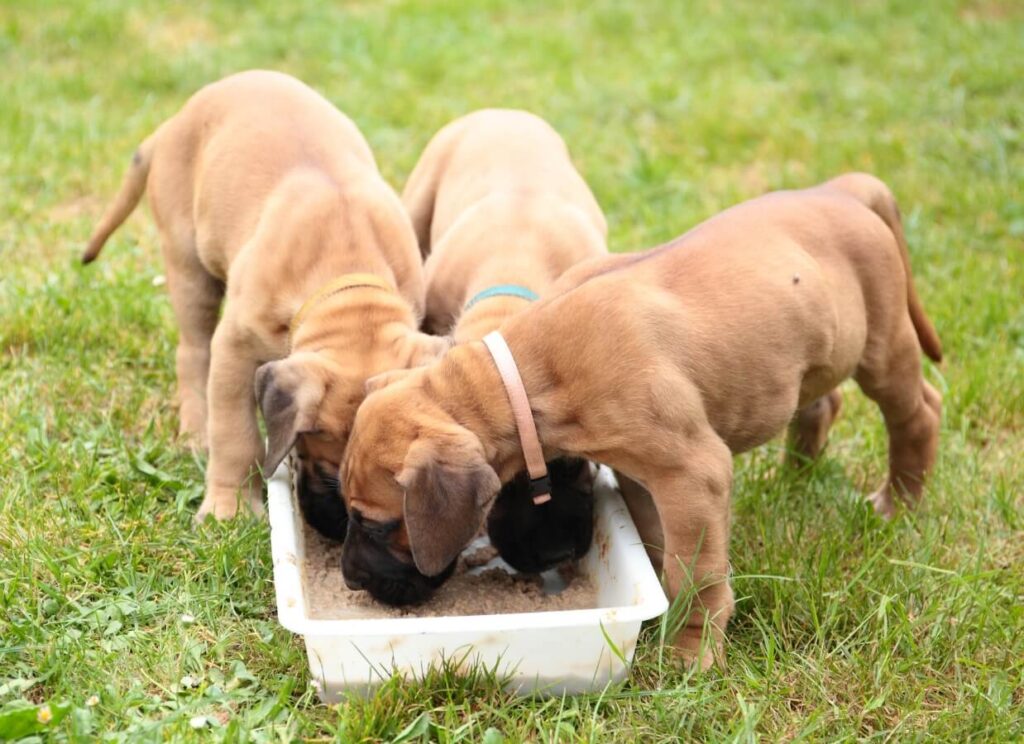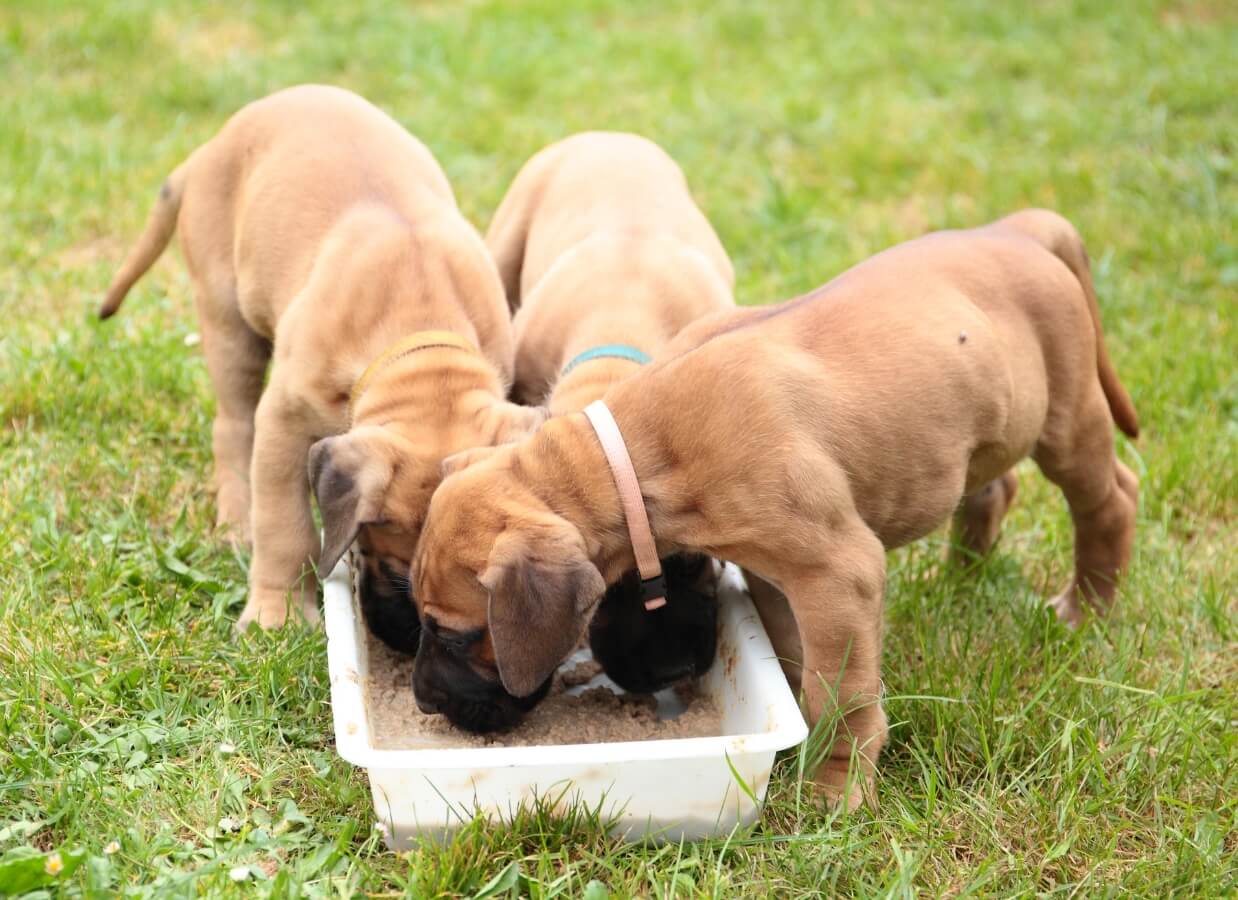 Active, Lean Great Danes Live Longer Lives
Did you know that lean dogs with a healthy body condition score live, on average, 2 years longer than dogs that are overweight or obese?
A healthy Great Dane is leaner than you might think, and should be covered in muscle, not fat.
Read more from the Purina Body Condition Scoring Guides HERE
Excess weight on your Great Dane increases their risk of joint disorders and pain, heart disease, diabetes, and complications during anesthesia and surgery. An overweight dog that experiences a health emergency (such as bloat) is less likely to survive, too.
Talk to your veterinarian about helping your dog lose weight and gain muscle!
We recommend off-leash training for Great Danes so that they can move freely without potentially damaging physical restraints. Off-leash movement on soft, varied terrain is helpful for building muscle and maintaining fitness levels, and we can't think of a more fun way to help your Great Dane live longer!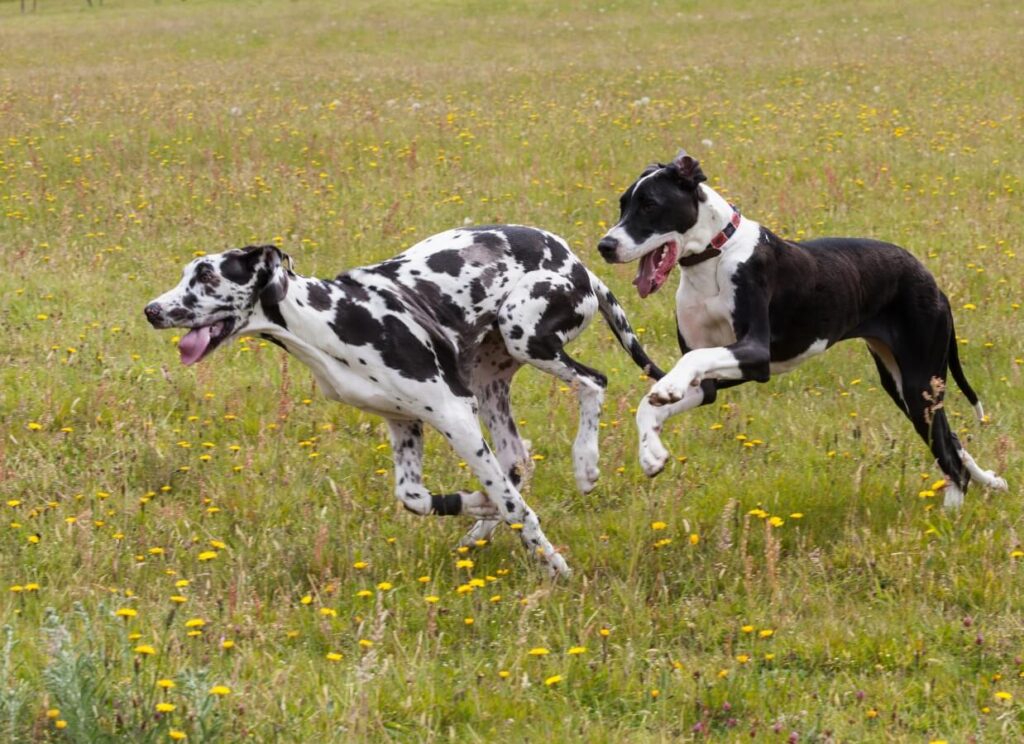 Bloat in Great Danes
Bloat (also known as GDV or Gastric dilatation and volvulus, aka 'bloat and torsion') is an emergency that will affect 1-in-4 Great Danes on average. When bloat occurs, the stomach fills up with gas, fluid, or air and then may twist over itself (torsion). Torsion is both painful and deadly.
Fixing this requires expensive emergency surgical treatment and many dogs (especially those with heart disease, obesity, blood clotting disorders, or other serious health issues) do not make it out alive.
FACT: Studies have shown that moderate exercise after meals, not resting, might decrease the risk of bloat by as much as 50%! This goes against everything we've been taught. Read more HERE.
Bloat is, as most things, primarily genetic. When choosing a breeder, verify that there is no history of bloat, poor gut health, or bad temperaments in the last several generations.
Consider a gastropexy; this life-saving and simple procedure results in better outcomes for Danes that bloat.
Feed a quality kibble that contains meat meal, and offer 2-3 small meals each day topped with some kind of balanced canned, fresh, or raw food. Encourage slow, stress free eating.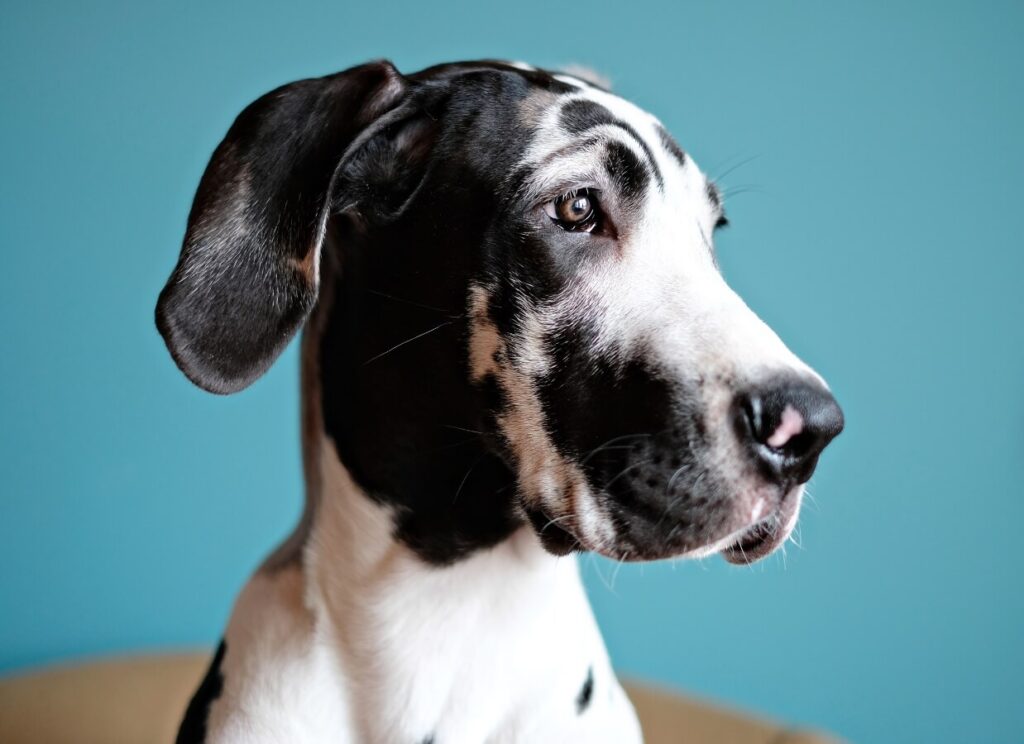 Orthopedic Disorders in Great Danes
Another reason why Great Danes have short lifespans is because they suffer, unfortunately, from orthopedic disorders.

Nutrition, especially in puppies, plays a huge role here but so does genetics and exercise.
Wobblers disease is an unfortunately common disorder in Great Danes that leads to painful and debilitating mobility issues. Read more about wobblers HERE.
IMGD, hip dysplasia, flat feet, and poor overall conformation also have genetic roots that must be addressed by thoughtful, careful breeding practices as well as appropriate movement and strength building.
For dogs with structural and orthopedic issues, working with a canine physical therapist and a veterinarian is a must.
Do not purchase puppies from breeders who are breeding dogs that don't meet the written structural standard for Great Danes. These breeders are genetically perpetuating structural problems that debilitate Great Danes and shorten their life span.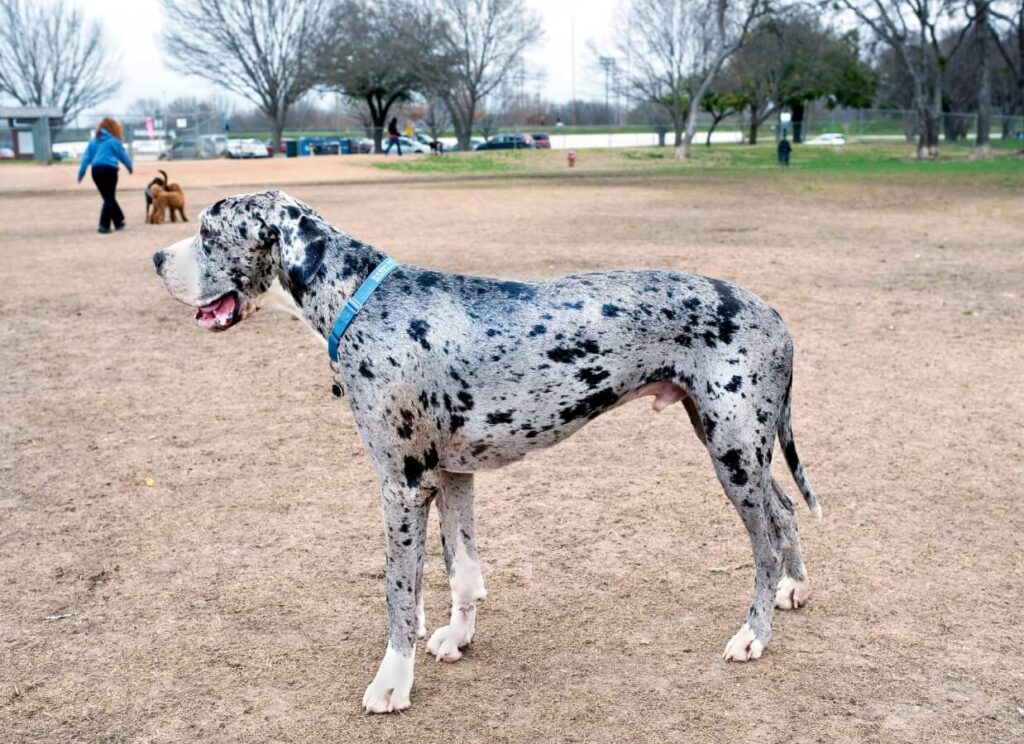 Cancer in Great Danes
Unfortunately, Great Danes are susceptible to certain types of cancer, including osteosarcoma.
Osteosarcoma is a bone cancer that often appears suddenly and often requires amputation and treatment or euthanasia.
It is understood, however, that cancer is primarily a genetic disorder.
Some dogs are at higher risk than others; for example, early spay and neuter has been correlated in studies with an increased risk of osteosarcoma, hemangiosarcoma, lymphoma, and mast cell tumors.
Some researchers have also theorized, but not yet studied, that there may be a link between excess calcium intake and overfeeding in puppyhood to dogs that develop brittle bones and bone cancers later in life.
We recommend keeping Great Danes intact until 18-24 months, if possible, and feeding an appropriate large or giant breed puppy food with well controlled calcium levels to dogs under the age of 2. This can promote orthopedic stability, better overall conformation, and as above, may lower the risk of certain types of deadly cancer.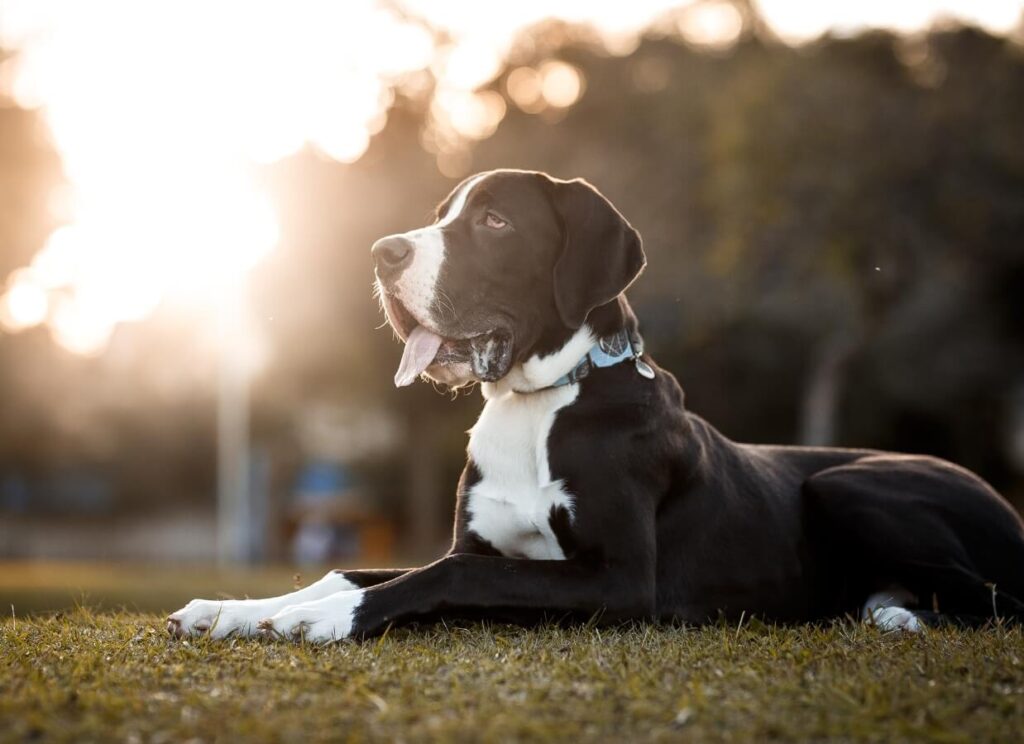 Help Your Great Dane Live Longer by Reducing Stress
Stress and anxiety is not healthy for humans, or for dogs.
Studies show that increased levels of cortisol and adrenaline can contribute to a shorter life span by weakening the immune system and causing problems with the heart, gastrointestinal, and endocrine systems.
Here are some signs that your dog is stressed or anxious:
Pacing, whining, crying
Destructive behavior
Drooling, panting
Ears pinned, hunched body language
Timid or fearful behaviors
Growling, nipping, and aggression
Depression
Reduce your dogs stress by making sure you offer plenty of exercise and enrichment. This may mean changing your routine and habits to alleviate boredom and get your dog doing more.

Our E-Collar training guide is a popular resource for helping anxious Great Danes get safely off-leash and exploring the world.
You can also reduce stress by using enrichment toys such as the West Paw Toppl Toy. Stuff it with soaked kibble or canned food and freeze before serving.
Talk to your veterinarian about supplements and calming care for dogs that are stressed by fireworks and loud noises, too. This calming probiotic may be an excellent choice for your dog.
Work with a modern, positive balanced dog trainer on confidence building and socialization. A scent work class may be just the ticket!
Avoid outdated training techniques (alpha/dominance, Cesar Milan, 'police dog training', etc.) which use a lot of intimidation and stress to shut behaviors down.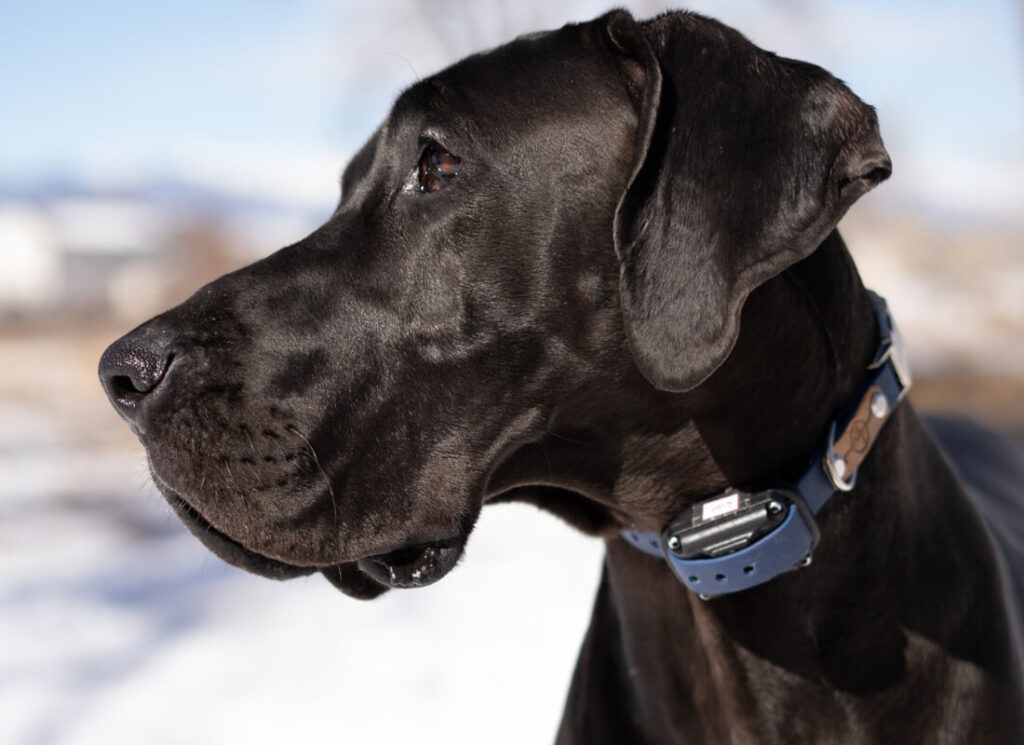 Final Tips to Extend a Great Danes Lifespan
Here are a few final tips.
See your veterinarian, regularly. Complete a full blood panel every year so that developing health problems (such as thyroid disease, liver and kidney problems, or diabetes) can be addressed early.
Before surgery, pay the extra money for a full exam, blood work, and health screening.
Have your dogs teeth cleaned by a veterinarian. Nasty teeth lead to pain, infections, and heart damage.
Make sure your dog always has clean, fresh water available from a clean bowl (wash daily or as often as possible).