Panosteitis in large breed dogs is a BIG problem! Panosteitis is often abbreviated to just 'Pano', and if you have a Great Dane puppy it's something you should be aware of.
PANOSTEITIS IN LARGE BREED PUPPIES
Pano is a painful condition that happens in growing large and giant breed dogs. Many people call this 'growing pains', and it may cause lameness, limping, weight loss and even lethargy.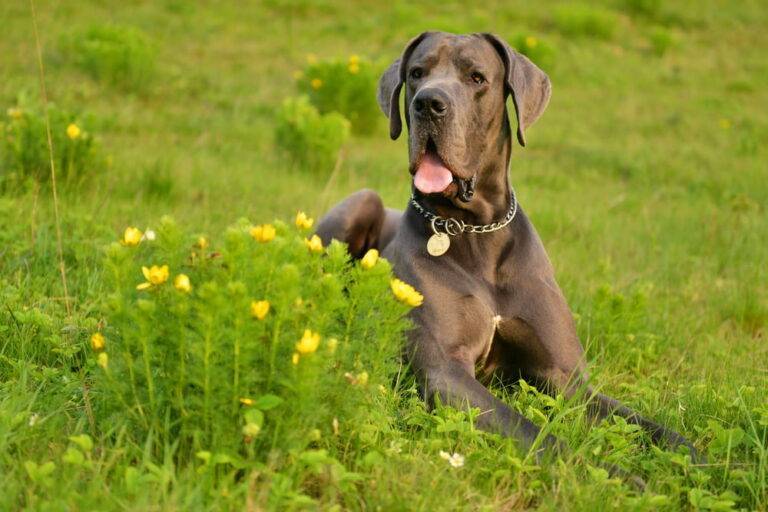 WHAT CAUSES PANO?
As with many disorders and conditions seen in Great Danes, the exact cause is still unknown.
However, it is believed that there may be dietary, environmental and genetic components.
If your puppy is from a breeder, it is extremely important that they are aware so that they can address the issue from the ground up. Ideally, they shouldn't be seeing this condition regularly pop up in their litters; if they do, that's a sign that something is not right.
WHAT AGE DO DOGS GET PANOSTEITIS?
Panosteitis is diagnosed in a large breed dog, usually around the age of 4-18 months old.
The vast majority of cases are seen in a young dog, between the ages of 5-12 months, with males being affected more than females.
However, it is possible for panosteitis to occur in the long bones of a dog of any age.
HOW IS PANOSTEITIS DIAGNOSED?
A veterinarian may want to do x-rays, in particular to rule out more serious bone growth disorders that may present in a similar fashion (retained cartilage cores or HOD, for example).
The veterinary will feel the bones of your puppy and look for a pain response.
A radiograph of the affected bones may then show increased bone density, which can help to verify the diagnoses of Panosteitis.
X-rays may require that your puppy be sedated. Talk to your veterinarian; sedation should be avoided when possible and it's important to thoughtfully weigh the pros and cons.
The good news is that Pano (Panosteitis) is generally mild and self-limiting. Most dogs outgrow the condition and suffer no long-term effects.
This does NOT mean that you shouldn't seek diagnosis and treatment!
Panosteitis can be very painful for the puppy. Your veterinarian can prescribe anti-inflammatories and medications to help treat the condition..
HOW LONG DO DOG GROWING PAINS LAST?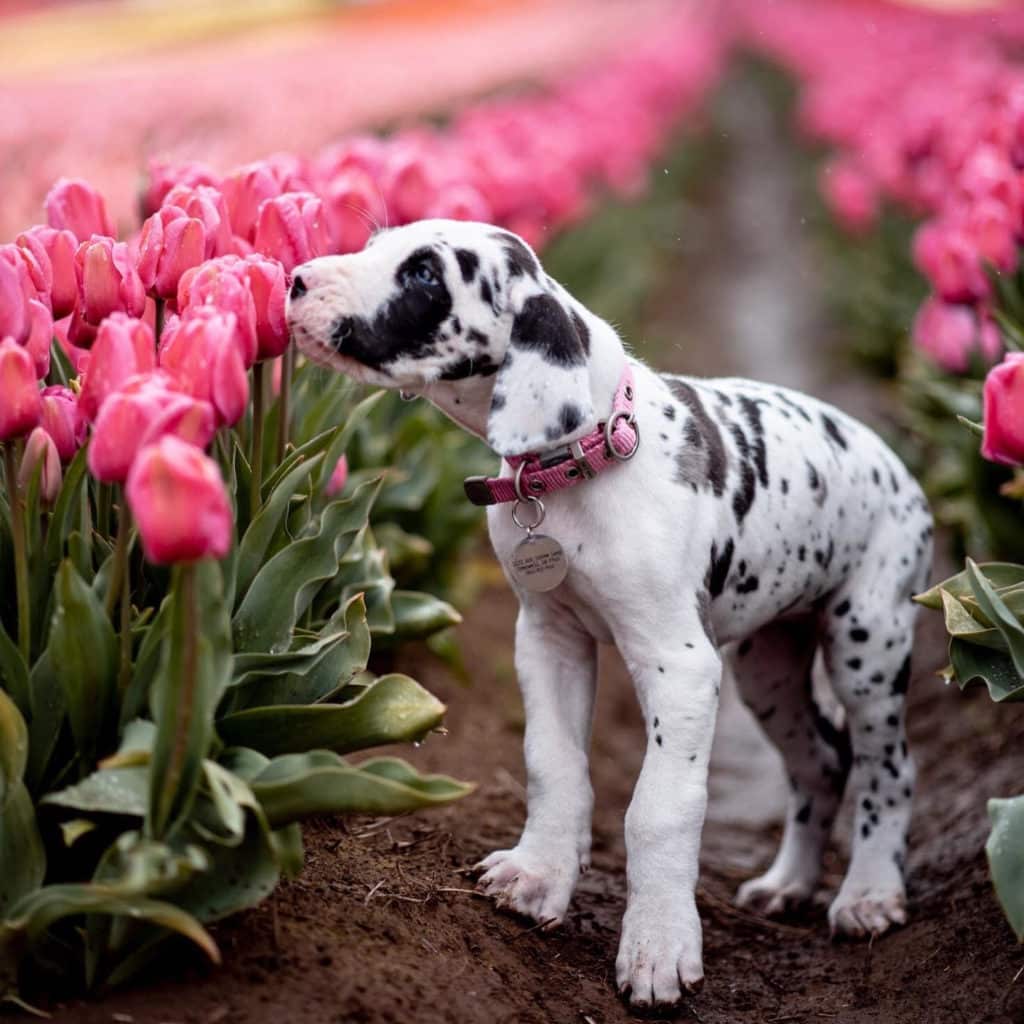 Pano typically impacts the affected leg /affected bone of one or more limbs for a few days to a few weeks, and then switches to another bone or limb.
This can go on for several months until the dog is around 18 months old.
The good news is that panosteitis is not a degenerative condition; it does not cause long-term damage to the bones.
WHAT LARGE BREED DOGS ARE MOST IMPACTED BY THE PAINFUL LAMENESS OF PANO?
Panosteitis in dogs impacts growing dogs. The most common breeds affected are large breed dogs including:
German Shepherds
Labrador Retrievers
Basset Hounds
Great Danes
Doberman Pinschers
The most commonly affected breed of affected dogs with this self limiting disease is German Shepherd Dogs. Golden Retrievers and Great Danes are also prone to issues with their leg bones. Larger breeds typically get Pano more frequently than small dogs.
WHAT DOES PANOSTEITIS LOOK LIKE ON AN XRAY?
Xrays can be taken in growing dogs to evaluate the developmental disease and check for radiographic evidence of Pano.
On these diagnostic tests, the veterinarian will examine the x rays and look for any evidence of increased bone density in the bone marrow or any changes in the shape or configuration of the bones.
This can help to confirm a diagnosis of Pano which could be causing a sudden onset of pain in your dog.
HOW LONG DO PANOSTEITIS EPISODES LAST?
After a Pano diagnosis has been made via x rays and the underlying cause has been made, pet owners will want to monitor their dogs panosteitis for their growing periods.
Canine panosteitis in large breeds can last anywhere from six weeks to eight months. The episodes will typically come and go, with the dog seeming fine in between.
During these growth spurts, a dogs panosteitis can create pain in the long bones, sudden lameness in one or more legs (acute lameness) and declining pet health.
WHAT CAN I DO TO HELP MY DOG WITH GROWING PAINS?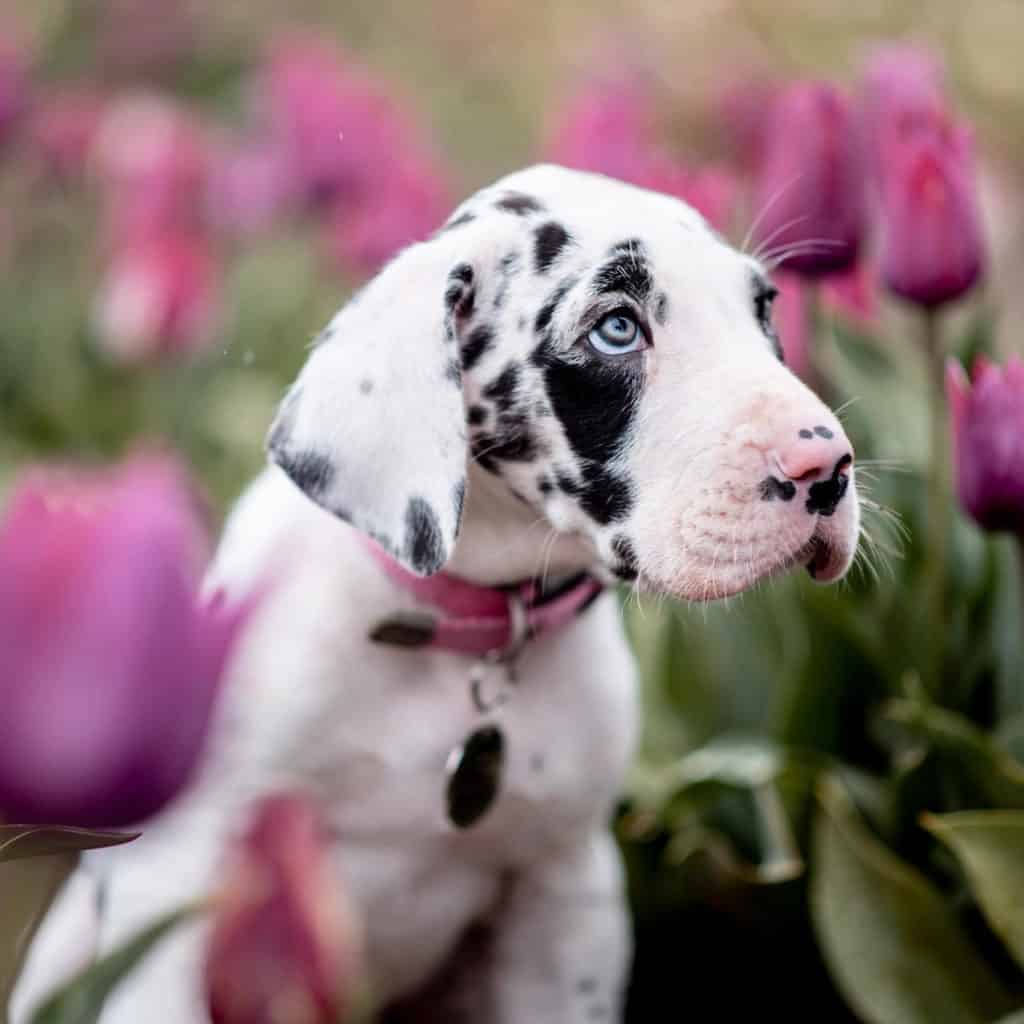 If you are seeing clinical signs of Pano, the following can help:
When the lameness begins, speak to your vet about pain medication and whether they would like to prescribe pain medication
Keep runners/rugs down on your floor as your dog's activity on slippery surfaces can cause more pain
Regular short, gentle walks will help to keep muscles toned without stressing the bones
Provide moderate exercise
A warm compress on the affected area can also help
Feed a balanced, science-based and tested puppy food as poor appetite can aggravate dogs pain
Acupuncture, laser therapy and CBD can help with pain relief in long bones and soft tissue lining
Repeat x rays if necessary to rule out hip dysplasia which affects young dogs more than expected
USING CBD
HOW TO INCORPORATE CBD FOR PAIN RELIEF
STRENGTHENING YOUR DOGS FEET
PAIN MEDICATIONS
WALKING YOUR DOG
RUNNING WITH YOUR DOG
PUPPY FOOD NEEDS TO BE BALANCED
ACUPUNCTURE
LASER THERAPY
HOW COMMON IS PANOSTEITIS?
Panosteitis in dogs impacts the long bones in one leg or different legs at different times. The disorder is most common in large and giant breeds of dogs that are between the ages of five and 14 months old.
Panosteitis impacts both sexes equally. However, male dogs are often more severely affected than females.
The chances of your dog developing Panosteitis are increased if they have a family history of the condition. Panosteitis can be seen in any breed, but is most commonly found in German Shepherds.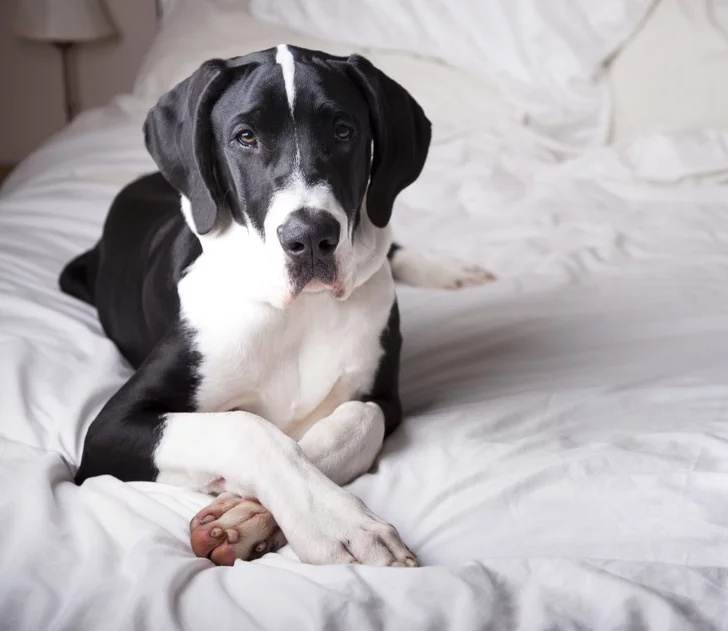 TREATMENT OF PANOSTEITIS
If it is determined that your puppy has Pano, your veterinarian may prescribe the following:
Pain medications and anti-inflammatories
Exercise restrictions during painful flare-ups of the condition
Recommendations to avoid hard and slick surfaces
A change in diet
The addition of supplements such as Esther C, Green Lipped Mussel, Fish Oil and Probiotics.
We also believe that orthopedic support matters.
Trim nails weekly so they never touch the ground.
Choose a proper orthopedic dog bed. We recommend a Big Barker bed.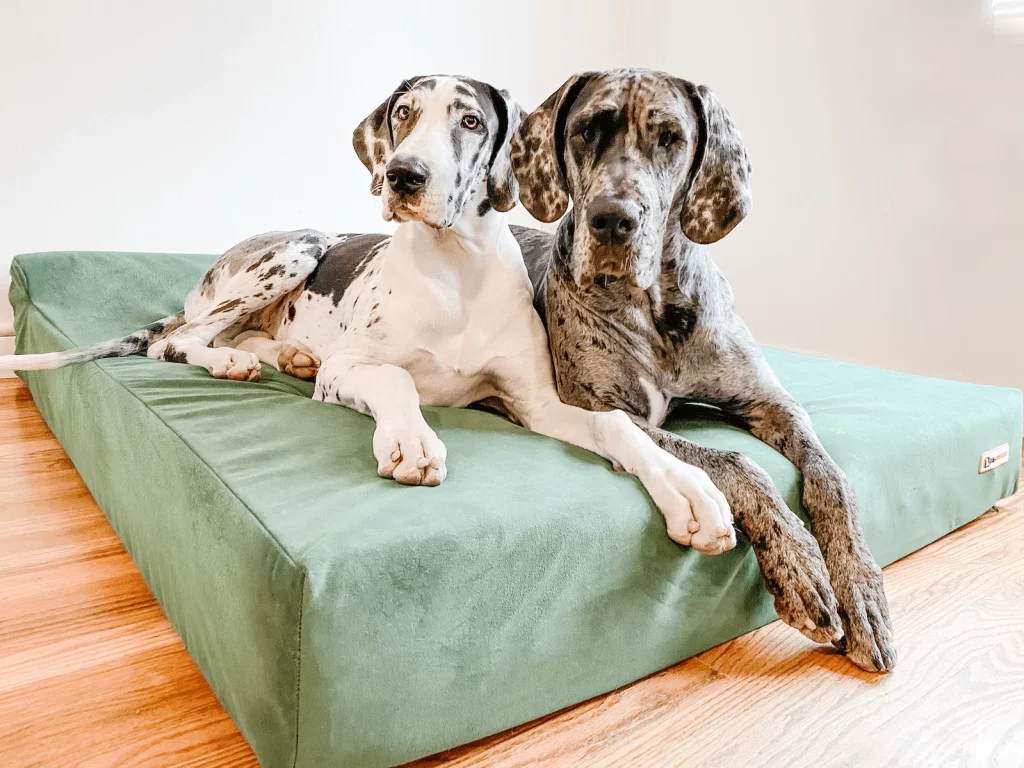 Make sure your dog has access to soft, varied terrain such as grass, sand and gravel.
SHOULD YOU LET YOUR DOG PLAY IN THE DIRT?
WHAT SHOULD YOU FEED A LARGE BREED PUPPY?
Panosteitis in dogs is thought to have a correlation to diet, a genetic component, and due to rapid growth.
Large and giant breed puppies grow rapidly and their energy needs are high. They should be fed a diet that is formulated for large breed puppies.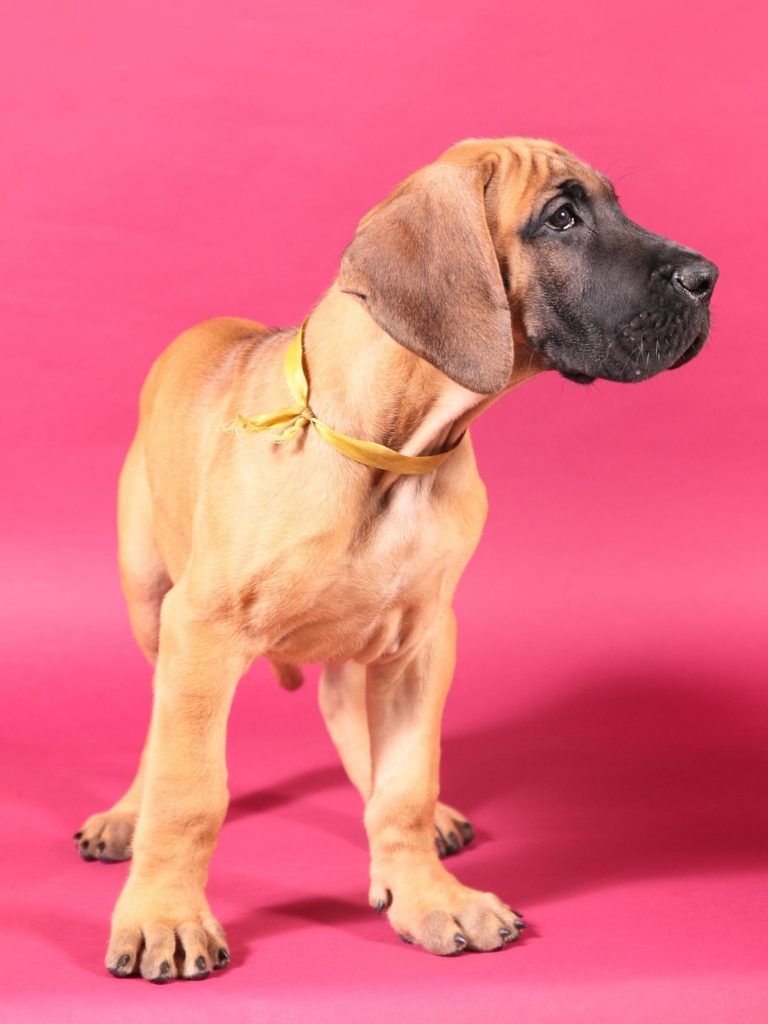 THE HELLO DANES GREAT DANE PUPPY RESOURCE PAGE
LARGE BREED PUPPIES / GROWING PAINS / DIET
Choosing an appropriate food for your Great Dane puppy is also important. The correct balance of calcium and phosphorus really matter here. You can see resources for our reccomendations for Great Dane puppy foods post below, as well as the foods we recommend for adults.
PAINFUL INFLAMMATION FROM BEING OVERWEIGHT EVEN AS YOUNG DOGS
Do not overfeed your puppy and let him/her become heavy and overweight. Getting fat is not the same as filling out.
HARD SURFACES AND GROWING PAINS IN A LARGE BREED DOG
Puppies that are kept and walked largely on slick and hard surfaces (hardwood, tile, crate pans, cement, asphalt) may be more prone to pain and weakness, as these surfaces are hard on the joints. We recommend putting area rugs down and choosing grass, dirt and sand for walking when possible.
PET OWNERS CAN DO EVERYTHING RIGHT AND STILL HAVE AN AFFECTED DOG
You can do everything correctly and still have a dog suffer from Pano.
Chat with your veterinarian and make sure that your dog isn't needlessly suffering when pain medications can be prescribed.
Remember, most dogs outgrow this condition! Panosteitis in dogs requires pet owners to manage their dog's pain, provide options for pain relief, take special care of their dog's diet and exercise and monitor their dog's weight. With time and care, your dog will live a happy and pain free life!
As above, here is a link to our Great Dane Puppy foods post.
Have fun with your dog!
Nutrition and proper exercise (free play on softer, varied terrain) are extremely important for growing Great Dane puppies. The lack of both may be contributing factors towards the incidence of Panosteitis.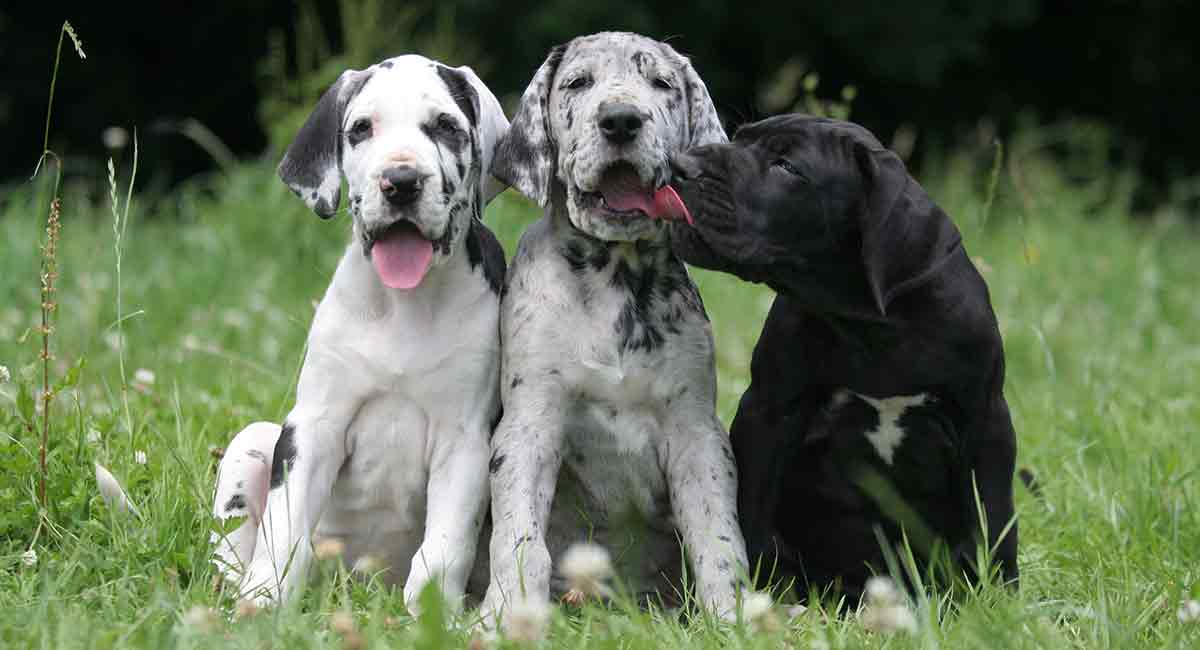 As above, here is a link to our Great Dane Puppy foods post.
Have fun with your dog!
READ MORE:
Some of the products we list on our website contain affiliate links. If you choose to make a purchase, we may receive a small commission for referring you. We only recommend products that we truly believe in. This commission does not affect the price of the product and is used to fund our content and expenses related to operating this website.
READ MORE: