Great Dane diet has been a controversial topic for awhile now as giant breed dogs are known for needing specific dog food brands and nutrients in order to be at their optimal health.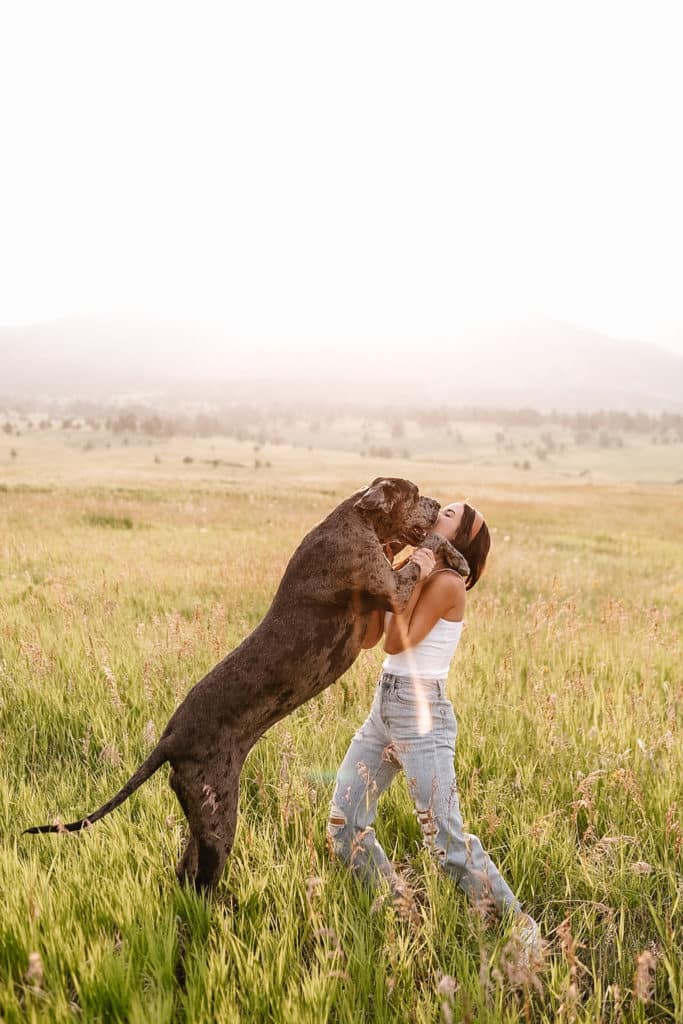 Great Dane owners should take note that it's important to know what to feed your puppy or adult Great Dane for healthy growth. Below we'll discuss the best diet for a Great Dane puppy and how to make sure they're getting all the nutrients they need.
SUPPLEMENTS FOR GREAT DANES- WHAT DO YOU NEED TO KNOW AND INCLUDE?
GREAT DANE DIET FOR GREAT DANE PUPPIES
Great Dane puppies grow quickly and need a diet that will support their rapid growth. Feeding growing puppies the wrong food can cause joint problems, issues with your dogs skin, and most of all serious issues with their growth plates.
READ EVERYTHING YOU NEED TO KNOW ABOUT GROWING ISSUES IN PUPPIES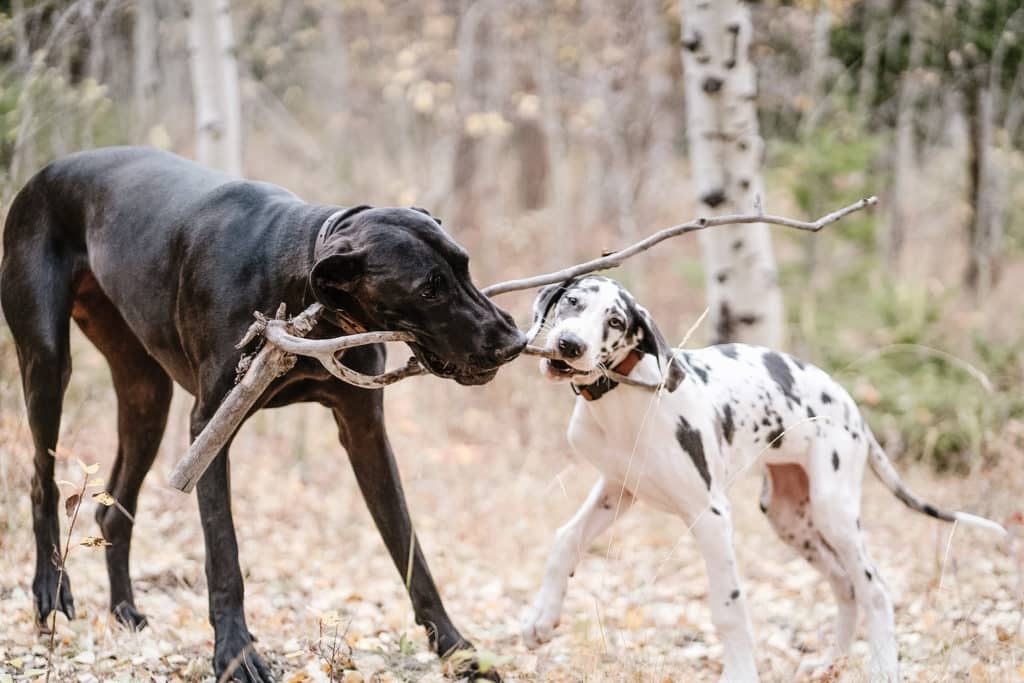 GROWTH PLATE ISSUES WITH A GREAT DANE PUPPY DIET
Giant breeds need specific foods, but it is especially important to know how to feed a Great Dane who is still growing. (GROWTH PLATES IN PUPPIES)
GROWTH PLATES- READ MORE ABOUT YOUR PUPPIES LEGS
BEST TOYS FOR PUPPIES
BIG DOG MYTHS
BEST NAIL CLIPPERS FOR GREAT DANES
TOENAIL PROBLEMS- COULD THEY BE CAUSING GROWTH ISSUES?
HOW TO TRIM YOUR PUPPIES NAILS
This is because your dog's diet plays a role on their growth plates. Growth plates in large breeds are made of cartilage and they are what turn into your dog's bones.
If a large breed puppy eats too much or the wrong type of food, it can cause their growth plates to close too early. This will cause your dog to have bones that are too short and thick which leads to all sorts of joint problems later on in life.
Normal growing Giant Breed puppies will have open growth plates until they are about 18-24 months old, but some breeds can have open growth plates until they are about 30 months old.
So it's important to make sure you know what food to feed your Great Dane puppy and how much so that you don't accidentally cause any problems with their growth plates.
The best way to ensure your Great Dane puppy is getting all the nutrients they need is to feed them a high-quality, large breed puppy food. However, it's important to talk to your veterinarian about how much food your puppy needs as every dog is different.
ANGULAR LIMB DEFORMITY IN GREAT DANES
SHOULD MY GREAT DANE PUPPY EAT ADULT GREAT DANE FOOD OR PUPPY FOOD?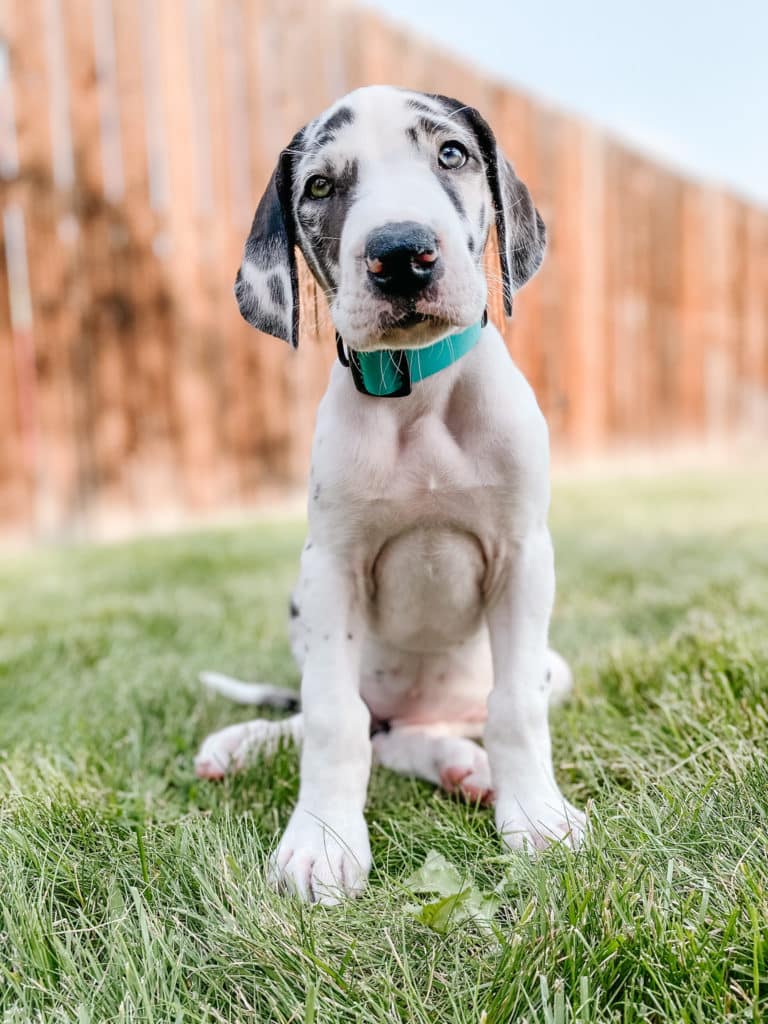 Commonly you will hear people who talk about feeding their Great Danes 'adult' or 'puppy' formula, depending on their opinions on the topic.
(READ MORE HERE)
The truth is that historically puppy food was not the best dog food for a Great Dane puppy because it was too high in protein, calories and calcium. This could cause joint problems and other health issues down the line. (SHOULD YOUR DOG EAT ADULT OR PUPPY FOOD?)
Nowadays, however, many large breed puppy foods are made with large breed puppies in mind and are formulated to have the right amount of calories and nutrients for a growing Great Dane.
So while you may hear people say that they believe the best dog food for growing giant breeds is an adult food, that is simply not true in todays age. A giant breed puppy should be on a Large Breed Puppy Food. They are, large breed puppies after all.
Keep in mind that NOT all companies are formulating their kibble to be a proper diet for a big dog. Knowing which companies, ingredients and products to feed your big dogs will eliminate health problems down the line.
NUTRITION REQUIREMENTS FOR GIANT BREED PUPPIES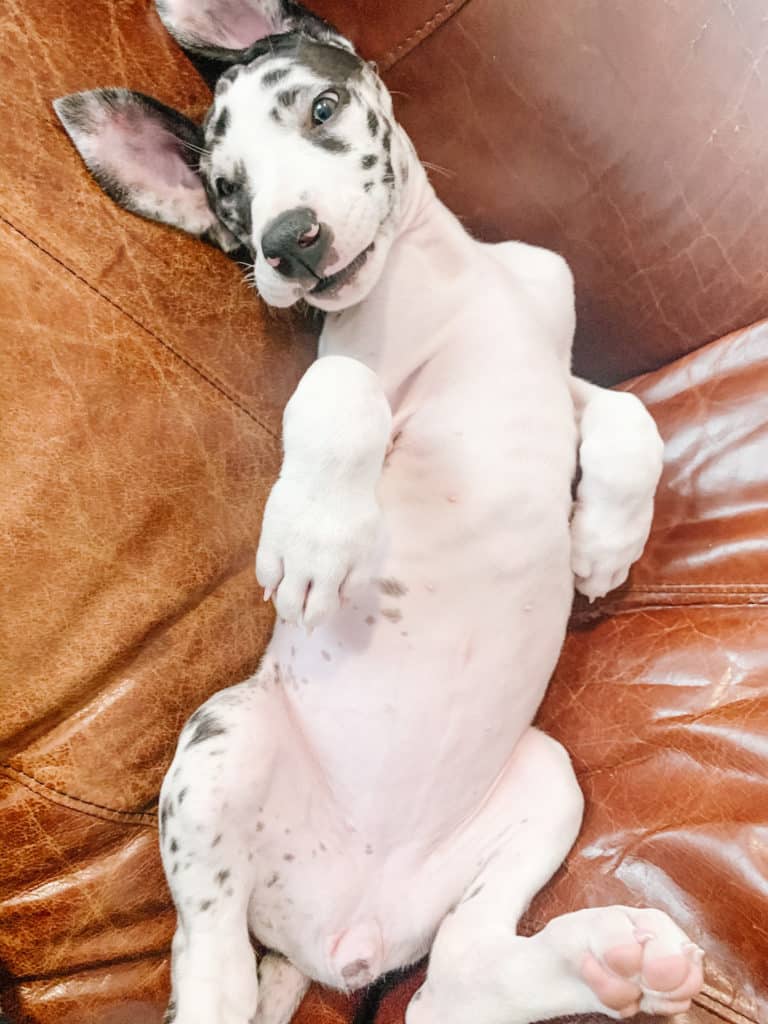 Do not be fooled into thinking that all giant breed puppy foods are created equal.
Just because a food is marketed as a 'giant breed' or 'large breed' formula does not mean that it has the right amount of nutrients for your growing pup. (PUPPY FOOD RESOURCES)
The best way to know if a food is properly balanced for large breeds is to check the guaranteed analysis on the bag. This will tell you the minimum percentages of crude protein, fat and fiber as well as the maximum percentages of moisture, ash and calcium.
When it comes to giant breeds, you want a well balanced diet that has:
The right amount of calcium and phosphorus
Animal protein as the first ingredient
The right amount of animal protein
High quality ingredients with minimal fillers, peas/lentils and legumes (PART OF THE GRAIN FREE PROBLEM IS FILLERS LIKE THESE)
Should follow the WSAVA Guidelines for Canine Nutrition – FIND THEM HERE
WHAT IS THE BEST DRY FOOD FOR A DANE PUP?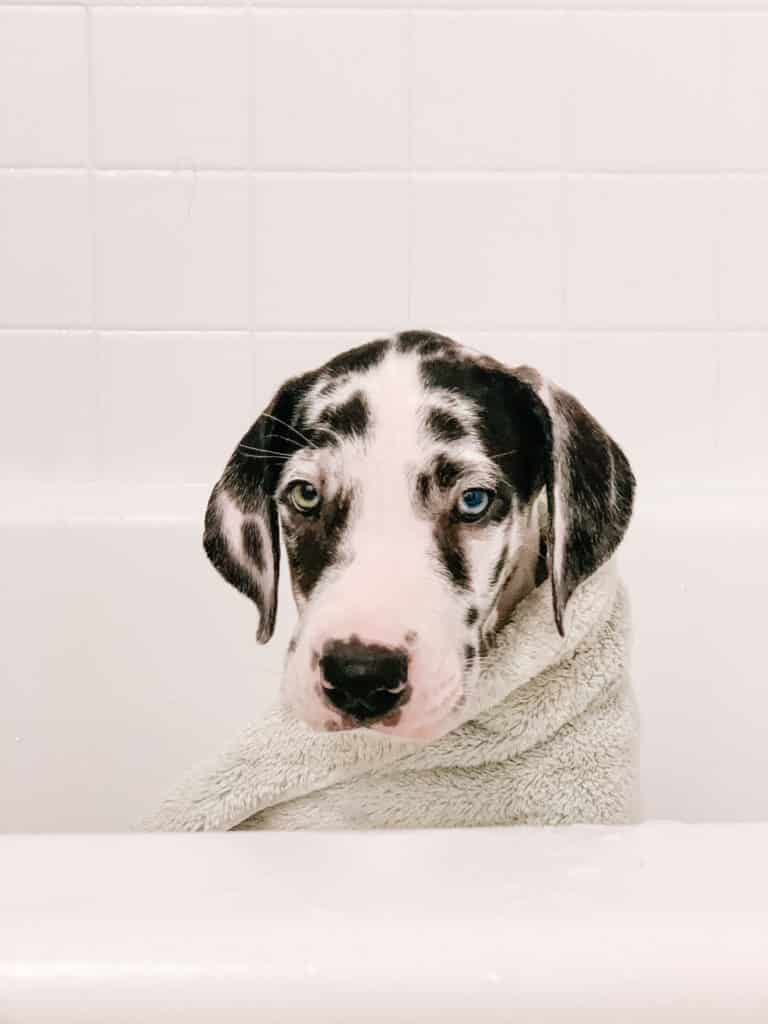 Large breed dogs are hard to feed, but does feeding Great Danes really have to be so hard?
When you follow the WSAVA Guidelines, feed a large breed puppy food with protein as the first ingredient and high-quality ingredients, it makes it a lot easier. (WSAVA GUIDELINES)
WHAT IS WSAVA GUIDELINES AND WHY DO THEY MATTER?
From there, you can find the best dry food for your Great Dane by looking at reviews, asking your veterinarian and doing your own research.
A good place to start is by looking at some of our favorite foods for giant breeds. We have done the research to find the brands who are experts in Canine Education and Nutrition.
Great Dane Puppy Food:
GREAT DANE FEEDING CHART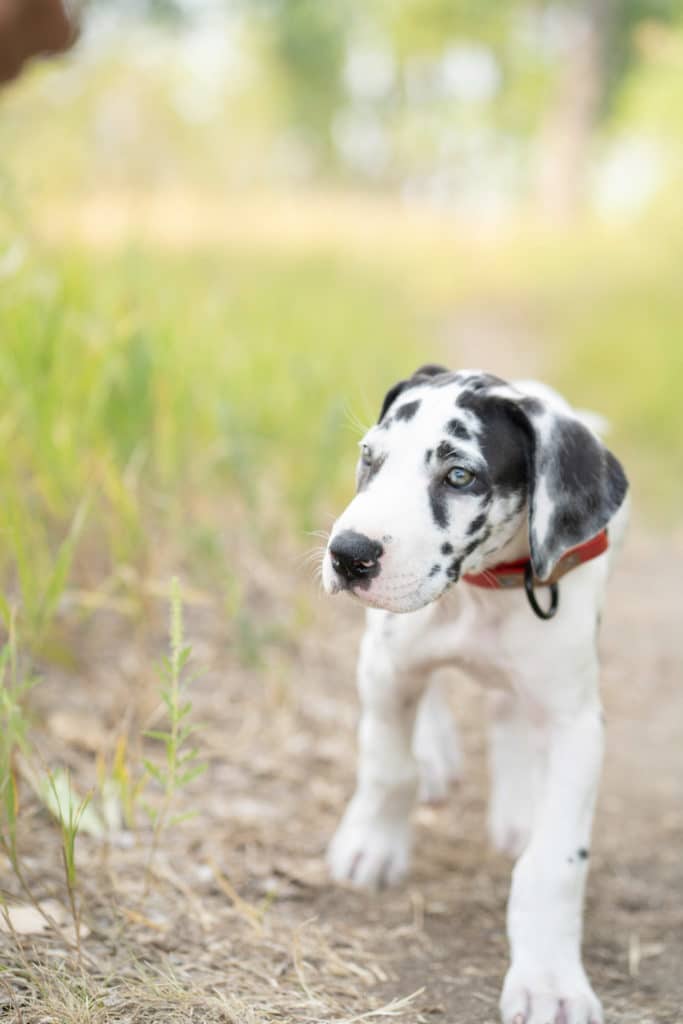 How much should you feed Great Danes?
Well, the answer is that MANY Great Danes are HIGHLY overfed.
Obesity continues to rage as a huge problem in Great Danes, causing joint health issues, body weight issues, loose stool issues and even shorter lifespans.
The best way to know how much to feed your Dane is by using a weight scale and measuring their food. This can be done once a week to make sure they are on track.
A healthy weight range for an adult Great Dane is between 110-190 pounds depending on the sex, age and height of the dog. Age and activity level will depict how much a Great Dane eats. If you are feeding a Great Dane puppy, you can refer to the Great Dane feeding chart. However, always look at the body weight and condition of your dog, seek veterinary guidance and examine how their energy levels are when considering how much to feed your Great Dane and keep them at a healthy weight.
Check out the Great Dane dog food chart here:
| | | |
| --- | --- | --- |
| Age | Timing | Amount |
| Puppies under 12 weeks | Free-feed | 2-4 cups/day |
| Puppies 12-24 weeks old | 3x/day | 3-6 cups/day |
| Puppies 24 + weeks (6 months) or older | 2x/day | 5-10 cups/day |
| Puppies 12-18 months | 2x/day | 6-12 cups/day |
THE BEST DOG FOOD FOR ADULT GREAT DANES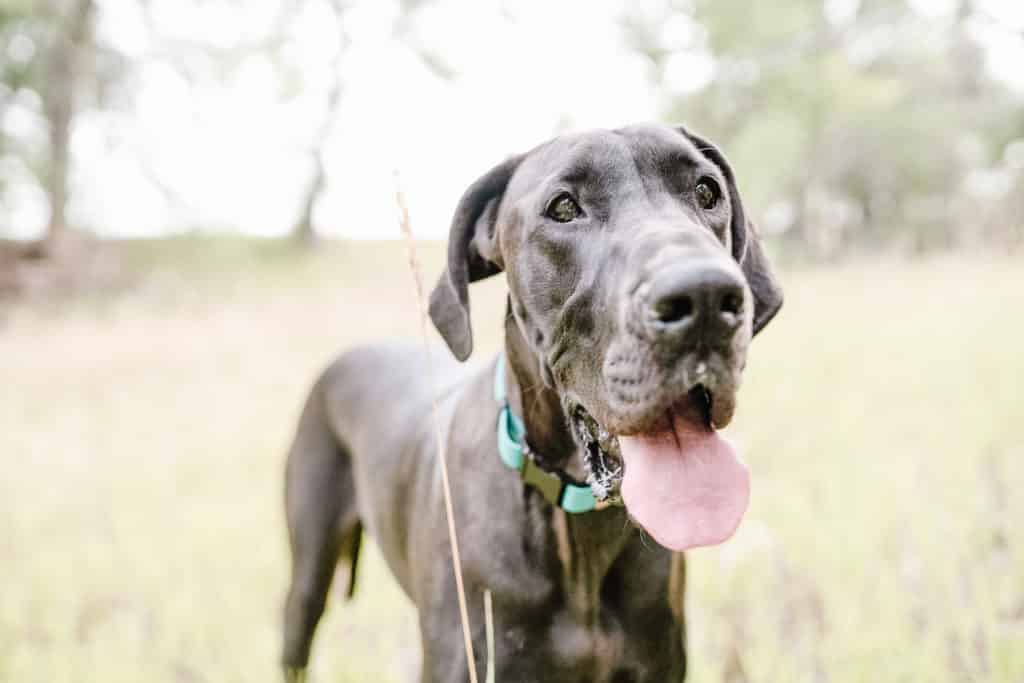 Adult Great Danes not only need less food, but they need different food. A Great Dane puppy requires more caloric intake and more food in general, but adult dogs generally do not need as many calories.
IS LARGE BREED DOG FOOD NECESSARY?
There are many factors to consider when deciding how much to feed your dog:
How old is your dog?
How active is your dog?
Is your dog spayed or neutered?
Does your dog have any outstanding health issues that impact the dog food that they eat?
These are all important questions to ask when considering how much food to give your adult Great Dane. The best way to know for sure is by asking your veterinarian and keeping a close tab on your dog's skin, digestion and body condition.
SKIN PROBLEMS
THE MOST COMMON GREAT DANE CANCER
OVERWEIGHT DANES AND THE CONSEQUENCES
If you are interested in dog food that we prefer for Great Danes, be sure to check them out here: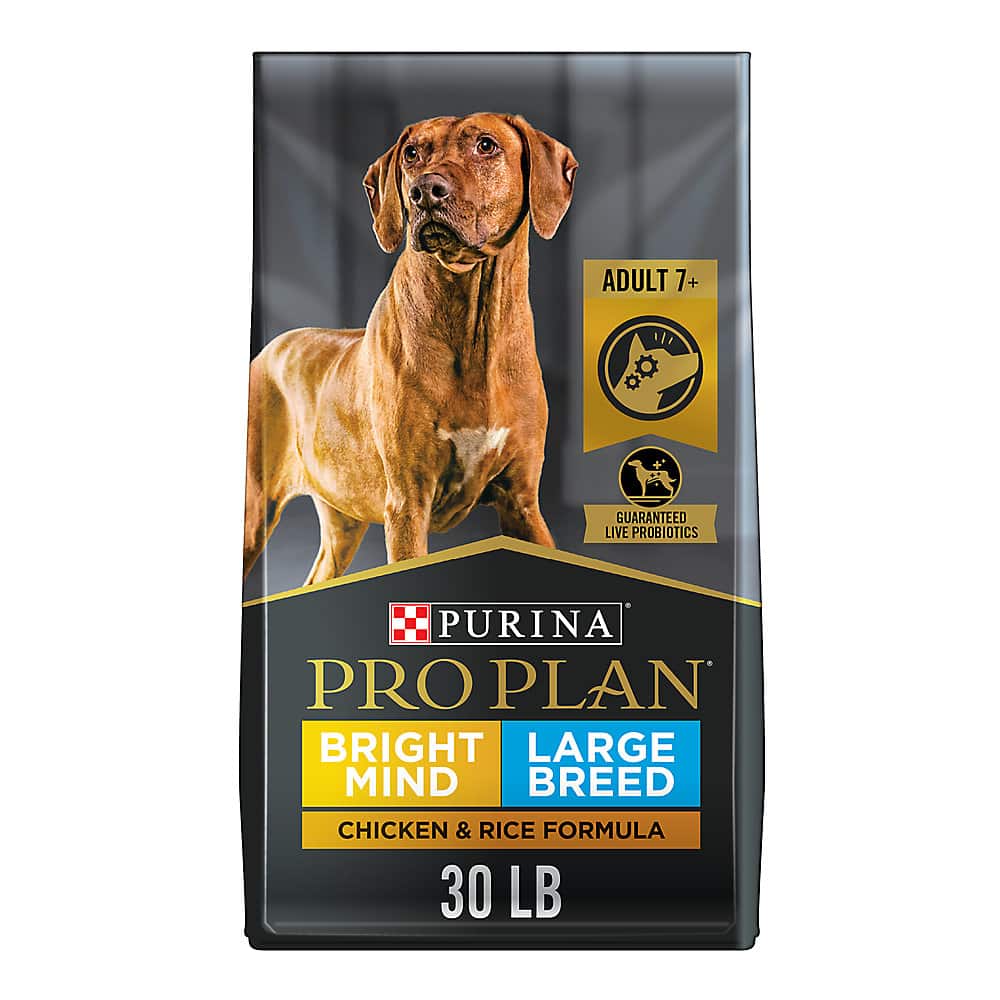 FEEDING A RAW DIET TO GREAT DANES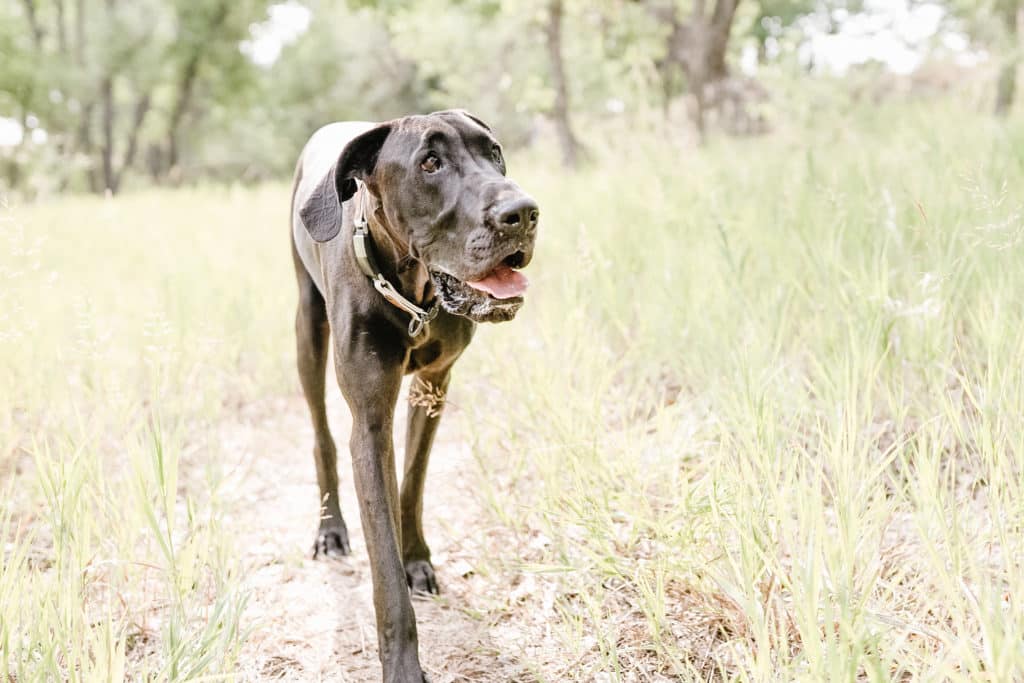 Raw feeding can aid in healthy digestion, keep skin and coat healthy, boost immunity and increase energy levels. (Check out our favorite raw food here)
Raw meals are not for everyone and they do require some preparation on the pet parent's part. If you are considering switching your Great Dane to a raw diet, please consult with your veterinarian first and do your research.
When choosing to feed your dog raw food, you should consider starting with adult Great Danes. Homemade dog food is extremely hard to balance and a Great Dane puppy requires a perfectly balanced meal at all times.
A balanced raw meal will consist of :
80% meat
10% organ meat (liver, kidney, spleen, pancreas)
10% bone (some weight bearing bones are NOT okay to feed your dog)
You want the ingredients to look something like this: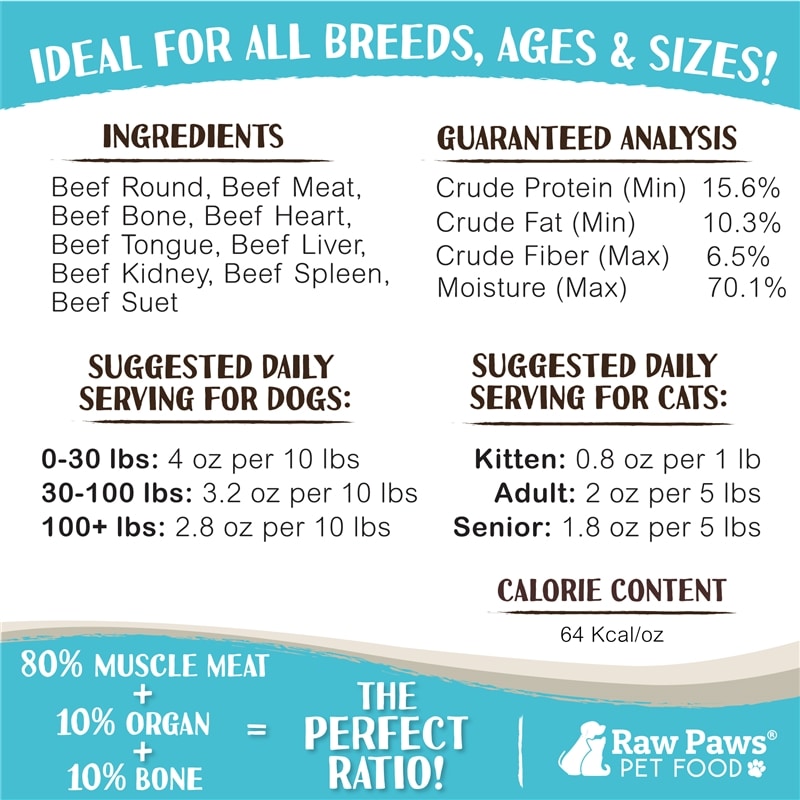 The amount fed will change depending on the age and activity level of your dog. You should always consult with your veterinarian or a canine nutritionist when starting your dog on a raw plan.
Great Danes thrive when eating raw food.
Since puppies are more difficult to feed, do not attempt to raw feed them independent of an expert. If you are determined to include raw food in your growing puppies diet and do not want to hire a nutritionist, consider adding some pre-made/balanced raw such as the following: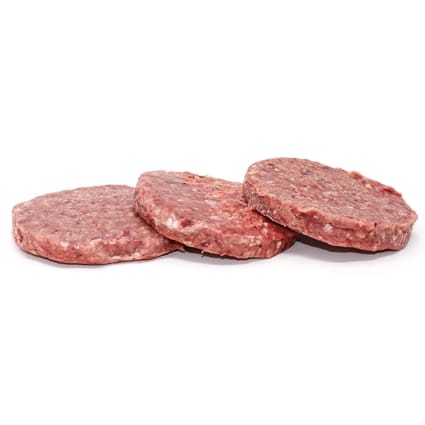 ADDING SUPPLEMENTS IN TO A GREAT DANE'S DIET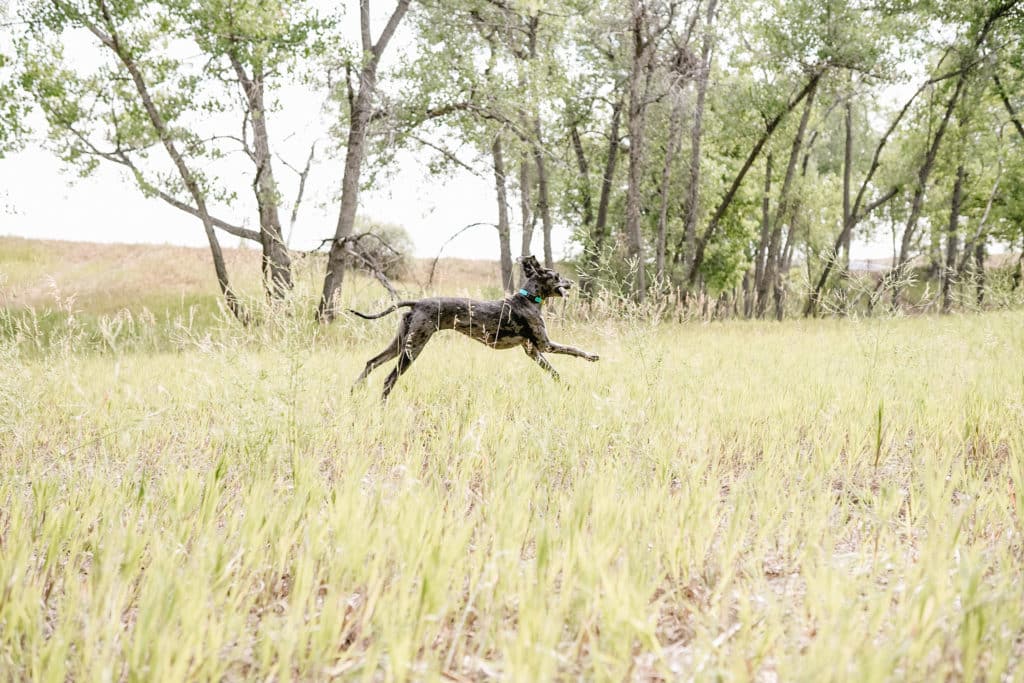 Vitamins and minerals are essential to a dog's diet, but they CAN be overdone.
Omega-fatty acids are great for skin and coat health. Antioxidants can help boost immunity and fight off free radicals that damage cells. Probiotics are live bacteria that aid in digestion.
Veterinarian approved probiotics: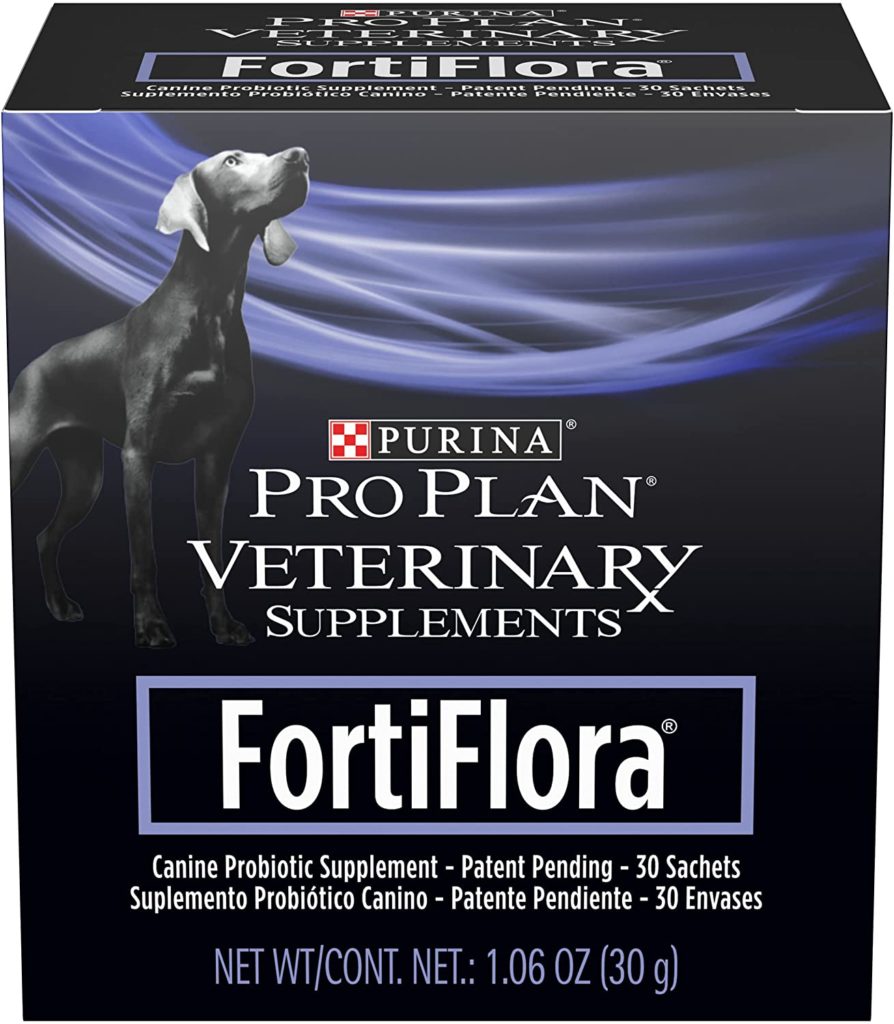 There are many different ways to add supplements into a dog's diet.
Adding too many supplements into a dog's diet can do more harm than good, so it is important to only give your dog what they need and nothing more.
FISH OIL FOR HEALTHY FATS
One great way to get some Omega's and other healthy fats into your dog's diet is by using fish oil.
Fish oil comes in a liquid or pill form and can be added to any dog food.
The most important thing to remember when adding fish oil (or any other supplement) into your dog's diet is to start slow and increase gradually. This will help your dog's stomach adjust to the new supplement.
There are many different types of fish oil on the market and they are not all created equal. Be sure to choose a high quality fish oil that is free of mercury such as Dr. Harveys: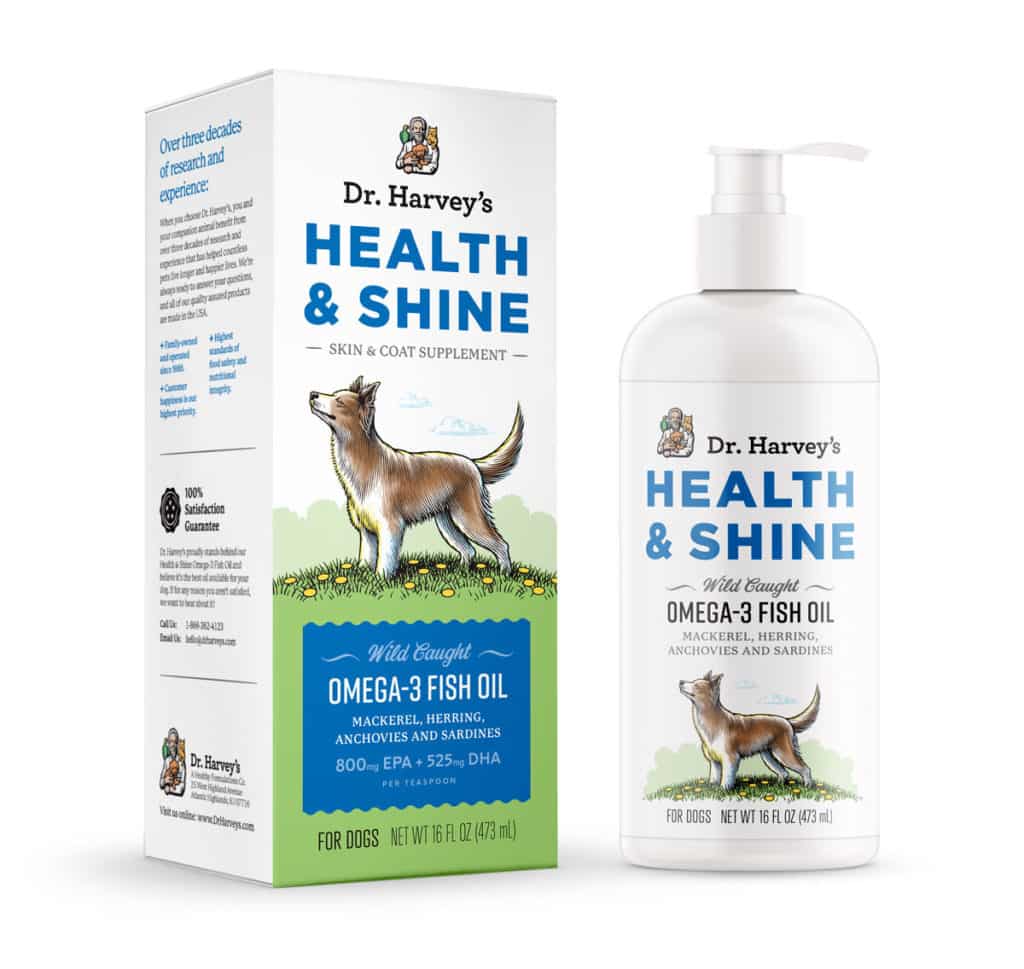 MIXING CANNED FOOD WITH ADULT FOOD
Another way of getting extra nutrients is by adding canned foods. Since Great Danes are prone to bloating, canned food is very beneficial.
CAN PUPPIES GET BLOAT?
BLOAT: NINE THINGS YOU SHOULD KNOW
Adding in a moist, wet food as a mixture or topper can help increase moisture intake and add essential nutrients.
When choosing a canned food, be sure to read the labels carefully. Many commercial brands contain fillers, preservatives and other harmful ingredients.
We recommend Purina Pro Plan Canned Dog Food: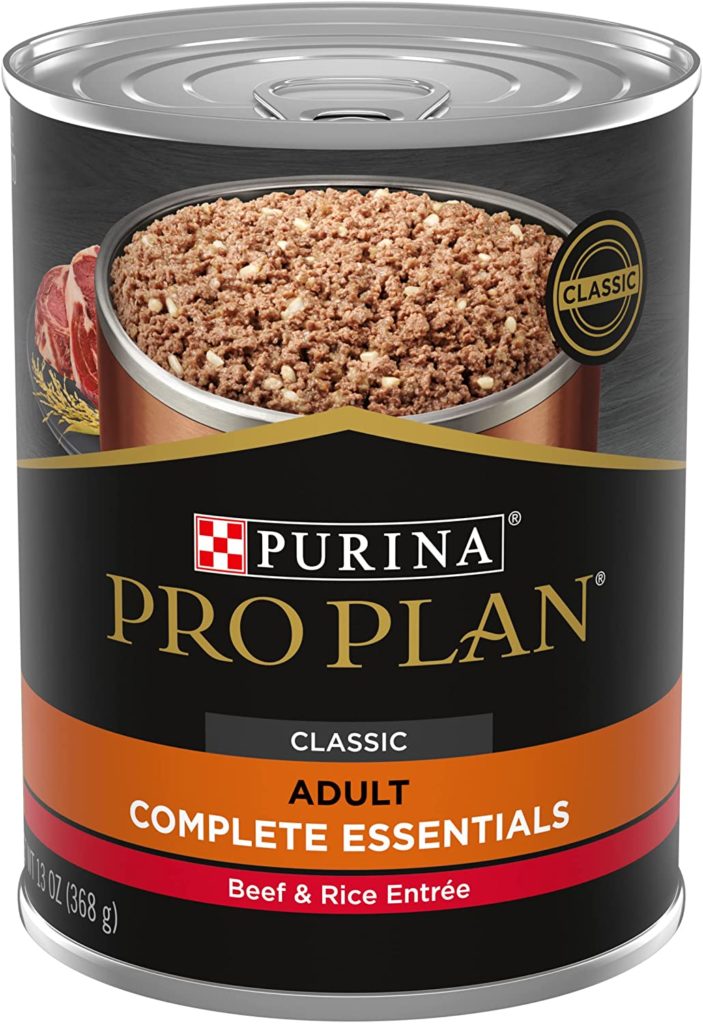 Dog food can be overwhelming, especially when you are trying to feed Great Danes whom are more complicated to feed than other dogs. However, these tips will help make the process a little easier for you. Just remember to always consult with your veterinarian first and do your research before making any big changes to your dog's diet.
What other questions do you have about feeding Great Danes? Let us know in the comments below!
READ MORE:
GROWTH ISSUES IN PUPPIES
SKIN PROBLEMS
THE MOST COMMON GREAT DANE CANCER
OVERWEIGHT DANES AND THE CONSEQUENCES
CAN PUPPIES GET BLOAT?
BLOAT: NINE THINGS YOU SHOULD KNOW