Did you know that if your Great Dane has a solid white coat color it could have genetic health problems? Great Danes with white coats are known as Double Merles.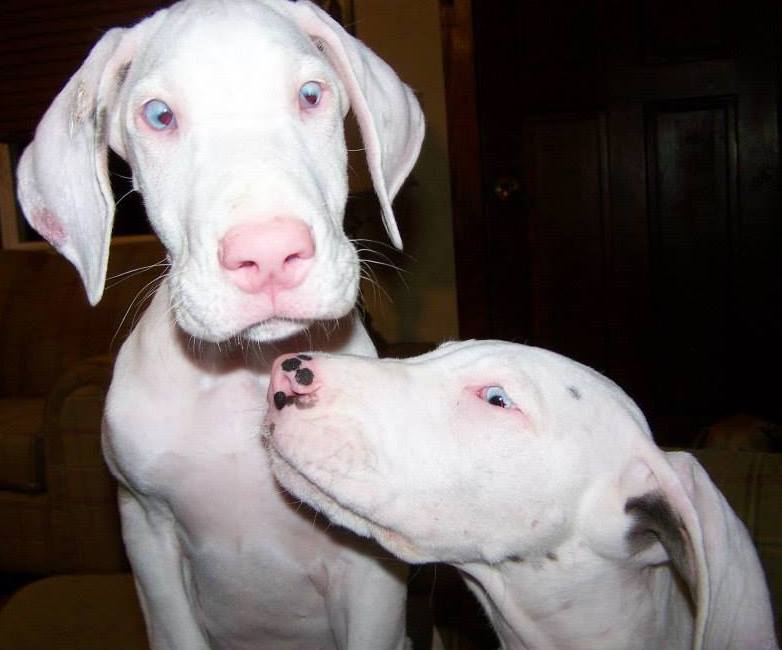 WHAT IS A DOUBLE MERLE GREAT DANE?
A Double Merle Great Dane is a Great Dane that has been bred by two dogs who both carry the dominant merle gene.
White Danes are produced from doubling up on the Merling gene, as happens in Harlequin x Harlequin breeding, Harlequin x Merle breeding or Merle x Merle breeding.
When two dogs with the merle gene are bred together, there is a one in four chance that the puppies will be born as a white coated dog. These white dogs are called Double Merle.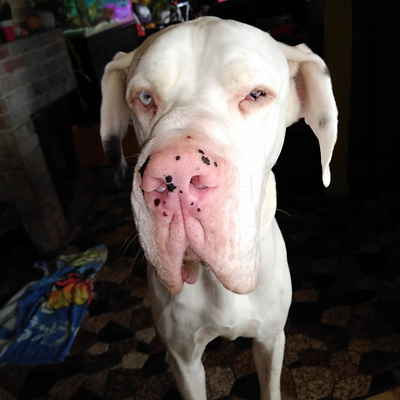 Their white coat color is indicative of multiple congenital defects.
DO ALL WHITE GREAT DANES HAVE HEALTH ISSUES?
Not all Double Merle dogs will have health issues.
Although a Great Dane's coat is a great indicator of their overall health, some DM Great Danes can be healthy dogs.
Not every Great Dane that is born with a white coat color will experience blindness or be deaf.
However, a great majority of DM Great Danes will have health issues including sensory issues (blindness and deafness).
WHAT CAUSES HEALTH ISSUES IN A DOUBLE MERLE GREAT DANE?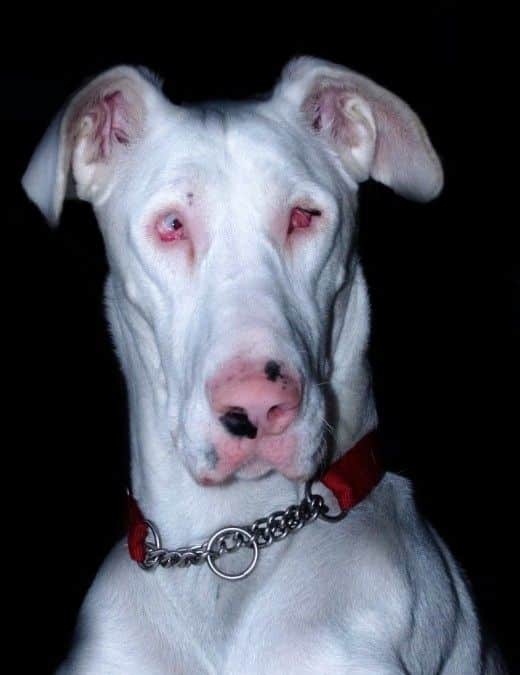 The merle gene should not be bred with another merle gene.
Great Danes require extensive health testing to check for colors that each dog carries for prior to breeding. Otherwise, a breeder might end up with an albino dog.
Just because a dog does not have a merle coat, does not mean that it does not carry for the merle gene. All Great Dane dogs can carry for merle, which is why health testing is so important.
Reputable breeders will not breed their giant breed dog without ensuring that only one carries for a dominant gene of Merle.
BACKYARD BREEDING WHITE GREAT DANES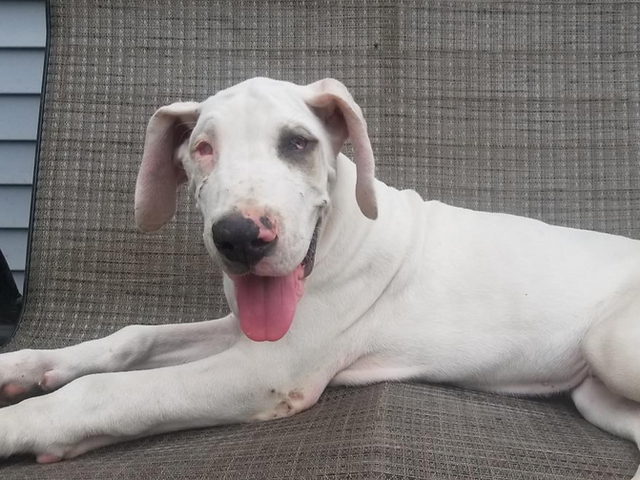 Unfortunately, bad breeding practices have plagued Great Dane dogs as well as other breeds.
Double Merle Great Danes have become more and more prevalent as breeding practices have become more lax.
Pure white Great Dane coat color is even being stated as a 'rare Great Dane color'.
This is a huge red flag. If you notice white puppies in a litter- know that these Great Danes are not ethically bred.
Although you might think that a breeder producing white Danes can still produce puppies that could make a great family pet, the heartbreak involved is not worth it.
The Great Dane breed is already predisposed to too many health concerns. Adding in merle deafness, blindness, and the other associated risks of a white coat is just not worth it.
Do not support any breeder who creates white Great Danes.
ADDITIONAL HEALTH CONCERNS FOR WHITE GREAT DANES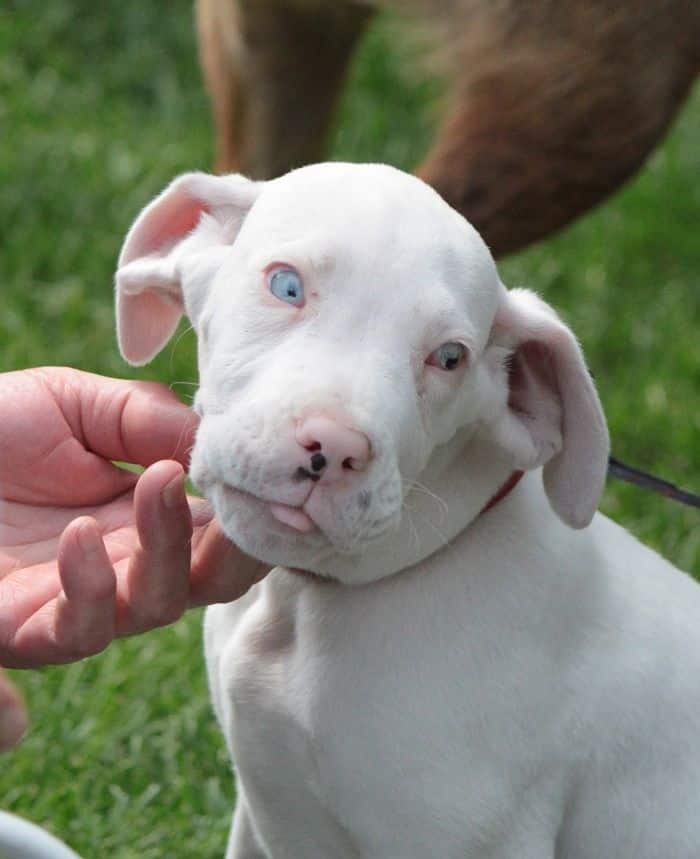 White Great Danes are not only normally blind and deaf, but they also have additional concerns.
Hip Dysplasia- This is a common health concern for all Great Danes but can be especially painful for aDouble Merle. Deafness and blindness can make it difficult to treat.
Elbow Dysplasia- This is another common orthopedic concern for Great Danes.
Cherry Eye- A third eyelid that becomes prolapsed and irritated.
Autoimmune Thyroiditis- Affects the thyroid gland and can cause weight gain, hair loss, and lethargy.
Skin Allergies/Sensitivities- White Great Danes are especially susceptible to skin allergies and sensitivities.
Skin Cancer- The risk of developing skin cancer is also increased in Great Danes with a white coat.
Double Merle Great Danes are beautiful dogs but come with a lot of risks. Before you decide to bring one home, please do your research and be prepared for a lifetime of special care. These dogs are not for everyone and their needs should be carefully considered.
ARE ALL WHITE DOGS CONSIDERED UNHEALTHY?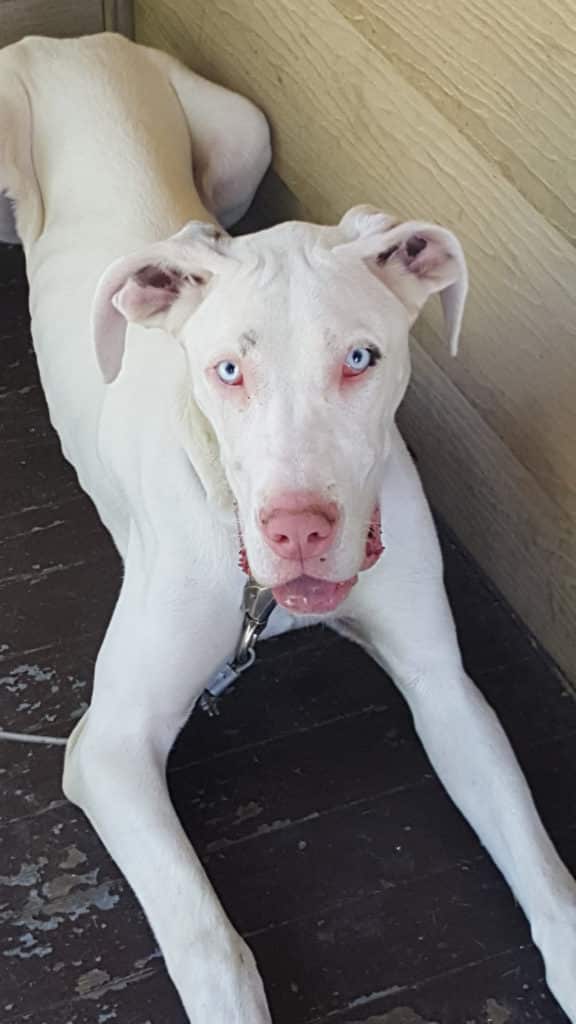 Not all white puppers are the same.
White Great Danes are the product of a dominant gene, resulting in a Double Merle. Alternatively, normal dog breeds with white coat colors are the result of a double recessive gene.
The difference? One of these can make your dog blind, while the other dogs remain healthy.
If you have a Great Dane puppy who is pure white, they are probably a product of a Double Merle breeding. You should be proactive about their health.
DOUBLE MERLE GREAT DANES AND BLINDNESS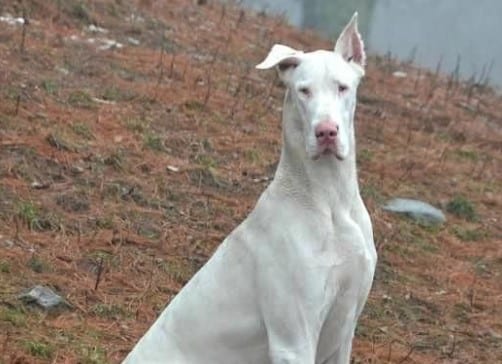 Not all Great Danes who are white will be blind while they are puppies.
A white Great Dane puppy can develop blindness at birth, or they might develop blindness as they age.
Depending on the dog's age, you can determine their eyesight by either taking them to the veterinarian or conducting at home tests.
If you notice that your White Great Dane has a harder time with obedience training, following you with their eyes, tracking toys or treats, or if they seem to be bumping into things- it is time for a vet visit.
These are all early signs of vision problems in Great Danes.
CATARACTS IN WHITE GREAT DANES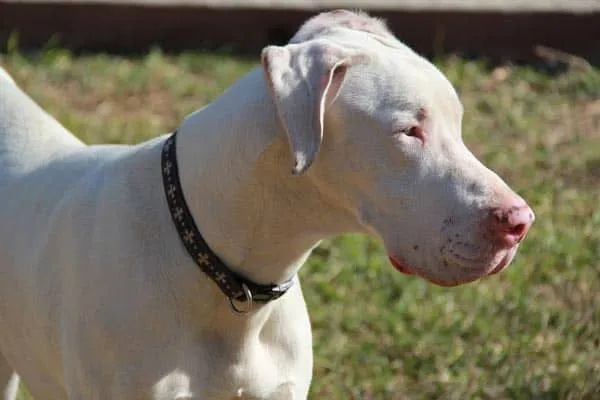 One of the most common eye problems in a Great Dane with vision problems, regardless of coat color, is cataracts.
Cataracts are a cloudy film that forms over the eye and can eventually lead to blindness.
The only way to remove cataracts is through surgery.
This surgery is expensive but can help improve your dog's quality of life. Not treating cataracts can leave your dog blind.
If you notice that your White Great Dane is having trouble seeing, take them to the vet. Your vet can do an eye exam on your Great Dane to check for cataracs.
WHY ARE WHITE GREAT DANES DEAF?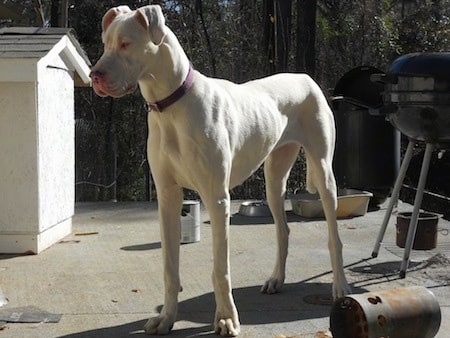 Very commonly, a white Great Dane will have either partial or complete hearing loss.
This can be developed when your Great Dane is born, or develop over the lifetime of your Great Dane.
There are a few tests that can be conducted to test your Great Dane's hearing.
The most common is the BAER (Brainstem Auditory Evoked Response) test.
This test is painless and only takes a few minutes. It will determine if your Great Dane can hear low, medium, or high-pitched sounds.
If you are concerned about your Great Dane's hearing, talk to your veterinarian.
USING AN E COLLAR TO TRAIN A BLIND OR DEAF GREAT DANE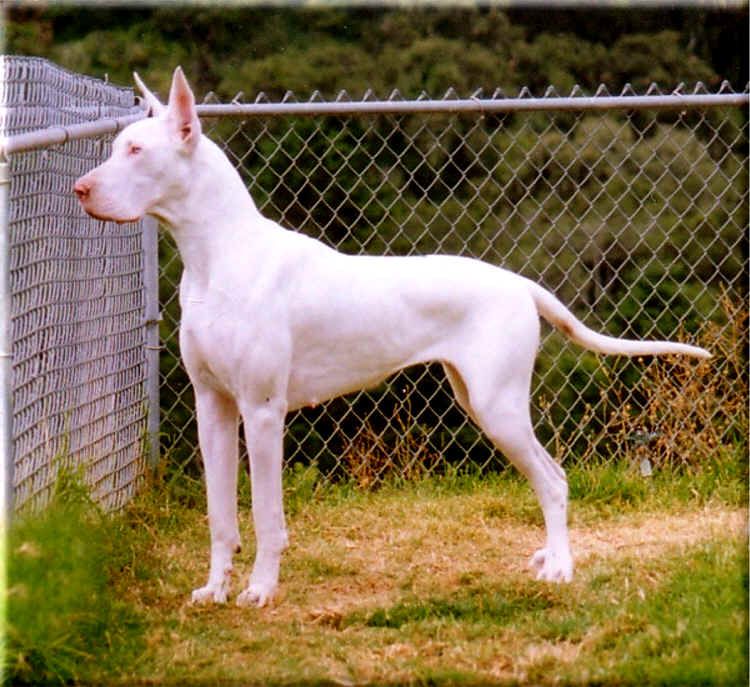 One of the most powerful methods of training a Great Dane with vision or hearing impairments is through the use of an e collar.
Since a blind or deaf Great Dane cannot hear or see, they will rely heavily on their sense of smell and their sense of touch.
Using an e collar can help your Great Dane feel the communication through stimulation (not shock!)
This form of training will not only help your Great Dane navigate through the world appropriately, but also keep them safe.
You will NEED a means of communicating with your Great Dane, and being able to use an e collar to do so is the most ethical and effective way of doing so.
WHITE GREAT DANES AND ALLERGIES
White Great Danes are especially susceptible to skin allergies and sensitivities.
The most common allergies are environmental, such as dust, pollen, and grass.
Environmental allergies can cause your Great Dane to have itchy skin, hot spots, and hair loss.
Diet plays a huge role in allergies of any Great Danes. Choose a food that is appropriate for a growing or adult Great Dane that will help ease their itchy or dry skin.
Great Dane: Puppy vs. Adult Food
A Tasty Top: The Top 11 Foods to Feed a Great Dane
Should I Feed Grain Free?
Adding CBD Into Your Great Dane's Diet
Supplements for Great Danes
Fish Oil for Great Danes
Great Dane Not Eating- What to Do
EAR INFECTIONS IN A WHITE GREAT DANE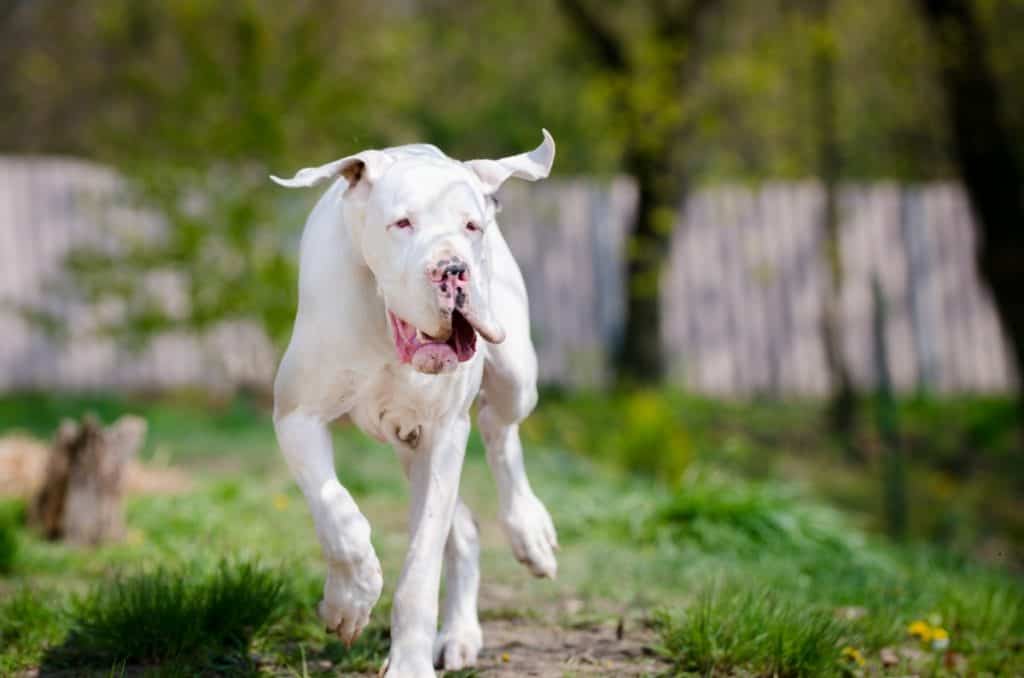 If you have a Great Dane that is prone to ear infections, you know what a hassle they can be.
Not only are they painful for your dog, but they can also be difficult to treat.
There are a few things you can do to help prevent ear infections in your Great Dane.
First, make sure you are cleaning their ears regularly. This will help remove any dirt or debris that could cause an infection.
Second, try using an ear cleaner that is specifically designed for dogs. We swear by the product called Xymox, which has proven time and time again to clear up any ear infection.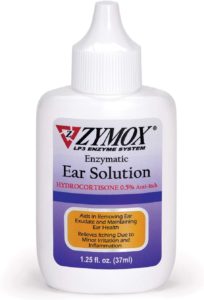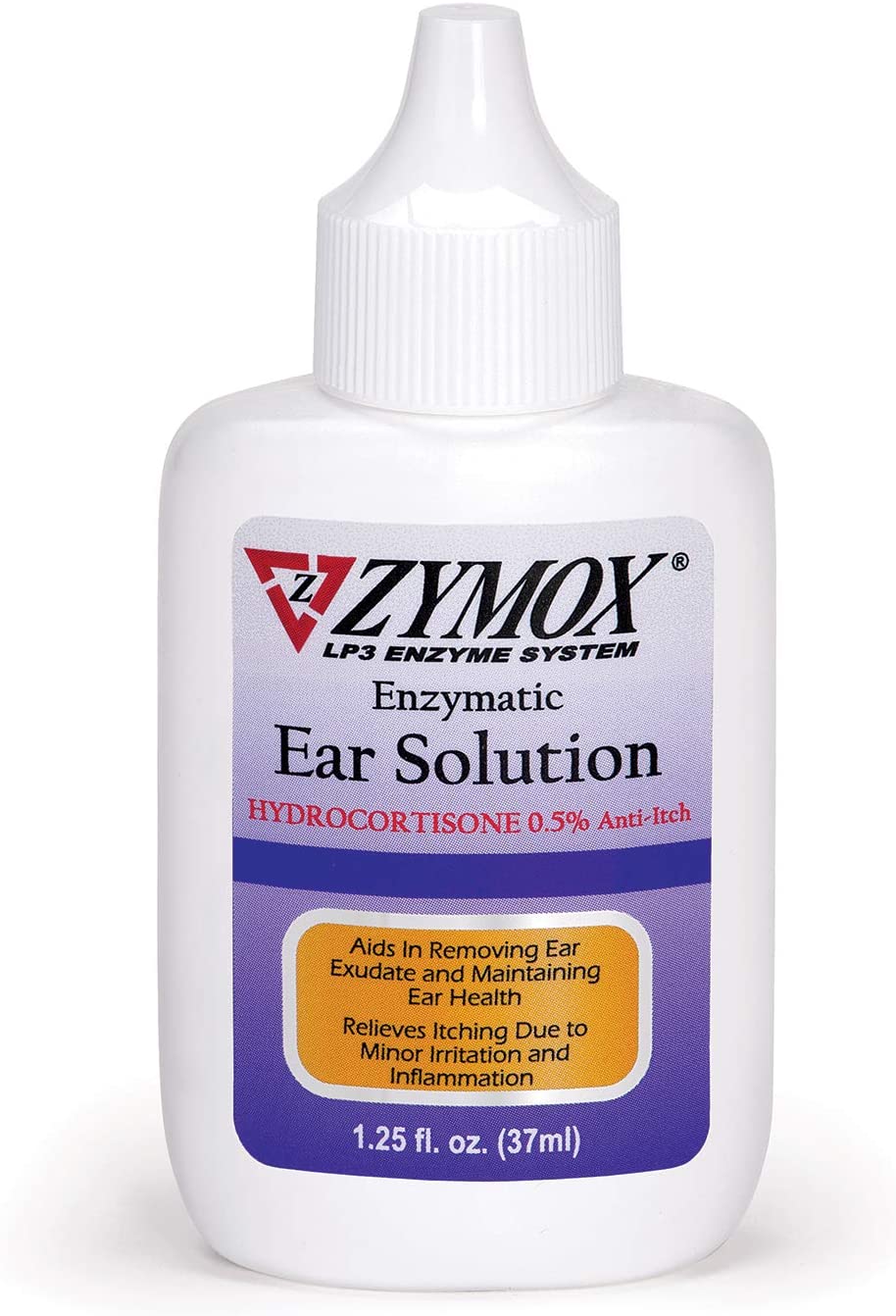 Xymox is our absolute FAVORITE cleanser if your Great Dane has yeast or inflammation in its ears.
Third, if your Great Dane is going swimming, make sure you dry their ears out completely afterwards.
If you are doing all of these things and your Great Dane STILL gets ear infections, talk to your vet. They may prescribe a special medication to help prevent future problems.
ARE HARLEQUIN GREAT DANES THE SAME AS A DOUBLE MERLE GREAT DANE?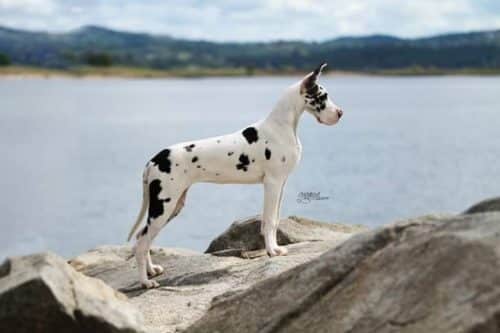 Many people assume that a white Great Dane is the same as a Harlequin Great Dane.
This is not true!
A Harlequin Great Dane does not carry the same health issues that a white Great Dane does.
In fact, Harlequin Great Danes are one of the 7 breed standard colors approved by the National Breed Club.
Blue Great Danes
Mantle Great Danes
Black Great Danes
Harlequin Great Danes
Colors of Great Danes
The Great Dane Club of America shares standards for the Great Dane breed, which can be very fun to examine. In these standards, the Great Dane Club discusses the American Kennel Club 'standard' for a Harlequin Great Dane.
If you are considering Great Dane rescue of a white Great Dane, know that every gentle giant deserves a loving home. These dogs can make for a best friend, loving companion and great family member. But, be prepared for the health issues and associated fees that your pup might bring with it. Preparation is always key to success.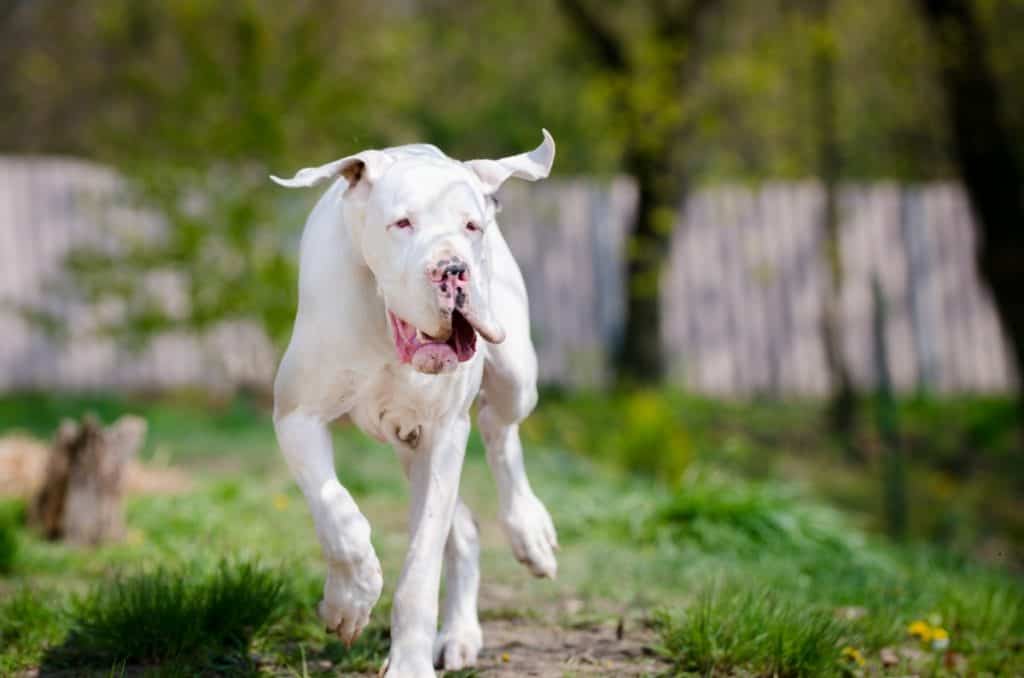 READ MORE: