Bloat in dogs is a life-threatening emergency in Great Danes and other breeds with large chests.
As a Great Dane owner or owner of any other large chested breed, it is your responsibility to know the signs and to educate pet sitters, dog walkers and family on what to look for should a bloat event happen to your dog.
The full name of bloat is Gastric Dilatation Volvulus, and it is a life threatening condition that occurs when an affected dog's stomach fills with air, causing torsion (when the dog's stomach twists). A twisted stomach is the most dangerous associations with gastric dilatation volvulus, as a dog's risk of death increases tremendously when their stomach flips / twists.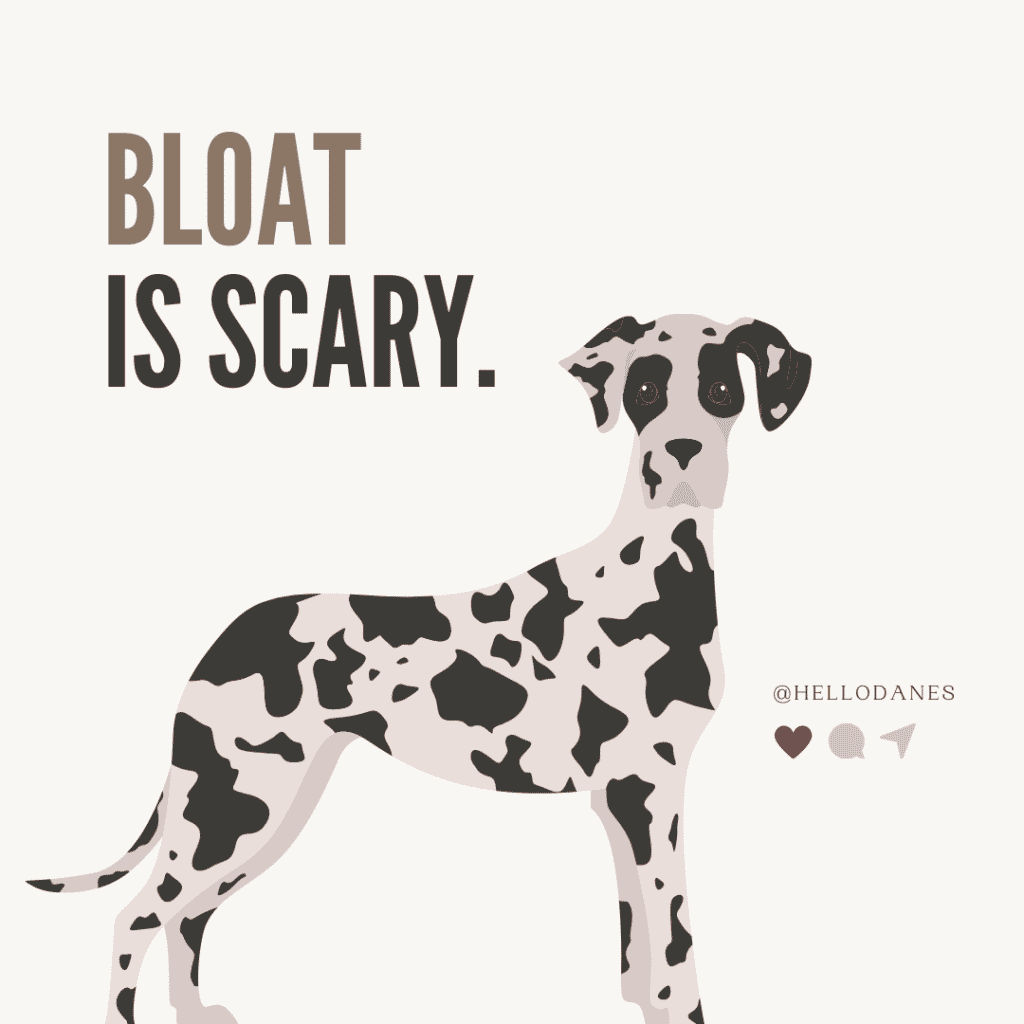 WHAT IS BLOAT?
Bloat is a painful, distressing condition where the stomach fills up with gas, food, fluid and/or air.
Left untreated, the stomach can 'flip' (also known as 'torsion'). Stomach flipping is especially dangerous.
Treatment for bloat may involve pressure relief (medications, tubes, incisions and/or needles into the stomach) or surgery, depending on the severity.
Bloat can quickly kill a healthy Great Dane that was previously running around playing as normal. It is extremely important to know the signs.
All Great Danes are at risk. The treatment for bloat can start at $2K and may cost thousands more.
WHAT CAUSES BLOAT?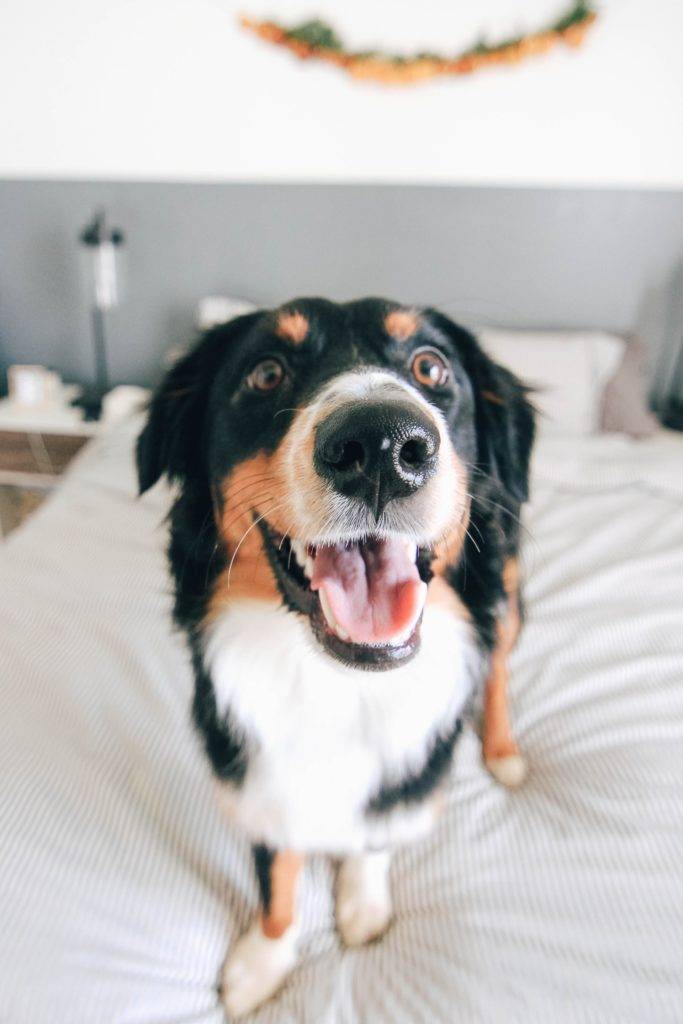 As of this writing, the mechanism behind bloat is still not well understood. All Great Danes are at risk, regardless of their individual risk factor (see more below).
It's important to understand that certain dogs are at a much higher risk of experiencing bloat than others. These are the three main risk factors associated with bloat: 
Genetic markers (most often found in dogs with a parent, sibling or other close relative that has experienced bloat)
Poor gut health (chronic gas, loose stools and digestive issues)
Poor temperament (fear, anxiety, aggression, timid personality)
This speaks, once again to the necessity of ethical breeding in Great Danes. Bloat risk can be greatly reduced by breeders who diligently build their pedigrees to focus on health, temperament and robust and proven lineage. 
GUT HEALTH
There are many aspects to gut health; allergies, dry skin, gas, loose stools and lack of energy are all signs that there is a problem, however some dogs may present healthy and have underlying conditions.
BAD BREEDERS
Choose breeders that only breed healthy, well-tempered dogs. If you have a rescue Dane or purchased Dane that suffers from anxiety, fear or aggression, work with a trainer to lower stress levels. Some common forms of anxiety include fear during thunderstorms, separation anxiety and timid/fearful or aggressive behaviors towards house guests, children or strangers.
ANXIETY AND STRESS
Avoid training methods that cause or worsen anxiety ('alpha' training, harsh punishment), stressful situations with children or adults (chasing, pinching, laying on or yelling at Danes). Socialize and train your Danes well from a young age using positive reinforcement.
WHAT ARE THE HIGH RISK BREEDS OF DOG BLOAT?
Large breed dogs have increased risk factors to getting a bloated stomach. Pet owners of large dogs should take precautions and be aware of the clinical signs of a bloated stomach.
Affected dogs that are at highest risk include:
German Shepherds
Older Dogs
Great Danes
Basset Hounds
Setters
Labrador Retrievers
Dobermans
Poodles
Rottweilers
Giant Schnauzers
Stomach bloating can also occur in smaller dogs, but this is less common. There are many different reasons why a dog's stomach might have gastric dilatation. Dog owners with predisposed breeds should study this life threatening condition and know the signs of an aggravated dog.
SIGNS OF BLOAT
These are the signs of bloat. If you see any one of these, get to the veterinarian immediately. Bloat can progress quickly and the longer you wait, the more serious the prognosis is.
Swollen, painful or distended abdomen/stomach.
Acting distressed
Pacing and restlessness
Drooling and/or panting
Looking at the stomach
Pale gums
Vomiting or retching without anything actually coming up
Whining, crying and stiffness, unable to move
Collapse, unable to get up
THE EARLY STAGES OF STOMACH BLOAT IN DEEP CHESTED DOGS
When a dog is in the early stages of gastric dilatation, a dog might give off signs that they are in pain, pant, drool or walk around aimlessly. The dog will be restless and may pace back and forth. He may also drool excessively and/or pant and turn down dry food or wet food.
THE PROGRESSIVE STAGES OF A DOG'S STOMACH BLOATING
If bloat occurs and is not treated quickly, torsion can happen within just a few minutes.
Torsion is when a swollen stomach filled with extra gas and air begins to twist, cutting off blood supply to vital organs. Without blood supply, a dog's life is at risk within just minutes.
During these later stages of a dog experiencing stomach bloat, one might witness them going into systemic shock, unable to lay down, foaming a white, thick substance from their mouth, and/or their gums will turn white or blue.
A dog's stomach may also feel hard to the touch because of the gastric dilatation and/or the torsion. A distended stomach is always indicative of a pet's condition and should be treated as a veterinary emergency.
CAN BLOAT BE PREVENTED?
There is no actual sure-fire way to prevent bloat. All dogs are at risk, but especially Great Danes and other breeds with large chests. As above, Danes with genetic links/markers, poor gut health and unstable temperaments are at an even greater risk! 
MYTHS THAT DOG OWNERS BELIEVE WILL PREVENT BLOAT
Here are some common things people believe will 'prevent bloat':
ELEVATED FOOD BOWLS
Raised Bowls – while raised bowls may be easier on your dogs neck, there is no legitimate data on its effect on minimizing or preventing bloat. As a matter of fact, some studies indicate that bloat incidence is 110% higher among dogs that regularly eat out of raised bowls. 
Elevated food bowls do not help to prevent bloat in dogs. While bloat is unpreventable, there are things that can be done to limit the odds that your dog will develop bloat.
Not using raised food bowls is one of those things.
Veterinary medicine is always evolving, and in recent studies it has been shown that bloat in dogs is increased tremendously when dogs are fed with a raised food bowl.
RESTING BEFORE OR AFTER MEALS
Resting Before/After Meals – the idea behind this one is to prevent the dog from sloshing a full tummy of food around while running, playing and being excited. There may be some merit to this, however it is NOT likely a notable preventative and studies have shown no correlation at all.
Many cases of bloat happen in the middle of the night when a dog is resting on an empty stomach, or hours after eating (even if a dog had been rested first!). 
Some owners are so committed to this that they only allow their dogs to eat on a strict schedule, which may actually increase bloat risk if the dog hoards, gulps and scarfs down large meals at once. Find a healthy balance here if you choose to rest your dog for several hours each day.
PUZZLE FEEDERS
Puzzle Feeders – We do believe there is some merit to making sure a dog eats slowly and works for their food. Puzzle feeders can be especially helpful for dogs that tend to gulp down meals without chewing.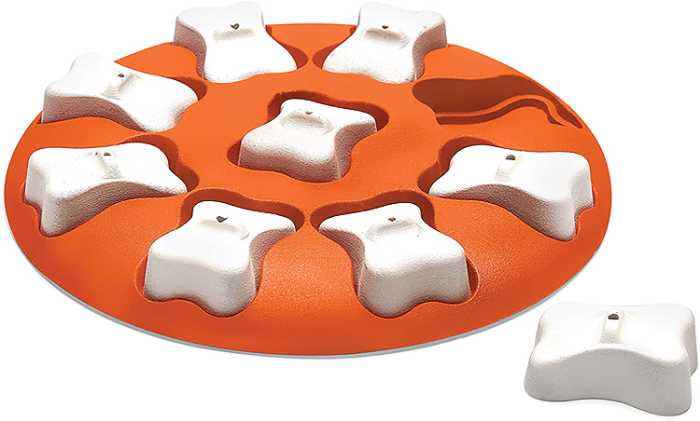 WAYS TO LIMIT THE CHANCES OF BLOAT IN DOGS
Although bloat in dogs is not 100% unpreventable, there are a few things that can be done to help limit the chance that your dog will bloat.
GAS X
Gas-X – Gas – X (Simethicone) or Bloat Buster is extremely important to have on hand. It may buy you time if you notice your dog start to burp, heave or act uncomfortable. Some owners dose it with every meal, we aren't convinced that over-medicating is the answer but we DO recommend having Simethicone in. your cabinet, just in case.
TACKING A DOG'S STOMACH /GASTROPEXY
Stomach tacking, also known as 'Gastropexy' is a surgical procedure where a veterinarian permanently tacks the stomach to the abdominal wall, making it less likely but not impossible to twist.
This procedure may buy time by helping to keep the stomach from flipping, however it does NOT prevent bloat itself. 
The best way to treat bloat is to use preventative measures such as gut health, exercise, and helping your dog live a stress free life.
Gastropexy is an abdominal surgery of the stomach wall, and all surgery involves risk. Risks of stomach tacking may include complications related to blood clotting, infection, rejection and anesthesia. Rarely, during a bloat event the stomach can flip anyways, and the stitched area may open and cause internal bleeding.
PROS AND CONS OF TACKING YOUR DOGS STOMACH
UPSET STOMACHS IN DOGS
If you choose to do this surgery, please work with a highly qualified veterinarian who has a LOT of experience with the procedure, in particular the laparoscopic gastropexy which is much less invasive.
CHOOSING THE RIGHT FOOD FOR YOUR DOG
Since gut health in your dog has been shown to have high associations with gastric dilatation volvulus (gdv), it only makes sense that one would put careful thought into the dog food they choose.
Some factors to consider:
Feeding dry food without soaking with water or adding raw / canned wet food on top has been known to increase dogs bloat.
Feeding one large meal rather than several small meals to your dog has been known to increase bloat in a dog. Instead, feed in two or more meals.
Dogs who eat super fast are known to have a higher chance of bloat than a dog who eats slow.
Dogs with ongoing gut health issues are more prone to bloating, so working on gut health with a strong probiotic will help a dog be less likely to bloat and increase their gastrointestinal tract health.
We believe all Great Danes should receive a probiotic supplement, and this is one of the main reasons why. We recommend Nature's Farmacy Probiotic Max. 
GENETICS
Dogs with a genetic background of bloat are, themselves, more likely to bloat.
If you are considering buying a puppy from a breeder, check with them and their lineage paperwork to see if any dogs within their lines have ever bloated. Checking to see if there is a genetic predisposition could ultimately save your dog from future veterinary intervention and even possibly save their life.
HOW DOES BLOAT GET TREATED?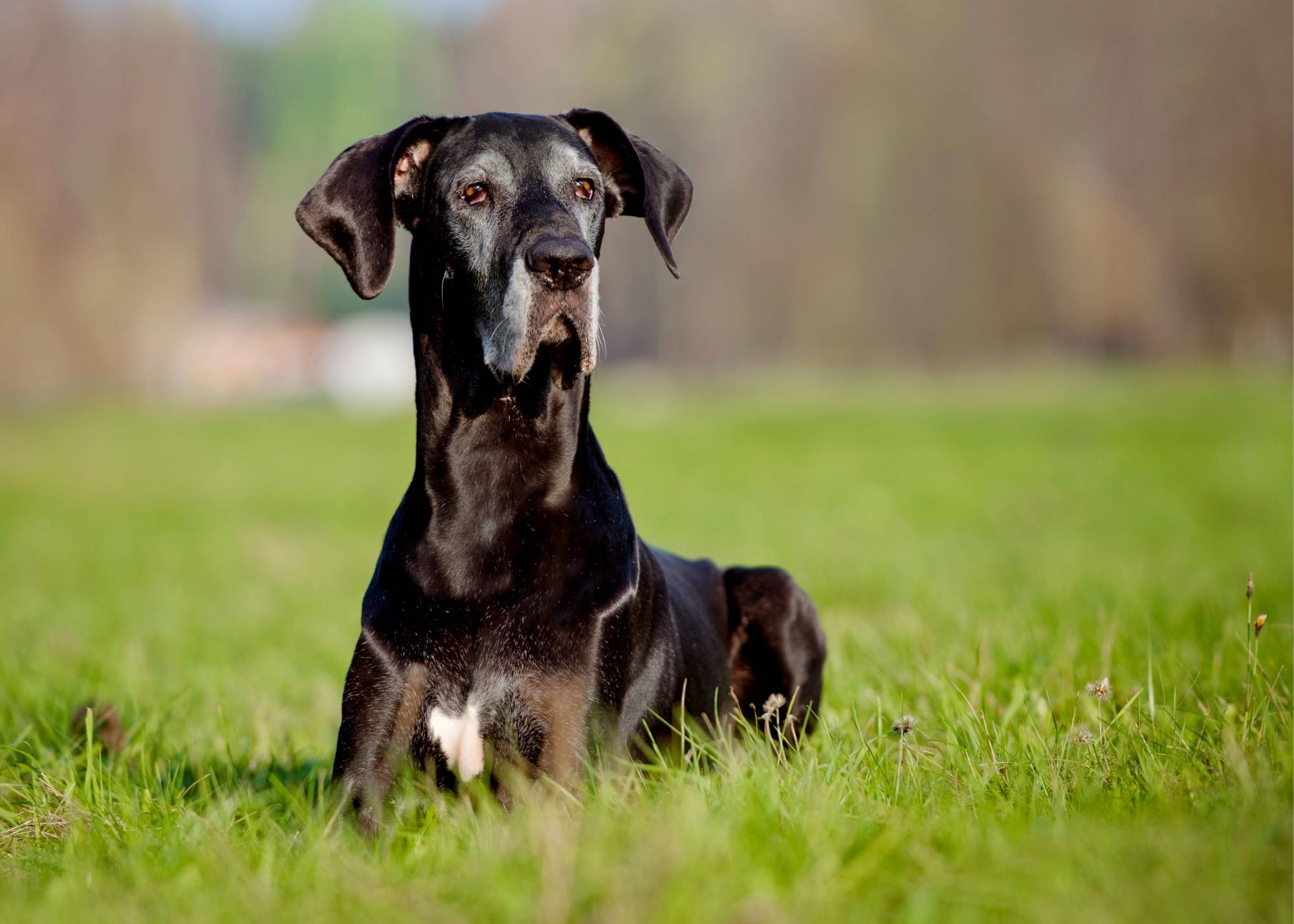 If you think your dog is experiencing bloat, it is crucial to get them to the vet immediately for medical attention.
First, your veterinarian will run blood tests, provide intravenous fluids, check vitals, and do a full physical exam of your dog.
X-rays will also be taken to see how much the stomach has distended. If the stomach is twisted, surgery will be required to untwist it and also to tack the stomach down so that it cannot twist further away from the body wall and cut off more blood flow.
A procedure called gastropexy preventative surgery (GDV Surgery) will be given during the emergency surgical correction in order to keep your dog's stomach in normal position.
POST OPERATIVE CARE
Post operative care is important to treat bloat. Avoid strenuous exercise, provide high quality foods, and allow for lots of rest for the stomach wall to heal. If your dog gets dehydrated, they may need to return to their primary vet for more intravenous fluids, as it can be very hard for the dog to eat after even a simple bloat.
Pain medications should be administered per your veterinarians instructions.
BLOAT IN DOGS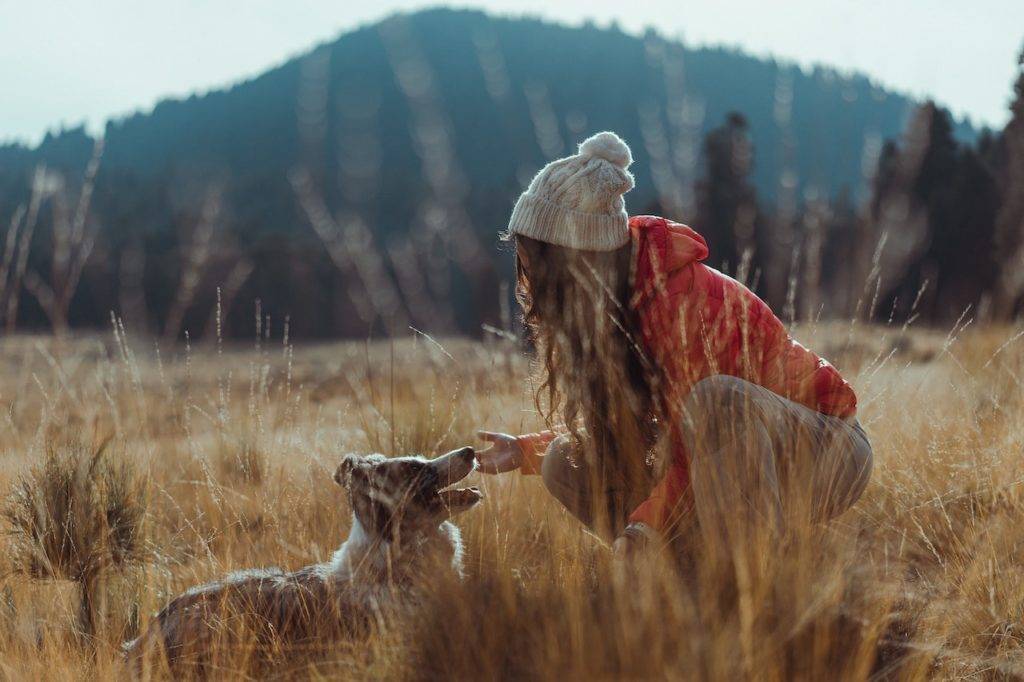 Bloat in dogs is something that no pet owner wants to ever deal with. Losing blood flow is a medical crisis and should be treated as so.
Working to increase the overall health and longevity of our pets lives is important and we can do that by educating ourselves and others on the risks, causes, and treatments of bloat in dogs.
READ MORE:

Some of the products we list on our website contain affiliate links. If you choose to make a purchase, we may receive a small commission for referring you. We only recommend products that we truly believe in. This commission does not affect the price of the product and is used to fund our content and expenses related to operating this website.