Great Dane puppies start off small, sleepy and sweet. It's only a matter of months before they are larger than most dogs (80-100 lbs by 6 months of age) and able to accidentally hurt somebody.
Because they are so large, they also lose their 'puppy license' early.
In public, many people may assume that they are adult dogs and have higher expectations of them in regards to their behavior.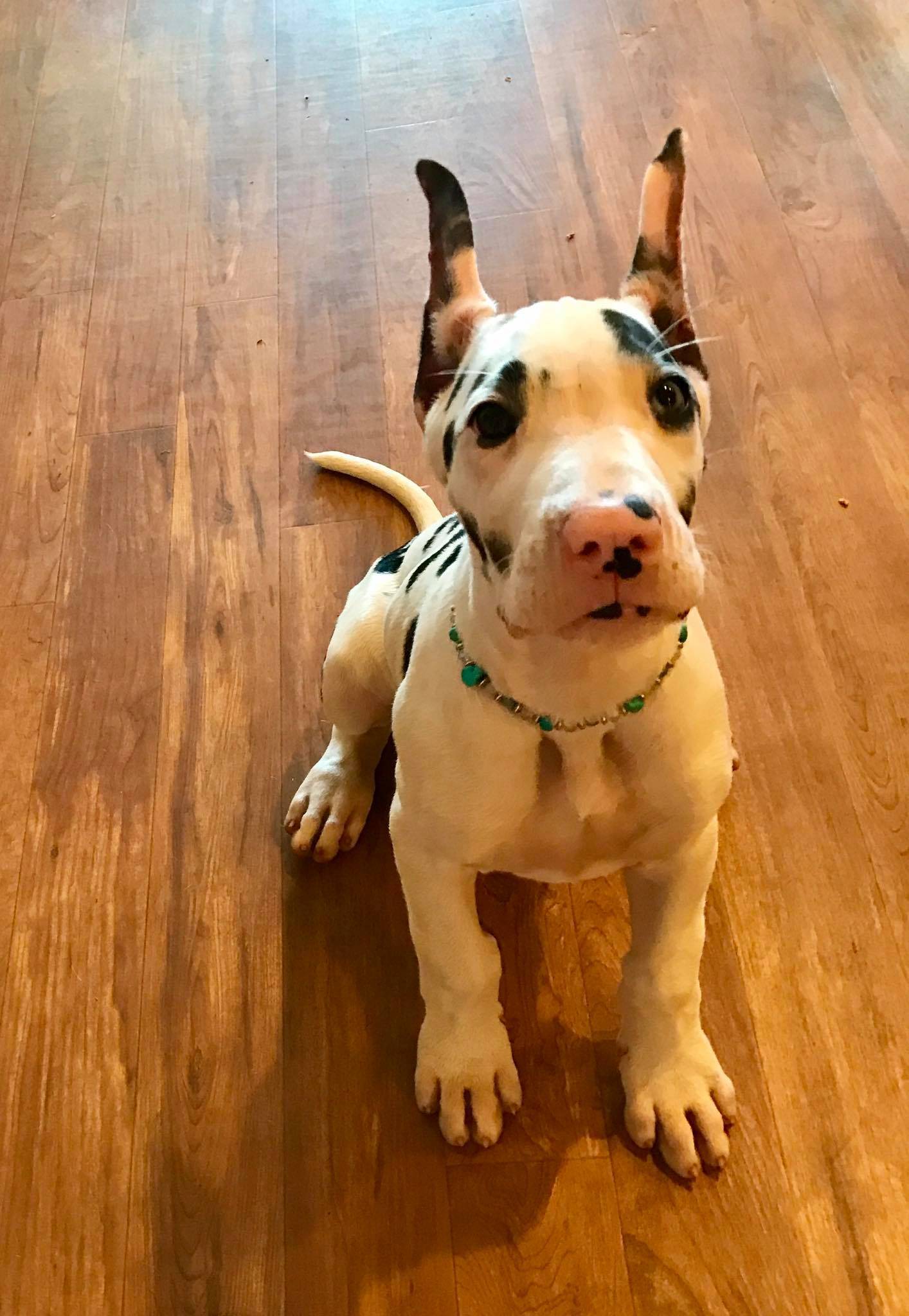 WHAT IS THE FIRST THING YOU SHOULD TRAIN YOUR PUPPY?
A Great Dane puppy that pulls, lunges, runs out of doors and ignores commands is an absolute handful to deal with, and that can all happen before they begin to reach sexual maturity (a whole other ball of wax that includes typical teenage shenanigans, among other things.
Basically put, if you wait until your puppy is 4-5 months old before attending a training class or working on anything other than 'sit', you're in trouble.
THE 5 ESSENTIALS FOR PUPPY TRAINING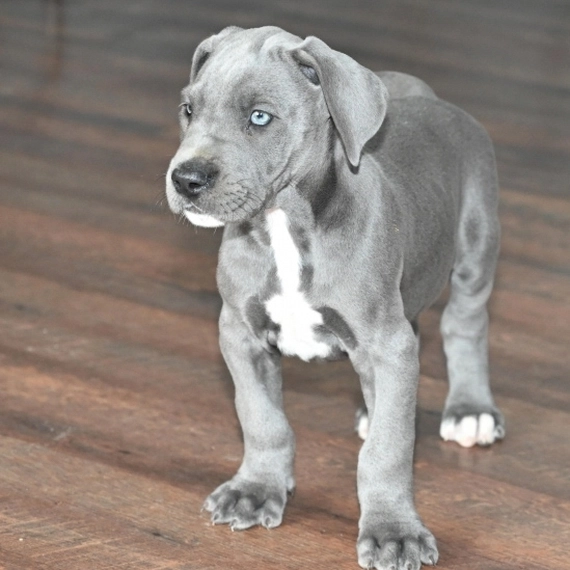 Here is our list of 5 Things ALL Great Dane Puppies should know by 6 months of age!
Given that most puppies are already 2 months old when they come home, you have 4 months to install calm, confident behavior. Put that work in now and it will pay off!
POTTY TRAINING
CRATE TRAINING
LEASH TRAINING
BASIC OBEDIENCE COMMANDS
PUPPY SOCIALIZATION
In order to train a puppy, pet parents need to be vigilant with training sessions, create a puppy training schedule, and begin training soon after they bring their new puppy home.
POTTY TRAINING A NEW PUPPY
The first of five things that puppy parents are responsible to help their new puppy learn is potty training.
Potty training requires their puppy to begin learning that they cannot pee and poo inside the house, but rather finding a potty spot outside.
Training your puppy to potty outside is not always as easy as it sounds. Young puppies have natural behaviors and learning impulse control for when and where to potty is something that puppies learn over a few weeks time.
Start training your new pup to go outside to go potty right when you bring them home. House training a new puppy can be difficult, but if you are consistent in your efforts, your puppy will catch on quickly.
Pet parents can potty train a puppy with puppy treats and lots of positive reinforcement. Spend longer periods of time outside with your new pup, if possible. Using food rewards, begin training your puppy where you would like them to potty.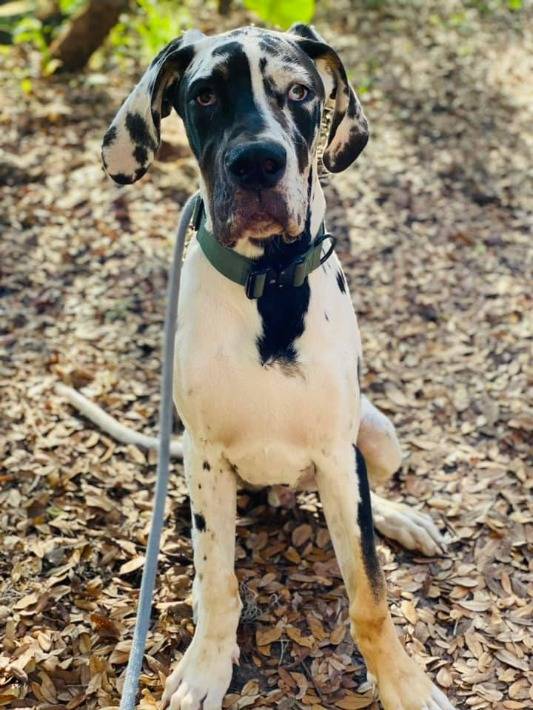 We do not recommend putting your puppy's nose in their pee while they are potty training as this could confuse them and teach your new puppy that you are the dominant one and they are powerless.
CRATE TRAINING A NEW PUPPY
The second of the five things that all puppies should learn is crate training. Crate training a new puppy is important for several reasons:
It creates a safe space for your puppy to stay when you are not able to supervise them. Puppies have a natural denning instinct and will often seek out a small, cosy space to rest in.
A crate can provide that for your puppy when they are first learning to stay calm and relaxed in your home.
Crating your new puppy will set the puppy's life up for success by teaching them that not everything in the world is for them to chew on or play with. Puppies are notorious for chewing and getting into things, so crate training can help to manage that natural puppy behavior.
Crate puppy training can also be used as a management tool when company comes over or if there is something going on in the house that is too stimulating for your new puppy. It allows you to have peace of mind knowing that your new puppy is safe and not getting into anything they shouldn't be.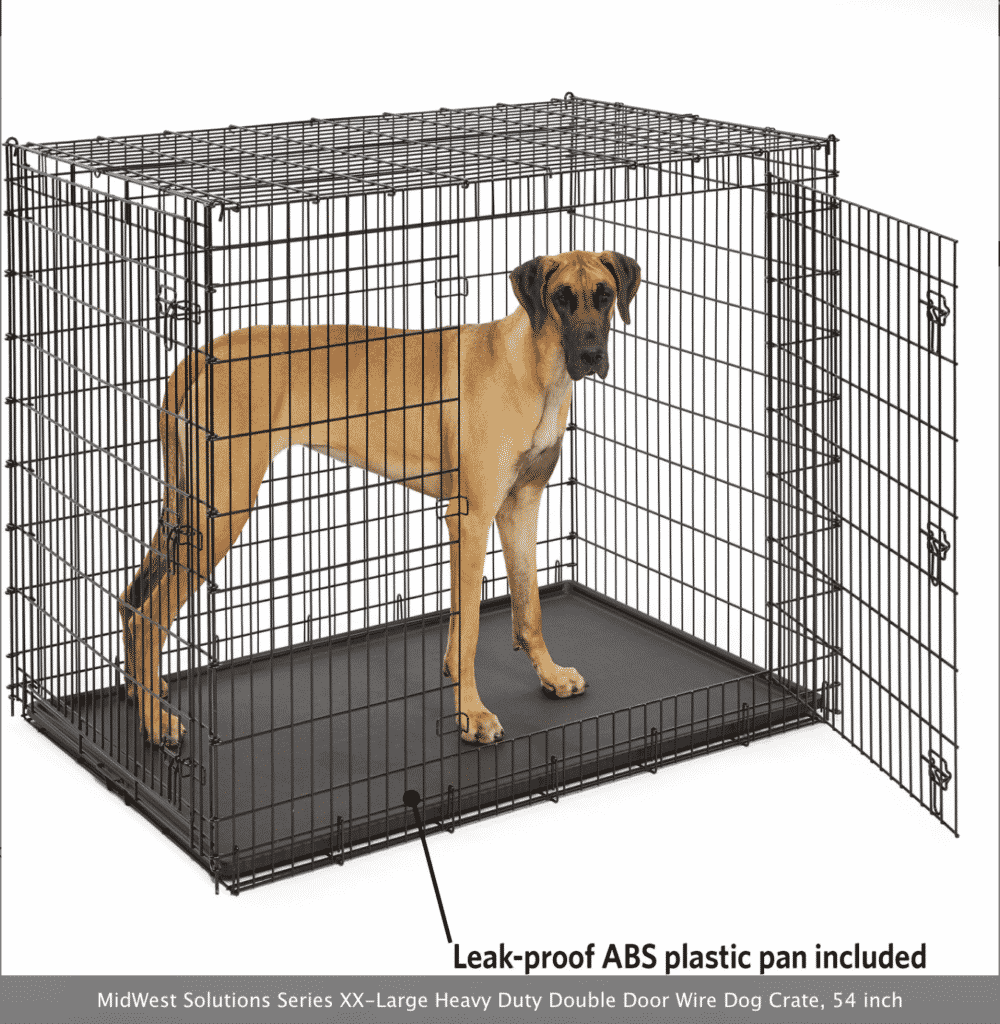 How to crate train a Great Dane: click here
HOW TO CRATE TRAIN A PUPPY
THE BEST CRATES
LEASH PUPPY TRAINING TIPS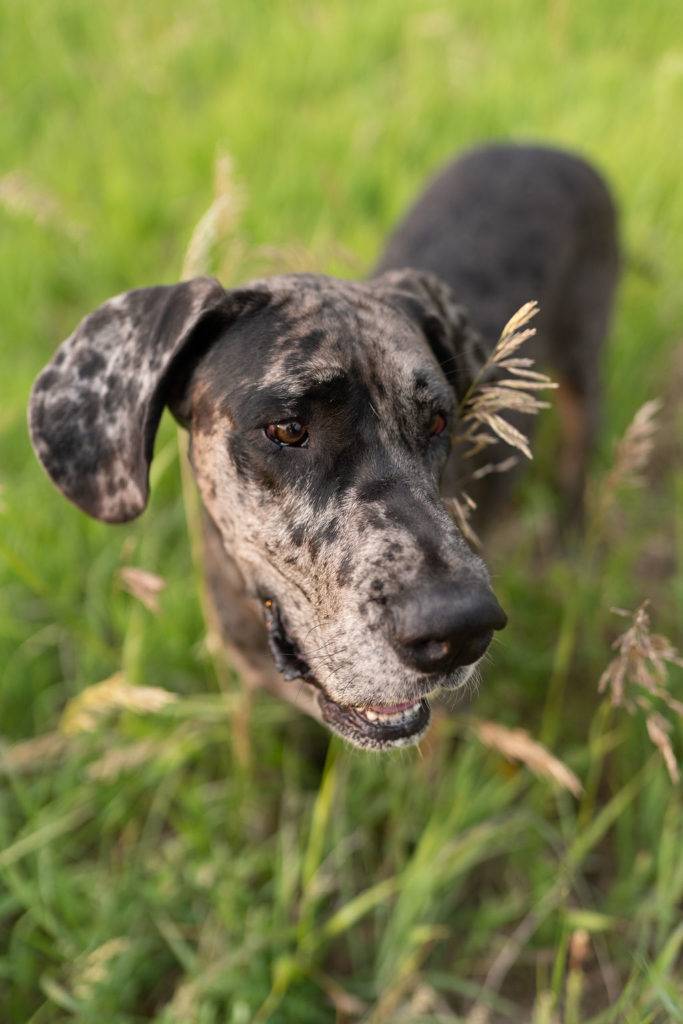 It is important to start training sessions with your new dog on the leash as soon as possible. Your pup will probably show aversion to the leash at first, but dog's learn quickly that a leash usually equates to something fun!
Using a food lure, show your dog that you'd like them in a sitting position, then you can put the leash on to your pup.
Show them how to walk politely. If your dog likes to jump ahead, slowly begin training your dog basic manners on the leash.
COMMON LEASH TRAINING MISTAKES IN A DOG'S LIFE
Never allow a puppy to pull or learn that pulling 'works'. This may mean adjusting your expectations: puppies do NOT need long walks, so it's generally fairly easy to avoid practicing poor leash skills.
Loose leash walking is largely a socialization issue: puppies that are generally understimulated (bored), anxious and fearful or over-excited by the environment tend to pull, whine, lunge, jump and try to run.
PUPPY SOCIALIZATION IS RELATED TO LEASH TRAINING YOUR PUP
Put the time in now to reinforce engagement, calm behavior and staying nearby.
As above, calm leash manners are largely related to proper socialization. Confident puppies that are desensitized to the world are much less likely to be pull like a freight train, a behavior that is often driven by anxiety or excitement.
Check out our blog post on Great Dane puppy socialization for more tips!  That said. even well-socialized, calm and confident dogs can quickly learn that pulling gets them where they want to go. You still need to train the correct behavior and reinforce appropriate leash skills EARLY and often.
FUN LEASH GAMES THAT CAN BE PLAYED FOR THE ENTIRE LIFE OF A DOG
Reward your puppy for eye contact several times. When your puppy is engaged and interested, turn your back.
When your puppy comes to the front to find you, say "YES!" and give a treat. Turn your back again and take a step away.
The puppy will come to find the treat, say "YES!" and give a treat. Make this FUN! Work up to turning your back and walking all over the house. A puppy that has been taught this fun game will follow you and stay close.
This is early loose-leash walking with engagement (eye contact)!  Practice this game in your living room, in the backyard, and on a long leash (15+ feet) in the front yard.
Make it fun, exciting, and increasingly more difficult for the puppy to 'keep up' with you! *If your puppy seems uninterested, try playing this game later in a lower distraction area. A boring bedroom for example, and use HIGHER value treats to start. Make sure your puppy has also had enough play time AND nap time.
THE WITH ME GAME – EARLY FOUNDATION FOR HEEL
Some people call it 'with me', others call it 'heel'.
Position yourself so that the dog is on the side you want to build the behavior on (most people choose the left side for the dog). Keep the leash in the hand OPPOSITE your puppy.
Put a high value treat in your fist and hold it in front of your puppies nose. They will sniff and as you walk forward, they will walk with you.
Practice this many times until you can eliminate the 'lure' of your fist, take several steps and then reward your puppy for walking next to you. Remember to use a lot of praise directed to your dog all throughout training!
In a matter of weeks, with consistent practice, you'll be able to walk with your pup, all over your house and turn left or right and your puppy will stay glued to your left side without frequent treats and without lures. Deliver rewards more and more sporadically as the behavior becomes stronger.
Practice this skill everywhere. Indoors, in your yard, in your front yard, in a training class, in a park where children and other dogs are there to generate distractions, at a pet-friendly store.
Start easy and work your way up!
BASIC OBEDIENCE COMMANDS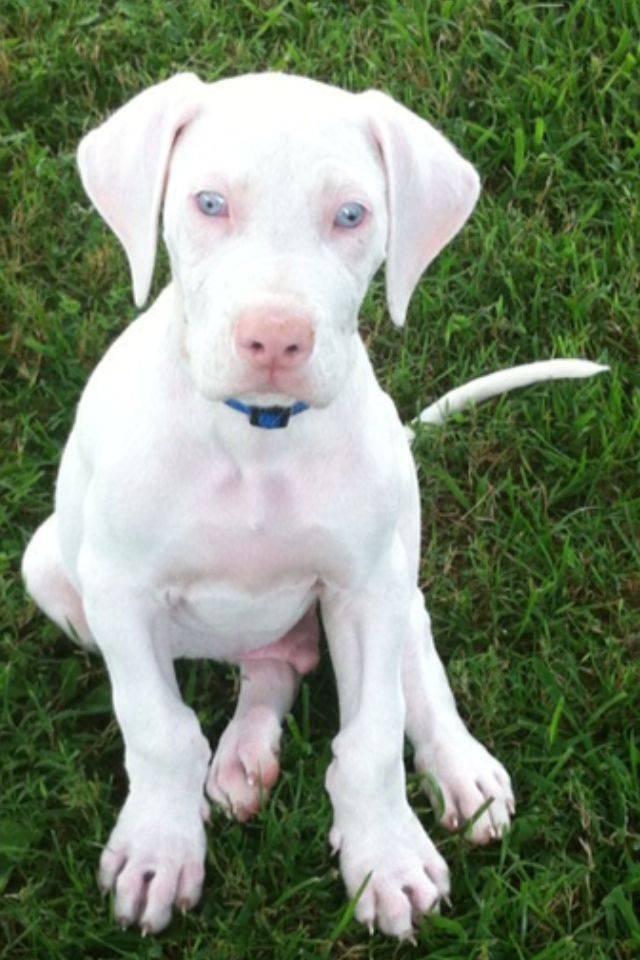 From the very day your adorable new puppy comes home, reward eye contact and engagement as often as possible. Basic commands can be taught by doing activities where your pup learns that it is fun to stay engaged with you! You are your dog's advocate. Dogs learn by having fun. Keep training sessions short and get active with training your dog.
TRAINING YOUR PUPPY TO COME
If your puppy comes to you, PRAISE! YES!
The practice of seeking out your attention and your eye contact is VERY important and one that will pay off if you spend a lot of time rewarding it.
THE LOOK AT ME GAME
Have your puppy or dog sit or engage with you.
Say 'LOOK!' and hold a treat by your eye. When your puppy looks at you, say 'YES!' and deliver the treat. This activity is training your new pup that eye contact is a positive!
As your puppy understands, fade out the treat lure and just point to your eye, then eventually fade out pointing to your eye and just say "LOOK!".
You want your puppy to automatically make eye contact with you when you say the word "LOOK" or when you say their name.
This skill is phenomenally important when you want (or need) to redirect your puppy back to you.
ENGAGEMENT GAME TIME
Toss a treat away from you, just a few feet away.
The puppy will run and grab it, let them have it.
Be energetic and say your puppies name. As SOON as your puppy turns their head back to you, say "YES!" and then reward your puppy with a treat.
Play this game several times in different places. Toss the treat farther away, to the side, etc. Make this fun!
TEACH YOUR DOG TO TOUCH YOUR PALM WITH THEIR NOSE
Teach your puppy to boop their nose to your open palm. This is an excellent 'alternate' behavior that can be used to redirect your puppy away from other dogs, people and even barking.
To teach 'touch', hold your hand open. Your puppy will probably go to sniff or see what you have. Immediately say "YES!" then offer a small treat.
Practice this behavior for no more than a minute, and then use it often at home.
When your puppy clearly understands that touch always means 'touch the hand', you can make the game more complicated by moving your hand into different places.
Between your legs, up high, down low, etc.
If you see your puppy start to focus on something, try the TOUCH command. With practice, you'll find that it's a really valuable tool for redirecting your dogs attention away from something and back to you.
PUPPY SOCIALIZATION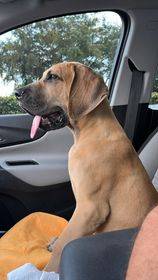 Basic commands go alongside puppy socialization. You do not need to attend group classes with your dog to have the perfect pup, although you can certainly get your pup with other puppies if you want to.
To keep your puppy engaged, practice some skills that will help them in the real world.
CALM GREETINGS
One of the biggest 'socialization' mistakes people make is allowing excited, squealing humans to greet their puppy. This either terrifies the puppy (making them fearful and aloof towards strangers) OR makes them extremely jumpy and wiggly when greeting people because they associate the experience with elevated excitement levels.
Neither version of that is a good look for a 100+ lb adolescent Great Dane!
Practicing calm greetings early are essential for creating dogs that can meet people and go anywhere without fear, nipping, jumping, peeing or other submissive (belly up) & excited behaviors.
CALM GREETINGS GAME TIME
Contrary to popular belief, your puppy does NOT have to meet every person and dog that comes along.
Many people do not like dogs, and some especially do not like large dogs that pull hard to come at them! It's also true that many dogs do NOT like other dogs, so it's important to teach your puppy how to ignore dogs instead of pulling to get to them.
One of the most important skills you can teach your puppy is that people and dogs are everywhere, and that's all there is to it.
BONUS: this is great for socialization! 
PEOPLE WATCHING
Sit on your lawn or in a park and just watch people walking by. Watch a variety of people on bikes, carrying children, walking dogs, pushing strollers, etc.
Watch, and use your 'LOOK' and 'TOUCH' commands to encourage your puppy to focus on you, not on the environment.
Note: If your puppy is fearful OR excited, move farther away from where people and dogs are and keep practicing. You'll eventually be able to move closer, especially if you are consistently rewarding your puppy for focusing on you. 
SAY HELLO TO NEW FRIENDS FROM AFAR
Have a friend stop to greet you from afar. Say hello and have a little chat, but have your friend IGNORE your puppy.
This helps teach the puppy that they will not be greeted by every person or dog who comes along.
Remember to redirect your puppy back to you with LOOK and TOUCH, and back up several feet from your friend if your puppy cannot focus on you.
Over time you'll not only be able to move closer, but your friend will be able to greet your puppy!
CALM GREETING PRACTICE
It's much easier to teach calm greetings with dogs that are well socialized (have calmly watched tons of people and dogs walk by) and engaged with you. Keep building that foundation.
To practice calm greetings, keep your puppy on a leash, and have your friend approach.
If your puppy tries to jump and pull, choose one of the following:
Ask for a LOOK or TOUCH, if those behaviors are very strong
Immediately do an about face. You can say 'uh-oh' and turn and walk AWAY.
With practice, your puppy will learn that jumping and pulling means they will NOT be allowed to greet people and dogs, and that approaching calmly is the key.
If your puppy has already been allowed to practice jumping and pulling to greet people and dogs, this behavior can be difficult to work with…especially when your puppy is 75lbs and counting!
HIRING A DOG TRAINER
We highly recommend you find a highly qualified trainer to help you if you are struggling! 
When meeting strangers, do NOT be afraid to advocate for your dog! Say "I'd love to have you greet my dog, can you please help us?"
You can give them a treat to give your puppy, and tell them that you want your puppy to calmly wait while they approach. They will reward the puppy with a treat and your puppy will learn two things: calm behavior = attention from humans AND food!
Such a great lesson.
GO TO YOUR PLACE
Teaching a puppy to 'go to a mat' is easy to do and creates a behavior that can be taken anywhere.
You can use a yoga mat, towel, or elevated surface (KLIMB platform or Kuranda Cot) for this.
If your puppy can calmly lay on a mat and ignore distractions, you can take your puppy anywhere and they will have the mat to keep them calm and contained when needed.
Imagine how valuable this skill could be while having guests over, visiting family, sitting in the vets office or even camping!
This skill is especially helpful for excited dogs that have a hard time settling.
PLACE SKILLS GAME TIME
One of the most simple ways to create early mat skills is to integrate the mat from day one.
Put the mat or elevated surface in the room and randomly leave treats on it for your puppy to find.
This particular version is especially helpful if you want your dog puppy to have a dedicated lounging space in your home.
For creating a more portable mat situation, try this.
Place the towel or cot on the floor. Immediately reward your puppy with a "YES" and treat for investigating.
Then toss a treat AWAY from the mat. Your puppy will chase the treat and then come back. As soon as they come near the mat, sniff it or step on it, say "YES" and offer another treat.
Repeat this game until your puppy learns that coming onto the mat is VERY rewarding.
Add the 'FREE' and 'MAT' commands.
Say FREE and toss the treat away from the mat. Then when the puppy comes back, say 'Go to your mat' and reward the puppy for putting all four paws on the mat.
Work this skill up to the puppy actually laying on the mat. Step away just a bit then reward again.
Gradually you'll be able to walk away from the mat and have your puppy calmly stay on it until you say FREE.
SOCIALIZATION HOLES AND GAPS
Holes in your socialization and training will become very, very clear when your puppy is around 6-9 months of age. It is around that point where fearful behavior, aggression, barking, pulling, and ignoring recall and other commands can become a real problem.
It's extremely important to install as many positive, calm skills as possible when your puppy is young!
Even the best training will be challenged by an adolescent puppy; anticipate that at some point, your dog will attempt to defy all of these things that you've spent hours teaching.
It is at that point which you need to continue teaching, continue reinforcing, and continue managing behavior so that your puppy has more successes than failures. 
VACCINATIONS
We do not recommend waiting until your puppy is fully vaccinated to begin socialization and training!
There are safe, clean puppy pre-school classes that you can take. A lot of socialization can be done safely at home (remember, see our Puppy Socialization for Great Danes post here!).
Training classes should begin as soon as possible. Most trainers will have puppies begin class at 10 – 12 weeks of age; they are well aware of risk and will keep a clean and sanitized facility.
If you are worried about disease, you can hire a trainer to come to your home and teach you and your puppy valuable early skills.
SURRENDERED PUPPIES
Puppies are so sleepy at first that many people think they have an 'easy' puppy.
The puppy does eventually 'wake up' but the bad habits and poor socialization skills have already been installed.
This problem paired with the size and power of Great Danes is a big reason that so many end up surrendered in their adolescent months.
Choose only ethical breeders with a lifetime return guarantee (no dogs in rescue, ever) and make sure that you understand the responsibility that comes with owning, and being loved by a Great Dane.
Puppyhood is a time to set your dog up for success in life, not just the next few months.
TEETHING AND CHEWING
Chew toys, chew toys, and more chew toys. Your puppy is going to want to chew on EVERYTHING.
Make sure that you have an adequate supply of safe things that your pup can chew on during training. A chew toy could help your pup learn what is right and wrong in regards to chewing.
TRAINING A PUP TO GROW UP INTO A RESPONSIBLE DOG IS NOT ALWAYS EASY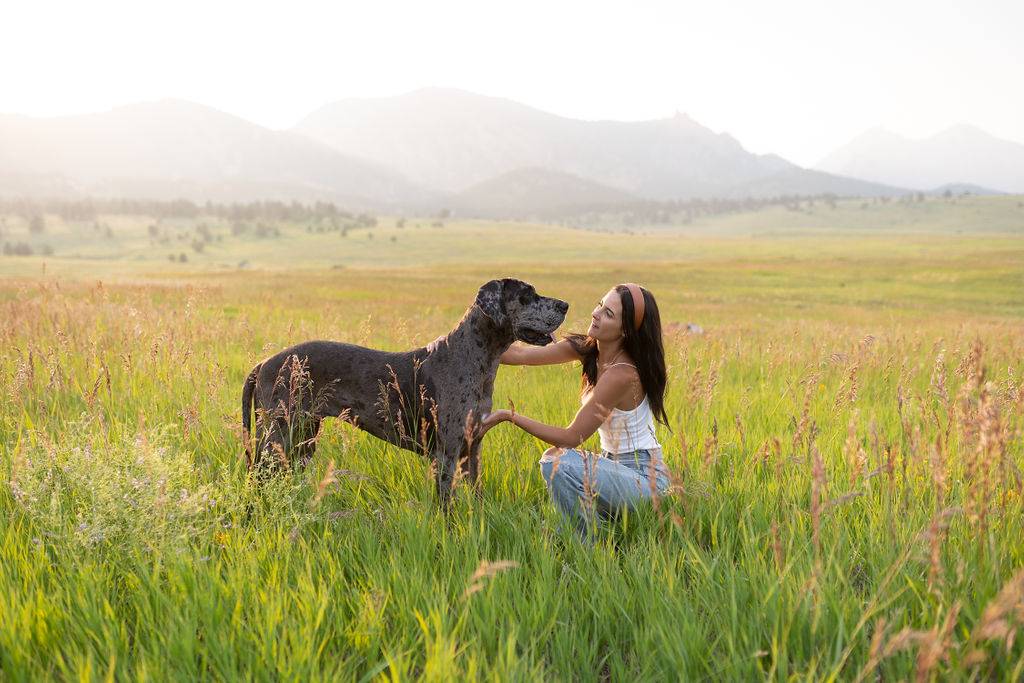 Puppy training tips are everywhere, but ultimately puppy training comes down to owners being willing to dedicate time, patience, and consistency to the process.
You need to be willing to:
Set limits
Create a schedule
Stick to that schedule
Provide plenty of chew toys
Make sure your puppy has plenty of socialization opportunities
Take your pup to training classes
Remember, your puppy is counting on you to help them grow up into a well-behaved, responsible dog. Don't let them down!