Whale eye is NOT your dog looking like a whale, although that might be a simpler explanation. Whale eyes in dogs are just one of many parts of a complex web of dog behavior.
Whale eye in dogs is something that happens to a dog's eyes when they are feeling threatened, feeling anxious or afraid, or for a variety of other reasons.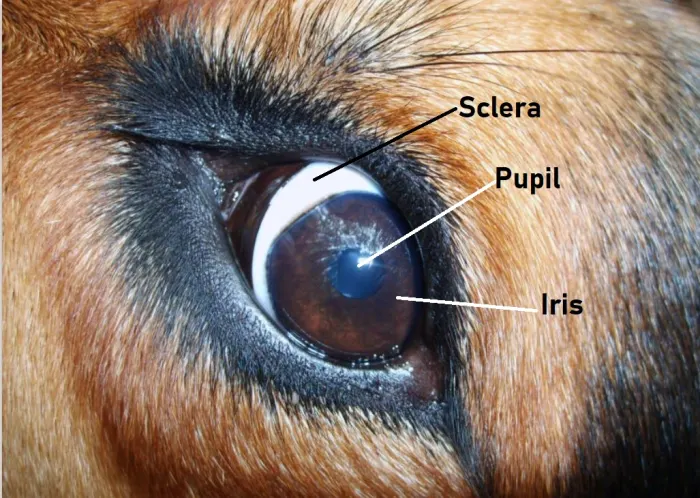 WHAT IS WHALE EYE IN MY DOG?
Whale eyes happen in a dog's eye when the white part of the eye, called the sclera, becomes more visible. This happens when the dog's third eyelid (nictitating membrane) partially covers the eye. Whale eye can also happen when a dog's head is turned away from you, and you can see the whites of their eyes.
When a dog exhibits whale eye, it's often a sign that they are feeling uncomfortable or threatened. It can also be a sign that a dog is about to bite, although not all dogs who show whale eye will bite.
WHY DOES WHALE EYE HAPPEN IN DOGS?
There are many reasons why a dog might exhibit whale eye.
Dogs communicate fear, stress, worry, or feelings of being upset or tense with their body language.
Dog body language can be tricky to figure out, but if humans educate themselves on what dog body language is trying to convey, they can identify whale eyes as well as other signals of fear or stress more easily.
COMMON REASONS YOUR DOG MAY BE SCARED OR TENSE
If you notice your dog feeling stressed out more often than relaxed, it's time to evaluate the reasons why they may feel threatened.
Dogs fear a variety of different things, but some common triggers for a fearful dog include:
Other dogs
Other humans / strangers
A person they might not know well
The Veterinarian
A child who they don't know / kids who are not respecting boundaries
Loud noises
New situations
The car
Many dogs will show signs of being stressed far before their owners will notice, so it is crucial to pay attention to your dog and their behavior to determine whether they are uncomfortable.
HOW DO I KNOW IF MY DOG IS SHOWING SIGNS OF BEING ANXIOUS?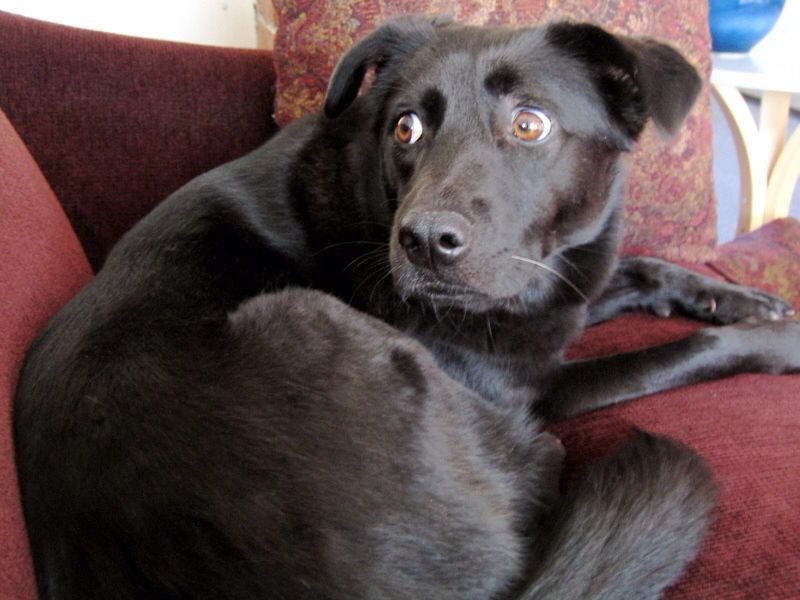 Whale eyes are just one way that an anxious dog might show fear.
There are many other forms of body language in a dog that you can pay close attention to when looking for signs of an anxious dog.
BEHAVIOR IN A DOG WITH STRESS OR FEAR
Lip licking
Whale eyes
Half moon eye
Eye contact / lack of eye contact
Tongue flick
Moving their head away from contact
Drooling / wet mouth
Ears backwards
Ears sprung forwards
Side eye
WHY DOES WHALE EYE GIVE US SO MUCH INFORMATION ABOUT OUR DOG?
Whale eyes in dogs helps us to better understand the way in which a dog sees the world.
Whale eyes in dogs is a sign of many things, some of which may be stress related.
If your dog has whale eye, and you notice a 'whale eye look', you might notice the whites of his eyes are visible, and his third eyelid may be partially covering the eye. The dog's head might be turned away from you, so you can see the whites of their eyes.
WHY DOES WHALE EYE IN DOGS MEAN THE DOG IS SCARED?
The reason that true whale eye happens in dogs is because the dog is paying attention in an extreme way, they are attentive to whatever is happening and the whites of his eyes have become extremely large and wide, making the colored part seem smaller. The dog's attention is zeroed in on whatever it might be that they are nervous of.
Puppy Fear Periods: What They Are, When to Expect Them, and How to Help Your Puppy
10 STRESS SIGNALS IN DOGS: YOUR DOG IS BEGGING YOU TO LISTEN
Signs of Stress in Dogs: How to Help An Anxious Dog
Dog Scared of the Vet?
Leash Aggression: How Dog Owners Can Prevent and Stop Dog Aggression on Leash
The dog will most likely turn its head towards the current situation, or try to walk away. When the dog relaxes, the fearful whale eye will most likely go away.
SIDE EYE VS. WHALE EYE
Dogs with whale eyes often have a scared or worried expression.
Dogs with side eyes often have a predatory or aggressive expression.
It is important to be able to distinguish between the two, as they can mean very different things.
A PREDATORY STARE vs A FEARFUL STARE
A fearful stare is when a dog's pupils are dilated, and they are trying to make themselves as small as possible. A predatory stare is when a dog's pupils are constricted, and they are making themselves look as big as possible.
A fearful dog will have their ears back, possible closed mouth with lip licking, their tail between their legs, and they may be shaking. A predatory dog will have their ears up and forward, their mouth open with teeth showing, and their tail may be wagging.
HOW CAN YOU HELP YOUR DOG WHO IS DEMONSTRATING WHALE EYES?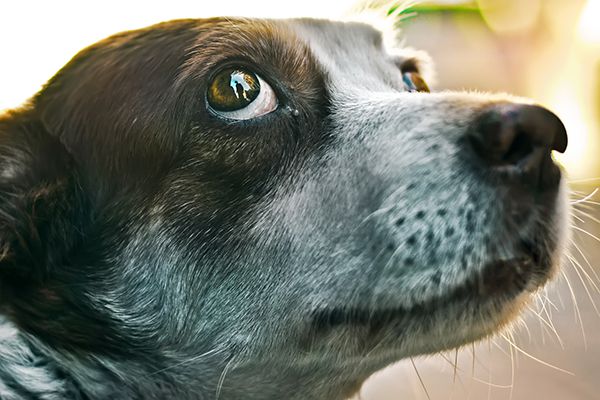 Nobody wants their dog to experience stress.
Luckily, there are things we can do to treat anxiety in a dog. If you notice whale eyes or other signs of dog communication of anxiety, you can work on helping your pup with a few simple solutions.
FIND THE CAUSE OF THE DOG BEING NERVOUS
The first step is to find out what is causing your dog stress or anxiety.
Is it a particular person? Other dogs? The car? Once you have determined the trigger, you can begin working on a plan to help your dog feel more comfortable.
AVOID THE SITUATION THAT IS TRIGGERING YOUR PUP
If your dog is anxious around other dogs, try to avoid situations where he will be around them. If the trigger is the car, then don't take him for car rides until you have worked on helping him feel more comfortable.
USE POSITIVE REINFORCEMENT
When your dog is not displaying signs of uncomfortability or anxiety, provide him with positive reinforcement in the form of treats, petting, or verbal praise. Using a treat or their favorite food, you can help your pup to understand that the situation is a positive one. This will help him to associate good things with the situation that is causing him stress.
GRADUALLY INTRODUCE YOUR DOG TO THE SITUATION
If you can't avoid the situation that is triggering your dog's anxiety, then you will need to help him get used to it.
Start by exposing him to the trigger in a controlled environment, such as in your own backyard.
Make sure he is not actually experiencing any stress or anxiety during this exposure.
If he is, then you will need to back up and give him more time to adjust.
Once he is comfortable with the trigger in a controlled environment, you can begin slowly introducing him to the trigger in a real-life situation.
For example, if he is anxious around other dogs, you can start by having him meet one dog at a time in a neutral location like a park.
PROVIDE YOUR PUP WITH SOCIALIZATION FROM AN EARLY AGE
One of the best ways to prevent anxiety in dogs is to provide them with socialization from an early age.
This means exposing them to as many different people, animals, and situations as possible.
The more they are exposed to, the less likely they are to experience anxiety in new situations.
If you have a puppy, make sure to take them to different places, like the park, on a regular basis.
For example, you can also sign up for puppy classes, which will help your pup to socialize with other dogs in a controlled environment.
USE DOG CALMING PRODUCTS
There are many products on the market that can be added to your dog's food or supplement regiment to help them remain calm.
Consider pet CBD for your fur baby, or speak to your veterinarian about a pet prescription that could help them with their worries.
CHANGE UP THEIR DIET
Diet impacts everything and gut health can make an impact on the way your dog is feeling.
If you think your dog may be experiencing fear and anxiety, switching up their diet to include more whole/raw foods could help their overall gut health.
We recommend Raws Paws Pet Food for a balanced and complete raw mix.
DO NOT GET DOWN ON THEM FOR THEIR ANXIETY
The worst thing you can do is to get mad or punish your dog for their anxiety.
This will only make the situation worse and increase their stress levels.
Try to remain calm and understanding when your dog is experiencing anxiety. This will go a long way in helping them to feel more comfortable.
Anxiety is a common issue for dogs, and being there for your dog with belly rubs and support is going to help them feel safe.
EXERCISE AND PLAY
A tired dog is usually a happier dog. Choose their favorite toy and play with them!
Or, go for a long walk or run together. This will help to tire them out and release any built-up energy that could be adding to their anxiety.
GIVE THEM A SECURE SPACE
Dogs feel safe when they have a space of their own where they can go to relax.
This could be a crate, bed, or even just a designated spot in the house.
Make sure their space is cozy and comfortable, and place a blanket or toy inside to make it extra inviting.
Whenever your dog is feeling anxious or stressed, encourage them to go to their space to relax.
WHALE EYE IN DOGS – SUMMARY
Whale eye is a sign of fear or stress in dogs, and is often seen when a dog is feeling threatened.
By understanding the various reasons for whale eye and differentiating between them, we can help our dogs to feel more comfortable in situations that may cause them stress.
We can also avoid putting our dogs into situations that are known to trigger their anxiety or fear.
If you think your dog may be experiencing anxiety, there are many things you can do to help them feel more comfortable.
This includes providing them with a secure space, exercising with them, and using dog calming products.
Most importantly, remember to be patient and understanding with your dog. They are not purposely trying to stress you out, and with a little love and patience, you can help them to overcome their anxiety.
READ MORE:
My Personal and Unbiased Review of the Insane Dexas Petware Mudbuster Portable Dog Paw Cleaner
The Best Crates for a Great Dane: Crates that Fit 100 lb+ Dogs
HELP! DOG SNAPPING AT CHILD FOR NO REASON AT ALL AND I AM DESPERATE FOR ANSWERS
Why Is My Puppy Being Aggressive?
Do Dogs Have Nerves in Their Nails?