Many dogs will show anxiety to their human with behavior signals. A frightened dog will have red flags over its entire body. But, humans often overlook these signals in their dogs because us humans don't always know what to look for.
When dog owners become educated on what a stressed out dog looks like, they can solve conflicts with their dog before the conflict even begins.
So, it makes sense to become more in tune with dog body language and behavior so that you can understand what your dog is trying to tell you.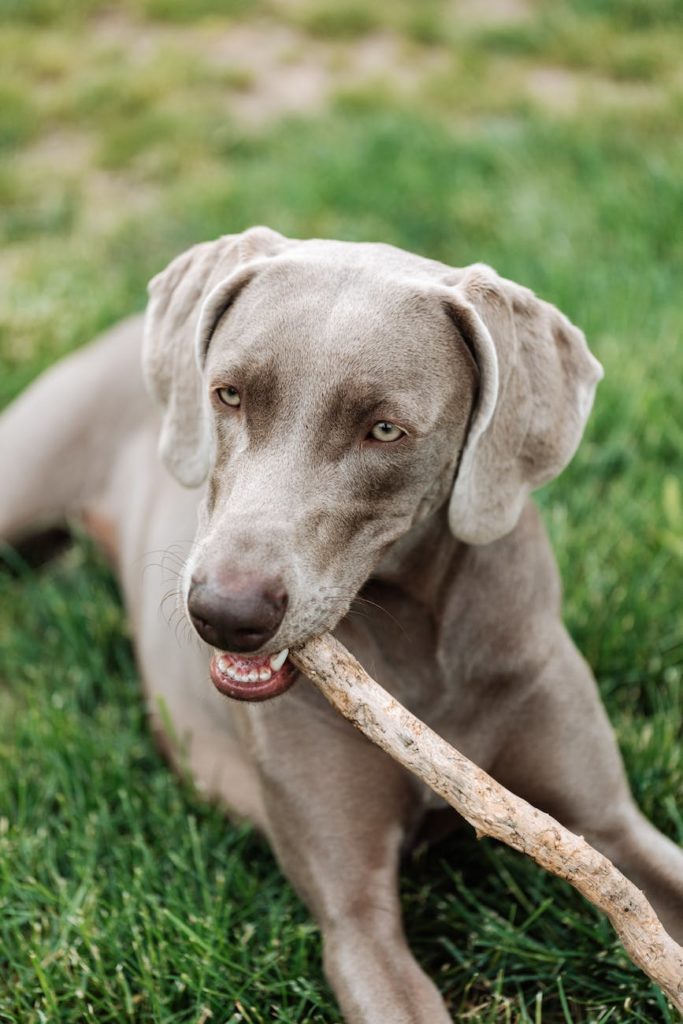 WHAT ARE THE MOST COMMON STRESS SIGNALS IN DOGS
Although many dogs show their anxiety in stressful situations in different ways, most dogs will demonstrate these signals in some common behavior.
Yawning dogs– A dog that yawns a lot in your presence may be trying to relieve stress. It's common for dogs to yawn when they are anxious or feel nervous/uncomfortable. A dogs yawn is a dog calming signal, meaning the dog is attempting to calm themselves down. (Why Do Dogs Yawn? There Is Science Behind This Interesting Behavior)
Sniffing the ground– A dog shows nerves when they can't seem to escape a situation and starts sniffing the ground as a means to escape the current situation.
Whale eyes– A dog's eyes will get big and round when they are stressed. The whites of their eyes will be more prominent as their pupils dilate.
Lip licking– When a dog licks their lips excessively, it's a sure sign that they are stressed.
Shaking– A dog that is shaking or trembling is trying to release the built up anxiety they are feeling.
Panting– Dogs will start to pant when they are feeling anxious or stressed.
Head turning– A head turn is often a dogs way of attempting to remove their entire body from a situation. This dog is turning away in order to show peaceful intentions, but demonstrate to their social groups that they are uncomfortable with the current situation.
Freezing– When a dog is feeling scared or threatened, they may "freeze" in place as a survival mechanism.
Nose licking– Dogs will often lick their nose when they are unsure of a situation.
Tail tucking– A dog that is tucking its tail is feeling scared.
Play Bowing– A play bow can be a calming signal when a dog is around other dogs that it might not feel comfortable with. A play bow is used when a dog may try to show other dogs that it does not want to fight.
Walking Slowly / Slow Movements– Moving slowly can be a dogs way of showing that it is not a threat and does not want to fight.
All of these signals are your dog's way of communicating with you that it is feeling overwhelmed, anxious, or stressed. As a responsible pet owner, it's important to be able to recognize these signs so that you can help your furry friend feel more comfortable in stressful situations.
How to Raise a Confident Dog: 7 Tips for Building Your Puppy's Self-Esteem
11 Ways to Calm Dog Anxiety in Car Rides
BODY LANGUAGE AND STRESS SIGNALS IN DOGS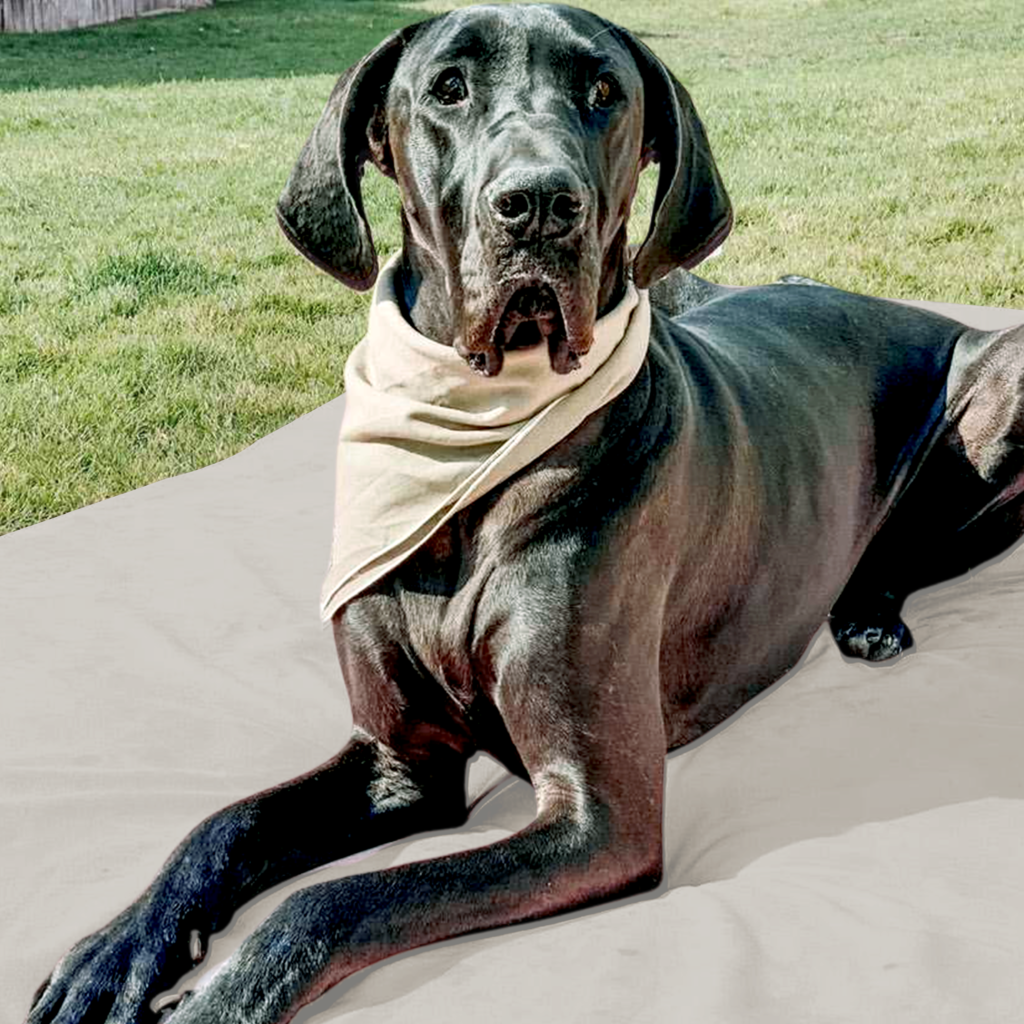 Dogs are social animals, and they communicate with each other through body language.
Do Dogs Get Lonely? The Fascinating Truth Behind Canine Depression
When a dog yawns, it might be trying to calm another dog that is getting too excited. Nose licking can also be a calming signal, and it's often seen when two dogs are greeting each other. If a dog starts panting heavily, it might be a sign of stress or anxiety.
Lip licking can also be an anxious behavior, as the dog is trying to soothe itself by licking its own lips. Tail wagging can mean different things depending on the context. If the tail is held high and wagged stiffly, it may be a sign of aggression. However, if the tail is wagged loosely with a relaxed body, it usually indicates happiness.
Dogs also use eye contact to communicate. Their gaze can convey a range of emotions, from love and affection to fear and aggression. By understanding these common stress signals in dogs, we can better interpret their behavior and respond in a way that will help to keep them calm and comfortable.
COMMON STRESS TRIGGERS FOR DOGS
Dogs can have some unusual fears. Maybe your dog is afraid of the vacuum cleaner, or perhaps he's terrified of going for car rides. But there are some more common triggers that can cause stress in dogs.
11 Ways to Calm Dog Anxiety in Car Rides
CHANGES IN ROUTINE
One of the most common triggers is changes in routine. If you usually take your dog for a walk in the morning, but one day you have to leave for work early and can't take him, he may become anxious. Dogs can also be stressed by changes in their environment, such as a move to a new house or the arrival of a new baby in the family.
LOUD NOISES
Loud noises, such as thunderstorms or fireworks, can also be stressful for dogs. You may notice your dog giving off more calming signals on the 4th of July than other normal and quieter days.
4th of July and Dogs: How to Keep Your Dog Calm and Happy
THE VET
Many dogs are afraid of taking a visit to the vet. The unfamiliar environment, the strange smells, and the possibility of getting shots can all be very stressful for dogs.
OTHER PEOPLE OR KIDS
Unfortunately, you might notice your dog is afraid of people or kids. They might use signals like tail tucking or retreating when you have small kids nearby them, or they might bark when strangers walk by your house. Socialization is important for puppies, so if your dog didn't have a lot of exposure to different people and situations when he was younger, he may be more fearful as an adult.
FEAR COMES AT RANDOM
For some, it might be hard to pinpoint the exact cause of your dog's fear. Maybe they are using dog calming signals more often than usual, but you can't seem to figure out why. In these cases, it's possible that your dog is just feeling stressed in general. Dogs can have bad days too!
If you notice your dog is displaying any of these common stress signals, try to remove him from the stressful situation if possible. Crate training is a fantastic way to help your dog remain calm, feel safe and secure, and reduce stress in general. If you can't remove your dog from the situation, try to provide some distractions, like a Kong toy filled with peanut butter or dog treats.
And always remember to consult with your veterinarian if you think your dog may be suffering from anxiety or stress.
WHAT IS A CALMING SIGNAL IN DOGS?
Dog's use calming signals to show that they are feeling stressed, anxious, or uncomfortable. Yawning, sniffing the ground, and lip licking are all examples of calming signals.
These signals are your dog's way of communicating with you that it is feeling overwhelmed, anxious, or stressed. As a responsible pet owner, it's important to be able to recognize a dog's calming signals as they are many dog's only communication system.
ARE THE USE OF CALMING SIGNALS IN DOGS A GOOD THING OR BAD THING?
When dogs use calming signals, the dog is attempting to show humans and other dogs that it is not a threat and does not want to fight. Play bowing is a good example of this, as the dog is essentially saying "I come in peace!"
While the use of calming signals is generally a good thing, it's important to be aware that some dogs may use them excessively out of fear or anxiety.
When your dog sees an approaching dog and you notice lip licks, whole body shaking, or other dog calming signals that are implicative of fear, it is crucial that you take note of their anxiety of unfamiliar dogs before it turns into aggressive behaviors.
A DOG DISPLAYING CALMING SIGNALS WHEN IT FEELS UNCOMFORTABLE
Dogs communicate their feelings and moods through their body language. calming signals are one way that dogs do this. When a dog feels uncomfortable, they may use calming signals to try to defuse the situation and make themselves feel better.
Common calming signals include licking their lips, averting their gaze, and yawning. If you see a dog doing any of these things, it's important to give them space and not try to force them to interact with you or other dogs. By respecting a dog's calming signals, you can help to prevent potential aggressive situations from occurring.
WHAT TO DO IF YOU NOTICE A DOG DISPLAYING SIGNS OF STRESS
Dogs communicate their emotional state through a combination of facial expressions, body language, and vocalizations. When a dog is experiencing stress, they may display some or all of the following signs: rapid breathing, panting, drooling, yawning, lip licking, pinning their ears back, wide eyes, tense muscles, and a stiff posture. Dogs may also try to get away from the source of their stress by pacing, shaking off, or hiding.
If you notice your dog displaying any of these signs of stress, it's important to take action to help them relax.
HAVE A LOOK AT YOUR DOG'S ENVIRONMENT
First, take a close look at their environment.
Are there any potential dangers that could be causing them to feel stressed? For example, is there another dog in the area that they don't get along with? If so, try to remove your dog from the situation.
HOW ARE YOU INTERACTING WITH YOUR DOG?
Secondly, think about how you're interacting with your dog. Are you being too forceful or demanding? Dogs can sometimes pick up on our own stress levels, so it's important to remain calm and relaxed around them.
PROVIDE PLENTY OF REST AND RELAXATION TO DECOMPRESS FOR YOUR DOG
Finally, make sure your dog has plenty of opportunities to rest and relax in their own space. A tired dog is often a stressed dog, so provide them with a cozy bed and some quiet time each day. By taking these steps, you can help your furry friend stay calm and relaxed in even the most stressful situations.
WHY DO DOGS PANT WHEN THEY ARE STRESSED?
Just like a dog begins showing calming signals at the onset of other stressful situations, panting is one way that many dogs can try to relieve their stress.
Panting is a normal, physiological response that helps to regulate a dog's body temperature. However, when a dog pants excessively, it can be a sign that they are feeling overheated or stressed.
If you notice your dog panting more than usual, take a close look at their environment and make sure they are not in a situation that is too hot or humid. If the temperature seems fine, then try to provide them with some calm, relaxing time to see if their panting subsides.
WAYS TO HELP PREVENT YOUR DOG FROM EXPERIENCING STRESS
Dogs are social animals that thrive when they're part of a social group. However, potential conflict can arise when dogs meet, which is why it's important to socialize your dog from an early age.
PUPPY SOCIALIZATION IS KEY FOR CANINE COMMUNICATION
Puppy socialization classes are a great way to introduce your dog to other dogs in a controlled setting, and they can also help you learn how to read your dog's body language and prevent aggression.
Socializing older dogs is still possible, but it may take more effort. Attending dog parks or arranging playdates with friends' dogs are good ways to help your dog socialize.
You can also try attending training classes together or going for walks in new places. In any social situation, it's important to pay attention to your dog's body language and be aware of potential signs of stress.
REMOVING A STRESSED DOG FROM THE SITUATION
If you see any signs that your dog is uncomfortable, make sure to remove him from the situation and provide a calm environment for him to relax in. Remember, socializing your dog doesn't just benefit him – it also helps you create a stronger bond and a better relationship with your furry friend.
HIRING A TRAINER TO HELP YOUR DOG
If you notice your dog gets anxiety when another dog approaches, they are making intense eye contact with your neighbor when they cross paths, or you are seeing sweaty paws when you have guests visit, it could be time to hire a dog trainer to help you navigate these signals.
Dog trainers who are qualified in behavior have the skills to help you understand what your dog is trying to communicate and how you can better manage the situation.
A professional trainer can also offer guidance on how to socialize your dog and provide helpful tips on preventative measures you can take to reduce stress in your dog's life.
IS YOUR DOG DISPLAYING BEHAVIOR THAT SHOWS THEY ARE NERVOUS OR STRESSED?
All of this evidence points to the fact that we need to be very aware of our dogs' stress levels and take steps to reduce them.
Dogs communicate their stress primarily through body language, so it's important for us as their guardians to be able to read these signals. If you see your dog displaying any of the signs of stress listed above, it's crucial to remove him from the situation immediately.
You can also help reduce your dog's overall stress by providing plenty of exercise, training, and socialization.
READ MORE:
Scam Breeders: What to Look For
Breeders: Shady Business
Should I Choose a Breeder or Rescue?
Choosing a Dog From a Show Breeder
What Makes a Breeder Good?
What is a backyard breeder? The AKC has 1000's. 
What is OFA Health Testing?
Is Embark a 'Good Enough' Health Test?
HOW DOES BACKYARD BREEDING IMPACT THE WAY A GREAT DANE LOOKS?
HOW DOES SPAYING A GREAT DANE TOO YOUNG IMPACT A WAY A GREAT DANE LOOKS?
The Great Dane Breed Standard