Are you ready to get on the water with your Great Dane? Finding Great Dane sized life jackets is tricky, so we did the work for you. We're ranking and rating our favorites so that you and your giant dog can play at the lake or in the ocean all summer long!
In addition to sharing our favorite Great Dane sized life jackets, I'm going to cover:
When and why Great Danes should wear a life jacket
How to make sure the life jacket you choose for your Great Dane actually fits properly
The best places to play in the water with your Great Dane
How to avoid toxic and dangerous summer water (blue-green algae, ick!)
Before using any life jacket, we recommend calling the manufacturer before use; even if the chest circumference is ok, some dogs greatly exceed the weight limit. It's important that owners are aware of the danger that can pose.
Believe it or not, many Great Danes actually love the water, and some even swim! Others enjoy boating and paddle boards, too.
Author's note: it is important to monitor your dogs activity in and around water. Your dogs safety rests in your hands whether they have a lifejacket on or not.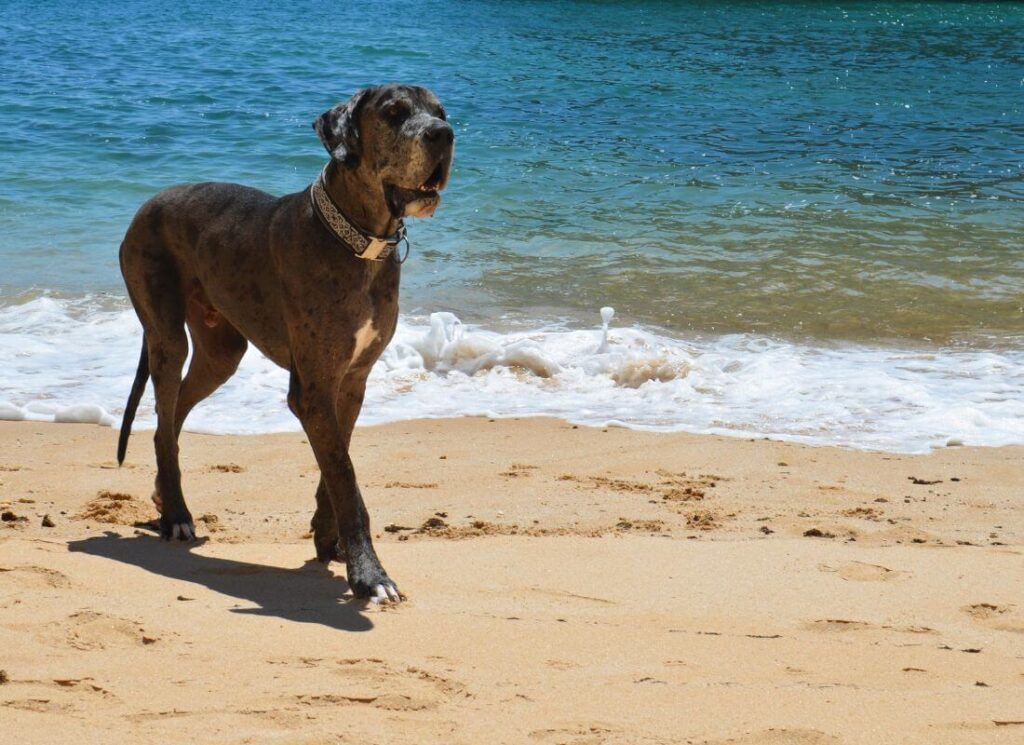 The Best Lifejackets for Great Danes
A good lifejacket for your dog should be:
Affordable
Well-made
Adjustable
GIANT!
Dog life jackets come in a range of sizes and are most widely available for medium-average sized dogs. They also come in a range of different qualities.
Every lifejacket offers different floatation ability, too. Some life jackets are better suited to dogs that are strong, athletic swimmers.
Less expensive options are perfect for Great Dane owners who won't be using the jacket often, as the lower quality fabrics and stitching may reduce the useful lifespan of the product.
It's important to note as well that cheaper lifejackets also won't have as nice of a fit; in general they tend to be fairly boxy and utilitarian vs. athletic and comfortable to wear. For very active and athletic dogs who will be in the water or boating often, we recommend spending a little bit more.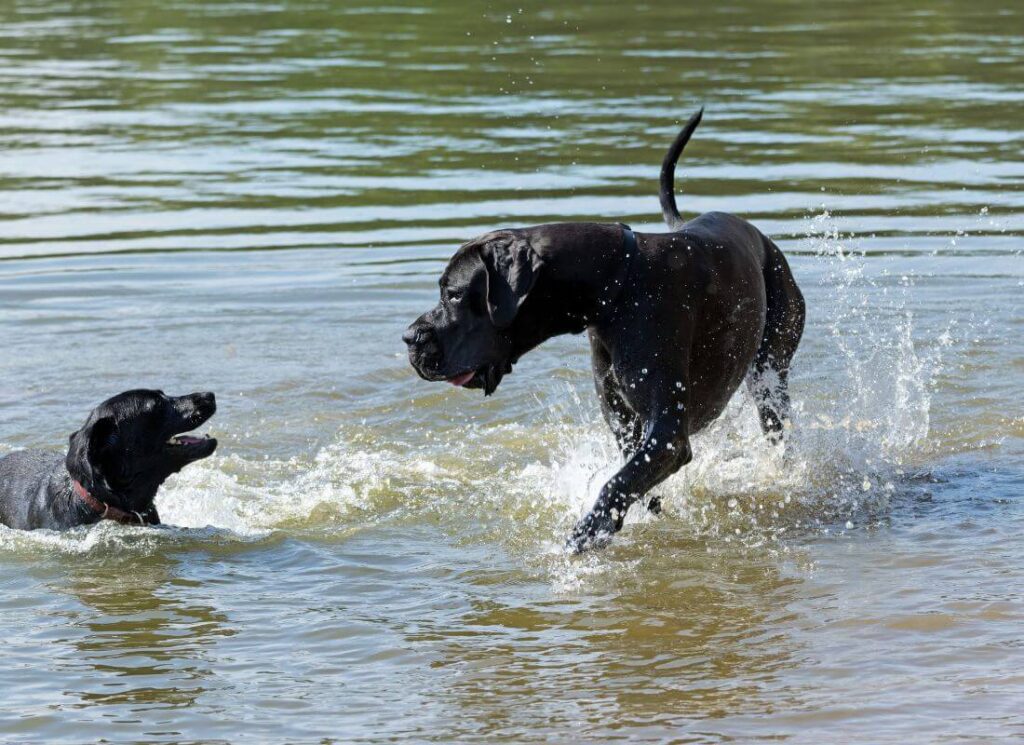 Why the Color of your Dog's Lifejacket Matters
Make sure to choose BRIGHT colors! Remember that blue and green tones can get lost in the water, so if your dog is struggling or runs off, it's less likely you'll be able to see them.
We recommend choosing bright or neon colors such as orange, pink, lime, coral, and yellow.
Camo colors are best suited for highly trained retriever type hunting dogs, and shouldn't be used as a fashion statement. Because camouflage is designed to make it harder (not easier) to find and see your dog, it's not a very practical or safe choice for your average pet Dane.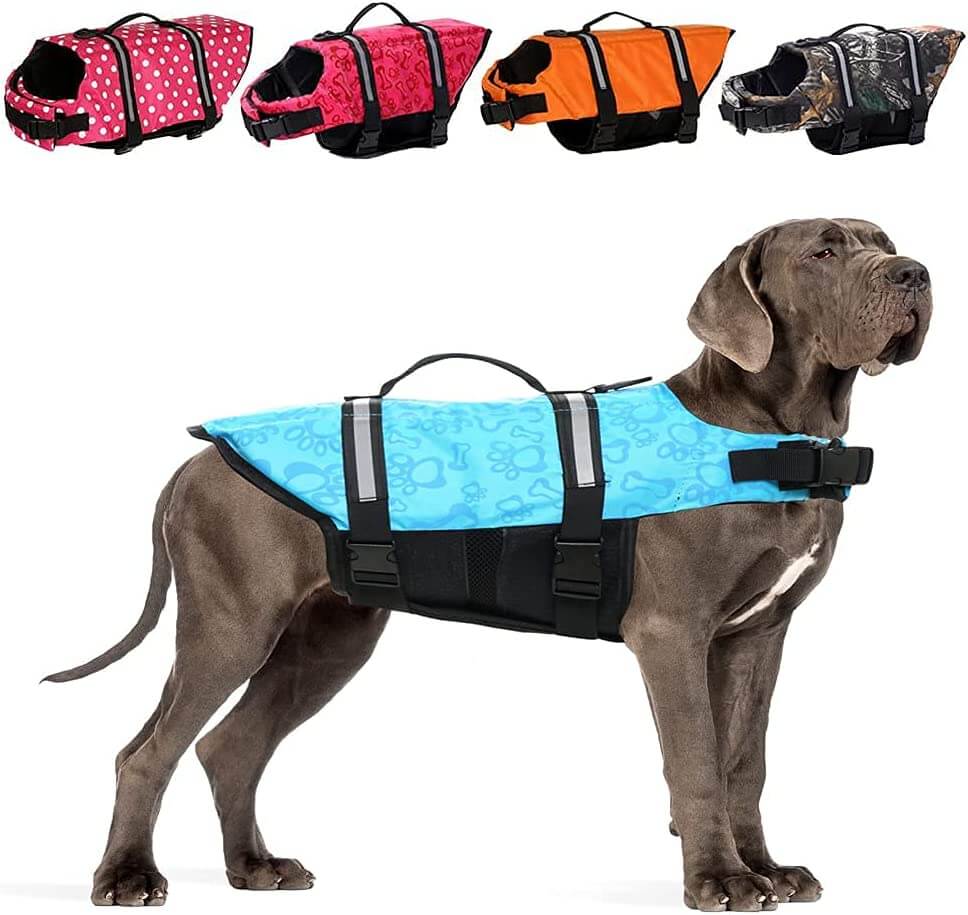 Best Inexpensive Option: Yoyaker Dog Life Jacket
The Yoyaker Dog Life Jacket is a good option for Dane owners who aren't in the water often. It is unlikely to hold up well to repeated use, but for a day in the sun? Start here! We don't recommend a cheap life jacket like this for active dogs that will be in the water often.
This affordable choice comes in a range of colors and is one of the larger options we found! It is adjustable up to 48.5″ around the chest. (For perspective, my average sized intact male Great Dane has a chest circumference of 38″).
This is not a lifejacket with a very athletic fit, so on hot days it will be even more important to monitor your dogs body temperature and comfort.
Purchase the Yoyaker Great Dane life jacket HERE.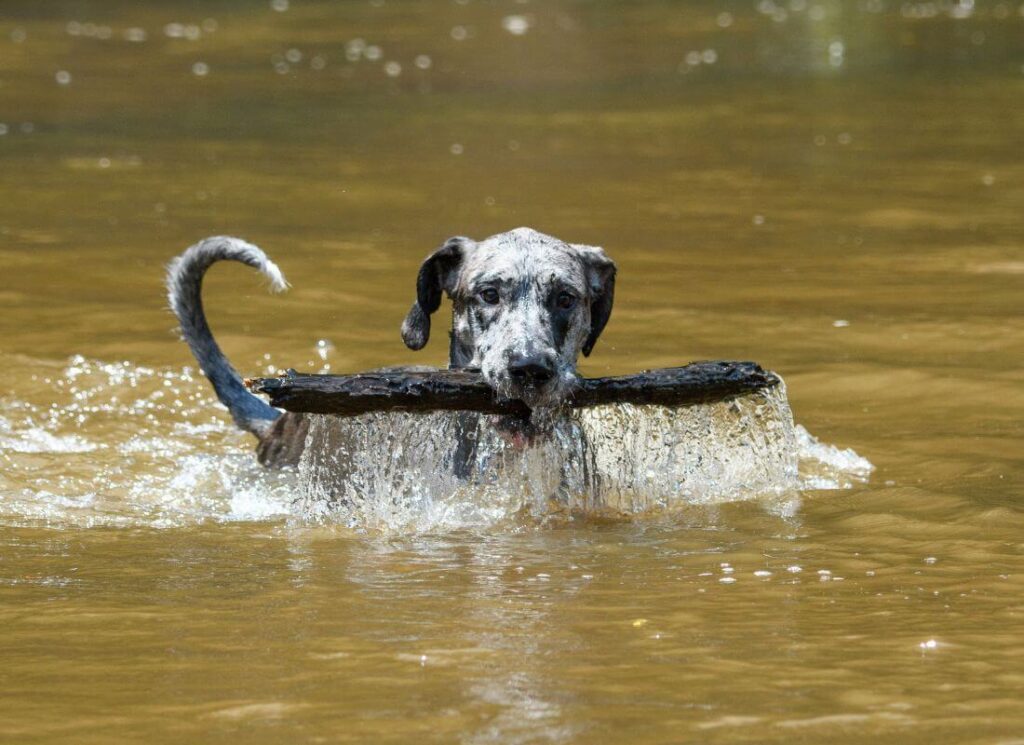 Best Athletic Life Jackets for Great Danes
An athletic style life jacket will be more suitable for dogs who are in the water often! These are good for all but especially great for Danes who are already fairly confident in and around water. Most athletic life jackets come with added features such as better fit, neoprene, sturdy buckles, and breathable mesh panels.
Outward Hound Standley Sport Life Jacket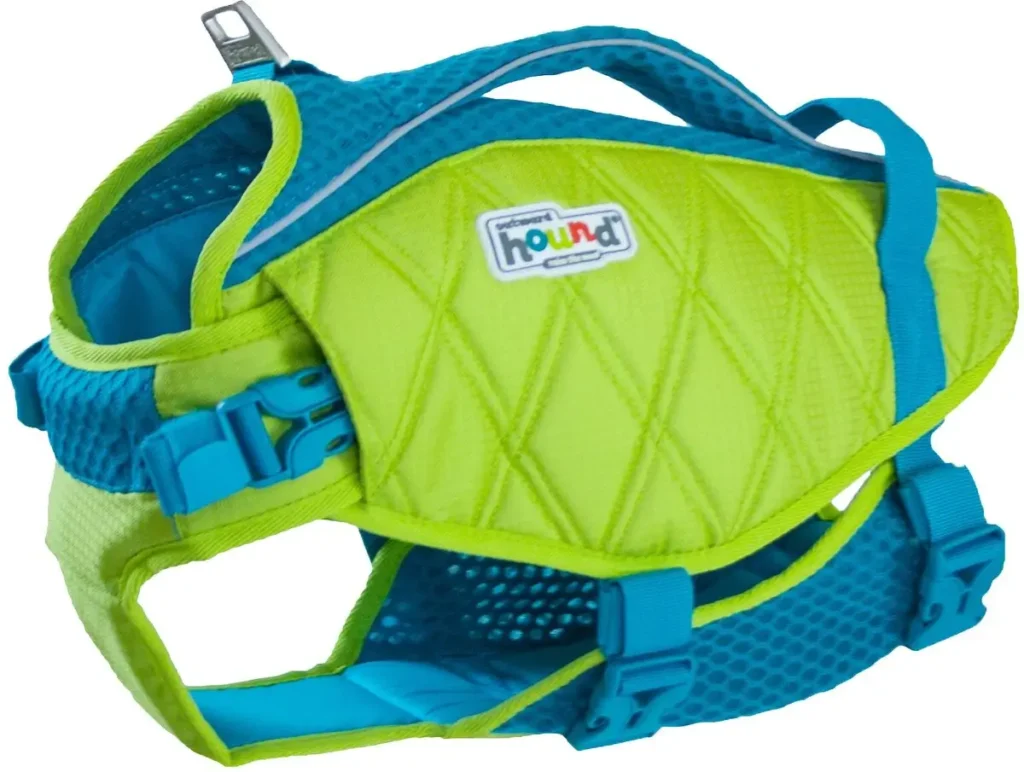 The Outward Hound Standley is a solid athletic life jacket for your Great Dane. It offers quality fabrics, bright lime green color, a mesh tummy panel, a leash attachment point, and a double handle system for lifting (if needed). The XL size fits up to a 44″ chest.
This was designed to drain water quickly away from your dogs fur under the jacket, which can help keep your pup comfortable! You can find the Outward Hound Standley Sport Jacket on Chewy HERE or on Amazon HERE.
EZY Dog Doggy Flotation Life Vest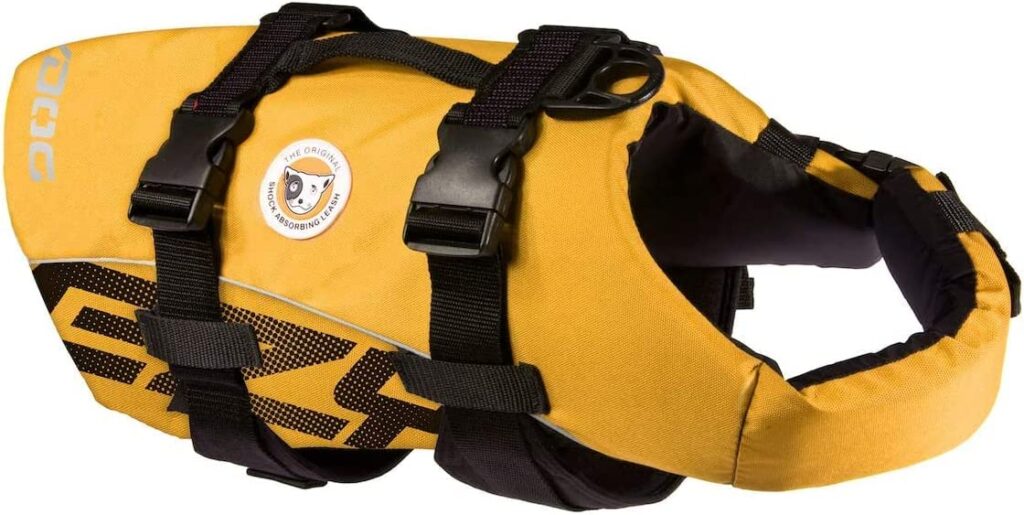 This premium sport jacket is built for athletic dogs who don't like having a lot of material around their tummies. It was engineered to provide above-average floatation and is a popular lifejacket for people who own large breed dogs! The XL size fits Great Danes with up to a 48″ chest circumference.
It comes in red or yellow and offers a leash attachment point, neoprene straps, heavy-duty stitching, and solid quick-release buckles. You can purchase the EZY Dog Doggy Flotation Life Vest on Chewy HERE, or on Amazon HERE.
Kurgo Surf N' Turf Life Jacket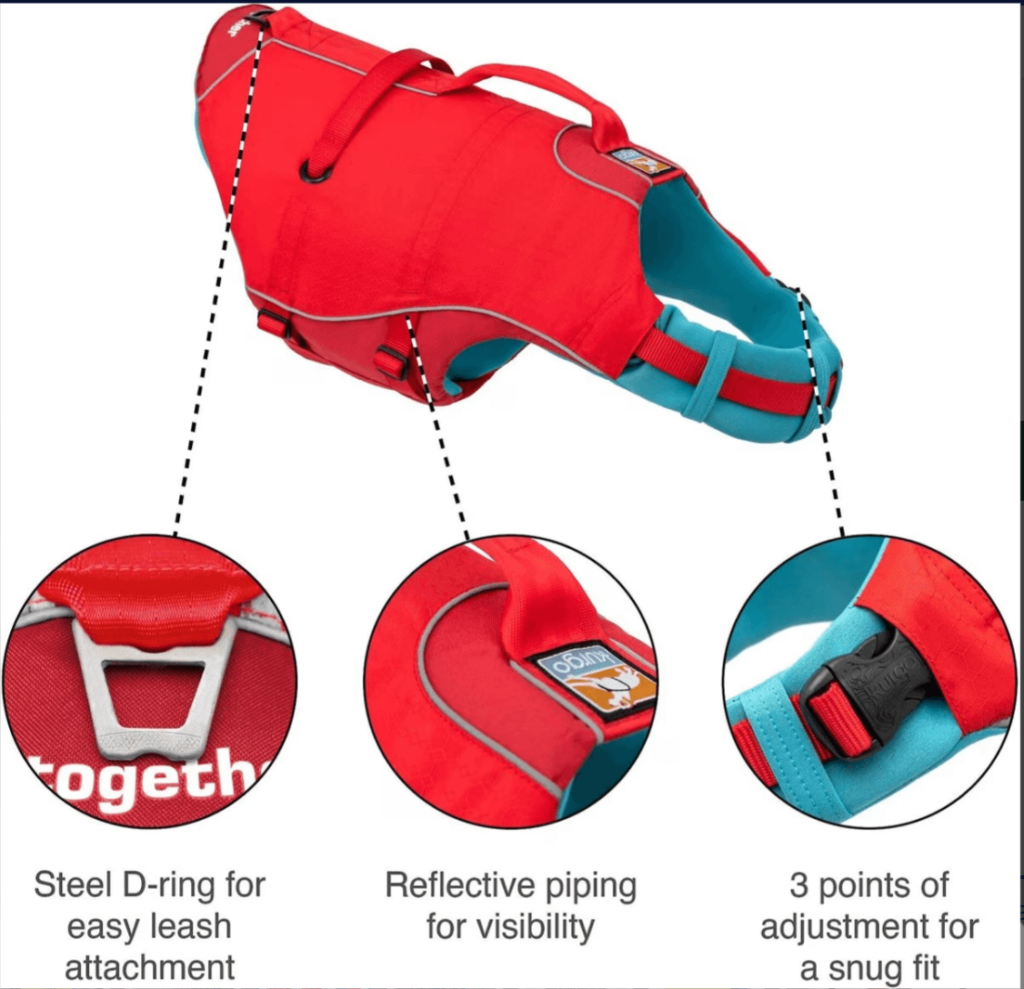 The Kurgo Surg N' Turk Life Jacket was designed for all-day wear (in particular, dogs that boat!). If you like to take your Great Dane fishing, this lifejacket is for you. It's also one of the most stylish options!
Solid construction, quality fabrics, reflective piping, a leash attachment point, and neoprene are just some of the features of this popular life jacket. The XL can be adjusted to fit up to a 45″ chest.
You can buy a Kurgo Surf and Turf on Chewy HERE or on Amazon HERE.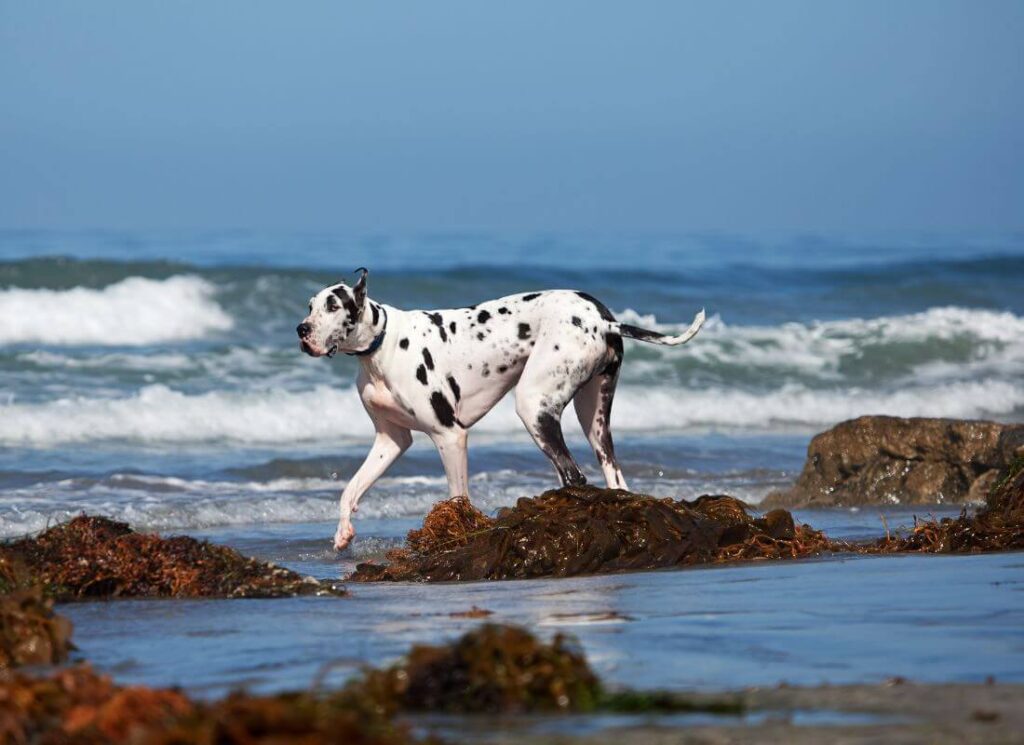 Best Pet Store Life Jacket for Great Danes
Of course, it's really nice if we can get a lifejacket for our dogs locally and make sure it fits before purchase. Some pet stores carry lifejackets (typically, it's seasonal) and you can go in with your dog to test it out.
For that, we highly recommend visiting Petsmart and checkout out the Outward Hound Dawson swim jacket. This version brings athletics to good floatation and comfort and can be adjusted to fit up to a 44″ chest.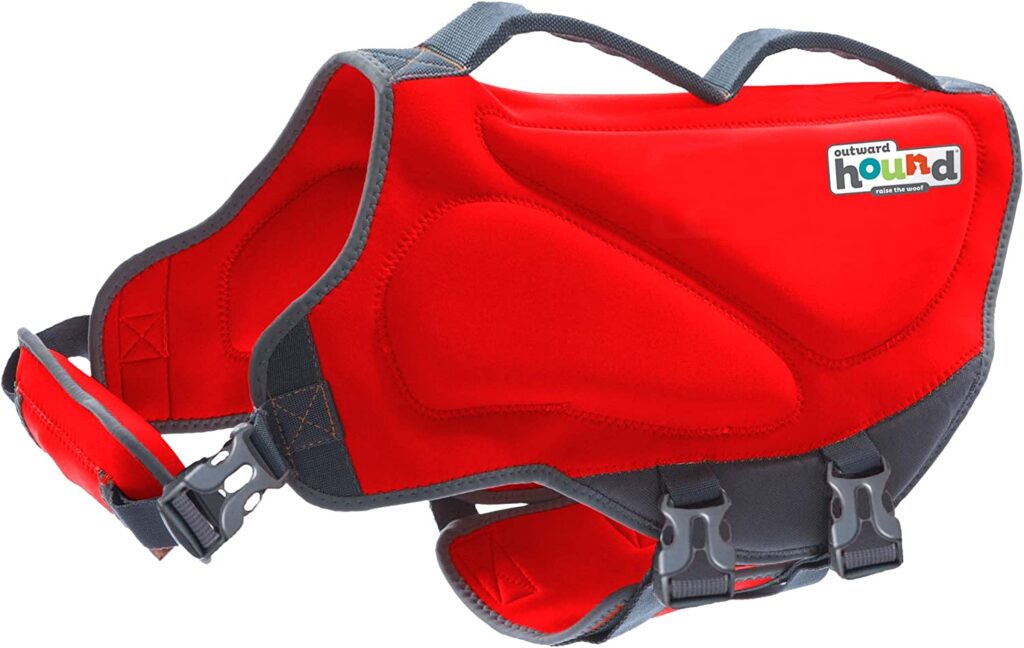 If you cannot find it in your local Petsmart store, you can find it on Chewy HERE or on Amazon HERE.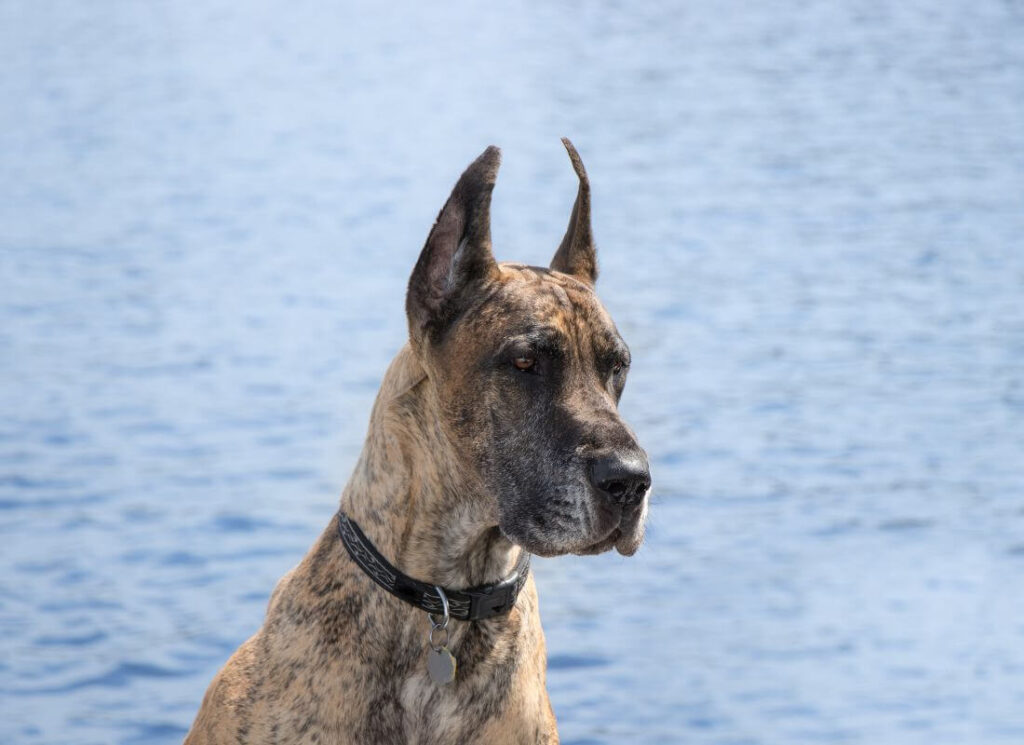 Best Overall Life Jacket for Great Danes
There is one top choice that is wildly popular among dog owners and organizations that support water sports and boating.
The Ruffwear Float Coat is one of the most well-designed and highly rated floatation devices for dogs!
Unlike other life jackets, the buckles are mostly hidden. This greatly reduces the risk that your dog become caught on something while in the water. The Ruffwear Float Coat is well-made, comes in beautiful colors, and will fit a dog with a chest circumference of up to 42″.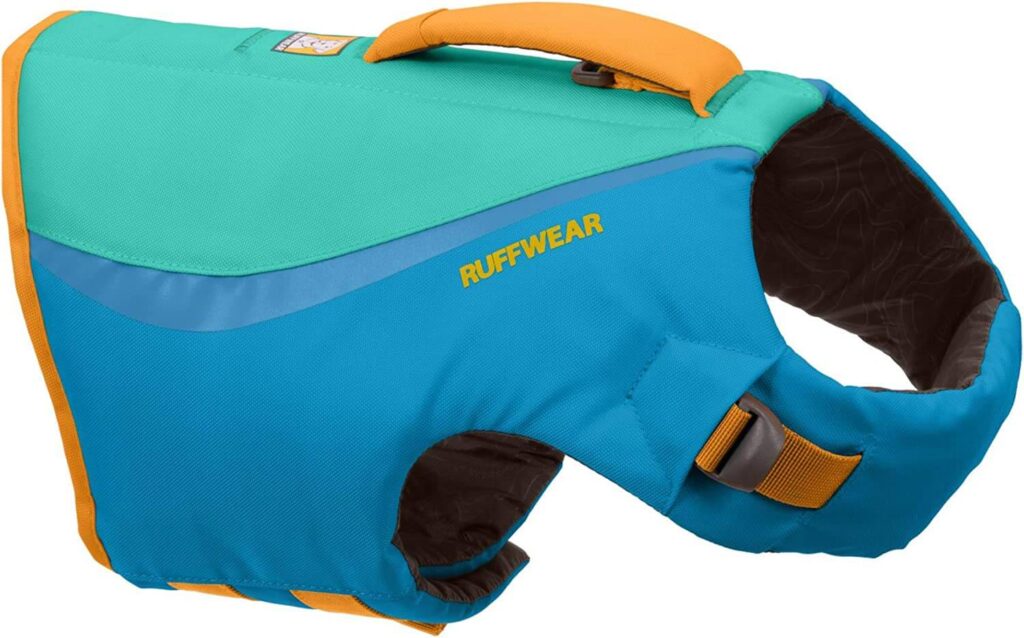 You can purchase a Ruffwear Float Coat for your Great Dane on Amazon HERE.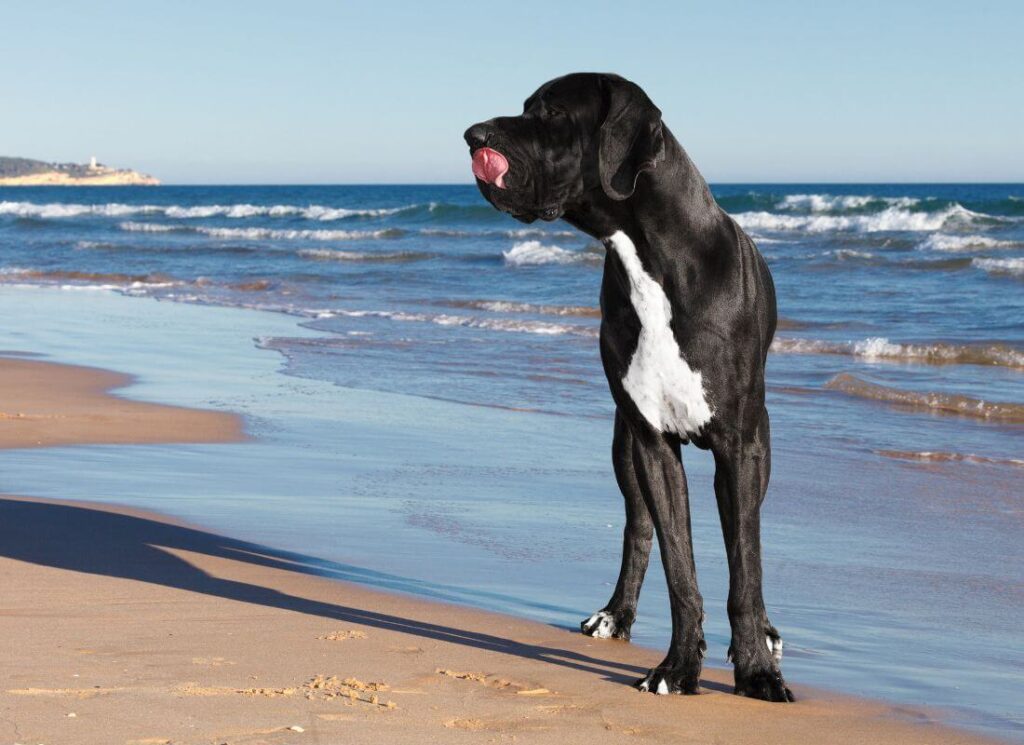 How to Make Sure a LifeJacket Fits a Dog
Once you've found a life jacket for your dog that you love, it's important to make sure that the fit is correct.
If you are at the tail end of the straps and the jacket is snug, find a bigger jacket.
If you cinch the straps all the way down and the jacket is loose, go down a size.
An ill-fitting life jack is dangerous; it is important that the jacket fits nicely on your dogs body, is comfortable for them to wear, and doesn't ride up if they are floating in the water. Go for a snug but comfortable fit (don't cut off circulation, please).
We recommend checking buckles and fit often, and adjusting as needed throughout the day. At no point should the jacket be so loose that it wiggles around as the dog moves; this can cause rubbing or chafing and will not support your dog in the water, either.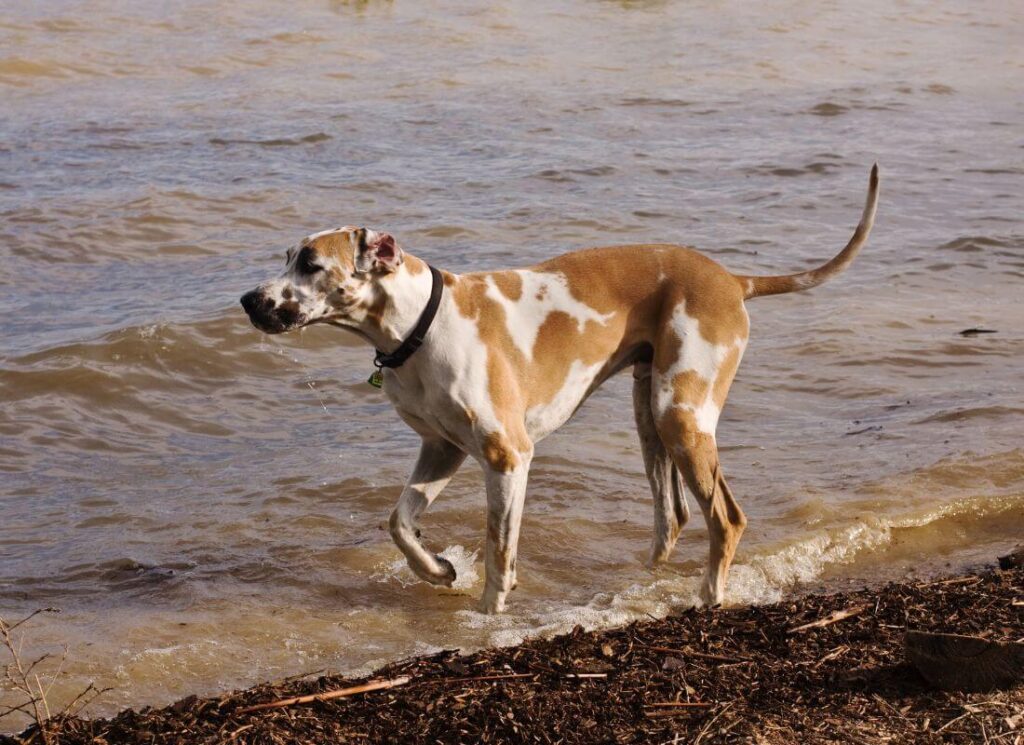 Do Great Danes Like Water?
Yes!
Many Great Danes actually love the water, choosing to splash, splay, and even swim in it.
In general, positive exposure to water in puppyhood goes a long ways towards building confidence in lakes and oceans. Something as simple as a small kiddle pool in your backyard can be used to help your puppy develop an early love for having their paws and fur wet!

Great Dane sized Kiddie Pool, see it on Amazon HERE
(If you put a small pool in your backyard, please supervise your dogs and kids!)
You might enjoy this paddleboarding Great Dane on Tik Tok, or watch Great Danes participate in the fun and exciting sport of dock diving!
How to Keep Your Great Dane Safe in the Water
Spending the day at the lake or the ocean should be fun and safe, not stressful and dangerous!
If your dog is new to swimming, stay by their side and be encouraging!
For pet owners who want to take their Great Dane paddle boarding or on a boat, a little advanced preparation is recommended!
Please check the weight limits if your paddleboard, boat, or kayak before loading yourself, your Dane, and all your gear on board.
Introduce the watercraft early! Ideally, your dog will have interacted with these things as a puppy. If not, that's ok, it's never too late!
For dogs of all ages, you can put your personal watercraft (paddle board, etc.) on the lawn and play games getting on and off. Make this a positive experience and then repeat it again on the shore before going on the water.
For large boats, the same thing applies! Introduce getting on and off, and make it a positive experience.
Once you are on the water, make sure your dog is in their life jacket and ideally off-leash with a modern sport e-collar (long lines can be dangerous in this situation, but check your local leash laws as well, and NEVER let a dog off leash that doesn't have perfect recall)
Take it easy and have fun! If your dog is shaking, panting, drooling, or panicking, it's not a safe activity.
Paddle boarding with a dog or spending the day on the lake in a boat is a fun activity, but do not do it if your dog really doesn't like it!
I participate in water sports with my dogs and it makes me so sad to see how many dogs on the water are flat out terrified to be there. Many dog owners seem oblivious to it, unfortunately. Cue into your dogs body language; it's ok to encourage them to face their fears a little bit, but if they are tense or freaking out? It's time for a change in plans.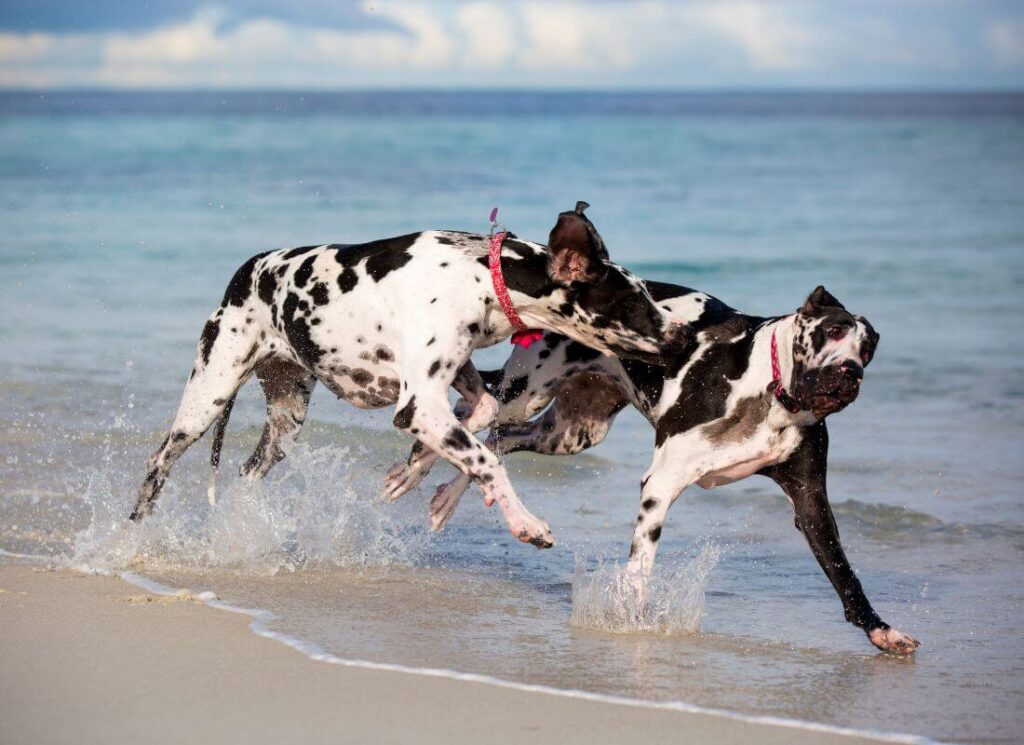 Water Ingestion & Inhalation in Dogs Swimming
Another danger to watch out for in the water is excess consumption or inhalation of water, dirt, and mud.
Not only can your dog pick up parasites this way, but they are at risk of a belly ache or worse, getting water in their lungs.
Inhaling water is dangerous to your dog and it can result from gulping, guzzling, or struggling in the water in some way. If your dog has any kind of near drowning event, we recommend seeing a veterinarian ASAP.
Near drowning can happen to even the strongest of swimmers! In the ocean, the current can easily sweep them away. Some dogs don't realize their limit and end up to far out in the water but become too tired to swim back.
Just like humans, a dog that is struggling in the water may appear to be 'climbing a ladder'. A dog in this situation needs immediate rescue and help, even if they are wearing a lifejacket!
Monitor your dogs activity in and around the water, and make sure they are not gulping, guzzling, or inhaling too much.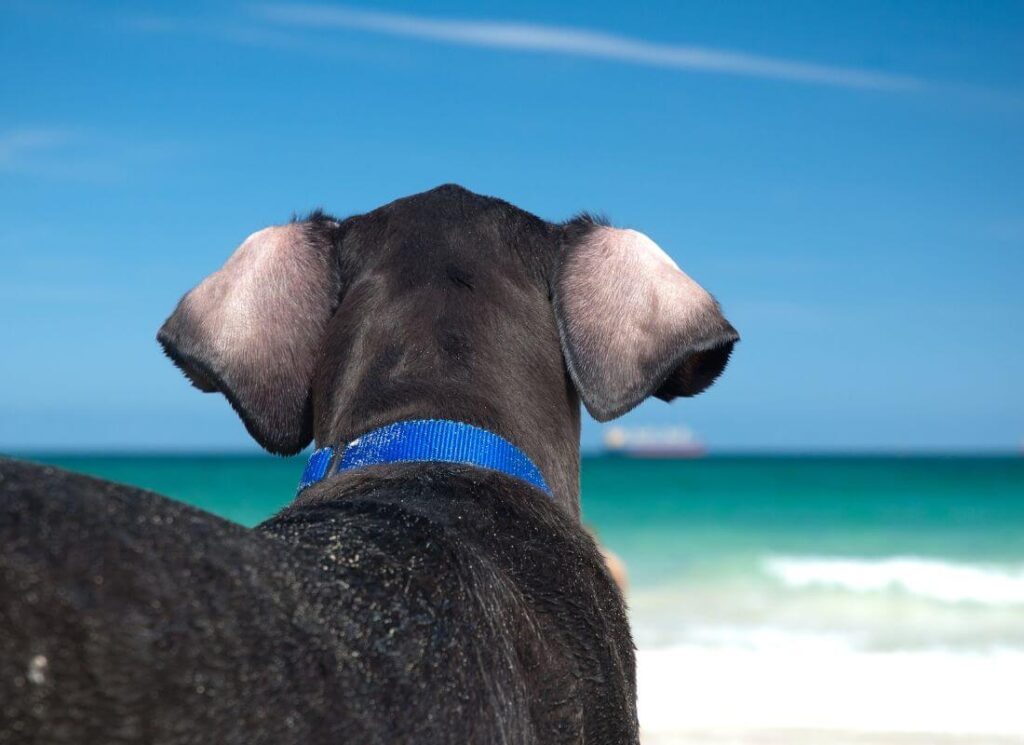 Blue-Green Algae: Dangerous Water
During warm summer months, blue green algae blooms on stagnant lakes and ponds.
Blue-green algae is extremely toxic and kills many dogs each year after they spend an afternoon swimming.
Symptoms of blue-green algae exposure in dogs include:
Panting
Drooling
Vomiting
Diarrhea
Seizures
Respiratory Distress
Acting disoriented or wobbly
These symptoms or any known exposure to toxic algae in the water require immediate veterinary care. Left untreated, many dogs experience liver failure and death quickly.
The unfortunate thing about blue-green algae is that at times, it may not be visible. Spores from a nearby (visible) bloom can travel into clean waters. Thankfully, the worst waters typically have active and visible blue-green blooms that warn you to stay away.
It is very important when taking your dog swimming during the summer that you only engage in known safe waters and waters that are regularly tested for algae by your local wildlife and conservation officials. Never swim or engage in water activities where you see an active bloom nearby, and monitor reports from your States park systems and other dog owners.
Here is an exceptional article on how to spot toxic blooms. It shows photos so you can see the difference between a very typical non-toxic green algae and plants, and the dangerous blue-green film and signs of dangerous water (including smells) to watch for.
Not only is blue-green algae a danger, but there are all kinds of parasites that want to feed off your pet. They are easily picked up in wooded natural areas and near water, so learn how to protect your pet from parasites HERE.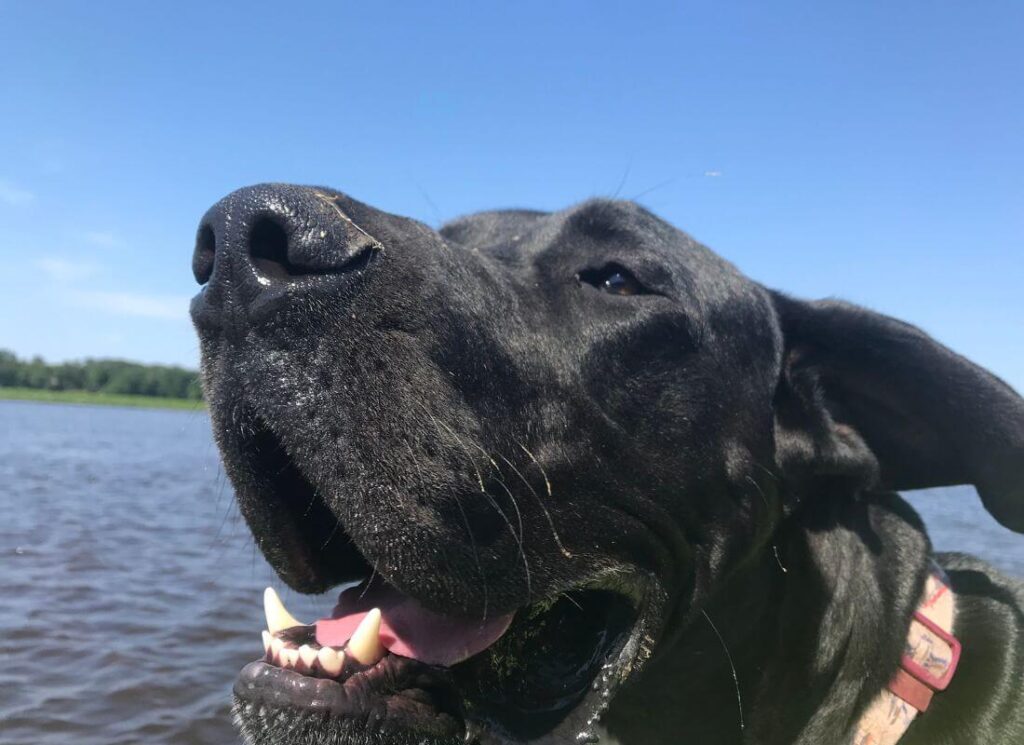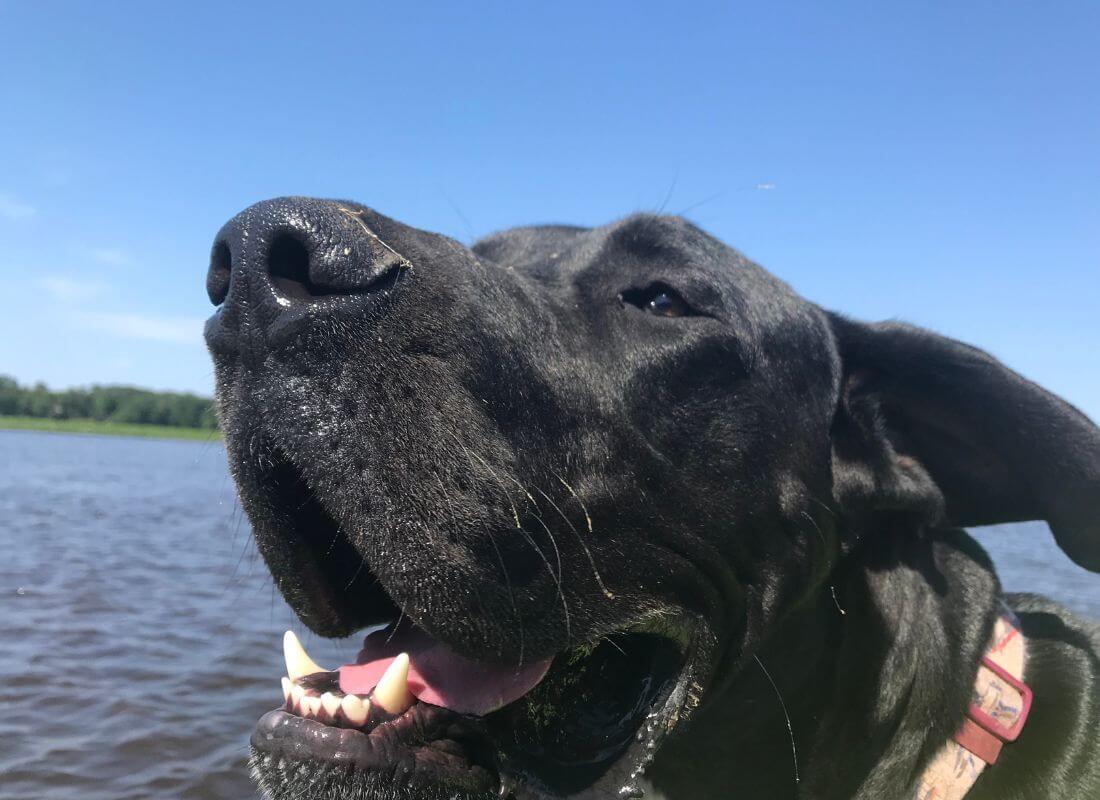 Off-Leash Training for Great Danes
I mentioned this above, but it's important to remember that long lines can be dangerous for dogs while they are swimming or trying to play and run freely.
However, being off-leash is dangerous (and in some places illegal) if your dog is not both well trained AND has a backup device such as a modern e-collar.
Any Great Dane that is out in public near other people or dogs needs to be well trained, especially if they are to be off-leash.
We recommend e-collar training, which is a modern, gentle way to replace the long leash and give your dog more freedom.
Proper e-collar training starts with a lot of positive reinforcement and requires that you purchase a quality electric dog collar, not a cheap shock collar from Amazon. Shock collars are not appropriate for Great Danes and are considered inhumane.
E-Collars don't use shock, they use muscle stimulation (a tactile sensation like touch) which, with training, your dog learns to associate with certain behaviors. This allows you to communicate from afar and keep your dog safe in the water, too.
Interested in learning more about modern positive off-leash training? Our popular E-Collar guide is 80 pages with illustrations for $19.99, and will get you started.