Why is your dog licking lips and swallowing? There might be a reason for the excessive licking and swallowing behavior.
"My dog keeps swallowing like something is stuck in her throat…"
A dog swallowing continuously is not normal behavior, so if you notice constant swallowing or constant licking, it is definitely something to pay attention to.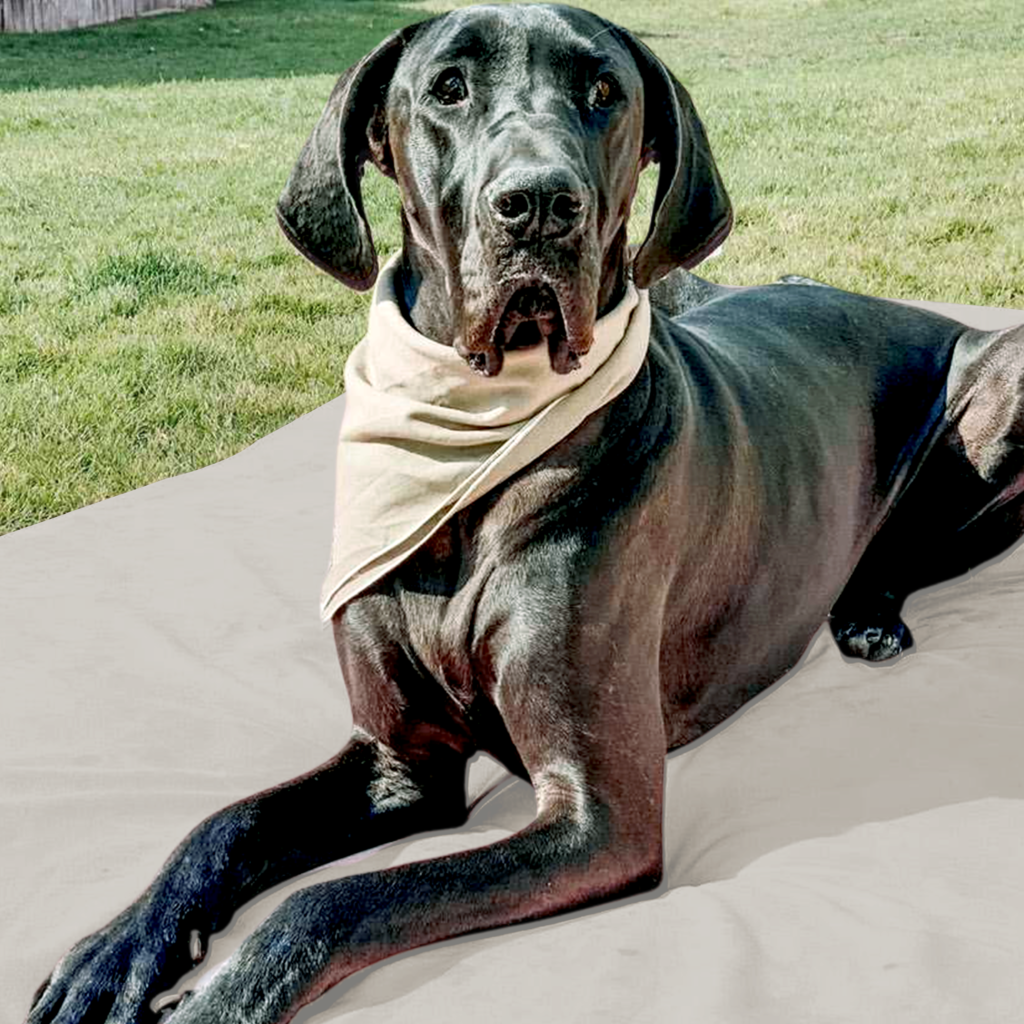 WHY IS YOUR DOG LICKING LIPS AND SWALLOWING?
If you are seeing licking and swallowing in your dog's behavior, there could be a few different causes.
"I hear my dog smacking lips in middle of night and I don't know why! Why is my dog swallowing repeatedly?!"
Dogs lick or smack for a variety of reasons, including the following:
Dental disease / Dental problems
Oral ulcers / inflamed gums
Oral infections / infected teeth
DENTAL DISEASE OR DENTAL ISSUES MAY CAUSE LICKING LIPS AND SWALLOWING

Some forms of dental disease can cause dog swallowing or dog's licking.

ORAL ULCERS

Sometimes, oral ulcers create abnormal behavior in the way dogs tend to continuously lick because it feels good. The act of licking can help to soothe the pain associated with the ulcer.

ORAL INFECTIONS

Another reason for a dog's swallowing may be due to an oral infection, which can cause inflammation and pain. If your dog is pawing at his face or head, this could be a sign that the dog's mouth and salivary glands need evaluated.

THE SALIVARY GLANDS

In many issues of a dog swallowing or when he keeps licking his lips, it is due to the salivary glands . These are the glands that produce saliva, and if they are not functioning properly, it can lead to a buildup of plaque and tartar on the teeth. It can also create an environment where bacteria can grow, leading to gingivitis or periodontal disease.

Excessive saliva can be caused by a variety of dental disease, so if your dog starts to constantly lick or swallow repeatedly, it may be time for a dental exam.

DIGESTIVE ISSUES IN YOUR DOG

Sometimes, dog owners notice that if their dog has an upset tummy, their dog licks their lips frequently, has excess saliva, and is continuously swallowing.

ACID REFLUX IN YOUR DOG

Licking and swallowing due to an upset stomach is typically because of acid reflux, amongst other symptoms.

When a dog has a sick stomach, it is possible that they are experiencing acid reflux.

Acid reflux can make a dog have trouble swallowing, and can result in the dog licking his lips continuously.

WHAT CAUSES REFLUX?

Some dogs are more prone to reflux, through genetics and breeding. A dog's behavior is also indicitive of reflux, as anxiety can be a contributing factor of whether your dog experiences gut health issues.

A dog might also experience reflux if they are given a poor diet, if the dog eats grass to excess, or if the dog eats too fast or if the dog swallowed something he was not meant to. Keep in mind dogs consume grass for a variety of reasons, so a dog licking lips and drinking lots of water or eating grass does not necessarily mean acid reflux.

SYMPTOMS ASSOCIATED WITH REFLUX

Other symptoms that may be associated with your dog's acid reflux include:

Vomiting
Burping
Gurgling noises from the stomach
Hiccups
Regurgitation of food or liquid
Poor appetite
Licking and swallowing
Continuous swallowing
Dog keeps licking his lips

CHOOSING THE RIGHT DOG FOOD

Dogs, like all living things, need to be on the right diet. Lip licking and continuous swallowing could be a sign that the dog food you are feeding is not right for them.

Check out our list of food we recommend for large dogs.

SHOULD YOU USE A BLAND DIET FOR YOUR DOG WHO IS LICKING AND SWALLOWING?

Most of the causes of a dog licking his lips or continually swallowing can be fixed or resolved by fasting the dog for several hours or giving them a simple diet.

By providing them with something that is soft on the stomach, the dog may be able to resolve the digestion issues on its own.

If the dog keeps licking and swallowing, there may be an underlying medical problem that needs addressed.

FOREIGN OBJECTS / FOREIGN BODY IN A DOG

A dog swallowing an item that he cannot digest is one of the most dangerous issues that pet parents face. An obstruction can take place in any dog, causing major health problems and, in some cases, death.

A foreign object that your dog ingests can cause a blockage in the intestines, or it can puncture the stomach or intestine. If not caught in time, this can be a fatal condition for your dog.

If you think that your dog has swallowed a foreign object, they should be taken to the veterinarian immediately.

DOG BONES GETTING STUCK IN A DOGS STOMACH

Not all bones are safe for a dog to consume.

With excessive licking, your dog could be uncomfortable and have a bone stuck somewhere in their throat.

Open up your dog's mouth and make sure nothing is stuck immediately in the throat of your dog.

Then, if they continue licking and swallowing and you think they may have consumed a bone, it is best to seek professional medical help right away.

EXAMINING A DOG'S GUMS

A dogs gums are a great indicator of their health.

If your dog is licking and swallowing, but otherwise demonstrating normal behavior, then dog parents should look at their gums to check the color.

A dogs gums should always be a healthy pink color. If the gums are pale, white, or blue, this is a sign of an underlying health condition and the dog should be seen by a veterinarian immediately.

If your dog's gums are red and inflamed, this could be a sign of gingivitis or another oral health issue.

A simple check inside of your dog's mouth can help to give indicators to pet parents as to whether or not their dog is healthy.

KIDNEY DISEASE: CHECKING FOR DEHYDRATION IN A DOG

Another sign that a dog may be unwell is kidney disease.

Your dog uses it's kidneys for filtering blood and removing toxins from their bodies.

If your dog is licking and swallowing more than usual, they may be dehydrated.

To check for dehydration, lift up the skin on the back of your dog's neck. The skin should snap back into place immediately. If the skin tent stays up, this is a sign of dehydration and could be a reason that your dog constantly licks.

Kidney issues in dogs needs to be treated by a professional, and blood tests should be ran.

HOT WEATHER

Sometimes, pet owners will notice their dog keeps licking and swallowing, but there is no medical reason for it.

In these cases, it is likely that the dog is just thirsty and trying to cool down their body temperature.

Dogs do not sweat like humans do, so they need to lick to help keep them cool.

If your dog is outside in the heat, make sure to provide them with fresh, cool water to drink and a shady spot to rest.

Dogs can overheat quickly, so it is important to keep an eye on them during hot weather.

HORSE FLIES

Believe it or not, lip licking and continuous swallowing can be caused by dogs being pestered by horseflies.

Horseflies are attracted to the moisture on a dog's tongue and lips, and they will land there and bite. This can cause your dog to lick their lips excessively in an attempt to get rid of the pests.

If you think horseflies might be the reason your dog keeps licking, try using a fly repellent on them.

NECK PAIN OR GENERALIZED PAIN

Dogs who are in pain might demonstrate behaviors such as constantly licking, excessive swallowing, eat grass more often than others, or might stop eating altogether.

If your dog is licking and swallowing more than usual, and you cannot find any other explanation, it is best to take them to the vet to rule out pain as a cause.

Dogs can not tell us when they are in pain, so it is important to be aware of any changes in behavior.

SUMMARY

There are many reasons why a dog would lick their lips or swallow excessively. Most of the time it is due to a digestive issue, but it is best to rule out all other potential causes of lip licking and excessive swallowing.

If you have dogs and notice that one dog keeps licking excessively or continuously swallowing, try working through this list of potential causes to see if you can find a reason. If all other potential causes have been ruled out and your dog is still licking excessively, it is best to take them to the vet to rule out any underlying health conditions.

READ MORE:
Why Is My Puppy Being Aggressive?
Why is Leash Training Dogs So Dang Hard? 8 Things I Learned About Leash Training
SUPPLEMENTS FOR GREAT DANES