Puppy knuckling is when a puppy's feet appear crooked or bowed out (when they shouldn't)! There are many great resources online for fixing puppy knuckling, and the information can be overwhelming.

So rather than boring you with science and research data, I'm going to lay this out in a quick-start guide-type format.

If you have a large or giant breed puppy, such as a Great Dane, that is showing signs of puppy knuckling, read on.
Signs of Puppy Knuckling
Your puppy may be knuckling if you see the following signs:
Flat or weak feet
Turned out feet (which may also be genetic)
An ankle that bows over the foot
Ankles that shake or roll over the foot on soft surfaces
Feet and limbs that just don't look right
In the image below, you will see three puppies that are experiencing knuckling, from severe to mild. Mild knuckling in puppies can become severe or even permanent if left untreated.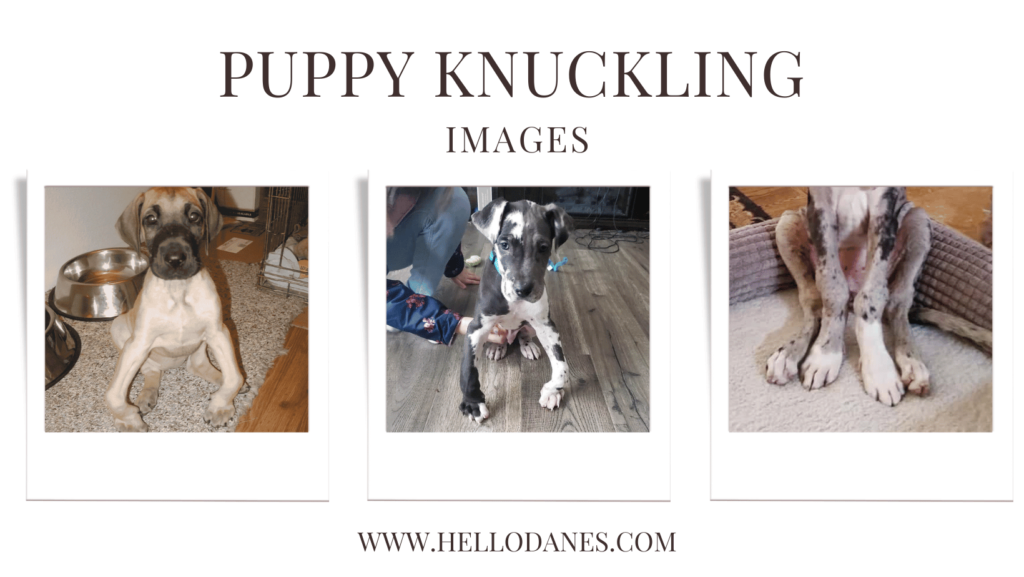 How to Treat Puppy Knuckling
Here is our easy 3-step guide for treating puppy knuckling!
STEP ONE – SEE YOUR VETERINARIAN
STEP TWO – CHANGE YOUR FOOD
STEP THREE – CHANGE YOUR ROUTINE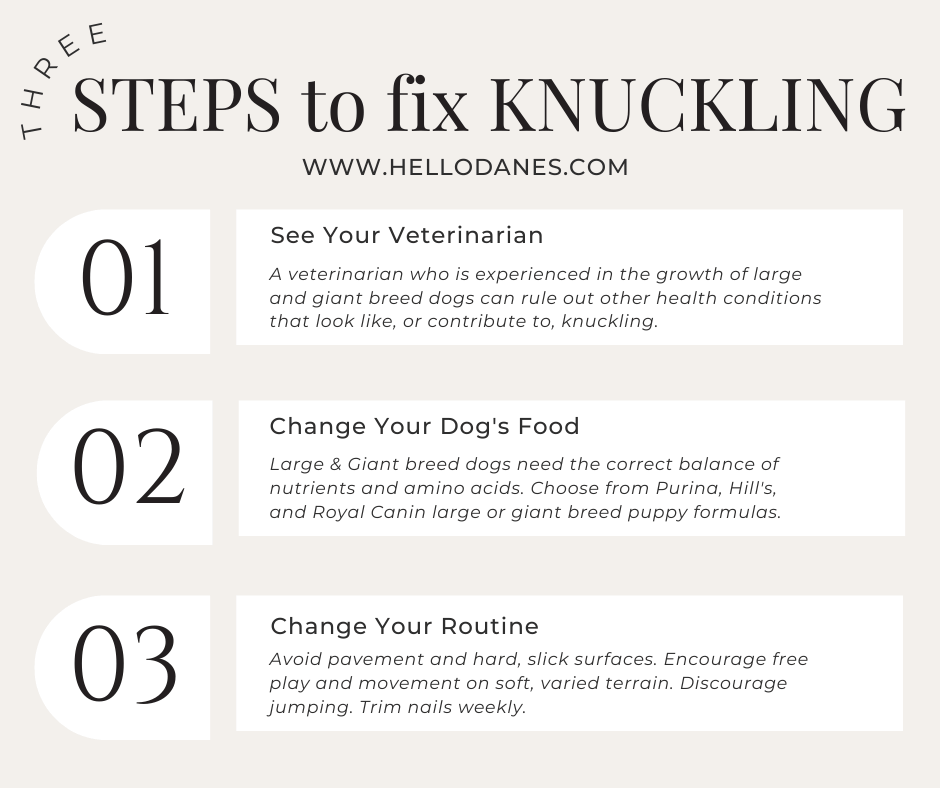 Step One – See Your Veterinarian
Veterinarians go to school for many years to learn about companion animal health and wellness. They see 100's of dogs each week in a clinical setting and will know a lot more about the current science and research than any other resource you may find.

Many veterinarians are highly experienced in large and giant breed dogs and will give you the best advice.

Not only that, but if your puppy has crooked feet, it's important for your veterinarian to rule out other health conditions that may be similar, or that may be contributing to growth disorders in your puppy:
HOD
Injury
Genetic Defects
Malnutrition
Parasites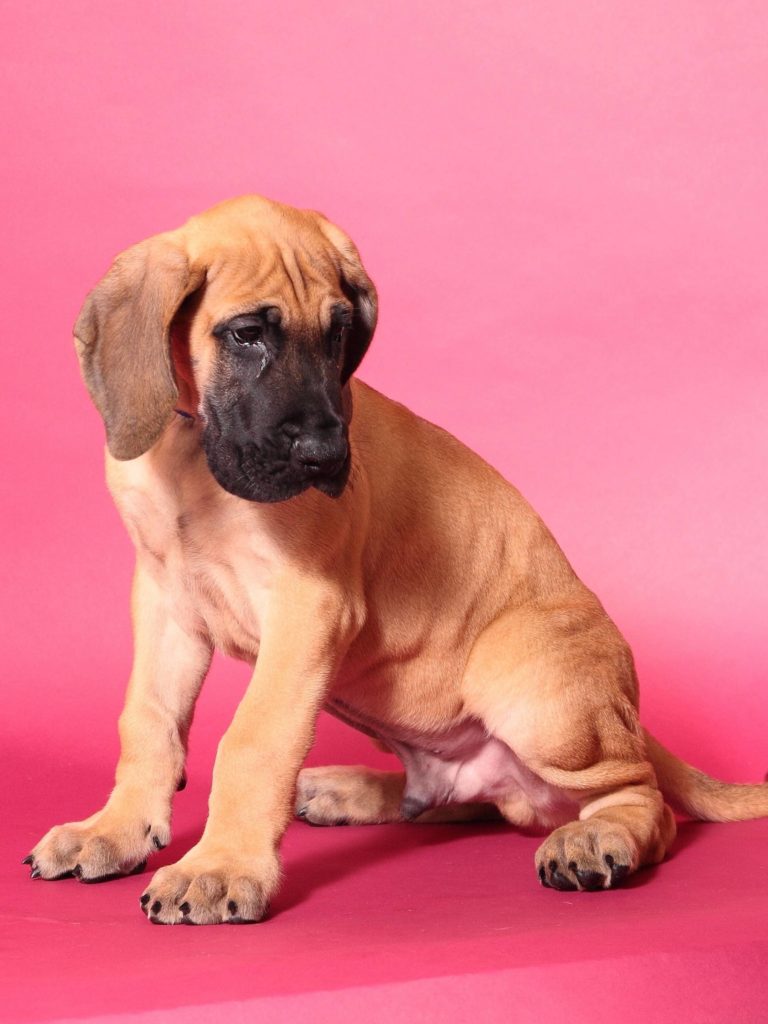 Step Two – Change Your Dog's Food
Forget everything you hear in breed groups and from pet owners. An alarming amount of it is based on anecdotes, profit-driven marketing, and other nonsense. The correctly balanced puppy foods (listed below) are necessary to fix growth disorders.
Switch foods quickly. Do not add toppers or supplements, and keep training treats to a minimum. Getting your puppy onto 100% correctly balanced nutrition is going to be a key to success.
We dig deeper into the science with our posts linked below. But for the purpose of this quick-start guide, here is a list of dog food to feed a puppy that is knuckling. All of these are readily available at Petsmart or on Chewy.com (which we've linked below for your convenience).
Check out THE GIANT DOG FOOD PROJECT where you can compare brands and values head to head.
Should Great Dane Puppies have Puppy Food or Adult Food?
DCM Heart Disease & Nutrition Update (2022)
Best Great Dane Puppy Foods 2022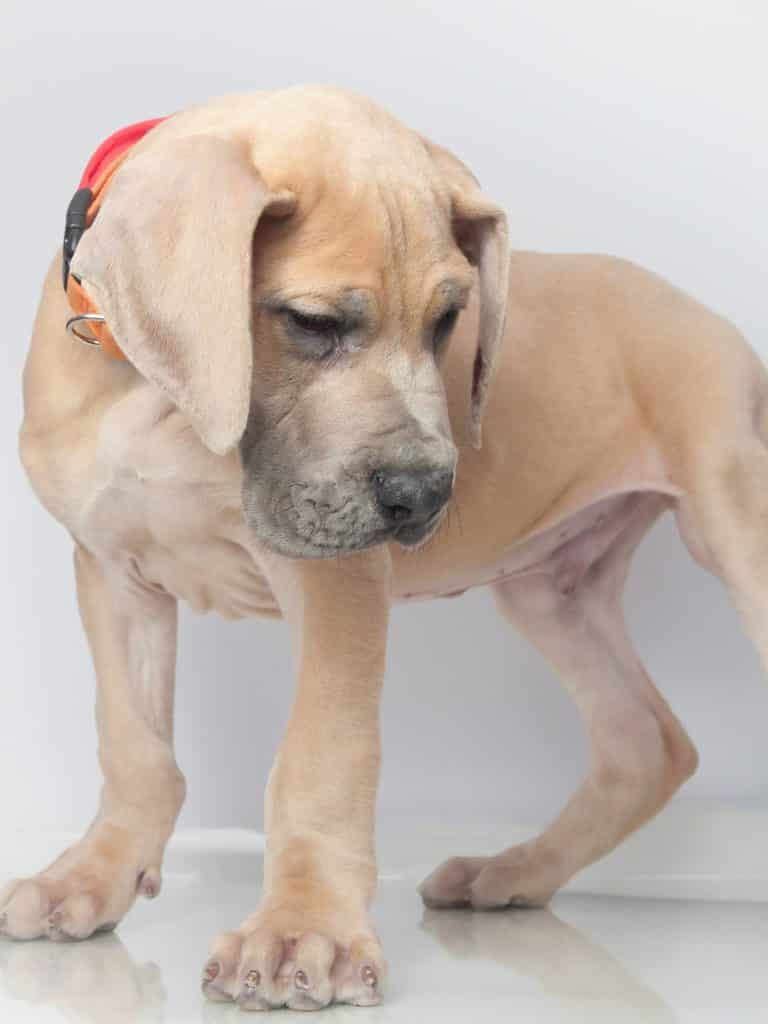 Step Three – Change Your Routine
Large and giant breed puppies have delicate joints. Protect the soft cartilage and help your puppy strengthen their feet by avoiding hard, slick surfaces and encouraging movement on soft, varied terrain.
Here are some movement and exercise ideas for puppies that are knuckling or that have flat feet:
Explore a natural area with small rolling hills
Play in sand or gravel
Stand on couch cushions and gym mats
Sit on a grassy lawn or at a park and watch the world go by (also great for socialization)
Put runners and mats down on slick floors in your home. Discourage your puppy from jumping.
Trim nails weekly. We recommend a DREMEL. Keeping the nails short will help protect the joints and keep unnecessary pressure off of the toes.