Happy New Year, Dane lovers! It's time to make our list of 2023 Resolutions and this year I'm calling it "Do Better for Danes". Here are 10 dog-inspired resolutions for all of us!
Pick one or pick them all, what resolutions do you have in 2023 to do better for your Dane?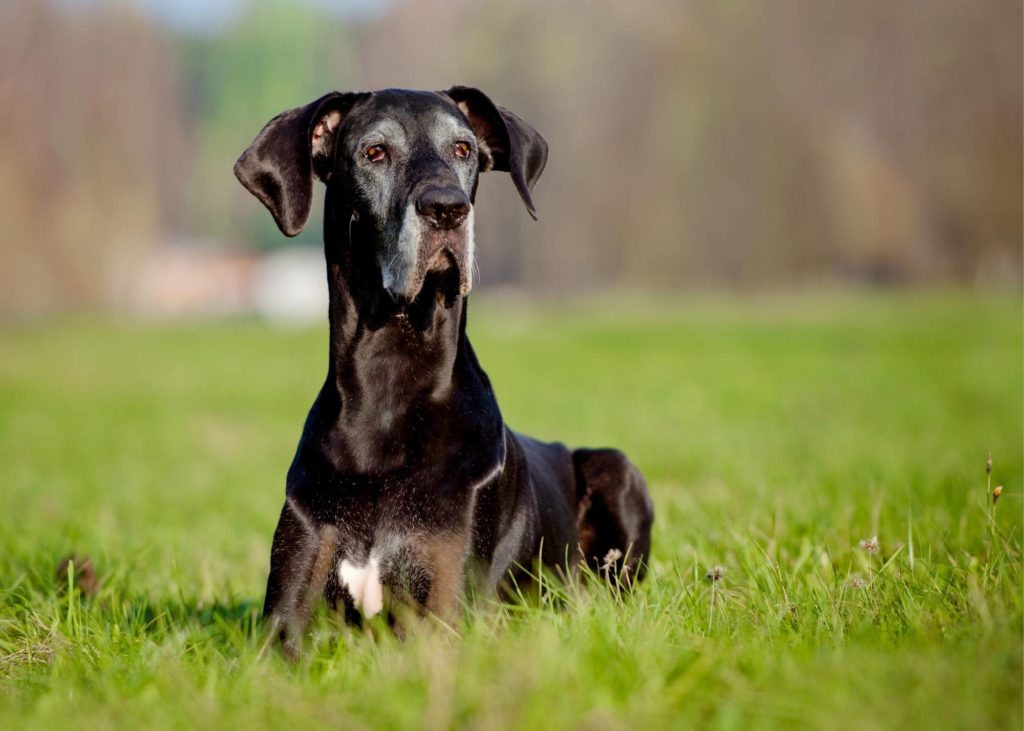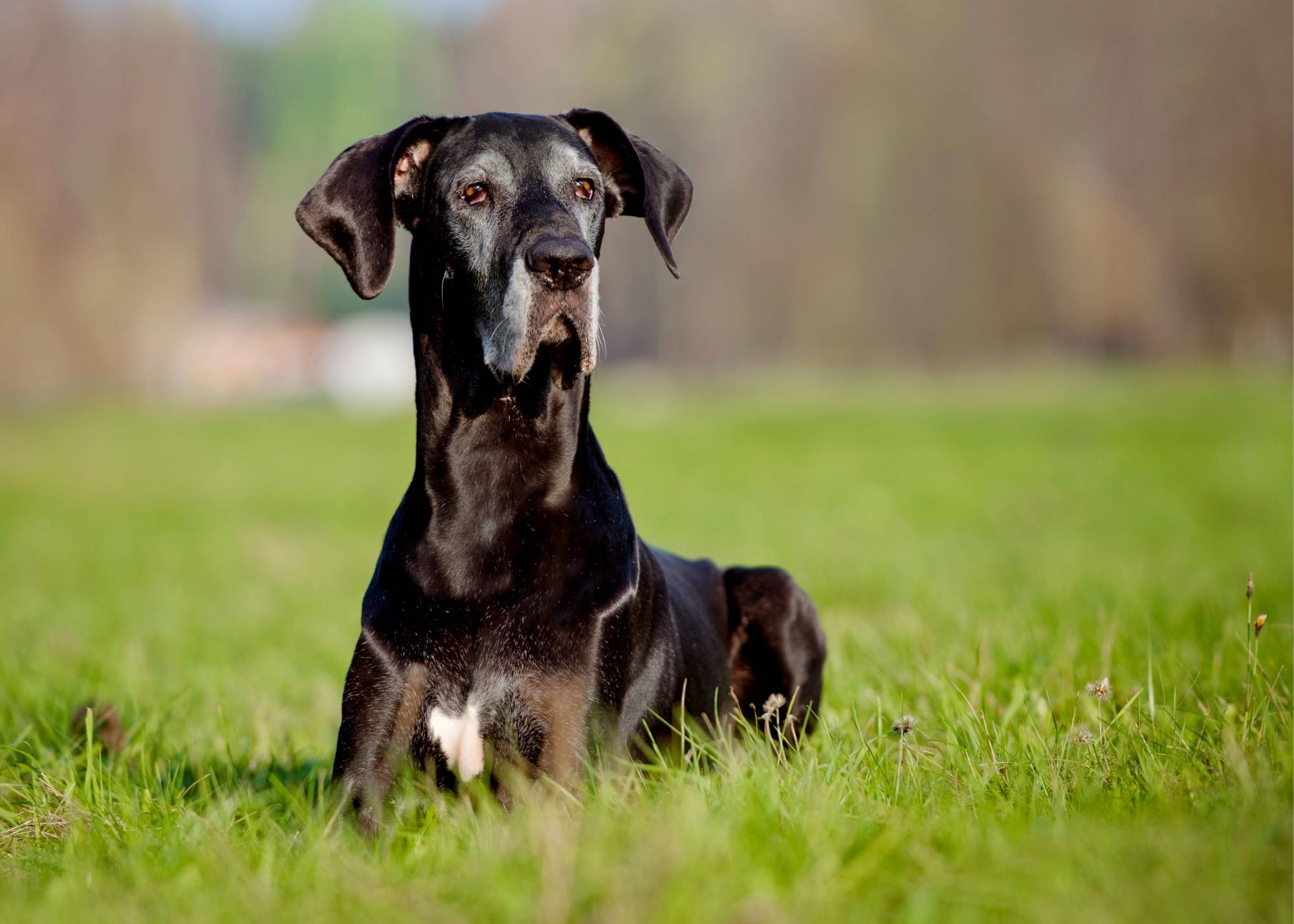 #1 – Sparkly, Healthy Gnashers!
Did you know that dental problems in dogs are not only incredibly painful, but they can lead to tooth loss, heart disease and infections, too?
With lots of positive reinforcement and yummy toothpaste, even the most resistant dog can learn to tolerate teeth brushing!
Read here to learn more about veterinary dental cleanings, which are the gold standard for dogs and a great place to get started if your dental maintenance is a little behind.
This article covers some of the best vet-recommended dog chews as well, which can be helpful for removing daily tartar and plaque build up.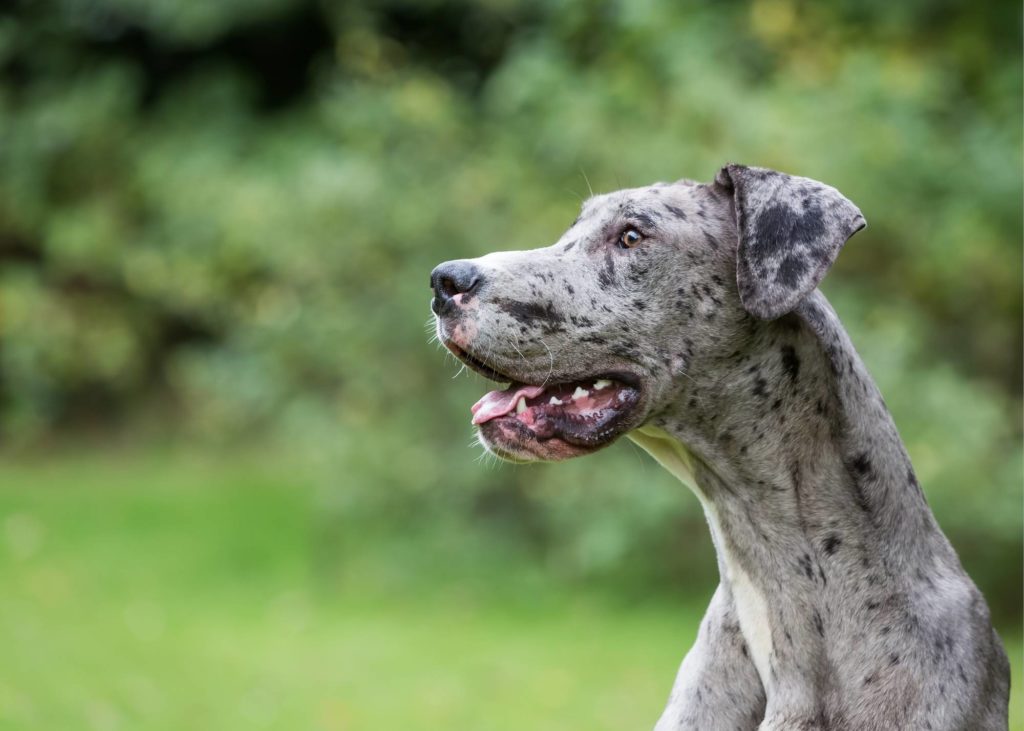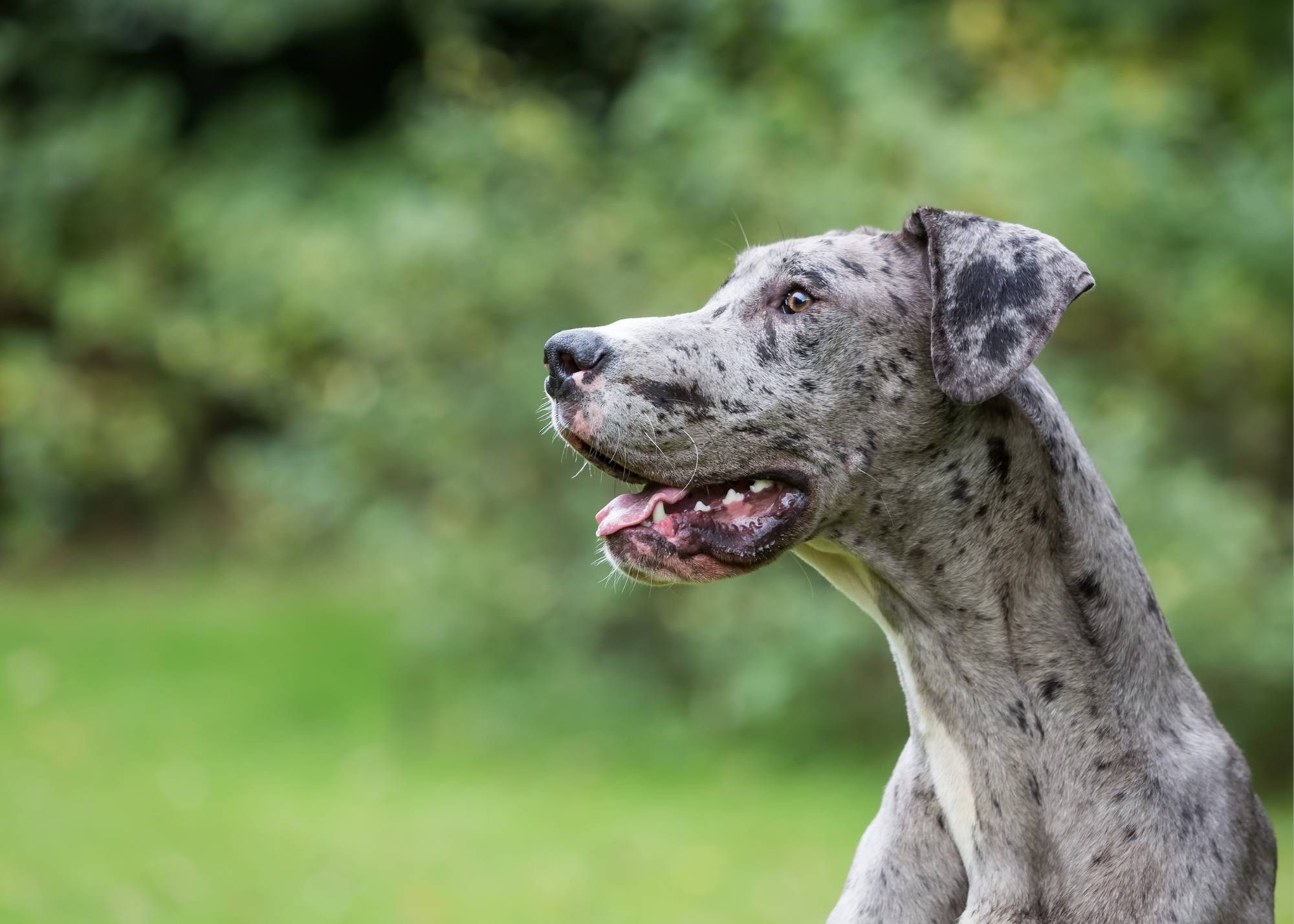 #2 – Time for a Pawdicure
Overgrown nails on Great Dane Dogs lead to pain, arthritis, joint damage, breakage, and changes to the way the dog moves and walks.
Of course, some dogs are incredibly resistant to this process. For those dogs, veterinary advice is a must. Daily positive interactions with nail trims (even if just seeing the nail tool in exchange for a treat) is a step in the right direction, too!
We prefer to keep our Danes nails short and round, the same style seen on show dogs. Short nails are written into the breed standard because they are best for orthopedic health.
For trimming Great Dane nails, we recommend a DREMEL tool and diamond or sanding bit.
Weekly nail trimming is the gold standard. Not there yet? Make this one of your top "Do Better for Danes" resolution this year.
Great Dane Puppy Nail Trimming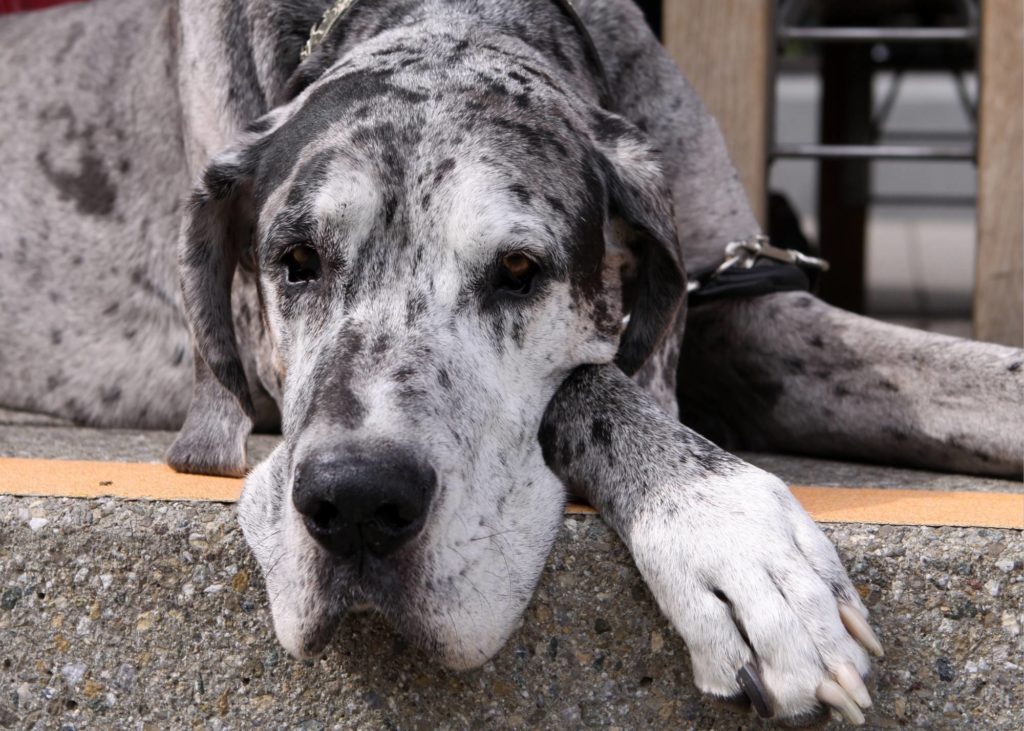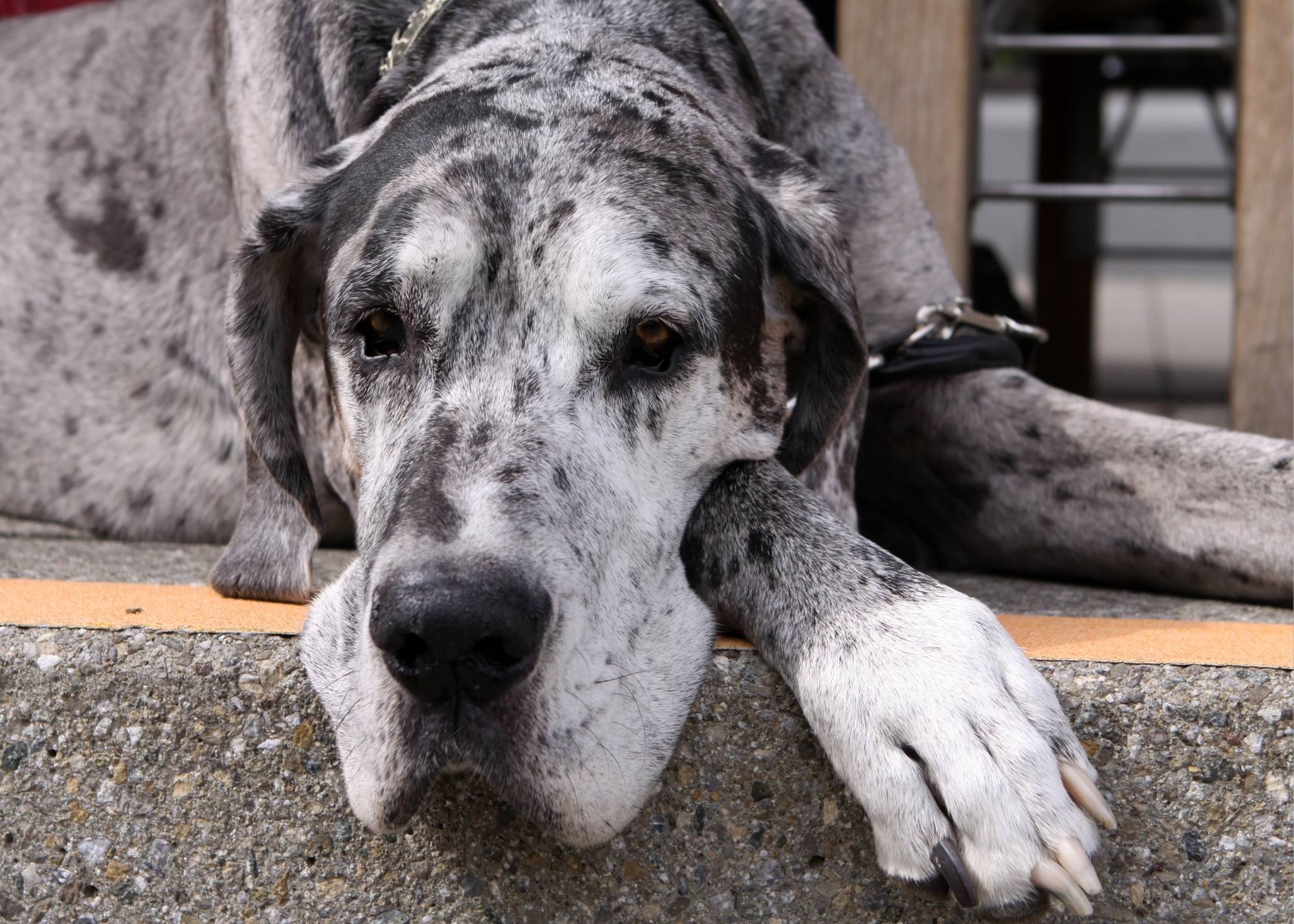 #3 – A Shiny Coat
Having a dull, dry, itchy coat is uncomfortable for your dog and may be a sign of other health problems, too.
Here are some top shiny-coat tips for your Great Dane:
Add fish oil during drier months
Top kibble with a scrambled egg a few times each week
Brush the coat daily with a Sleek EZ to remove dander, pollen, loose fur, and dry skin
Allow your dog to get dirty and play in the mud, too! Exposure to the environment helps build the immune system and allows their coat to do the job it was made to do.
If your dog has a dull coat and chronically itchy or problematic skin, it's time to see a veterinarian. They may be able to refer you to a veterinary nutritionist, internest, allergist, or dermatologist so you can get to the root of the issue.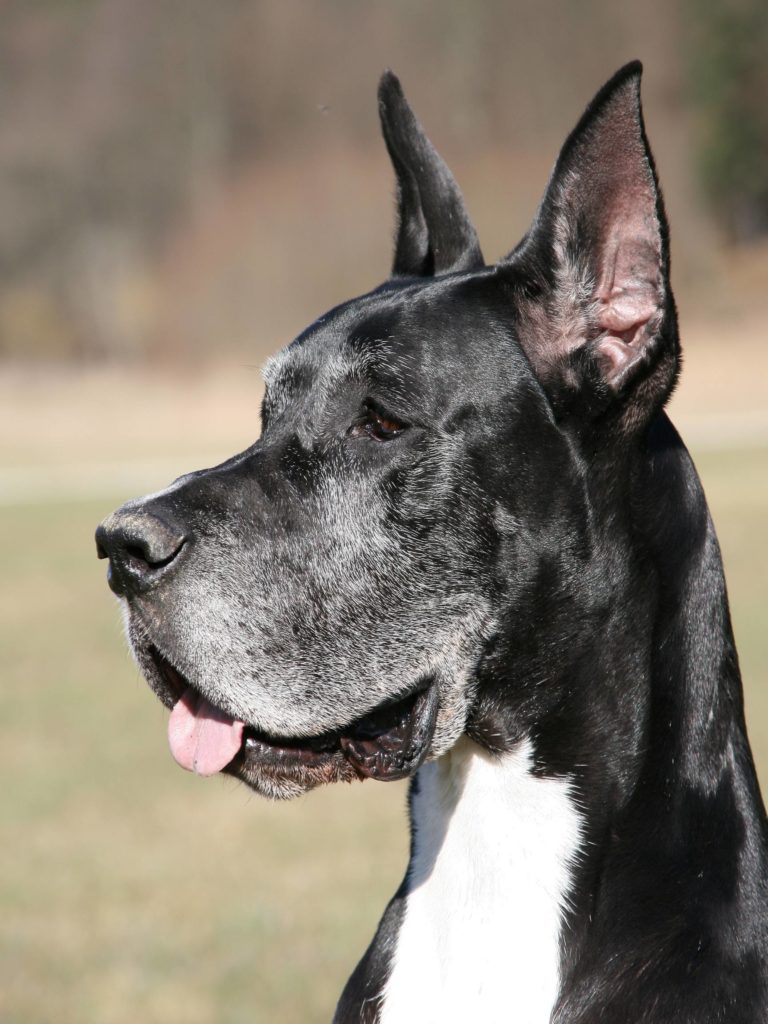 #4 – Healthy Weight
Of course, in humans "diet culture" and "weight loss resolutions" have become a toxic and dangerous space. For dogs, however, it's a different story.
Humans can be a size 18 or a size 2 and still be incredibly healthy either way. We are not dogs; we have different needs and a much different build. We also have much more control over the food we are fed.
Dogs unfortunately cannot control their diet.
It is never good to bulk up a Great Dane in the interest of making them heftier, bigger, or more robust. Great Danes are actually a lean, athletic breed and seeing a rib or two is not only normal, but desirable.
If your Great Dane needs to lose weight, talk to your veterinarian about a balanced weight-loss diet and appropriate exercise.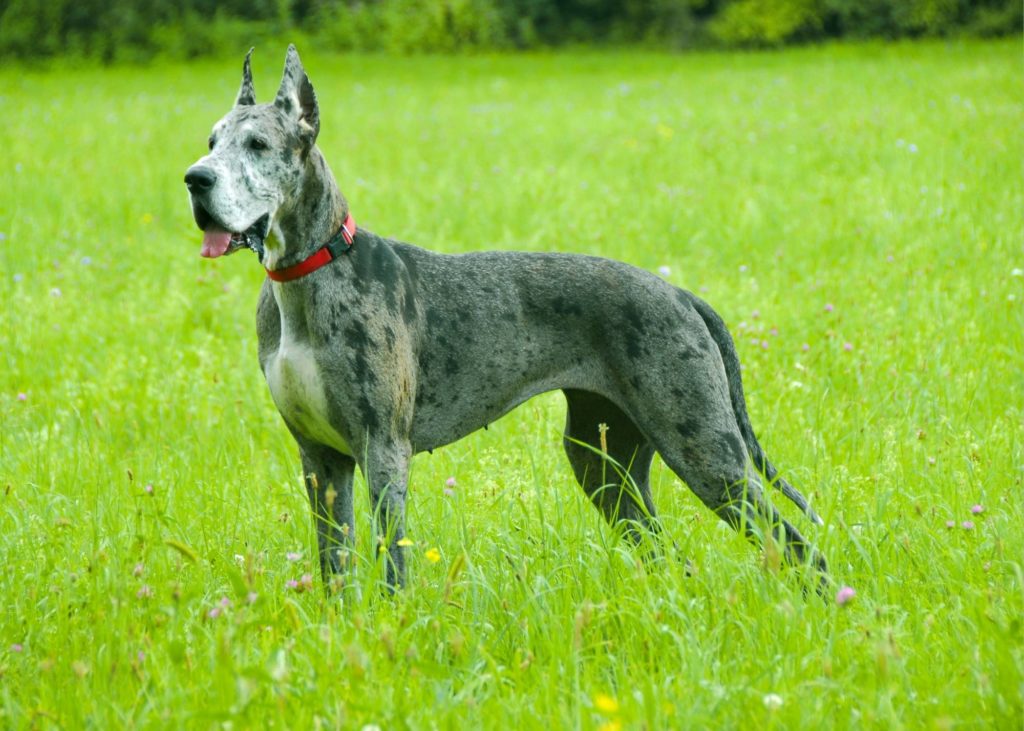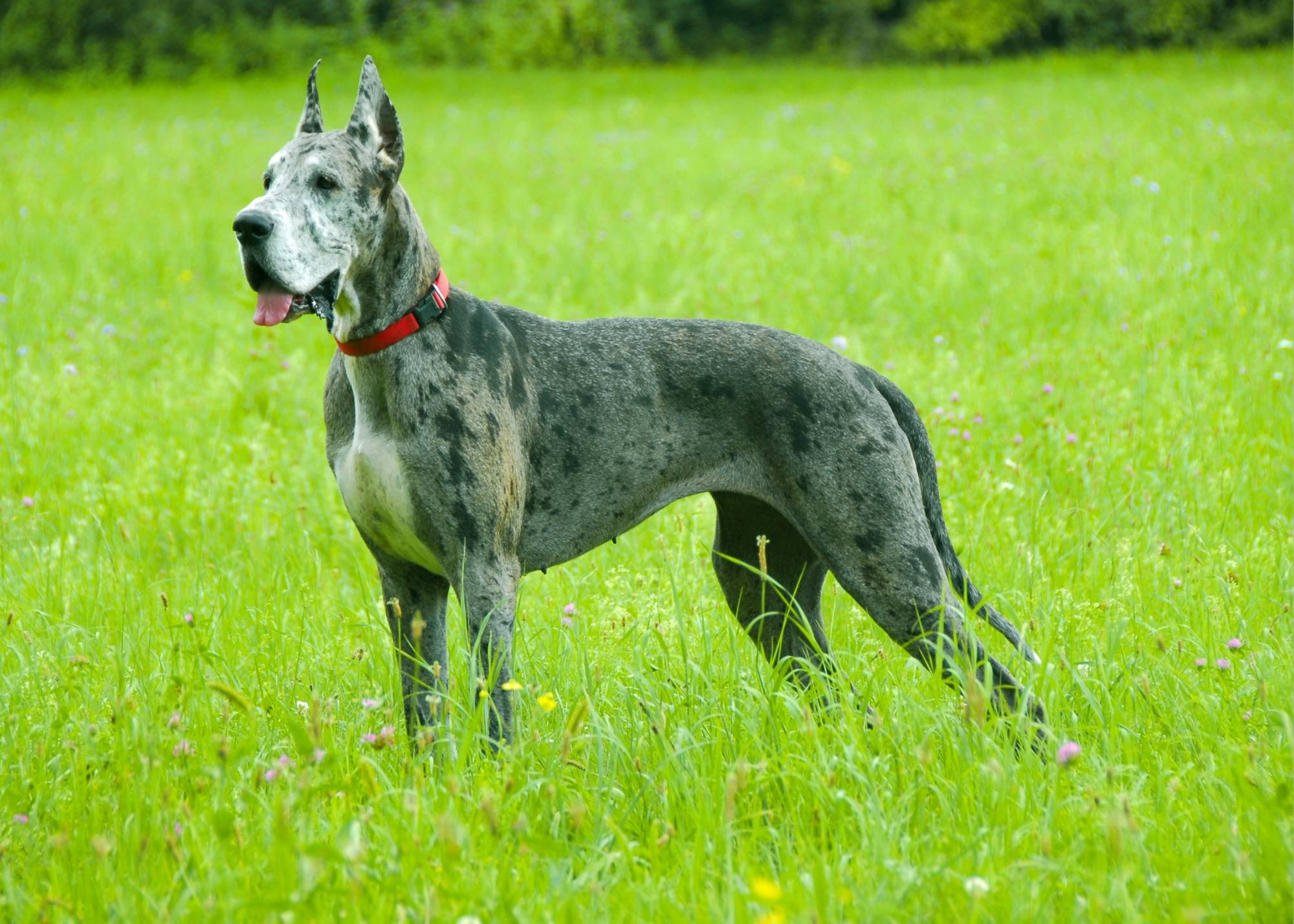 #5 – Boredom Busters
Did you know that many behavioral problems, including separation anxiety, are a direct result of boredom?
Destruction, whining, pacing, barking, laziness, and even reactivity can be brought on by, or worsened in dogs that are well…bored. Resolve this year to alleviate boredom in your dog. Give them the best life possible with natural enrichment opportunities.
Here is a list of things you can do to bust boredom in your dog (and better their social, obedience, and separation skills in the process!)
Feed meals from puzzle feeders, such as the Kong Wobbler
Fill your pocket with kibble or small treats (like these Ziwi Peak bites) and use them throughout the day to teach new skills and tricks such as stay, heel, spin, and look.
Trade a leashed pavement walk for a sniffari. Visit a park on a long leash or a safe off-leash space (assuming your dog is E-Collar trained) and let them sniff, explore, and move naturally.
Take a scent work class with a local dog trainer, or check out this scent work kit from Amazon and DIY at home.
Take intermediate and advanced obedience classes and obtain a Canine Good Citizen (CGC) title
Take a conformation handling class and learn how to show your dog (even if your dog cannot be shown, it's fun to learn).
Take rally, agility, or dock diving classes
Visit a cafe or pet-friendly store and work on your obedience skills and positive socialization
With proper exercise and socialization, many people are surprised to find that a lot of nuisance behaviors are greatly minimized, if not eliminated. Enrichment is fun and a great opportunity to bond with your dog, too!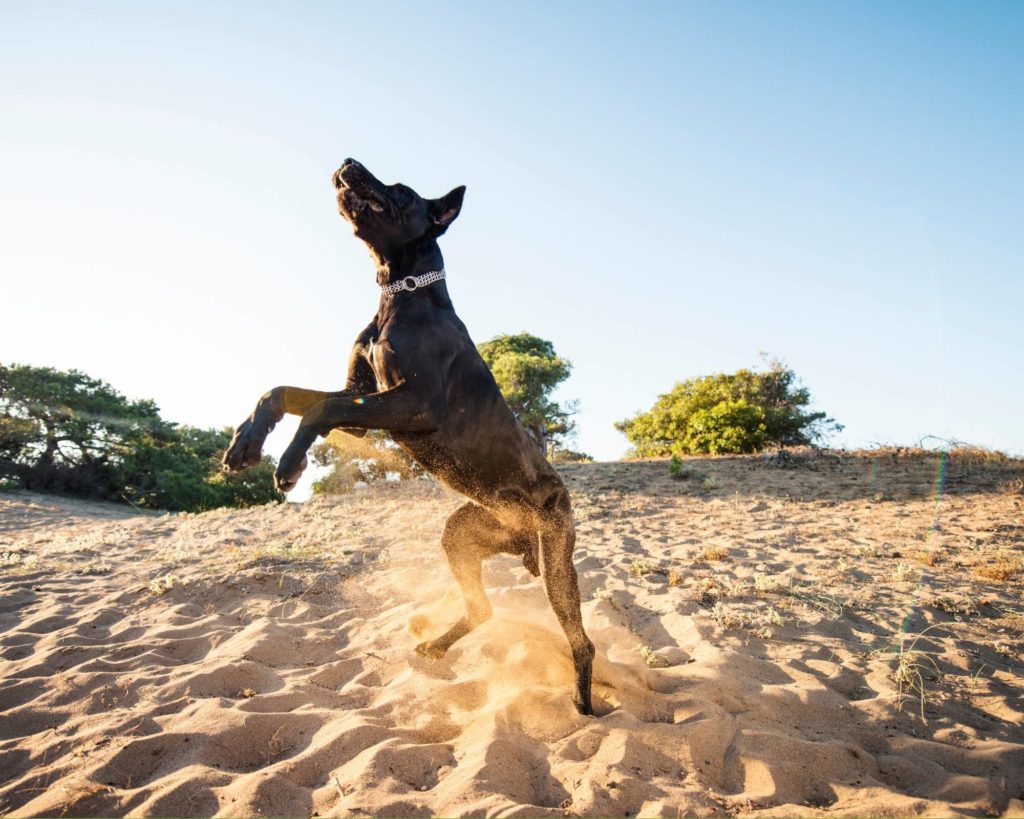 #6 – Get Off-Leash, Finally!
We believe that Danes should be off-leash as much as possible.
Their giant bodies and joints are susceptible to damage which can be made worse by the restrictions and pressure from harnesses, head collars, and collars…especially if they lunge or pull a lot!
Of course, teaching a solid loose-leash walk is 100% necessary. However, when possible, Danes should be allowed to move as naturally and freely as much as they can.
If your Great Dane will come when called from 10-20 feet away in a low distraction environment, your Dane can be E-Collar trained and reliably off-leash within weeks.
Interested in learning more? We have a ton of resources on this topic.
Buy an E-Collar for your Great Dane HERE
Learn how to E-Collar train your Great Dane HERE
5 Reasons to E-Collar Train your Great Dane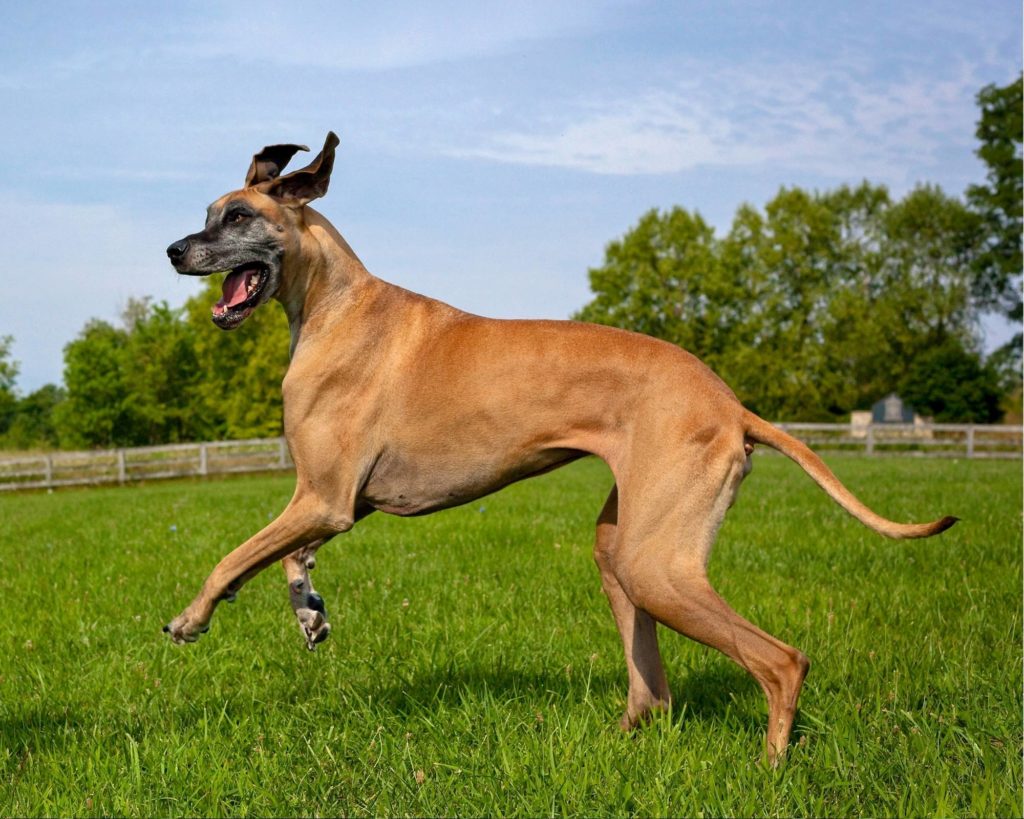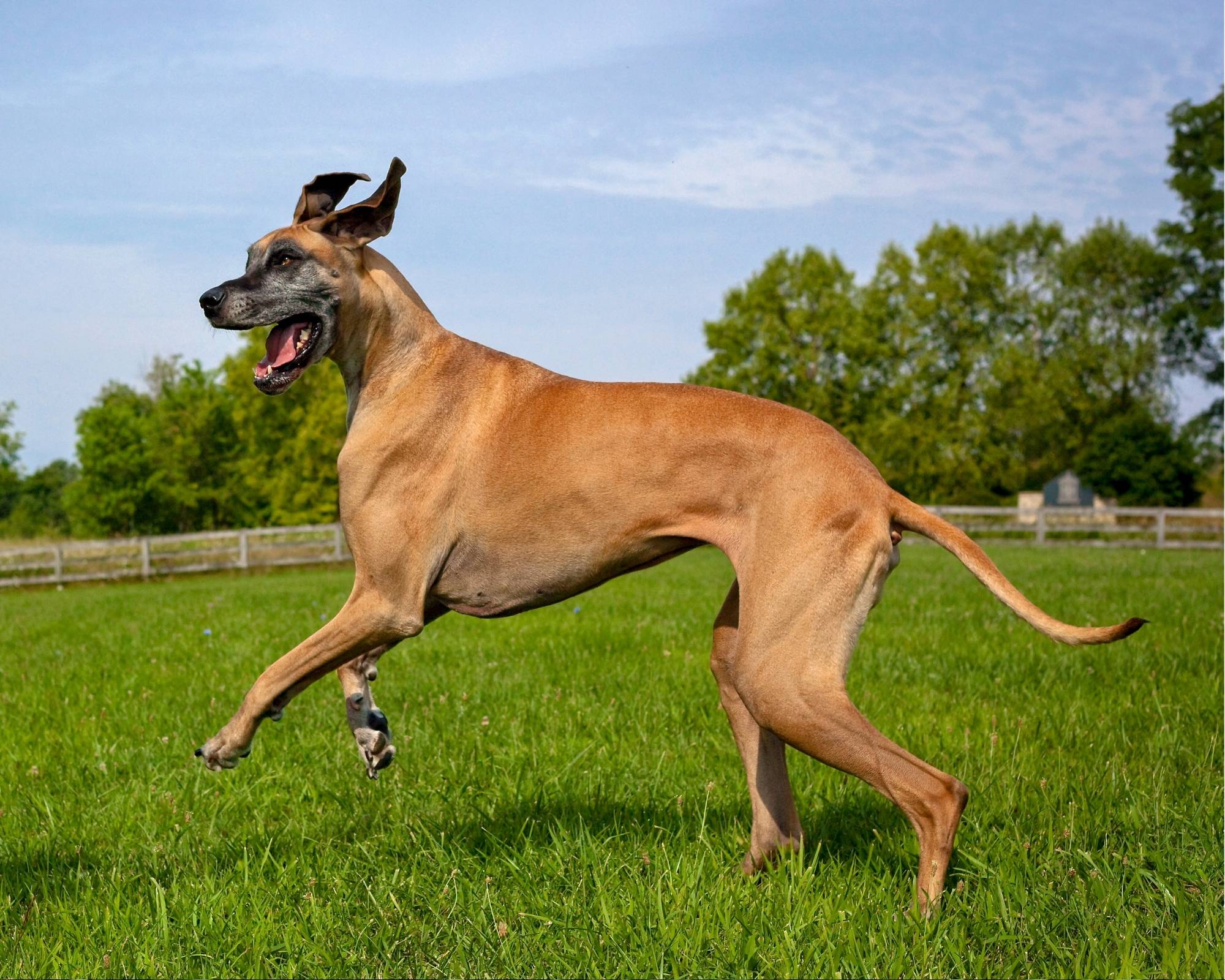 #7 – Ditch the Food Shaming
Did you know that some of the best dog foods available for your Great Dane are not actually the most expensive or fancy ones?
This year, we encourage the Dane community to ditch food shaming.
If you want the best nutrition for your Great Dane, skip the boutique foods and look towards science and research, instead. There are proven options available at all price points, and because they are fully complete and balanced, no expensive unbalanced toppers are needed.
I recommend a large or giant breed food from tried and true brands such as Purina, Royal Canin, or Eukanuba for Great Danes. Hill's or Iam's are great, too. Purina One Large Breed is a solid, budget-friendly option, for example.

Read our best foods for Great Danes post HERE.
For healthy toppers that don't break the bank and have actual benefits (such as reducing the risk of bloat or cleaning teeth) try one of these:
Canned food such as Purina ONE or Pro Plan to provide fresh/wet food in the diet
Balanced raw food from RAWS PAWS. Use code HELLODANES for 10% off to replace a portion of their balanced dry food
Scrambled eggs (5 or less per week)
Minced or blended fruits and vegetables from your kitchen (less than 5% of the diet)
Raw turkey necks or chicken paws (for dogs that know how to crunch them up properly, 1 each week)
Still unsure about what to feed your Great Dane and why? Check out Tufts University Petfoodology blog for science-backed nutrition information that is not motivated by affiliate links or sales.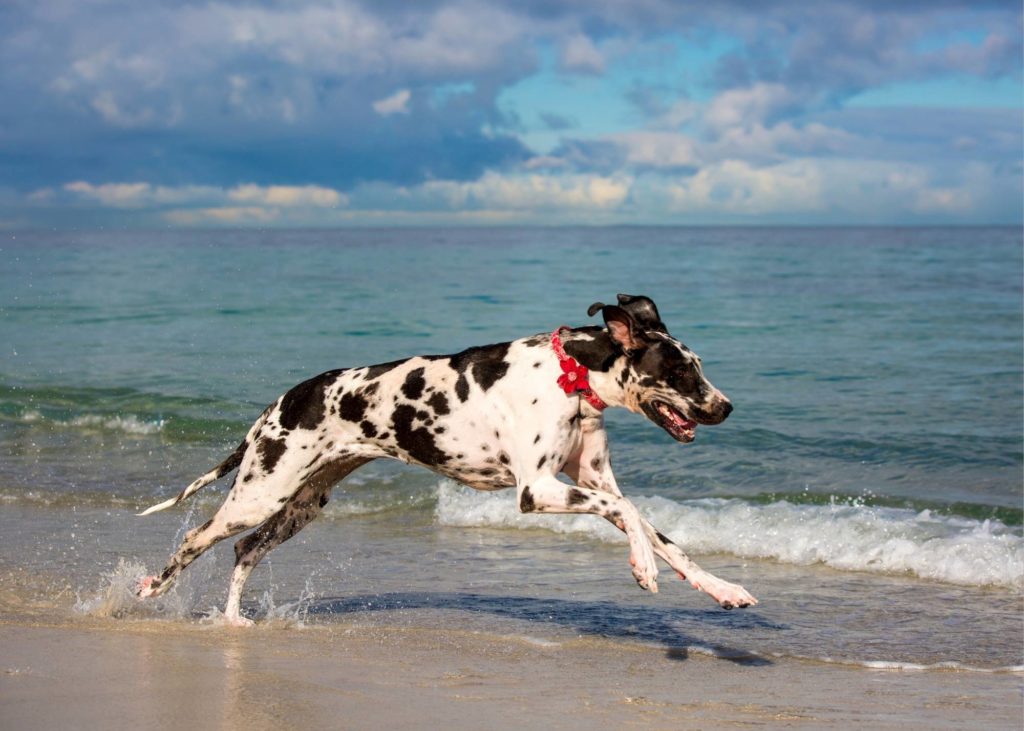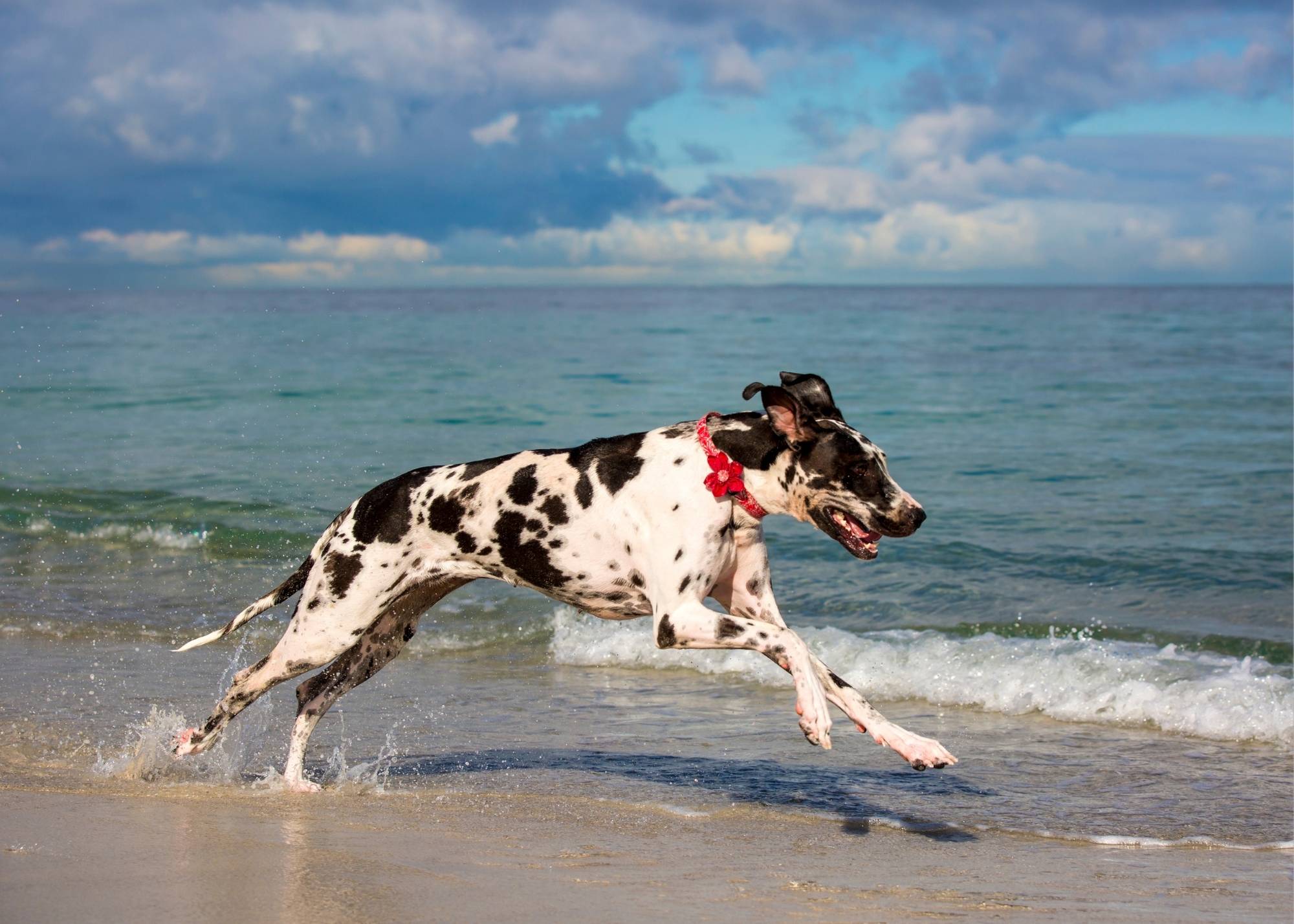 Above All, in 2023…
Let's all do better for Danes.
We're going to support ethical breeders and ethical rescues…and make it socially irresponsible for breeders and rescues to be anything less.
We're going to talk to our veterinarians, and learn to trust them. After all, they want our dogs to thrive.
We want to get our dogs out more. Moving, living their lives, being spoiled rotten. Snuggled up with us, running beside us, and being our faithful, healthy companion for as many days on Earth as we are given with them.