A dog play bow is a friendly gesture that dogs typically use when they want to invite another dog to play. The gesture is made by lowering the front half of the body while keeping the rear end and tail up in the air. This position may also be accompanied by a wagging tail and an enthusiastic expression on the dog's face.
When dogs bow to each other, they are essentially using a social interaction and inviting each other to play.
Great Dane Puppy Socialization
10 Great Dane Behavior Problems (and How to Fix Them)
Puppy Culture – Early Socialization for Great Dane Puppies Before and After 8 Weeks Old
A DOG PLAY BOW- WHAT DO DOG BOWS LOOK LIKE?
A play bow from a dog will usually present with body language of the dog keeping their rear end and tail in the air while lowering their front half down to the ground with their front legs extended. Typically, during play bows, the dog bows so low that it pushes their chest low to the ground which suggests at least a bit of submission towards the other dogs it is playing with. The dog may also have an enthusiastic expression and may be wagging their tail.
Usually, play bows are a sign that your pet is giving a posture of playtime or eagerness to interact with other animals or humans.
Play bows are not a sign of aggression or anything deeper than your dog's desire to play games or get another dog's attention.
Leash Aggression: How Dog Owners Can Prevent and Stop Dog Aggression on Leash
Why Is My Puppy Being Aggressive?
WHAT ARE DOG BOWS USED FOR?
A bow from a dog is often considered a friendly gesture and is used when they want to invite another dog to play.
PLAY BOWS WHILE A DOG PLAYS WITH OTHER DOGS
While playing, a dog might use a bow to show their submission to the other dog. This is most likely to happen when the play gets too rough and one of the dogs wants to submit and end the playtime.
A DOG MIGHT USE PLAY BOWS AS A MEANS OF BEGGING FOR FOOD
A dog might also use a bow as a way of begging for food or attention from its owner. Begging bows are different from play bows, as the dog will keep its entire body low to the ground with its head down and its rear end in the air. This is a very different posture from a play bow, which has a more confident and relaxed feel to it.
How to Raise a Confident Dog: 7 Tips for Building Your Puppy's Self-Esteem
WHAT DOES IT TELL YOU ABOUT A DOG WHO FREQUENTLY PLAY BOWS?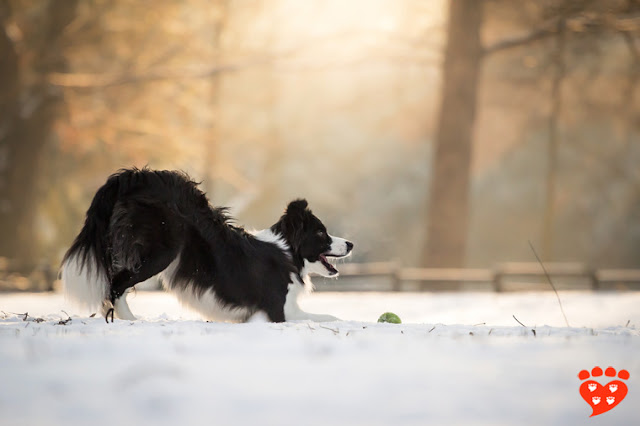 If you have a pet who loves to play with other dogs and you notice frequently uses the play bow, you can learn a few things about them.
First off, the play bow typically suggests that your dog understands the social hierarchy of dogs or animals.
SOCIAL HEIARCHY
Maybe your pup is playing with an older pet and understands that his/her energy level is too high for that particular animal. In that case, the play bow suggests your dogs understanding of social hierarchy and is a way of showing an attempt of calming himself down with a play bow.
CONFIDENCE
Additionally, if your dog frequently uses the play bow while playing with other dogs, it's likely that they are confident and secure in their own skin. This is a good trait to have in a pet!
PLAY SIGNALS
Lastly, if you see your dog using the play bow frequently, it possibly suggests that your pup is in tune with the different ways of play.
Some dogs get too rough when they play, not understanding or sitting back to watch the way in which other pets might desire to play.
But using a play signal like a play bow allows pets to gain a better understanding of the type of play their furry friend is looking for.
BOWING AS AN INVITATION TO PLAY: HOW TO DO A DOG PLAY BOW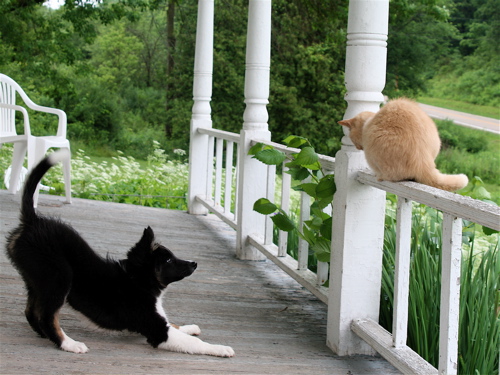 Now that we know a little more about dog bows and what they mean, you might be wondering how to do a play bow with your own pet!
It is possible to play with your pup while you rough house with them in a safe way!
Just make sure to train your dog an 'enough' command first so that they are sure to stop when you need them to.
Then, you can wrestle and wrangle them just like another dog might and stay safe the whole time.
Let us know what you think in the comments!
READ MORE:
Puppy Fear Periods: What They Are, When to Expect Them, and How to Help Your Puppy
Dogs Scared of Vet? Here's How to Help Them Overcome Their Fear
Dog Tail In Between Legs: Is Your Dog In Pain, Scared or Fearful?
11 Ways to Calm Dog Anxiety in Car Rides