Gastropexy surgery is a procedure that tacks the dog's stomach to the abdomen body wall. The gastropexy is a preventative procedure that veterinary surgeons perform on deep chested dogs affected with bloat and torsion risk.
I am a lover of giant breed dogs. Any other lovers out there know that these dog breeds are unique and probably know all about the increased risk factors of bloat. Here I will tell you about my experience with having the gastropexy performed on my Great Dane.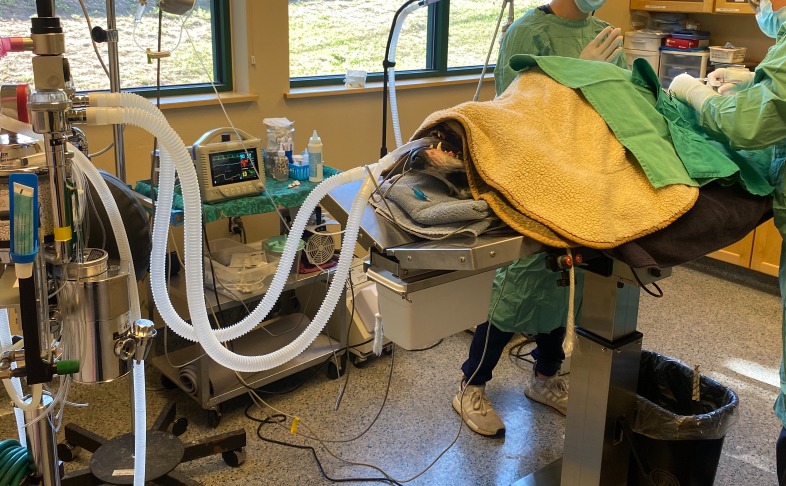 Do you have a dog that suffers from bloat? If so, you may be considering gastropexy surgical procedure. This is a procedure that can help keep your dog safe from bloat, and it's something that more and more large dog owners are choosing to do.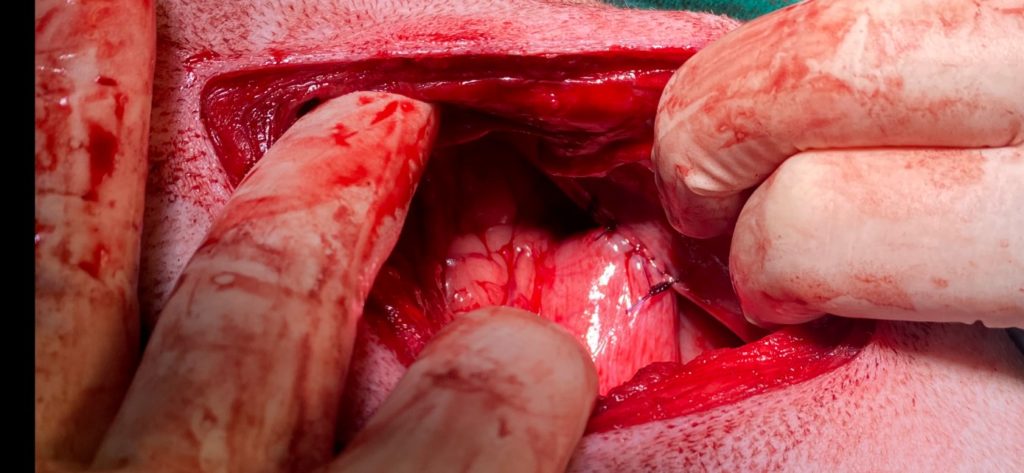 WHAT IS A GASTROPEXY PREVENTATIVE SURGERY?
I had the gastropexy procedure performed on my healthy 2 year old female Great Dane. I opted to not have her spayed- but that's another blog for another day.
Meet Birdie: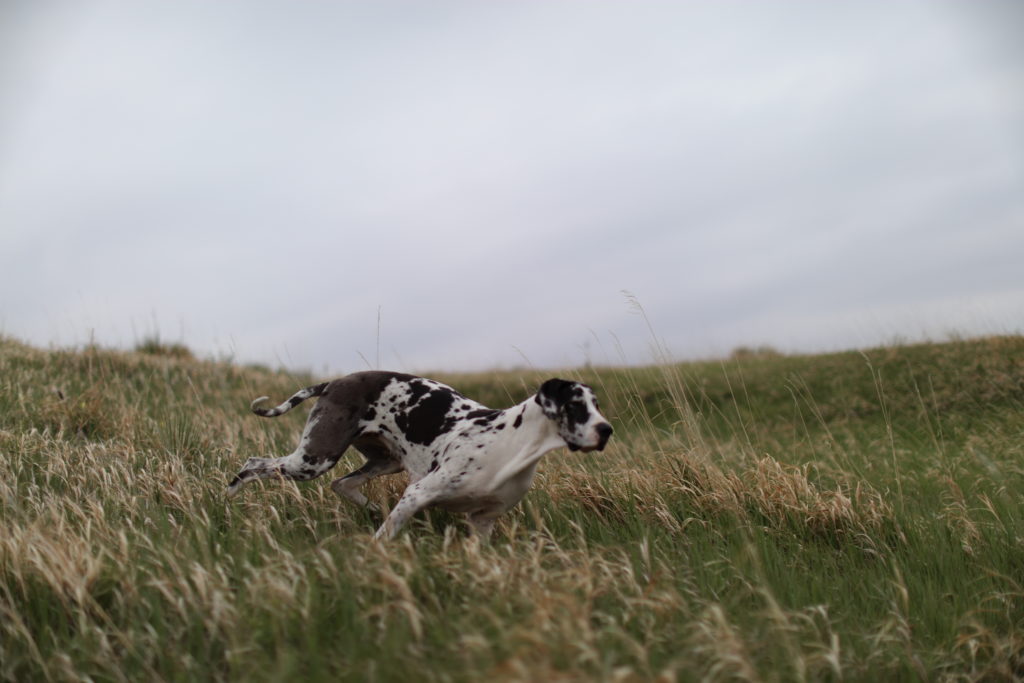 The gastropexy is commonly performed on dogs with a deep stomach with risk factors for bloat. Bloat happens when a dog's stomach fills up with air. When a dogs stomach is filled with air, it moves from its normal position, pushes against the abdominal wall and twists. The twisting of the body wall of the stomach is called torsion. Torsion kills, and torsion kills FAST!!!
The gastropexy surgical procedure is used to prevent gastric dilatation. In other words, if your dogs stomach is sewn to the abdominal wall, when they bloat, their stomach will be unable to twist. Without the torsion/twisting, the blood flow will remain flowing, they will remain breathing, and you will have time to drive your dog to the emergency room to relieve the bloat.
DOES GASTROPEXY PREVENT BLOAT?
Unfortunately, gastropexy does not prevent your dog from bloating altogether. The abdominal cavity can STILL fill up with air. However, most dogs do not die from bloat itself. Instead, they die from torsion and require emergency surgery to fix the problem. (Read more)
Stomach Tacking Pros and Cons for Great Danes
Gastropexy will not prevent your dog from bloating, but it will give you time to get them surgery to remove the air from the stomach, prevent twisting and possibly save their life.
GASTROPEXY TECHNIQUES
There are a few different types of ways that a veterinarian will perform gastropexy.
The two most common are the laparoscopic gastropexy and the traditional open method (prophylactic gastropexy).
Laparoscopic assisted gastropexy is a minimally invasive technique. This means that when performed laparoscopically, your dog will have a few small incisions as opposed to one large incision. The surgeon will then pass a small camera through one of the incisions to help guide them as they place the sutures. The laparoscopic assisted gastropexy leaves a smaller incision, but isn't done by as many vets.
The open method is just that and is often called the prophylactic gastropexy. One large incision is made in the abdomen, and the stomach is tacked to the abdominal wall. Typically when done by a professional with experience, there are minimal complications with a prophylactic gastropexy.
There are also a few other ways of incorporating gastropexy such as:
The belt loop gastropexy: this is done in addition to a traditional spay. A small incision is made and the stomach is looped through and sutured to the body wall.
The trans-coelomic gastropexy: This is performed through a small incision in the abdomen and the stomach is sutured to the inside of the abdomen.
Circumcostal gastropexy: The circumcostal gastropexy is performed through an incision made along the lower ribs. The stomach is then sutured to the body wall below the last rib.
THE INCISIONAL GASTROPEXY THAT I CHOSE FOR MY GREAT DANE
I chose to do a traditional surgery for my dog, Birdie. Great Danes are very much so a breed that is prone to bloating. They are large breeds and deep chested and I wanted to prevent gastric dilatation as well as torsion. In my opinion, others with large breed dogs should consider doing the same.
I didn't feel the need to do a laparoscopic preventative gastropexy as I knew that the incision site would be small regardless and she is a healthy dog who was capable of recovering quickly. I felt confident having my vet have her eyes on my dog rather than not.
THE PROCESS FOR GETTING THE PREVENTATIVE GASTROPEXY DONE FOR MY DOG
Since sedation is pretty unhealthy for Great Danes, I decided to go ahead and schedule her a dental cleaning at the same time. (Other breeds extremely prone to gastric dilatation: German Shepherds, Basset Hounds, Standard Poodles, Mastiffs, Labs, Weims, Other Big/Large Dogs and Golden Retrievers.)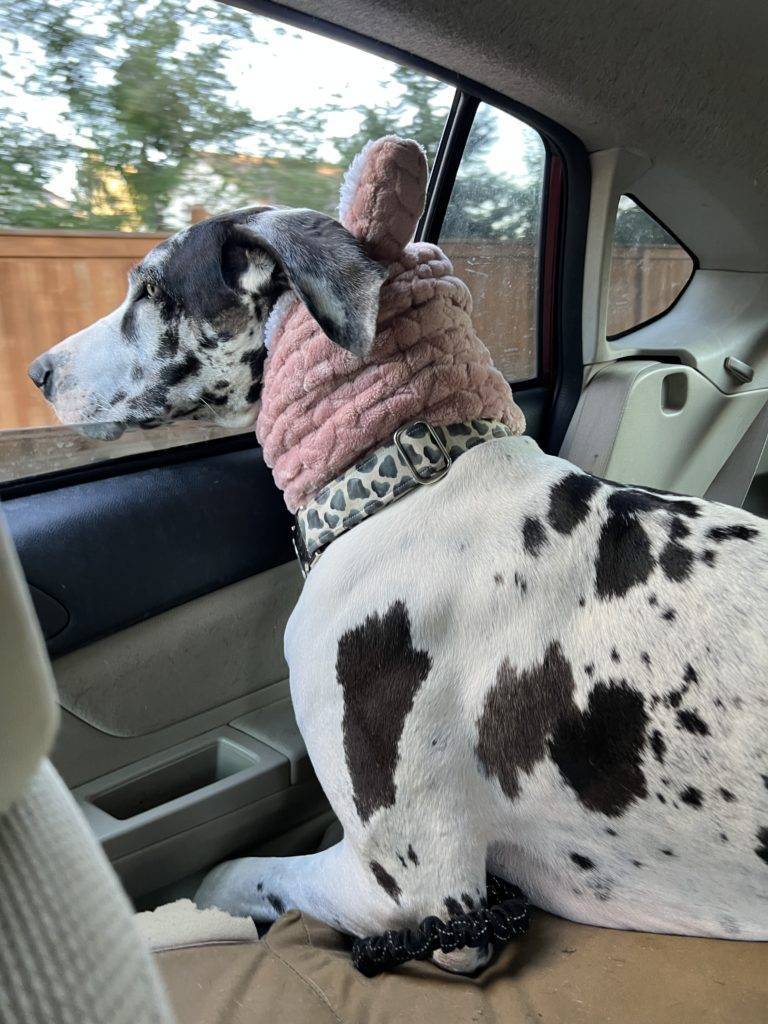 I spoke with my vet about everything in length. The gastropexy, large breed dogs, does gastropexy prevent GDV (NO), and what to do if I noticed any signs of her bloating in the future after her surgery.
Then, I dropped her off for surgery!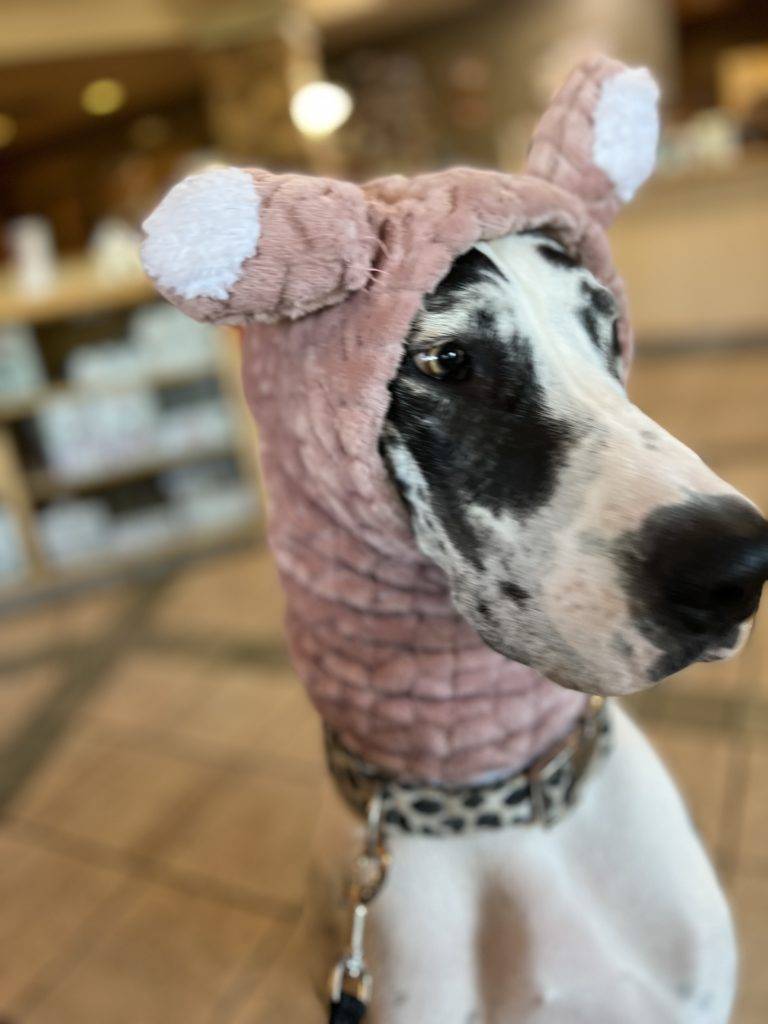 IS GASTRIC DILATATION VOLVULUS AN EMERGENCY SURGERY
Gastric dilatation in and of itself is an emergency that requires veterinary medicine intervention and very fast. If the gastric wall fills up with enough air, your dog can die!
However, the surgery that I did for Birdie was scheduled and was NOT an emergency! It was actually planned out to PREVENT the gastric dilatation volvulus from causing torsion which WOULD BE a medical emergency.
FIRST THING FOR GASTRIC DILATATION VOLVULUS SURGERY
First thing my vet did in incisional gastropexy was to sedate Birdie, clean her up really well, and make an incision about 3 inches big. Now, remember that Birdie was not being spayed. Dogs who also get spayed or neutered at the same time will have a longer incision than the one from a simple pexy surgery.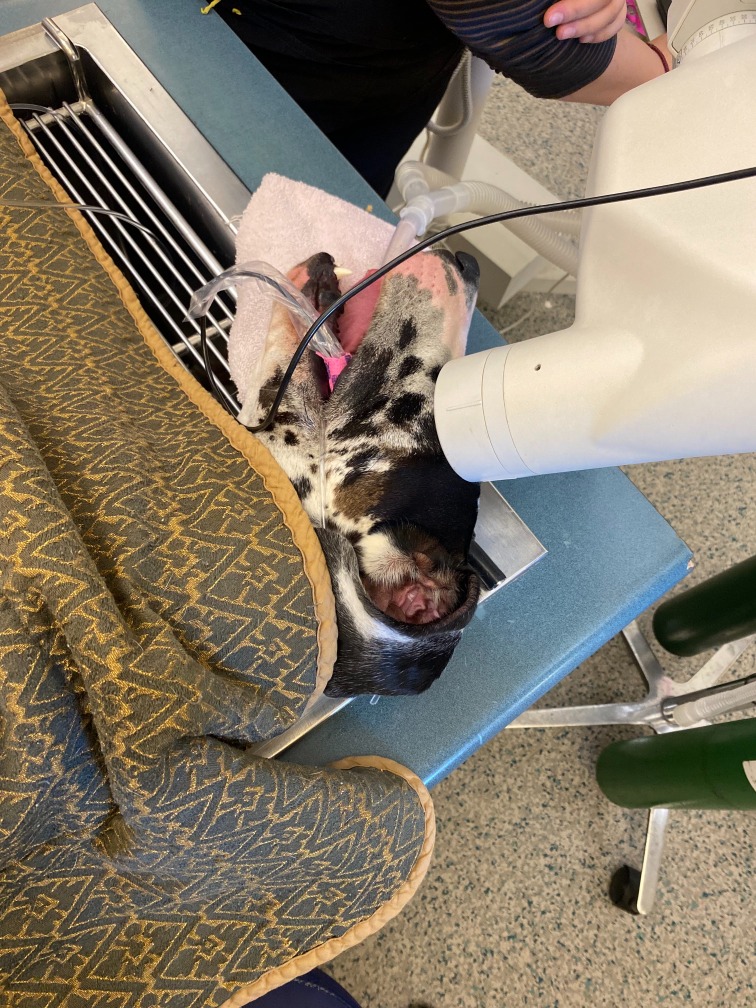 THE INCISION
The incision in the stomach is something that some pet owners are scared of. But, what you have to realize is that dogs are pretty resilient.
With some pre op bloodwork, I felt much better sedating her. It's an incision that goes through muscle, so we do need pain medication for helping her recover as pain free as possible. But because the gastropexy reduces the chance that she will develop gdv, IT IS WORTH IT.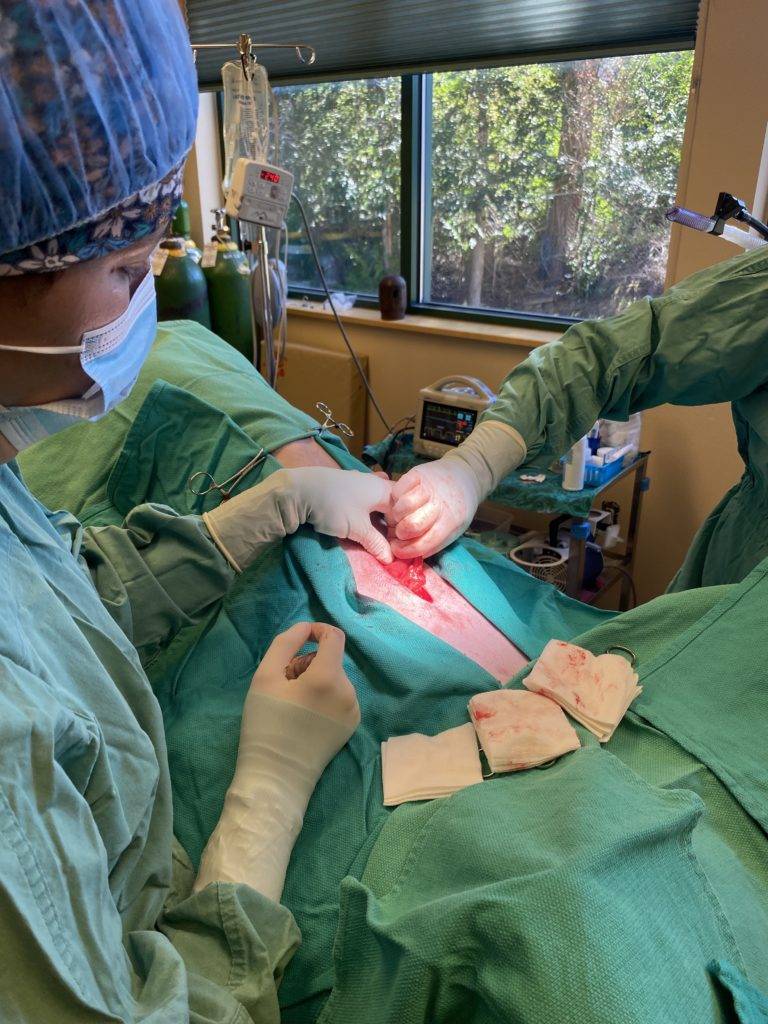 THE STOMACH BEING SEWN
I have to admit, when I imagined dogs going through this surgery, I thought that the ENTIRE stomach would be sewn onto the abdominal wall. But, after I saw the picture of the gastropexy itself, I was shocked. Just a TINY bit of the stomach is actually sewn!
The stomach wall is now being held on by about 12 stitches (6 on the inside and 6 on the outside).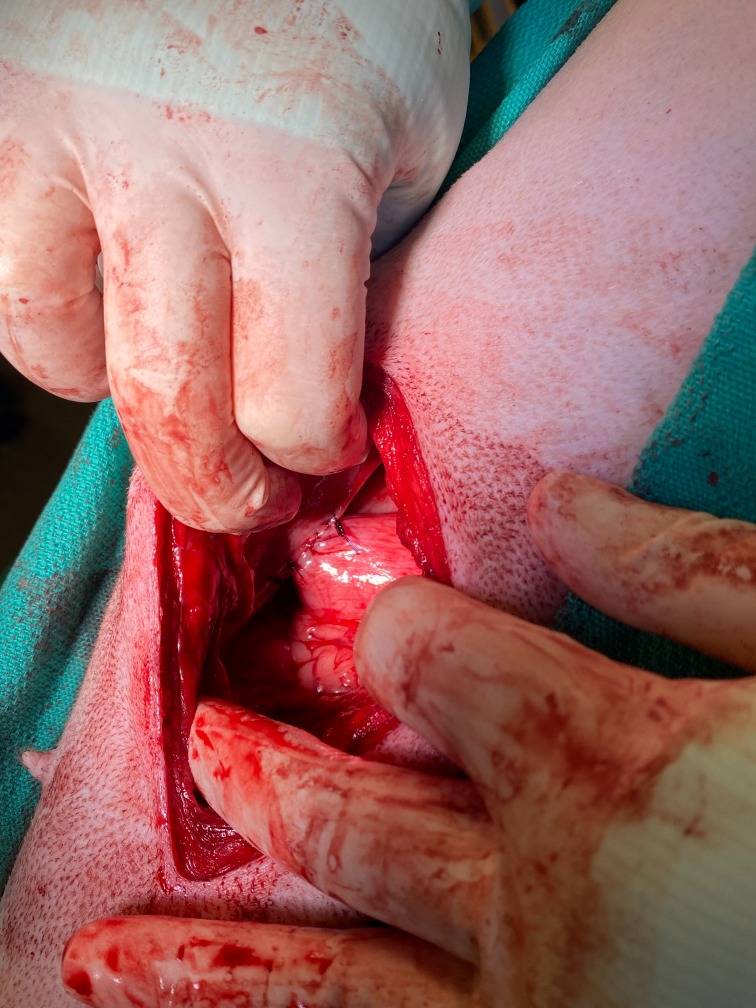 LASER THERAPY
In order to help my pup recover best, my vet did laser therapy on her tummy and her incision. This will not only help her heal quicker from her prophylactic gastropexy, but it can help her gastrointestinal tract stay calm while she heals from having it irritated by stitches.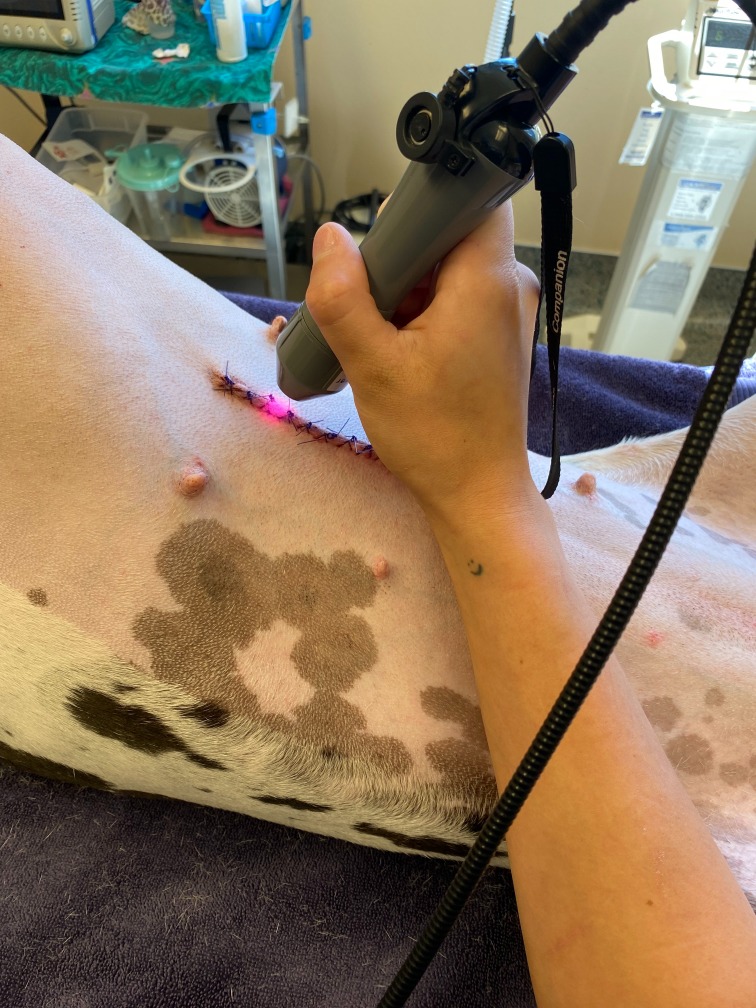 WAKING UP
It takes dogs awhile to wake up from general anesthesia. Birdie was tired the entire day while she rested at the hospital.
When I picked her up, she was still pretty sleepy. But, I know that I did the right thing by providing permanent adhesion of her stomach to the right abdominal wall which could save her life. Gastric dilation kills big dogs, and I want to do everything in my power to prevent that from happening.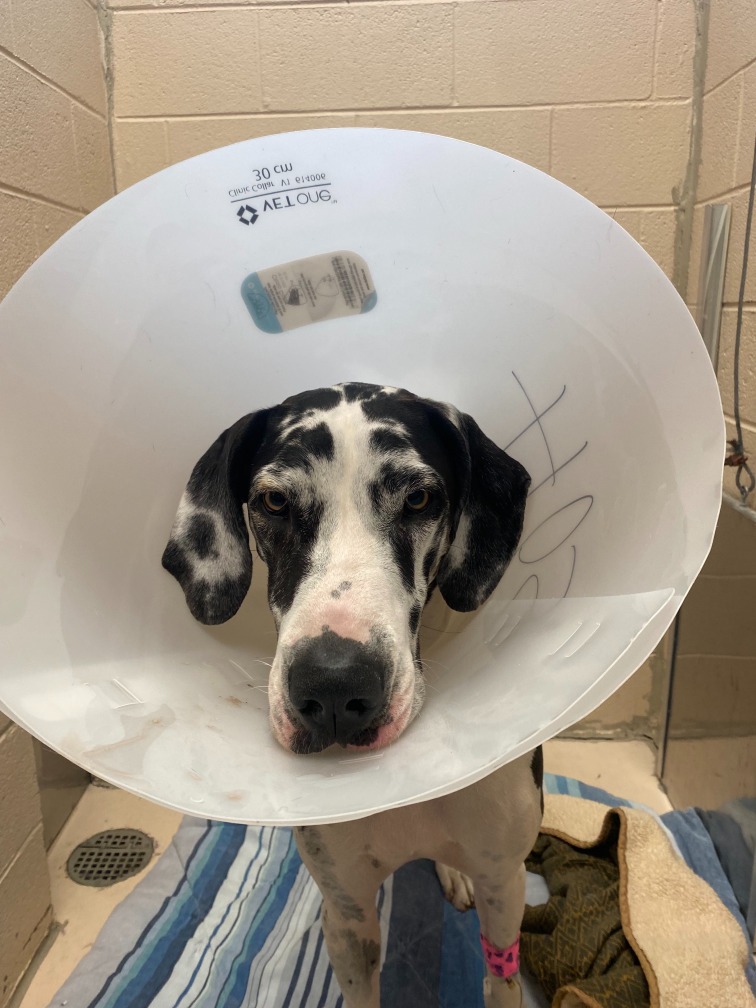 SHES HOME
When your dog comes home, you want to feed them something light and small. You don't want the stitches to pop open on the inside of her stomach. Your vet may send you home with a prescription diet, or just tell you to feed smaller meals for a few days.
Either way, you will want some sedatives like Trazadone and some pain meds like Gabapentin. They need to rest anywhere from 10-14 days, which can be a lot for an active dog like Birdie.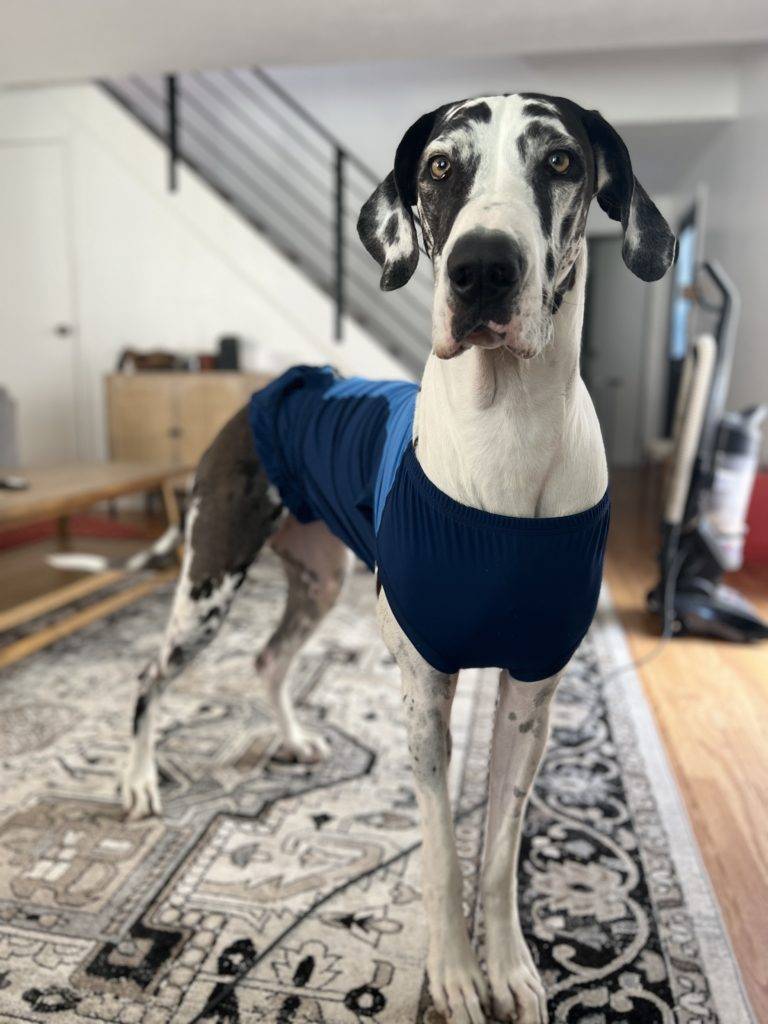 If we can continue to learn more about bloat and torsion and prevent recurrence of these dangers in our dogs, I know that the breed will continue to get better and better.