Finding a dog food storage container for your pet food can be harder than you think. You want something that is easy to clean and looks stylish, while also being secure enough to keep your pet's food fresh. After doing a lot of research on dog food storage containers, we have compiled the best options available on the market today.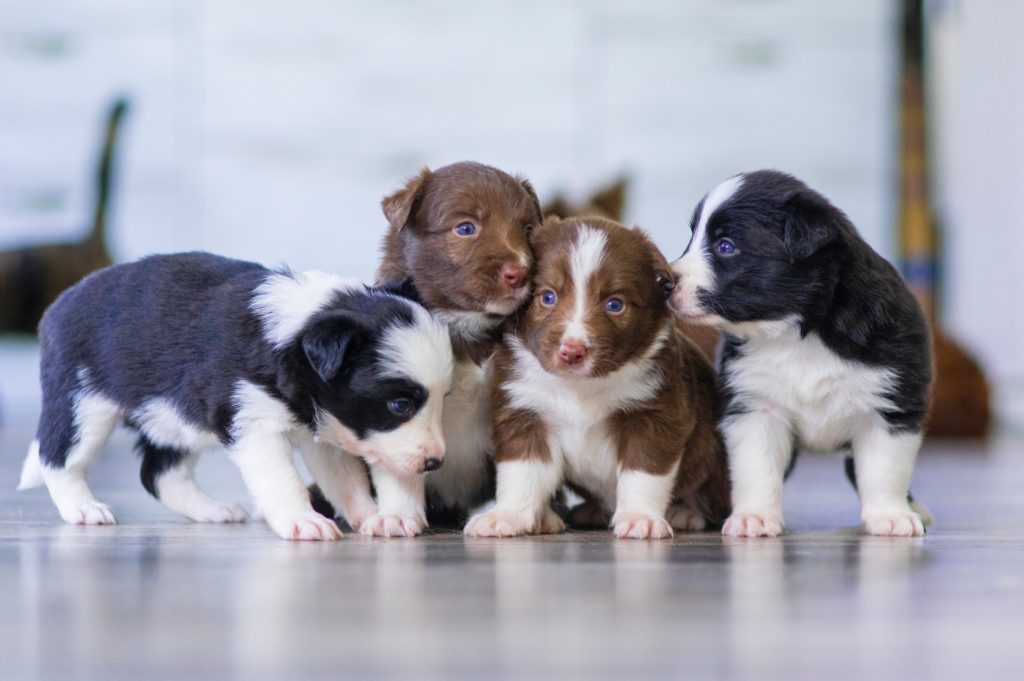 Storage containers come in all sorts of different sizes and structures, so we identified some of the top things to look for and to avoid when finding a pet food container.
What is the best dog food container? Top things to look for to store dry dog food.
When looking for a pet food container to keep dog food inside, you may just grab plastic bins and call it a day. However, after further research we found that storing food in some standard food storage containers can be problematic for dry dog food.
So, we identified a list of the top 10 things to look for in a pet food container or for dog treats.
The right size: Decide ahead of time exactly how much food you are going to want to store in the food container. Shopping on Amazon can be deceptive and you might think you are buying a large container but when it shows up you can barely fit any food inside.
Airtight seal: Without an airtight food storage container your dog food storage can let in air and expose the dry food to certain elements like humidity which can cause the food to go stale.
Easy Cleaning: Believe it or not, plastic containers can develop mold over time when storing an entire bag of dog food. It is important that the container you choose is easily cleanable and washable.
BPA-free: BPA is a chemical used in most plastics and it can leach into your dog's food, so make sure that the storage container you choose is completely BPA free. BPA Free Plastic is the way to go if you are going for a plastic container.
Durable material: The best dog food containers will not only keep your dog's kibble fresh, but also the material itself will last over time.
Material: The material you choose is ultimately up to you. You can get dog food storage containers in stainless steel, thick plastic, or glass. We will discuss the different materials that you can use for dog food storage.
Lock Tight Handle: Make sure that the dog food storage containers that you choose comes with a lock tight handle. This will help keep a tight seal on the food storage, preventing any pests from entering.
Design: The container should look stylish and modern, but also be functional for your pup's food needs.
Affordability: Nobody wants to spend hundreds of dollars just to store dry food for their animals, so affordability was important, especially for those who have multiple pets.
Convenience: Whether you prefer pouring food directly from the plastic container or using a food scoop, the food container must have ease of use when feeding your dog. After all, you do feed your dogs multiple times a day and with a multi pet household it cannot be a process that is time-consuming or lingering.
Let's jump in to some of the reasons why these are the top 10 things to look for in a pet food container and why it's important that you get the best dog food container for your pup.
The Right Size Food Container Makes a Huge Difference
The right size: You will want to make sure that whatever you buy is capable of holding all of the dry food that you need for your pup.
Food storage containers come in all different sizes that can all store dry food.
Depending on if you have large dogs or small dogs, you may want to get a large food storage bin to keep in the laundry room or closet, and a smaller container to keep in the pantry. When the small container runs out of food, simply refill it with how much kibble can fit. The smaller food container will, perhaps, hold enough food for about 4 days to 1 week, but it will be easy enough to refill.
If you don't want to deal with the hassle of refilling the small container, you can also get a larger one that will hold enough food to last an entire month or more. That way, you won't have to worry about refilling it as often.
Here is an example of a smaller size dog food storage container:
And here is an example of larger size food containers which could store the entire bag of your dog's kibble:
Food / Meal Prep in Food Storage Containers
Some people like to sort out the serving size of their dog's meals on the weekend when they have additional time.
These are my favorite food storage containers that do just that. They come in bulk off of Amazon and are suitable for storing all of your dog's weekly meals ahead of time so that you don't have to measure and serve in the morning rush when you are busy.
Airtight Seals are Essential
Airtight seals: Keeping the unwanted air out of the dog food is paramount in order to prevent spoilage, mold growth and infestation of bugs. The best dog food storage containers will come with an airtight seal to ensure that your pup's kibble stays fresh for as long as possible.
How to tell if your dog food storage is airtight:
You can tell if the dog food storage is actually an airtight food storage container by checking the seal around the lid. If the container has multiple layers of seals, then it is most likely airtight.
The Vault
'The Vault' is a very popular airtight container. People really like this airtight food storage container because:
They are stackable containers so you can use multiple for different dogs or different food
They come in different sizes
Obviously, it is an airtight container
The plastic is BPA Free (More on bpa free plastic later)
Easy to Clean and Keep Sanitary
As a pet owner, you know that keeping your pup's environment clean can be tricky at times. This also applies to their food containers.
Dog food storage can get gross very quickly.
As a matter of fact, it is recommended not to dump the entire food bag straight into the food containers. In some cases, it has been shown that food poured directly into dog food storage containers can actually spoil faster and even grow mold at the bottom of the bin.
Washable / Cleanable Features
You will want to look for storage containers that have a lid which can be easily detached and washed in the sink or dishwasher. This will make it easier to keep your pup's food container clean and sanitized, thus keeping their dry food fresher for longer periods of time.
Create a Cleaning Routine
Make a cleaning routine for your storage container. If you don't plan and schedule to clean your pet food storage on a certain routine, it might not get done. When the dog food is nearly empty, it is a good idea to completely empty the dog food storage containers and rinse them out with some soap and water.
Removable Inner Bucket
Some find it easier to keep a dog food storage container clean when it comes with a removable plastic bucket. That way, you can just remove the plastic liner from the storage container and rinse that part without having to wash the entire storage container.
Here is an example of a pet food storage container that is easily cleanable with an airtight seal:
BPA Free
Making sure your dog food container is BPA Free is important.
Whether you are storing fresh food, dry food, pet food or human food, having food grade plastic will help to keep your pet's food safe and healthy.
BPA stands for Bisphenol A, which is a chemical compound commonly used in plastic products. The problem is that this substance has been linked to health issues such as cancer and hormonal disruptions.
By making sure the plastic your pet food storage container is made of is BPA Free, you can rest assured that your pet food is not being exposed to any potentially harmful chemicals.
Along with getting a dog food storage container with safe and toxic-free plastic, you can also get water bowls that are BPA-free as well:
Durable Dog Food Storage Container
Durability matters in what dog food container you choose. You can get what you think is the best pet food storage container, but if it only lasts a month before it breaks, you're going to need to keep buying new ones.
If you want a container that will last, look for one that is made with thick plastic materials and has sturdy seals around the lids. This will help ensure your pup's food stays fresh and secure in the container even if it accidentally gets tipped over or dropped.
Storing Dog Food in Stainless Steel Containers
Some people prefer their storage container to be stainless steel rather than food-grade plastic, and that is fine.
The Simplehuman Pet Food Storage is one of the most popular dog food containers. It stores up to 35 Liters of your pet's food and comes in a stainless steel container.
The price is higher than a plastic dog food storage container, but the durability is much higher.
Material of Your Pet Food Storage
Speaking of stainless steel, that brings us to discussing what material you'd like to store your pet food in.
As with any typical storage container, your dog's food has options of what it can be stored in.
You can store your dog's food in stainless steel material, food-grade plastic, or even glass.
The material you choose will depend on your preferences and budget.
Stainless Steel Pros and Cons
If you are looking for something durable and long-lasting, then stainless steel might be best for you. However, you are going to spend more money on stainless steel than you would on cheaper alternatives of food containers.
Some pet parents notice their dogs get 'puppy or dog acne' when they interact with certain plastics, and therefore opt for a steel or ceramic option.
Others prefer the aesthetic of a steel option, such as this one:
Plastic Food Containers Pros and Cons
However, if you're just looking for a low-cost option that will keep food fresh in the short term, then a food-grade plastic storage container works fine for pet food storage.
As long as your dog's food stays fresh, you don't have to feel bad opting for plastic as a dog food container.
There are a ton of great options for plastic pet food storage that look great as well, like these:
Lock Tight Handle
No matter what material you choose for your pet food storage, make sure that it comes with a lock tight handle.
The last thing you want is rodents or insects getting into the pet food storage container, or your pet accidentally (or purposefully) tipping it over and spilling food out.
A lock-tight handle will keep the lid on securely and help ensure that the storage container stays in place even if it gets bumped or dropped.
The best dog food storage will keep the dog's food safe from ALL animals, including your dog AND unwanted animals.
These dog food containers, for example, have container features that completely lock up so that no other creature can get to the food.
Choosing Your Favorite Design
Dog food containers don't HAVE to be ugly. Although I opt to stick my dog food containers in the closet, some of the best dog food storage CAN be functional and pretty.
Try to decide whether you'd like to store the dog food containers away in a closet or on your kitchen counter as a part of your home decorations, and go from there.
Functional (But not so pretty)
If you opt for a functional and not-so-beautiful pet food storage container, you may go for something like the Van Ness Food Container, found here:
Pretty (But maybe a bit less functional)
Alternatively, if you want something to compliment your house design, you may opt for something like this. You can also find something to store dog food that comes with a matching bin for storing treats, which is always fun.
Ultimately, the decision is up to you and what type of design you prefer for your pet food storage container.
You'll want to ensure that whatever pet food storage you choose, it is durable and long-lasting, and comes with a secure locking handle.
Affordability – Ain't Nobody Got Money for That
Nobody wants to spend all of their money to store dog food. We know you'd rather spend your money on taking your dog for a Pup-Cup or getting them a nice new bed.
We found several dog food storage options that are stylish, functional and affordable.
Take a look at this one, which is one of the options I have used regularly with my dogs:
I would give this one the following scores:
Durability: B- (Easily cracks, but you get what you pay for)
Affordability: A
Style/Design: B- (Nothing beautiful)
Airtight Seal: A (Nothing going in or out)
Keeps Food Fresh: A (Does its job)
Large: A (Depending on how much food you like to keep on hand, this one stores an entire 25 lb bag)
Convenience: A (I mean unless you're a super lazy person, which would be hard to beat me- this is really easy…)
Overall- pretty good option.
Convenience – I don't want to work hard to feed my dogs!
Lastly, everyone wants it to be easy to grab their dog's food.
I don't want to wrestle with my dog's food container every time I have to feed them, and I'm sure you don't either.
So, finding a convenient option is a must.
Overall, I think the Gamma2 Vittles Vault ranks highest on Amazon for ease of use (and other items too).
Seems if you're a lazy person (like me) with a bit of an extra budget to spend on durability, than the Gamma2 Vittles Vault may be a great option for you.
Found here:
Conclusion
Hopefully, this helped you gear up for purchasing a storage unit for your dog's kibble.
If you have any questions- always feel free to reach out.
Read more: