A few weeks ago, something truly heartwarming happened in my world as an influencer, dog-mom, and passionate advocate for our four-legged friends.

Dr. Harvey's, a pioneer in natural pet nutrition, generously donated a variety of wholesome treats and special items. These gifts were destined for the Denver Animal Shelter, a place close to my heart. In this blog, I'm excited to share this inspiring story, shedding light on the mission, the shelter, and the remarkable generosity of Dr. Harvey's.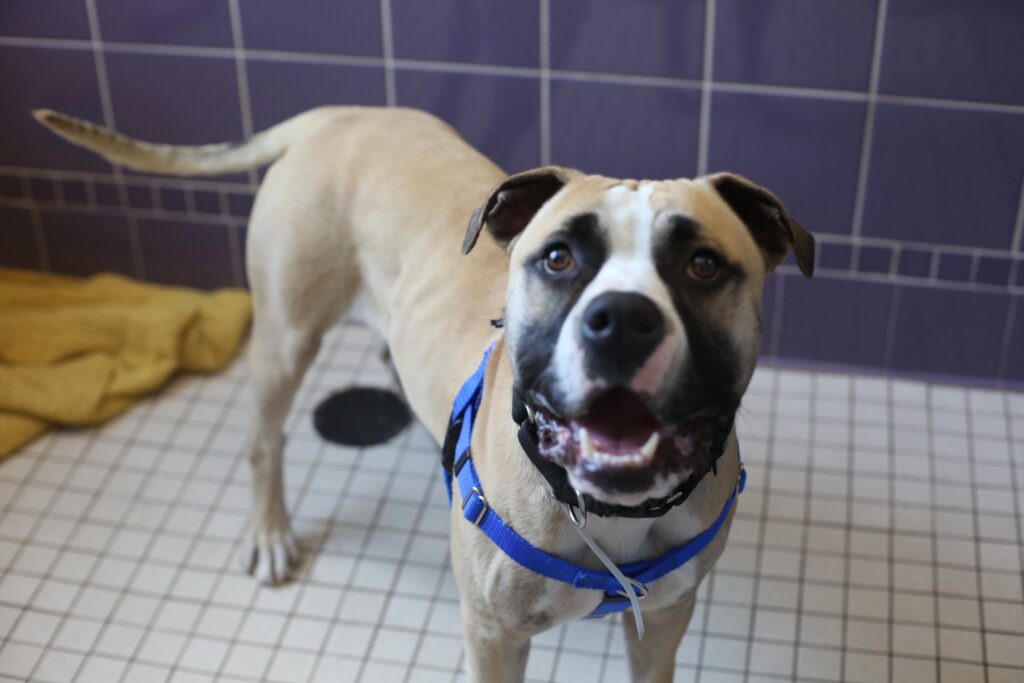 Dr. Harvey's donation to Denver Animal Shelter
Dr. Harvey's donation to the Denver Animal Shelter isn't just about the physical items they provided; it's a testament to their unwavering commitment to the well-being of animals in need.
Their generosity is a shining example of how companies can make a meaningful impact on the lives of shelter animals and the dedicated staff who care for them. It's a reminder that when individuals and businesses come together to support a common cause, we can create a brighter and more compassionate world for our beloved four-legged companions.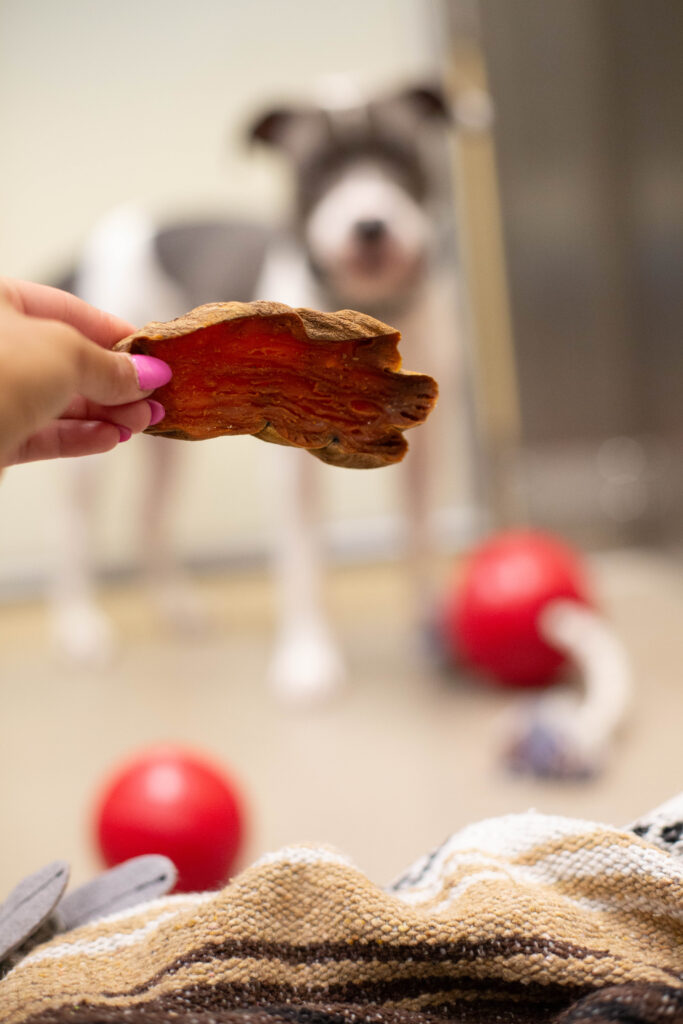 An onlooking pup gets excited for his treat when we delivered the donation. from Dr. Harveys!
Dr. Harvey's donation has not only nourished the bodies of these shelter animals but also warmed the hearts of everyone involved, leaving a lasting impression of care and kindness. I can't wait to share the story with you!
The Mission of the Event: Dr. Harvey's Donation and My Role (Who I Am and Why Animals Matter to Me)
My Journey as an Influencer and Dog Advocate
Before we dive into this heartwarming tale, allow me to introduce myself. I'm Natalie, and animals have always held a special place in my life. As an influencer, I've dedicated my platform to raising awareness about animal welfare, especially dogs. My own furry companions, Banks, Birdie, Gigi and Froggy have been my inspiration and motivation. They've taught me that the love and loyalty of our pets deserve to be cherished and celebrated.
Who is the Denver Animal Shelter
The Denver Animal Shelter is not just any shelter; it's a beacon of hope for thousands of lost and abandoned pets every year. Their mission resonates with my passion for animals. They provide humane care, reunite lost pets with their owners, facilitate adoptions, enforce animal ordinances, and educate the public about animals' needs. Being part of their journey as a volunteer is a privilege, and I've seen firsthand the impact they make in our community.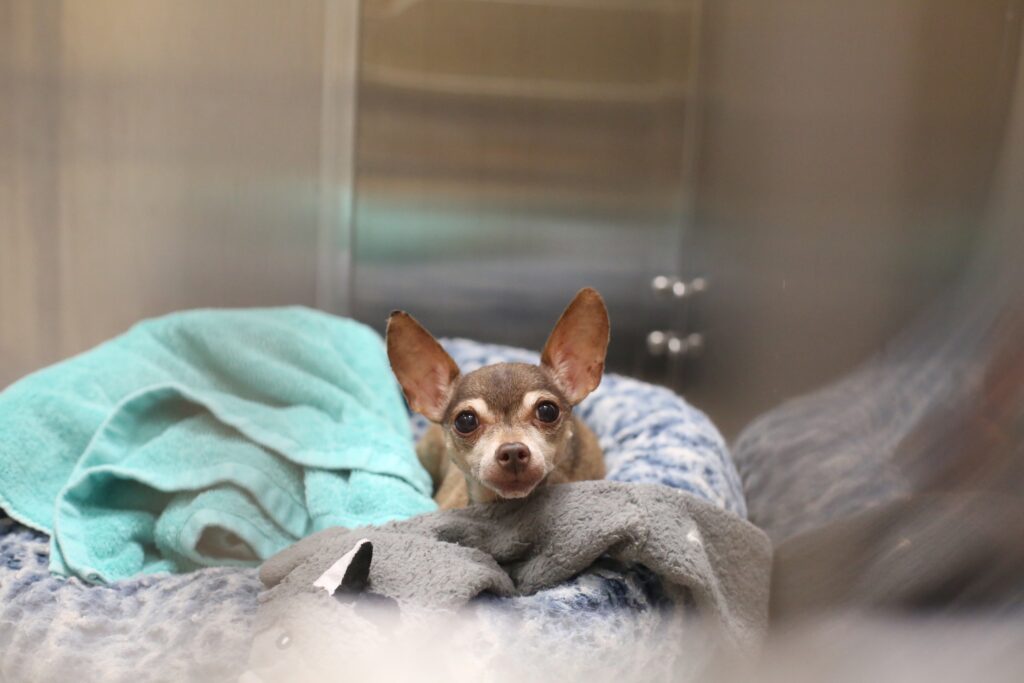 Why Do I Volunteer at This Remarkable Shelter?
I volunteer at the Denver Animal Shelter because it's a remarkable haven for animals in need, a place where compassion knows no bounds. Every time I step into the shelter, I'm reminded of the incredible resilience and spirit of these animals. It's a privilege to be a part of their journey, to offer comfort, love, and a helping hand in their quest for forever homes.
The shelter's commitment to reuniting lost pets with their owners, facilitating adoptions, and educating the community about the welfare of animals aligns perfectly with my own values and mission. Volunteering here gives me the opportunity to make a tangible difference in the lives of these furry companions, advocating for their right to love and happiness.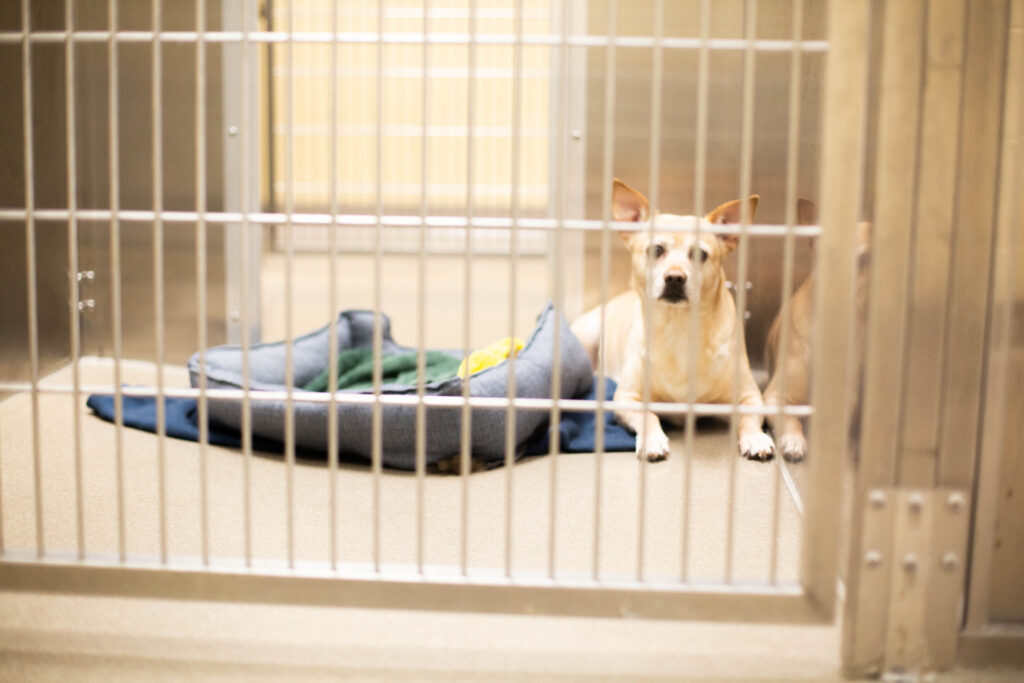 A sweet pup at the shelter peers out of the cage and wonders when they will find their forever family!
The bonds formed with the shelter's dedicated staff, fellow volunteers, and the animals themselves create a sense of fulfillment that's simply irreplaceable. It's more than just volunteering; it's a calling, a way to be a voice for those who can't speak for themselves.
Animal Shelter Statistics and the Importance of Volunteering and Adoption
Understanding the staggering statistics behind animal shelters is a crucial wake-up call to the immense need for volunteering and adoption.
With over 6,000 lost and abandoned pets seeking refuge at the Denver Animal Shelter annually, it's evident that countless animals are in search of loving homes and second chances. Volunteering at shelters plays a pivotal role in providing these animals with the care and attention they deserve while awaiting adoption.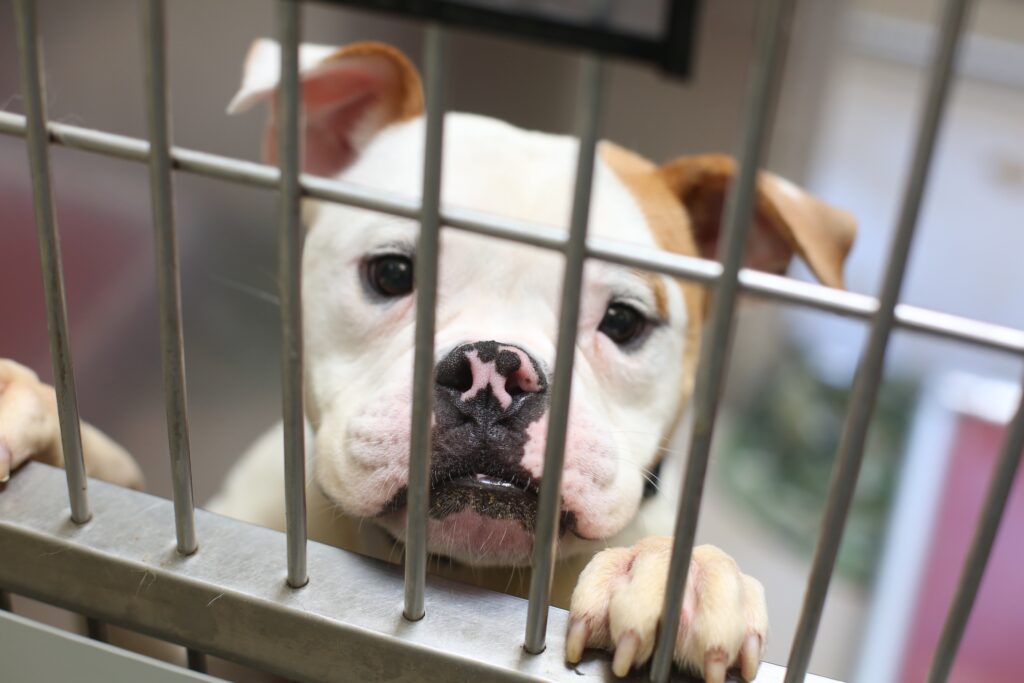 Dogs in Shelters: On any given day, it's estimated that there are hundreds of thousands of dogs in animal shelters across the country. The exact number can vary widely depending on location and time of year.
Facts about Animals in Shelters in the USA
Number of Animal Shelters: The United States is home to thousands of animal shelters, including municipal animal control facilities, private rescue organizations, and nonprofit shelters.
Dogs in Shelters: On any given day, it's estimated that there are hundreds of thousands of dogs in animal shelters across the country. The exact number can vary widely depending on location and time of year.
Adoption Rates: In recent years, the adoption rate for dogs from animal shelters has been increasing. In 2020, due to the COVID-19 pandemic, there was a surge in pet adoptions as more people sought companionship during lockdowns.
Euthanasia Rates: The euthanasia rate in animal shelters has been steadily decreasing over the years, thanks to increased adoption efforts, spaying/neutering programs, and initiatives to promote responsible pet ownership.
Stray Dogs: Many dogs in shelters are strays that have been found and brought in by animal control officers or concerned citizens.
Breeds: Shelters are home to a wide variety of dog breeds, from mixed breeds to purebreds. Breed availability can vary by region.
Age of Dogs: Shelters often have dogs of all ages, including puppies, adolescents, and senior dogs. The availability of dogs of different ages depends on the shelter's intake.
Rescue and Foster Programs: Many shelters collaborate with rescue organizations and foster homes to provide temporary care for dogs awaiting adoption.
Spaying/Neutering: Shelters typically spay or neuter dogs before adoption to help control the pet population.
Microchipping and Vaccination: Most shelters microchip and vaccinate dogs to ensure their health and safety.
By offering our time and compassion, we not only alleviate the burden on shelter staff but also create a nurturing environment that significantly improves the well-being of these animals during their stay.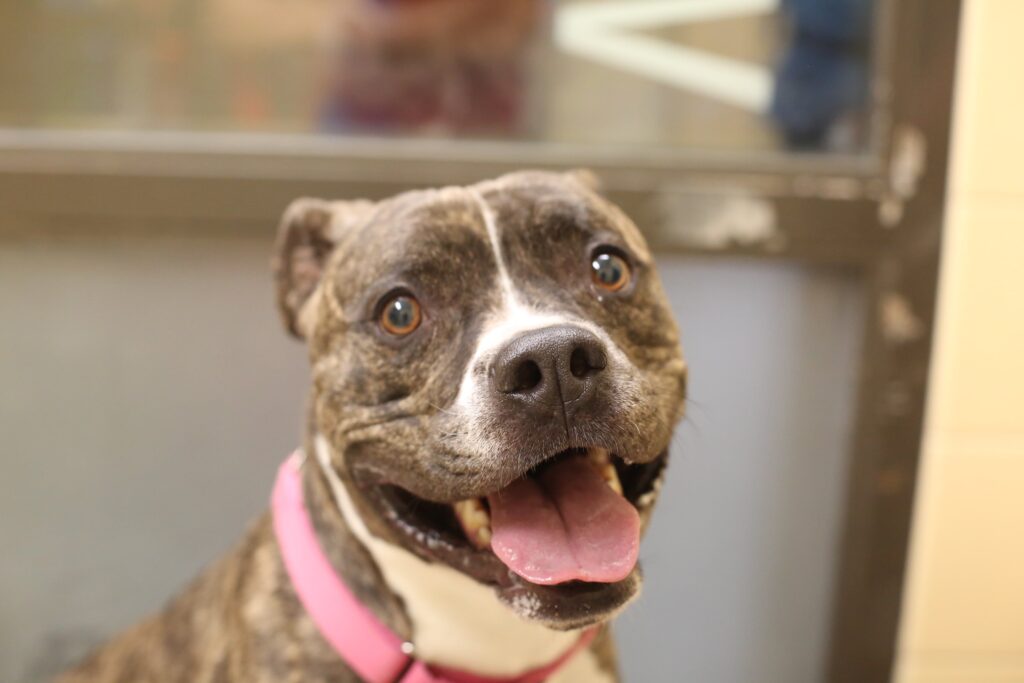 Adoption, on the other hand, is the ultimate act of giving an animal a fresh start, a chance to become a cherished family member. It's about rewriting their stories from hardship to happiness.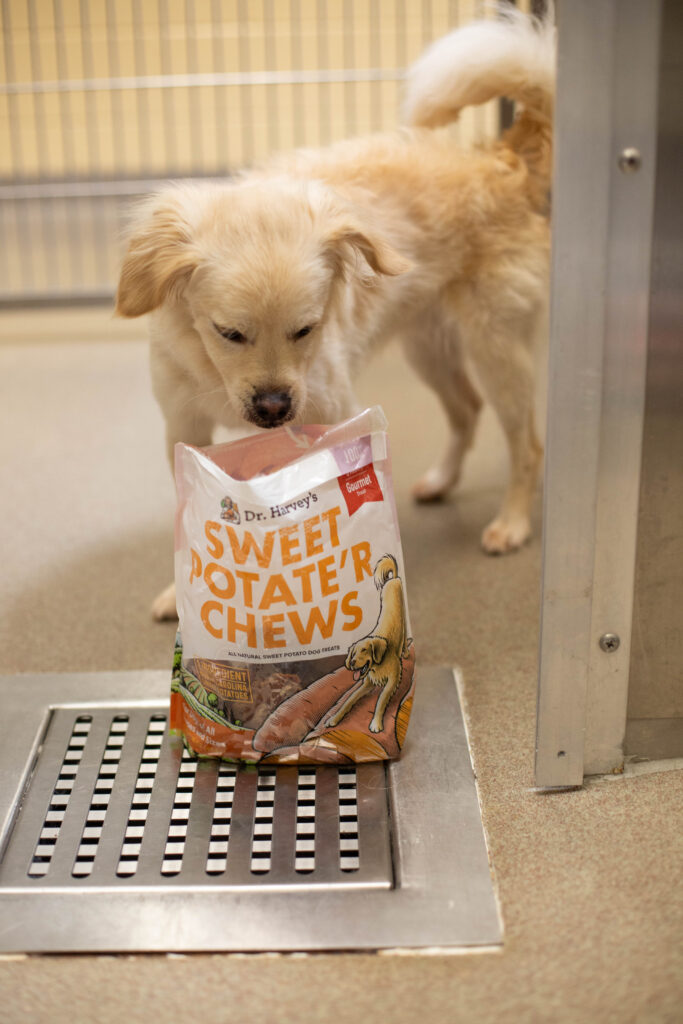 The statistics remind us that every adoption is a life transformed, a story of hope and love. So, let's take a stand, volunteer, and open our hearts to adoption because it's within our power to change the lives of these wonderful animals, one precious soul at a time.
Understanding the Impact of Animal Shelters
Before we continue, it's essential to understand the vital role that animal shelters play in our society. Every year, over 6,000 pets find refuge at the Denver Animal Shelter. This shelter, like many others, relies on volunteers, donations, and adoptions to sustain their mission. Volunteering at a shelter can make a significant difference, not only in the lives of animals but also in our own lives.
A sweet dog that I loved to meet during a volunteer day at the shelter!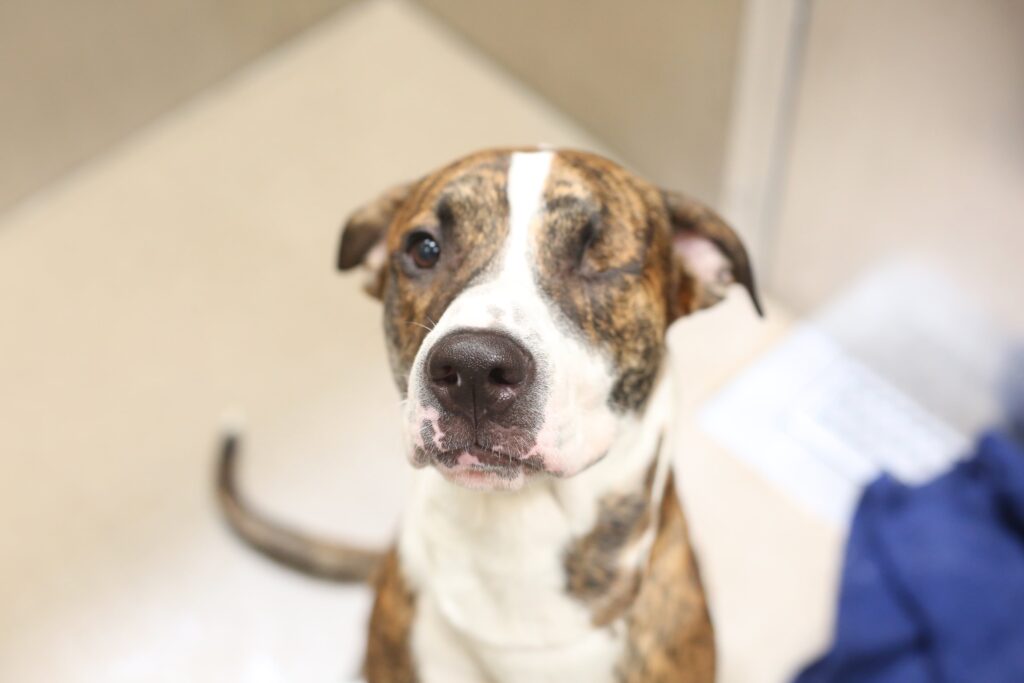 Who is Dr. Harvey's
Dr. Harvey's isn't just a pet food company; it's a symbol of dedication to the well-being of our furry companions. Founded by Dr. Harvey Cohen, a pioneer in holistic pet nutrition, the company has been producing natural and healthy pet products since 1984. Dr. Harvey's products are free from chemicals, preservatives, and synthetic additives, ensuring our pets receive only the best. "Health begins in the kitchen," and Dr. Harvey's embodies this philosophy.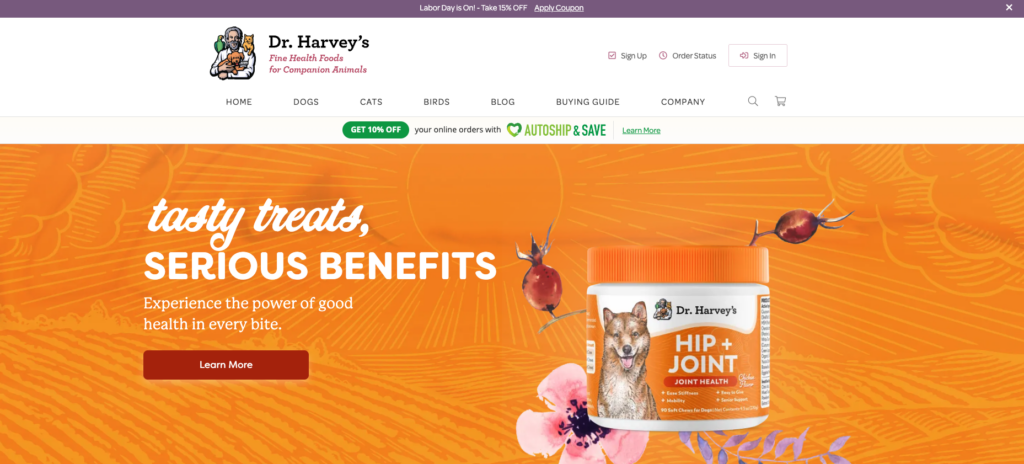 Why I Love Dr. Harvey's: The Health Benefits for Dogs
Why I love Dr. Harvey's goes beyond a simple appreciation for a pet food brand; it's about recognizing the remarkable health benefits it brings to our canine companions.
Dr. Harvey's unwavering commitment to holistic nutrition and transparency means that my dogs receive nothing but the finest, all-natural ingredients. Their products have been a game-changer for my furry family, helping them overcome various health issues, from stubborn skin allergies to chronic digestive problems.
The absence of added chemicals, preservatives, and synthetic additives gives me peace of mind, knowing that I'm providing my dogs with the purest nutrition. It's not just about feeding them; it's about nourishing their bodies and supporting their overall well-being. Dr. Harvey's has become an essential part of our journey towards optimal health, and for that, I'm truly grateful.
Why I Love Dr. Harvey's: My Dogs' Unwavering Affection
My dogs are my greatest joy, and I've witnessed the positive impact of Dr. Harvey's products in their lives. Their tails wag with excitement every time they see those familiar Dr. Harvey's packages. It's not just about the nourishment; it's about the happiness and well-being these products bring into their lives. Here are some photos of my own dogs loving their Dr. Harveys. We have used this company for their food and products for years!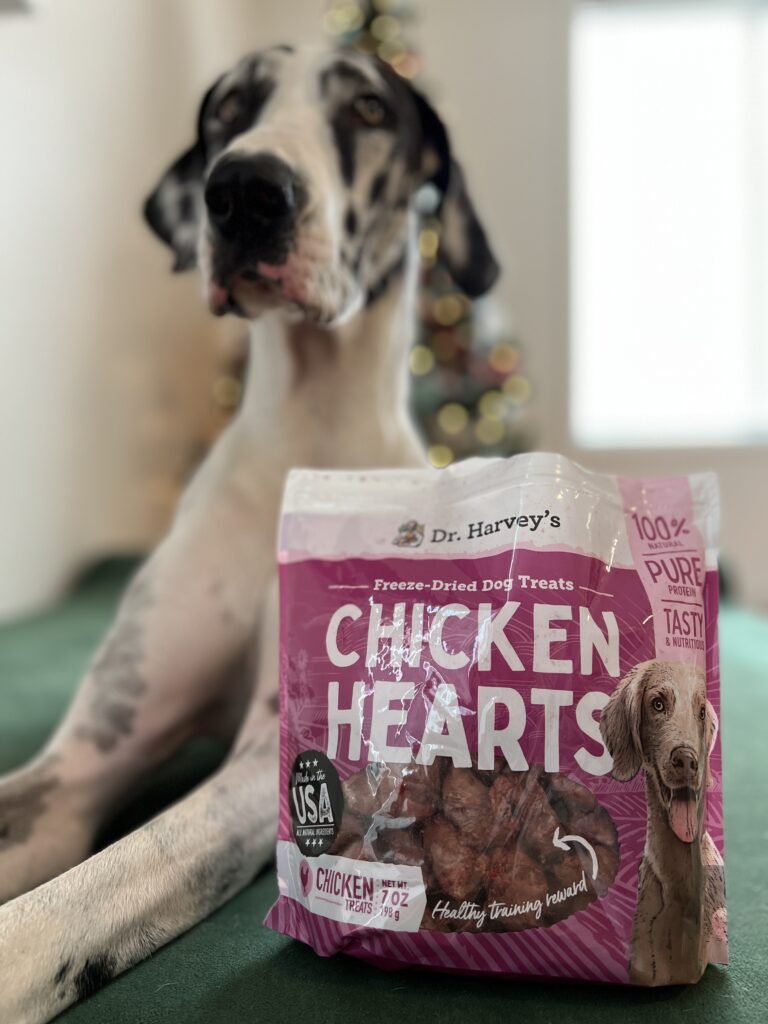 Nutritional Excellence and Transparency
As a dog mom, I believe in providing my furry family members with the best nutrition. Dr. Harvey's products have played a crucial role in enhancing their health. These products have helped dogs recover from various conditions, including skin allergies, chronic digestive issues, and more. The transparency and commitment to quality at Dr. Harvey's are unmatched.
Unveiling the Wonderful Products Dr. Harveys Gave
Now, let's talk about the heart of this story – Dr. Harvey's generous donations to the Denver Animal Shelter. They provided an array of wholesome treats and items! Lets talk about them!
Chicken Hearts: A Delicious and Nutritious Treat
One of the standout items donated by Dr. Harvey's is the Chicken Hearts treat. Made with just one ingredient – the highest quality protein, these freeze-dried treats retain vital nutrients and flavor that dogs crave. They are not only delicious but also allergen-free and easy to digest, making them an ideal choice for dogs at the shelter.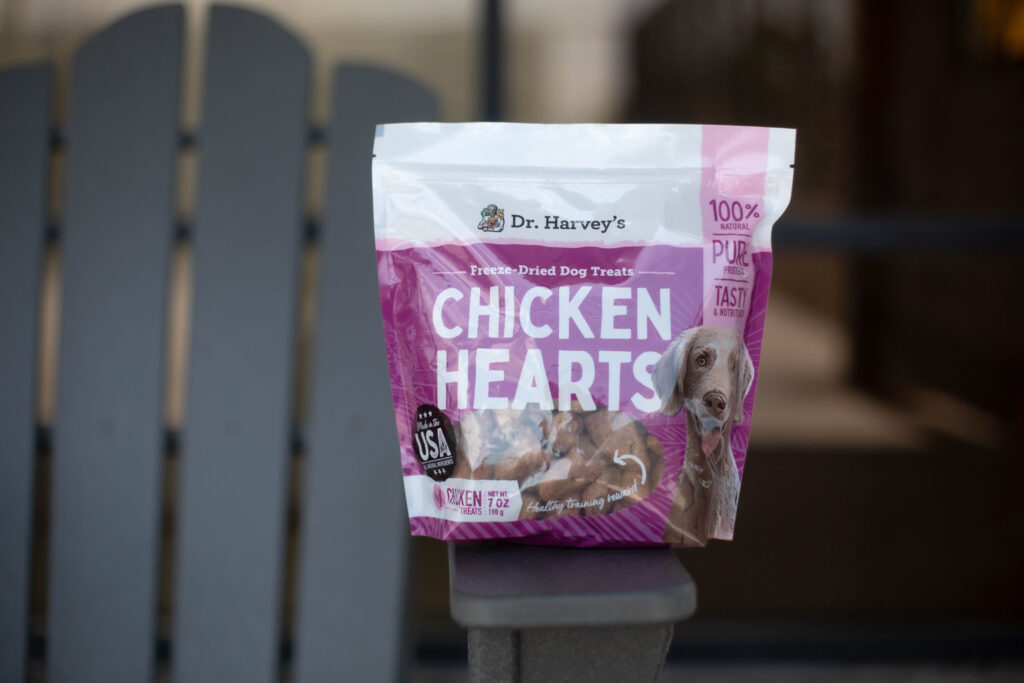 Sweet Potate'r Chews: Natural and Wholesome Delights
Another remarkable donation from Dr. Harvey's is the Sweet Potate'r Chews. These 100% real, natural dehydrated sweet potatoes are grown and dried in the USA. They provide a safe and natural alternative to rawhide and molded chews, containing nothing artificial, no dyes, no preservatives, and no by-products.
The Best Moment of All: Delivering the Products to the Shelter
The day finally arrived when I had the privilege of delivering Dr. Harvey's donations to the Denver Animal Shelter. The joy and gratitude expressed by the shelter staff and the wagging tails of the dogs were priceless. It was a reminder that small acts of kindness can change the trajectory of someone's day, or in this case, make shelter dogs happier and healthier.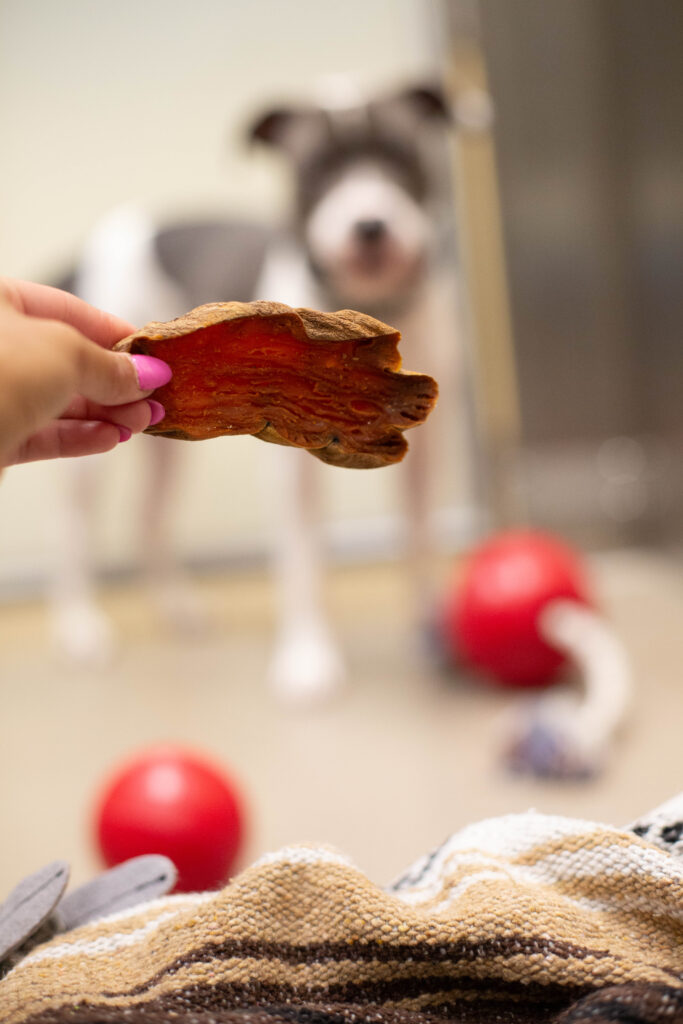 Spreading Happiness and Nourishment
The most rewarding part of my journey with Dr. Harvey's generous donation to the Denver Animal Shelter was the profound joy and nourishment it brought to both the shelter animals and our hearts.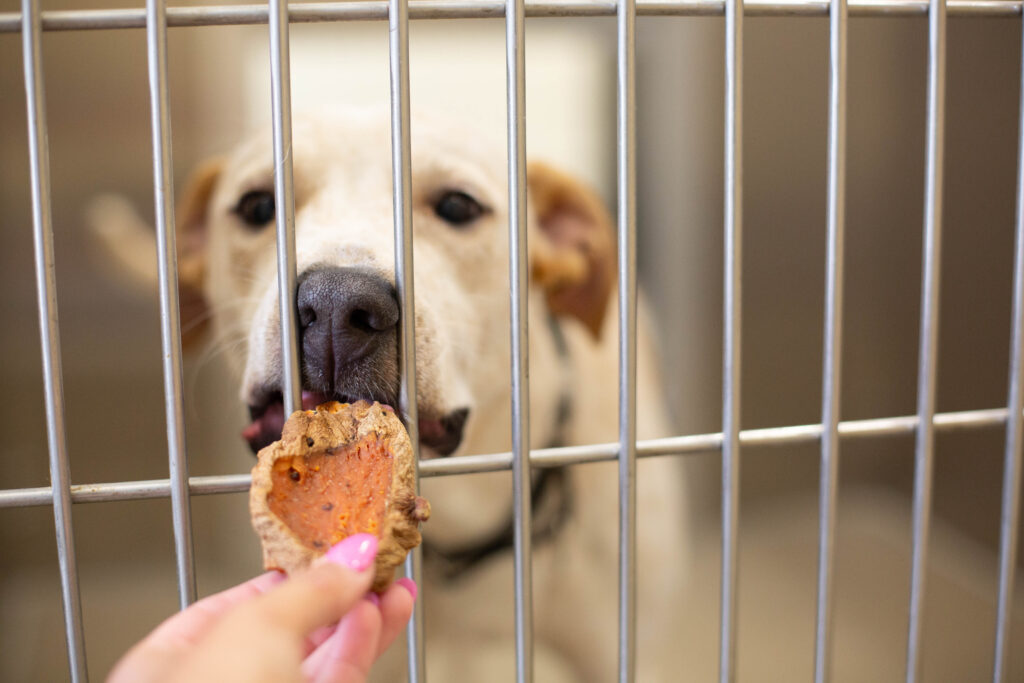 Witnessing the wagging tails, the bright eyes, and the sheer delight as these animals savored the treats provided by Dr. Harvey's was a priceless experience. It reminded me that a simple act of kindness, like sharing a wholesome treat, has the power to transform a day and instill hope.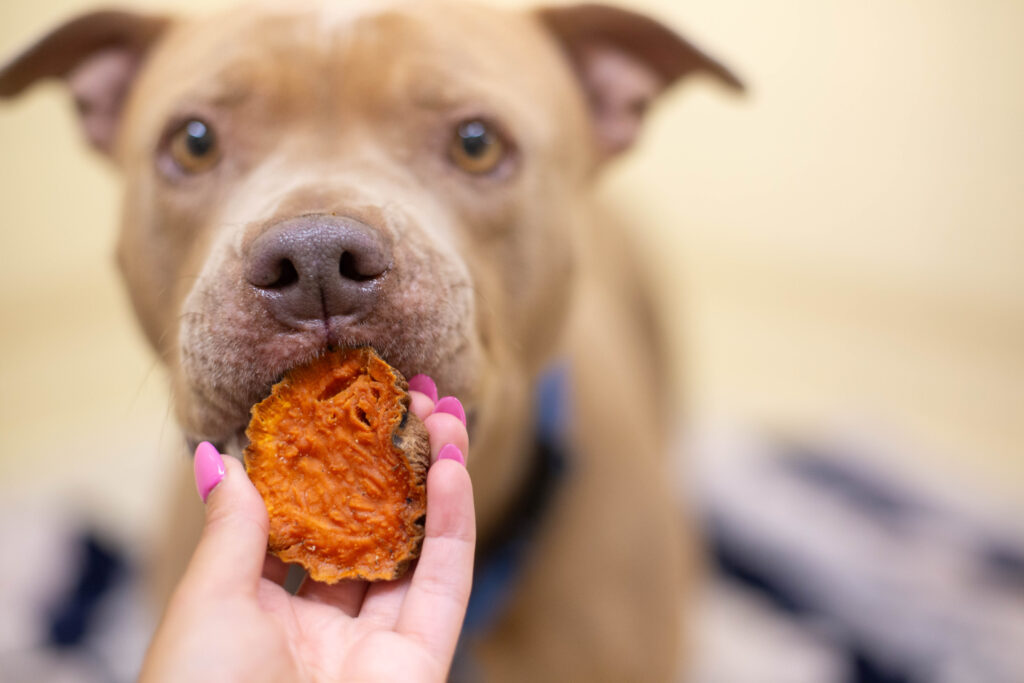 It's a beautiful reminder that small gestures can create a ripple effect of happiness, not just for the animals but for everyone involved. Spreading happiness and nourishment is a gift that keeps giving, and I'm immensely grateful to Dr. Harvey's for making these moments of pure joy possible at the shelter.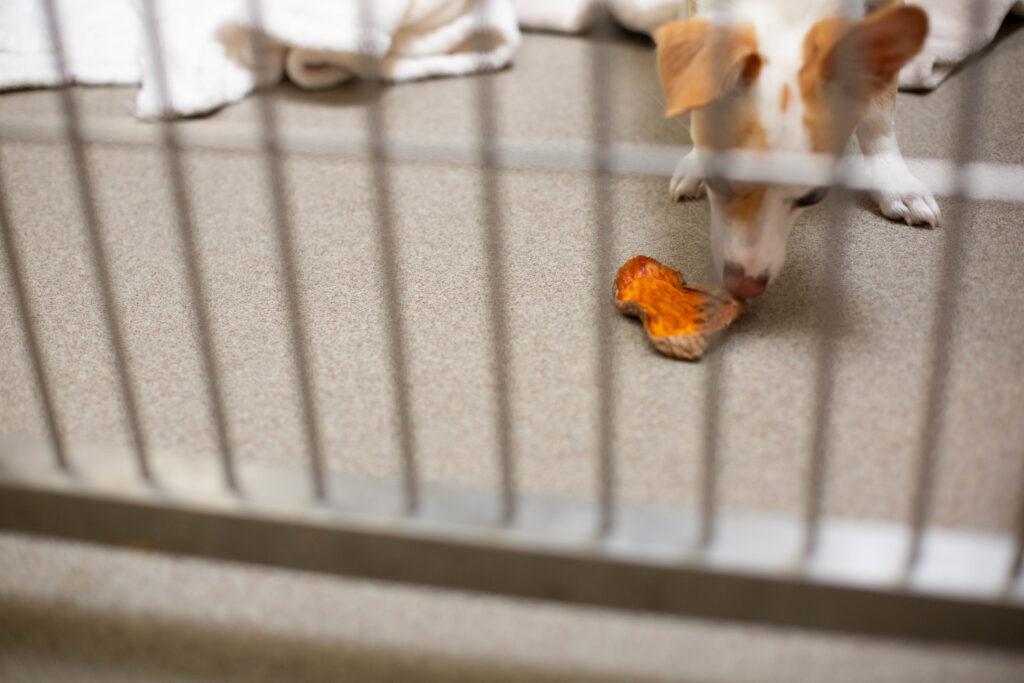 A sweet pup gets excited in the shelter for the Dr. Harveys Sweet Potate'r Chew!
Seeing the Animals in Action: Joyful Moments
Seeing the shelter animals in action, as they eagerly devoured the treats provided by Dr. Harvey's, was a heartwarming experience that left an indelible mark on my heart. Their joy was palpable, their tails wagging with unbridled enthusiasm as they relished each bite.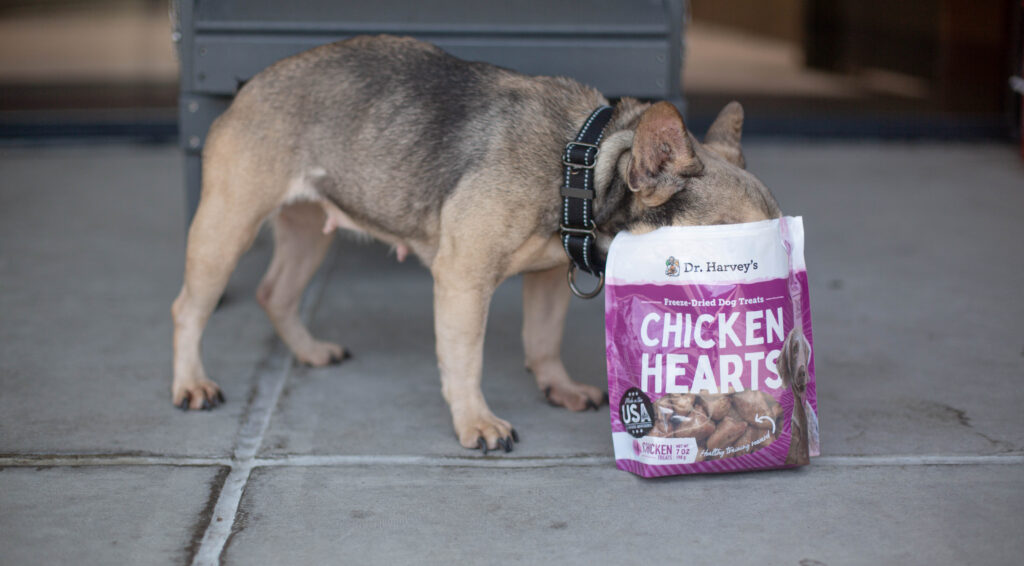 These moments were a testament to the power of simple gestures and the profound impact they can have on the lives of shelter animals. It was a reminder that amidst their uncertain circumstances, these animals radiate resilience and an unwavering capacity for happiness.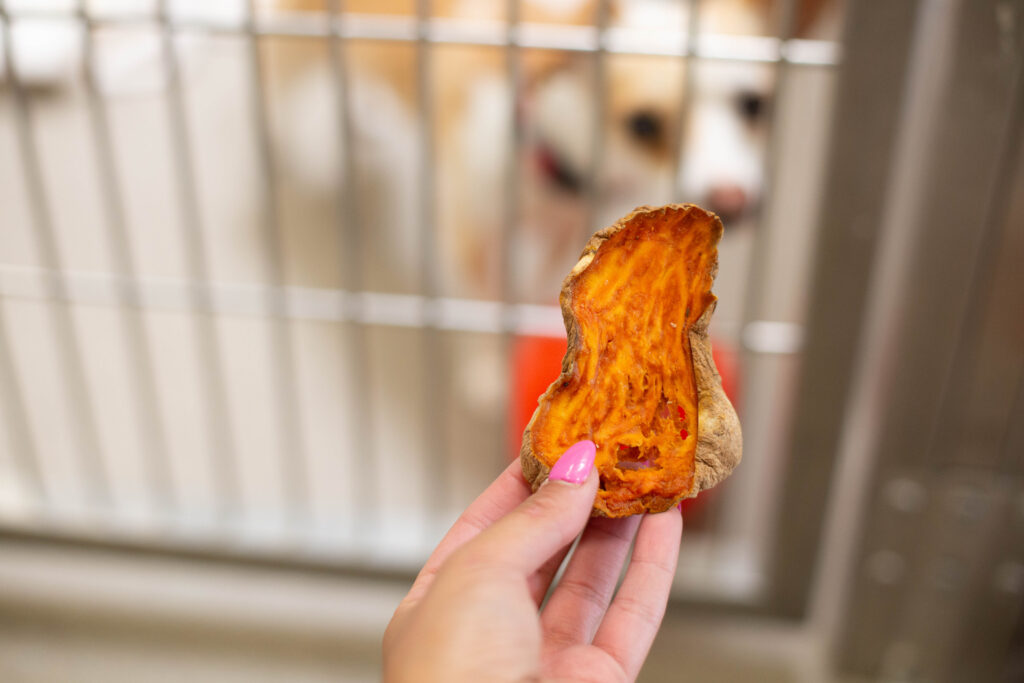 Witnessing their sheer delight reinforced the importance of initiatives like Dr. Harvey's donation, which not only nourishes their bodies but also nourishes their spirits, offering them moments of pure happiness and hope.
Witnessing the Impact of Dr. Harvey's Donations
The magic happened when the shelter animals got to enjoy Dr. Harvey's treats. Their excitement and contentment were evident, reminding me of the profound impact even a simple treat can have on their lives. It's these moments that make volunteering at the shelter incredibly rewarding.
How Tiny Gestures Can Brighten Lives
This experience reinforced my belief in the power of small acts of kindness. Dr. Harvey's exemplifies this through their generous donations, and the Denver Animal Shelter carries this spirit forward by caring for animals in need. It's a collective effort that brightens the lives of both animals and humans alike.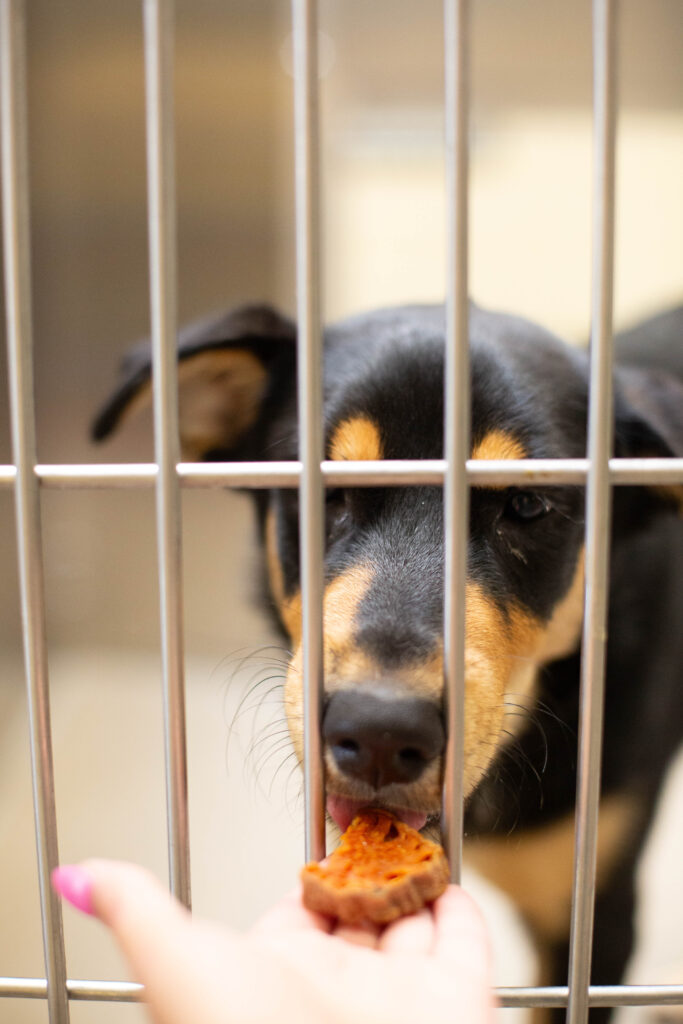 Thankful for Companies Like Dr. Harvey's
In closing, I want to express my heartfelt gratitude to Dr. Harvey's for their unwavering commitment to the well-being of our furry friends. Their generosity has made a significant difference at the Denver Animal Shelter, and I'm honored to have been a part of this wonderful journey. Together, we can continue to make the world a better place for animals in need.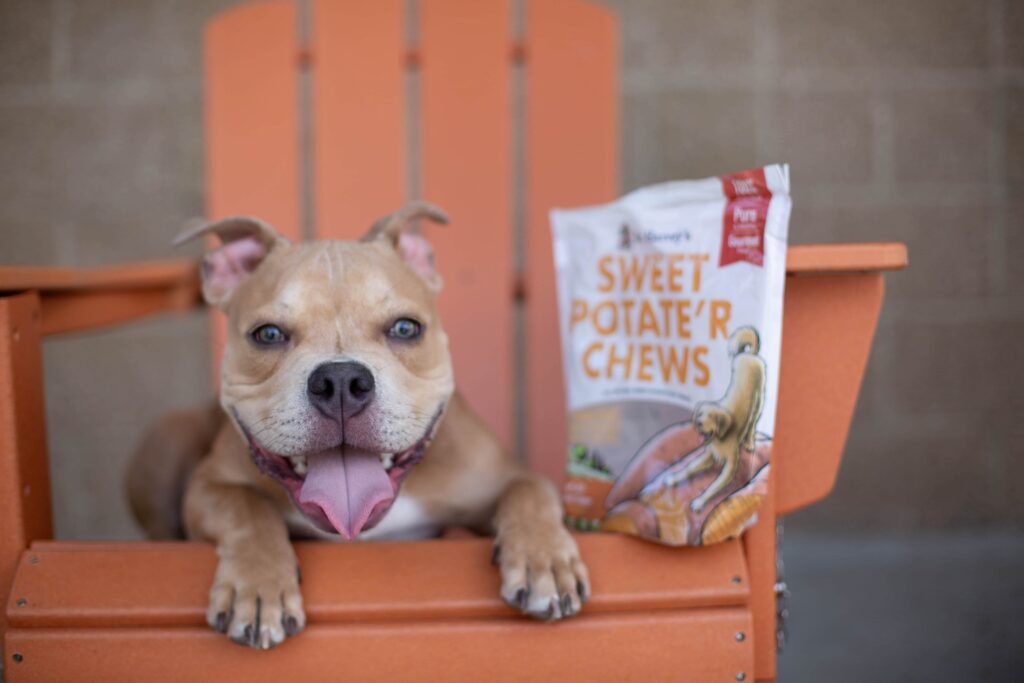 ---