We are Chris & Natalie. Advocates for science-backed information, ethical breeding, exceptional rescue practices, modern dog training, and giant breed dogs.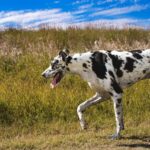 All three of my dogs were seen by their veterinarian this week for their annual checkup. One of my dogs is 7 years old, and so the topic of joint support for Great Danes and other dogs was brought up. We had a wonderful discussion that involved several key points I just HAD to bring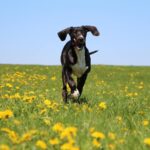 At Hello Danes, we are HUGE believers in teaching Great Danes how to come when called. This is an important skill that is necessary for their safety and our sanity! Recall is the ability to command a dog to return promptly upon hearing its name or a specific cue. If you are ready to teach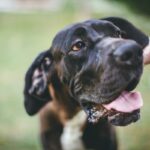 Great Danes are big dogs, so it can be very scary when they show concerning behaviors. Snapping, nipping, biting, lunging, and growling make people nervous, and with good reason! Great Dane aggression is dangerous and unacceptable. As a pet parent, you may have found this article because of concerns you have following aggressive behavior, and
My Great Dane puppy jumped over a fence once. If you've found this blog post, you probably have the same problem I once faced! Danes are huge dogs (even as puppies) and many can easily clear a 6ft tall barrier. Even if your dog is friendly, this is a dangerous practice and you are going
What I put on my dog's collar isn't just a style statement; it's a full-on toolkit for their safety, ID, training, and even location tracking. Stick around as I spill the tea on what's hanging around my pups' necks and why it's a game-changer. What I Put On My Dog's Collar Priority #1: Safety Safety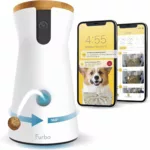 Today I'm giving my unbiased Furbo 360 dog camera review, but first, a personal story. Ihave a Great Dane with a bit of separation anxiety, and was kind of at my wits end. Everytime I left the house, he was howling. How did I know about this? My NEIGHBORS had to tell me. How embarrassing.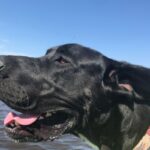 Dealing with picky eating is a common challenge for dog owners. Many dogs have their own unique preferences and may turn their noses up at certain foods, making mealtime a frustrating experience. But, the Great Picky Eater Dog Remedy may not be what you think! While it's essential to rule out underlying health issues with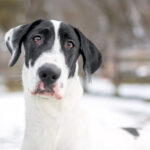 When it comes to caring for our canine companions, one of the most critical decisions we face is choosing the right dog food. This choice becomes even more significant when you have a big dog, as their nutritional needs differ from those of smaller breeds. Among the many dog food brands on the market, Purina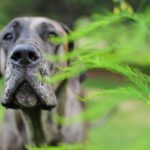 Buckle up for an epic rant, sparked by a heated discussion I had in our Great Dane Owners Facebook Group. A self-proclaimed dog "nutritionist" dropped some eyebrow-raising claims, complete with conspiracies and bold, inflammatory statements about pet food, cancer, and poison. It served as a stark reminder of the potential dangers that misinformation in social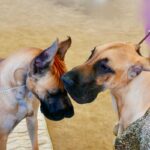 If you've recently welcomed a Great Dane into your family, you may be wondering how to ensure they have positive interactions with other dogs. Socialization plays a crucial role in their development, and with the right techniques, you can help your Great Dane become a well-rounded and confident companion. There are many reasons to safely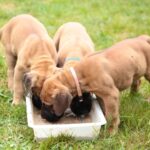 There are many places to find Great Danes for sale, but not all of them are reputable, ethical, or even real! Did you know that many online websites that sell Great Dane puppies are a scam? Or that a lot of Great Dane Breeders who seem friendly and reputable are actually highly unethical? I'm going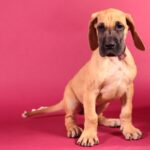 Welcoming a Great Dane puppy into your life is an exciting and heartwarming experience! These gentle giants are known for their immense size, affectionate nature, and unwavering loyalty. However, as with any new addition to your family, caring for a Great Dane puppy requires knowledge, patience, and dedication. In this comprehensive guide, "Great Dane Puppy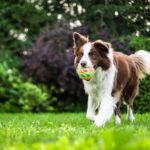 It's no secret that I've become a passionate advocate for good nutrition when it comes to my dogs. At one time I fell for some very common dog food marketing gimmicks and my dogs suffered as a result. As a matter of fact, my experience seeing my heart dog harmed by a popular 'high quality'